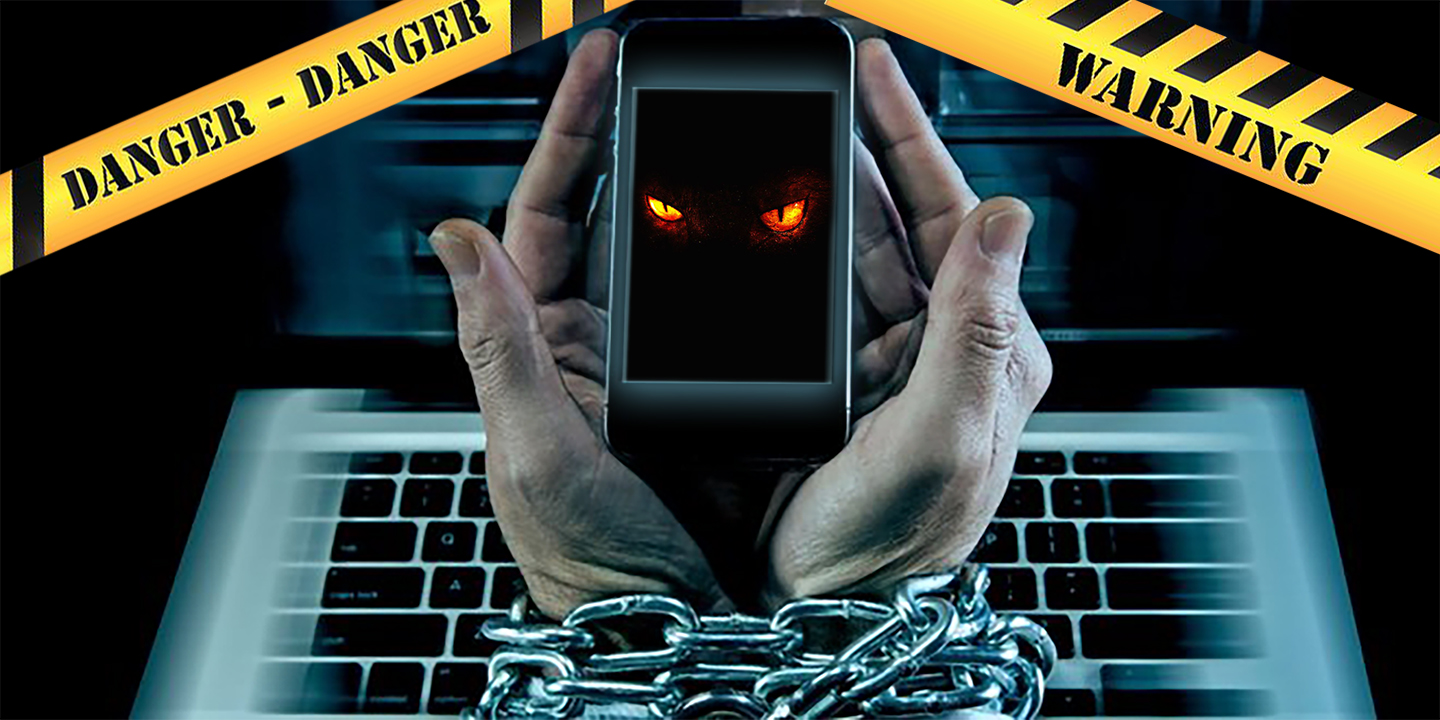 Pornography Addiction & Demonic Possession Q&A
From the Realities of Mawlana (Q) as taught by Shaykh Nurjan Mirahmadi.
A'udhu Billahi Minash Shaitanir Rajeem
Bismillahir Rahmanir Raheem
I seek refuge in Allah from Satan, the rejected one
In the Name of Allah, the Most Beneficent, the Most Merciful
Shaitan's Fierce Attack Divides Muslims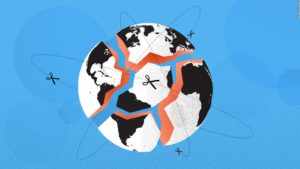 Many different projects, many different things that we're doing from our app (Muhammadan Way App), from our dawah (religious propagation). Our program in the UK is upwards of $1,400 a month, the program in Canada. So it's non-stop. When they see us making appeals for support, they have also some people make comments that, 'Why are they doing? They're trying every type of innovative way to get support.' You know that there are organizations and this is the pitiful reality of the Islamic nation. That with all the wealth Islam has and all the blessings that Allah (AJ) has given to Muslims, the attack from shaitan (satan) is fierce to divide Muslims. Where shaitan works with other communities and they come together very strong because he wants them, his mureeds (devoted disciples) to become strong. Those whom he doesn't like, mean ahlul Islam (Muslims), he makes them to all be separate.
The Nation of Wealth is Declining in Generosity
So, they have tremendous wealth. And you see that people are making appeals around the world and asking for relief and there is even a big organization was having a cupcake sale. They literally had to sell cupcakes to raise money to feed people and children in Yemen which is not a good sign of the nation. The nation that has so much wealth and so much prosperity, and Allah (AJ) so much with them. They should have the ability to ask and people just flood and send, and that relief to reach to people. But it's not the case. So, when big organizations are having cupcake sales, of course, me and you – we're going to sell tasbihs (prayer beads). We're going to do whatever we can to raise the funds for the projects we have.
Donations and Support Are the Fuel For Beneficial Projects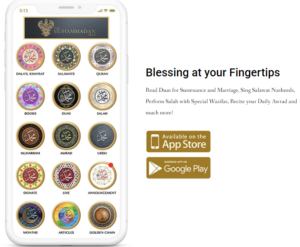 We're not funded by a government. We're not big shaykhs that have 20 million dollars in bank accounts because they got money from world leaders all over the world. So we're just grassroots. And grassroots try go get organizations; we have an insurance division that they want to sell insurance policies to the community. They'll give a percentage to the community. So, we're trying everything possible to raise funds so that these projects are ongoing. So, we're not people who do one thing and go. We have an annual Mawlid (celebration of the birthday of Prophet ﷺ). We have an app (Muhammadan Way App) that continuously is being updated, sharing functions, all sorts of functionalities.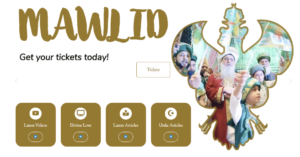 We have the television shows in UK, Canada renewed. We have books. We have websites that you know, three to four websites continuously being updated. The NurMuhammad website is now much faster – its landing page, not so much congested with different things. So many different projects, so many dedicated different people trying to get these things to be finished. So as a result, the engine behind it requires, you know, fuel. The fuel is the support and donations of the community and those whom are enjoying its services. They're watching the videos that comes with the camera and a whole crew, and all of the internet connection speeds that are required. Those whom enjoying the app took hours of programming and more hours behind it of trying to keep it up to date and all its functionalities.  So all of this is coming not just by, "Kun Faya Kun" (Be and It Will Be), but by actual blood, sweat, and tears.
The Muhammadan Haqqaiq is the Highest Reality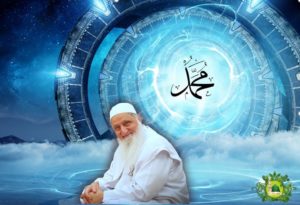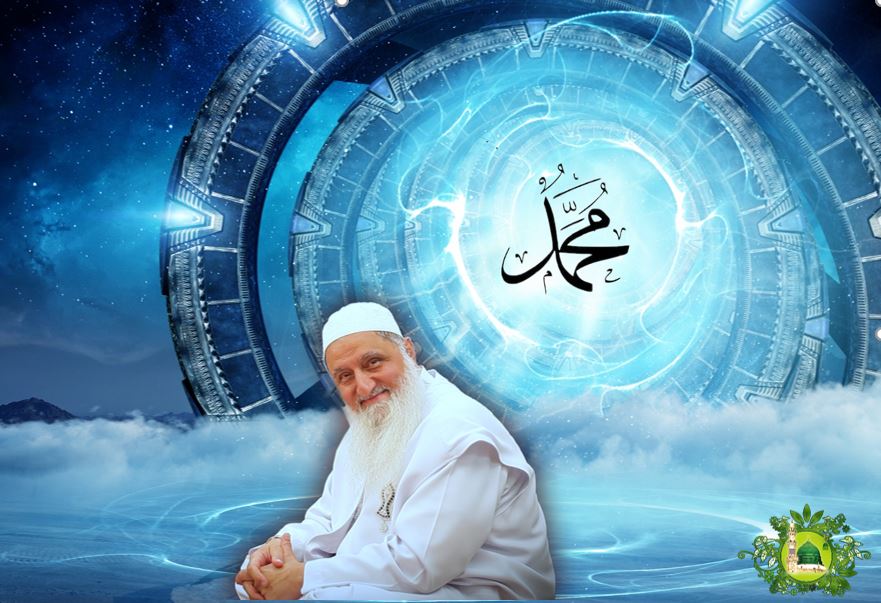 So we pray that Allah (AJ) send more and more people to support, be happy with supporting and feel like it's a life cause. If you can't do directly something for Sayyidina Muhammad ﷺ, at least support those whom are so that our propagation is strong in the love of Sayyidina Muhammad ﷺ and to propagate that love in this language. So, those you can count on your fingers or finger that are doing that. So, it's not like it's commonplace to teach the haqqaiqs (realities) and the reality of Ta'zim-e-Nabi ﷺ which amongst ulama (scholars) is the highest level of knowledge – is Haqqiqatul Muhammadiyah (The Muhammadan Reality).
The Source of Eternal Knowledges Will Rise From the West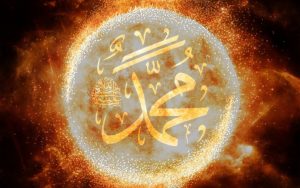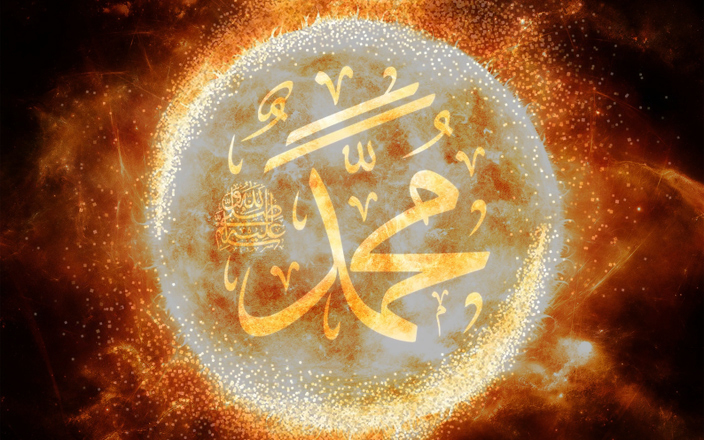 So, we've simplified it in English. People thinking, 'Oh, that it's the first step.' No, that was above the scholastic levels of 'aalims (scholars) to go towards Haqqiqatul Muhammadiyah. So, alhamdulillah, that Allah (AJ) is bringing that and making this so reachable and accessible to people. Especially in the west, why? Because Sayyidina Muhammad ﷺ promised that, 'The sun will rise from the west.'
عن أَبي هُرَيْرَةَ رَضِيَ اللَّهُ عَنْهُ قَالَ : قَالَ رَسُولُ اللَّهِ صَلَّى اللَّهُ عَلَيْهِ وَسَلَّمَ : ( لَا تَقُومُ السَّاعَةُ حَتَّى تَطْلُعَ الشَّمْسُ مِنْ مَغْرِبِهَا ، فَإِذَا رَآهَا النَّاسُ آمَنَ مَنْ عَلَيْهَا ، فَذَاكَ حِينَ لَا يَنْفَعُ نَفْسًا إِيمَانُهَا لَمْ تَكُنْ آمَنَتْ مِنْ قَبْلُ ). روى البخاري(4635) ومسلم (157) 
'An Abi Huraira (ra) qal, Qala Rasulullah (saws): "La Taqumu's Sa'atu hatta tatlu'ash Shamsu min Maghribiha, fa idha ra'a ahan Nasu Aamana man 'alayha, fadhaka heena la yanfa'o nafsan Imanuha lam takun aamanat min qabl."
Narrated Abu Huraira: Allah's Messenger (pbuh) said, "The Hour will not be established until the sun rises from the West: and when the people see it, then whoever will be living on the surface of the earth will have faith, and that is (the time) when no good will it do to a soul to believe then, if it believed not before." (Sahih Bukhari, Book 65, #4635) 
And the sun is Shamsul Arifeen, the sun is the source of eternity and the source of knowledges that Prophet's ﷺ hinting that, 'My eternal knowledges will rise from the west.' And that has a deep reality, that the west will carry the realities of Islam to prepare and pave the way for Sayyidina Mahdi (as).
The East Chose Dunya Over Heavenly Knowledges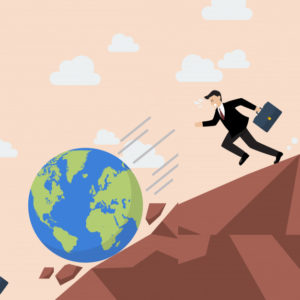 And the east is already buried. Sorry if you're in the east. It's not mashariq, it's magharib! They gave away their reality. They gave away their desire for these haqqaiqs and they chose dunya (material world) instead. So, the east is in the setting of knowledges. They propagate the worst level of knowledges and that's why you see all of these khawarij and all of these madhabs are coming from there. They don't come from here. They're propagated here. And what you see from here is sufiya and ahle haqqaiq (people of realities) that are from the west because Allah (AJ) sent them there to propagate the realities and the love of Sayyidina Muhammad ﷺ. And as a result of that knowledge, they can freely publish and do that work and send it back towards the east.
Where in eastern countries, if you try to teach one thing of haqqaiq, they come and cut your head because they're so now in a different level of belief. So, alhamdulillah, Allah (AJ) gave us this great honor, this great opportunity, this great ability and a great purpose for living. Because if you're not living for this type of reality and you're living from your 9 to 5, and that's the only purpose and future of your life and, 'Wow, when is the next raise coming? They're going to bump me up 5%. Woohoo!' No, that's not what it's about. But it's about what we can do to get the attention of Sayyidina Muhammad ﷺ, inshaAllah.
Question: Sayyidi if I'm in trouble – hard times – then how can we know if this is a punishment or imtihan (test) from Allah (AJ)? How can we deal with in both situations? Please forgive.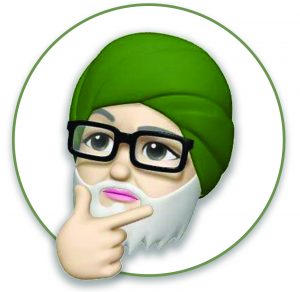 Shaykh Nurjan Mirahmadi: InshaAllah, A'udhu Billahi Minash Shaitanir Rajeem Bismillahir Rahmanir Raheem.
Alhamdulillah, that we're grateful for people who ask questions and even more grateful for good questions and if we ever sound a little bit sarcastic or funny, I just…we're entertained by it, but we appreciate greatly that people want to communicate and want the guidance.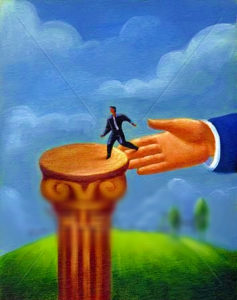 The question as far as punishment or test, they're both the same. And that's why our life is based on tafakkur and contemplation; is that, 'My whole life is about whatever comes to me – it's a loving hand. I don't see it is a hand that coming to slap me around. It's not like an abusive parent. It's a loving hand of guidance.' That if Allah (AJ) loves me and wants me to be at my destination, everything I'm doing has degrees of wrong. And as a result, Allah (AJ) is bumping me towards the right. We feel it and sense it in tafakkur (contemplation).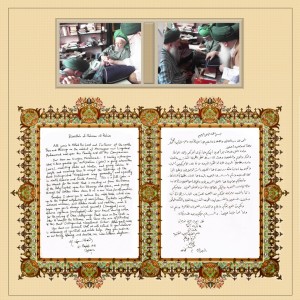 So, that's why you are tuning into this channel because this is a teacher of tafakkur who has books and ijazahs (authorizations) on tafakkur. It's not you could just ask anyone and then they'll tell you, 'Oh yeah, tafakkur is like you contemplate and think about a tree.' No, that we have a degree from Mawlana Shaykh (Q) on this subject. So, it means everything is then the base is tafakkur. Once the base is tafakkur and contemplation and meditation, taking a hisaab (account) and muhasabah (accounting), everything else then makes its way clear. So if my life is about: learn how to make that contemplation, how to connect my heart, how to keep the madad (support) of the Shaykhs, the nazar (gaze) of the Shaykhs, 'I want the nazar of the Shaykh.' Then support the Shaykh!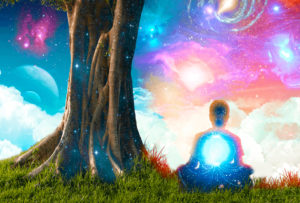 I want the Shaykh's attention. Then do something to get his attention, to be of service. All of that then develops the relationship. Then I sit and connect my heart. Once I'm connecting my heart, all of these types of questions become clear. Soon as something goes wrong, you're a person of meditation. Meditate and see why. Why was that coming? You know, why did you have an accident today in your car? Why did you trip? Why did you fall? What was the sign and the message coming? Was it a difficulty that was coming to you? Then Allah (AJ) wants you to be patient. Was it an energy that affected you?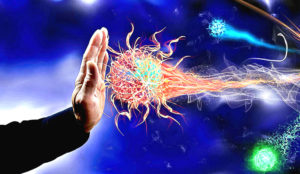 Allah's (AJ) then showing you, 'Look, look! It's like a boxing match. How come you're not ready?' When He loves you, He sends you a little bit of difficulty, say, 'If this guy could slap you around with this energy and nazar, how are you going to help yourself against dajjal (man of deceit)?' So, it means, 'Am I building myself? Am I building my energy? Am I doing awrads (daily practices) and these all are my life support? Am I doing all these practices?' So, everything is from love from Allah (AJ) and the tafakkur makes our way to be clear and all of it understood, inshaAllah.
Question: Sayyidi, can you please guide us how to overcome painful pasts, especially that arise during meditation?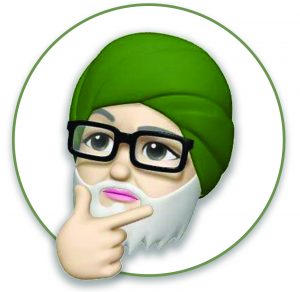 Shaykh Nurjan Mirahmadi: Everything happens for a reason. And when people are going through difficulty, which most of the people of tasawwuf come from some sort of an event – emotional event, emotional disturbance within the home. All of those were meant at many levels; one, a zalzalah (earthquake).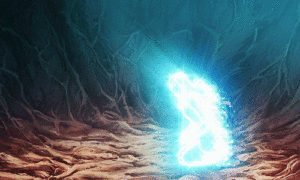 When Allah (AJ) wants a servant to bring out their soul's power, He doesn't comfort them with a body like a mountain. You know, that's so encased, so entrenched that their soul will never come out. Those whom Allah (AJ) loves, with the reality of bringing out their reality and haqqaiq (realities), you see that their lives had many zalzalahs, many quaking, many difficulties so that their soul really never slept deep within the body, always they felt like they're out of their body out of body experience. Because the body was never a place of comfort for them, was never something safe or happy for them. So, there's many reasons.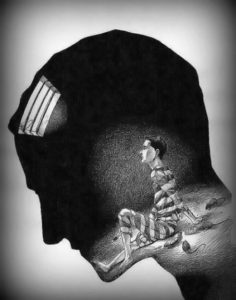 One, that reason so that they have a prone spirituality because body was something that their soul always tried to escape. When your body is like really happy and has always been happy, your soul is a big prisoner. Because it's always been good. It just encased the soul and soul has very little ability to ever get out. But those whom have had traumatic difficulties, there's always been a quaking. So, there's always a way that this faraj, that this soul has been trying to get out and escape the body. The two is that, 'We never destroyed people until we sent from amongst them a warner.'
﴾يَا أَيُّهَا النَّبِيُّ إِنَّا أَرْسَلْنَاكَ شَاهِدًا وَمُبَشِّرًا وَنَذِيرًا ﴿٤٥  
33:45 – "Ya ayyuhan Nabiyu inna arsalnaka shahidan wa mubashshiran wa nadheera." (Surat Al-Ahzab) 
 "O Prophet, indeed We have sent you as a witness and a bringer of good tidings and a warner." (The Combined Forces, 33:45)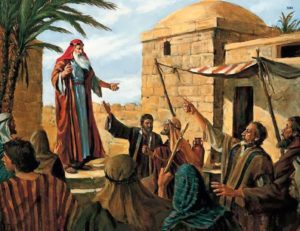 Right? So, we don't send somebody from a village in somewhere who has no experience and send him in the middle of a metropolis downtown city, where he comes from a village and makes a dawah now into a city where he thinks everything and everyone is a kafir. Everything is kufar. Everything is forbidden. Everything is…Allah (AJ) didn't say it in Qur'an that we're going to bring you people from other areas into your area to do dawah onto you.
But He said, 'I didn't destroy your community until I raised from amongst them people who have that difficulty, have been abused, have had many of these experiences.' And Allah (AJ) saved them. As a result of any bad or anything that happened to them, Allah (AJ) made it a life experience for them. And if they were able through their meditation, their connection, and their prayers to turn it around as an understanding, then Allah (AJ) sends you into the community of those people and, 'Now help them!'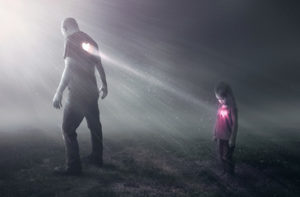 How can you help abused children if you were never abused? What do you know from them? What do you expect to…you just say, 'Oh I really, yeah, I really know how you feel.' You don't know how it feels if you weren't abused! So, why would you say something like that? So then Allah (AJ) says, Allah's (AJ) haqqaiq, 'No, no, I'll make sure that you were abused. And as a result of being abused, you turned yourself around. You understood its realities and the sicknesses of people. Then you're the perfect ambassador to go back to these children and to people and say, 'I know what you feel because I actually do and I can relate to it!'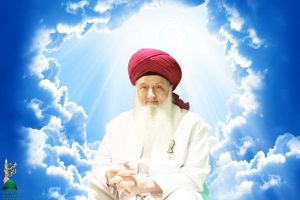 So, same thing. We're all raised in the west. We're raised in this environment. We've had friends from every type of background. There's not much that you can put on to me that I haven't seen. You can't hustle me. We don't come from that kind of background. We come from this background and that's exactly what Allah (AJ) wanted, 'No, no, you go amongst them. You know these people. They're your people and then you do your dawah and you're teaching to them.'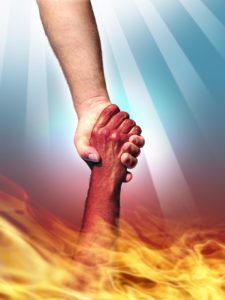 But if I have no relevance, I don't know what these people are talking about. I don't know why you dress like, I don't know why you talk like that. That wouldn't be a sign of wisdom. So Allah's (AJ) infinite wisdom is that to bring people from all of these experiences. Bring them and develop them and then release them upon mankind, 'Go back now and help people!' Once you've gained something for yourself, you feel a strength, a connection. Now you have something to give. Go back out and help people back like a survival team. Offer a rope for their salvation back to reality. InshaAllah.
Question: Dear Shaykh, can you please provide me the reality about online addiction to watching un-Islamic things and self-gratification and how it affects one's energy?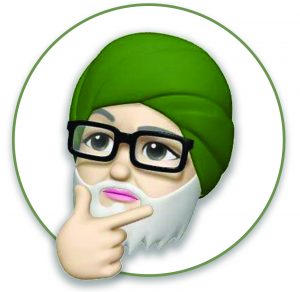 Shaykh Nurjan Mirahmdi: InshaAllah. A'udhu Billahi Minash Shaitanir Rajeem Bismillahir Rahmanir Raheem.

Big, big subject that keeps coming in all the emails is pornography. That to look at things that are not halal (permissible) and dangerous for the heart. And as a result of looking at all those things, one then develops a desire that can overtake them. And then they're continuously sort of self-gratification. The danger on the pornography and then the danger of continuously gratifying yourself – the one on the gratification of the self is like eating. Anything that we do and we do often, the appetite for it is growing. And that's why Prophet ﷺ described for us fasting because shaitan runs through the blood.
[قَالَ رَسُولُ اللَّهِ صَلَّى اللَّهُ عَلَيْهِ وَسَلَّمَ: "إنَّ الشَّيْطَانَ يَجْرِي مِنْ ابْنِ آدَمَ مَجْرَى الدَّمِ" ] صَحِيحْ اَلْبُخَارِيْ، صَحِيحْ مُسْلِمْ وَ مُتَّفَقُ عَلَيْهِ 
Qala Rasulullahi (saws): "Innash shaitana yajri min ibni Adama (as) majra addami." [Sahih Bukhari, Sahih Muslim wa Muttafaqu 'alyhi]
The Prophet of Allah (pbuh) said: "Satan moves/flows in sons of Adam (pbuh) through the blood."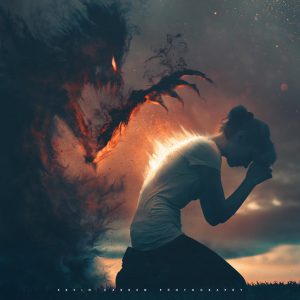 As soon as we fast and take a way of fasting – one, many energies are being depleted from the body. Shaitan that is running through the blood of insan (human being) is going to be restricted. And anything that you try your best to abstain from gratifying yourself, its desire will drop. The more you give to it thinking, 'Ok,' then it keeps increasing. Before you know, that desire is increasing. Then it becomes a vicious cycle. The desire within is increasing so then the person gratifies themselves. Then the desire through their eyes, everything is becoming hungry from that.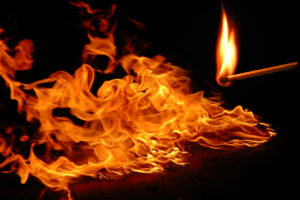 So, the deep reality of fasting and we're now talking about intermittent fasting, the fasting, full fasting of Ramadan and the style of Ramadan what they call 'dry fast' where you eat and drink and nothing. If you can do that often, then alhamdulillah, that desire should go. If you can fast from the desire and say, 'Oh, I'm going to refrain from doing that. I have to increase my salawats (praises upon Prophet Muhammad ﷺ), increase my meditation, increase my practices,' so that you can control that desire. The more you can abstain from it, the more that desire would diminish. The more you give to it like a fire, you put a little bit of a match to it, it starts to grow where you can't control it.
As much as you abstain, say, 'I'm going to abstain from that and try to take a control,' like a struggle. All the characteristics have to be struggled against. Allah (AJ) give you command over that energy and it begin to diminish. Then the reality of the fasting – what's causing that energy to overtake? And that's why we said this sayyiat-e-amalina, that there are sins that are coming into you. As soon as you commit a sin whether by eating, drinking or seeing, you opened up your force-field. So, this is the easiest and most clear way of talking is through energy.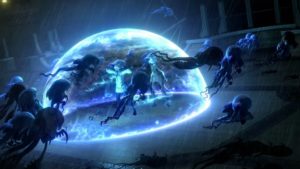 Anything that you do that opens your force-field. Once you open the force-field, these ifrit (powerful demon); you visualize them like a mosquito, like black things, like a black sludge. They're in the millions coming towards you because your shield is gone. Your shield of wudu (ablution) is gone. Your shield of good characteristic and good actions is – it has a hole in it. These ifrit are coming through. When they come through, they come through the food you eat. You begin to look back and say, 'Was the food I was eating, was this halal? In the sense that, was this something allowed for me? The food I ate – did it have a person who had a bad energy in it?' Because you start to make your tafakkur about all your energy. Where were you deficient on your energy sources?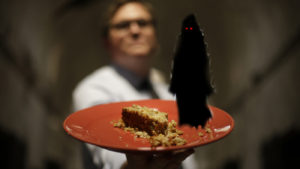 So, then you understood in energy – why we talk about halal food is not so much the zabiha (slaughter) but when you go to eat, the person who's serving you food. If they're not from your belief and they're in junub (ritually impure) that they just did something, they don't ever wash, they don't care about washing. All of their energy, their thoughts, their desires, their actions, they're putting into this food. They're looking with nazar onto the food.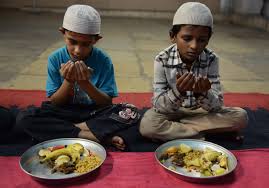 So, the food that we eat picks up many energy sources. Forget about if it was the zabiha question, just the energy sources of that food. Then I have to say, 'Ok, my energy and my food of what I'm eating, am I making my du'a (supplication) over everything?' At least I can balance this energy by saying "Ila sharifin Nabi ﷺ…" and in the app (Muhammadan Way App) we have du'a for food. By the sanctity and the noble soul of Sayyidina Muhammad ﷺ "Ila sharifin Nabi ﷺ wa ila aalihi wa sahbihil kiram, Wa ila mashayikhina…"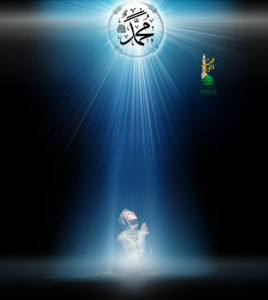 So, I'm asking in the name of the nobleness of Sayyidina Muhammad ﷺ, the awliya (saints), the sahabi (holy companions of Prophet ﷺ), Ahlul Bayt (as) (Holy Family of Sayyidina Muhammad ﷺ) and my shaykhs. Their arwah (souls) that now gaze upon my food and my ta'am (meal), my drink that with your barakah (blessing). And Allah (AJ) say that, 'Mention these names and "Tanzilur Rahmah" and a rahmah (mercy) come,' that rahmah, 'Ya Rabbi clean every badness in what I'm about to eat and to drink.'
عِنْدَ ذِكْرِ الصَّالِحِينَ تَنْزِلُ الرَّحْمَةُ 
"Inda dhikres Saliheena Tanzilur Rahma. 
"In mentioning the names of the pious people, Allah's Mercy descends." Prophet Muhammad (pbuh)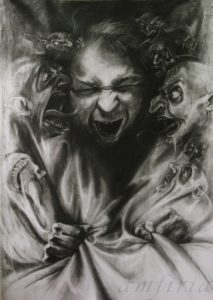 So then, are we making the du'a on all the food? Are we understanding that whatever energy is coming into me what am I picking up of these energies? That then is the trail of energy how to understand that, 'Why, why is this energy coming to me?' If these energies are coming to me, no doubt you're going to have desire! Then when you start to look at it, you have to think that every time you're looking at these things you can't meditate. Because as soon as you want to close your eyes to connect and visualize you're in Madina, you have all these horrific images are coming to your eyes. And that's exactly what shaitan wanted to do.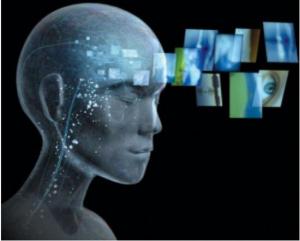 That's why we said in fasting is not fasting of the mouth; it's fasting of all the senses. When you're trying to use your heart to connect to Sayyidina Muhammad ﷺ but shaitan says, 'No no, that look at this image!' As soon as you look at this image, the image went from your eyes because it's the window to the soul. The image goes from your eyes and then burned onto the heart. So, the heart is the hard drive and your eyes are capturing like a video camera. So, all this capturing – 10,000 images, 20,000 images – it's actually going to crash your hard drive. So, there's no way to meditate. As soon as you meditate, you're seeing all these horrible images. And that was the understanding in pornography. Why shaitan is trying to contaminate the eyes? Because he's trying to collapse your heart.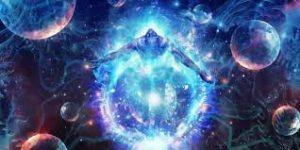 So one is, what am I going to eat, drink, make my prayers over all of the ways energies are coming in? And then to understand how to defend myself against that by making my salawats (praises upon Prophet Muhammad ﷺ), by keeping my wudu, by trying to wash. That when I've seen things like that, that when I take a shower in the morning, that to see my soul washing away all of these negativities, 'Ya Rabbi, let my soul in the whirling of its actions. Let all this negativity that try to come into my eyes to be washed away, to be washed away.'
And you make a wudu (ablution) from what's in the heart and the images that are in the heart like a hard drive cleaning. You're cleaning the hard drive in the shower by visualizing the soul being washed by water and washing away images that were not good for the eyes to see. Once we understand that in the tafakkur and do the salawats, do the awrads (daily practices), do all the connections, then we should have an understanding and a grasp of that desire, inshaAllah.
Question: Sayyidi, anger is forbidden. What are the guidelines if we get angry on people who do or say something inappropriate? For example, some people don't know their limits when they're dealing with the opposite gender.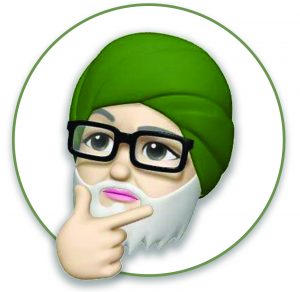 Shaykh Nurjan Mirahmadi: Other people don't know the limits with dealing with opposite gender or…? Yeah, everyone has, you know, different background but the main thing is trying to control the anger. That by keeping the wudu, keeping Salatul Wudu (prayer of ablution), keeping salawats, keeping all of our practices so the energy of the characteristics of people don't affect us to the degree of anger. So, that it can be a learning experience where we tell people that this maybe is not the best thing to do. You can try to teach someone. But once the person enters into a state of anger, it's more of a conflict and then becomes conflict resolution.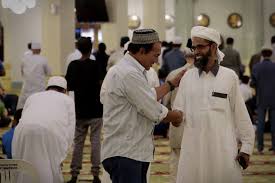 And again, if it's more specific that there's a person in your life and somebody is acting inappropriate with that person, then that's also in Islamic teaching that, that's why we have gender separation. We don't sort of mix people altogether. We don't keep people from a different background close to our family members. If they don't understand our culture and they keep wanting to come and approach. And that's what we've done with the community so the community is of the same understanding.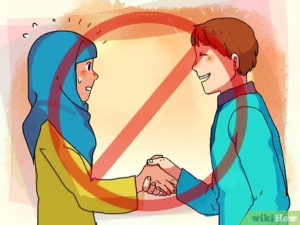 When you invite people from a different background and they keep wanting to say 'hello' to the ladies section because it's not in their culture, they don't understand. That's why Islamic culture comes to teach, 'No, keep everybody separate. Here's not a place to say 'hello' to somebody else's wife and daughter. You say hello to the men and that's it.' So, you teach. And that's why we keep our separations and that's why Allah (AJ) gave us the ease of defining these boundaries. Once you lose those boundaries and try to mix amongst other people, then you're in a different ball game.
And just trying to control – your energy's important so not to get angry. And try to teach and to abstain. Now alhamdulillah, Allah (AJ) made it easy for everybody – isolate. Actually stay away from people because people are the problem. The virus is not the problem; the virus is the people. The more the people stay with people that cross contaminate each other and they begin their fighting and arguing and every type of defect. You see that when you isolate – less fights. Because your only fight now is just to fight yourself and that's the greatest fight that Allah (AJ) wants. So those whom come against themselves and their characteristics. InshaAllah.
Question: Sayyidi, if we feel the presence of the Shaykh during the awrad, can we ask from the Shaykh to fulfill our worldly matters?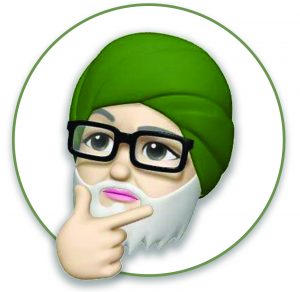 Shaykh Nurjan Mirahmadi: I think we've talked before about that. That you're going to get an answer from your own desire because they don't intervene in that subject. Their training is to not use that connection for dunya (material world). As soon as you use it for dunya, you're going to have your own answer come back. So, many people will say, 'Oh, I was with such holy people. I was making tafakkur. Then I said, 'I wanted this. I wanted that,' and they say, 'Ok, it's going to come to you.' In actuality no, it didn't. They didn't say anything. They stayed quiet and you began to answer yourself, 'This coming to you, this for you, this is gonna be for you, this is gonna be for you,' and those are all your desires.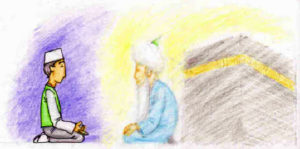 This connection and the noble connection that they're teaching is for akhirah (hereafter) in which it's a one-way communication that, 'I'm nothing. I'm nothing. Let me to be in your presence,' and continuously effacing yourself. If you're effacing yourself, you're not asking anything. You're basically saying, 'I'm nothing. I'm nothing. Dress me with your nazar. Keep your nazar (gaze) upon me. Keep the light upon me. Keep energy upon me,' and then I make my tafakkur (contemplation) and think about all my bad characteristics and they will inspire me about my wrong characteristics.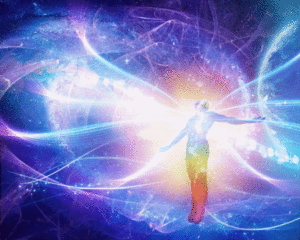 It's not a microphone and now what I want from them. Life is not McDonald's and they're not a drive-thru where you ask for fries and a hamburger. You don't need to ask for anything. You came to be nothing. So when I make the tafakkur, 'I'm nothing. I'm nothing. Dress me from light, dress me from light. Sayyidi, dress me and fill me from your light and inspire my heart, my bad characteristics. And I just want light. I just want light. I want light.'
Otherwise, this becomes another medium in which just to keep asking and talking, 'I want this, I want this I want this.' But that's not submission anymore where we're trying to develop a relationship with Allah (AJ) in which Allah (AJ) wants something from me and that's it. But I turned it around where now I just want something from Allah (AJ) all the time. I want this. I want this. I want this. I want this. I want this. I want this. Then it's not anymore submission. Instead, it's Allah (AJ) has to listen to me, astaghfirullah, and I just keep asking for things.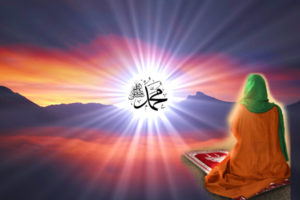 So then tariqah's (spiritual path) keeping the best of adab (manners) that don't make that relationship of tafakkur based on that. Come with nothing, asking nothing and to be nothing and that ocean of nothingness. The more you diminish, the more you can feel the fana (annihilation) and the hudur (presence) of the Shaykh coming. And then as that comes, they'll take you to Prophet ﷺ  so that you don't ask Prophet ﷺ either.
Because last thing they want is, you know, there's somebody jabbering too much in the presence of Sayyidina Muhammad ﷺ. So, then they'll teach you the best of adab so when they take you to Prophet ﷺ it's again 'nothing.' That just keep your nazar (gaze) upon me, Sayyidi Ya Rasulul kareem (The Most Generous Prophet), Ya Habibal Azeem ﷺ. Not, 'Oh, can I have this? Can I have this? Can I have this? Can I have all kinda three of these? Four of these?' So, then that continuous adab is so important because as it's progressing, then the student has to have that understanding, 'I'm not asking for anything – just the nazar.' InshaAllah. 
Subhana rabbika rabbal 'izzati 'amma yasifoon, wa salaamun 'alal mursaleen, walhamdulillahi rabbil 'aalameen. Bi hurmati Muhammad al-Mustafa wa bi siri Surat al-Fatiha.
Special thanks to our transcribers for their help with transcribing this suhbah.
Original Date of Suhbah: July 30, 2020
Related Articles: 
Please Donate and support us to spread these heavenly knowledges.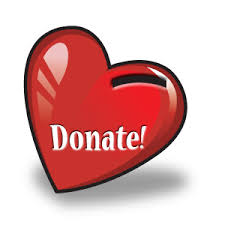 Copyright © 2020 Naqshbandi Islamic Center of Vancouver, All Rights Reserved.