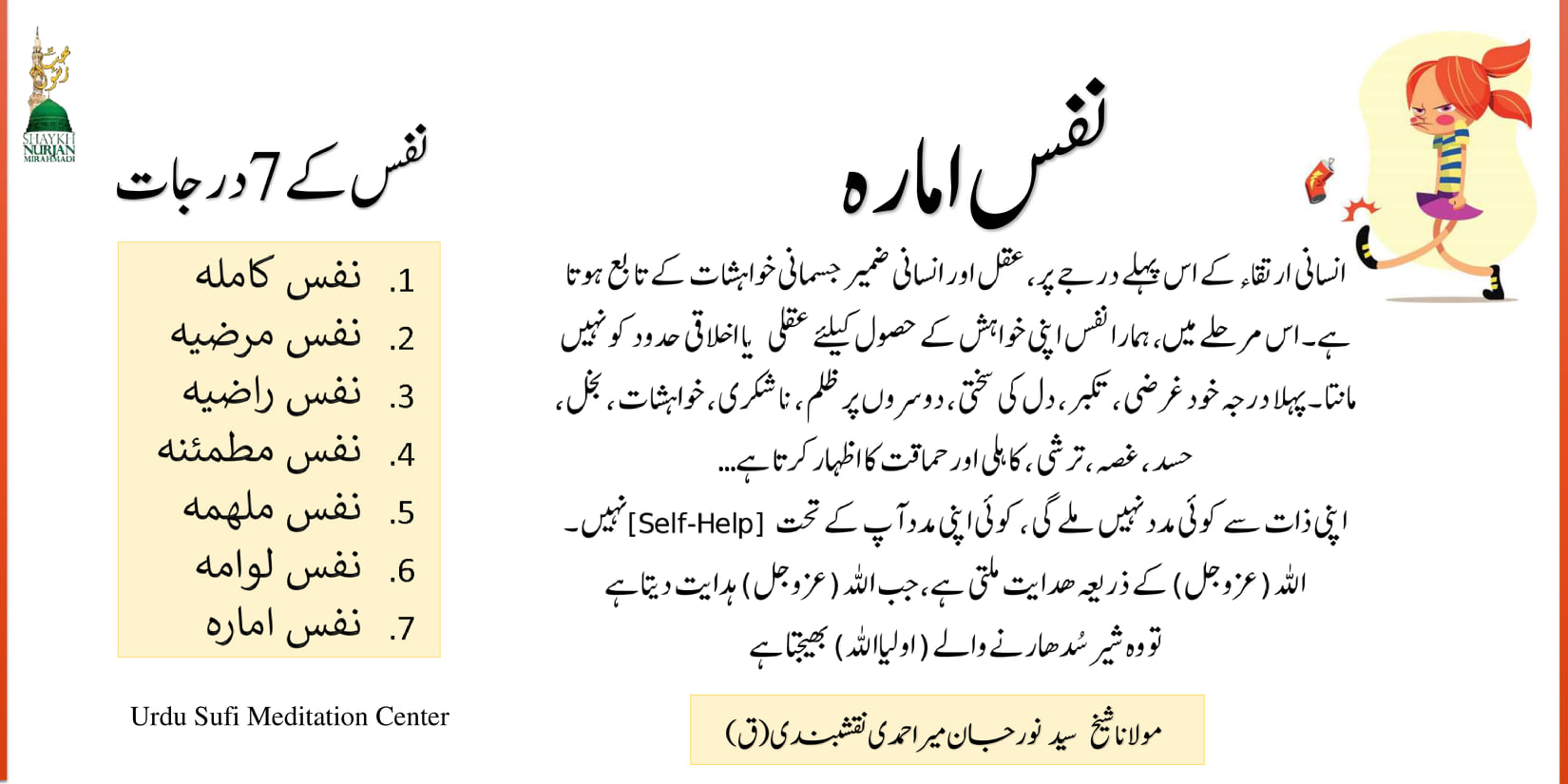 Urdu – نفس کے پہلے تین درجات کا تعارف |Nafas Ke Pehle Teen Darjaat Ka Taruf| 𝐈𝐧𝐭𝐫𝐨𝐝𝐮…
نفس کے پہلے تین درجات کا تعارف
|Nafas Ke Pehle Teen Darjaat Ka Taruf|
𝐈𝐧𝐭𝐫𝐨𝐝𝐮𝐜𝐭𝐢𝐨𝐧: 𝐓𝐡𝐞 𝐅𝐢𝐫𝐬𝐭 𝐓𝐡𝐫𝐞𝐞 𝐋𝐞𝐯𝐞𝐥𝐬 𝐨𝐟 𝐭𝐡𝐞 𝐄𝐠𝐨
مولانا شیخ سید نورجان میراحمدی نقشبندی (ق) کی تعلیمات، مولانا (ق) کے حقائق سے
اَعُوْذُ بِاللہ مِنَ الشَّیْطٰنِ الرَّجِیْمِ ۞
بِسْمِ اللہ الرَّحْمٰنِ الرَّحِیْمِ ۞
اللہ کی پناہ مانگتا ہوں شیطان مردود سے۔
اللہ کے نام سے شروع کرتا ہوں جو نہایت مہربان رحم کرنے والا ہے ۔
آج رات ہم (امام غزالیؒ کی کتاب) "احیاء علوم الدین" اور تمام سلاسلِ طریقت (کی تعلیمات سے) نفس کے سات (درجات) کے متعلق پڑھیں گے… یہاں ہم ساتویں (درجے) تک تو نہیں پہنچ سکتے،لیکن اگر ہم خوش قسمت ٹھہرے تو نفس کے دوسرے یا تیسرے (درجے ) تک پہنچ جائیں گے۔ آپکے نفس کے سات نام ، اسکے برُےاوصاف اور اس کے خطرات کی تفصیل کا تھوڑا بہت جائزہ لیں گے ، تب آپ دیکھیں گے کہ کیسے ان (اولیا اللہ کی ) تعلیمات میں اُس تمام حقیقت پر عمل کیا جاتا ہے۔ یہ ان کی تعلیمات کا پورا نظام ہے اور اس کا مقصد اِن (درجات) کا تعاقب ہے۔ انشاء اللہ، حاجی یحیی کی انگریزی اچھی ہے اور وہ پڑھنا پسند کرتے ہیں، تو اچھے تلفظ کے ساتھ پڑھیں اور تیزی سے نہیں۔ اگر ہم کسی بات پر بیا ن کرنا چاہیں گے تو میں آپ کو ایک سیکنڈ رُکنے کا کہوں گا ۔ لہذا ، نفس کا پہلا درجہ( پڑھیے)۔
Aaj raat hum ( Imam Ghazali ki kitaab )" Ihya Uloom ad-Din " aur tamam salasil tareqat ( ki talemaat se ) nafs ke saat ( darjaat ) ke mutaliq parheen ge … yahan hum satwen ( darjay ) tak to nahi pahonch satke, lekin agar hum khush qismat thehray to nafs ke dosray ya teesray ( darjay ) tak pahonch jayen ge. Apke nafs ke saat naam, uskay buray awsaf aur is ke khatraat ki tafseel ka thora bohat jaiza len ge, tab aap dekhen ge ke kaisay un ( Awliya-Allah ki ) talemaat mein uss tamam haqeeqat par amal kya jata hai. Yeh un ki talemaat ka poora nizaam hai aur is ka maqsad inn ( darjaat ) ka taqub hai. Insha Allah , Haji Yahya ki angrezi achi hai aur woh parhna pasand karte hain, to achay talafuz ke sath parheen aur taizi se nahi. Agar hum kisi baat par beyan karna chahain ge to mein aap ko aik second rukne ka kahoon ga. Lehaza, nafs ka pehla darja ( parhyey)
For tonight, we'll recite and read from "Ihya Uloom ad-Din" and all tariqahs (spiritual paths) of the seven nafs (ego). And each one can – here, we won't get to seven; we'll maybe get to two or three if we're lucky – of the nafs. Seven names of your nafs, its bad characteristics, and a little bit of the understanding of its danger. Then you'll see how these teachings have implemented all of that reality. This is the whole system of their teaching and it's all meant to go after that. InshaAllah, Hajji Yahya has good English and he likes to read, so nice and pronunciation and not too fast, shaykh. If we go over something, then I'll tell you to stop a second. So, the first level of the nafs.
پہلا درجہ: نفس الا مّارہ — گناہوں پر آمادہ کرنے والا شریرنفس
|Pehla Darja: Nafs Al-Ammara (Gunaho Per Amadah karne Wala Shareer Nafs|
𝐋𝐞𝐯𝐞𝐥 𝐎𝐧𝐞: 𝐍𝐚𝐟𝐬 𝐀𝐥-𝐀𝐦𝐦𝐚𝐫𝐚 (𝐓𝐡𝐞 𝐄𝐯𝐢𝐥/𝐂𝐨𝐦𝐦𝐚𝐧𝐝𝐢𝐧𝐠 𝐒𝐞𝐥𝐟)
|مولانا شیخ ق|
نفس امارہ، یہ شیطانی نفس ہے۔
|قاری|
انسانی ارتقاء کے اس پہلے درجے پر، عقل اور انسانی ضمیر جسمانی خواہشات کے تابع ہوتا ہے۔ اس مرحلے میں، ہمارا نفس اپنی خواہش کے حصول کیلئے عقلی یا اخلاقی حدود کو نہیں مانتا ۔ پہلا درجہ خود غرضی ، تکبر ، دل کی سختی ، دوسروں پر ظلم ، ناشکری ، خواہشات ، بخل ، حسد ، غصہ ، ترشی ، کاہلی اور حماقت کا اظہار کرتا ہے۔ "
|مولانا شیخ ق |
روکئے، کیا ہم کسی ایسے شخص کو جانتے ہیں؟ میں کسی کا نام نہیں جاننا چاہتا لیکن جب ہم ان (درجات) کو پڑھتے ہیں تو میڈیکل کلاس کی طرح یہ صرف اپنی تشخیص کیلئے ہے۔آپ یہ پڑھتے ہیں جو اولیاء اللہ، رسول اللہ (ﷺ) کی تعلیمات سے بیان کرتے ہیں۔یہ نفس کی ایک بہت بڑی سائنس ہے۔ لہذا ، جب آپ ان خصائل کے حامل کسی شخص کو دیکھتے ہیں تو وہ نفس امارہ ہیں کہ وہ آسمانوں (ملکوت) سے کسی بات کو نہیں مانتا اور ان کی عقل بس اتنی ہے کہ کسی نہ کسی طرح، اس زندگی سے لطف اندوز ہوں ، قطع نظر کہ کون متاثر ہو رہا ہے ، کس کی مدد ہورہی ہے یا کس کو نقصان پہنچ رہا ہے۔
Mawlana Shaykh Q| Nafs Ammara , yeh shaytani nafs hai
Qa'ari|Insani irtiqa ke is pehlay darjay par, aqal aur insani zameer jismani khwahisaat ke tabay hota hai. Is marhalay mein, hamara nafs apni khwahish ke husool ke liye aqli ya ikhlaqi hudood ko nahi maanta. Pehla darja khud gharzi, taqqabur, dil ki sakhti, doosron par zulm, na shukri, khwahisaat, bukhal, hasad, gussa, turshi, kahili aur hamaqat ka izhaar karta hai.
Mawlana Shaykh Q| Rokye, kya hum kisi aisay shakhs ko jantay hain? Mein kisi ka naam nahi janna chahta lekin jab hum un ( darjaat ) ko parhte hain to medical class ki terhan yeh sirf apni tashkhees ke liye hai. Aap yeh parhte hain jo Awliya- Allah , Rasul Allah (saws) ki talemaat se bayan karte hain. Yeh nafs ki aik bohat barri science hai. Lehaza, jab aap un khasayel ke haamil kisi shakhs ko dekhte hain to woh Nafs Ammara hain ke woh asmano ( malakut ) se kisi baat ko nahi maanta aur un ki aqal bas itni hai ke kisi nah kisi terhan, is zindagi se lutaf-andoz hon, qata nazar ke kon mutasir ho raha hai, kis ki madad horahee hai ya kis ko nuqsaan pahonch raha hai
Reader: The Nafs Ammara
Mawlana Shaykh Nurjan Mirahmadi (Q): Nafs Ammara, this is the Evil Self.
Reader: In this first level of the development of man, the rational self and human conscience have been overtaken by carnal desires. At this stage, our self does not recognize the rational or moral limits on the way to achieve what it wants. This first level expresses itself in selfishness, arrogance, hardness of heart, oppression of others, lack of gratitude, ambition, stinginess, envy, anger, cynicism, laziness and stupidity.
Mawlana Shaykh Nurjan Mirahmadi (Q): Hold on. Do we know anyone like that? I don't want to know anybody's names but when we go over these, this is for us, our own diagnosis like a medical class. You read what they describe, these awliyaullah (saints) from teachings of Prophet (saws). This is the immense science of the self. So, when you see somebody of these characteristics, they're Nafs Ammara, that they are not accepting anything from the heavens and their understanding is to enjoy this life with whatever ability they can regardless of who's affected, who's helped and who's harmed by it.
نفس الا مّارہ کی کیفیات—
نفس بدترین اوصاف کا حامل ہے
|Nafs Ammara ki Ke kefiyat- Nafs bad-tareen ausaaf ka hamil hai|
𝐂𝐡𝐚𝐫𝐚𝐜𝐭𝐞𝐫𝐢𝐬𝐭𝐢𝐜𝐬 𝐨𝐟 𝐍𝐚𝐟𝐬 𝐀𝐥-𝐀𝐦𝐦𝐚𝐫𝐚–
𝐓𝐡𝐞 𝐒𝐞𝐥𝐟 𝐢𝐬 𝐀𝐭𝐭𝐚𝐜𝐡𝐞𝐝 𝐭𝐨 𝐭𝐡𝐞 𝐖𝐨𝐫𝐬𝐭 𝐨𝐟 𝐂𝐡𝐚𝐫𝐚𝐜𝐭𝐞𝐫𝐢𝐬𝐭𝐢𝐜𝐬
|قاری|
پس ، اس درجے پہ نفس بدترین خصائل سے جڑا ہوا ہوتا ہے جس کے خلاف ہمیں اللہ (عزوجل) اور اس کے رسول (ﷺ) نے متنبہ کیا ہے، مثال کے طور پر؛ خود پسندی ، تکبر اور غرور ، دل کی سختی ، مخلوق پر ظلم ، دوسروں کے عیبوں کو بے نقاب کرنے کا شوق ، جھوٹ ، چغلی ، غیبت ، حسد ، بُغض ، تنقید ، اپنی ناحق تعریف کروانا ، تلخی ، دوسروں کی مال میں دلچسپی خواں اپنے پاس بہتر مال ہو ، قناعت کا فقدان ، لگاتار شکایت کرنا ، ناشکری ، اپنی برکات کو نظر انداز کرنا ، بغیر کسی کوشش کے آگے بڑھنے کی خواہش ، انتہائی خودغرضی ، حرص اور ایسا لالچ جس کی کوئی حد نہیں۔
آج کل کے نیوز چینلز نفس ا مّارہ کی عکاسی کرتے ہیں
|Ajkal ke news channels Nafs Ammara kiakasi karte hain|
𝐓𝐨𝐝𝐚𝐲'𝐬 𝐍𝐞𝐰𝐬 𝐂𝐡𝐚𝐧𝐧𝐞𝐥𝐬 𝐑𝐞𝐟𝐥𝐞𝐜𝐭 𝐍𝐚𝐟𝐬 𝐀𝐦𝐦𝐚𝐫𝐚
|مولانا شیخ ق |
جیسے اب ٹی وی ہے ، کوئی ٹیلیویژن اسٹیشن یا چینل ایسا نہیں جسے وہ نیوز کہتے ہوں اور وہ نیوز نہیں ، بلکہ یہی ہے، یہ نفس امارہ افراد کا ایک پورا گروپ ہے جو کیمرے کے سامنے بیٹھے ہوئے ہیں جو ان تمام خصائل (بُرا کردار) دیکھا رہے ہیں۔ وہ جسے ٹاک شوز ، کمنٹری کہتے ہیں ، ٹیلی ویژن پر اب کوئی خبر نہیں چلتی اور نہ ہی کوئی خبریں کی اطلاع دے رہا ہے۔ وہ بس ایک کے بعد ایک ہر بُرا کردار دیکھا رہے ہیں۔ کیوں؟ تاکہ ، جب آپ اسے دیکھیں ، آپ اسے جذب کرنا شروع کر دیں اور آپ یہی (کچھ) سوچیں، یہ آپ کا معمول بن جائے کہ آپ باہر جائیں اور آپ یہی کریں ۔ اگر آپ یہ کام کر رہے ہیں تو آپ نفس امارہ کے درجے پر ہیں۔ لہذا ، آپ کو اپنے شیخ کے سامنے یہ تسلیم کرنے کی ضرورت نہیں کہ آپ کیا سوچتے ہیں… آپ کو اپنی ذات کتنی اونچی لگتی ہے ، آپ صرف یہ پڑھتے ہیں اور کہتے ہیں ، 'اوہ میں یہاں کھڑا ہوں۔' جی ہاں ، یہ آپ کا مقام (اسٹیشن) ہے۔
Qa'ari| Pas, is darjay pay nafs bad tareen khasayel se jura hwaa hota hai jis ke khilaaf hamein Allah (AJ) aur is ke Rasool (saws) ne mutnabba kya hai, misaal ke tor pe ; khud pasandi, taqqabur aur ghuroor, dil ki sakhti, makhlooq par zulm, doosron ke aibon ko be naqaab karne ka shoq, jhoot, chughli, gheebat, hasad, bughz, tanqeed, apni na-haq tareef karwana, talkhi, doosron ki maal mein dilchaspi khwan apne paas behtar maal ho, Qanaat ka fuqdaan, lagataar shikayat karna, na shukri, apni Barkaat ko nazar andaaz karna, baghair kisi koshish ke agay bherne ki khwahish, intehai khudgarzi, hiras aur aisa lalach jis ki koi had nahi.
Mawlana Shaykh Q| Jaisay ab TV hai, koi television station ya channel aisa nahi jisay woh news kehte hon aur woh news nahi, balkay yahi hai, yeh Nafs Ammara afraad ka aik poora group hai jo camera ke samnay baithy hue hain jo un tamam khasayel ( bura kirdaar ) dekha rahay hain. Woh jisay talk shows, commentary kehte hain, television par ab koi khabar nahi chalti aur nah hi koi khabrain ki ittila day raha hai. Woh bas aik ke baad aik har bura kirdaar dekha rahay hain. Kyun? Taakay, jab aap usay dekhen, aap usay jazb karna shuru kar den aur aap yahi ( kuch ) sochen, yeh aap ka mamool ban jaye ke aap bahar jayen aur aap yahi karen. Agar aap yeh kaam kar rahay hain to aap Nafs Ammara ke darjay par hain. Lehaza, aap ko apne Shaykh ke samnay yeh tasleem karne ki zaroorat nahi ke aap kya sochte hain … aap ko apni zaat kitni onche lagti hai, aap sirf yeh parhte hain aur kehte hain,' oh mein yahan khara hon.' jee haan, yeh aap ka maqam ( station ) hai
Reader: Thus, the self on this level is attached to the worst of characteristics against which we have been warned by Allah (AJ) and His Prophet (saws). For instance: self-admiration, arrogance and pride, hardness of the heart, oppression of creatures, fondness of exposing the faults of others, lying, gossip, back-biting, envy, jealousy, criticism, undeserved self-praise, bitterness, attachment to what belongs to others even if it possesses something better, lack of contentment, constant complaining, lack of gratitude, blindness to blessings, wishing to increase without effort, extreme selfishness, greed and covetousness which knows no bounds.
Mawlana Shaykh Nurjan Mirahmadi (Q): Like TV now. There's not a television station or channel that they call news and it's not news, it's just this. It's a whole bunch of Nafs Ammara people sitting in front of a camera displaying all these characteristics. What they call talk shows, commentary; there's no more news on the television and nobody's reporting news. They're just one after another doing every type of bad characteristic. Why? So, that when you watch it, you begin to absorb it and you think this becomes a normal for you, that you'll go out and you'll do this. If you are doing these things then you are at the level of Nafs Ammara. So, you don't have to admit to your shaykh how high you think you are; you just read this and say, 'Oh that's where I am.' Yes, this is your maqam (station).
ایک مرشدِ کامل ہی قید روح کو آزاد کر تا ہے
|Ek Murshidi Kamil hi ruh ko qaid se azad karta hai|
𝐓𝐡𝐞 𝐈𝐦𝐩𝐫𝐢𝐬𝐨𝐧𝐞𝐝 𝐒𝐨𝐮𝐥 𝐢𝐬 𝐑𝐞𝐬𝐜𝐮𝐞𝐝 𝐛𝐲 𝐚 𝐓𝐫𝐮𝐞 𝐆𝐮𝐢𝐝𝐞
|قاری|
کنٹرول کرنے (اختیار) کی محبت اور اپنی ذات اور اسکی خواہشات سے محبت ، تنقید کرنے والوں سے نفرت، چاہے وہ اپنی بھلائی کیلئے ہی کیوں نہ ہو اور اس کی تعریف کرنے والوں سے بھی محبت خواہ یہ (تعریف) منافقانہ ہو ، مشورے اور صلاح کو مسترد کرنا ، اور صرف اپنے بارے میں بات کرنا۔ ابتداء میں ، انسان کو نفس–جھوٹی انا، خالق سے ملے تحفوں کا حصہ تھی ۔ لیکن چونکہ ہم نے نفس کو مادی اقدار کی طرف جھکنے کی اجازت دے دی کہ وہ صرف دنیوی زندگی سے ہی لطف اٹھائے ، لہذا ہمارے نفس جانوروں کی طرح ہوچکے، جبکہ اس کی شکل انسان جیسی ہے۔ یہ نفس ہمارا بدترین دشمن ہے ، جو ہمارے اندر رہ رہا ہے ، ہم پر غلبہ حاصل کرتا ہے اور ہم پر ظلم و ستم کرتا ہے اور ہماری انسانی روح کو قید میں رکھتا ہے تاکہ ہم اپنے لاشعور کی گہرائی میں خود کو بھول جائیں ۔ کمانڈنگ نفس (امارہ) کے درجے پر ، اثرات بے حد زیادہ ہوتے ہیں ، جب تک کوئی عقلمند اور مضبوط (مرشدِ کامل ) آپ کا ہاتھ نہ تھامے اور آپ کو باہر نہ نکالے ، ان مشکلات سے چھٹکارا حاصل کرنا اگرچہ ناممکن نہیں، لیکن بےحد مشکل ہے ۔ جب ہم اپنے عقلی فیصلے(کو قلب کے تابع کر کے اس) پر عمل کرتے ہیں اور ہمیں ایک مرشدِ کامل کے ذریعے اپنی پریشانی سے نجات ملتی ہے ، تب ہم دوسرے درجے تک پہنچ سکتے ہیں– ملامت کرنے والا نفس: نفسِ لوامہ۔ لہذا، روح کو انا کی تاریک کو ٹھری سے ضمیر کے اُجالے میں کھینچ لیا جاتا ہے ، اور ہم دیکھیں گے کہ ہمارا تکبر عاجزی میں ، انتقام اور عداوت محبت میں ، غصہ ہمدردی میں ، ہوس، عفت میں بدل جاتی ہے، اگر اللہ (عزوجل) چاہے۔ اس کا علاج ، لا الہ الا اللہ کا ذکر ہے۔
Qa'ari| Control karne ( ikhtiyar ) ki mohabbat aur apni zaat aur uski khwahisaat se mohabbat, tanqeed karne walon se nafrat, chahay woh apni bhalai ke liye hi kyun nah ho aur is ki tareef karne walon se bhi mohabbat khuwa yeh ( tareef ) munafiqana ho, mashwaray aur Salah ko mustard karna, aur sirf apne baray mein baat karna. Ibtida mein, insaan ko nafs jhoti–anaa, khaaliq se miley tohfon ka hissa thi. Lekin chunkay hum ne nafs ko maadi eqdaar ki taraf jhuknay ki ijazat day di ke woh sirf dunewi zindagi se hi lutaf uthaye, lehaza hamaray nafs janwaron ki terhan ho chukay, jabkay is ki shakal insaan jaisi hai. Yeh nafs hamara bad tareen dushman hai, jo hamaray andar reh raha hai, hum par ghalba haasil karta hai aur hum par zulm o sitam karta hai aur hamari insani rooh ko qaid mein rakhta hai taakay hum apne lashavr ki geherai mein khud ko bhool jayen. Kmandng nafs ( ammara) ke darjay par, asraat be had ziyada hotay hain, jab tak koi aqalmand aur mazboot ( murshid kaamil ) aap ka haath nah thaamay aur aap ko bahar nah nikalay, un mushkilaat se chhutkara haasil karna agarchay namumkin nahi, lekin be had mushkil hai. Jab hum apne aqli faislay ( ko qalb ke tabay kar ke is ) par amal karte hain aur hamein aik murshid kaamil ke zariye apni pareshani se nijaat millti hai, tab hum dosray darjay tak pahonch satke hain– malamat karne wala nafs : Nafs Lawwama. Lehaza, ruh ko anaa ki tareek kothare se zameer ke ujaaley mein khench liya jata hai, aur hum dekhen ge ke hamara taqqabur aajzi mein, intiqam aur adawat mohabbat mein, gussa hamdardi mein, hawas, Iffat mein badal jati hai, agar Allah (AJ) chahay. Is ka ilaaj, La ilaha illAllah ka zikar hai
Reader: Love of control, love of self and its desires, hatred for those who criticize it even if it is for its own good, and love for those who praise it even if it is in hypocrisy, rejection of advice and counsel, and only talking about itself. Originally, the nafs, the false ego, was one of the Creator's gifts to man. But because we allow the nafs to lean towards material values, to take pleasure only in worldly life, our nafs has become almost animal-like, while its shape remains that of a human being. This nafs is our worst enemy, who is living inside of us, dominating and tyrannizing us and keeping our human soul imprisoned and forgotten in the depths of our subconscious.
On the level of commanding nafs, influences are very heavy. Unless somebody wise and strong holds you by your hand and takes you out, it is very difficult, if not impossible, to get rid of these influences. When we follow our rational decision and are rescued from our misery by a strong teacher, then we may rise to the second level – the blaming self: Nafs Al-Lawwama. Thus, the soul is pulled out from the dark dungeon of the ego to the light of conscience, and we will see our arrogance being transformed into humility, vengefulness and hate into love, anger into kindness, lust into chastity if Allah (AJ) so wills. The remembrance that is appropriate for its treatment is La ilaha illAllah (there is no deity but Allah).
اپنی مدد آپ ممکن نہیں: صرف اللہ ( عزوجل) ھدایت بھیجتا ہے
|Apni madad aap mumkin nahi: sirf Allah (AJ) hidayat bejhta hai|
𝐍𝐨 𝐒𝐞𝐥𝐟-𝐇𝐞𝐥𝐩: 𝐎𝐧𝐥𝐲 𝐀𝐥𝐥𝐚𝐡 (𝐀𝐉) 𝐒𝐞𝐧𝐝𝐬 𝐆𝐮𝐢𝐝𝐚𝐧𝐜𝐞
|مولانا شیخ ق |
لہذا ، ان (مراحل) کو سمجھیں اور پھر ہم اپنے آپ سے سوال کریں ، 'کیا میں (اس درجے) پہ ہوں؟' لہذا ، جب لوگ یہ سمجھ جاتے ہیں کہ ان میں بہت سی بُری خواہشات ہیں ، بہت خراب اوصاف ہیں ، وہ اپنی بُری عادتیں نہیں بدل پارہے ؛ اور پھر یہ سمجھنے کیلئے کہ میرا نفس اس درجے پر ہے اور یہ مجھے مسلسل برائی کی طرف کھینچ رہا ہے۔ لہذا ہم طریقت میں آتے ہیں، کیونکہ وہ سکھارہے ہیں کہ اپنی ذات سے کوئی مدد نہیں ملے گی ، کوئی اپنی مدد آپ کے تحت نہیں ۔ اللہ (عزوجل) کے ذریعہ ھدایت ملتی ہے۔ جب اللہ (عزوجل) ہدایت دیتا ہے تو وہ شیر سُدھارنے والے ( اولیااللہ) بھیجتا ہے تاکہ ( وہ ) ایک اینرجی ، ایک درس ، ایک حقیقت بھیجنا شروع فرمائیں کہ 'جو تم کر رہے ہو، اِس سے رُک جاو'۔ اور ان کے صُحبت، ہمراہی سے ، اور درس دیکھنے سے ، ان تعلیمات کا فیض اور روشنیوں( نور) حاصل کرنے سے ، مدد طلب کرنے سے، اور تعویذات سے، اور ان تمام چیزیں پر عمل درآمد سے — (نفس) امارہ کو باہر نکالنا اور عبد کو ایک دھوکے باز کردار ختم کرنا ممکن ہوتا ہے اور اللہ (عزوجل) کے اعراف ، ذات باری تعالی کو محسوس کرنے ، اُس سے محبت کرنے اور قرب حق سمجھنےمیں (مدد ملتی ہے) انشاء اللہ۔
Mawlana Shaykh Q| Lehaza, un ( marahil ) ko samjhain aur phir hum apne aap se sawal karen,' kya mein ( is darjay ) pay hon ?' lehaza, jab log yeh samajh jatay hain ke un mein bohat si burii khwahisaat hain, bohat kharab awsaf hain, woh apni burii adaten nahi badal par hai ; aur phir yeh samajhney ke liye ke mera nafs is darjay par hai aur yeh mujhe musalsal burai ki taraf khech raha hai. Lehaza hum tareqat mein atay hain, kyunkay woh sikharhe hain ke apni zaat se koi madad nahi miley gi, koi apni madad aap ke tehat nahi. Allah (AJ) ke zareya hadaiyat millti hai. Jab Allah (AJ) hadaayat deta hai to woh sher sudharnay walay ( Awliya-Allah ) bhejta hai taakay ( woh ) aik energy, aik dars, aik haqeeqat bhejna shuru farmaen ke' jo tum kar rahay ho, iss se ruk jao '. Aur un ke mohabbat, humraahi se, aur dars dekhnay se, un talemaat ka faiz aur roshiniyon (Nur) haasil karne se, madad talabb karne se, aur taweezat se, aur un tamam cheeze par amal daraamad se — ( nafs ) ammara ko bahar nikalna aur abd ko aik dhokay baz kirdaar khatam karna mumkin hota hai aur Allah (AJ) ke airaaf, zaat baari taala ko mehsoos karne, uss se mohabbat karne aur qurb haq samajhney mein ( madad millti hai ) In'sha Allah .
Mawlana Shaykh Nurjan Mirahmadi (Q): So, then understanding these and then we ask ourself, 'Am I at that?' So, when people understand they have a lot of bad desires, a lot of bad characteristics, they're not changing their characteristics. Then this is to understand that this nafs (ego) of mine is at that level and it continuously pulling me towards the badness. So, we come to tariqah because they're showing there's no help for you with yourself. There is no self-help; has to be through Allah (AJ) giving guidance. When Allah (AJ) gives guidance, He dispatches the lion tamers so that to begin to send an energy, a teaching, a reality, 'Stop what you're doing.' And by accompanying these associations and watching the teachings, taking the faiz (downpouring blessings) and the lights of these teachings, making the madad and the taweezes and all of these things are all the implementations to lift Ammara out, and to take the servant out of a deceitful character and to acknowledge Allah (AJ). To feel it, to love it, and to understand the Divinely Presence, inshaAllah.
یہ بیان اس لنک پر دیکھا جا سکتا ہے
Watch this Bayan on YouTube
https://youtu.be/ABdAyVimdJU
مولانا شیخ سید نور جان میر احمدی نقشبندی (ق) کا فیس بک پیج لائک کیجئے
Official Page: Shaykh Nurjan Mirahmadi
Shaykh Nurjan Mirahmadi
اپنے سوالات اور دعا کی درخواست ای میل کیجئے
Ask Your Questions or Need Prayers.
Email: helpme@nurmuhammad.com
1/3