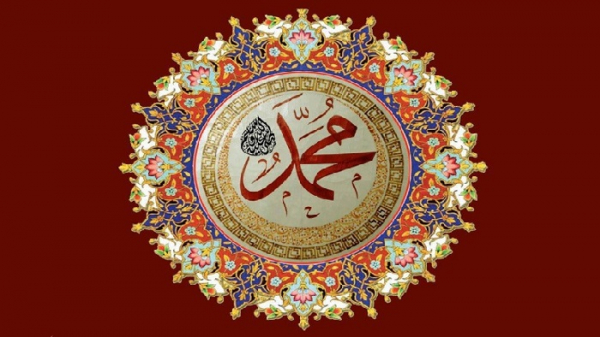 Fallen Angels in Islam Q&A
From the Realities of Mawlana (Q) as taught by Shaykh Nurjan Mirahmadi.
A'udhu Billahi Minash Shaitanir Rajeem
Bismillahir Rahmanir Raheem
I seek refuge in Allah from Satan, the rejected one
In the Name of Allah, the Most Beneficent, the Most Merciful
Question: Ya Sayyidi, we thought angels never change. Then how to understand how angel became and changed to Iblis (satan)? Was Iblis his character always and was exposed?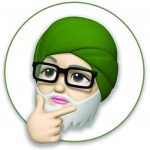 Shaykh Nurjan Mirahmadi (Q): Iblis was a jinn (unseen being) and his worshipness was so strong and that was always the example. That tariqah (spiritual path) comes and teaches that some people, they have a lot of himmah (zeal) in which they do whatever they want to do. And they do it and they do it and they do it. They say for 70,000 years, he worshipped Allah (AJ) in which he made a sujood (prostration) everywhere. There's nowhere from earth into the heavens that he did not make his sujood and his worshipness for Allah (AJ).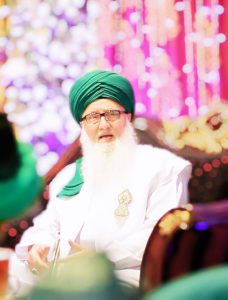 But because his worshipness was based at his own time and his own pace and the way he wanted, he didn't know that his actions were filled with arrogance. And Allah (AJ) allowed him to continue until he reached the station of heavens in which the angels would come to his associations of teachings. And when he would give a bayaan (discourse), they were listening. And that's where awliyaullah (saints) come to teach us is not only the bayan that come to you, say, 'Oh, it's very interesting talk he had,' but the guy's yelling and screaming and every other word he's spitting form his mouth. He's exhibiting characteristics that are not with the love and the muhabbat of Sayyidina Muhammad ﷺ. The one talking must always assume that Sayyidina Muhammad ﷺ is straight in front of you, looking at you while you're giving bayan. You cannot yell. You cannot scream. You cannot become insulting. You cannot do anything that would make the presence of Sayyidina Muhammad ﷺ to leave that bayan. And that's what they call their madad (support) and their support. Because all their shaykhs come with a Muhammadan light. So, when the shaykh is coming, he's coming with a Muhammadan light, as if Prophet ﷺ is in front of them in a Muhammadan dress.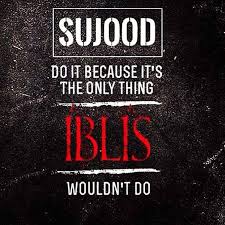 So, it means that then shaitan (satan) was exhibiting characteristics and the angels were being dressed by it. And that's why Allah (AJ) wanted to show when He said, 'The khalifa (deputy), bow down,' to show their taslim (submission) and this was a sujood al-ihtiram (prostration of respect) and the angels went into sujood, except shaitan. He didn't.
﴾وَإِذْ قُلْنَا لِلْمَلَائِكَةِ اسْجُدُوا لِآدَمَ فَسَجَدُوا إِلَّا إِبْلِيسَ أَبَىٰ وَاسْتَكْبَرَ وَكَانَ مِنَ الْكَافِرِينَ ﴿٣٤
2:34 – "Wa idh qulna lilmalayikati osjudo li Adama fasajado illa ibleesa aba wastakbara wa kana minal kafireen." (Surat Al-Baqarah)
"And [mention] when We said to the angels, 'Bow Down/make prostration to Adam'; so they prostrated, except for Iblis. He refused and was arrogant and became of the disbelievers/who reject faith." (The Cow, 2:34)
Then the angels, they came back up to look and they saw, 'Oh!' They scared that he's not making sujood to Allah (AJ) and they went down again. That's why we make the two sujood. They made one, came up and they saw he's still not bowing. They were scared and went back into sujood. And when they got up and finished, then the ones whom had been his students, they took it to ask a question. Say, 'Why the khalifa?' And that's what Allah (AJ) wanted to bring as an example. Those angels that Allah (AJ) allowed them to even speak so that to be as an example.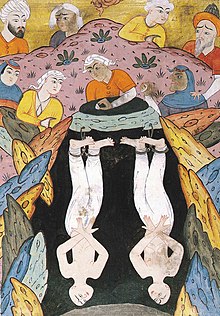 Harut and Marut were two other angels. There are stories of angels falling. When Allah (AJ) want to test them for whatever reason, Allah (AJ) does whatever Allah (AJ) wants to do. You don't say, 'No, it can't be done.' When the two angels, when Allah (AJ) was describing later in creation that look how difficult their life is on this earth, how much they have challenges from shaitan coming after them. There were angels thinking, 'That's not so hard. Why don't they just stay pure like us?' And then Allah (AJ) told to Harut and Marut, 'If you think that's easy, then We'll make you to go down. And I'll give you Ismullah al-Azam in which you go and you become human at that time. Live amongst them. But if you should commit a sin, immediately you will stay in that realm and you'll no longer be allowed to repeat that name to come into the heavens.'
They thought they were on a very easy mission, 'We're gonna go there and it's gonna be great and we're gonna show how you should be as an angel in this realm.' The minute they came in, they went to a maikhana where they were drinking in a tavern. And they said, 'Wow, this is like…these humans have it great,' and they started to drink. And as soon as they're drinking, they saw a very beautiful woman. And they said, 'Wow, these human women are something else,' because now they're in a human form. They use that name to come in human form. So, they went and approached the beautiful woman. She was waving say, 'Come, come.' So, they went and approach.
Said, 'Do you want to be with me?' and (angels) said, 'Okay.'
(Woman) said, 'But I have you to do one thing for me.' (Angels) say, 'What?'
Say, 'Kill my husband.' And (angels) said, 'Hmm?'
(Woman), 'Kill my husband.' (Angels) said, 'Okay.' And they went and they killed the husband. And they're cut. And then they cried and repented, 'We don't what happened to us, ya Rabbi. We came, we drank from their drinks that we don't have in heaven and we lost our mind and we went after a woman. We've never seen a woman before. We wanted her. We said we'll do whatever you want and she asked us kill this man. We killed him and now we don't know how to go back.' Say, 'Go back? For all of eternity, you're on this earth.'
وَاتَّبَعُوا مَا تَتْلُو الشَّيَاطِينُ عَلَىٰ مُلْكِ سُلَيْمَانَ ۖ وَمَا كَفَرَ سُلَيْمَانُ وَلَـٰكِنَّ الشَّيَاطِينَ كَفَرُوا يُعَلِّمُونَ النَّاسَ السِّحْرَ وَمَا أُنزِلَ عَلَى الْمَلَكَيْنِ بِبَابِلَ هَارُوتَ وَمَارُوتَ ۚ وَمَا يُعَلِّمَانِ مِنْ أَحَدٍ حَتَّىٰ يَقُولَا إِنَّمَا نَحْنُ فِتْنَةٌ فَلَا تَكْفُرْ ۖ فَيَتَعَلَّمُونَ مِنْهُمَا مَا يُفَرِّقُونَ بِهِ بَيْنَ الْمَرْءِ وَزَوْجِهِ ۚ وَمَا هُم بِضَارِّينَ بِهِ مِنْ أَحَدٍ إِلَّا بِإِذْنِ اللَّـهِ ۚ وَيَتَعَلَّمُونَ مَا يَضُرُّهُمْ وَلَا يَنفَعُهُمْ ۚ وَلَقَدْ عَلِمُوا لَمَنِ اشْتَرَاهُ مَا لَهُ فِي الْآخِرَةِ مِنْ خَلَاقٍ ۚ وَلَبِئْسَ مَا شَرَوْا بِهِ أَنفُسَهُمْ ۚ لَوْ كَانُوا يَعْلَمُونَ ﴿١٠٢﴾     
2:102 – "Wattaba'oo maa tatlush Shayaateenu 'alaa mulki Sulaimaana, wa maa kafara Sulaimaanu wa laakinnash Shayatteena kafaroo, yu'al limoonan naasas sihra wa maaa unzila 'alal malakayni bi Baabila Haaroota wa Maaroot; wa maa yu'allimaani min ahadin hattaa yaqoolaa, innamaa nahnu fitnatun falaa takfur; fayata'al lamoona minhumaa maa yufarriqoona bihee baynal maryi wa zawjih; wa maa hum bidaarreena bihee min ahadin illaa bi iznillah; wa yata'allamoona maa yadhurruhum wa laa yanfa'uhum; wa laqad 'alimoo lamanish taraahu maa lahu fil Aakhirati min khalaaq; wa labi'sa maa sharaw biheee anfusahum; law kaanoo ya'lamoon." (Surat Al-Baqarah) 
"And they followed [instead] what the devils had recited during the reign of Solomon. It was not Solomon who disbelieved, but the devils disbelieved, teaching people magic and that which was revealed/came down to the two angels Harut and Marut, at Babylon. But the two angels do not teach anyone unless they say, "We are a trial, so do not disbelieve [by practicing magic]." And [yet] they learn from them that by which they cause separation between a man and his wife. But they do not harm anyone through it except by permission of Allah. And the people learn what harms them and does not benefit them. But they certainly knew that whoever purchased the magic would not have any share (in the happiness) in the Hereafter. And wretched is that for which they sold themselves, if they only knew." (The Cow, 2:102)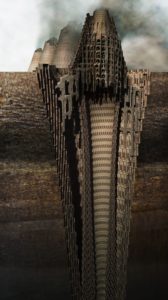 This Harut wa Marut were thrown into the well of Babel and they're held upside down inside that well still till today where all the magicians, they make their ziyarah to that well and they ask from those angels, the magic of deceit. So, the knowledges of this magic are real. Because it's coming from these angels. And they give a warning that, 'Before we tell you this, know that you will be eternally punished.' Because Allah (AJ) describes in Qur'an, they give a disclaimer that we are angels of the heavens and that Allah (AJ) will punish you. And they will take that knowledges regardless of the threat of punishment. And the majority of the angelic knowledges they take is how to break families. So, the satanic empire is very big on how to break relationships and break families.
Question: Sayyidi, are big sins also forgiven with Durood Sharif (praising on Prophet Muhammad ﷺ)?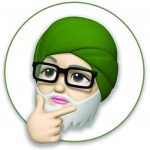 Shaykh Nurjan Mirahmadi (Q): InshaAllah, all sins forgiven. What's big and what's small? There's a physics and science apps now that you can look and say look into the universe. You take this leaf and then begin to zoom out, zoom out, zoom out. It goes outside of the earth, goes outside the galaxy, goes out to the milky way, goes out into space. You can no longer even see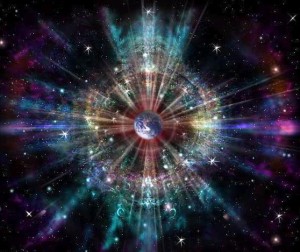 the dot of the Earth. Allah (AJ) – how many billions of galaxies and universes Allah (AJ) has? Aren't you astonished that He even knows who you are? Right? This, Allahu Akbar that, 'Ya Rabbi, the vastness of everything – are You sure who I am? Did anybody forget me up there?' He says, 'Not a single breath you make, I forgot. Not a single step you make, I have not written for you.'
So, when Allah (AJ) says, 'Everything is in a hisaab (account)' but with that vastness and greatness Allah (AJ) want to rip you to pieces for what? Why Allah (AJ) created you? He want you to make your istighfar (seek forgiveness), want you to understand that, 'You are of a sinning nature. Your nation sins and never tires from sinning and I'm not tired of forgiving them.'
And this way is a way of muhabbat (love) and rahmah (mercy). And this is what makes the greatness of Allah (AJ). Otherwise, what would make Allah (AJ) great? Where the angels were astonished that, 'How come they do so many bad things and you forgive them?' And that's when you say, 'SubhanAllah, Allah (AJ) is Kareem (The Most Generous). Allah's (AJ) generous because the servants are sinning. If all the servants were good, how would you know the greatness of Allah (AJ)? But it's because we're bad, because we're doing wrong things and because Allah (AJ) forgiving us and raising us.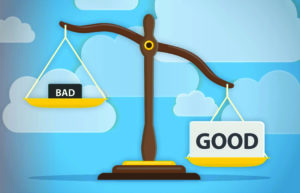 The game is stacked in our favour. Allah (AJ) manipulated the game for you to win. Why? Your hasanat (goodness) is ten and your siyah is one. So, every time you go out and sin. Right? Tomorrow you go out, sin, it's 1. Come in the next day say 'Tawbah, ya Rabbi', you got 10. Oh so, I'm now 9 ahead (subhanAllah from the audience). As long as you keeping good count because you don't want to go 10 times bad and then you only got 1. No doubt – so alhamdulillah, Allah (AJ) stacked the game in our favour. And that, that which we can't clean, that's why we talked last night on istighfar. Making Astaghfirullahul 'Azim (I ask for forgiveness, O Magnificent) – when awliyaullah put these words together for us. It's by sifat al-Azim that, 'Ya Rabbi, Your Might and Your Magnificence – I'm asking isitghfar from that power, ya Rabbi – which all universes are in Your command. I'm so small, blow away my sin.' Allah (AJ) say, 'Yes, alhamdulillah, Bismillahir Rahmanir Raheem.' Every time we make istighfar, the zikr of Allah (AJ) back upon us is Bismillahir Rahmanir Raheem. In My name of Compassion and Mercy is forgiven.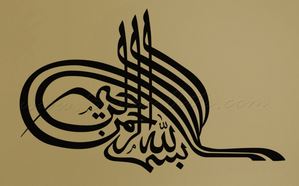 So, busy yourself all day long asking istighfar so that Allah (AJ) make zikr of Bismillahir Rahmanir Raheem upon your soul in which you be dressed from every knowledge of Bismillahir Rahmanir Raheem. Bismillahir Rahmanir Raheem is the baab and the door of all uloom and all knowledges. So, that istighfar actually is opening the secrets of knowledges until every cell in you has made a sincere istighfar because every cell is its own universe in you. Every cell in you – you've made so much istighfar – every cell in you has made an istighfar and which we call a zero-point energy where you have reduced your energy so much onto the horizon of death in which Allah (AJ) going to raise you into these oceans of baqa (subsistence). It has its own complete reality.
And we said before, you want to be washed before you make salawats. You know, you don't go as a dirty person running into the presence of Sayyidina Muhammad ﷺ. Although we're all dirty, but at least take a shower. When people don't understand that, then you think, 'Oh my God, how are they coming to this zikr (remembrance)?'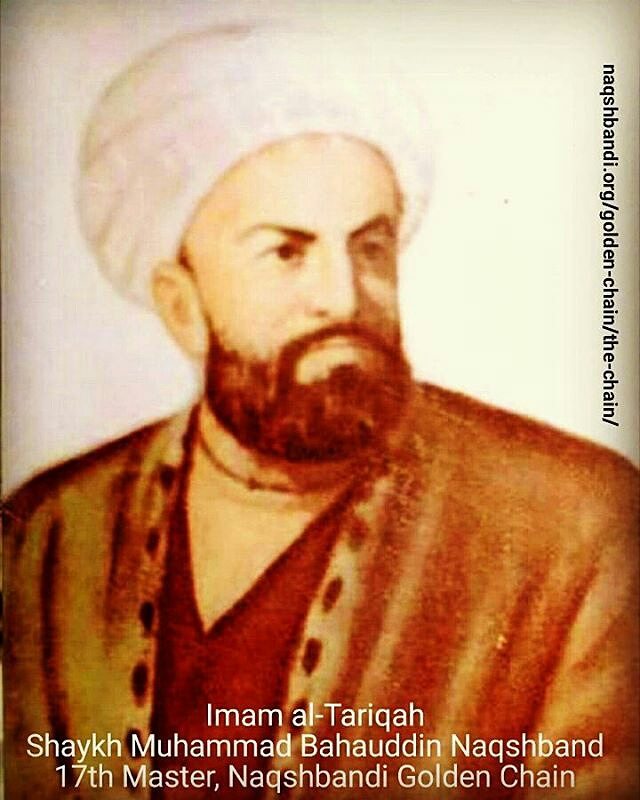 You know, in time of Mawlana Shah Naqshband (Q) – 3 times a week, they would do muraqabah (spiritual connection) and all his majlis' (associations), they have a hamam (washroom) outside, shower outside, and you put your white clothes there. From wherever you come, before you can enter in his presence, you had to shower. You showered, you put your clothes and then you came into the presence of that Shaykh so that every reflection of energy would be dressed upon you. He wouldn't be spending the whole time just trying to clean himself from all of the siyah (sins) of people flying towards them. If that is an adab (manners) for Mawlana Shah Naqshband (Q), imagine the adab for Sayyidina Muhammad ﷺ. But people are heedless now. When we talk on adab, they make salawats – it's real. As soon as they're making salawats, they're soul is entering into the presence of Sayyidina Muhammad ﷺ. They feel ashamed and shy that that dirtiness is with them. So, all day long they're making istighfar. Astaghfirullahul 'Azim, Astaghfirullahul 'Azim until they feel that dirtiness to be lifted from them, their children, their family and their communities. And then they're coming now, 'Ya Rabbi, is let me to be sweetened by that presence of Sayyidina Muhammad ﷺ.' (Voice from the audience: So many people commenting SubhanAllah, Alhamdulillah, Allahu Akbar).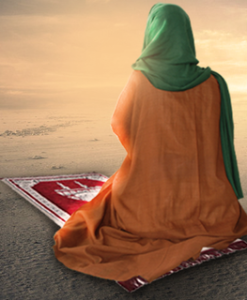 Yeah, alhamdulillah. Don't despair in the mercy of Allah (AJ) – immense. There's not a ni'mat (blessing) that you cannot find. When we did in Ramadan, so many people worried about their salah (prayer). 'Oh, I came into Islam at 40. I came into Islam at 30. Imagine that when you came, Allah (AJ) wiped away all your sins. And then we had that salah that counted for a thousand years of salah. The game is so much in our favour, it's ridiculously amazing.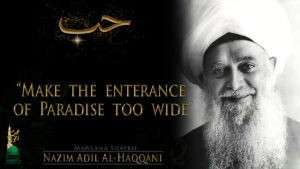 Yeah, why people then have to make it hard? So, Shaykh Nazim (Q) would say what? 'Make the doors of paradise as wide as possible.' And why? Why the wisdom of that? And they said that a man had a dream and he was doing good and saying good and doing lots of dawah. He had a dream of his resurrection that he dreamed that he had died and that he was being brought in Allah's (AJ) Divinely Presence. And Allah (AJ) was judging him and began to say everything that he was doing wrong and judgment. And then the servant was starting to cry, cry because he was a good person and he had done good all his life. Then Allah (AJ) says, 'Why are you crying?' He said, 'I expected more. I expected something different.'
And immediately Allah (AJ) changed the whole scenario that, 'You'll see me as how you envisioned me.' Allah (AJ) wanted to see something in his heart and he was firm that, 'I tried my best, ya Rabbi. All these judgement that you're passing upon me, I told everybody about Your Rahmah (mercy), about Your love.' How Allah (AJ) wants to punish the servant who talked about love? So, you talk from love and muhabbat to save your own soul. 'Ya Rabbi, I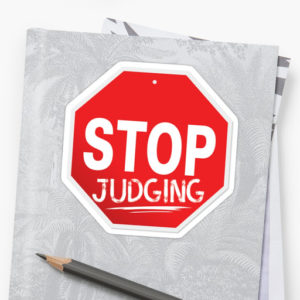 don't know what I've done wrong but I told people about Your Rahmah. Don't grab me to throw me into fire.' That Allah (AJ) be pleased upon how you presented Allah (AJ) to His creation. And Allah (AJ), 'Judge not for you shall be judged.' All prophets came and warned that how you're judging? Allah (AJ) will judge you. So, give people the best of news and Allah's (AJ) rahmah will dress and bless all of you because I'm counting on it the most, inshaAllah.
Subhana rabbika rabbal 'izzati 'amma yasifoon, wa salaamun 'alal mursaleen, walhamdulillahi rabbil 'aalameen. Bi hurmati Muhammad al-Mustafa wa bi siri Surat al-Fatiha.
Special thanks to our transcribers for their help with transcribing this suhbah.
Original Date of Suhbah: June 19, 2020
Related Articles:
Please Donate and support us to spread these heavenly knowledges.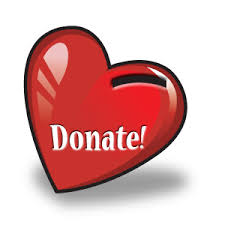 Copyright © 2020 Naqshbandi Islamic Center of Vancouver, All Rights Reserved.