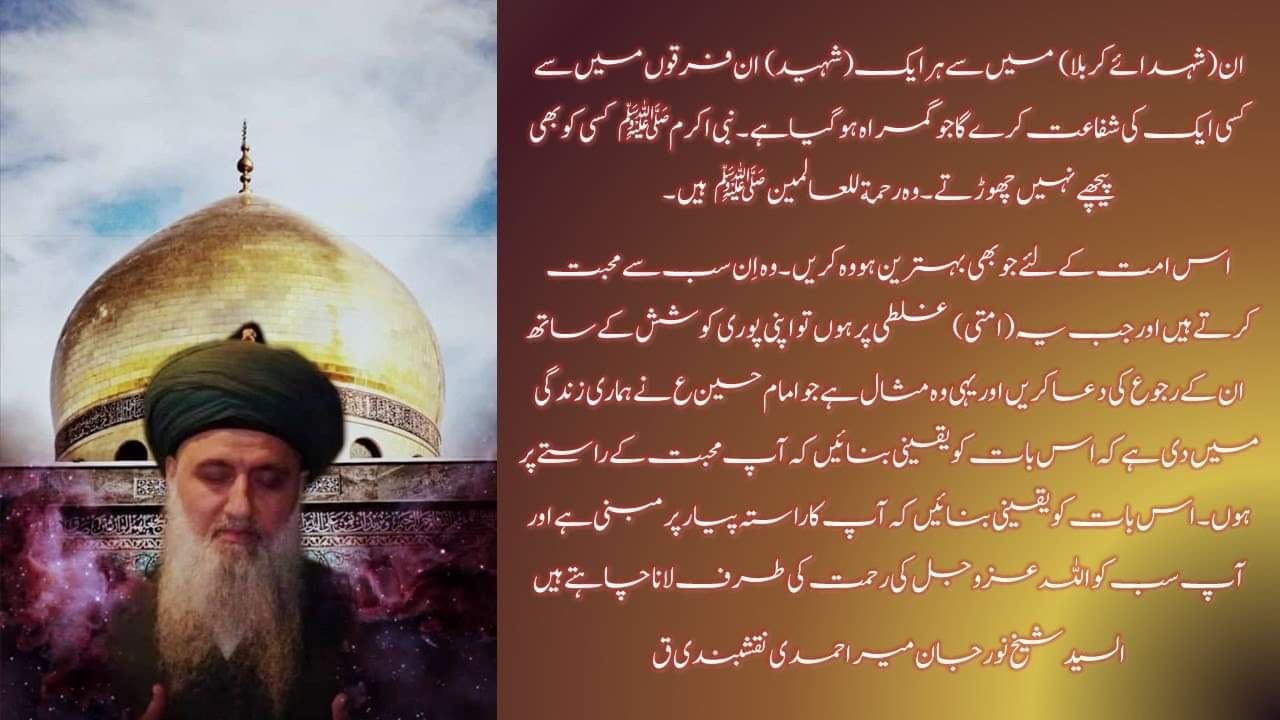 Urdu – Title:Reality of 72 sects and 72 Martyrs of Karbala وہ مشکل جو سیدنا محمدﷺ کے ا…
Title:Reality of 72 sects and 72 Martyrs of Karbala
وہ مشکل جو سیدنا محمدﷺ کے اہلِ بیت پر ڈالی گئی تھی وہ اُس حدیث کی بڑی سفارش ہے کہ یہ 72(گروہ) جو گمراہ ہو جائیں گے کربلا کے شہدا میں سے ہر ایک، ایک گمراہ گروہ کی شفاعت کرے گا کیوں؟ کیوں کہ یہ سب سیدنا محمد ﷺ کے عاشقین ہیں۔ وہ جو چاہتے تھے وہ ٖصرف(آپﷺ کی اُمت) 'اُمتی اُمتی' تھا۔ اگر نبی کریمﷺ اس (امت) سے محبت کرتے ہیں تو یہ(شہدائے کربلا) بھی اس(امت) سے محبت کرتے ہیں۔اور ان(شہدائے کربلا) میں سے ہر ایک(شہید) ان فرقوں میں سے کسی ایک کی شفاعت کرے گا جو گمراہ ہو گیا ہے۔ نبی اکرمﷺ کسی کو بھی پیچھے نہیں چھوڑتے۔ وہ رحمة للعالمين ﷺ ہیں۔وہاں کوئی لعنت نہیں، کوئی ملامت نہیں تھی کوئی کسی کے مخالف نہیں آرہا تھا۔ اس امت کے لئے جو بھی بہترین ہو وہ کریں۔وہ اِن سب سے محبت کرتے ہیں اور جب یہ(امتی) غلطی پر ہوں تو اپنی پوری کوشش کے ساتھ ان کے رجوع کی دعا کریں اور یہی وہ مثال ہے جو امام حسین ع نے ہماری زندگی میں دی ہے کہ اس بات کو یقینی بنائیں کہ آپ محبت کے راستے پر ہوں۔اس بات کو یقینی بنائیں کہ آپ کا راستہ پیار پر مبنی ہے اور آپ سب کو اللہ عزوجل کی رحمت کی طرف لانا چاہتے ہیں اور آپ مذمت نہیں کرتے اور لوگوں کو جہنم میں لے جانے کے لئے شیطان کیلئے کام نہیں کررہے ہیں۔ یہ شیطان کا کام ہے۔ شیطان آپ کی زندگی میں آپ کو جہنم میں لے جانے کے لئے آتا ہے۔ کوئی بھی امام جو آپ کو جہنم لے جانے آتا ہے اور مسلسل جہنم کے بارے میں گفتگو کرتا ہے اس کا مطلب یہ ہے کہ وہ شیطان کے لئے کام کررہا ہے۔ وہ کیوں؟کیوں لوگوں کو جہنم میں ڈالے جانے کے بارے میں اتنا جذباتی ہے ؟ جبکہ اُسے لوگوں کے جنت میں ڈالے جانے سے وابستہ ہونا چاہیے۔یہ زمین پر کسی کا کام نہیں ہے۔ اس قسم کے خطرے سے آگہی دینے والی(ذات) رسالت(مآبﷺ)کی ہے۔ ہمارا کام خیرات ہے اچھائی کو قائم رکھنا،رحمت اور محبت بانٹنا اور ہر ایک کے ساتھ عاجزی سے پیش آنا۔
السید شیخ نورجان میراحمدی نقشبندی ق
Transcription:
That clamaity put upon the family of Sayyidina Muhammad ﷺ is the great intercession of that Hadith that these 72 that are going wrong one of each of the shuhada of Karbala will intercede on that group.Why? Because they are all the lovers of sayyidina Muhammad ﷺ.All they wanted was ummati ummati.if this is what Prophet ﷺ love this is what they love.
And each one of them will intercede for one of these firqa that went wrong.Prophet ﷺ not leaving anyone behind.He is Rahmatul lil alameen there was no la'nat there was no cursing there was no coming against anyone Do the best you can for this nation .They love all of them and when they are wrong try your best to pray for them to come back and that is the example Imam Hussain AS gives in our life that Make sure you own a path of love.Make sure your path is based on love and that you want to bring everyone to rahma of Allah Azzawwajjal and that you are not condemning and working for shaytan to take people to Jahanam.That's shaytan's job. Shaytan comes into your life to take you to jahanam.Any imam come and take you to jahanam and constantly talking about jahanam means he is working for shaytan why is he, why is he fixated upon putting people into hell while he should be fixated upon people going into paradise. That isn't the job of anyone on earth this is the risalah to give that type of danger.Our job is khairat keep goodness give love and mercy lower your wing to everybody.
Urdu Transliteration:
Wo Mushkil jo Sayyidina Muhammad Sallallahu Alayhi wa Aaalihi wasallam ke Ahl e bait Par daali gai the wo ous hadees ki bari sifarish ha ke ye 72(garoh) jo gumrah hojaein gy karbala ke shuhada mein se har aik, aik gumrah garoh ki sha'fa'at karay ga kyun? Kyun ke ye sab Sayyidina Muhammad Sallallahu Alayhi wa Aaalihi wasallam ke Ashiqeen hain.wo jo chahtay thay wo sirf(App Sallallahu Alayhi wa Aaalihi wasallam ki ummat) ummati, ummatii tha Agr Nabi Kareem Sallallahu Alayhi wa Aaalihi wasallam iss ummat se muhabbat kartay hain tu ye (shuhada e karbala) bhi iss(ummat) se muhabbat karte hain aur inn (shuhada e karbala) mein se har aik(shaheed) inn firqon mein se ksi aik ki shafa'at karay ga jo gumrah hogaya ha Nabi Kareem Sallallahu Alayhi wa Aaalihi wasallam ksi ko bhi peechay nahi chortay wo Rahmatullil Alameeen hain wahan koi la'nat nahi, koi malamat nahi thi koi ksi ke mukhalif nahi aa raha tha. Iss ummat ke liye jo bhi behtareen hu wo karein! Wo inn sab se Muhabbat karte hain aur jab ye (ummati) galti Par hun tu Apni poori koshish ke sath inkay ru'joo ki duaa karein aur yhi wo misaal ha ji imaam Hussain AS ne hmari zindagi mein di ha ke iss baat ko yaqeeni bnaein ke App Muhabbat ke raastay Par hun, iss baat ko yaqeeni bnaein ke Apka rasta pyaar Par mabni ha aur Ap sabko Allah AJ ki rahmat ki traf laana chahtay hain aur Ap Muzammat nahi kartay aur logon ko jahanum mein le janay k liye shaitan ke liye kam nahi kar rahay hain ye shaitan ka kam ha shaitan apki zindagi mein apko jahanum mein le janay k liye ataa ha koi bhi imam jo apko jahanum le janay ke liye ata ha aur musalsal jahanum ke baray mein guftugu karta ha iska matlab ha ke wo shaitan ke liye kam kar rha ha. Wo kyun? Kyun logon ko jahanum mein daalay janay ke baray mein itna jazbati ha? Jab ke ousay log-on ke jannat mein daalany janay se wabasta hona chahiye ye zameen Par ksi ka kam nahi ha iss qisam ke khatray se aa'gahi denay wali (zaat) Risalat Ma'aab Sallallahu Alayhi wa Aaalihi wasallam ki ha hmara kaam kahiraat ha achai ko qaim rakhna, rahmat aur muhanbat bantna aur har aik ke sath aajzi se paish ana.
Watch here
https://youtu.be/Xkt0eXXXGXw