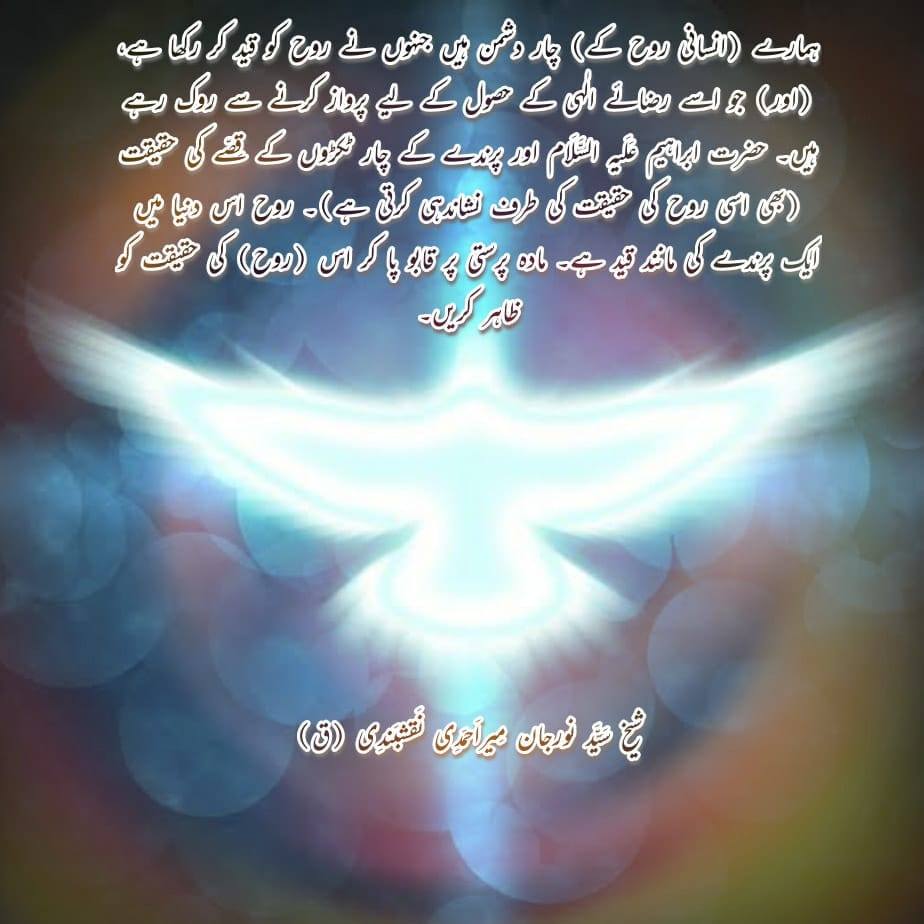 Urdu – ShaykhTalk # 2 – The Four Enemies Blocking The Soul! بِسْمِ اللَّـهِ الرَّحْمَـ…
ShaykhTalk # 2 – The Four Enemies Blocking The Soul!
بِسْمِ اللَّـهِ الرَّحْمَـٰنِ الرَّحِيمِ
اَلَّھُمَّ صَلِّ عَلَی سَیَّدِنَا محَمَّدٍ ﷺ وَعَلَی آلِ سَیَّدِنَا محَمَّدٍ ﷺ
شیخ سَیَّد نورجان مِیراَحمَدِی نَقشبَندِی (ق) کی سنہری تعلیمات سے اقتباس
انسانی روح کو در پیش چار رکاوٹیں (چار دشمن جنہوں نے روح کو قید کر رکھا ہے)!
ہمارے نفس اور اصل کو چار چیزیں تباہ کرتی ہیں۔ دنیا اور دنیاوی خواہشات۔ ہوس اور جسمانی شہوت۔ نفس اور نفسانی خواہشات۔ شیطانی لَذَّتیں اور انسانی جسم کے ساتھ اس کا کِھلواڑ۔ یہ چار حقیقتیں روح کے لئے روکاوٹ ہیں۔ اولیاء اللہ نے جب قرآن مجید سے رموز اخذ کیے تو ان میں سے ایک حضرت ابراہیم علیہ السلام کا قِصَّہ تھا۔ جب حضرت ابراہیم علیہ السلام نے اللہ تعالی سے سوال کِیا کہ اے میرے رب! آپ مُردے کو کیسے زندہ کرتے ہیں؟ خلیل اللہ یہ سوال پوچھ رہے ہیں، جو قربِ اِلٰہی اور حُبّ اِلٰہی کی ایک اعلیٰ مثال ہیں، (وہ) یہ سوال کر رہے ہیں۔ اللہ تعالی نے جواباً ایک مثال دی کہ ایک پرندے کو لائیں، اس کے چار ٹکڑے کریں، اور ہر ٹکڑا ایک الگ کونے میں رکھ دیں۔ پھر جب میرا اِذن (اجازت) آئے تو اس پرندے کو اپنے پاس بلائیے گا۔ سیدنا ابراہیم علیہ السلام نے فوراً ایک پرندے کے چار حصے کر کے الگ الگ رکھ دیئے، اور پرندے کو اپنے پاس بلایا تو وہ زندہ ہو کر آپ کے پاس حاضر ہو گیا۔ یہ پرندہ ایک مومِن کی روح کی علامت ہے۔ ایک مومِن کی روح کو رضائے الٰہی کے حصول کی راہ میں روکاوٹیں درپیش ہیں۔ اللہ عزوجل اس روح کی آزادی چاہتا ہے۔ یعنی یہ روح عالمِ مَلَکُوت اور آسمان سے آئی ہے اور دنیا میں قید ہوگئی ہے۔ اور یہاں اِس پر ظلم ہو رہا ہے۔ اور سب سے زیادہ تشویشناک بات یہ ہے کہ مادہ پرستی کا تعلق شیطان سے ہے۔ مادی دنیا پر شیطان کی حکومت انسانی جسم پہ بھی چل رہی ہے اور یہی غَضَبِ الٰہی کا باعث ہے۔ آپ کا وہ (دل) جو بَہِشت سے تعلق رکھتا ہے، ایک شیطانی جسم اور شیطانی خواہشات کے درمیان پھنس چُکا ہے۔ لہٰذا ایک سالک کا راستہ (یہ) ہے کہ مادہ پرستی کو ختم کرکے انسانی روح کو مادی جسم کے شکنجے سے رہائی دلائے۔
URDU TRANSLITERATION:
Insaani Rooh Ko Darpaish Chaar Rukaawaten (Chaar Dushman Jinhon Ny Rooh Ko Qaid Kr Rakha Hai)!
Hamaray nafs aur asal ko chaar cheezen tabaah krti hain. Duniya aur duniyavi Khwahishaat. Hawas aur jismaani shehvat. Nafs aur nafsaani Khwahishaat. Shaytaani lazzaten aur insaani jism k sath iska khilwaar. Ye chaar haqeeqaten rooh k liye rukaawat hain. Awliya Allah ny jb Qur'an Majeeb say ramooz akhaz kiye tou in may say aik Hazrat Ibrahim Alaihi Salam ka Qissa Tha. Jb Hazrat Ibrahim Alaihi Salaam ny Allah Ta'ala say sawaal Kiya k Ay Mere Rabb! Ap Murday ko kese Zinda krty hain? Khaleel Ullah ye sawaal puch rahay hain, jo qurb e Elaahi aur Hub e Elaahi ki aik A'alaa misaal hain, (wo) ye sawaal kr rahay hain. Allah Ta'ala ny jawaaban aik misaal di k aik parinday ko laayen, us k chaar tukray kren, aur hr tukra aik alag konay may rakh dain. Phir jb Mera izan (ijazat) aye tou is parinday ko apny pas bulaaiye ga. Sayyidina Ibrahim Alaihi Salaam ny foran aik parinday k chaar hissay kr k alag alag rakh diye, aur parinday ko apny pas bulaya tou wo Zinda ho kr ap k pas hazir ho Gaya. Ye parinda aik momin ki rooh ki alaamat Hai. Aik momin ki rooh ko Raza e Elaahi k husool ki raah may rukawaten darpaish hain. Allah Azzawajal is rooh ki azaadi chahta Hai. Yaani ye rooh Aalam e malakoot aur aasmaan say i Hai aur duniya may qaid ho gai Hai. Aur yahan is pr zulm ho raha Hai. Aur sb say zyada tashweeshnaak baat ye Hai k maada parasti ka taaluq Shaytan say Hai. Maadi Duniya pr Shaytan ki hakoomat insaani jism pay bhi chal rahi Hai aur yehi ghazab e Elaahi ka baa'is hai. Ap ka wo (dil) jo bahisht say taaluq rakhta Hai, aik Shaytaani jism aur Shaytaani Khwahishaat k darmyaan phans chuka Hai. Lehaaza aik saalik ka raasta (ye) Hai k maada parasti ko khatam kr k insaani rooh ko Maadi jism k shikanjay say rehaai dilaaye.
ENGLISH TRANSCRIPT:
The Four Enemies Blocking The Soul!
This nafs and our reality is broken by four. From the Duniya, and all the Duniya desires, the hawa and all of the physical pleasures, the nafs and all the desires of the nafs (Ego), and the Allurement of Shaytan and how Shaytan (satan) is playing with the body. That these four realities are blocking the soul. And from Awliya Allah, when they extracted realities from Holy Qur'an, that when Sayyidina Ibrahim (alayhis salaam) was asking from Allah (Azza wa Jal), "Yaa Rabbi how do you revive the dead?" And this is Khalilullah (intimate friend of Allah), the dearness and nearness of Allah Azzawajal asking "Yaa Rabbi how do you revive the dead?" And Allah (Azza wa Jal) gave an example to Sayyidina Ibrahim that take that bird and quarter it into four sections and put a section on each corner and when I give you permission call that bird back to your presence. And Immediately Sayyidina Ibrahim put the four pieces of the bird (in different corners) and called the bird to his presence and that bird came to life and flew into his presence. That bird was symbolic of the soul of the believer. That the soul of the believer is blocked from what Allah (Azza wa Jal) wants for it. He wants that soul to fly, means it is coming from the Malakoot and coming from the Heavens and it is encaged in the physical world. And is oppressed in the physical world. And that which is the worst, means the physical form and the physicality, has to do with Shaytan and satan's rule on this Earth, is running the body. So it means this angers Allah (Azza wa Jal). That of Mine that is yours from Paradise is trapped within that satanic being and all these satanic desires. So the seeker's whole path is to just destroy the physicality and the grip that the physicality has upon the ruhaniyat, and the spirituality of insaan (humans).
? ? ? Shaykh Syed Nurjan Mirahmadi Naqshbandi (q) ? ? ?
Watch Lecture Here:
https://youtu.be/KCBkJeRzTBA