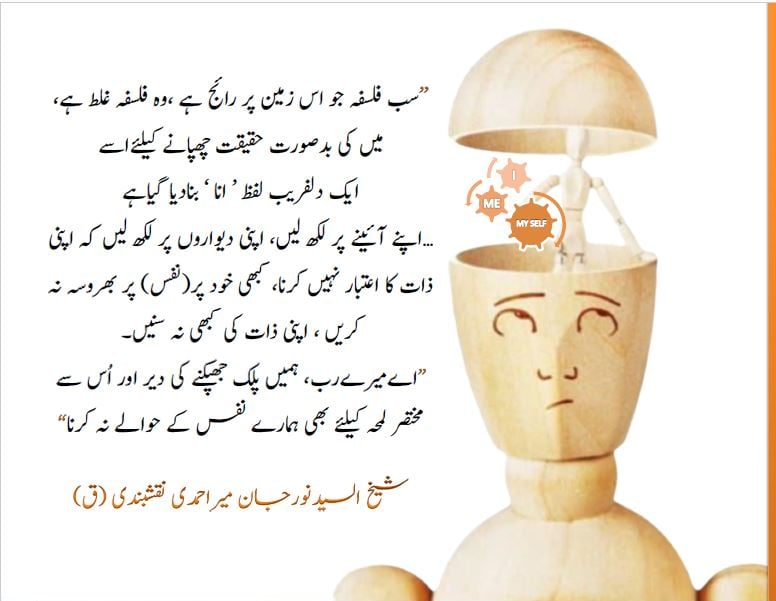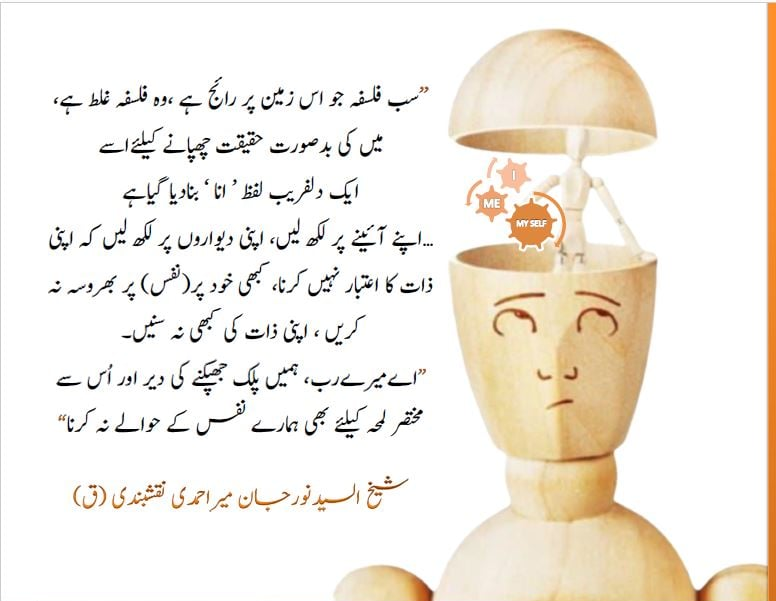 Urdu – Please Like Follow the Page The word 'Self' has been used to beautify an ugly r…
Please Like Follow the Page
The word 'Self' has been used to beautify an ugly reality of the Ego. 'Ya Rabbi, Don't leave us to our Self (Ego) for a Blink of an Eye':
میں کی بدصورت حقیقت چھپانے کیلئے اسے دلفریب لفظ ' انا ' بنادیا گیاہے : زمین پر بہت سی مشکلات تیزی سے بڑھ رہی ہیں۔ زمین پر رونما ہونے والے واقعات کی بہت ساری نشانیاں ہمارے سامنے ہیں اور ہم دعا کرتے ہیں کہ اللہ (عزوجل) ہم سب کو سلامت رکھے اور ہم پر فضل فرمائے ، ہماری حفاظت فرمائے اور ہمیں اپنی امان میں رکھے ۔ راہِ طریقت و تصوف کی ہر بات اس (سلامتی ) کو تقویت دینے کے لیے آتی ہے اور میرے دل اور اُن دلوں کیلئے جو سماعت رکھتے ہیں، ہمیشہ ایک نصیحت لاتی ہے–کیونکہ یہ نصیحت ہماری حفاظت کی ضامن ہے– کہ صرف ایک غلط قدم ہمیں غلط سمت لے جائے گا ۔
اللَّهُمَّ لَا تَكِلْنِي إِلَى نَفْسِي طَرْفَةَ عَيْنٍ وَلَا أَقَلَّ مِنْ ذَلِكَ
'اے اللہ، مجھے پلک جھپکنے کی دیر اور اُس سے مختصر لمحہ کیلئے بھی میرے نفس کے حوالے نہ کیجیؤ'–سرکار دو عالم سیدنا محمد ﷺ
یعنی نبی کریم ﷺ یہ تعلیم دیتے ہیں کہ 'اے میرے رب ، مجھے ایک مجھے پلک جھپکنے کی دیر بھی اپنے نفس کے ساتھ مت چھوڑیں۔' وہ حقیقت– اگر ہم اس کے مطابق زندگی گزار لیں اور اپنے آئینے پر لکھ لیں ، اپنی دیواروں پر لکھ لیں کہ اپنی ذات کا اعتبار نہیں کرنا۔ کبھی خود پر(نفس) پر بھروسہ نہ کریں ، اپنی ذات کی کبھی نہ سنیں۔ اپنی ذات کی دیکھ بھال کرنے کی کوشش کبھی نہ کریں۔ سب فلسفہ جو اس زمین پر رائج ہے ،وہ فلسفہ غلط ہے۔ انہوں نے انا کو دلفریب لفظ بنادیا اور اسے 'میں 'کہہ دیا ہے ، ایک انتہائی گھٹیا حقیقت کو خوبصورت بنا دیا ۔ کیونکہ اگر تم کہتے ہو کہ میں اپنے آپ کی سنوں گا ، میں اپنے نفس کا خیال رکھوں گا ، میں اپنی انا کو بڑھاوا دوں گا اور میں اپنی انا کی نصیحت اور رہنمائی لوں گا ، تب ہم واضح طور پر جان چکے ہوتے کہ یہ غلط ہے۔ اور شیطان کی چال ہے، پردہ ڈالنا اور کسی چیز کی (اصلیت )چھپانا تاکہ ہم اسکی حقیقت نہ دیکھ سکیں۔
اے میرے رب، مجھے پلک جھپکنے کی دیر کیلئے بھی میرے نفس(انا) کے حوالے نہ کریں: نبی کریم ﷺ نے جس بات سے ہمیں خبردار کیاہے وہ خاص طور پر اہل تفکر کیلئے ایک نصیحت (یاد دہانی) ہے، اُن کیلئے جو ہر لمحہ اس پر غور و فکر کر رہے ہیں کہ ، 'اے میرے رب ، مجھے اپنے آپ کے پیچھے نہ چلنے دینا ۔ مجھے اپنی خواہشات کے پیچھے بھاگنے کی اجازت نہ دینا۔ مجھے ہمیشہ میری چاہت سے بچانا، اور اُس راہ پہ ڈال دینا جو آپ چاہتے ہیں۔ اے میرے رب ، وہ کیا ہے جس کی آپ مجھ سے تمنا کرتے ہیں ، وہ کیا ہے جو مجھے اُس طرف لے جائے گا جو تسلیم اور فرمانبرداری کے سمندر ہیں، جو میرے لیے آپکا حکم ہے' اور اولیاءاللہ ہمیں یہ سکھاتے ہیں کہ یہ راستہ ہے جس پر چل کر ہمیں اپنی زندگی گزارنے کی کوشش کرنی ہے اور اس دنیا میں موت سے پہلے مرجانا ہے ۔یعنی آپ اپنی ساری زندگی اللہ (عزوجل) کی راہ میں گزاریں گے اور آخری قدم پر شیطان چال چلے اور بیوقوف بنانا شروع کردے گا اور اس 'عبد' (خادم) کو ایک مختلف سمت میں لے جائے!
الحمد اللہ! اللہ (عزوجل) نے ہمیں اولیاءاللہ کے ہاتھوں میں ڈال دیا ہے تاکہ وہ مسلسل مداخلت کریں۔ نہ انہیں خود پر اعتماد ہے اور نہ وہ آپ کے نفس پر اعتماد کرتے ہیں۔ وہ صرف اللہ (عزوجل) ، اور سیدنا محمد ﷺ پر بھروسہ کرتے ہیں۔ اور رسول اللہ ﷺ کا نور اولیااللہ کے دل میں جھلکتا ہے۔ یعنی ان کا تفکر اور ان کا غور و فکر ، انکی مدد اور دست گیری اُس نورِ محمدیہ ﷺ سے ہے جو اُنہیں گھیرے ہوئے ہے ، اس نور سے وہ بابرکت ہیں۔ وہی نور اُنکی رہنمائی کرتا ہے اور وہی نور ہے جس پر وہ بھروسہ کرتے ہیں اور یہی ہدایت کا نور ہے۔ "
شیخ السید نورجان میر احمدی نقشبندی (ق)
Roman Urdu:
Mein ki badsoorat haqeeqat chupaney ke liye usay dilfaraib lafz' anaa' banadiya gaya hai : Zameen par bohat si mushkilaat taizi se barh rahi hain. zameen par runuma honay walay waqeat ki bohat saari nishanain hamaray samnay hain aur hum dua karte hain ke Allah ( Azzwajal ) hum sab ko salamat rakhay aur hum par fazl farmaiye, hamari hifazat farmaiye aur hamein apni Amaan mein rakhay. Raah e tareqat o tasawuf ki har baat is ( salamti ) ko taqwiyat dainay ke liye aati hai aur mere dil aur unn dilon ke liye jo samaat rakhtay hain, hamesha aik nasiyaat latayen hai – kionki yeh nasiyaat hamari hifazat ki zamin hai – ke sirf aik ghalat qadam hamein ghalat simt le jaye ga .
'Ae Allah, mujhe palak jhapkane ki der aur uss se mukhtasir lamha ke liye bhi mere nafs ke hawalay nah kijyo–Sarkarey Du Aalam Hazrat Muhammad (s).
Yani Nabi Kareem (s) yeh taleem dete hain ke' ae mere Rab, mujhe aik palak jhapkane ki der bhi –apne nafs ke sath mat choren.' Woh Haqeeqat agar hum is ke mutabiq zindagi guzaar len aur –apne aaiine par likh len, apni dewaron par likh len ke apni zaat ka aitbaar nahi karna. Kabhi khud par ( nafs ) par bharosa nah karen, apni zaat ki kabhi nah sunen. Apni zaat ki dekh bhaal karne ki koshish kabhi nah karen. Sab falsafah jo is zameen par raaij hai, woh falsafah ghalat hai. Unhon ny Ana ko dilfaraib lafz banadiya aur usay 'mein' keh diya hai, aik intehai ghatiya haqeeqat ko khobsorat bana diya. Kyunkay agar tum kehte ho ke mein –apne aap ki sunon ga, mein –apne nafs ka khayaal rakhu ga, mein apni anaa ko brhhawa dun ga aur mein apni anaa ki nasiyaat aur rahnumai lon ga, tab hum wazeh tor par jaan chuke hotay ke yeh ghalat hai. Aur shaytan ki chaal hai, parda daalna aur kisi cheez ki ( asliyat ) chhupana taakay hum uski haqeeqat nah dekh saken .
Ae mere rab, mujhe palak jhapkane ki der ke liye bhi mere nafs ( anaa ) ke hawalay nah karen : Nabi Kareem (s) ney jis baat se hamein khabardaar kiya hai woh khaas tor par ahel-e-tafakkar ke liye aik nasiyaat ( yaad dehani ) hai, unn ke liye jo har lamha is par ghhor-o-fikar kar rahay hain ke,' Ae mere Rab, mujhe apne aap ke peechay nah chalne dena. Mujhe apni khwahisaat ke peechay bhagnay ki ijazat nah dena. Mujhe hamesha meri chahat se bachana, aur uss raah pay daal dena jo aap chahtay hain. Ae mere Rab, woh kya hai jis ki aap mujh se tamanna karte hain, woh kya hai jo mujhe uss taraf le jaye ga jo tasleem aur farmabardari ke samandar hain, jo mere liye Aapka hukum hai' aur Aulia-Allah hamein yeh sikhate hain ke yeh rasta hai jis par chal kar hamein apni zindagi guzaarne ki koshish karni hai aur is duniya mein mout se pehlay marjanaa hai. yani aap apni saari zindagi Allah ( Azzwajal ) ki raah mein guzaraian ge aur aakhri qadam par shaytan chaal chalay aur bewaqoof banana shuru kardey ga aur is ' Abdul ' ( khadim ) ko aik mukhtalif simt mein le jaye !
Al-Hamdulil'Allah ! Allah ( Azzwajal ) ney hamein Aulia-Allah ke hathon mein daal diya hai taakay woh musalsal mudakhlat karen. Nah inhen khud par aetmaad hai aur nah woh aap ke nafs par aetmaad karte hain. Woh sirf Allah ( Azzwajal ), aur Syedinna Muhammad (s) par bharosa karte hain. Aur Rasul Allah (s) ka noor Aulia-Allah kay dil mein jhalakta hai. Yani un ka tafakkar aur un ka ghhor o fikar, unki madad aur dastgiri usi Nur e Muhammad (s) se hai jo unhen ghairay hue hai, is Nur se woh babarkat hain. wohi Nur unkee rahnumai karta hai aur wohi Nur hai jis par woh bharosa karte hain aur yahi hadaayat ka Nur hai!
Shaykh As-Sayed Nurjan Mirahmadi Naqshbandi (Q)
The word 'Self' has been used to beautify an ugly reality of the Ego:
There are so many difficulties moving quickly upon the earth. So many visible signs of events that are moving upon the earth; and we pray that Allah (AJ) bless us and protect us, and make us to be guarded. Everything about tariqa comes to reinforce that, and constantly put a reminder within my heart and the hearts of those who listen, because that reminder will save us. If but one step and we may find ourself in the wrong direction.
اللَّهُمَّ لَا تَكِلْنِي إِلَى نَفْسِي طَرْفَةَ عَيْنٍ وَلَا أَقَلَّ مِنْ ذَلِكَ
"Allahumma laa takilnee ila nafsee tarfat `aynin wa laa aqala min dhalika."
"O Allah! Don't leave me to my ego for the blink of an eye or less." Prophet Muhammad (saws)
Means that Prophetﷺ teaching that, 'Ya Rabbi, don't leave me to myself for a blink of an eye.' That reality if we live by that and write that on our mirror, write that on our walls, that not to trust ourselves, never rely on the self, never listen to the self; never try to take care of the self. Everything that is in this hemisphere, philosophy is wrong. They made a fancy word of ego and called it self, beautified a very dirty reality. Because if you say that I'm going to listen to me ego, I'm going to take care of my ego, I'm going to feed my ego and I'm going to let my ego advise me and guide me; then we would have clearly understood that's wrong. And that is the way of shaytan, is to veil and to hide something so that we are not seeing it for what it really is.
Ya Rabbi, Don't leave us to our Self (Ego) for a Blink of an Eye
What Prophetﷺ warned us, is always a reminder for the people of tafakkur especially, who are constantly contemplating that, 'Ya Rabbi, don't let me to follow myself. Don't let me to follow my desires. Don't let me to always look for what I'm wanting but what is it that You want? Ya Rabbi, what is it that You Desire, what is it that will move towards Your Want from me, and the oceans of taslim and submission.' And awliya (saints) teach us that that is the way that we try to live our lives and die from this world. Means you may spend all your life in the way of Allah (AJ) and at the last step shaytan begin to trick and fool and make that 'abd (servant) to move into a different direction.
Alhamdulillah Allah (AJ) put us in the hands of awliyaullah so that they constantly intervene. They don't trust themselves and they don't trust your self; they trust only in Allah (AJ), and Sayyiduna Muhammadﷺ. And that light of Prophet reflecting in the heart of awliyaullah. Means that their tafakkur and their contemplation, their madad and support means that they're surrounded by that light, blessed by that light, guided by that light and that is the light in which they rely upon; and that is the light of guidance.
🕋 Shaykh As-Sayed Nurjan Mirahmadi Naqshbandi (Q)
Read Here: https://nurmuhammad.com/ocean-of-power-in-the-heart-of…/