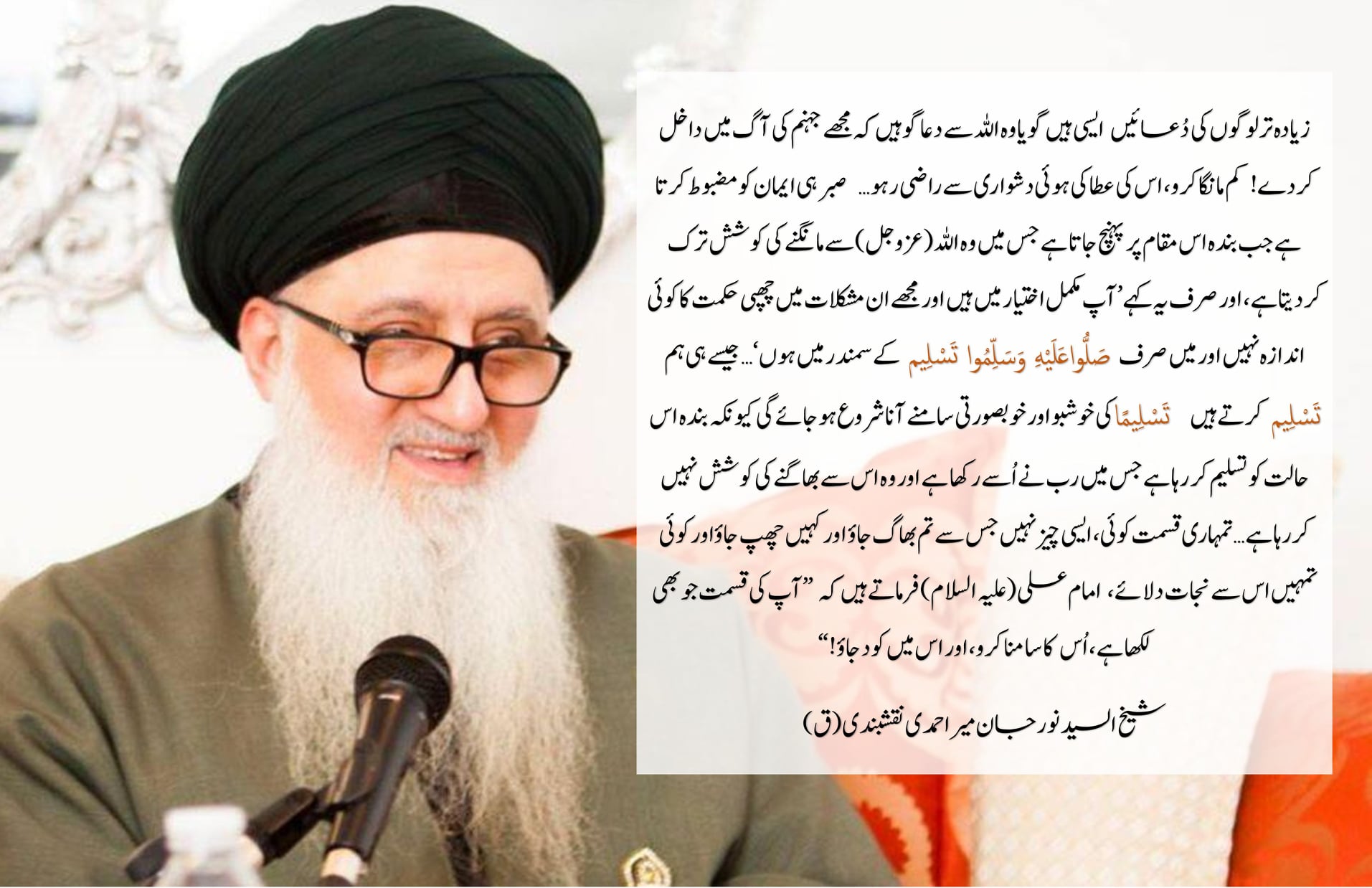 Urdu – Ask less, be content with the difficulty– 'Whatever your fate is, face it, and …
Ask less, be content with the difficulty–
'Whatever your fate is, face it, and run into it!'
زندگی میں ، یہ سیکھیں کہ اللہ (عزوجل) سے زیادہ نہ مانگا جائے ۔ یہ اللہ (عزوجل ) کے فرمان استجیبو کہ مجھ سے مانگو کے برخلاف ہے ، لیکن بدقسمتی سے آج کے دور میں ، برے کردار کے ساتھ ہی لوگ اللہ (عزوجل) سے دعا مانگتے رہتے ہیں اور (پھر شکوہ کرتے ہیں ) کچھ بھی قبول نہیں ہورہا ، اسلیے میں اُمید چھوڑ رہا ہوں! کیونکہ زندگی میکڈونلڈز جیسی ہوگئی ہےاور تمہاری نمازوں (دعائیں) گاڑی میں بیٹھے بیٹھے (کھانا) آرڈر دینے جیسی بن گئی ہے ( جیسے میکڈونلڈز ڈرائیوتھرو ہو) کہ مجھے دو ہیم برگر ، ایک فرائز اور ڈائیٹ سوڈا دیں پلیز! اور جب یہ آرڈر پورا نہیں ہوتا اور غلط آتا ہے یا مختلف آتا ہے تو غصہ اور شیطان تمہارے ساتھ کھیل جاتے ہیں اور وسوسے ڈالتے ہیں کہ دیکھو تمہاری دعا کام نہیں کررہی ہے ، تم دعا کیوں مانگتے رہتے ہو ، تم یہ نیکیاں کس لئے کرتے ہو ، رک جاؤ ۔ اور پھر نفس اور شیطان ساتھی و شریک بن جاتا ہے اور اس شخص کو ایمان سے بھی محروم کرنے پر مجبور کرتا ہے ، اور روحانی طریقت تعلیم دیتی ہے کہ اگر تمہارے پاس اچھا اخلاق ہے اور تم عاجزانہ انداز سے (دعا) مانگتے ہو تو ٹھیک ہے ، کوئی حرج نہیں ہے۔ لیکن اعلی درجہ کی حقیقت یہ ہے کہ(اس طرح دعا) مانگیں: 'اے میرے رب ، آپ کو سب بہتر معلوم ہے ، مجھے نور عطا فرما ، مجھے اپنے حفظ و امان میں رکھ، مجھے اپنی رضا اور اطمینان عطا فرما۔ آپ وہ علم رکھتے ہو جو میں نہیں جانتا اور آپ جانتے ہو کہ مجھے کن مشکلات کا سامنا ہے۔ اے میرے رب ، میری حفاظت فرما۔' اور یہ وہ دعا ہے جو ہمیشہ قبول ہو جاتی ہے اور تمہیں فوراً ہی تحفظ کا احساس ہوتا ہے اور تمہیں نہیں پتہ کہ اللہ نے کس قسم کی مشکلات کو دور کردیا اور کس طرح کی نعمت ملنے لگی ہے۔ لیکن وہ دعائیں جو تفصیلی ہیں کہ یہ ہو جائے ، وہ ہو جائے ، مجھے یہ چاہیے ، مجھے وہ چاہیئے اور یہ..یہ .. یہ .. یہ ..! توپھر ہمیشہ خود سے سوال کرو ، کیا یہ میکڈونلڈز کی طرح ہے؟ کیا یہ گاڑی میں بیٹھے بیٹھے آرڈر دینے کی طرح ہے ؟ جہاں میں ہر طرح کی فرمائش کررہا ہوں اور جب (نعوذ باللہ )اللہ (عزوجل) میرا آرڈر پورا نہ کرے تو میں مایوس ہوجاتا ہوں۔ استغفر اللہ! بجائے کہ یہ سمجھا جائے کہ مجھے اللہ(عزوجل) کےآرڈر کے آگے سر تسلیم خم کرنا ہے ۔ یہ اہم نہیں کہ تم کیا چاہتے ہو اور تم کیا مانگتے ہو، بلکہ اُس چیز پر خوش ہونا جو اللہ بھیجتا ہے اور ان دنوں میں ، اس دور میں ، صرف(یہی دعا کافی ہے کہ) میری حفاظت کیجئے ، مجھے پاگل پن سے بچائیے، وسواس سے بچایئے ، ہر طرح سے میری حفاظت کیجئے ۔ مجھے ہر طرح کی بری اِنرجی جو ہر جگہ ہے، سے بچایئے ، کہ وہ (شیاطین ) سرگوشی کرنے کی کوشش کر رہا ہے،کہ یا ربی مجھے صرف (تحفظ) کی نعمت عطا کیجئے۔ہم جتنا کم مانگیں گے ، اتنا ہی خوش رہیں گے ۔ کیونکہ جب ہم نے دعا مانگنی شروع کی تو ہمارے پاس توقعات نے جنم لیا کہ انھیں پورا ہو جانا چاہئے اور یہ غلط ہے۔ اللہ عزوجل جواب کیوں نہیں دے رہا ، اسکی بہت ساری وجوہات ہیں، زیادہ تر لوگوں کی دُعائیں ایسی ہیں ، گویا وہ اللہ سے دعا گو ہیں کہ مجھے جہنم کی آگ میں داخل کردے! کیونکہ جب وہ شیخ کے پاس حاجت لے کر آتے ہیں (تو شیخ سوچتے ہیں) یہ کس قسم کا سوال تھا ، یہ کیسی دعا تھی؟ تم کس طرح کی درخواست مانگ رہے ہو ، تم خود کو مشکل میں ڈالنے کی درخواست کر رہے ہو؟ اگر اللہ تم سے یقینا محبت کرتا ہے تو وہ تمہاری (ایسی حاجت ) پوری نہیں کرے گا۔ یہ ایسے ہی ہے جیسے آپ کا بچہ آکر کہے ، کیا میں اپنا ہاتھ کچن میں گرم ہانڈی میں ڈال لوں؟ آپ مجھے کیوں نہیں اجازت دے رہے ؟ یہ نعمت ہے کہ وہ اجازت نہیں دے رہا ۔ وہ فرماتا ہے میں جانتا ہوں کہ تمہیں کیا دیتا ہوں اور تمہارے ساتھ کیا کر رہا ہوں ، اس سے زیادہ دینے پر تمہیں نقصان ہو گا ، تم بھٹک جاؤگے ، اور تم مشکل میں پڑ جاؤ گے ، اور سب کچھ میں تمہیں ایک خاص مقصد کیلئے بھیج رہا ہوں ، تاکہ تم اپنے ادب کی تکمیل کرو، اپنے کردار کو کامل بناؤ، اپنی راہ اور اپنی سمجھ کی سمت درست کرؤ۔ تمہاری زندگی میں ہر قسم کی مشکلات ، اس لئے نہیں کہ تم اُن سے نجات پاؤ –کوئی مستقل طور پر شکایت کر رہا ہے کہ یہ کام نہیں ہو رہاہے ، یہ کام نہیں ہو رہا ، یہ کام نہیں ہو رہا – یہ(امتحان) مشکل سے نجات پانے کے بارے میں نہیں تھا ، یہ تمہارا مشکلات کا سامنا کرنے کے بارے میں تھا ، اللہ نے (امتحان) ایک وجہ سے بھیجا تھا، اس(امتحان )سے چھٹکارا پانے کے لئے نہیں اور پھر پریشان ہو جاؤکہ وہ مجھ شفا نہیں دے رہا ، وہ عطا نہیں کررہا ہے مجھے علاج نہیں دے رہا ، وہ مجھے کوئی راستہ نہیں دکھا رہا –(غورطلب ) بات یہ ہے کہ مشکلات کے ساتھ کیسے گذارا کرنا ہے اور اللہ (عزوجل) کی مرضی پرخوش رہنا ، راضی (مطمئن )رہنا ہےاور محبت کا احساس رکھنا ہے کہ اے میرے رب ، آپ بہتر جانتے ہیں۔ میں آپکا کمزور بندہ ہوں ، مجھ پر ترس کھائیں / رحم کریں۔ تب اللہ (عزوجل) کہتا ہے ہاں میں تمہاری کمزوری پر ترس کھا رہا ہوں ، بلکہ ، اب میں تمہاری طرف ہوں۔ لگتا ہے کہ تم عاجزی کے ساتھ ہر رات مجھ سے فریاد کر رہے ہو ، اور میں تمہاری مشکل ختم کردوں گا۔ لیکن جب یہ ایک چیلنج ہو ، (اے میرے رب ) آپ یہ کیوں نہیں کر رہے ہیں؟ میں نے یہ کیا ، میں نے وہ کہا ، میں نے یہ دیا–تب یہ ایسا ہے کہ تم بارگاہ الہی کا مقابلہ کر رہے ہو۔
تو ہمیشہ اپنے لئے صرف ایک نصیحت(مشورہ) ہے ، کم مانگا کرو ، اس کی عطا کی ہوئی دشواری سے راضی رہو۔ 'اوہ مجھے یہ مشکل ہے' ہاں ، یہ معاملہ اور بھی خراب ہوسکتا تھا۔ تمہیں کینسر دیا جاسکتا تھا! تمہیں بہت ساری مشکلات دی جاسکتی تھیں اور وہ شخص جسے کینسر ہے ،تمہیں کوئی اور (کٹھن امتحان ) مل سکتا تھا۔ اللہ نے جو کچھ دیا ہے ، وہ بالکل جانتا ہے کہ کیا دیا ہے۔ یہ اِس (مشکل )سے چھٹکارا پانے کے بارے نہیں ، بلکہ اس مشکل کے ساتھ چلنے کے بارے میں ہے۔ اطمینان رکھو، ایسے دعا مانگو ، 'اے میرے رب! میں صابر ہوں ، میں صبر کر رہا ہوں ، مجھے اپنی رضا عطا فرمائیے ، اس مشکل کے زریعے آپ میرا تزکیہ کررہے ہیں ، اے میرے رب مجھے سیدنا محمدﷺ کی قربت عطا فرمائیں اور میں صرف یہی چاہتا ہوں۔' اے میرے رب ، اگر مجھے مالی معاملات میں دشواری ہے تو.. اللہ عزوجل کی کوئی حکمت ہے ، تم نے اس کی راہ میں نہیں خرچا تو وہ اب اس طرح لے رہا ہے تو، 'اے میرے رب آپ بہتر جانتے ہو۔ آپ سب علم رکھتے ہو، کیونکہ جب اللہ (عزوجل) تم سے محبت کرتا ہے وہ تمہیں ، تمہارے حوالے نہیں کرتا، لہذا جب تمہیں(صدقہ خیرات ) دینا چاہیے تھا توتم جانتے ہو کہ تم نے کیا نہیں دیا اور کیا تم یہ سمجھتے ہو کہ جنت میں دھوکے سے داخل ہوسکتے ہو؟ وہ تم سے(واپس) لے گا ، لہذا (جب وہ واپس لے )تو تمہیں کہنا چاہیے ، الحمد اللہ
اللہ عزوجل نے(واپس) لے لیا۔ وہ اب بھی میرے ساتھ معاملہ رکھنا چاہتا ہے ، لہذا ، الحمد اللہ ، جو کچھ بھی آ رہا ہے اس میں زبردست حکمت اور دانائی ہے جو ہمیں صبر عطا کرتی ہے اور صابر بناتی ہے۔ یہی وجہ ہے کہ تفکر کی ان راتوںمیں ، ایک ایسی طاقت ہے جس کو سمجھا نہیں جاسکتا کہ جب تم زندگی میں ٹھہرو اور صرف غوروفکر کرو ، تو سر زمین پہ سجدے میں جُھکا دو اور اپنی مشکلات پر (اللہ کے حضور) آنسو بہاؤ اور مانگو ' اے میرے رب، میں یہ (امتحان ) تبدیل کرنے کے لئے نہیں کہہ رہا ہوں ، مجھے اس مشکل سے گزرنے کی طاقت عطا فرمائیں'۔ اور جب تم اللہ (عزوجل) کے سامنے صبر کرتے ہو، اللہ (عزوجل) کے حضور صابر بنے رہتے ہو ، تو تمہیں دل میں حکمت ملنا شروع ہو جاتی ہے۔' اوہ، اس وجہ سے آپ نے یہ واپس لیا ، اس لیےایسا ہوا ، اسی وجہ سے آپ نے مجھے پاک کیا ، اور یہ صبر ہی ایمان کو مضبوط کرتا ہے جب بندہ اس مقام پر پہنچ جاتا ہے جس میں وہ اللہ (عزوجل) سے مانگنے کی کوشش ترک کردیتا ہے، اور صرف یہ کہے کہ 'آپ مکمل اختیار میں ہیں اور مجھے ان احکامات میں چھپی ہوئی حکمت کا کوئی اندازہ نہیں اور میں صرف "صلوا علیہ وسلمو تسلیم" کے سمندر میں ہوں– تسلیما تب ہے جب آپ تسلیم کے ذریعہ خوبصورت ہوجائیں۔ آپ تسلیم کے بغیر تسلیما حاصل نہیں کرسکتے ہیں ۔ جس خوبصورتی اور خوشبو کو ہم سیدنا محمدﷺ کی حقیقت سے حاصل کرنے کی کوشش کر رہے ہیں– تسلیما –وہ دراصل تسلیم کے ذریعہ ملتی ہے۔ تو پہلا قدم تسلیم کی طرف تھا ، تو سیدنا محمد ﷺ کی بارگاہ میں دعا کرو اور ان کی حمدوثنا٫ بیان کرو اور 'تسلیم ' فرماں بردار بن جاؤ۔ جیسے ہی ہم تسلیم کرتے ہیں ، تسلیما کی خوشبو اور خوبصورتی سامنے آنا شروع ہوجائے گی کیونکہ بندہ اس حالت کے تابع ہو رہا ہے جس میں رب نے اُسے رکھا ہے اور وہ اس سے بھاگنے کی کوشش نہیں کررہا ہے بلکہ اس کا سامنا کرنے کی کوشش کر رہا ہے ، تمہاری قسمت کوئی، ایسی چیز نہیں جس سے تم بھاگ جاؤ اور کہیں چھپ جاؤاور کوئی تمہیں اس سے نجات دلائے ، لیکن ، امام علی (علیہ السلام) فرماتے ہیں کہ 'آپ کی قسمت جو بھی ہے ، اُس کا سامنا کرو ، اور اس میں کود جاؤ'!
انشاء الله
شیخ السید نورجان میراحمدی نقشبندی (ق)
Roman Urdu Mein:
Zindagi mein, yeh sekhen ke Allah ( Azwajal ) se ziyada nah manga jaye. Yeh Allah ( Azwajal ) ke farmaan استجیبو ke 'mujh se mango' ke barkhilaf hai, lekin bad-qismati se aaj ke daur mein, buray kirdaar ke sath hi log Allah ( Azzwajal ) se dua mangte rehtay hain aur ( phir shikwah karte hain ) kuch bhi qubool nahi ho raha, isiliye mein umeed chore raha hon! kyunkay zindagi Mcdonalds jaisi hogayi hai aur tumhari namazon ( duayen ) gaari mein baithy baithy ( khana ) order dainay jaisi ban gayi hai ( jaisay Macdonald's drive through ) ke mujhe do ham burger, aik fries aur diet soda den please! aur jab yeh order poora nahi hota aur ghalat aata hai ya mukhtalif aata hai to gussa aur shetan tumahray sath khail jatay hain aur was'wasay daaltay hain ke dekho tumhari dua kaam nahi kar rahi hai, tum dua kyun mangte rehtay ho, tum yeh naikian kis liye karte ho, ruk jao. Aur phir nafs aur shetan saathi o shareek ban jata hai aur is shakhs ko imaan se bhi mahroom karne par majaboor karta hai, aur Rohani tareqat taleem deti hai ke agar tumahray paas achcha ikhlaq hai aur tum aajizana andaaz se ( dua ) mangte ho to theek hai, koi harj nahi hai. lekin Aala darjay ki haqeeqat yeh hai ke ( is terhan dua ) mangeen;
'Aey mere Rab, aap ko sab behtar maloom hai, mujhe Nur ataa farma, mujhe –apne hif-o-Amaan mein rakh, mujhe apni Raza aur itminan ataa farma. Aap woh ilm rakhtay ho jo mein nahi jaanta aur aap jantay ho ke mujhe kin mushkilaat ka saamna hai. Aey mere Rab, meri hifazat farma.' aur yeh woh dua hai jo hamesha qubool ho jati hai aur tumhe foran hi tahaffuz ka ehsas hota hai aur tumhe nahi pata ke Allah ney kis qisam ki mushkilaat ko daur kardiya aur kis terhan ki Nemat milnay lagi hai .
Lekin woh duaen jo tafseeli hain ke yeh ho jaye, woh ho jaye, mujhe yeh chahiye, mujhe woh chahiye aur yeh. . yeh. . yeh. . yeh. .! To phir hamesha khud se sawal karo, kya yeh Macdonald's ki terhan hai? kya yeh gaari mein baithy baithy order dainay ki terhan hai? Jahan mein har terhan ki farmaaish kar raha hon aur jab ( nauz billah ) Allah ( Azzwajal ) mera order poora nah kere to mein mayoos hojata hon. Astaghfirullah! bajaye ke yeh samjha jaye ke mujhe Allah ( Azzwajal ) ke order ke agay sir tasleem khham karna hai. Yeh ahem nahi ke tum kya chahtay ho aur tum kya mangte ho, balkay uss cheez par khush hona jo Allah bhejta hai aur un dinon mein, is daur mein, sirf ( yahi dua kaafi hai ke ) meri hifazat kijiyej, mujhe pagal pan se bachaiye, waswaso se bchayye, har terhan se meri hifazat kijiyej. mujhe har terhan ki buri energy jo har jagah hai, se bchayye, ke woh ( shayateen ) sargoshi karne ki koshish kar raha hai, ke ya Rabbi mujhe sirf ( tahaffuz ) ki Nemat ataa kijiyej. Hum jitna kam mangeen ge, itna hi khush rahen ge. kyunkay jab hum ne dua maangni shuru ki to hamaray paas tawaquaat ne janam liya ke unhein poora ho jana chahiye aur yeh ghalat hai. Allah Azzwajal jawab kyun nahi day raha, uski bohat saari wajohaat hain, ziyada tar logon ki Duaen aisi hain, goya woh Allah se duago hain ke mujhe jahannum ki aag mein daakhil kardey! kyunkay jab woh Sheikh ke paas haajat le kar atay hain ( to Sheikh soachatay hain ) yeh kis qisam ka sawal tha, yeh kaisi dua thi? tum kis terhan ki darkhwast maang rahay ho, tum khud ko mushkil mein daalnay ki darkhwast kar rahay ho? Agar Allah (Azzwajal) tum se yaqeenan mohabbat karta hai to woh tumharee ( aisi haajat ) poori nahi kere ga. Yeh aisay hi hai jaisay aap ka bacha aakar kahe, kya mein apna haath kitcehn mein garam handi mein daal lon? Aap mujhe kyun nahi ijazat day rahay? Yeh Nemat hai ke woh ijazat nahi day raha. Woh farmata hai mein jaanta hon ke tumhe kya deta hon aur tumharay sath kya kar raha hon, is se ziyada dainay par tumhe nuqsaan ho ga, tum bhatak jaoge, aur tum mushkil mein par jao ge, aur sab kuch mein tumhe aik khaas maqsad ke liye bhaij raha hon, taakay tum –apne adab ki takmeel karo, –apne kirdaar ko kaamil banaao, apni raah aur apni samajh ki simt durust karo. Tumharee zindagi mein har qisam ki mushkilaat, is liye nahi ke tum unn se nijaat pao –koi mustaqil tor par shikayat kar raha hai ke yeh kaam nahi ho raha hai, yeh kaam nahi ho raha, yeh kaam nahi ho raha – yeh ( imthehaan ) mushkil se nijaat panay ke barey mein nahi tha, yeh tumhara mushkilaat ka saamna karne ke barey mein tha, Allah ne ( imthehaan ) aik wajah se bheja tha, is ( imthehaan ) se chhutkara panay ke liye nahi aur phir pareshan ho jao kay woh mujh Shifa nahi day raha, woh ataa nahi kar raha hai mujhe ilaaj nahi day raha, woh mujhe koi rasta nahi dikha raha – ( ghor talab ) baat yeh hai ke mushkilaat ke sath kaisay guzara karna hai aur Allah ( Azzwajal ) ki marzi par khush rehna, raazi ( mutmaen ) rehna hai aur mohabbat ka ehsas rakhna hai ke ae mere rab, aap behtar jantay hain. Mein aapka kamzor banda hon, mujh par taras khayen / reham karen. Tab Allah ( Azzwajal ) kehta hai haan mein tumharee kamzoree par taras kha raha hon, balkay, ab mein tumharee taraf hon. Lagta hai ke tum aajzi ke sath har raat mujh se faryaad kar rahay ho, aur mein tumharee mushkil khatam kardoon ga. Lekin jab yeh aik challenge ho, ( Aey mere Rab ) aap yeh kyun nahi kar rahay hain? Mein ne yeh kya, mein ne woh kaha, mein ne yeh diya, tab yeh aisa hai ke tum Bargaah Ellahi ka muqaabla kar rahay ho to hamesha –apne liye sirf aik nasiyaat ( mahswara ) hai, kam manga karo, is ki ataa ki hui dushwari se raazi raho.' oh mujhe yeh mushkil hai' haan, yeh maamla aur bhi kharab ho sakta tha. Tumhe cancer diya ja sakta tha! Tumhe bohat saari mushkilaat di ja sakti theen aur woh shakhs jisay cancer hai, tumhe koi aur ( kathin imthehaan ) mil sakta tha. Allah (Azzwajal) ne jo kuch diya hai, woh bilkul jaanta hai ke kya diya hai. Yeh iss ( mushkil ) se chhutkara panay ke barey nahi, balkay is mushkil ke sath chalne ke barey mein hai. Itminan rakho, aisay dua mango,' Aey mere Rab! mein sabir hon, mein sabr kar raha hon, mujhe apni Raza ataa frmayie, is mushkil ke zariye aap mera tazkia kar rahay hain, ae mere rab mujhe sayedena Muhammad ﷺ ki qurbat ataa farmaen aur mein sirf yahi chahta hon.' Aey mere Rab, agar mujhe maali mamlaat mein dushwari hai to. . Allah azzwajal ki koi hikmat hai, tum ne Uski raah mein nahi khrcha to woh ab is terhan le raha hai to,' Ae mere Rab aap behtar jantay ho. Aap sab ilm rakhtay ho, kyunkay jab Allah ( azzwajal ) tum se mohabbat karta hai woh tumhe, tumahray hawalay nahi karta, lehaza jab tumhe ( sadqa khairaat ) dena chahiye tha toh tum jantay ho ke tum ne kya nahi diya aur kya tum yeh samajte ho ke jannat mein dhokay se daakhil ho saktay ho? woh tum se ( wapas ) le ga, lehaza ( jab woh wapas le ) to tumhe kehna chahiye, Alhmdulilah!
Allah azzwajal ne ( wapas ) le liya. Woh ab bhi mere sath maamla rakhna chahta hai, lehaza, Alhamdulilah , jo kuch bhi aa raha hai is mein zabardast hikmat aur danai hai jo hamein sabr ataa karti hai aur sabir banati hai. yahi wajah hai ke tafakur ki un raton main, aik aisi taaqat hai jis ko samjha nahi ja sakta ke jab tum zindagi mein thehro aur sirf ghor-o-fikar karo, to sir zameen pay sjday mein Jhuka do aur apni mushkilaat par ( Allah ke huzoor ) ansoo bahao aur mango' Aey mere Rab, mein yeh ( imthehaan ) tabdeel karne ke liye nahi keh raha hon, mujhe is mushkil se guzarnay ki taaqat ataa farmaen '. Aur jab tum Allah ( Azzwajal ) ke samnay sabr karte ho, Allah (Azzwajal ) ke huzoor sabir banay rehtay ho, to tumhe dil mein hikmat milna shuru ho jati hai.' oh, is wajah se aap ne yeh wapas liya, is liye aisa huwa, isi wajah se aap ne mujhe pak kya, aur yeh sabr hi imaan ko mazboot karta hai jab bandah is maqam par pahonch jata hai jis mein woh Allah ( Azzwajal ) se mangnay ki koshish tark kardaita hai, aur sirf yeh kahe ke' aap mukammal ikhtiyar mein hain aur mujhe un ehkamaat mein chhupi hui hikmat ka koi andaza nahi aur mein sirf" Sallu Aleaha Wa'salimu Tasleem " ke samandar mein hon , jab aap tasleem ke zareya khobsorat ho jaien. aap Tasleem ke baghair Tasleema haasil nahi kar saktay hain. Jis khoubsurti aur khusbhoo ko hum sayedena Muhammad (S) ki haqeeqat se haasil karne ki koshish kar rahay wo darasal tasleem ke zareya millti hai. To pehla qadam tasleem ki taraf tha, to Sayedena Muhammad (s) ki bargaah mein dua karo aur un ki hamdo sanaa bayan karo aur' tasleem' farmaa bardaar ban jao. jaisay hi hum tasleem karte hain,Tasleema ki khusbhoo aur khoubsurti samnay aana shuru hojaye gi kyunkay bandah is haalat ke tabay ho raha hai jis mein Rab ne ussay rakha hai aur woh is se bhagnay ki koshish nahi kar raha hai balkay is ka saamna karne ki koshish kar raha hai, tumhaarii qismat koi, aisi cheez nahi jis se tum bhaag jao aur kahin choup aur koi tumhe is se nijaat dilay, lekin, Imam Ali (alayhi s-salām) farmatay hain ke' aap ki qismat jo bhi hai, uss ka saamna karo, aur is mein kood jao.
Insha'Allah
In life, learn not to ask too much from Allah (Azwajal). It's contrary to what everyone thinks of when Allah (Azwajal) saying 'Ista'jibu' that ask me, but unfortunately in today's age, with bad character people keep asking Allah (Azwajal) and saying nothing is happening so, therefore, I am giving up! Because life became like MacDonald's, and your Salah (prayers) became like a drive through microphone, that I want two hamburgers, one fries and a diet soda please! and when it doesn't come and comes wrong or comes different, the anger and Shaytan plays with you and says look your prayer is not working, why you keep making prayer, why you have to do these things, stop it and then the nafs and shaytan becomes shareek and partners and make the person to lose faith and the Taruqs comes and teach if you have good manners and you are asking not in the way that's demanding, ok, no problem. But the higher reality is to ask, 'Ya Rabbi, You know best, please grant me light. Grant me Your protection. Grant me Your Rida and satisfaction. You know what I don't know and You know what difficulties are facing me. Ya Rabbi, protect me. And that is a dua that's always accepted and you feel the protection immediately and you don't know what type of difficulties Allah pushed away and what type of Naimat begin to flow. But the duaas that are too detailed that take this, I want this, I have this, and this..this..this…this..! Then always ask yourself, is this like a MacDonald's? Is it like drive through where I'm making, just making all sorts of requests and I am becoming frustrated when Allah (Azwajal) not submitting to me. Ataghfirullah! And instead it was supposed to be me submitting to Allah (Azwajal). It's not about what you want and what you keep asking for, but to be happy with what Allah sends and just in these days, and this age, just protect me, protect me from insanity, protect me from waswasa, protect me from every type of bad energy that now is just everywhere, that is trying to whisper into me that Ya Rabbi just grant me that naimat.
The less we ask, the happier we should be. Because when we began to ask, we now have expectations that they should be happening and that's incorrect. Many reasons why Allah Azwajal is not answering, most people's duas are, as if they are asking Allah Azwajal let me enter into fire of Jahanum please! Because when they come to Shaykh and ask, they say what kind of question was that, what kind of asking was that? What kind of request you were asking, you are literally asking for yourself to be put into difficulty? If Allah loves you of course he is not going to grant you. It's like as if your child come and say, please I want to put my hand in the pot in the kitchen. Why you not letting me? It's Neimat that He doesn't. He says I know what I give to you and what I am doing and dealing with you any more than that and you are going to be in harm, you're going to be lost, and you are going to be in difficulty, and everything that I am sending to you is for specific reason, that you perfect your adab, perfect your character, perfect your way and your understanding. Every type of difficulty in your life, it's not about how to get rid of it, there is somebody who is continuously saying this not working, this not working, and this not working. It wasn't about you getting rid of the difficulty, it was about you living with the difficulty, Allah sent it for a reason not to get rid of it and then be upset that He is not granting me a healing, He is not granting me a cure, He is not granting me a way out, but, how to live with difficulties and still be happy and content with Allah (Azwajal) to have a sense of love that, Ya Rabbi, You know best. I am your weak servant, have pity upon my weakness. Then Allah (Azwajal) says yeah I am pitying your weakness, as a matter of fact…I am now on your side. You seem to be humbly asking me crying to me every night, and I will obliterate your difficulty. But when it is a challenge, why are You not doing it? I do this, I said this, I gave this, then it became more like you are competing with that Divinely Presence.
So only a suggestion always for myself, ask less, be content with the difficulty He gives. 'Oh I have this difficulty' Yes, it could have been worse. You could have been given cancer! You could have been given many difficult things and person who has cancer, you could have been given something else. Whatever Allah gave, He knows exactly what He has given. It's not about getting rid of it, it's about living with it. Be content, make your prayers to be, Ya Rabbi! I have sabar, I have patience, grant me your rida, through this difficulty you cleaning me, bring me closer to Sayedena Muhammad ﷺ and that's all I want Ya Rabbi. If I have difficulty in finances and.. Allah Azwajal has a reason, you didn't give it so he is now taking it. So Ya Rabbi you know best. you know best cause when Allah (Azwajal) loves you he is not leaving you to yourself, so you know what you didn't give when you were supposed to give and you thought you can cheat you way into paradise? He will take it from you, so, you say oh Alhamdulilah Allah Azwajal took it. He still wants to deal with me, so Hamdulilah, whatever is coming it has tremendous Hikamh and wisdom grant us the patience and sabar.
That's why on these nights of Taffakur , this is a power that can't be understood that when you stop in life and just contemplate, put your head on the ground and cry through your difficulty and ask 'I am not asking to change it Ya Rabbi, grant me strength to forbear what I am going through and when you are patient with Allah (Azwajal), patient with Allah (Azwajal), you began to get a Hikmah into your heart, 'oh that's why you took it , that's why this happened, that's why you cleaned me by this, and that patience is what builds faith when servant reaches a point in which they give up trying to ask Allah (Azwajal), and just say 'You are in full control and I don't have any idea of this co-ordinance and I am just in an ocean of Sallu Aleaha Wa'salimu Tasleem. Tasleema is only when you become beautiful by Tasleem. You don't get Tasleema without Tasleem, the beauty and the fragrance we are trying to achieve from the reality of Sayedena Muhammad ﷺ was Tasleeema is through Tasleem. So first step was to Tasleem, so just pray and praise upon Divinely Presence upon Sayedena Muhammad ﷺ and submit! As we submit, the fragrance and the beauty of Tasleeema will began to come out because the servant is submitting to the condition in which he has been put by his Lord and he is not trying to run from it but trying to face it, your fate is not something you run away from and hide somewhere and get somebody to relieve you from it, but, Imam Ali (alayhi s-salām) says 'whatever your fate is, face it, and run into it'! Insha'Allah.
👑Sh. Sayed Nurjan Mirahmadi Naqshbandi (Q)