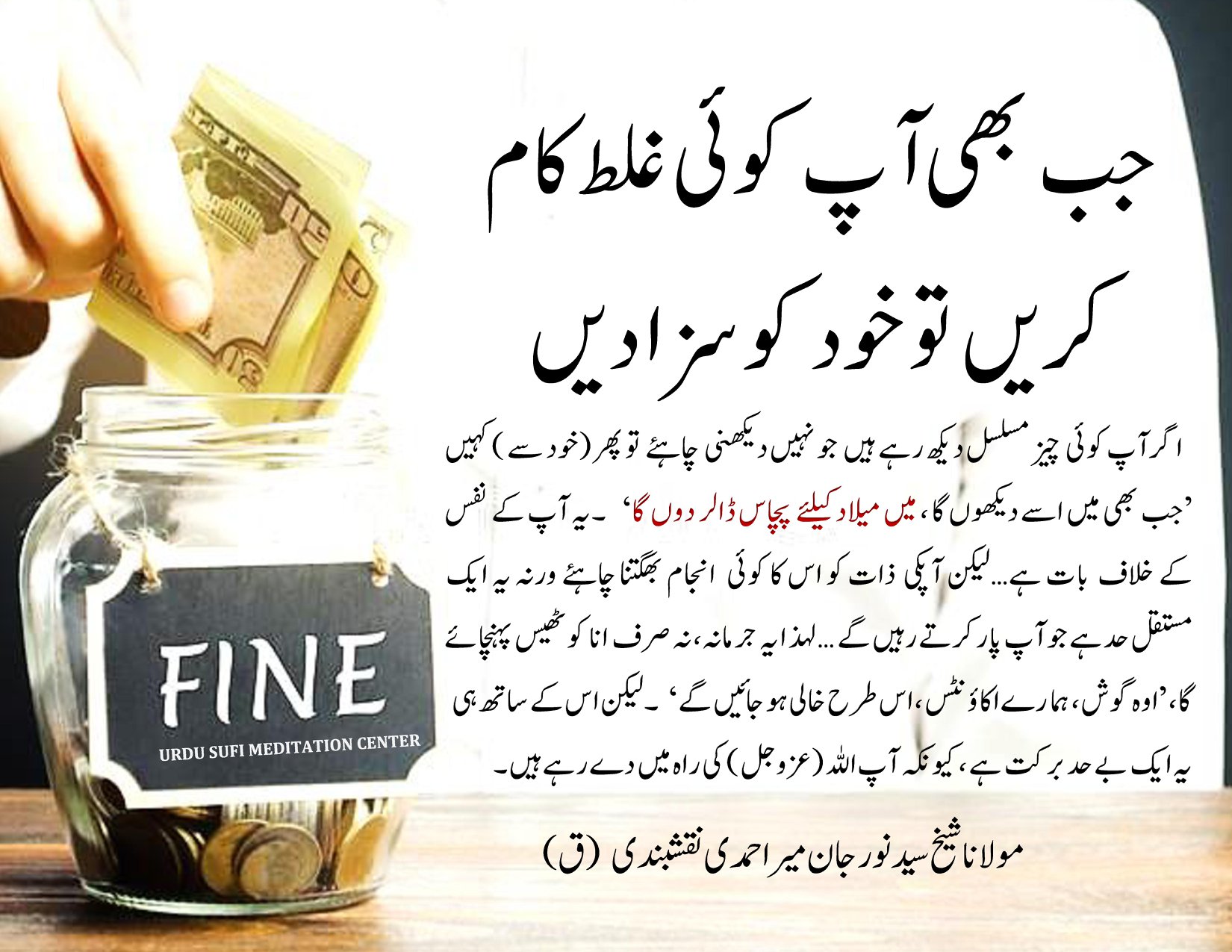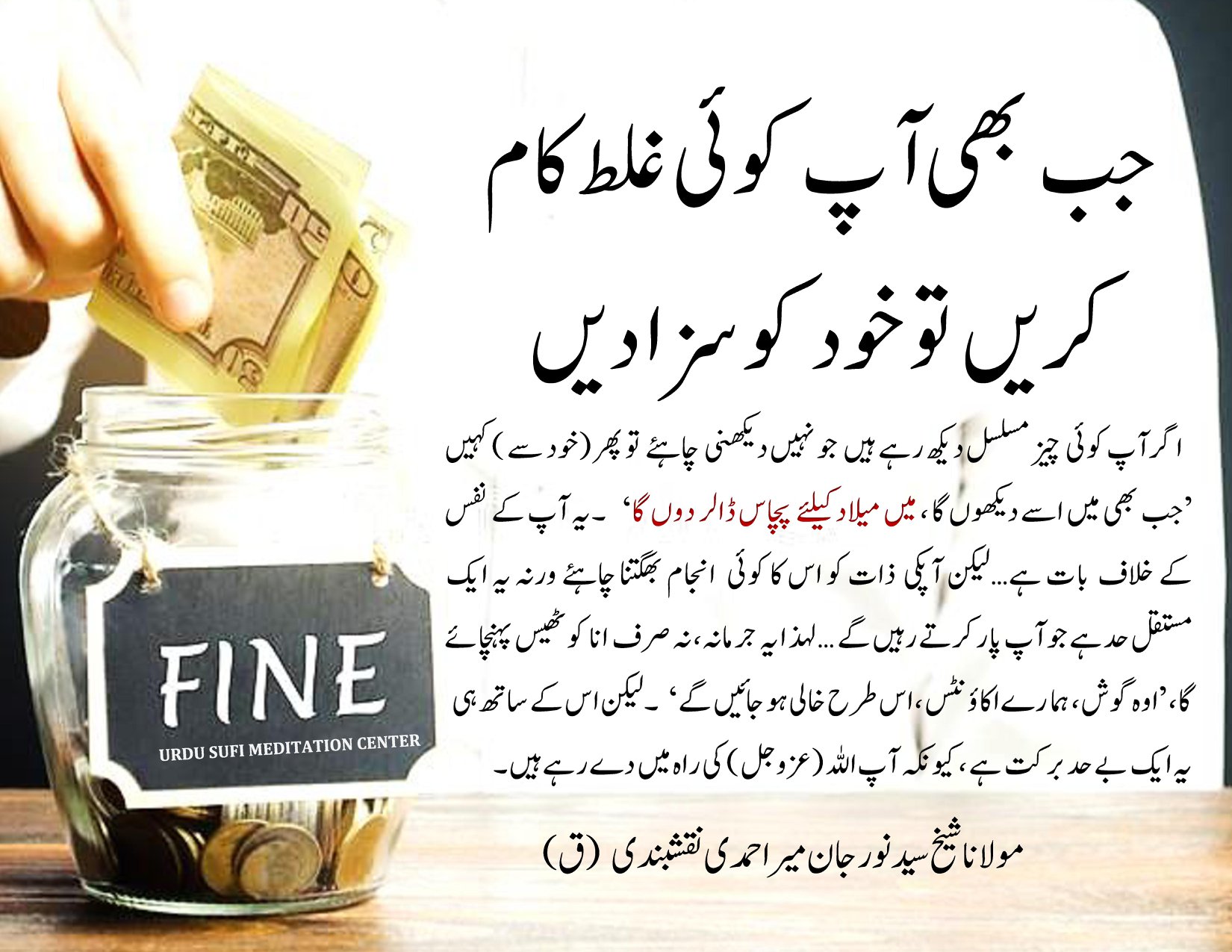 Urdu – P2| Heart is a Finely-tuned Instrument Q&A سوال: سیدی ، کیا آپ عالم برزخ اور…
P2| Heart is a Finely-tuned Instrument Q&A
سوال: سیدی ، کیا آپ عالم برزخ اور عالم ملکوت کے بارے میں ہماری رہنمائی فرمائیں گے؟
|Sawal : Sayedi, kya aap Aalam-e-Barzakh aur Aalam-e-Malakut ke baray mein hamari rahnumai farmaen ge ?|
Question: Can you please enlighten us about the realm of barzakh and the realm of malakut?
مولانا شیخ سید نورجان میراحمدی نقشبندی ق:
اس کیلئے پورے شو کی ضرورت ہے ، لیکن ان شاء اللہ ۔ الحمد للہ ، یہ سب تعلیم ملکوت ، عالم نور اور اسی زندگی میں روشنی کی اُس دنیا تک پہنچنے کے بارے میں ہے۔ نورانی دنیا سے کس طرح فیض حاصل کیا جائے اور ملکوت سے سمجھنے کا طریقہ کیا ہے ، نہ کہ ملک (عالم دنیا) سے۔ ہر بات عالم دنیا سے نہیں بلکہ عالم نور سے سمجھی جائے اور نوری دنیا کی کیا اہمیت ہے۔ سمجھنے کا ایک نقطہ یہ ہے کہ یہ( عالم ملکوت ) وقت کی قید سے آزاد ہے۔ روشنی کا کوئی وقت نہیں ، یہ وقت سے آزاد ہے۔ تو پھر نوری دنیا سے ہر چیز وقت سے آزادہے۔ لہذا، یہ ہمارے سمجھنے کیلئے ایک بہت گہرا نقطہ ہے۔
|Is ke liye poooray show ki zaroorat hai, lekin inshaAllah. Alhamdulillah,yeh sab taleem Malakut, Aalam-e Nur aur isi zindagi mein roshni ki uss duniya taq pounchanay ke baray mein hai. Nurani duniya se kis terhan Faiz haasil kya jaye aur Malakut se samajhney ka tareeqa kya hai, nah ke Mulk ( Aalam-e-duniya ) se. Har baat Aalam-e-duniya se nahi balkay Aalam-e Nur se samjhi jaye aur Nuri duniya ki kya ahmiyat hai. Samajhney ka aik nuqta yeh hai ke yeh ( aalam-e-Malakut ) waqt ki qaid se azad hai. Roshni ka koi waqt nahi, yeh waqt se azad hai. To phir nuri duniya se har cheez waqt se azaad hai. Lehaza, yeh hamaray samajhney ke liye aik bohat gehra nuqta hai|
Shaykh Nurjan Mirahmadi: That requires a whole show, but inshaAllah. Alhamdulillah, the teaching is all about malakut, the world of light and to reach towards that world of light in this life. How to be dressed from the world of light and how to take the understanding from malakut and not the mulk (earthly realm). Not the physical realm for every understanding but the realm of light and what's the importance of the world of light. One understanding is it's timeless, there is no time; light has no time, it's constant. So then anything from the world of light is timeless. So that then has a huge understanding for us.
ہمارا طریقت ( روحانی سلسلہ ) برزخ اور قبر کے اندر جو کچھ ہوتا ہے اُسکی پوری تیاری ہے ۔ کہ آپ اپنے نور کے ساتھ کیا کرنا چاہتے ہیں؟ کیا آپ اسے ابھی تعمیر کرنا چاہتے ہیں یا آپ اسے قبر میں تعمیر کرنا چاہتے ہیں؟ جہاں پھر ملک اور ملکوت کی علیحدگی ہوتی ہے۔ کیونکہ جیسے ہی آپ قبر میں داخل ہوتے ہیں آپکا جسمانی وجود— راکھ ، راکھ ہو جاتی ہے ، خاک ، خاک میں مل جاتی ہے۔ آپکا جسمانی وجود ختم ہو جائے گا۔ اور آپ کی روحانیت ، آپکی روح کو الگ ہونا ہوگا۔ لوگوں کیلئے علیحدگی کا یہ عمل بہت تکلیف دہ ہوسکتا ہے۔
| Hamara tariqah ( Rohani silsila ) barzakh aur qabar ke andar jo kuch hota hai usakee poori tayari hai. Ke aap , apne nur ke sath kya karna chahtay hain? kya aap usay abhi taamer karna chahtay hain ya aap usay qabar mein taamer karna chahtay hain? Jahan phir mulk aur malakut ki alehadgi hoti hai. Kyunkay jaisay hi aap qabar mein daakhil hotay hain aapka jismani wajud— raakh, raakh ho jati hai, khaak, khaak mein mil jati hai. Aapka jismani wujood khatam ho jaye ga. aur aap ki rohaniyat, apkee ruh ko allag hona hoga. Logon ke liye alehadgi ka yeh amal bohat takleef da hoskta hai|
The barzakh and what happens within the grave is our whole preparation of tariqah (spiritual path). That, what do you want to do with your light? Do you want to build it now or you want to build it in the grave? Where then becomes the separation of mulk and malakut. Because as soon as you enter the grave your physicality – ashes to ashes, dust to dust. Your physicality is going to go away. And your spirituality, your soul has to separate. That process of separating can be very painful for people.
اگر آپ نے ایسا راستہ اختیار کیا جس میں آپ نے ساری زندگی اس جدائی کی پریکٹس کی تھی؛ آپ اپنے جسمانی وجود سے علیحدگی اختیار کرنے کے قابل ہو گئے تھے —اپنے مراقبہ ، غور و فکر ( تفکر ) اور اللہ (عزوجل ) سے دعا کے زریعے ، آپ اپنے روحانی وجود کو اپنے جسمانی وجود کی قید سے آزاد کرنے میں کامیاب ہوسکتے ہیں ، تو قبر آپ کیلئے مشکل کیوں ہوگی ، اگر آپ جسمانی طور پر اس مقصد کو حاصل کرنے میں کامیاب ہو گئے ؟ لیکن اگر آپ قید ہیں اور آپ نے کبھی اس پر عمل نہیں کیا تو ، کیا آپ ان دو حقیقتوں (روح اور جسم ) کو الگ کرنے کی دشواری کے بارے میں تصور کرسکتے ہیں؟ اور یہی بات برزخ کی مشکل بن جاتی ہے۔ اور سب کچھ قبر میں ہونا ہے ، خدمت قبر میں کرنی پڑے گی اور نورانی دنیا سے بہت سے مختلف حقائق ہیں، جو اُنہوں نے (اولیا اللہ نے ) سکھا ئے ہیں، ان شاء اللہ۔
| Agar aap ney aisa rasta ikhtiyar kya jis mein aap ney saari zindagi is judai ki practice kit hi. Aap, apne jismani wujood se alehadgi ikhtiyar karne ke qabil ho gaye they —apne muraqba, ghhor-o-fikar ( Taffakur ) aur Allah ( Azzwajal ) se dua ke zariye, aap, apne Rohani wujood ko –apne jismani wujood ki qaid se azad karne mein kamyaab ho saktay hain, to qabar aap ke liye mushkil kyun hogi, agar aap jismani tor par is maqsad ko haasil karne mein kamyaab ho gaye? Lekin agar aap qaid hain aur aap ne kabhi is par amal nahi kya to, kya aap un do haqeeqaton ( rooh aur jism ) ko allag karne ki dushwari ke barey mein tasawwur kar saktay hain? Aur yahi baat barzakh ki mushkil ban jati hai. Aur sab kuch qabar mein hona hai, khidmat qabar mein karni parre gi aur noorani duniya se bohat se mukhtalif haqayiq hain, jo onhon ne ( Auliya-Allah ne ) sikha ye hain, inshaAllah |
Or if you took a path in which all your life you practiced that separation; you were able to separate from your physicality, by your meditation, contemplation and by asking Allah (AJ) you're able to move your spirituality out of your physicality, so then why would the grave be difficult for you if you achieved that in physicality? But if you're locked and you never practiced that, can you imagine then the difficulty of trying to separate these two realities. And that's what becomes the difficulty of barzakh. And everything has to be in the grave, the service has to be in the grave and many different realities they taught from the world of light, inshaAllah.
__________________________
سوال: کوئی اپنے نفسانی اور بری خواہشات پر کیسے قابو پا ئے اور خاص طور پر ، یہ تمام (آزاد) میڈیا ہوتے ہوئے اپنی بُری خواہشات سے خود کو کیسے بچا یا جائے؟
| sawal : koi –apne nafsaani aur buri khwahisaat par kaisay qaboo pa ye aur khaas tor par, yeh tamam ( azad ) media hotay hue apni burii khwahisaat se khud ko kaisay bacha ya jaye ?|
Question: How can one control the whims of his nafs and bad desires, and protect himself from his bad desires especially with all such media around?
مولانا شیخ سید نورجان میراحمدی نقشبندی ق:
جی ہاں ، ہم پہلے کئی بار اس بارے میں بیان کر چکے ہیں کہ یہ سارے ذکر ، یہ ساری صلوات (درود)، نفس (انا) کے خلاف ایک آگ ہیں۔ اور زکوٰۃ اور صدقات دینا تزکیۂ کیوں ہے؟ کیونکہ طریقت (روحانی سلسلہ) پر عمل کرنے میں، مشائخ کی نصیحت پر عمل کرنے میں ، اس میں گہری حقیقت ہے
| jee haan, hum pehlay kayi baar is baarey mein bayan kar chuke hain ke yeh saaray zikar, yeh saari slwat ( duroood ) nafs ( anaa ) ke khilaaf aik aag hain. aur zkoh aur sadqat dena tazkia kyun hai? kyunkay tareqat ( Rohani silsila ) par amal karne mein, mashaiykh ki nasiyaat par amal karne, is mein gehri haqeeqat hai|
Shaykh Nurjan Mirahmadi: Yeah, we talked on that before many times that all these practices all these zikrs (remembrance), all these salawats (praisings) are a fire against the nafs (ego). And why zakah (charity) and why giving is a cleansing? Because it has a deep reality in following the tariqah (spiritual path) following the advice of the shaykhs – give.
کہ جب بھی آپ صدقہ کرتے ہیں ، آپ ایک ایسی بیماری کو دور کر رہے ہیں جو آپ پر آپکے رزق کے ذریعہ آئی تھی ۔ تو پھر اللہ (عزوجل ) زکوٰۃ کیوں مانگتا ہے؟ کیونکہ جو آپ کماتے ہیں اس میں ایک بوجھ ہوتا ہے۔ آپ نے اسے کس کے زریعے کمایا؟ آپ نے اسے کمانے کیلئے کیا کام کیا؟ آپ کریڈٹ کارڈ فروخت کرنے والے نمبر ون آدمی ہیں کہ ان تمام لوگوں کے پاس کریڈٹ کارڈز ہیں جن کی انہیں ضرورت نہیں —ہر چیز میں بوجھ شامل ہیں۔ ہر ایک کام جو کوئی شخص کرتا ہے وہ اللہ (عزوجل ) کو کسی نہ کسی چیز کا جوابدہ ہے۔ تو وہ ( عزوجل ) جانتا ہے کہ ہم زندگی میں جو کام کریں گے ، وہ ( کام ہم پر ) بوجھ ڈال رہا ہے ۔
| ke jab bhi aap sadqa karte hain, aap aik aisi bemari ko daur kar rahay hain jo aap par apke rizaq ke zareya aayi thi. to phir Allah ( azzwajal ) zkoh kyun mangta hai? kyunkay jo aap kamate hain is mein aik boojh hota hai. aap ne usay kis ke zariye kamaya? aap ne usay kamanay ke liye kya kaam kya? aap crdt card farokht karne walay number one aadmi hain ke un tamam logon ke paas crdt cards hain jin ki inhen zaroorat nahi —ہر cheez mein boojh shaamil hain . har aik kaam jo koi shakhs karta hai woh Allah ( azzwajal ) ko kisi nah kisi cheez ka jawabdeh hai. To woh ( azzwajal ) jaanta hai ke hum zindagi mein jo kaam karen ge, woh ( kaam hum par ) boojh daal raha hai .|
That every time you give, you're taking away a sickness that's been put upon you through your rizq (sustenance). So why Allah (AJ) asks for zakah? Because what you make has a burden in it. Who you made it from, what you did to make that? You're the number one credit card sales guy that all these people have credit cards that they don't need – there's burdens in everything. Everything that someone does is accountable for something to Allah (AJ). So He (AJ) knows that whatever we're going to do in life is making burdens.
لہذا زکوٰۃ کا تصور کیا تھا ، اس (بوجھ ) کو صاف کرنا ہے۔ یہ انفیکشن کی طرح ہے جو انسان خود پر نہیں دیکھ سکتا ہے۔ جب انفیکشن بڑھ رہے ہیں ، اور بڑھ رہے ہیں ، اور بڑھ رہے ہیں ، اور وہ صرف خراب عادتوں کو دیکھتے ہیں۔ لیکن اولیا اللہ کو کیا نظر آتا ہے – پھوڑا ۔ وہ دیکھتے ہیں جو یہ ساری مشکلاتِ شیطان اُن کے جسم پر ڈال رہا ہے، تمام بیماریوں اور وہ تمام چیزوں جو اس شخص کی (نفسانی ) خواہش کا باعث بنتی ہیں ۔ لہذا جب بھی وہ (صدقہ) دیتے ہیں تو ایسا ہی ہوتا ہے، جیسے وہ ڈاکٹر کے پاس گئے ہوں اور اس نے پھوڑا کاٹا ۔ ٹھیک ہے؟ کیونکہ اگر آپ پر بہت بڑا پھوڑا ہے تو آپ صرف اتنا کہتے ہیں ، 'مجھے بہت تکلیف ہے ، میں اپنی ٹانگ نہیں ہلا سکتا۔' لیکن ڈاکٹر جو دیکھتا ہے ، وہ انفیکشن دیکھتا ہے لہذا اگر وہ پھوڑے کو کاٹ دیتا ہے تو اس کا مطلب ہے کہ وہ تمام بیکٹیریا کاٹ کر باہر نکال دیتا ہے۔ تب ہی شفا ملنا شروع ہوتی ہے۔
|Lehaza Zakah ka tasawwur kya tha, is ( boojh ) ko saaf karna hai. Yeh infection ki terhan hai jo insaan khud par nahi dekh sakta hai. Jab infection barh rahay hain, aur taiz ho rahay hain, aur taiz ho rahay hain, aur woh sirf kharab aadato ko dekhaty hain. Lekin Awliya-Aallah ko kya nazar aata hai – phora. Woh dekhaty hain jo yeh saari mushkilaat shetan unn ke jism par daal raha hai, tamam bimarion aur woh tamam cheezon jo is shakhs ki ( nafsaani ) khwahish ka baais banti hain. Lehaza jab bhi woh ( sadqa ) dete hain to aisa hi hota hai jaisay woh dr ke paas gaye hon aur is ny phora kaata. theek hai? kyunkay agar aap par bohat bara phora hai to aap sirf itna kehte hain,' mujhe bohat takleef hai, mein apni taang nahi hila sakta.' Lekin doctor jo daikhta hai, woh infection daikhta hai lehaza agar woh phoray ko kaat deta hai to is ka matlab hai ke woh tamam bacteria kaat kar bahar nikaal deta hai. Tab hi Shifa milna shuru hoti hai|
So the concept of zakah was what, is to clean it. It's like an infection that insan (human being) can't see upon themselves. When the infections are festering, and festering, and festering, they only see the bad characteristics. But what awliyaullah (saints) are supposed to see, the scabs. They see that all these difficulties that shaitan (satan) is putting upon the body of all these sicknesses and all these things that are making the desire upon the person. So every time they give, it's as if they went to the doctor and he cut the abscess. Right? Because if you have a big abscess you just say, 'I have a lot of pain, I can't move my leg.' But what the doctor sees, he sees an infection so if he cuts the abscess means he cuts all the bacteria to come out. Only then can healing begin.
لہذا خدمت کرنے میں ایک زبردست حقیقت ہے۔ آپ کی زکوٰۃ آپ کا وقت ہوسکتا ہے ؛ آپ کی قابلیت ہوسکتی ہے ، جو کچھ اللہ (عزوجل ) نے آپ کو دیا ہے ، وہ ہوسکتاہے؛ اپنی شفا حاصل کرنے کیلئے جو آپ اس راستے میں دیتے ہیں ۔ جب بھی آپ کوئی غلط کام کریں تو خود کو سزا دیں۔ اگر آپ کوئی چیز مسلسل دیکھ رہے ہیں جو نہیں دیکھنی چاہئے ، تو پھر (خود سے ) کہیں ، 'جب بھی میں اسے دیکھوں گا ، میں میلاد کیلئے پچاس ڈالر دوں گا۔' یہ آپ کے نفس کے خلاف بات ہے۔ پہلے دور میں ، شیخ خودکو سزا دیا کرتے تھے ، لیکن ہم اس طرح کی بات نہیں کرنا چاہتے کیونکہ اس کے بعد لوگ، آپ کو پتہ ہے، مشکل سے دوچار ہو سکتے ہیں۔
| Lehaza khidmat karne mein aik zabardast haqeeqat hai. Aap ki Zakah aap ka waqt ho sakta hai ؛ aap ki qabliyat hosakti hai, jo kuch Allah ( azzwajal ) ney aap ko diya hai, woh ho sakta hai ؛ apni shifa haasil karne ke liye jo aap is rastay mein dete hain . Jab bhi aap koi ghalat kaam karen to khud ko saza den. Agar aap koi cheez musalsal dekh rahay hain jo nahi dekhni chahiye, to phir ( khud se ) kahin,' jab bhi mein usay daikhon ga, mein milaad ke liye pachaas dollar dun ga.' yeh aap ke nafs ke khilaaf baat hai. Pehlay daur mein, Shaykh khodko saza dete they, lekin hum is terhan ki baat nahi karna chahtay kyunkay is ke baad log, aap ko pata hai, mushkil se dochar ho satke hain|
So then there's a tremendous reality in being of service. Your zakah can be your time, can be your ability, can be whatever Allah (AJ) has given to you. You put into that way to heal yourself, to participate. Anytime you do something wrong, punish yourself. That if you're continuously watching something you're not supposed to be watching, then say, 'Every time I watch it, I'm going to give fifty dollars to Mawlid.' It makes something against your nafs. Before, shaykhs punished themselves, but we don't want to talk like that because then people can, you know, inflict difficulty.
لیکن آپکی ذات کو اس کا کوئی انجام بھگتنا چاہئے ورنہ یہ ایک مستقل حد ہے جو آپ پار کرتے رہیں گے ۔ تو یہ کہیں کہ ،'ہر بار جب میں کوئی غلط کام کروں جو مجھے نہیں کرنا چاہیئے ، تو میں جرمانہ ادا کروں گا ' ۔ لہذا یہ جرمانہ ، نہ صرف انا کو ٹھیس پہنچائے گا، 'اوہ گوش ، ہمارے اکاؤنٹس ، اس طرح خالی ہو جائیں گے ' ۔لیکن اس کے ساتھ ہی یہ ایک بے حد برکت ہے ، کیونکہ آپ اللہ (عزوجل ) کی راہ میں دے رہے ہیں۔ لہذا، بہت سے طریقے ہیں، جن سے آپ بچ سکتے ہیں۔ جو بھی نماز پڑھنا چاہتا ہے ، رات کو سونے سے پہلے بہت سا پانی پیئے ، تاکہ آپ ساری رات (بار بار اُٹھیں )، دھونا اور وضو کرنا پڑے ۔ تو پھر وہاں سارے سسٹم موجود ہیں جس پر عمل درآمد کر کے ہم وہ حاصل کر سکتے ہیں ، جو ہمیں حاصل کرنا ہے۔
| Lekin apkee zaat ko is ka koi injaam bhughtna chahiye warna yeh aik mustaqil hadd hai jo aap paar karte rahen ge. To yeh kahin ke,' har baar jab mein koi ghalat kaam karoon jo mujhe nahi karna chahiye, to mein jurmana ada karoon ga '. Lehaza yeh jurmana, nah sirf anaa ko thaiss puhnchaye ga,' oh gosh, hamaray accounts, is terhan khaali ho jayen ge '. Lekin is ke sath hi yeh aik be hadd barket hai, kyunkay aap Allah (AJ) ki raah mein day rahay hain. Lehaza, bohat se tareeqay hain, jin se aap bach satke hain. Jo bhi namaz parhna chahta hai, raat ko sonay se pehlay bohat sa pani piye, taakay aap saari raat ( baar baar aُthin ), dhona aur wudu karna parre. To phir wahan saaray system mojood hain jis par amal daraamad kar ke hum woh haasil kar satke hain, jo hamein haasil karna hai .|
But there has to be a consequence in yourself otherwise it's a continuous line that you pass. So say that, 'Every time I do something wrong that I didn't want to do, I'm going to pay a fine.' So that fine is not only something on your ego that, 'Oh gosh we're going to empty our accounts like that.' But at the same time it's an immense barakah (blessing) because you're giving in the way of Allah (AJ). So there's all sorts of ways that you can handle that. Anyone who wants to pray, drink a lot of water before you sleep so all night long you have to wash and make wudu (ablution). So then there's all systems in which to implement to achieve what we have to achieve.
سُبْحَانَ رَبِّکَ رَبِّ الْعِزَّۃِ اَمَّا یَصِفُونْ وَسَلَامٌ عَلیٰ الْمُرْسَلِیْنْ وَاَلْحَمْدُ لِلّٰهِ رَبِّ الْعَالَمِیْنِ وَ بِحُرْمَةِ مُحَمَّدٍ الْمُصْطَفیٰ وَ بِسِرِّ سُوْرَۃِ اْلْفَاتِحَہ
Subhana rabbika rabbal 'izzati 'amma yasifoon, wa salaamun 'alal mursaleen, walhamdulillahi rabbil 'aalameen. Bi hurmati Muhammad al-Mustafa wa bi siri Surat al-Fatiha.
یہ بیان اس لنک پر دیکھا جا سکتا ہے
Youtube Link to Watch This Suhbah:
youtu.be/7yXrpRk0tjE
یہ آرٹیکل انگلش میں پڑھنے کیلئے
Read this Article (English)
www.nurmuhammad.com/heart-is-a-finely-tuned-instru…/
یو ٹیوب چینل ابھی سبسکرایب کیجئے
Subscribe Now: The Muhammadan Way Sufi Realities
www.youtube.com/channel/UC4E8QX7OgwYDgyuuXTBMrcg
شیخ سید نور جان میر احمدی نقشبندی (ق) کا آفشیل فیس بک پیج لائک کیجئے
Official Page: Shaykh Nurjan Mirahmadi
facebook.com/shaykhnurjanmirahmadi/
2/2