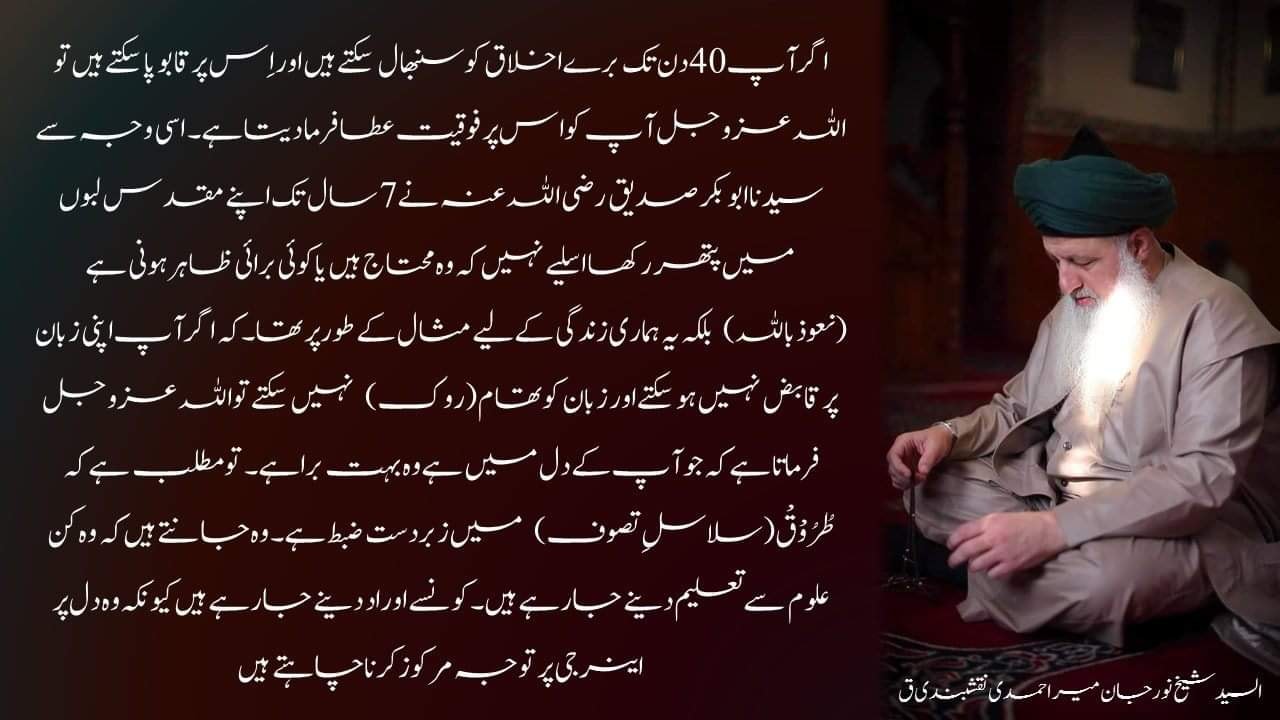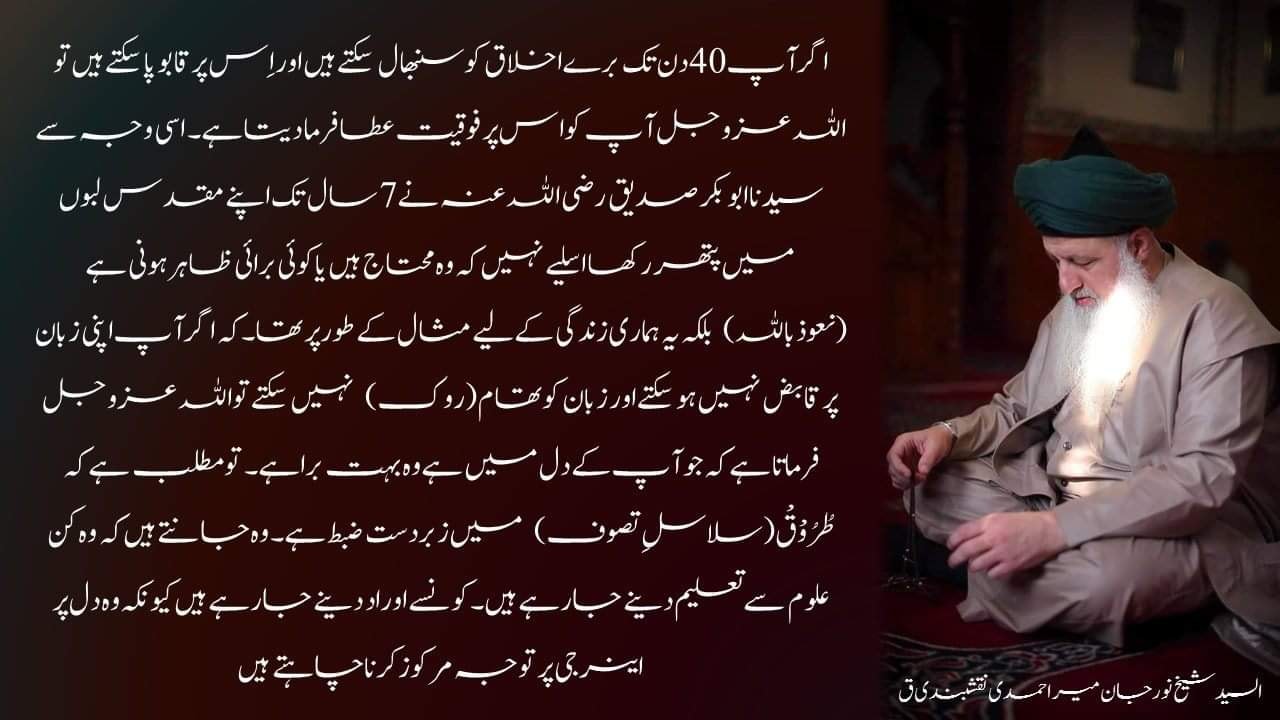 Urdu – Let Your Heart Talk!! دل کو بیدار کرنے کے لیے اپنے منہ پر مہر لگائیں !! Our T…
Let Your Heart Talk!!
دل کو بیدار کرنے کے لیے اپنے منہ پر مہر لگائیں !!
Our Translation:
جب آپ تزکیہ کی راہ اختیار کرتے ہیں تو سب سے پہلے وہ آپ کو جو کرنا سکھاتے وہ ہے اپنے منہ میں پتھر رکھنا(زبان پر قفل لگانا،خاموش رہنا) کہ جب آپ ڈاکٹر کے دفتر آنے والے مریض ہیں تو چپ رہیں! آپ بات کرنا چاہتے ہیں لیکن آپ کے دل میں جو ہے ہوسکتا ہے وہ ان حقائق سے نہ ہو جنہیں اللہ عزوجل ظاہر کرنا چاہتا ہے۔ خاموش رہیں۔اظہار مت کریں۔کسی شے میں اپنی رائے مت دیں۔وہ کردار جو آپ اپنے منہ میں رکھتے ہیں وہ ہر چیز کو ظاہر کر دے گا۔ ہر طرح کا غصہ ، ہر غلط فہمی جو اس زبان سے نکل رہی ہے اس برے کردار کا دم گھوٹتی ہے تاکہ اسے آکسیجن نہ ملے۔ اگر آپ 40 دن تک برے اخلاق کو سنبھال سکتے ہیں اور اِس پر قابو پاسکتے ہیں تو اللہ عزوجل آپ کو اس پر فوقیت عطا فرما دیتا ہے۔ اسی وجہ سے سیدنا ابوبکر صدیق رضی اللہ عنہ نے 7 سال تک اپنے مقدس لبوں میں پتھر رکھا اسلیے نہیں کہ وہ محتاج ہیں یا کوئی برائی ظاہر ہونی ہے (نعوذباللہ) بلکہ یہ ہماری زندگی کے لیے مثال کے طور پر تھا۔کہ اگر آپ اپنی زبان پر قابض نہیں ہوسکتے اور زبان کو تھام(روک) نہیں سکتے تو اللہ عزوجل فرماتا ہے کہ جو آپ کے دل میں ہے وہ بہت برا ہے۔ تو مطلب ہے کہ طُرُوْقْ(سلاسلِ تصوف) میں زبردست ضبط ہے۔ وہ جانتے ہیں کہ وہ کن علوم سے تعلیم دینے جارہے ہیں۔کونسے اوراد دینے جارہے ہیں کیونکہ وہ دل پر اینرجی پر توجہ مرکوز کرنا چاہتے ہیں اور اگر آپ چاہتے ہیں کہ وہ اینرجی دل میں داخل ہو تو اپنے منہ (زبان) پر مہر لگائیں۔ کیونکہ آپ کا منہ(زبان) ہر شے کو دور کرنے والا ہے۔ اگر آپ منہ(زبان) پر قابو پاسکتے ہیں۔ اگر آپ منہ(زبان) پر قابو پالیں تو آپ تزکیہِ قلب شروع کرسکتے ہیں۔
السید شیخ نورجان میراحمدی نقشبندی ق
Original Lecture:
When you take the way of tazkia the first thing they teach you to do is to put a rock in your mouth.that when you are a patient coming to doctor's office stay quiet! You want to share but but what in your heart may not be from the realities that Allah azzawwajjal wants to be shared. Don't talk. Don't show yourself. Don't put your opinion into anything. The character that you contain within your mouth will reveal everything. Every anger, every incorrect understanding coming from that mouth suffocate that bad character so that it receives no oxygen. If you can handle and control a bad characteristic for 40 Days Allah azzawwajjal gives you supremacy over it.that's why sayyidina Abu Bakr siddique RA 7 years carried a Stone within his holy lips not because he is in need or anything bad coming but as an example for us in life. That if you can't contain your tongue and hold the tongue Allah Azzawwajjal says what's in your heart is far worse. So means the tarooqs they have a tremendous amount of discipline. They know from what knowledges they are going to teach.what practices they are going to give that they want to focus on energy upon the heart and if you want that energy to come into the heart then seal, seal your mouth. Because your mouth going to give everything away. If you are able to contain the mouth.control the mouth then you can begin the tazkia of the heart.
Urdu Transliteration:
Jab Ap Tazkia ki raah ikhtiaar karte hain tu sab se pehlay wo Apko jo karna sikhatay hain wo ha Apnay Muh mein Pathar rakhna(Khamoosh rehna) ke jab Ap Doctor ke daftar anay walay mareez hain tu Chup rahein! Ap baat karna chahtay hain lekin Ap kay Dil mein Jo ha ho sakta ha wo on Haqaiq se na hy jinhein Allah AJ zaahir karna chahta ha. Khamoosh rahein! Izhaar mat karein! Ksi shay mein apni raaye mat dain,wo kirdaaer jo App apnay muh mein rakhtay hain wo har cheez zaahir kar De ga.Har trah ka gussa ,har galat fehmi jo iss zubaan se nikal rahi ha iss buray kirdaar ka dam ghot'ti ha takay issay oxygen na milay. Agar app 40 din tak buray ikhlaq ko sanbhal saktay hain tu Allah AJ Apko ous per foqiyyat ata ferma deta ha.issi wajah se Sayyidina Abu Bakr Siddique RA nay 7 saal tak Apnay Muqaddas Labon mein pathar rakha isliye nahi ke woh Muhtaaj hain ya koi buraai zaahir honi ha(Na-ozubillah) Blkay ye hmari Zindagi k liye misaal ke tor per tha kay Agr App apni zubaan per qaabiz nahi ho saktay aur zubaan ko thaam(rok) nahi saktay tu Allah AJ farmata ha ke jo App ke Dil mein ha wo Bht bura ha.Tu Matlab ke Turoooq (salaasil e Tassawuf) mein zabardast Zabt ha! Wo jante hain ke wo Kin uloom se Taleem denay jaa rahe hain.konsay awraad denay jaa rahe hain kyun ke wo Dil Par,energy Par twajjuh markooz karna chahtay hain aur Agr App Chahtay hain ke wo energy dil mein Daaakhil Hu tu Apnay Muh(zubaan) Par Muhr lagaein kyun ke App ka Muh(Zubaan) har shay ko door karnay wala ha agar app muh(zubaan) per Qaabu paa sakte hain,Agr App Muh(Zubaan) per Qaabu Paa lein tu App Tazkiya e Qalb Shuru kar skte hain.
Watch here:
https://youtu.be/GHoTZt1Dfq8