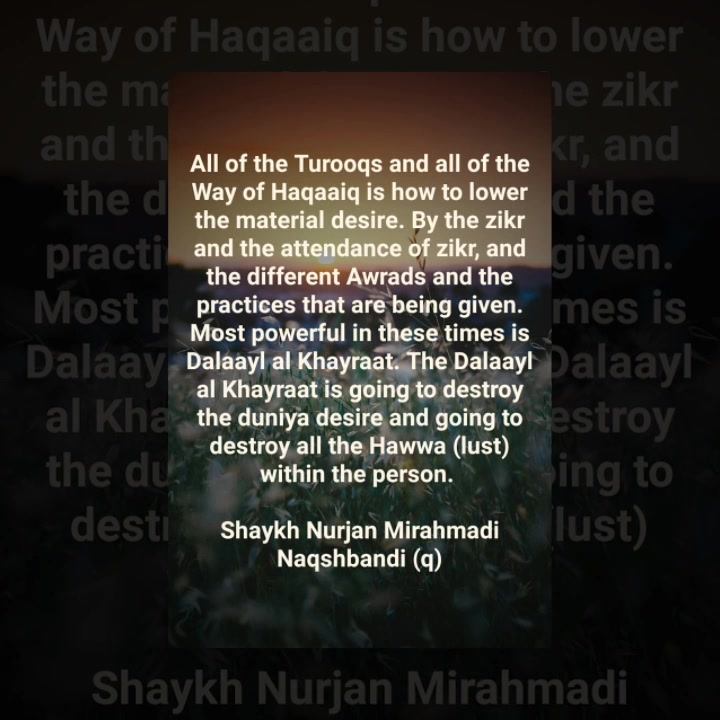 Urdu – How To Lower Material Desire?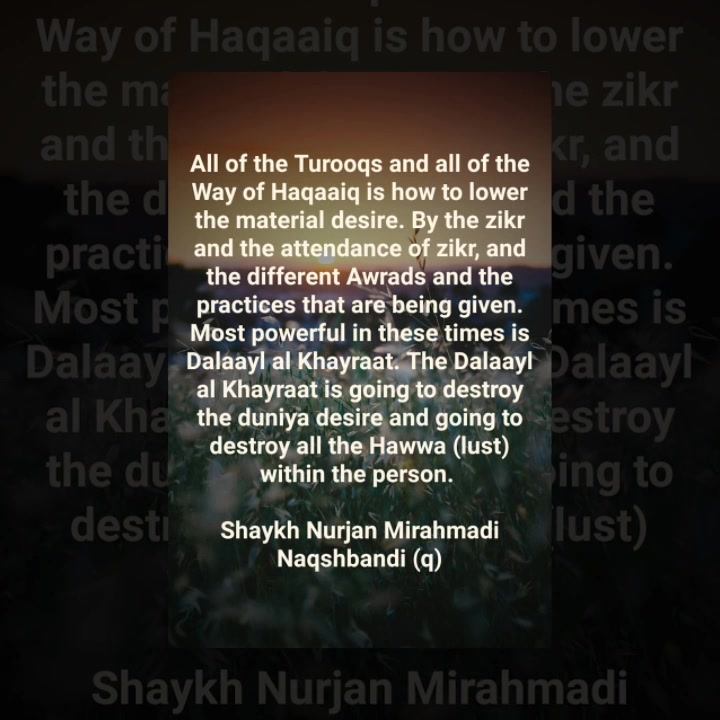 شیخ سَیَّد نورجان مِیراَحمَدِی نَقشبَندِی (ق) کی تعلیمات سے ایک اقتباس
بِسْمِ اللَّـهِ الرَّحْمَـٰنِ الرَّحِيمِ
اَللَّهُمَّ صَلِّ عَلٰی سَیَّدِنَا مُحَمَّدٍ ﷺ وَعَلٰی آلِ سَیَّدِنَا مُحَمَّد ﷺ
مادی خواہشات کو کس طرح کم کیا جاۓ؟
ہَم چار حِصّوں میں بَند ہوگئے ہیں۔ اور ہَم اُڑنے کے قابِل نَہِیں ہیں کیونکہ یہ رُکاوَٹ شَیطَان ہَم پر ڈال رہا ہے۔ اِس کا مَطلَب یہ ہے کہ اب بندے کو مادی دُنِیَا کی مُحَبَّت کو سمجھنا ہوگا۔ جو کہ اب (اس زمانے میں) سب سے ذیادہ عروج پر ہے۔ کہ سب کچھ مادی دنیا کی مُحَبَّت پر مبنی ہے۔ نفسانی لَزَّتوں کی مُحَبَّت مادی دُنِیَا سے ہے۔ ہر وہ چیز جو جِسمَانِیَت کو خوش رکھے، ہر اطمینان، ہر خوشی، ہر فُرصَت جو ہم جِسم کو دے رہے ہیں، رُوح کو اِس کی حَقِیقَت سے روکے ہوئے ہے۔ تو پھر تَصَوُّر کریں کہ یہ رُوح ایک نور (روشنی) کی طرح ہے اور جیسے ہی دُنِیَا کی خواہش ہوتی ہے یہ اسے مسدود کرنا شروع کردیتی ہے اور اس حَقِیقَت کو آگے بڑھنے سے روک لیتی ہے۔ چنانچہ تمام تر سَلَاسِل اور تمام تر حقائق یہ (سکھاتے) ہیں کہ مادی خواہش کو کس طرح کم کیا جائے۔ اور مادی خواہش کو کس طرح کم کیا جائے ذِکَر سے اور ذِکَر میں شِرکَت سے اور مُختَلِف اَورَاد اور اَذکَار سے جو دیے جا رہے ہیں۔ اس وقت (زمانے) میں سب سے زیادہ مَؤثَّر دَلَائل اَلخَیرَات ہے۔ دَلَائل اَلخَیرَات دُنِیَا کی خواہش اور انسان کے اندر موجود تمام (جِنسی) ہَوَس کو ختم کر دے گی۔ جب انہیں ایسی خواہشات کا سامنا کرنا پڑتا ہے جو وہ ظاہر نہیں کرسکتے، قابو نہیں کر سکتے، جیسے غُصَّہ، جِنسی ہَوَس، ان پر صرف رسول ﷺ پر دُرُود و سَلَام کے ذریعے ہی قابو پایا جاسکتا ہے۔ یعنی کہ ذِکَر میں حاضری زبردست صفائی ہے۔
Urdu Transliteration:
Maadi Khwahishat Ko Kis Tarah Km Kiya Jaye?
Ham Chaar hiss'on may band ho gaye hen. Aur ham Urrnay kay qabil nahin hen kyun kay ye rukawat Shaytan ham pr daal raha Hai. Is ka Matlab ye Hai kay ab banday ko maadi duniya ki muhabbat ko samajhna ho ga. Jo kay ab (is zamanay may) sab say zyada urooj pr Hai. Kay Sab kuch maadi duniya ki muhabbat pr mabni Hai. Nafsani Lazzaton ki muhabbat maadi duniya say Hai. Har wo cheez jo jismaniyat ko khush rakhay, har itmenan, har khushi, har fursat jo ham jism ko day rahay hen, Rooh ko iski Haqeeqat say rokay hue Hai. Tou phir Tasawwur kren Kay ye Rooh aik Noor (roshni) ki tarah Hai aur jesy he duniya ki khwahish hoti Hai ye isay masdood krna shuru kr deti Hai aur is Haqeeqat ko agay barhnay say rok leti Hai. Tamaam tar Salaasil (Silsilay) aur Tamaam tar Haqaaiq ye sikhatay hen Kay maadi khwahish ko kis Tarah km kiya Jaye. Aur maadi khwahish ko kis tarah km kiya jaye zikr say, aur zikr may shirkat say, aur mukhtalif Awrad aur Azkaar say jo diye ja rahay hen. Is waqt (zamanay) may Sab say zyada Moa'ssar Dalaayl al Khayraat Hai. Dalaayl al Khayraat duniya ki khwahish aur Insan Kay andar mojood Tamaam (jinsi) Hawas ko Khatam kr day gi. Jb unhen aesi khwahishat ka saamna krna prta Hai jo wo Zahir nahin kr saktay, qaboo nahin kr saktay, jesy ghussa, jinsi Hawas, in pr sirf Rasool ﷺ pr Darood o Salaam k zariye he qaboo paaya ja sakta Hai. Yaani kay zikr may Haazri zabardast safaai Hai.
Transcribed Lecture:
How To Lower Material Desire?
We are blocked into four. And we are not able to fly because that block that Shaytan is putting upon us. Means then the servant has to be understanding the Hub-ud-Duniya and the love of the material world, which is now at it's greatest peak. That everything is based on the love of the material world. From the material world is the love of pleasurely desires. Everything that makes the physicality to be happy, from every contentment, from every pleasure, from every leisure, that we are giving to the physicality, is blocking the soul from it's reality. So means imagine then this soul like a light and as soon as the duniya desire, it begins to move and blocking that reality. So that all of the Turooqs and all of the way of Haqaaiq is how to lower the material desire. and how to lower the material desire by the zikr and the attendance of zikr, and the different Awrads and the practices that are being given. Most powerful in these times is Dalaayl al Khayraat. The Dalaayl al Khayraat is going to destroy the duniya desire and begin to destroy all the Hawwa (lust) within the person. When they are faced with desires that they can't show, can't control, being anger, and sexual lust, those can only be controlled by Salawats on Prophet ﷺ. Means that the attendance in the zikr has a tremendous cleansing.
🌹💝🌹 Shaykh Syed Nurjan Mirahmadi Naqshbandi (q) 🌹💝🌹
Watch Lecture Here:
https://youtu.be/5NSFtcgqRx8
Source