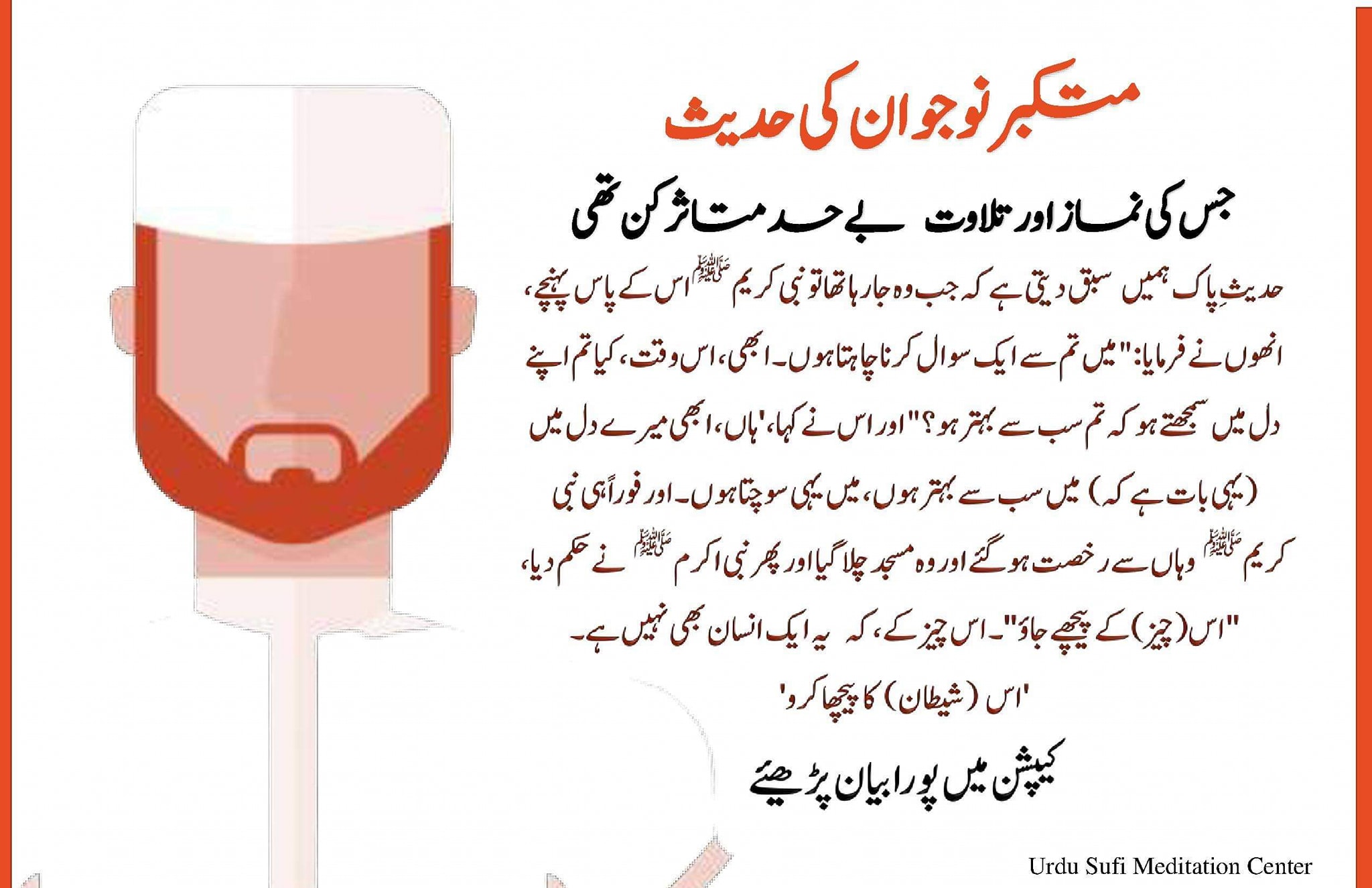 Urdu – Hadith of the arrogant youth متکبر نوجوان کے بارے میں حدیث شریف جو ہمیں(یوٹ…
Hadith of the arrogant youth
متکبر نوجوان کے بارے میں حدیث شریف
جو ہمیں(یوٹیوب پر )آن لائن دیکھ رہے ہیں ، براہ کرم ہمیں فیس بک پر فالو کریں۔جو ہمارا فیس بک پیج ہے، یہ مرکزی ذریعہ ہے جس میں ہم آرٹیکلز (مضامین)شائع کرتے ہیں ،اور Nurmuhammad.com نورمحمد ڈاٹ کام' مرکزی ویب سائٹ ہے جس پر یہ مضامین اور ویڈیوز اور ہر شے پوسٹ کی گئی ہے۔ ہزاروں مضامین ، ایک ہزار سے زائد ویڈیوز ہیں ان علوم پر جو ہم بیس سالوں سے سکھا رہے ہیں۔
اور ہم نے متکبر نوجوان کی حدیث کے بارے میں تعلیم دی ہے جو آیا اور صحابی (صحابہ کرام رضوان اللہ علیہم اجمعین) سے اس طرح سے مخاطب ہوا کہ وہ (اس کی) قرأت (تلاوت) سے اس قدر متاثر ہوئے۔عمل اور نماز اور اس پورے سلیقے سے اتنے متاثر ہوئے کہ ، وہ نبی کریم (ﷺ) کے پاس گئے اور کہا ، 'وہ فلاں، فلاں(شخص) جو تلاوت کر رہا ہے، کیا آپ(ﷺ) اُسے جانتے ہیں؟' اور نبی اکرمﷺ نے فرمایا، 'میں اسے نہیں جانتا'۔
ایک سبق اُن کیلئے جو سیدنا محمد ﷺ کی حقیقت کو نہیں سمجھتے، وہ یہ ہے کہ وہ(ﷺ) اپنی امت میں ہر ایک کو جانتے ہیں۔اُن (ﷺ) کے پاس "علوم الاولین والآخرین" (عالمِ ملک اور عالمِ ملکوت کا سب علم) ہے اور ہر مخلوق سیدنا محمدﷺ کی روح اور نور سے ہے۔وہ فرماتے ہیں ،'میں اس کو نہیں جانتا'۔فوراً یہ ظاہر ہوا کہ یہ اب کوئی معمولی بات نہیں ہے اور پھر آگے حدیثِ پاک ہمیں سکھاتی ہے کہ جب وہ جا رہا تھا تو نبی کریم (ﷺ) اس کے پاس پہنچے ، انھوں نے فرمایا : "میں تم سے ایک سوال کرنا چاہتا ہوں۔ابھی ، اس وقت ، تمہارے دل میں کیا تم سمجھتے ہو کہ تم سب سے بہتر ہو؟" اور اس نے کہا ، 'ہاں ، ابھی میرے دل میں (یہی بات ہے کہ ) میں سب سے بہتر ہوں ، میں یہی سوچتا ہوں۔'
اور فوراً ہی نبی کریم(ﷺ) وہاں سے رخصت ہوگئے اور وہ مسجد چلا گیا اور پھر نبی اکرم(ﷺ )نے حکم دیا ، '' اس (چیز) کے پیچھے جاؤ ''۔ اس چیز کے، (یعنی ) وہ چیز سرے سے انسان ہی نہیں ہے۔'اس چیز کا پیچھا کرو' ۔
اور جب سیدنا ابوبکرصدیق (علیہا السلام) اُس چیز سے نمٹنے کے لئے مسجد تشریف لے گئے ، تو وہ (اسکی)نماز اور نماز کی قرات سے بہت متاثر ہوئے ،آپ (ﷺ) کے پاس دوڑے آئے، 'یا سیدی ، یا رسولﷺ، وہ نماز اس طرح پڑھ رہا ہے کہ اس کی قرأت(تلاوت)انتہائی متاثر کن ہے۔ 'پھر سیدنا عمر فاروق (علیہ السلام) کو بھیجاگیا ، "قُل جَآءَ الحَقُّ وَ زَہَقَ البَاطِلُؕ " (اور فرما دیجئے: حق آگیا اور باطل مٹ گیا، ۔ سورۃ الاسراء 17:81)
اور وہ ، وہ چیز سجدے میں تھی اور انھوں نے (سیدنا عمر علیہ السلام نے ) اُسے سجدے میں دیکھا اور اس کی نماز اور سجدے سے بےحد متاثر ہو کر وہ واپس لوٹ آئے۔'نہیں کر پائے' ۔ اور آپ(ﷺ) نے فرمایا ،'میں جانتا ہوں کہ کون اسے ٹھیک کرے گا۔ یا علی (علیہ السلام)، جائیے۔اور امام علی (علیہ السلام)کے مسجد میں قدم رکھتے ہی شیطان بھاگ گیا ، کیونکہ وہ جانتا تھا کہ امام علی (علیہ السلام) پلک جھپکنے (کی دیر) کیلئے بھی نہیں ہچکچائیں گے۔
اور پھر نبی اکرمﷺ نے انھیں بتایا:"اگر آپ چیز سے نمٹ لیتے ، اگر آپ اُس چیز کو، جسے میں نے تباہ کرنے کے لئے کہا تھا ،اُس کو ختم کردیتے ، تو میری امت کبھی بھی لڑائی نہ کرتی۔ کبھی بھی دو بھائی بحث اور لڑائی کیلئے اکٹھے نہ ہوتے۔ لیکن کیونکہ آپ نے اس شیطان کو اجازت دے دی ،کیونکہ شیطان مرتے نہیں۔ لیکن نبی اکرم(ﷺ) اُس شیطان کو ختم کرنے کی اجازت عطا فرما رہے تھے۔چونکہ انھوں نے اسے تباہ نہیں کیا لہذا اب امت لڑائیوں سے انتہائی پریشان ہے،لڑائی جھگڑوں کی وجہ سے تقسیم ہوچکی ہے۔ ہر بھائی، بھائی کے خلاف ہے، ہر بہن، بھائی کے خلاف ہے، ہر ایک دوسرے کا مخالف ہے۔ ہماری دعا ہے کہ اللہ (عزوجل) ہمیں(اپنی رحمت سے) ملبوس فرمائے ، ہمیں برکت عطا فرمائے اور ہماری حفاظت فرمائے۔ ہمیں ایک ایسا دل عطا فرمائے جو بیدار ہو ، آنکھیں جو بصیرت رکھتی ہوں ، کان جو سماعت رکھتے ہوں۔ان شاء اللہ۔
بِحُرْمَةِ مُحَمَّدٍ الْمُصْطَفیٰ وَ بِسِرِّ سُوْرَۃِ اْلْفَاتِحَہ.
Transliteration :
Mutakabbir no-jawan ke barey mein hadees shareef
jo hamein ( youtube par ) online dekh rahay hain, barah e karam hamein Facebook par follow karen. jo hamara Facebook page hai, yeh markazi zareya hai jis mein hum articles ( mazameen ) shaya karte hain, aur nurmuhammad.com markazi website hai jis par yeh mazameen aur videos aur har shay post ki gayi hai.Hazaron mazameen, aik hazaar se zayed videos hain un aloom par jo hum bees saloon se sikha rahay.
aur hum ne mutaqabbir nojawan ki hadees ke barey mein taleem di hai jo aaya aur sahabi ( sahaba karaam rizwan Allah allahim ajmaeen) se is terhan se mukhatib hwa ke woh ( is ki ) qir'at ( talawat ) se is qader mutasir hue. amal aur namaz aur is poooray saliqay se itnay mutasir hue ke, woh nabi kareem (Sallallahu Alayhi wassalam) ke paas gaye aur kaha,' woh falan, falan ( shakhs ) jo talawat kar raha hai, kya aap (ﷺ ) ussay jantay hain ?' aur Nabi Akram ﷺ ne farmaya, 'mein usay nahi jaanta.'
aik sabaq unn ke liye jo syedna Muhammad ﷺ ki haqeeqat ko nahi samajte, woh yeh hai ke woh (ﷺ ) apni ummat mein har aik ko jantay hain. unn (ﷺ ) ke paas" aloom ul awwaleen wal akhireen( aalme mulk aur aalm e malakoot ka sab ilm ) hai aur har makhlooq syedna Muhammad ﷺ ki rooh aur noor se hai. woh farmatay hain,' mein is ko nahi jaanta '. foran yeh zahir hwa ke yeh ab koi mamooli baat nahi hai aur phir agay hadees pak hamein sikhati hai ke jab woh ja raha tha to nabi kareem (ﷺ) os ke paas puhanche.unhon ney farmaya :" mein tum se aik sawal karna chahta hon. abhi, is waqt, tumharay dil mein kya tum samajte ho ke tum sab se behtar ho ?" aur is ney kaha,' haan, abhi mere dil mein ( yahi baat hai ke ) mein sab se behtar hon, mein yahi sochta hon. '
aur foran hi Nabi kareem (ﷺ) wahan se rukhsat hogaye aur woh masjid chala gaya aur phir Nabi Akram (ﷺ ) ney hukum diya,' ' is ( cheez ) ke peechay jao' '. is cheez ke, yeh aik insaan bhi nahi hai.' is cheez ka peecha karo' .
aur jab sayedna abu baker seddiq ( alaihisalam ) uss cheez se nimatnay ke liye masjid tashreef le gaye, to woh ( uski ) namaz aur namaz ki qirat se bohat mutasir hue, aap (ﷺ) ke paas doray aeye,' ya sayyidi, ya Rasulﷺ, woh namaz parh raha hai., is ki qirat ( talawat ) waqai mutasir kun hai.' phir syedna Umar Farooq ( aleh salam ) ko bheja gya.
"qul jaa al-haqqu wa zah'kal baatil innal baatila kaana zahooka"
(aur farma dijiye: haq agaya aur baatil bhaag gaya ,beshak baatil ne zail o nabood hi hojana ha-surah Asraa 17:81)
Aur wo, wo cheez sajde mein the aur onhu ne (Sayedna umar Alaihi salam ne) ouse sajde mein dekha aur oski namaz aur sajde se behad mutasir Hu kr waps loat aae." Nahi kr paaye! "Aur App(ﷺ) ne frmaya, 'm janta hun ke kon isay thek kre ga. Ya Ali (Alayhi salam) jaaye! ".aur imam Ali (Alayhi salam) ke masjid mein qadam rkhte hi shaitan bhag gya, kyun ke wo janta tha ke imam Ali(Alayhi salam) malak jhapaknay (ki dair) k liye bhi nhi hichkichaein ge.
Aur phir Nabi Akram(ﷺ) ne onhein btaya :"agr ap cheez se nimat letay, agr ap ous cheez ko, jisay m ne tabah krne ke liye kaha tha, osko khtm krdetay, tu meri ummat kbhi bhi larai na krti. Kbhi b dou bhai behas aur larai k liye ikathe na hotay lekin kyun ke ap ne shaitan ko ijazat De di, kyunke shaitan marte nhi. Lekin Nabi Akram (ﷺ) os shaitan ko khtm krne ki ijazat ata frma rhe the. Chunke onhu ne ose tabah nhi kia lehaza ab ummat jhagron se taqseem ho chuki ha. Har bhai, bhai ke khilaf ha. Har behan, bhai ke khilaf ha, har aik doosre ka mukhaalif ha. Hmari dua ha ke Allah(AJ) hamein (apni rehmat se) malboos frmae, hamein barkat ata frmae, aur hmari hifazat frmae. Hmein aik aisa dil ata frmae jo baidar hu,ankhein jo baseerat rkhti hun, kaan jo sama'at rkhte hun. In sha Allah
Bi Hurmati Muhammadil Mustafa wa bi sirri suratil Fatiha
اس پوسٹ کو انگلش میں پڑھنے کے لیے یہاں کلک کیجیئے:
https://www.facebook.com/…/a.16933514440…/3196692573753845/…
حدیثِ مبارکہ کے حوالے کے لیے یہاں کلک کیجیئے
https://www.facebook.com/273797535979854/posts/4637040466322184/
یوٹیوب چینل سبسکرایب کیجئے۔
Subscribe Now: The Muhammadan Way Sufi Realities
https://www.youtube.com/channel/UC4E8QX7OgwYDgyuuXTBMrcg
شیخ سید نورجان میراحمدی نقشبندی (ق) کا آفشیل فیس بک پیج لائک کیجئے
Official Page: Shaykh Nurjan Mirahmadi
Please Like and Share
https://facebook.com/shaykhnurjanmirahmadi/
مضامین کا اردو ترجمہ پڑھنے کیلئے
Read His Articles Translated in Urdu
https://nurmuhammad.com/category/urdu/