Repelling Negative Energies Meditation Q&A
From the Realities of Mawlana (Q) as taught by Shaykh Nurjan Mirahmadi.
A'udhu Billahi Minash Shaitanir Rajeem
Bismillahir Rahmanir Raheem
I seek refuge in Allah from Satan, the rejected one
In the Name of Allah, the Most Beneficent, the Most Merciful
QUESTION: Sayyidi, how to know if one is surrounded by positive and or negative energy?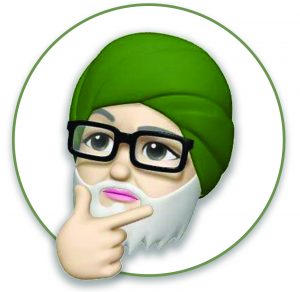 Shaykh Nurjan Mirahmadi: You'll feel it. Negative energy is negative energy. Positive energy is positive energy. And negative energy you can put your tongue on a nine-volt battery, the square ones. I wouldn't put it too long, you just tap your tongue 'zzz,' that feeling is negative energy. Because the frequency of the battery and the frequency of your being is clashing. So anytime you are resonating at a higher frequency, the lower frequency when it comes near you, it has a 'zzz' because it's a lower frequency and your field of energy is pushing that away. So when it clashes with your field of energy is hence the discomfort. Because it's coming into your frequency, your area of energy that you've built.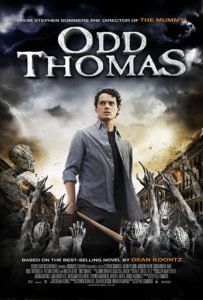 When you lower your frequency and you resonate at a very low frequency, all the low energies and bad energies come around the person. That's why we said, 'They are not awakened.' So, there's a movie called 'Odd Thomas' that somebody sent to us. 'Odd Thomas', like the name 'Thomas' – and just for the symbols and the images – we don't know about the story plot that's not important, but the images. That people walk around with all these creatures all around them. Because that's the low frequency that they emanate.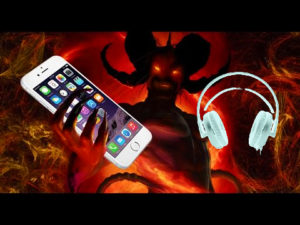 And that's exactly why shaitan (satan) is propagating what he propagates, right? So, he puts out the bad music so that really bad energies can accompany you. He puts bad movies so real bad energies can accompany you. So, everything he uses he knows the frequency fields. He knows that he has to contaminate the ears so that his demons can approach you. He knows he has to contaminate your eyes so that these demons can come and approach you. So, he knows what he's doing and because it's harder to learn from angels, and easier to learn from demons because they're more prevalent.
So when you watch this demonic world, what it's doing, you begin to be aware, 'Oh look they're going after everybody's ears, with these horrible songs,' because why? To attach beings onto them. They go after all these demonic movies. And now the movie is at your fingertip. Horrific things that you could be watching and inappropriate things on the fingertip of every child holding a phone. Why? To again contaminate.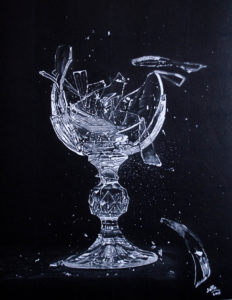 And if you resonate and build your energy with zikr (remembrance) and salawats (praisings), and the awrads (daily practices) that they're giving, your soul now is emanating at a higher frequency. So there are devices now that are on the phone. They're frequency emulators. I showed the guys, there's a thing where they tap the glass, and there's an app that can hear the frequency of the glass; let's say 13,000 mega-watts, I don't know the numbers.
Then they have another app that replicates that sound, that frequency, and it puts out that pitch 'zhhhh.' So, the one hears the pitch and another app replicates the pitch. And they can take the app that can replicate the vibration of this glass, and they put it next to it, and in a few seconds the glass shatters. Because it's emanating at a sound. If you take the frequency of something and reverse it back to it, you can disrupt its structure and bring everything down. This is the power of hamd (praise).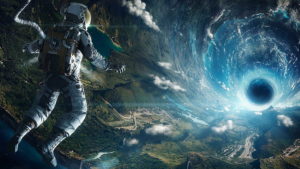 So when your hamd is strong, your praise is strong, your zikr is strong, your muraqabah (spiritual connection) and connections are strong, because muraqabah is, 'How you're going to get energy, more than what you have, upon yourself?' You need to take a breath, but you only have one lung. How do you go swimming and diving in an ocean that's deep? You have two little lungs; you think it's meant to go down deep? Or they put a whole pipe onto you, a mask onto your face, and say, 'Now go down 300 feet, 200 feet.' It's not your own lungs, but now there's a support coming. So, there is a whole machine breathing for you and sending a lifeline of breath for you.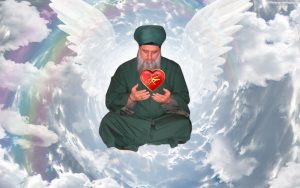 Same as in the madad (support). 'That with my energy, how am I going to defend myself against this onslaught of shayateen (devils)?' And Allah (AJ) says, 'No problem, put the mask on, learn how to do the madad. This energy field will begin to approach and make its way to you. To begin to dress you and bless you with energy and begin to surround you from its energy.' And enough of this energy begins to build upon you, your energy becomes stronger.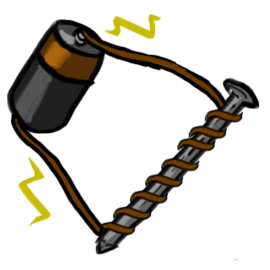 So, in elementary school they taught us magnetism. You go back to your elementary school classes. And magnetism is they would get the battery, one of those bigger batteries with the two slots on it, and they would take a wire and they would put it on the positive and negative, and say, 'Look, you put this wire onto something and try to attract paper clips.' And it would attract very little.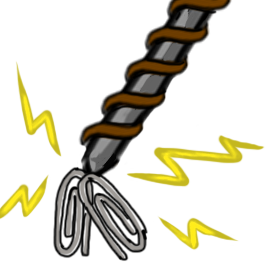 Then they tell you the concept of coiling the wire. So, they would take this wire and put a nail and coil it. You put it many times, like ten, twenty times, they would coil it and then make the connection; this would then magnetize. And when it would magnetize, it would collect, 'Err' (attaching sound), all the paper clips coming. The coiling is madad (support). You're trying to connect and coil yourself with these awliyaullah (saints), that they come, they come, they come. And they are from the jinn (unseen beings) and ins (human beings).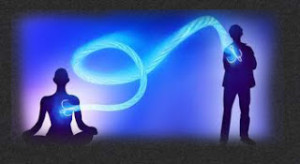 That they're coming by support, you're asking for support from Allah (AJ). He's teaching, 'How to coil yourself and magnetize yourself.' And then you become magnetic character, and you become magnanimous. All these phrases, 'Oh you are of a very magnanimous character.' Uh yeah, because they're coiling themselves with all of these energies. And as a result, their charge becomes very strong, and this is the reality and Haqqiqatul Juzba (reality of attraction). Very simple science courses that we all took in fourth, fifth, sixth grade. You don't have to think of it as it's so, 'Oh my God, this like so heavenly stuff that doesn't exist!' No, no, we took it all in school. It's called magnetism and how to create a magnetic charge.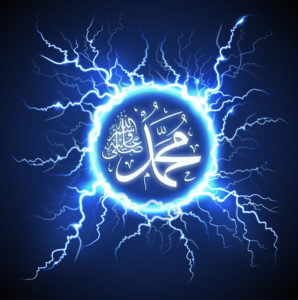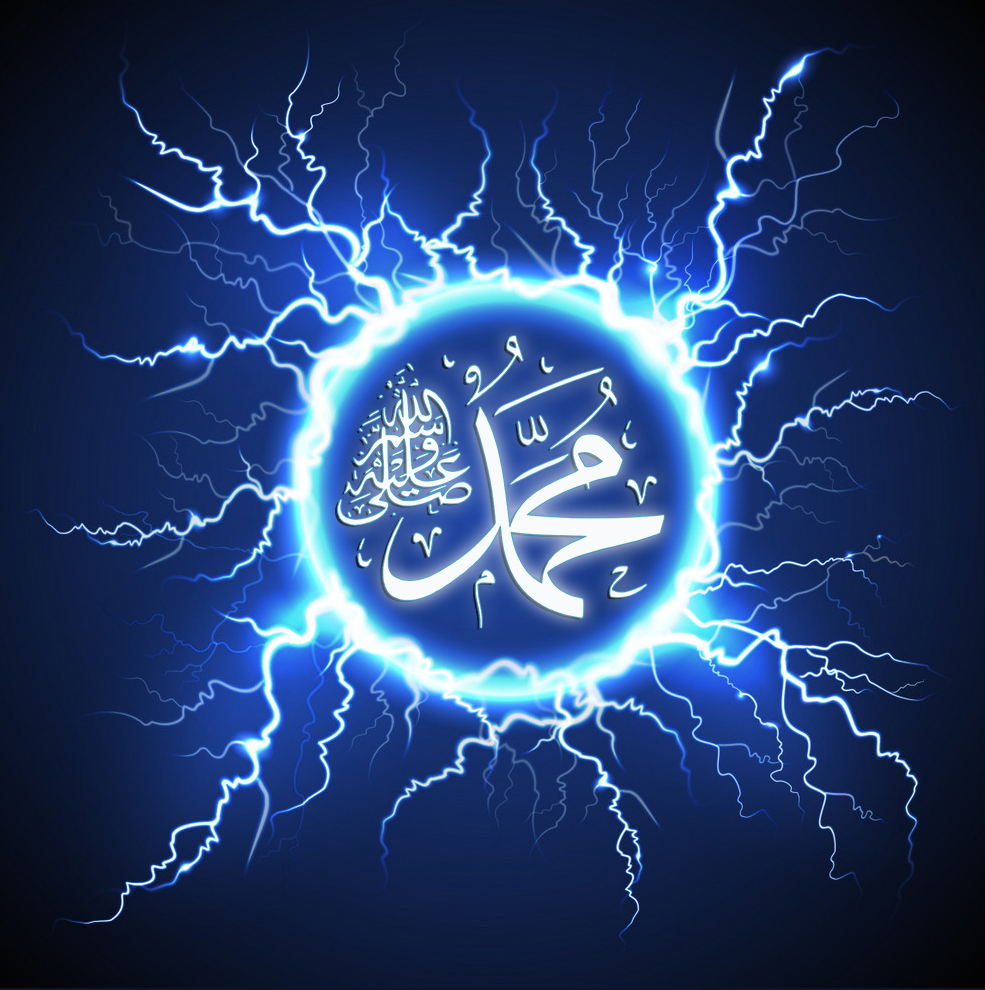 How to take the iron within your body and create a magnetic charge. Once you become charged as a magnet, you have magnetism. And that's the same word for good character, or people are attracted to you – from the magnetism. This is then the faiz (downpouring blessing). These awliyaullah, they are continuously coiling around you, all around you, and they're sending their faiz, their energies, their du'as (supplications), their blessings upon you. And this becomes a source of all their barakah and blessings. From Allah (AJ) to Sayyidina Muhammad ﷺ, because this is always the same. "Atiullaha wa atiur Rasula wa Ulil amre minkum."
﴾أَطِيعُواللَّه وَأَطِيعُوٱلرَّسُولَ وَأُوْلِي الْأَمْرِ مِنْكُمْ… ﴿٥٩…
4:59 – "…Atiullaha wa atiur Rasula wa Ulil amre minkum…" (Surat An-Nisa)
"… Obey Allah, Obey the Messenger, and those in authority among you…" (The Women, 4:59)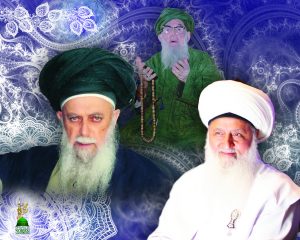 Allah (AJ) wants to send all these blessings, always through the heart of Prophet ﷺ. From Prophet ﷺ, it cannot come directly to you. It would blow you up. So, it comes then to his ulul amr (saints), then moves down this mirroring system, and each time step lower, step lower, step lower, until they can dress you with this faiz (downpouring blessings). If they dress you too hard, again you 'out.' That's why Nabi Musa (as) wanted, 'Let me see you.' Says (AJ), 'I don't think you can see Me, but I send you My Glory.'
وَلَمَّا جَاءَ مُوسَىٰ لِمِيقَاتِنَا وَكَلَّمَهُ رَبُّهُ قَالَ رَبِّ أَرِنِي أَنظُرْ إِلَيْكَ ۚ قَالَ لَن تَرَانِي وَلَـٰكِنِ انظُرْ إِلَى الْجَبَلِ فَإِنِ اسْتَقَرَّ مَكَانَهُ فَسَوْفَ تَرَانِي ۚ فَلَمَّا تَجَلَّىٰ رَبُّهُ لِلْجَبَلِ جَعَلَهُ دَكًّا وَخَرَّ مُوسَىٰ صَعِقًا ۚ فَلَمَّا أَفَاقَ قَالَ سُبْحَانَكَ تُبْتُ إِلَيْكَ وَأَنَا أَوَّلُ الْمُؤْمِنِينَ ﴿١٤٣﴾
7:143 – "Wa lamma jaa Musa limeeqatina wa kallamahu Rabbuhu, qala rabbi arinee anzhur ilayka, Qala lan taranee wa lakini onzhur ilal jabali fa inistaqarra makanahu, fasawfa taranee, falamma tajalla Rabbuhu lil jabali ja`alahu, dakkan wa kharra Musa sa`iqan, falamma afaqa qala subhanaka tubtu ilayka wa ana awwalul Mumineen." (Surat Al-A'raf)
"And when Moses arrived at Our appointed time and his Lord spoke to him, he said, "My Lord, show me [Yourself] that I may look at You." [Allah] said, "you will not see Me, but look at the mountain; if it should remain in its place, then you will see Me." But when his Lord manifested His glory on the mountain, He made it as dust, and Moses fell unconscious. And when he awoke/recovered his senses, he said, "Glory be to You! to You I turn in repentance, and I am the first of the believers." (The Heights. 7:143)
Whatever he (as) saw was so much for him, that it killed him (as). And this is Kalimullah (speaks to Allah (AJ)). That he (as) was like dust, out. Allah (AJ) had to revive him back. So, then for us then it's always step down, slow, step down, step down. And this is moving through mirrors to reach to us to a level in which we can contain it and not have harm from it, inshaAllah.
QUESTION: Sayyidi, if one is under a demon attack and their body is in pain, can you please guide us on what to recite?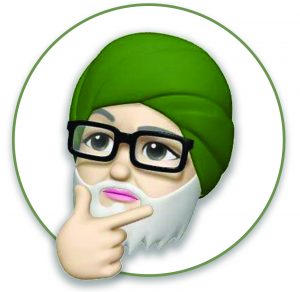 Shaykh Nurjan Mirahmadi: Yeah, a demon attack is spooky. Demons don't deal with humans. If a demon, if it's truly a demon, he would've taken your head off by now and eaten you. You're talking about just naughty jinns (unseen beings). Demonic attack is something that you can't even be typing or watching our face right now, it's not something you understand. The naughty jinns are being sent by people, email us – [email protected]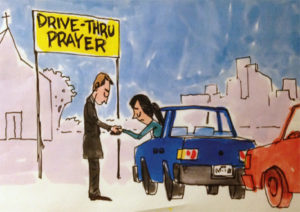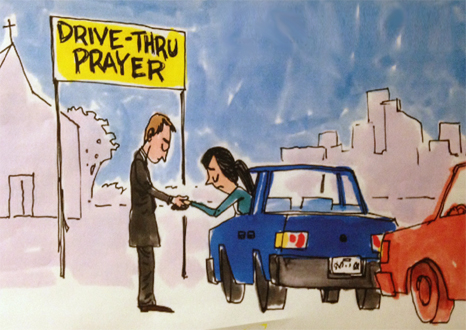 Because there is a whole system again. It's not just one thing you recite. Everybody wants now the McDonald's version of, 'Let me just drive-thru, and give me this, and I'm on my way.' But McDonalds is closed, and they're also being sued for Covid violation [everyone laughs]. Yeah there is no more drive-thru help, and there is no drive-thru tariqah either.
Everything is a series of being locked in and studying. Understanding the wudu (ablution), understanding the energy, and most important supporting. You know support is a sign of your faith. If you go to a doctor, and you go from doctor to doctor to free clinics, you probably won't really get any help. Because you know, you're just going around sort of left and right. But once you engage with a physician, you start to pay the bills, you're a patient of that physician, you're locked in.
More, awliyaullah are wakeels (representatives), so they're attorneys and law firms. If you're going to hire the Naqshbandi law firm, it's a big retainer. And once you are involved with Naqshbandiya, then the whole team of these awliyaullah (saints) are supporting you. So, it's no different than dunya (material world). You go to dunya and try to get free advice; free advice is just as good as the free-ness that you got from it. But you want real support, lock your foot with them.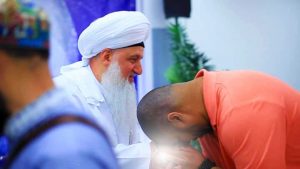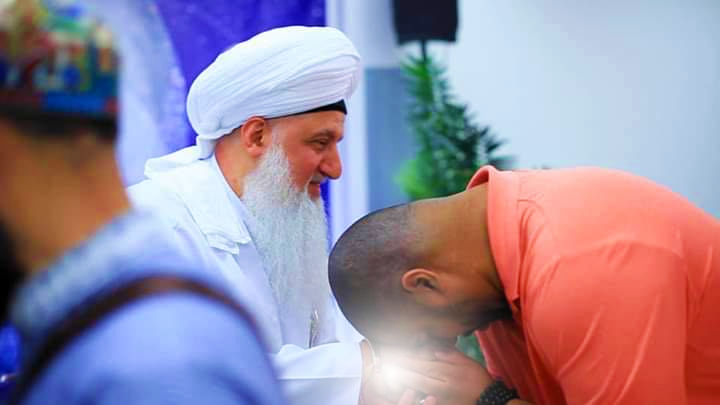 Tie yourself in with them, and begin to do the practices, begin to do the awrads, begin to do the zikr, it becomes a way of life. You know, to give someone a fish has no value to Prophet ﷺ, but to teach them to fish with you, by the time you've trained and by the time you've disciplined, and why the giving is that you're not going to go anywhere. If you're planning on bouncing around to twenty different shaykhs on the internet, good luck for you. And if you want to give them all donations, then you know, you must be super wealthy. But if you're going to dedicate yourself to one shaykh and learn and be a student of that shaykh, you're locked. Because, they said, 'I'm enrolled. I'm years with this person. I've developed a relationship with them. I'm studying, I'm doing my awrads, I'm doing the knowledges.' Now you're somebody who knows how to fish.
You not only acquired the ability, you fought off all these difficulties and all of these satanic influences. At the same time the shaykh has replicated himself in you. He's made you a replica of himself so that wherever you go on this earth, you're like an image of him. You teach what he teaches, you know what he knows, you act like he acts. And hopefully you're doing a good job and not ruining that representation. And that's what we have other talks of being ambassadors for this reality. We represent Prophet ﷺ. You can't go out and molest and humiliate and steal and cheat from people.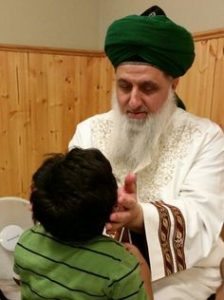 You're representing Sayyidina Muhammad ﷺ. And you're representing your shaykh, and the shaykhs that have been giving all their faiz, and all their teachings. So that you become exemplars of faith. That's what is important. Not just the windows of the zawiya and handing out fish to people, '$1 fish, $1 fish, $1 fish, $2 fish, $2 fish,' yeah. But teach them no, no, bring them in and make them duplicates of yourself. What you learnt from your shaykhs, teach them so that they all have now your characteristics. When you come to any of these students, they better be really loving, and very kind, and very good, and very generous. That means then they learned from their shaykh good character, and a good example and a good way, inshaAllah.
QUESTION: Sayyidi, how to best live amongst those family who don't have any understanding of energy or energetic practices?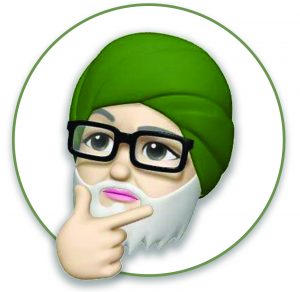 Shaykh Nurjan Mirahmadi: Alhamdulilah, Allah (AJ) wants it that way. That's from the talks of Sayyidina Yusuf (as). That he lives with a father who is a Prophet (as), eleven brothers who many ulama (scholars) says were prophets, but some argued on the internet said, 'They're not prophets.' Whatever you want to call it. Eleven highly blessed brothers. And the brothers wanted to kill him. So Allah (AJ) is teaching you, 'Your path is uniquely for you.'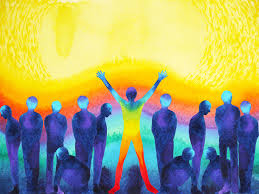 It's not meant for anyone else. Keep a path of silence. So the first step of the way is 'silence.' You're not supposed to explain it to anyone because you don't even know it yourself yet. You're not supposed to describe it to family and friends and everyone else because you'll get confused, and you'll confuse people.
So the way wasn't about propagating. Unfortunately, there are many people now of, no need to, we don't want to make a whole group of people to be angry with us. But people who don't get attention at home now become copy-paste shaykhas on the internet, right? They don't get the respect and the feeling they want from home. The internet became like a masjid (mosque) for them. They copy this shaykh, post it out, and then get two likes. They copy this shaykh, and they post this out, get 5 likes. Before they know it, they feel like they're shaykhs now. Copy-paste shaykhs. They copy-pasted this awrad, they put it out. Copy-pasted this awrad, they put that out. That's not guidance.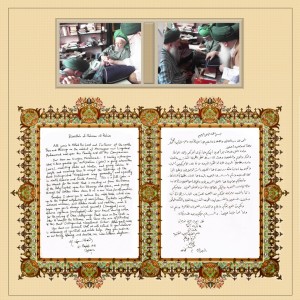 And for us, it's like a medical office. Always refer back to a medical office because their degrees are high; you know, their degrees are higher than your highest Harvard law school, medical school, to be granted a degree from Allah (AJ). The creator of all the universes, through order of Sayyidina Muhammad ﷺ down to the order of their shaykhs. When they come out with an ijaza (permission), it's beyond the understanding of a med degree and a law degree. It's a clinic. So, when they start giving out prescriptions and wazifas (spiritual practices), their soul stands behind that. And they ask Prophet ﷺ that to give it it's barakah and give it it's blessing. Even if it's deficient in something, make it to work because they did it. So Allah (AJ) doesn't disappoint his awliya (saints) and embarrass them. So whatever they put out, Allah (AJ) blesses it. If it's incorrect, they make their istighfar (seek forgiveness), pull and add to whatever has to be added.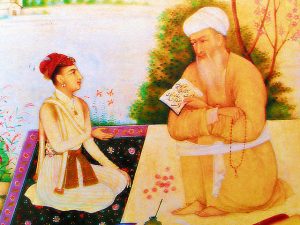 But copying and pasting some shaykhs prescriptions isn't the same as the shaykh posting that. And then his authorized students are re-posting that information. That's a nuskeh, it's a prescription that has a power. So when they give you an awrad and a zikr to do for a condition, a time, or whatever's happening on this earth. And in every era may be different, and Prophet ﷺ has different prescriptions for different shaykhs. Not all shaykhs are the same. None of them are the same, and Prophet ﷺ may want to see your belief in your shaykh. A different shaykh has a different prescription because this is also testing. If one shaykh says, 'Here, recite this whole thing.' And another shaykh says, 'No, just drink this water.' Say, 'Oh, he doesn't know'; no, he knows. Maybe your belief in him and that water, it will be the healing that you needed. This means every prescription is coming by order of Prophet ﷺ towards that shaykh to test your belief.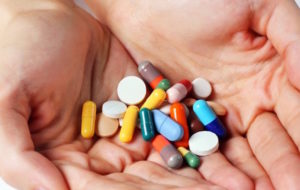 Don't mix and match. And don't copy-paste everyone's prescriptions all over the internet because those can also be toxic. If you're giving to the wrong person the wrong zikr and they start to lose their mind, that's on you. So, it means these are like medicines; you can't just go around telling everyone 'You take these antibiotics.' What if they're allergic to amoxicillin and you didn't know they were allergic. Because you're not a shaykh, or a shaykha. So, better just to use the internet as source of information from authorized representatives, to watch it, read it, say, 'I like, alhamdulilah.' But copy and pasting and putting out, and then mixing with ten different peoples, ten different shaykhs, ten different prescriptions. Then that's where the problem lies and then that becomes nafsani (egoistic) because the person wants attention.
QUESTION: Sayyidi, can the connection between the Shaykh and the mureed develop up to a point where fana in the Shaykh begins to interact from the hadith of 'being his eyes and ears' for the student?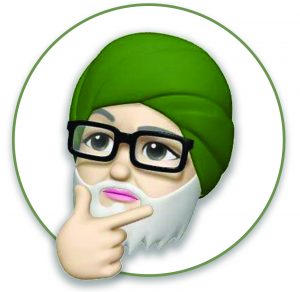 Shaykh Nurjan Mirahmadi: Yeah, we have a whole article on that. These are high levels of keeping the muhabbat and the love for these awliyaullah (saints). Going deep into their knowledges and into their practices, into the tafakkur (contemplation) until they are trained on how to keep the hudur (presence) of the shaykh. That at every moment, they are trying to keep the hudur and the presence of their shaykh upon themselves. And by their good character, their knowledges, their training, they're entering into that hudur where the shaykh's replicating his light upon the light of that person. As much as that person goes inside and not coming out to show themselves, the more his light can shine through them.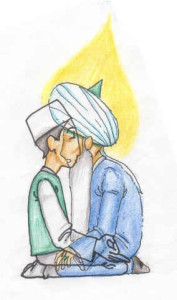 The more he comes out or she comes out, the less the light of the shaykh will come until they reach a state of mawt qablil mawt (death of desires before physical death). When they begin to die and not show themselves, the light of their shaykh is reflecting through them. And the hearing of the shaykh will dress him. The seeing of the shaykh will dress him. The breath of the shaykh will dress him. The hands and the power of the shaykh will dress his hands and his qadam and his feet will be under the madad and support of the shaykh, and then they become muqaddam.
And then they have trained and isolations, they have done all the practices of Rajab and Sha'ban, they've been for seclusion. These are high levels of muhabbat, hudur and fana (annihilation). And they keep that state until the shaykh takes them into seclusion, into the muhabbat and the hudur and the fana of Sayyidina Muhammad ﷺ, and then after, inshaAllah.
QUESTION: Can you take bayah with a shaykha? And if someone took bayah with another shaykh, can they do this awrad?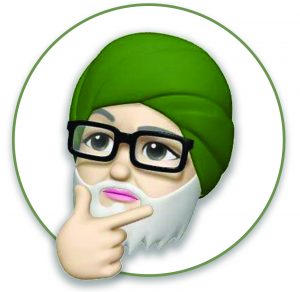 Shaykh Nurjan Mirahmadi: Yeah, the bayah (allegiance) is what we talked about in the beginning. The most important concept of the bayah is to your allegiance to Allah (AJ) and Sayyidina Muhammad ﷺ. That I'm trying to reach the satisfaction of Allah (AJ) and to the heart and satisfaction of Sayyidina Muhammad ﷺ. These ulul amr (saints) are facilitators for that reality and they have schools of knowledge. To enroll oneself in that school, so that you have an opportunity to show your khidmat (service).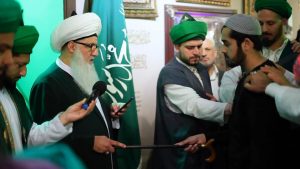 So the bayah was not that you take bayah, 'I'm going to take something from him,' because the words they're using is incorrect. And that's specifically because the nafs (ego) wants to use those words. But it's, 'I gave bayah.' Take and give are different. Take, you're coming to get something. Give, he's coming to take everything from you. That's why then this is Surah Tawbah, on the wall there. Is verse 103, is that 103? Yeah, Surah Tawbah, 103, 'That I'm coming to give bayah to this shaykh.'
﴾خُذْ مِنْ أَمْوَالِهِمْ صَدَقَةً تُطَهِّرُهُمْ وَتُزَكِّيهِم بِهَا وَصَلِّ عَلَيْهِمْ ۖ إِنَّ صَلَاتَكَ سَكَنٌ لَّهُمْ ۗ وَاللَّـهُ سَمِيعٌ عَلِيمٌ ﴿١٠٣
9:103 – "Khudh min amwalihim sadaqatan tutahhiruhum wa tuzakkeehim biha wa salli 'alayhim, inna salawataka sakanun lahum, wallahu samee'un 'aleem. (Surat At-Tawbah)
"Take, [O, Muhammad (pbuh)], from their wealth a charity by which you purify them and Sanctify them, and Pray on their behalf. Indeed, your Prayers are a source of Peace/security/reassurance for them. And Allah is Hearing and Knowing." (The Repentance, 9:103)
I feel that I want to be under Naqshbandiya. I want to be under the tarbiya (discipline) of Sultanul Awliya Mawlana Shaykh Abdullah Faiz Dagestani (Q), Sultanul Awliya Mawlana Shaykh Nazim al Haqqani (Q) and the Naqshbandi shaykhs. And I want to serve them. I want to now give from myself, from whatever Allah (AJ) gave to me,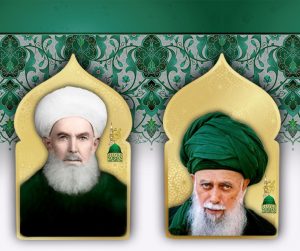 and I want to be of khidmat and service to them. InshaAllah, they accept me in their service. And then I study from their knowledges, I begin to give support, and then I begin to serve. This is then somebody who is muhibeen (lovers). Naqshbandiya muhibeen can be millions. That they love the way, love the path. Naqshbandi mureediya (Naqshbandi students), they have to have reached the station of irshad (guidance). So the shaykh on this earth may only have four or five, six mureeds. And they reach the station of murshid (spiritual guide) and then there are degrees of ijaza (authorization) and irshad. So muhibeen, many.
And you want to succeed in being muhibeen, then the first category we described, be of service. Come to give, come to support. Come to learn, not take anything. You're going to give everything. You're going to give your way, your time, everything to reach towards that reality. And we have many other talks about that. If you truly believe that your head is on the feet of Sayyidina Muhammad ﷺ, 'Ya Sayyidi, ya Rasul e Kareem, ya Habib e Azeem ﷺ, I won't lift my head. Don't let me to lift my head. Put your qadam on my neck and keep me in this place.' Then you will truly believe that, 'I don't want to do anything other than to be of service to you.' So then your whole life was, 'How I can serve you, ya Sayyidi ya Rasul e Kareem ﷺ.'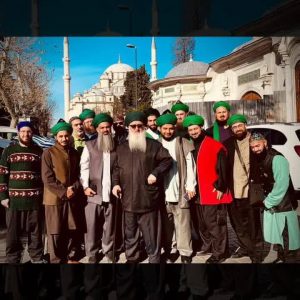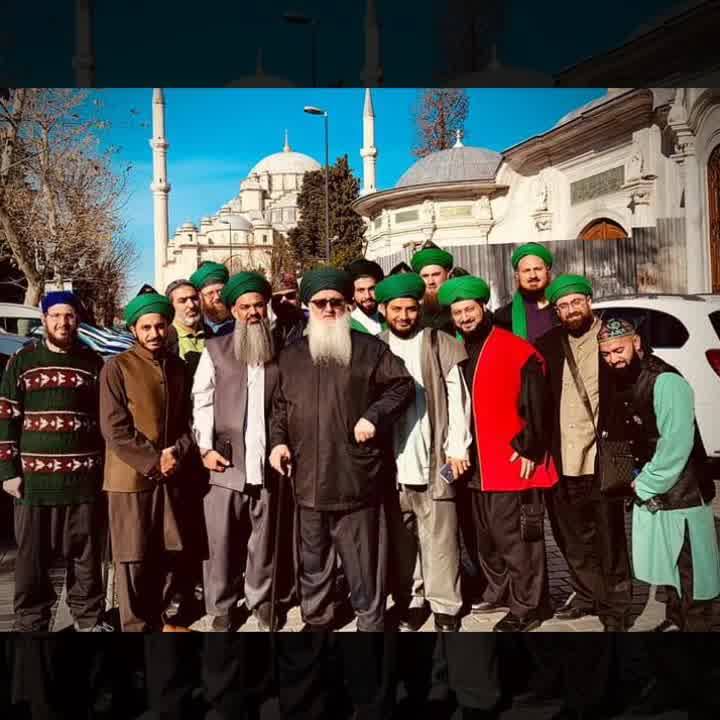 Then you would quickly try to find these shuyukh and say 'I want to serve. I want to do the Mawlid, I want to do the programs, I want to support those programs, I want to propagate your teaching, I want to support your books, your internet, your social media, your videos. So that every night I see my head still under the feet of Sayyidina Muhammad ﷺ.' And then Prophet ﷺ become happy with you. Because he's the ultimate master of this entire orchestra.
He knows he is not going to give everybody a tongue and say, 'Oh I want to talk like him.' No! But if he gave you a skill why aren't you supporting him? Then it become like an amazing ensemble. That the one whom has this skill, he gives his skill. The one whom have this ability, give his ability. The one who can orate and talk, he talks. The one who can support, they support. And that becomes the power of tariqah (spiritual path). It's all these skills are coming together.
MashAllah, how many of these IT men are online and doing all these things? It was not about everybody giving a suhbah (discourse). It's one person who's talking, okay good for him. But everybody else, all these people who are supporting, and making that talk to be out. Because they came, they did their part, so that today people could be enjoying this in the middle of a pandemic. They're sitting on their couches and this message is nicely coming to them like a kebab. And they have apps to read, they have books to get, they have internet and social media, everything conveniently brought to you by the Naqshbandi first responders, and get your mask [Shaykh laughs].
Subhana rabbika rabbal 'izzati 'amma yasifoon, wa salaamun 'alal mursaleen, walhamdulillahi rabbil 'aalameen. Bi hurmati Muhammad al-Mustafa wa bi siri Surat al-Fatiha.
Special thanks to our transcribers for their help with transcribing this suhbah.
Original Date of Suhbah: May 19, 2020
Related Articles: 
Please Donate and support us to spread these heavenly knowledges.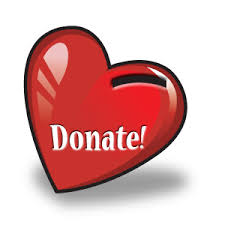 Copyright © 2020 Naqshbandi Islamic Center of Vancouver, All Rights Reserved.