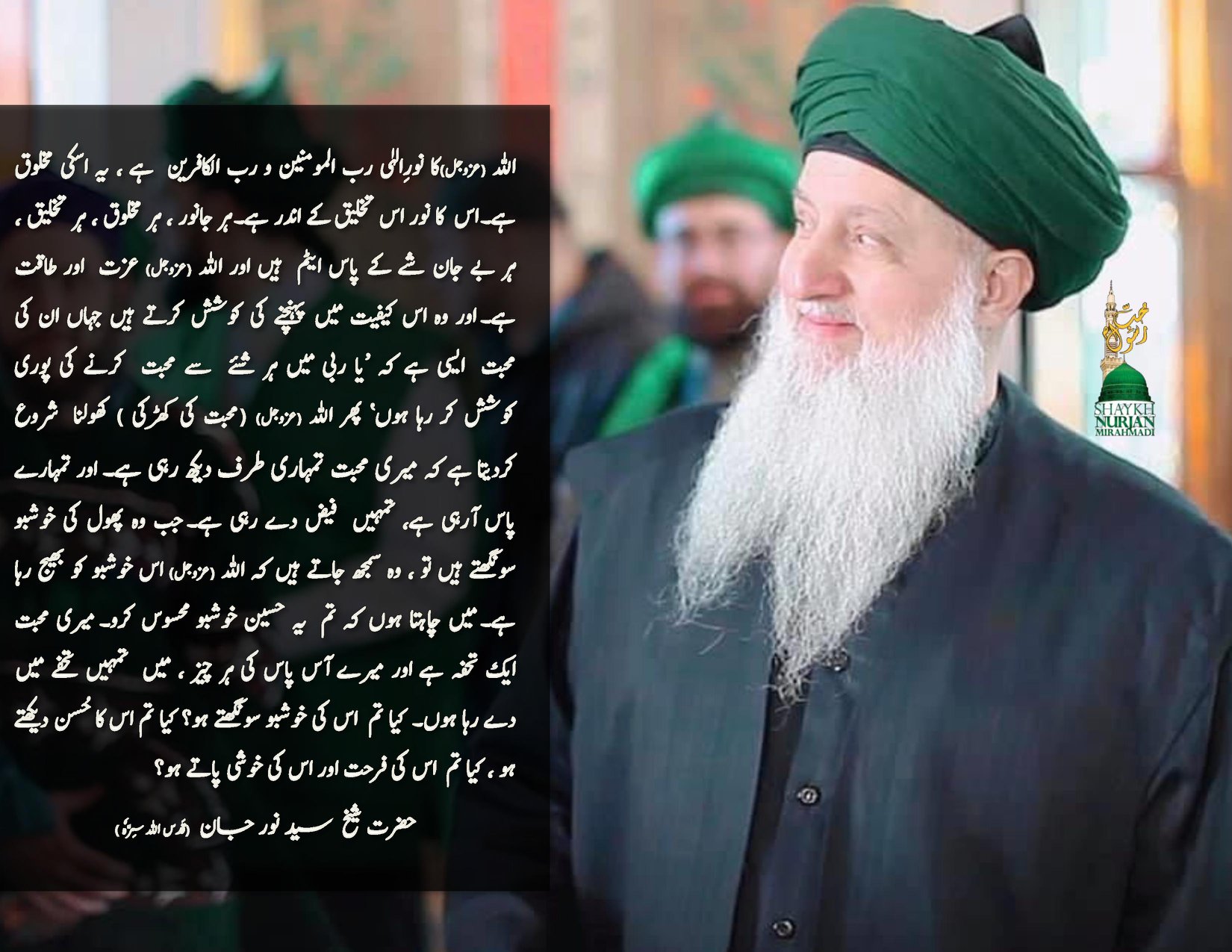 Urdu – Do You See Allah (AJ) in Everything Do You Feel Allah (AJ) looking at you: کی…
Do You See Allah (AJ) in Everything
Do You Feel Allah (AJ) looking at you:
کیا تمہیں محسوس ہوتا ہے، اللہ (عزوجل ) تمہیں دیکھ رہا ہے؟
کیا تم ہر کام کرتے ہوئے اللہ (عزوجل ) کو رُوبرو پاتے ہو؟
اردو ترجمہ:
یا رب کا مطلب میرے مولیٰ ہے اور یہ اس راہ کے بارے میں ہے جس میں وہ ہمیشہ اللہ (عزوجل)سے پوچھتے ہیں کہ انھوں نے کیا غلط کیا ہے۔ جب بہت زیادہ مشکلات پیش آتی ہیں تو وہ اللہ (عزوجل) کو مسلسل پکارتے (روتے) ہیں کہ ہم نے کیا غلط کیا ؟ مشکل ان پر حاوی ہے۔ ہم دعا کرتے ہیں کہ اللہ (عزوجل)تمام مشکلات دور فرمائے اور وہ ہمیں اپنی بے حد محبت اور خدائی موجودگی (بارگاہِ الہی) سے محبت عطا فرمائے۔ اس سے کوئی فرق نہیں پڑتا کہ تم زندگی میں کس لئے دعا کرتے ہو رقم اور جائیداد یا مال ۔ واحد تحفہ جو اہم ہے ، وہ محبت کا تحفہ ہے۔ اگر اللہ (عزوجل) دل کے اندر محبت کا تحفہ عطا فرمائے تو نبی کریم (ﷺ) بیان فرماتے ہیں کہ وہ بندہ اللہ (عزوجل) کے بندوں میں سب سے امیر ہے۔ کیونکہ اگر اللہ (عزوجل) محبت کے علاوہ کچھ بھی دے تو بارگاہ ِ الہی میں اس کی کوئی قیمت نہیں ۔ یہ ایسا سامان نہیں جسے آپ ابدیت (سفر آخرت ) میں لے جا سکیں۔ تم اپنے عہدے نہیں لے جا سکتے ، تم پیسہ نہیں لے جاسکتے ، تم اللہ کی بارگاہ میں کچھ بھی نہیں لے جاسکتے لیکن جو لے کے جا سکتے ہو وہ یہ محبت اور پیار ہے کہ اگر اللہ (عزوجل) یہ عنایت فرما دے کہ ہم " احباب" ہو جائیں ، آس پاس کی ہر شئے اس بندے سے محبت کرے گی،سب کچھ۔ یہ حدیث مقام الاحسان کے بارے میں ہے، جب سیدنا جبرائیل (علیہ السلام) نبی کریم (ﷺ) کے پاس تشریف لائے–یہ ایک طویل حدیث ہے–اسکی وضاحت کرنے کیلئے کہ اسلام کیا ہے، ایمان کیا ہے، مقام الاحسان کیا ہے۔ یہ اللہ (عزوجل) کی عبادت ایسے کرنا ہے جیسے تم اللہ (عزوجل) کو دیکھ رہے ہو، عبادت ،صرف دعا ( نماز ) نہیں بلکہ ہر عبادت میں اللہ (عزوجل) کو دیکھ رہے ہو اور اگر تم اللہ (عزوجل)کو نہیں دیکھ رہے ، تو جان لو کہ اللہ (عزوجل) تمہیں دیکھ رہا ہے، جو کہ اور بھی گہری حقیقت ہے کہ وہ جو کچھ بھی کرتے ہیں وہ اللہ (عزوجل) کیلئے کرتے ہیں۔ کہ جب اللہ (عزوجل) انہیں حکم دیتا ہے ، اگر تم مجھ سے پیار کرتے ہو تو سیدنا محمد (ﷺ) کی پیروی کرو ، میں تم سے محبت کروں گا۔
قُلْ إِن كُنتُمْ تُحِبُّونَ اللّهَ فَاتَّبِعُونِي يُحْبِبْكُمُ اللّهُ وَيَغْفِرْ لَكُمْ ذُنُوبَكُمْ وَاللّهُ غَفُورٌ رَّحِيمٌ ۞
(اے حبیب!) آپ فرما دیں: اگر تم ﷲ سے محبت کرتے ہو تو میری پیروی کرو تب ﷲ تمہیں (اپنا) محبوب بنا لے گا اور تمہارے لئے تمہارے گناہ معاف فرما دے گا، اور ﷲ نہایت بخشنے والا مہربان ہے۞
[سورۃ آل عمران، آیت ۳۱]
یہ سب سے بڑا حکم ، سب سے آسان حکم تھا کہ آپ کے سب سے پیارے بندے ، سمعنا و اطعنا، سیدنا محمد (ﷺ) سے اپنی ذات سے زیادہ محبت کرنا ہمارا مقصد ہے،اس دروازے نہ ہر عشق کھول دیا ہے، کیونکہ اللہ (عزوجل ) فرماتا ہے کہ میں تم سے پیار کرتا ہوں، غفور الرحیم۔ اس میں کوئی شک نہیں کہ تم گناہ گار ہو اور تم اس زمین پر لگاتار گناہ کرتے رہتے ہو۔
یہ قمر کا مہینہ ہے ، یہ(سورۃ) 54 ہے ، 6 "ودود" کیلئے ہے، 9 کی طاقت کے ذریعہ، کیونکہ یہ سلطانوں کا راستہ ہے۔ 54 مکمل چاند اور قمر ہے۔ یعنی اس مہینے میں اللہ (عزوجل) مشکلات سے دوچار کرتا ہے اور روحوں پر انوارت کی تکمیل کرتا ہے تاکہ انہیں رجب ، شعبان اور رمضان میں اپنے تحائف عطا کرے۔ رجب، اللہ (عزوجل) بیان کرتا ہے کہ میں بغیر کسی وسیلے اور وجہ کے بغیر دیتا ہوں اور نہ کسی فرشتے اور نہ کسی نبی کو دیکھنے کی ضرورت ہوتی ہے۔ کوئی سبب اور اثر نہیں ہے ، میں جو کچھ دینا چاہوں، اس سے دیتا ہوں۔ لہذا ، پورے چاند کا مہینہ ہے جس میں اللہ (عزوجل) ہمیں ان عاشقین میں سے بننے کی تیاری کرا رہا ہے کیونکہ ہمارے اساتذہ یہ سب بڑے عاشقان تھے کہ ہر شئے میں اللہ (عزوجل)کی محبت دیکھیں، ہر شئے ( میں )اس کی خوبصورت حقیقت دیکھیں۔ پھر اللہ (عزوجل) (کے حکم سے) ہر شئے بندے سے محبت کرنا شروع کردے گی ۔ کہ اس روح نے صرف اس مقام کے پہلے مرحلے پر یہ دیکھنا تھا کہ ہر چیز میں خدا ہے۔ تو ، میں کون ہوتا ہوں اسکی بے عزتی کرنے والا ، اس کے بارے میں کچھ کہنے والا؟ اس کا احترام کرنے کے لئے مجھے بہترین کردار عطا فرمائیں ۔ اللہ (عزوجل)کا نورِالہٰی رب المومنین و رب الکافرین ہے ، یہ اسکی مخلوق ہے۔ اس کا نور اس تخلیق کے اندر ہے۔ ہر جانور ، ہر مخلوق ، ہر تخلیق ، ہر بے جان شے کے پاس ایٹم ہیں اور اللہ (عزوجل) عزت اور طاقت ہے۔ اور وہ اس کیفیت میں پہنچنے کی کوشش کرتے ہیں جہاں ان کی محبت ایسی ہے کہ یا ربی میں ہر شئے سے محبت کرنے کی پوری کوشش کر رہا ہوں پھر اللہ (عزوجل) (محبت کی کھڑکی ) کھولنا شروع کردیتا ہے کہ میری محبت تمہاری طرف دیکھ رہی ہے اور تمہارے پاس آرہی ہے ، تمہیں فیض دے رہی ہے۔ جب وہ پھول کی خوشبو سونگھتے ہیں تو ، وہ سمجھ جاتے ہیں کہ اللہ (عزوجل)اس خوشبو کو بھیج رہا ہے۔ میں چاہتا ہوں کہ تم یہ حسین خوشبو محسوس کرو۔ میری محبت ایک تحفہ ہے اور میرے آس پاس کی ہر چیز ، میں تمہیں تحفے میں دے رہا ہوں۔ کیا تم اس کی خوشبو سونگھتے ہو؟ کیا تم اس کا حُسن دیکھتے ہو ، کیا تم اس کی فرحت اور اس کی خوشی پاتے ہو؟ اس دنیا کے سارے عذابوں کے باوجود ابھی بھی اللہ (عزوجل) کی طرف سے خوبصورت تحائف ہیں اور یہ وہ تحفے ہیں جن کو اللہ (عزوجل) ہمارے دلوں کو محظوظ رکھنے کیلئے بھیجتا ہے اور اللہ (عزوجل) کو ہر شئے میں دیکھنے کیلئے اور اس کی مٹھاس سے ہمیں نعمت اور برکت دینے کیلئے۔ پھر وہ بندہ شکر ہے ، شکر ہے__اور اللہ (عزوجل)کا شکر گزار ہوتا ہے۔ اور اللہ (عزوجل) نے فرمایا ہے کہ میرا شکر ادا کرو اور میں تمہیں اور زیادہ دیتا ہوں ، کوئی مسئلہ نہیں۔
وَإِذْ تَأَذَّنَ رَبُّكُمْ لَئِن شَكَرْتُمْ لَأَزِيدَنَّكُمْ ۖ
اور جب تمہارے پروردگار نے تمہیں آگاه کر دیا کہ اگر تم شکر گزاری کرو گے تو بیشک میں تمہیں زیاده دوں گا
سورة ابراهيم (14) آیت 7
ہماری دعا ہے کہ اللہ (عزوجل)ان مقامات کو کھولے جس میں ہر چیز میں اللہ (عزوجل ) کی بے پناہ محبت دکھائی دے اور وہ ہمیں فیض دینے اور برکت دینے واپس آئے اور یاد دلائے کہ یہ مادی دنیا آپ کا ہدف نہیں تھا ، یہ فتح کی علامت نہیں تھی کہ میں تمہیں ایک مخصوص کار اور ایک مخصوص مقدار میں تنخواہ فراہم کروں۔ سب سے بڑا تحفہ اور میری سب سے بڑی محبت یہ ہے کہ اگر میں تمہیں اپنے خدائی حضور آنے کی اجازت دوں۔ اگر میں تمہاری زندگی میں سیدنا محمد (ﷺ) کے چاہنے والوں کی محبت میں بیٹھنا مقدر کر دوں تو یہ ایک بہت بڑا تحفہ ہے۔ ہم دعا کرتے ہیں، اللہ (عزوجل) ہمارے دل بیدار فرمائے کہ ہمیشہ یہ یاد رکھیں کہ یا ربی آپ نے مجھے محبت اور پیار کے بے تحاشہ تحائف دیئے ہیں۔ اور یہ کہ جو کچھ بھی آپ نے مجھے عنایت فرمایا ہے، یا ربی ، آپ غنی اور بادشاہ ( امیر) ہیں اور جو آپ نوازتے ہیں وہ کبھی واپس نہیں لیتے۔ یا ربی، ہمیں اس محبت سے نواز دیجئے اور یا ربی اسے واپس نہ لیجئے جو کچھ بھی آپ نے عطا فرمایا ہے ، زیادہ سے زیادہ عطا کیجئے اور اے میرے رب میرے کردار کی بنیاد پر دور نہ کیجئے ۔ اللہ (عزوجل ) انسانوں کی طرح نہیں ہے جہاں ہم کچھ ایسا کریں جسے وہ پسند نہ کرے ، کچھ ایسا کریں جو وہ پسند کرے ، اور وہ کچھ واپس لے لیتاہے۔ اللہ (عزوجل) جو کچھ عنایت کرتا ہے ، وہ عطا کرتا ہے اور ہم اللہ ( عزوجل ) سے دعاگو ہیں ، "یا ربی جو آپ نے دیا ہے، اسے نہ لیجئے بلکہ مجھے زیادہ دیجئے ۔ آپ نے رزق اور روزی اور صحت اور اچھے کردار جس چیز سے نوازا ہے ، اسے واپس نہ لیجئے بلکہ ہمیں زیادہ سے زیادہ عطا فرمائیں اور ہمیں سیدنا محمد (ﷺ)کی محبت میں زیادہ سے زیادہ ڈوبنے دیجئے ۔ (آمین ) اور ان بُزرگانِ دین ، اس دین کے بڑے ، بڑے ( بزرگوں) کو ہماری حفاظت کرنے اور (ہمیں ان کے) زیرِنظر رہنے دیجئے ۔ میں ایک فقیر بِاْللّٰہ تعالیٰ ہوں کہ یا ربی میں سب سے پہلے اقرار کرتا ہوں …….. میں خود پر ظلم کرتا ہوں۔ اللہ (عزوجل)کی رحمت اور کرم سے دعا گو ہیں۔ فقیر باللہ تعالی ، کہ اللہ کی رحمت اور کرم سے ہمیں فیض عطا کیجیئے اور مشکلات دور کردیجئے، ان شاء اللہ۔ یا رب آپکے رحمت اور رحم کے سمندروں میں ، یا ربی۔
ان شاء اللہ
حضرت شیخ سید نور جان قَدس اللہ سِرّہٗ
🌺🍃 Transliteration (Roman Urdu Mein)
kya tumhe mehsoos hota hai, Allah ( azzwajal ) tumhe dekh raha hai ?
kya tum har kaam karte hue Allah ( azzwajal ) ko rubaroo paatey ho ?
Ya Rab ka matlab mere Mulaa hai aur yeh is raah ke barey mein hai jis mein woh hamesha Allah ( azzwajal ) se puchhte hain ke unhon ny kya ghalat kya hai. Jab bohat ziyada mushkilaat paish aati hain to woh Allah ( azzwajal ) ko musalsal pkarte ( rotay ) hain ke hum ny kya ghalat kya? Mushkil un par haawi hai. Hum dua karte hain ke Allah ( azzwajal ) tamam mushkilaat daur farmaiye aur woh hamein apni be had mohabbat aur khudai mojoodgi ( bargaah ellahi ) se mohabbat ataa farmaiye. Is se koi farq nahi parta ke tum zindagi mein kis liye dua karte ho raqam aur jaeydaad ya maal. Wahid tohfa jo ahem hai, woh mohabbat ka tohfa hai. Agar Allah ( azzwajal ) dil ke andar mohabbat ka tohfa ataa farmaiye to nabi kareem (ﷺ ) bayan farmatay hain ke woh banda Allah ( azzwajal ) ke bundo mein sab se ameer hai. Kyunkay agar Allah ( azzwajal ) mohabbat ke ilawa kuch bhi day to bargaah ellahi mein is ki koi qeemat nahi. Yeh aisa samaan nahi jisay aap abdiyat ( safar akhirat ) mein le ja saken. Tum –apne ohday nahi le ja satke, tum paisa nahi le jasakte, tum Allah ki bargaah mein kuch bhi nahi le jasakte lekin jo le ke ja satke ho woh yeh mohabbat aur pyar hai ke agar Allah ( azzwajal ) yeh inayat farma day ke hum Ahbab احباب ho jayen, aas paas ki har shye is bande se mohabbat kere gi, sab kuch. Yeh hadees maqam al ahsaan الاحسان مقام ke barey mein hai, jab syedanna Jibraiel ( aleh salam ) nabi kareem (ﷺ) ke paas tashreef laaye –yeh aik taweel hadees hai –uski wazahat karne ke liye ke islam kya hai, imaan kya hai, maqam al ahsaan kya hai. Yeh Allah ( azzwajal ) ki ibadat aisay karna hai jaisay tum Allah ( azzwajal ) ko dekh rahay ho, ibadat, sirf dua ( namaz ) nahi balkay har ibadat mein Allah ( azzwajal ) ko dekh rahay ho aur agar tum Allah ( azzwajal ) ko nahi dekh rahay, to jaan lau ke Allah ( azzwajal ) tumhe dekh raha hai, jo ke aur bhi gehri haqeeqat hai ke woh jo kuch bhi karte hain woh Allah ( azzwajal ) ke liye karte hain. Ke jab Allah ( azzwajal ) inhen hukum deta hai, agar tum mujh se pyar karte ho to syedna Mohammad (? ) ki pairwi karo, mein tum se mohabbat karoon ga .
قُلْ إِن كُنتُمْ تُحِبُّونَ اللّهَ فَاتَّبِعُونِي يُحْبِبْكُمُ اللّهُ وَيَغْفِرْ لَكُمْ ذُنُوبَكُمْ وَاللّهُ غَفُورٌ رَّحِيمٌ ۞
( Ae habib! ) aap farma den : agar tum Allah se mohabbat karte ho to meri pairvi karo tab Allah tumhe ( apna ) mehboob bana le ga aur tumahray liye tumahray gunah maaf farma day ga, aur Allah nihayat bakhsnay wala meharban hai
[ Surah Al Imran , aayat 31 ]
Yeh sab se bara hukum, sab se aassan hukum tha ke aap ke sab se pyare bande, "samaena wa ataana", syedena Mohammad (ﷺ ) se apni zaat se ziyada mohabbat karna hamara maqsad hai, is darwazay nah har ishhq khol diya hai, kyunkay Allah ( azzwajal ) farmata hai ke mein tum se pyar karta hon, Ghafoor Ur'Raheem. Is mein koi shak nahi ke tum gunah gaar ho aur tum is zameen par lagataar gunah karte rehtay ho .
Yeh Qamar ka maheena hai, yeh ( surah ) 54 hai, 6 Wadud "ودود" ke liye hai, 9 ki taaqat ke zareya, kyunkay yeh Sultano ka rasta hai. 54 mukammal chaand aur Qamar hai. Yani is mahinay mein Allah ( azzwajal ) mushkilaat se dochar karta hai aur roohon par anwaar (roshniyo) ki takmeel karta hai taakay inhen Rajab , Shabaan aur Ramadaan mein –apne tohfay ataa kere. Rajab , Allah ( azzwajal ) bayan karta hai ke mein baghair kisi waselay aur wajah ke baghair deta hon aur nah kisi farishtay aur nah kisi nabi ko dekhnay ki zaroorat hoti hai. Koi sabab aur asr nahi hai, mein jo kuch dena chahoon, is se deta hon. Lehaza, poooray chaand ka maheena hai jis mein Allah ( azzwajal ) hamein un Ashqeen mein se ban'nay ki tayari kara raha hai kyunkay hamaray ustadzah yeh sab barray aashiqan they ke har shye mein Allah ( azzwajal ) ki mohabbat dekhen, har shye ( mein ) is ki khobsorat haqeeqat dekhen. Phir Allah ( azzwajal ) ( ke hukum se ) har shye bande se mohabbat karna shuru kardey gi. Ke is rooh naay sirf is maqam ke pehlay marhalay par yeh daikhna tha ke har cheez mein khuda hai. To, mein kon hota hon uski bey-izzati karne wala, is ke baare mein kuch kehnay wala? Is ka ehtram karne ke liye mujhe behtareen kirdaar ataa farmaen. Allah ( azzwajal ) ka Nur-e-ilahi, Rab al-Momineen o rab al-Kafeeren hai, yeh uski makhlooq hai. Is ka noor is takhleeq ke andar hai. Har janwar, har makhlooq, har takhleeq, har be jaan shai ke paas atom hain aur Allah ( azzwajal ) izzat aur taaqat hai. Aur woh is kefiyat mein pounchanay ki koshish karte hain jahan un ki mohabbat aisi hai ke ya Rabbi mein har shye se mohabbat karne ki poori koshish kar raha hon phir Allah ( azzwajal ) ( mohabbat ki khirki ) kholna shuru kardaita hai ke meri mohabbat tumhari taraf dekh rahi hai aur tumahray paas aa rahi hai, tumhe Faiz day rahi hai. Jab woh phool ki khusbhoo soonghtay hain to, woh samajh jatay hain ke Allah ( azzwajal ) is khusbhoo ko bhaij raha hai. Mein chahta hon ke tum yeh Haseen khusbhoo mehsoos karo. Meri mohabbat aik tohfa hai aur mere aas paas ki har cheez, mein tumhe tohfay mein day raha hon. Kya tum is ki khusbhoo soonghtay ho? Kya tum is ka husn dekhte ho, kya tum is ki farhat aur is ki khushi paate ho? Is duniya ke saaray azabon ke bawajood abhi bhi Allah ( azzwajal ) ki taraf se khobsorat tohfay hain aur yeh woh tohfay hain jin ko Allah ( azzwajal ) hamaray dilon ko mahzooz rakhnay ke liye bhejta hai aur Allah ( azzwajal ) ko har shye mein dekhnay ke liye aur is ki mithaas se hamein Nemat aur barket dainay ke liye. Phir woh bandah shukar hai, shukar hai, aur Allah ( azzwajal ) ka shukar guzaar hota hai. Aur Allah ( azzwajal ) naay farmaya hai ke mera shukar ada karo aur mein tumhe aur ziyada deta hon, koi masla nahi .
وَإِذْ تَأَذَّنَ رَبُّكُمْ لَئِن شَكَرْتُمْ لَأَزِيدَنَّكُمْ ۖ
Aur jab tumahray parvar-digaar naay tumhe agah kar diya ke agar tum shukar guzari karo ge to bay shak mein tumhe zayda dun ga
Surah Ibrahim (14) Aayat 7
Hamari dua hai ke Allah ( azzwajal ) un maqamat ko khole jis mein har cheez mein Allah ( azzwajal ) ki be panah mohabbat dikhayi day aur woh hamein faiz dainay aur barket dainay wapas aeye aur yaad dilay ke yeh maadi duniya aap ka hadaf nahi tha, yeh fatah ki alamat nahi thi ke mein tumhe aik makhsoos car aur aik makhsoos miqdaar mein thankhowa faraham karoon. Sab se bara tohfa aur meri sab se barri mohabbat yeh hai ke agar mein tumhe –apne khudai huzoor anay ki ijazat dun. Agar mein tumhari zindagi mein syedna Mohammad (ﷺ ) ke chahanay walon ki mohabbat mein baithna muqaddar kar dun to yeh aik bohat bara tohfa hai. Hum dua karte hain, Allah ( azzwajal ) hamaray dil beedar farmaiye ke hamesha yeh yaad rakhen ke ya rabbi aap naay mujhe mohabbat aur pyar ke be tahasha tohfay diye hain. Aur yeh ke jo kuch bhi aap naay mujhe inayat farmaya hai, ya Rabbi, aap Ghanni aur badshah ( Ameer ) hain aur jo aap nawaazte hain woh kabhi wapas nahi letay. Ya rabbi, hamein is mohabbat se Nawaz dijiye aur ya rabbi usay wapas nah lijiye jo kuch bhi aap naay ataa farmaya hai, ziyada se ziyada ataa kijiyej aur ae mere Rab mere kirdaar ki bunyaad par daur nah kijiyej. Allah ( azzwajal ) insanon ki terhan nahi hai jahan hum kuch aisa karen jisay woh pasand nah kere, kuch aisa karen jo woh pasand kere, aur woh kuch wapas le litahe. Allah ( azzwajal ) jo kuch inayat karta hai, woh ataa karta hai aur hum Allah ( azzwajal ) se daago hain, "ya Rabbi jo aap naay diya hai, usay nah lijiye balkay mujhe ziyada dijiye. Aap naay rizaq aur rozi aur sahet aur achay kirdaar jis cheez se nawaza hai, usay wapas nah lijiye balkay hamein ziyada se ziyada ataa farmaen aur hamein syedna Mohammad (ﷺ ) ki mohabbat mein ziyada se ziyada doobnay dijiye. ( Ameeen ) aur un buzurgaan deen, is deen ke barray, barray ( buzurgon ) ko hamari hifazat karne aur ( hamein un ke ) zayr-e-nazar rehne dijiye. Mein aik Faqeer Billahi Taala hon ke ya Rabbi mein sab se pehlay iqraar karta hon. .. .. .. . Mein khud par zulm karta hon. Allah ( azzwajal ) ki rehmat aur karam se dua-go hain. Faqeer Billahi Taala ,ke Allah ki rehmat aur karam se hamein Faiz ataa kijiye aur mushkilaat daur krdijye, in shaa Allah . Ya rab apke rehmat aur reham ke samndron mein, ya rabbi .
In sha Allah
🌺🍃 Original English Transcript
Do You See Allah in Everything
Do You Feel Allah looking at you.
Ya Rabb is my lord and it's about this path in which they are always asking Allah (عزوجل) what they have done wrong. When difficulty comes in too much they're continuously crying unto Allah (عزوجل) that what have we done wrong. The difficulty is overwhelming them. We pray that Allah (عزوجل) take all difficulty away and that he grant us this immense muhabbat and love for the divinely presence. No matter what you pray for in life of money and property or possessions. The only gift that counts is a gift of love. If Allah (عزوجل) grant a gift of love within the heart that Prophet ﷺ describe that servant is the richest of Allah (عزوجل) servants. For if Allah should give anything other than love it has no value in divinely presence. It's not something that you can take even towards eternity. You cant take your positions, you can't take money, you can't take anything into Allah's presence but what we can take is this muhabbat and love that Allah (عزوجل) if he grant us and be from ahbaab everything around will be loving the servant, everything. That's this hadith for maqam al-Ihsan, when Sayyidina Jibrael came to Prophet ﷺ, it's a long hadith, to explain what is Islam, what is Iman, what is maqam al-Ihsan. It's to worship Allah (عزوجل) as if you're seeing Allah (عزوجل), worshippness not pray but every worshipness to see Allah (عزوجل) and if you don't see Allah (عزوجل) to know that Allah (عزوجل) seeing you which is even a deeper reality that everything they doing is for Allah (عزوجل). That when Allah (عزوجل) orders them if you love me follow Sayyidina Muhammad ﷺ, I will love you.
قُلْ إِن كُنتُمْ تُحِبُّونَ ٱللَّهَ فَٱتَّبِعُونِى يُحْبِبْكُمُ ٱللَّهُ وَيَغْفِرْ لَكُمْ ذُنُوبَكُمْ ۗ وَٱللَّهُ غَفُورٌ رَّحِيمٌ
Qul in kuntum tuhibboonal laaha fattabi' oonee yuhbibkumul laahu wa yaghfir lakum zunoobakum; wallaahu Ghafoorur Raheem
Say: "If ye do love Allah, follow me: Allah will love you and forgive you your sins: For Allah is Oft-Forgiving, Most Merciful." (Surah Al-Imran:31)
This was the greatest command, the easiest command that your most beloved servant 'Samina wa Atana' our mission is to love Sayyidina Muhammad ﷺ more than we love ourselves. That door opened every ishq cause Allah says I'll love you, Ghafoorur Raheem. No doubt you have sins and you are in a continuous state of sinning on this earth. This is the month of Qamar, this is the 54, the six is for Wadud through the power of 9 cause this a path of the sultans. The 54 is the full moon and the Qamar. Means that in this month Allah (عزوجل) dressing through difficulties and completing lights upon the souls so that to give them their gifts in Rajab, Sha'ban and Ramadan. Rajab is Allah (عزوجل) describe I give without any means and no reason why and no angel and no prophet has to see it. there's no cause and effect, I give from whatever I want to give. So, the full moon month is in which Allah (عزوجل) preparing us to be from these ashiqeen because these teachers of ours were all of the great ashiqeen that to see that love of Allah (عزوجل) in everything, everything of its beatific reality then Allah (عزوجل) will begin to make everything to love the servant. That only this soul at the first stage of that maqam was to see that there's a divine in everything. So, who am I disrespect it, to say something about it? give me the best of character to respect it. Allah (عزوجل)'s divine light is Rab al-Momineen wa Rab-al Kafireen, it's his creation. His light is inside that creation. Every animal, every creature, every, every creation, every inanimate object it has atoms and Allah (عزوجل) izzat and might. And they try to reach a state in which their love is Ya Rabbi I'm trying my best to love everything then Allah (عزوجل) begin to open that my love is looking at you and approaching you and dressing you. When they smell the fragrance of the flower, they understood Allah (عزوجل) is sending that fragrance. I want you to sense this beatific fragrance. My love is a gift and everything around me, I'm gifting it to you. Do you smell its fragrance, do you see its beauty, do you find its pleasure and its happiness? Through all the torments of this world there's still beatific gifts from Allah (عزوجل) and those are the ones that Allah (عزوجل) open for our hearts to cherish and to see Allah (عزوجل) in everything and its sweetness to dress us and to bless us and then that servant is a shukr, is shukr and thankful to Allah (عزوجل) and Allah (عزوجل) said thank me and I give you more, no problem. We pray that Allah (عزوجل) open these station in which to see Allah's immense love in everything and it's coming back to dress us and bless us and remind us that this material world was not your target, it was not the sign of victory that I grant you a specific car and a certain amount of paycheck. The greatest gift and my greatest love is if I bring you into my divinely presence. If I destine for your life to sit at the love of the lovers of Sayyidina Muhammad ﷺ. This is an immense gift. We pray that Allah (عزوجل) open our hearts to remember that always that Ya Rabbi you have given me immense gifts of muhabbat and love and that whatever you have given to me Ya Rabbi, you are Ghani and the rich and that you give and never take away Ya Rabbi. Grant us from that love and don't take away Ya Rabbi. What you granted of knowledge, grant more and more and take away Ya Rabbi, not based on my character. Allah's not like humans where we do something he doesn't like, do something he likes, he takes something away. What Allah grants, he grants and as we ask from Allah, "Ya Rabbi what you gave don't take away but give me more. What you granted of rizq and sustenance and health and good character don't take that away but grant us more and put us more and more in the love of Sayyidina Muhammad ﷺ and let these Buzargan-e-deen, the big, big ones of this deen let them to safeguard us, watch us. I am a faqir, billahi tala that Ya rabbi I am the first to admit to myself……… I'm an oppressor to myself. Ask for Allah (عزوجل)'s rahmah and mercy. Faqir billahi tala, that Allah's Rahmah and mercy to dress us and take away difficulties, Insha'Allah. Ya Rab, in your oceans of Rahma and mercy, Ya Rabbi. Insha'Allah.
🌺🍃 Hazrat Shaykh Sayed Nurjan Mirahmdi Naqshbandi (Qs)
Watch here:https://www.facebook.com/shaykhnurjanmirahmadi/videos/226468331706185/