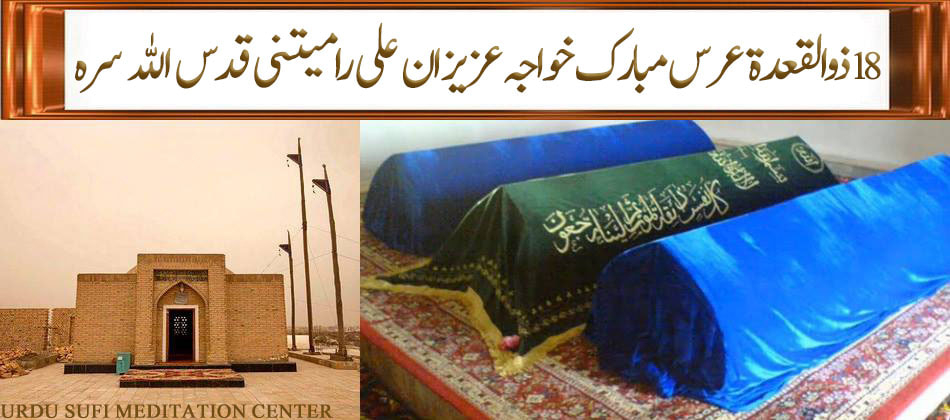 Urdu – 18th Zul-Qa'dah | Urs Mubarak of Hazrat Aziz Ali Ar-Ramitani [AS] [14th Sha…
18th Zul-Qa'dah | Urs Mubarak of Hazrat Aziz Ali Ar-Ramitani [AS] [14th Shaykh of Naqshbandi Golden Chain]
۱۸ ذوالقعدة عرسِ مبارک حضرت خواجہ عزیزان علی الرامیتنی قدس اللہ سرہ[نقشبندی گولڈن چین کے چودھویں شیخ]
حضرت خواجہ عزیزان علی الرامیتنی (ق) کا فرمان ہے:
'رسول اللہﷺ کا ارشادِ پاک ہے، "اللہ عزوجل ہر روز و شب میں مومن کے قلب پر تین سو ساٹھ (360) بار نگاہ(تجلی) فرماتا ہے۔"اس کا مطلب ہے کہ قلب کے تین سو ساٹھ (360 ) داخلی راستے ہیں اور ہر عضو کی تین سو ساٹھ (360 )جڑیں ہیں، سب دل سے متصل(جڑی ہوئی) ہیں،لہذا اگر قلب ، ذکر اللہ کے زیر اثر ، اللہ عزوجل کی تجلی(نگاہ)کی طرف راغب ہوتا ہے ،تو یہ جسم کے تمام اعضاء کو اللہ عزوجل کی تجلی(نگاہ) کی جانب گامزن کردے گا ،نتیجتاً، ہر عضو اللہ عزوجل کا مطیع(فرمانبردار)ہوگا اور اس نورِ اطاعت(فرمانبرداری کے نور) سے ہر عضو سرچشمہ ھدایت سے منسلک ہوجائے گا۔ یہی وہ چیز ہے جو اللہ عزوجل سے نگاہِ رحمت کو ذاکر کے دل کی طرف متوجہ کرتی ہے۔'
اللہ عزوجل آپ(ق) کے درجات بلند فرمائیں اور ہمیں آپ (ق) کی نگاہِ کرم سے فیضیاب فرمائے۔
💚 الفاتحہ💚
18th Zul-Qa'dah | Urs Mubarak of Hazrat Aziz Ali Ar-Ramitani [AS] [14th Shaykh of Naqshbandi Golden Chain]
His(Q)Saying:
"The Prophet ﷺ said, 'Allah looks at the heart of the Believer every night and day 360 times.' This means that the heart has 360 entrances. And every organ has 360 roots, all of them connected to the heart. So if the heart, under the influence of Dhikrullah, is led to the station of Allah's Gaze, this will lead all organs of the body to the Gaze of Allah. As a result, every organ will be obedient to Allah and from the light of that obedience every organ will be connected to the Divine Outpouring. This is what draws the Gaze of Mercy from Allah to the heart of the Rememberer."
May Allah AJ Sanctify His Noble Secret and Dress us with His Blessed Gaze Ameen.
آپ (ق) کی حیاتِ مبارکہ کے بارے میں مزید جاننے کے لیے اس لنک پر کلک کیجیئے :
To know More about Him Click Below:
Listen to 14 ALI ar-RAMITANI by Muhammadan Way on #SoundCloud
https://soundcloud.com/muhammadanway/14-ali-ar-ramitani
یو ٹیوب چینل سبسکرائب کیجئے۔
Subscribe Now: The Muhammadan Way Sufi Realities
https://www.youtube.com/channel/UC4E8QX7OgwYDgyuuXTBMrcg
شیخ سید نور جان میر احمدی نقشبندی (ق) کا آفشیل فیس بک پیج لائک کیجئے
Official Page: Shaykh Nurjan Mirahmadi
Please Like and Share
https://facebook.com/shaykhnurjanmirahmadi/