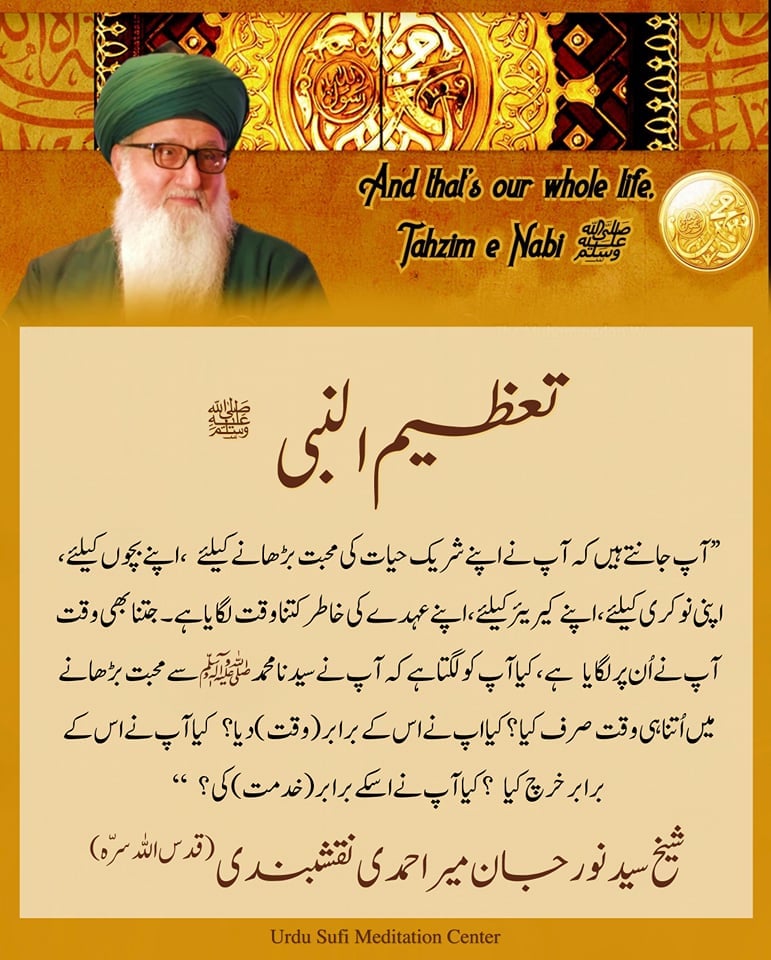 Urdu – گناہ کبیرہ مٹانے کا یقینی راستہ حصہ – اول Gunah e Kabira ko mitaanay ka yaqeen…
گناہ کبیرہ مٹانے کا یقینی راستہ حصہ – اول
Gunah e Kabira ko mitaanay ka yaqeeni Tareeqa PART-1
Guaranteed Way To Erase Very Big Sins PART-1
مولانا شیخ سید نورجان میراحمدی نقشبندی(ق) کی تعلیمات ، مولانا (ق) کے حقائق سے
اَعُوْذُ بِاللہ مِنَ الشَّیْطٰنِ الرَّجِیْمِ ۞
اللہ عزوجل کی پناہ مانگتا ہوں شیطان مردود سے
بِسْمِ اللہ الرَّحْمٰنِ الرَّحِیْمِ ۞
اللہ عزوجل کے نام سے شروع کرتا ہوں جو نہایت مہربان رحم کرنے والا ہے ۔
یَا اَیُّھَا الَّذِیْنَ آمَنُوا أَطیعُوا اللّهَ وَأَطیعُوا الرَّسُول وَأُولی الأمرِ مِنْکُمْ۞
اے ایمان والو! اللہ عزوجل کی اطاعت کرو اور رسول (ﷺ) کی اطاعت کرو اوراپنے میں سے (اہلِ حق) صاحبانِ اَمر کی۔ (النساء، 4:59)
Mawlana Shaykh Sayyid Nurjan Mirahmadi Naqshbndi ( q ) ki talemaat, Mawlana ( q ) ke haqayiq se
A'udhu Billahi Minash Shaitanir Rajeem
Bismillahir Rahmanir Raheem
Allah azzwajal ki panah mangta hon shetan mardood se
Allah azzwajal ke naam se shuru karta hon jo nihayat meharban reham karne wala hai .
4:59 – "Ya ayyu hal latheena amanoo Atiullaha wa atiur Rasola wa Ulil amre minkum…" (Surat An-Nisa)
Ae imaan walo! Allah azzwajal ki itaat karo aur rasool (ﷺ ) ki itaat karo aur apnay mein se ( ehley haq ) sahibanِ Amar ki. ( Al Nisa, 4 : 59 )
_______________________________
From the Realities of Mawlana (Q) as taught by Shaykh Nurjan Mirahmadi
A'udhu Billahi Minash Shaitanir Rajeem
Bismillahir Rahmanir Raheem
I seek refuge in Allah from Satan, the rejected one
In the Name of Allah, the Most Beneficent, the Most Merciful
Atiullaha wa atiur Rasula wa Ulil amre minkum.
﴾ياأَيُّهَا الَّذِينَ آمَنُوا أَطِيعُواللَّه وَأَطِيعُوٱلرَّسُولَ وَأُوْلِي الْأَمْرِ مِنْكُمْ…﴿٥٩
4:59 – "Ya ayyu hal latheena amanoo Atiullaha wa atiur Rasola wa Ulil amre minkum…" (Surat An-Nisa)
"O You who have believed, Obey Allah, Obey the Messenger, and those in authority among you…" (The Women, 4:59)
اسلام کے ہیروز اور ایمان کی مثالی شخصیات کی پیروی کریں:
اور ہمیشہ میرے اپنے لئے ایک یاد دہانی کہ اَنَا عَبْدُكَ الْعَاجِزُ، ضَعِیْفُ ، مِسْکِینُ وَ ظَالِمْ وَ جَھَلْ ( یا رب، میں آپ کا بندہِ عاجز، ضعیف، مسکین اور ظالم اور جاہل ہوں) لیکن اللہ (عزوجل) کے فضل سے ہم ابھی تک زندہ ہیں۔ الحمدللہ ،کہ یہ مغفرت اور توبہ کا دروازہ ہے۔ یہ ہمارے سال کا آغاز ہے اور اس کا آغاز اچھے اعمال ، اچھے کردار ، بہترین اخلاق ، سیدنا محمد ﷺ سے محبت ، اہل بیت النبیﷺ سے محبت ، صحابہ کرامؓ کی محبت سے کریں اور کہ ان(مثالی شخصیات) کی حیاتِ مبارکہ کو یاد رکھنا ہمارا ایمان ہے۔ انہوں نے اپنے اعمال اور اچھے کاموں کے ذریعے مثال قائم کی کہ انہوں نے اپنے آپ کو کس طرح پہچانا۔ یہ ایمان کے مثالی کردار اور اسلام کے ہیرو ہیں جس سے ہم ان کے طریقے کی تقلید کرتے اور پیروی کرتے ہیں ،حق تعالیٰ کی رضا و خوشنودی تک پہنچنے کے لئے ان کے کردار کو اپنائیں۔
Islam ke Heroes aur Emaan ki Misaali Shakhsiyat ki pairvi krein:
aur hamesha mere apne liye aik yaad dehani ke ana abdukal 'ajeez, wa dayeef, wa miskin, wa zhalim, wa jahl, ( ya rab, mein aap ka bandah e aajiz, zaeef, maskeen aur zalim aur jaahil hon ) lekin Allah (AJ) ke fazl se hum abhi tak zindah hain. Alhamdulilah, ke yeh maghfirat aur tauba ka darwaaza hai. Yeh hamaray saal ka aaghaz hai aur is ka aaghaz achay aamaal, achay kirdaar, behtareen ikhlaq, Sayedena Muhammad (sws) Se mohabbat, Ahal bait un Nabi ﷺ se mohabbat, sahaba karaam ki mohabbat se karen aur ke un ( misali shaksiaat ) ki hayaat mubarikah ko yaad rakhna hamara imaan hai. Unhon ne apne aamaal aur achay kamon ke zariye misaal qaim ki ke unhon ne apne aap ko kis terhan pehchana. Yeh imaan ke misali kirdaar aur islam ke hero hain jis se hum un ke tareeqay ki taqleed karte aur pairwi karte hain, haq taala ki Raza o khushnodi tak pounchanay ke liye un ke kirdaar ko apnayen .
__________________________________
Copy the Exemplars of Faith & Heroes of Islam:
And always a reminder for myself, ana abdukal 'ajeez, wa dayeef, wa miskin, wa zhalim, wa jahl, and but for the Grace of Allah (AJ) that we are still in existence. Alhamdulillah, that this is the gate of maghfirah and forgiveness. This is the beginning of our year and start it with good actions, good character, good akhlaaq, love of Sayyidina Muhammad ﷺ, love of Ahlul Bayt an-Nabi ﷺ (holy family of Prophet ﷺ), love of the holy companions and that to remember their lives is our faith. They set the example through their deeds and good actions of how they conducted themselves. They are the exemplars of faith and the heroes of Islam in which we emulate and copy their way, copy their character to reach Divine satisfaction.
اپنا تعلق استوار کرنے کے لئے شیخ کے ساتھ بات چیت کریں:
اور ہم سے رابطہ کریں ،ہمیں ای میل کریں۔جیسے ہی آپ ایک قدم بڑھاتے ہیں اور ہیلپ می@نور محمد ڈاٹ کام پر ای میل کریں، آپ شیخ کے ساتھ تعلق استوار کرتے ہیں۔اگر یہ وہ مرشد ہے جو آپ چاہتے ہیں تو ، وہ اس حقیقت کی طرف ایک رہنما ہیں۔ آپ نے اس تعلق اور جان پہچان کا آغاز کر دیا تاکہ کوئی دوری نہ رہے اور آپ ان(شیخ) سے دوری محسوس نہ کریں، یہ اگاہی اور یہ تعلق بہت قریبی ہوجاتا ہے، کہ آپ رابطہ کریں، وہ سوالات پوچھیں جو آپ کے پاس ہیں۔ یاد رکھیں سوالات اس لئے نہیں کہ تعلیمات پر سوال اُٹھایا جائے ، بلکہ سمجھنے کیلئے اور بیدارئ قلب کیلئے ہیں۔
اور حقیقت میں ، جب آپ ان مضامین کا مطالعہ کرتے ہیں تو ، ان ویب سائٹوں ، کتابوں ، مضامین ، ہر اس چیز کا مطالعہ کریں جس کا آپ مطالعہ کررہے ہیں اور بہت سارے مختلف مضامین ہیں۔ چاہے آپ انرجی ، مراقبہ ،حروف (عربی حروف) ، دل کے حقائق ، سورۃ یسین اور سیدنا محمدﷺ کے قلبِ مبارک کی حقیقت، حج کے حقائق کا مطالعہ کرنے جارہے ہیں؛ یہ سب حقائق اور تعلیمات دل کے اندر (کی)حقیقت کی بیداری کے لیے ہے۔ اور ایک بار جب آپ ان کا مطالعہ کرنا شروع کردیں اور اُن(شیخ) سے رابطہ پیدا کرلیں تو آپ ذکر اور ان صحبتوں(محفلوں)، ان بیانات میں آئیں اور اپنے جوابات کا انتظار کریں۔
Apna Talluq Ustuwar Karne Ke Liye Shaykh Ke Sath Baat Cheet Karen:
Aur hum se rabita karen, hamein e mail karen. Jaisay hi aap aik qadam berhate hain aur helpme@nurmuhamma.com par e mail karen, aap Shaykh ke sath talluq ustuwar karte hain. Agar yeh woh murshid hai jo aap chahtay hain tou, woh is haqeeqat ki taraf aik rehnuma hain. Aap ne is talluq aur jaan pehchan ka aaghaz kar diya taakay koi doori nah rahay aur aap un ( Shaykh ) se doori mehsoos nah karen, yeh agahi aur yeh talluq bohat qareebi hojata hai, ke aap rabita karen, woh sawalaat poucheen jo aap ke paas hain. Yaad rakhen sawalaat is liye nahi ke talemaat par sawal uthaya jaye, balkay samajhney ke liye aur beedari-e- qalb ke liye hain .Aur haqeeqat mein, jab aap un mazameen ka mutalea karte hain tou, un web siton, kitabon, mazameen, har is cheez ka mutalea karen jis ka aap mutalea kar rahay hain aur bohat saaray mukhtalif mazameen hain. Chahay aap energy, muraqba, huroof ( arabi huroof ), dil ke haqayiq, surah yaseen aur Sayedena Muhammad (ﷺ) ke Qalb-e mubarak ki haqeeqat, hajj ke haqayiq ka mutalea karne jarahay hain yeh sab haqayiq aur talemaat dil ke andar ( ki ) haqeeqat ki baydaari ke liye hain. Aur aik baar jab aap un ka mutalea karna shuru kar dein aur unn ( Shaykh ) se rabita peda karlen tou aap zikar aur un sohbaton ( mehafilon ), un bayanaat mein ayen aur apne jawabaat ka intzaar karen .
_________________________________________
Communicate With the Shaykh to Build Your Relationship:
And communicate with us, email with us. As soon as you open and email and helpme@nurmuhammad.com, you build a relationship with the shaykh. If that's the guide that you want, that's a guide towards that reality. You begin to open that relationship and the familiarity so that it's not something so distant and that you feel distant from it. It becomes very close, this understanding and this relationship. That you contact, ask the questions that you have. Remember the questions are not to question the teaching, but to get understanding and open the heart.And in reality, that when you study these subjects, study these websites, the books, the articles, everything that you're studying and there so many different subjects. Whether you're going to study the energy, the meditation, the huroof (Arabic alphabets), the realities of the heart, the realities of Surat Yaseen and the heart of Sayyidina Muhammad ﷺ, reality of the Hajj (pilgrimage); all of these realities and teachings to open a reality within the heart. And once you start to study them and made that connection, then you come to the zikr and to these associations into these talks and wait for your answer.
شیخ آپ کے دل کی بات کا جواب عطا فرمائیں گے:
یہ ( سوال کی ) نیت جو ہم نے اپنے دل میں کی — اگر یہ کوئی ایسی بات ہے جو ہماری روحانیت کے لیے ضروری ہے ، تو یہ ایک اشارۃ(اشارہ) بھیجتی ہے؛ یہ ایک ریڈیو سگنل کی طرح آسمان سے ایک سگنل بھیجتی ہے۔ اور پھر شیخ ان موضوعات پر بیان دینے لگتے ہیں اور وہ اس سوال کا جواب دیتے ہیں۔ لہذا ، اس کے منتظر نہ رہیں (کہ) ، 'میں جواب چاہتا ہوں ، میں جواب چاہتا ہوں۔' آپ جواب لینے کی کوشش میں اتنے مصروف اور مشغول ہوجاتے ہیں لیکن آپ اصل میں جواب ملنے کو سن ہی نہیں پاتے۔ یا آپ کوئی سوال پوچھنے کی کوشش میں اتنے مصروف ہیں کہ آپ نے واقعی اس جواب کو نہیں سنا جو بیان میں دیا گیاا اور یہی ( جواب ) طریقت کا معجزہ ہے۔
کہ آپ تعلق استوار کرتے ہیں ، آپ سوال دل میں رکھتے ہیں اور آسمانی ریڈیو کی طرح ، یہ سب کے دلوں کو جواب دینے لگتا ہے۔ لہذا ، سب سن رہے ہیں جو انہیں سننے کی ضرورت ہے اور وہ لوگ جو ہمیشہ تفکر ، غور و فکر کی حالت میں رہتے ہیں ، وہ ان سگنلز کو اٹھا لیتے ہیں، جن کی انہیں ضرورت ہے۔ کیونکہ راہِ طریقت(حقیقت) کا متلاشی، ہر چیز میں خدا کے راز کی تلاش اور جستجو کرتا رہتا ہے کہ میں نے رابطہ قائم کیا ہے۔ میں خدمت میں ہوں، چاہے میں اپنے اعمال سے، اپنے افعال سے، (یا)اللہ(عزوجل) نے جو مجھے دیا ہے اس کے ذریعے خدمت کروں۔ اور اس لیے میں اس حقیقت کا ایک حصہ ہوں اور پھر جب بھی مجھے اپنے دل میں کوئی تشویش لاحق ہو اور یہ ایسی چیز ہے جو میری روحانیت کے لئے ضروری ہے ، غالباً یہ اشارہ آنے والا ہے۔ اور اس خدائی چینل کے ذریعہ اس کا جواب اس صحبت(بیانِ شیخ)میں ملنا شروع ہوتا ہے۔
Shaykh Aap Ke Dil Ki Baat Ka Jawab Ataa Farmaen Ge :
Yeh ( sawal ki ) niyat jo hum ne apne dil mein ki — agar yeh koi aisi baat hai jo hamari rohaniyat ke liye zaroori hai, tou yeh aik ishara ( ishara ) bhaijti hai ؛ yeh aik radio signal ki terhan aasman se aik signal bhaijti hai. Aur phir Shaykh un mozuaat par bayan dainay lagtay hain aur woh is sawal ka jawab dete hain. Lehaza, is ke muntazir nah rahen ( ke ),' mein jawab chahta hon, mein jawab chahta hon.' aap jawab lainay ki koshish mein itnay masroof aur mashgool ho jatay hain lekin aap asal mein jawab milnay ko sun hi nahi paate. Ya aap koi sawal poochnay ki koshish mein itnay masroof hain ke aap ne waqai is jawab ko nahi suna jo bayan mein diya gya aur yahi ( jawab ) tareqat ka moujza hai .Ke aap talluq ustuwar karte hain, aap sawal dil mein rakhtay hain aur aasmani radio ki terhan, yeh sab ke dilon ko jawab dainay lagta hai. Lehaza, sab sun rahay hain jo inhen suneney ki zaroorat hai aur woh log jo hamesha tafakar, ghor o fikar ki haalat mein rehtay hain, woh un signals ko utha letay hain, jin ki inhen zaroorat hai. Kyunkay raah e tareqat ( haqeeqat ) ka mutlashi, har cheez mein kkhuda ke raaz ki talaash aur justojoo karta rehta hai ke mein ne rabita qaim kya hai. Mein khidmat mein hon, chahay mein apne aamaal se, apne af-aal se, ( ya ) Allah (AJ) ne jo mujhe diya hai is ke zariye khidmat karoon. Aur is liye mein is haqeeqat ka aik hissa hon aur phir jab bhi mujhe apne dil mein koi tashweesh la-haq ho aur yeh aisi cheez hai jo meri rohaniyat ke liye zaroori hai, ghaliban yeh ishara anay wala hai. Aur is khudai channel ke zareya is ka jawab is sohbat ( bayan Shaykh ) mein milna shuru hota hai .
_____________________
The Shaykh Will Answer Concerns Within Your Heart:
That this intention that we put within our heart – if it's something that's necessary for our spirituality, then it sends an isharat (sign); it sends a signal like a radio signal from heavens. And then the Shaykh begins to talk on these subjects and they answer the question. So, don't be waiting to, 'I want an answer, I want an answer.' You become so busy and preoccupied trying to get an answer but you didn't really even hear the answer coming. Or you're so busy trying to ask a question that you didn't really hear the answer that came in the talk and that's the miracle of tariqah (spiritual path).
That you build the relationship, you put the concern within your heart and like a heavenly radio, it begins to answer everyone's heart. So, everyone is hearing what they need to hear and those whom are always in a state of tafakkur, contemplation, they pick up the signals that they need. Because the seeker of the way is continuously seeking and seeking God's secret in everything that I made a connection. I'm of service whether I serve through my actions, my deeds, through what Allah (AJ) has given to me. And so I'm a part of this reality and then every time I have a concern within my heart and it's something that's necessary for my spirituality, most likely that signal will be coming. And through that divinely channel it begins to answer that in the talks.
اولیاء اللہ آپ کو یقین تک پہنچنے کا راستہ سکھاتے ہیں:
یہ درِمغفرت ، سورۃ التوبہ کا یہ افتتاح ،یہ محرم کا آغاز (ہے) اور کسی نے آج کسی جرم کے بارے میں ای میل کی تھی۔ ایک خوفناک جرم جس کا ارتکاب کیا گیا کہ وہ اس جرم کے لئے جیل چلے گئے۔اور انہوں نے یہ(تعلیمات)سن کر اپنی پوری کوشش کی کہ توبہ کریں، معافی طلب کریں،(ان) لوگوں سے معافی مانگیں جنہیں انہوں نے تکلیف دی اور ان لوگوں سے(بھی) معافی مانگیں، جن کو انہوں نے نقصان پہنچایا اور جن کو اس سے نقصان پہنچا۔ پھر پوچھا ، 'کیا آپ مجھے اس بات کی ضمانت دے سکتے ہیں کہ اللہ (عزوجل) مجھے معاف کردے گا؟' ایک دلچسپ سوال ہے۔
اَعُوْذُ بِاللہ مِنَ الشَّیْطٰنِ الرَّجِیْمِ
بِسْمِ اللہ الرَّحْمٰنِ الرَّحِیْمِ
اس بات کی ضمانت دینا کہ اللہ (عزوجل) آپ کو بخش دے گا ممکن نہیں۔ کہ ہم اس میں اپنی صلاحیت سے باہر یا اپنے اختیار سے بالاتر بات نہیں کرسکتے۔ لیکن اولیاء اللہ(صوفیائے کرام) کے پاس حکمت اور دانائی ہے ، کہ وہ آپ کو ایک ایسا راستہ اور نظام سکھائیں گے جس میں(آپ) یقین کو پہنچیں۔اور اگر آپ صرف اللہ (عزوجل) سے اس جرم کے والے سے سوال کر رہے ہیں جو آپ نے کیا ،جو (برے) اعمال آپ سے سرزد ہوئے اور (اگر آپ) یہ عرض کرتے ہیں کہ ، 'یا ربی ، مجھے معاف کردیں ، مجھے بخش دیں ، مجھ پر عفو و درگزر فرمائیں۔' الحمدللہ ، یہ بہت خوبصورت ہے۔
لیکن وہ(اولیاء اللہ) تشریف لاتے ہیں اور وہ آپ کو یہ ہر حدیث اور آیت کریم سے سکھاتے ہیں۔جب وہ(لوگ)کہتے ہیں کہ 'آپ(اولیاء/مشائخ) قرآن کے بارے بات نہیں کرتے ،آپ حدیث کی بات نہیں کرتے ،یہ بندہ(شیخ) یہ مواد کہیں(قرآن و سنت) سے نہیں لایا۔' اور یہ صحیح نہیں ہے کیونکہ وہ سن نہیں رہے۔ یہ تعلیمات قرآن پاک کے تمام مخفی اسرار و رموز اور راز ہیں۔ آپ جو آیات پڑھتے ہیں وہ مختلف ہیں وہ فرقان ہے۔ یہ صحیح اور غلط کی آیتیں ہیں۔وہ آیات جو وہ (اولیاء اللہ) اپنے دل سے سکھاتے اور اپنے خادموں اور جو ان کے نقشِ قدم پر مقدم ہیں ان کے ذریعے پھیلاتے ہیں۔وہی اس قرآن کریم اور سیدنا محمد ﷺ کی مقدس حدیث کے پیچھے(چھپے) گہرے راز ہیں۔
Awliya Allah Aap Ko Yaqeen Tak Pounchanay Ka Rasta Sikhate Hain :
Yeh dar-e-maghfirat, surah Tawba ka yeh iftitah, yeh Mehram ka aaghaz ( hai ) aur kisi ne aaj kisi jurm ke baray mein e mail ki thi. Aik khofnaak jurm jis ka irtikaab kya gaya ke woh is jurm ke liye jail chalay gaye. Aur unhon ne yeh ( talemaat ) sun kar apni poori koshish ki ke tauba karen, maffi talabb karen, ( un ) logon se maffi mangeen jinhein unhon ne takleef di aur un logon se ( bhi ) maffi mangeen, jin ko unhon ne nuqsaan pohanchaya aur jin ko is se nuqsaan pouncha. Phir poocha,' kya aap mujhe is baat ki zamanat day satke hain ke Allah (AJ) mujhe maaf kardey ga , aik dilchasp sawal hai .
A'udhu Billahi Minash Shaitanir Rajeem Bismillahir Rahmanir Raheem
Is baat ki zamanat dena ke Allah (AJ) aap ko bakhash day ga mumkin nahi. Ke hum is mein apni salahiyat se bahar ya apne ikhtiyar se balatar baat nahi kar saktay. Lekin Awliya Allah ( Sufia e karaam ) ke paas hikmat aur danai hai, ke woh aap ko aik aisa rasta aur nizaam seekhiye ge jis mein ( aap ) yaqeen ko pohnchain. Aur agar aap sirf Allah (AJ) se is jurm ke hawalay se sawal kar rahay hain jo aap ne kya, jo ( buray ) aamaal aap se sarzad hue aur ( agar aap ) yeh arz karte hain ke,' ya rabbi, mujhe maaf kar dein, mujhe bakhash den, mujh par Afoo o dar guzar farmaen.' Alhamdulilah, yeh bohat khobsorat hai .
Lekin woh ( Awliya Allah ) tashreef laatay hain aur woh aap ko yeh har hadees aur aayat kareem se sikhate hain. Jab woh ( log ) kehte hain ke' aap ( awliya / mashaiykh ) quran ke baray baat nahi karte, aap hadees ki baat nahi karte, yeh bandah ( Shaykh ) yeh mawaad kahin ( quran o sunnat ) se nahi laya.' aur yeh sahih nahi hai kyunkay woh sun nahi rahay. Yeh talemaat Quran Pak ke tamam makhfi asaraar o Ramooz aur raaz hain. Aap jo ayaat parhte hain woh mukhtalif hain woh Furqan hai. Yeh sahih aur ghalat ki ayatain hain. Woh ayaat jo woh ( Awliya Allah ) apne dil se sikhate aur apne khadimon aur jo un ke naqash-e qadam par muqaddam hain un ke zariye pheilatay hain. Wohi is quran kareem aur Sayedena Muhammad (ﷺ) Ki muqaddas hadees ke peechay ( chupay ) gehray raaz hain .
_____________________________
Awliyaullah Teach You a Way to Reach Certainty:
This gate of forgiveness, this opening of Surat al-Tawbah, this opening of Muharram and somebody emailed today about a crime. A horrible crime that was committed that they went to jail for that crime. And they've tried their best by listening to making their maghfirah, to asking for forgiveness, asking people that they harmed and that were involved in that harming for forgiveness. Then asked, 'Can you guarantee me that Allah (AJ) will forgive me?' An interesting question.
And A'udhu Billahi Minash Shaitanir Rajeem Bismillahir Rahmanir Raheem. That to guarantee that Allah (AJ) grant you a forgiveness is not possible. That we're not in this to speak beyond our ability or beyond our authority. But awliyaullah (saints) have a hikmah and a wisdom, that they'll teach you a way and a system in which to reach to certainty. And if you are just asking Allah (AJ) for the crime that you did, the actions that you did and asking, 'Ya Rabbi, forgive me, forgive me, forgive me.' Alhamdulillah, this is beautiful.
But they come and they teach you that from every Hadith (traditions of Prophet ﷺ) and ayatul kareem (verse of Holy Qur'an) when they say, 'You don't talk about Qur'an, you don't talk about Hadith, this guy just pulls this stuff out of nowhere.' And that's not fair because they're not listening. These teachings are all the secret and secret and secret behind Holy Qur'an. The ayah (verse) that you read is very, is furqan. These are the ayahs of right and wrong. The ayahs that they teach from their heart and transmitting through their servants and those whom are muqaddam on their footsteps – they're the deep secrets behind these Holy Qur'an and Holy Hadith of Sayyidina Muhammad ﷺ.
آپ جس سے محبت کرتے ہیں اسی کا ساتھ پائیں گے:
اور اس مغفرت کی رات اور ہم سب نے اپنے تمام غلط کاموں(برے اعمال)کے بارے میں سوچا ، جن لوگوں نے غلط کیا اور وہ تمام لوگ جو اپنے ساتھ ہونے والی غلطیوں(برائیوں) سے دوچار ہیں ، پھر وہ کہتے ہیں کہ یاد رکھیں کہ نبی کریم ﷺ نے بیان فرمایا ہے ، تم جس سے محبت کرتے ہو اس کے ساتھ رہو گے۔ '
قَالَ رَسُول اللَّهِ صلى الله عليه و سلم: الْمَرْءُ مَعَ مَنْ اَحَبْ
حضرت محمد (صلی اللہ علیہ وآلہ وسلم) نے فرمایا: "آدمی اس کے ساتھ ہے جس سے وہ محبت کرتا ہے۔"
یہ حدیث پاک ہے کہ ، 'آپ جس سے محبت کرو گے،اسی کے ساتھ ہوگے۔' سیدنا ابوبکر الصدیق علیہ الصلوٰۃ والسلام اس کے بارے میں بڑے پرجوش تھے،آپ نے اٹھ کر(وجد میں آکر) اللہ کا شکر ادا کیا۔ یہ تمام حقائق کی ایک بڑی اور زبردست کلید(چابی) تھی۔ یہ طروق کے اسرار اور تعمیراتی بلاکس ہیں۔ جب وہ(اولیاء اللہ )تشریف لاتے ہیں اور آپ کو سکھاتے ہیں ، 'بس یہ حدیثِ پاک ہی اس معافی کے سوال کا جواب ہے۔'
Aap jis se mohabbat karte hain Ousi ka sath payen ge :
aur is mughfirat ki raat aur hum sab ne apne tamam ghalat kamon ( buray aamaal ) ke baray mein socha, jin logon ne ghalat kya aur woh tamam log jo apne sath honay wali ghaltion ( buraiyon ) se dochar hain, phir woh kehte hain ke yaad rakhen ke Nabi kareemﷺ Ne bayan farmaya hai, tum jis se mohabbat karte ho is ke sath raho ge.
Qala Rasulullah (saws): "Almar o, ma'a man ahab."
Hazrat Muhammad ( sale Allah alaihi wa-alehe wasallam ) ne farmaya :" aadmi ous ke sath hai jis se woh mohabbat karta hai. "
yeh hadees pak hai ke,' aap jis se mohabbat karo ge, ousi ke sath hogay.' Syedna Abu Baker al saddiq alaihi salato wassalam is ke baray mein barray pur josh thay, aap ne uth kar ( wajad mein aakar ) Allah ka shukar ada kya. Yeh tamam haqayiq ki aik barri aur zabardast kuleed ( chaabi ) thi. Yeh Turooq ke asaraar aur tamirati blocks hain. Jab woh ( Awliya Allah ) tashreef laatay hain aur aap ko sikhate hain,' bas yeh hadees pak hi is maffi ke sawal ka jawab hai.
________________________________
You'll Be With Whom You Love:
And on this night of forgiveness and all of us think of all the wrong we did, all the people who did wrong and all the people whom suffering through the wrongs that were done to them, then they ask that remember that Prophet ﷺ described, 'You'll be with whom you love.'
قَالَ رَسُول اللَّهِ صلى الله عليه و سلم: الْمَرْءُ مَعَ مَنْ أَحَب
Qala Rasulullah (saws): "Almar o, ma'a man ahab."
Prophet Muhammad (pbuh) said: "One is with those whom he loves."
It's Holy Hadith that, 'You will be with whom you love.' Sayyidina Abu Bakr as-Saddiq (as), Allah's (AJ) definite peace and blessings be about them was so excited by that, got up and circumambulated thanking Allah (AJ). It was a big and tremendous key of all realities. These are the secret and building blocks of the turuq (spiritual paths). When they come and teach you, 'Just this hadith is an answer for that question of forgiveness.'
اپنی زندگی سیدنا محمد ﷺ کی محبت کی تعمیر میں گزاریں:
اس کا مطلب یہ ہے کہ اگر آپ اپنی زندگی سیدنا محمدﷺ کی محبت پیدا کرنے میں صرف کرتے ہیں تو – آپ کو معلوم ہوگا کہ آپ نے اپنے شریک حیات کی محبت کی تعمیر میں، اپنے بچوں کیلئے، اپنی نوکری کیلئے، اپنے کیریئر کیلئے، اپنے عہدے کیلئے کتنا وقت گزارا۔ جتنا بھی وقت آپ نے اس پر صرف کیا ، کیا آپ کو لگتا ہے کہ آپ نے سیدنا محمد ﷺ سے محبت پیدا کرنے میں برابر (وقت)خرچ کیا؟ کیا اپ نے اس کے برابر (وقت)خرچ کیا؟ کیا آپ نے اس کے برابر (مال/صدقہ)دیا؟ کیا آپ نے اسکے برابر (خدمت)کی؟کیا ہم اپنی زندگی سیدنا محمد ﷺ سے یہ محبت قائم کرنے، تعظیم النبیﷺ ، ہر موقع پر سیدنا محمد ﷺ کی حقیقت کی عظیم مقام کی تشہیر کے لئے جو کچھ ہم کرسکتے ہیں اس پر عمل کرنے ،میں خرچ کرتے ہیں۔ کہ اگر آپ کو یہ بیانات اچھے لگتے ہیں تو شیئر کریں۔ اگر آپ اس بیان جیسی بات نہیں کرسکتے تو ، یہ آرکسٹرا ( نغمہ سازوں کے گروہ) جیسا ہے۔
شیخ ، اللہ (عزوجل) نے اُنہیں خطاب کرنے کا تحفہ دیا، میں گلوکار نہیں اور میں قاری نہیں ۔ کوئی خوبصورت انداز میں تلاوت کرنے کا انعام رکھتا ہے ۔ کوئی ٹائپ کرنے کا تحفہ رکھتا ہے ، کوئی کام کاج کا تحفہ رکھتا ہے اور وہ کام کرتے ہوئے بہت پیسہ کماتے ہیں— یہ ایک آرکسٹرا ( نغمہ سازوں کا گروہ) ہے۔ شیخ ہر ایک کی صلاحیتوں اور ٹیلنٹ کو ایک سمت موڑتے ہیں۔ اور یہ سمت اس سرزمین پر سیدنا محمد ﷺ کی حقیقت کے شاندار مقام کی تعریف اور (ثناء) بلند کرنے کی (سمت) ہے۔ ہم اس کو بڑھا نہیں رہے ہیں بلکہ اس حقیقت کو پھیلانے کیلئے ہیں کہ ہم محمدیون ہیں ، یہ کہ ہم وہ لوگ ہیں جن سے اللہ (عزوجل) محبت کرتا ہے اور اللہ (عزوجل) نے ہمیں بتایا ،
قُلْ إِنْ كُنْتُمْ تُحِبُّوْنَ اللَّـهَ فَاتَّبِعُوْنِيْ يُحْبِبْكُمُ اللَّـهُ وَيَغْفِرْ لَكُمْ ذُنُوْبَكُمْ ۗ وَاللَّـهُ غَفُورٌ رَّحِيمٌ (٣١)
3:31
(اے حبیب!) آپ فرما دیں: اگر تم ﷲ سے محبت کرتے ہو تو میری پیروی کرو تب اﷲ تمہیں (اپنا) محبوب بنا لے گا اور تمہارے لئے تمہارے گناہ معاف فرما دے گا، اور ﷲ نہایت بخشنے والا مہربان ہے۔
Apni Zindagi Sayedena Muhammad (ﷺ) Ki Mohabbat Ki Taamer Mein Guzaraian :
is ka matlab yeh hai ke agar aap apni zindagi Sayedena Muhammad (ﷺ) ki mohabbat peda karne mein surf karte hain to – aap ko maloom hoga ke aap ne apne shareek hayaat ki mohabbat ki taamer mein, apne bachon ke liye, apni nokari ke liye, apne career ke liye, apne ohday ke liye kitna waqt guzaraa. Jitna bhi waqt aap ne is par sarf kya, kya aap ko lagta hai ke aap ne Sayedena Muhammad (ﷺ) Se mohabbat peda karne mein barabar ( waqt ) kharch kya? Kya up ne is ke barabar ( waqt ) kharch kya? Kya aap ne is ke barabar ( maal / sadqa ) diya? Kya aap ne uskay barabar ( khidmat ) ki? Kya hum apni zindagi Sayedena Muhammad (ﷺ) Se yeh mohabbat qaim karne, tazeem un Nabi (ﷺ) , har mauqa par Sayedena Muhammad (ﷺ) Ki haqeeqat ke azeem maqam ki tashheer ke liye jo kuch hum kar saktay hain is par amal karne, mein kharch karte hain. Ke agar aap ko yeh bayanaat achay lagtay hain tou share karen. Agar aap is bayan jaisi baat nahi kar saktay tou, yeh orchestra ( naghma sazoon ke giroh ) jaisa hai .
Shaykh , Allah (AJ) ne unhen khitaab karne ka tohfa diya, mein gulukar nahi aur mein qaari nahi. Koi khobsorat andaaz mein tilawat karne ka inaam rakhta hai. Koi type karne ka tohfa rakhta hai, koi kaam kaaj ka tohfa rakhta hai aur woh kaam karte hue bohat paisa kamate hain— yeh aik orchestra ( naghma sazoon ka giroh ) hai. Shaykh har aik ki salahiyaton aur talent ko aik simt morty hain. Aur yeh simt is sarzamen par Sayedena Muhammad (ﷺ) Ki haqeeqat ke shandaar maqam ki tareef aur ( sana ) buland karne ki ( simt ) hai. Hum is ko barha nahi rahay hain balkay iss haqeeqat ko phelanay ke liye hain ke hum Muhammadiyun hain, yeh ke hum woh log hain jin se Allah (AJ) mohabbat karta hai aur Allah (AJ) ne hamein bataya
3:31 – "Qul in kuntum tuhibbon Allaha fattabi'oni, yuhbibkumullahu wa yaghfir lakum dhunobakum wallahu Ghaforur Raheem." (Surat Ali-Imran)
( ae habib! ) aap farma den : agar tum Allah se mohabbat karte ho to meri pairwi karo tab Allah tumhe ( apna ) mehboob bana le ga aur tumahray liye tumahray gunah maaf farma day ga, aur Allah Nihayat bakhsnay wala meharban hai ,
_____________________
Spend Your Life Building the Love for Sayyidina Muhammad (sws)
This means that if you spend your life building the love for Sayyidina Muhammad ﷺ – you know how much time you spent building the love for your spouse, for your children, for your job, for your career, for your position; all that time you spent on it, do you think you spent the equivalent in building the love for Sayyidina Muhammad ﷺ? Did you spend the equivalent? Did you give the equivalent? Did you do the equivalent? If we spend our life on building this love with Sayyidina Muhammad ﷺ, tahzim an-Nabi ﷺ, at every opportunity to do what we can to spread the magnificent status of the reality of Sayyidina Muhammad ﷺ. That if you like these talks, share them. If you can't talk like this talk, it's like an orchestra.
The Shaykh, his gift was from Allah (AJ) to speak. I don't sing and I don't recite. Somebody else's gift is to recite beatifically. Somebody else's gift is to type. Somebody else's gift is to work and they make a lot of money working. It's an orchestra. The Shaykh brings everybody's talents and abilities together for one direction. And that's the direction to praise and raise the magnificent status on Earth of the reality of Sayyidina Muhammad ﷺ. We're not raising it but to disseminate that reality that we are Muhammadiyun, that we are the people whom love Allah (AJ) and Allah (AJ) told us, 'Qul in kuntum tuhibbon Allaha fattabi'oni, yuhbibkumUllahu'
﴾قُلْ إِنْ كُنْتُمْ تُحِبُّوْنَ اللَّـهَ فَاتَّبِعُوْنِيْ يُحْبِبْكُمُ اللَّـهُ وَيَغْفِرْ لَكُمْ ذُنُوْبَكُمْ ۗ وَاللَّـهُ غَفُورٌ رَّحِيمٌ ﴿٣١
3:31 – "Qul in kuntum tuhibbon Allaha fattabi'oni, yuhbibkumullahu wa yaghfir lakum dhunobakum wallahu Ghaforur Raheem." (Surat Ali-Imran)
"Say, [O Muhammad], "If you should love Allah, then follow me, [so] Allah will love you and forgive you your sins. And Allah is Forgiving and Merciful." (Family of Imran, 3:31)
1/2 (Jaari Hay) (To be Continued)
یہ بیان یوٹیوب پر دیکھنے کیلئے
Watch this lecture on youtube:
https://youtu.be/D37hVfRJ85k
اس آرٹیکل کو انگلش میں پڑھنے کیلئے
Read this Article in English:
https://nurmuhammad.com/guaranteed-way-to-erase-very-…/…
یو ٹیوب چینل ابھی سبسکرایب کیجئے
Subscribe Now: The Muhammadan Way Sufi Realities
Www.youtube.com/channel/UC4E8QX7OgwYDgyuuXTBMrcg
شیخ سید نور جان میر احمدی نقشبندی (ق) کا آفشیل فیس بک پیج لائک کیجئے
Official Page: Shaykh Nurjan Mirahmadi
Shaykh Nurjan Mirahmadi
Please Subscribe and Share🙏