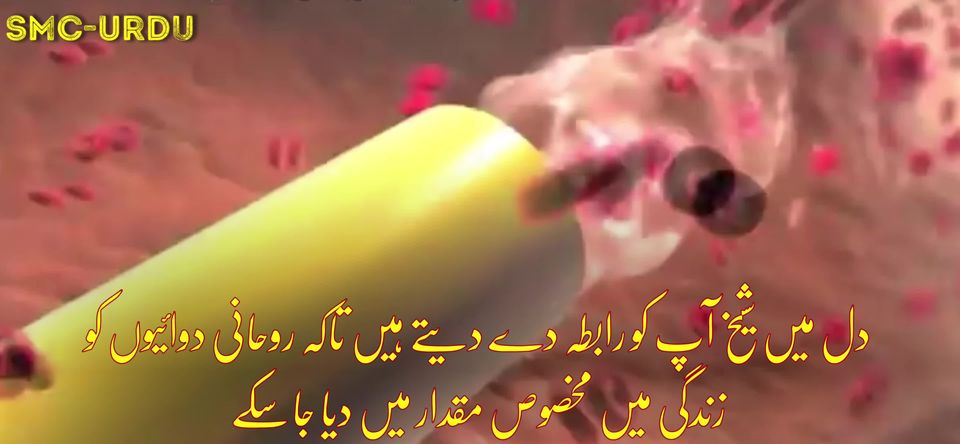 Urdu – ‎:شیخ سید نورجان میراحمدی نقشبندی (ق) کی سنہری تعلیمات سے اقتباس ‎بِسْمِ اللَّـ…

‎:شیخ سید نورجان میراحمدی نقشبندی (ق) کی سنہری تعلیمات سے اقتباس
‎بِسْمِ اللَّـهِ الرَّحْمَـٰنِ الرَّحِيمِ
اَلَّھُمَّ صَلِّ عَلَی سَیَّدِنَا محَمَّدٍ ﷺ وَعَلَی آلِ سَیَّدِنَا محَمَّدٍ ﷺ
سوال : اَلسَلامُ عَلَيْكُمْ سیدی ہم اس فنا (میں) جو طریقت اور ہمارے شیوخ ہم سے چاہتے ہیں اور فنا بطورِ فلسفہ میں کیسے فرق کریں؟
شیخ سید نورجان میراحمدی نقشبندی (ق) :
جواب: وَعَلَيْكُمُ السَّلاَمُ وَرَحْمَةُ اللّٰه۔ راہِ طریقت پر چلیں اور ہم آپ کے لیے فنا کی ضمانت دے سکتے ہیں[شیخ مسکرائے]۔ بلاشبہ یہ فلسفہ کلاس نہیں ہے، آپ(فلسفہ فنا سے متعلق) دوسرے لوگوں سے پوچھ سکتے ہیں جو آن لائن ہیں۔وہ(سالک) جو فالو کر رہے ہیں، نوٹس بنا رہے ہیں اور ایکٹیو ہیں،فی الفور ان کی زندگی امتحان میں ہے اور آپ کو ہر جانب سے، ہر قسم کی آزمائش کا سامنا ہوگا اور آپ کو ان لوگوں میں سے ہونا ہوگا جو صابرین بننے کی تربیت لے رہے ہیں۔ ہر کوئی آپ کو مشتعل کرے گا، ہر کوئی آپ کو اکسائے گا، ہر کوئی آپ کے ساتھ لڑنے والا ہے، امن کا کوئی لمحہ میسر نہیں ہوگا، ٹھیک ہے؟ اللہ (عزوجل)اسے ایسا ہی چاہتا ہے، تو مولانا (ق) بیان کرتے تھے کہ 'یہ سب(طالب علم) میرے لیے پتھروں(نگینوں) کی طرح ہیں، ہر طالبِ علم جو اللہ (عزوجل) مجھے عطا فرماتا ہے، (اسکے لیے) میں شکر ادا کرتا ہوں، میں اپنا بیگ کھولتا ہوں اور (اس) طالب علم کو اپنے بیگ میں رکھ لیتا ہوں،پھر میں اپنا بیگ لیتا ہوں اور اسے جھنجھوڑنے / ہلانے لگتا ہوں" [سب ہنستے ہیں]۔تو ہم سب ان شیوخ کے پتھر ہیں، اور انہوں(ق) نے فرمایا کہ محض اس جھنجھوڑنے سے اللہ(عزوجل) پتھر کو پاک فرما دیتا ہے۔صحیح؟ کیونکہ ہر پتھر میں خوبصورت ہونے کی صلاحیت ہے۔ اگر آپ نے ساحلِ سمندر پر شیشے کے پتھر دیکھے ہوں تو وہ دراصل شیشے کے ذرات کی طرح ہوتے ہیں، لیکن چونکہ سمندر انہیں کھرچتا رہتا ہے، انہیں نوچتا رہتا ہے، رگڑتا رہتا ہے، اس لیے وہ خوبصورت کرسٹل کی طرح نظر آتے ہیں۔اور ایک دوسرے کو رگڑنے، ہماری زندگی، ہمارے خاندان و برادری کو کھرچنے، اس سب رگڑ، اس کھرچ سے سارے کھردرے کنارے نکل رہے ہیں اور اللہ (عزوجل) یہی چاہتا ہے کیونکہ اب آپ پالش ہو رہے ہیں۔ جیسے جیسے آپ زیادہ چمکدار ہوتے جاتے ہیں، اللہ کی بارگاہ میں آپ کی قدر و منزلت بڑھتی جارہی ہے، اگر آپ صرف کوئلہ ہیں تو آپ جانتے ہیں ہیں؟ کہ اللہ (عزوجل) فرماتا ہے میرے پاس بہت سا کوئلہ ہے، چارکول درحقیقت آگ کے لیے اچھا ہے، اس لیے اسے وہاں (آزمائش کی بھٹی میں) ڈال دو[شیخ ہنستے ہیں]۔لیکن جب آپ حرارت اور دباؤ سے گزر جاتے ہیں تو اب وہ دنیا پر مصنوعی طور پر کیا بنا رہے ہیں؟ ہیرے !! آپ ہیرہ بن سکتے ہو، ٹھیک ہے؟ آپ پیدائشی ہیرہ (بھی) ہو سکتے ہیں [شیخ ہنستے ہیں]، مگر وہ کچھ اور ہیں۔ یا اللہ (عزوجل) فرماتا ہے ، 'میں تمہیں پریشر ککر میں ڈال سکتا ہوں، میں درجہ حرارت کو بڑھا سکتا ہوں اور اب تم تندور سے بنے ہوئے ہیرے ہو' اب، 'اوہ ہم ہیرے کو آگ میں نہیں ڈال سکتے، ارے یہ(ایسا کرنا) دکھ کی بات ہے، یہ ہیرا ہے' تو پھر اللہ(عزوجل) آپ کی تقدیر بدل دیتا ہے، یہی مسئلہ ہوتا ہے کہ اگر ہم چارکول رہنا چاہتے ہیں تو ہمیں معلوم ہے کہ کوئلہ کہاں جاتا ہے اور یہ بس ختم ہو جاتا ہے لیکن جب ہم کچھ قیمتی ہو جاتے ہیں تو پھر اللہ (عزوجل) فرماتا ہے 'نہیں، اس کا اب کوئی مقصد ہے، ہمیں اسے کوویڈ کے ساتھ کیوں باہر دھکیلنا ہے؟ یہ بہت قیمتی ہو چکا ہے، بالکل، تو کیوں ہمیں اسے اس بیماری کے ساتھ، اس وبائی مرض کے ساتھ، اس وبا کے ساتھ پرے دھکیلنا ہے۔' ہر کوئی خوفزدہ کیوں ہے؟ کیونکہ وہ کوئلے کے زمرے میں آتے ہیں، جب آپ چارکول کی کیٹیگری میں ہیں تو آپ انہیں دیکھ رہے ہیں، [شیخ مسکراتے ہوئے] ، استغفر اللہ، آپ ان بیماریوں کو دیکھتے ہیں، جو آنے والی ہیں 'یا لطیف یا ربی' آپ…… کیا یہ میرا (جانے کا) وقت ہے؟' اور … تو وہ کیوں کہتے ہیں – آپ خود سے جھوٹ نہیں بول سکتے۔ اس سے کوئی فرق نہیں پڑتا کہ شیخ تم سے جھوٹ بولے، دوست تم سے جھوٹ بولے، کوئی بھی جھوٹ بولے، نہیں !(فرق اتنا ہے کہ) ہم خود سے جھوٹ نہیں بول سکتے۔ جب میں اپنے آپ سے کہتا ہوں 'یا ربی اگر میں چارکول ہوں اور میرا جانے کا وقت ہے تو میں جاتا ہوں۔ اگر میرا کوئی مقصد ہے اور آپ کو لگتا ہے کہ میرا کوئی مقصد ہے…'' تو اللہ (عزوجل) آپ کو کیوں بھیجنا چاہے گا؟ ان کا کہنا ہے کہ یہ لڑکا واقعی اچھی، خوبصورت نعت (ثنائے سرکار ﷺ) پڑھتا ہے کم از کم اسے آس پاس رکھیں، وبائی امراض کے دور میں ، حاجی شاہد کو(ہمارے) ساتھ رکھیں [شیخ ہنستے ہوئے]۔ یہی وہ چیز ہے جو رسول اللہ ﷺ ہم سب کے لیے چاہتے ہیں – کچھ بنو، کچھ کرو، صرف کوئلہ نہ رہو ، کیونکہ مشکلات کی دنیا میں آپ اپنے ہی خوف میں زندگی گزاریں گے، کہ آپ صرف چارکول ہیں اور آپ (یہ بات) جانتے ہیں اور اپنے آپ کو بیوقوف نہیں بنا سکتے۔ یا آپ اوپر اٹھیں، آپ پاک ہو گئے، آپ اپنی پوری کوشش کر رہے ہیں، آپ اپنے آپ کو پاک کر رہے ہیں – اب آپ اللہ (عزوجل ) کے لیے کچھ قیمتی ہیں، آپ کا ایک مقصد ہے، آپ میں ایک صلاحیت ہے، تو پھر کیوں…؟ آپ کو یہ دکھ نہیں ہوگا کہ 'اوہ یہ آیا، وہ آیا، یہ آگیا۔ کہ اللہ (عزوجل)کا ان شاء اللہ میرے لیے ایک مقصد ہے اور اگر نہیں تو یہ میرا (جانے کا) وقت ہے، جیسا اللہ (عزوجل) چاہے۔
سُبْحَانَ رَبِّكَ رَبِّ الْعِزَّةِ عَمَّا يَصِفُون وَسَلَامٌ عَلَى الْمُرْسَلِين وَالْحَمْدُ لِلَّهِ رَبِّ الْعَالَمِين وَبِحُرمَةِ مُحَمَّدِ الْمُصْطَفیٰﷺ وَبِسِرِّ سُوْرَةِ الْفَاتِحَهْ
Urdu Transliteration :
Assalam O Alaikum Sayyedii!
Hum is fanaa ( mein ) jo tareqat aur hamaray shyookh hum se chahtay hain aur fanaa bator e falsafa mein kaisay farq karen ?
Shaykh Syed Nurjan Mirahmadi Naqshbandi (Q) :
Wa Alaikum Salam Wa Rahmatullah…
Raah e tareqat par chalein aur hum aap ke liye fanaa ki zamanat day saktay hain [ Shaykh muskuraye ]. bilashuba yeh falsafah class nahi hai, aap ( falsafah e fanaa se mutaliq ) dosray logon se pooch saktay hain jo online hain. woh ( salik ) jo follow kar rahay hain, notes bana rahay hain aur active hain, fil-foor un ki zindagi imtehaan mein hai aur aap ko har janib se, har qisam ki azmaish ka saamna hoga aur aap ko un logon mein se hona hoga jo sabireen ban'nay ki tarbiyat le rahay hain. har koi aap ko mushtael karay ga, har koi aap ko uksaye ga, har koi aap ke sath larnay wala hai, aman ka koi lamha muyassar nahi hoga, theek hai? Allah ( Azzwajal ) issay aisa hi chahta hai, tou Mawlana ( q ) bayan karte thay ke' yeh sab ( taalib ilm ) mere liye patharon ( naginoo ) ki terhan hain, har talb e ilm jo Allah ( Azzwajal ) mujhe ataa farmata hai, ( uskay liye ) mein shukar ada karta hon, mein apna bag kholta hon aur ( iss ) taalib ilm ko –apne bag mein rakh laita hon, phir mein apna bag laita hon aur usay jhnjhorhne / hilanay lagta hon' ' [ sab hanstay hain ]. tou hum sab un shyookh ke pathar hain, aur unhon ( q ) ne farmaya ke mehez is jhnjhorhne se Allah ( Azzwajal ) pathar ko pak farma deta hai. sahih? kyunkay har pathar mein khobsoorat honay ki salahiyat hai. agar aap ne saahil e samandar par sheeshay ke pathar dekhe hon to woh darasal sheeshay ke zarraat ki terhan hotay hain, lekin chunkay samandar inhen khurachta rehta hai, inhen nochta rehta hai, ragarta rehta hai, is liye woh khobsoorat crystal ki terhan nazar atay hain. aur aik dosray ko ragarnay, hamari zindagi, hamaray khandan o baradri ko khurachnay, is sab ragar, is khurch se saaray khurdaray kinare nikal rahay hain aur Allah ( Azzwajal ) yahi chahta hai kyunkay ab aap polish ho rahay hain. jaisay jaisay aap ziyada chamakdar hotay jatay hain, Allah ki bargaah mein aap ki qader o manzilat barhti jaa rahi hai, agar aap sirf koyla hain tou aap jantay hain? ke Allah ( Azzwajal ) farmata hai mere pass bohat sa koyla hai, Charcoal dar haqeeqat aag ke liye acha hai, is liye usay wahan ( azmaish ki Bhatti mein ) daal do [ Shaykh hanstay hain ]. lekin jab aap hararat aur dabao se guzar jatay hain to ab woh duniya par masnoi tor par kya bana rahay hain? heeray ! aap heeraa ban saktay ho, theek hai? aap pedaishi heera ( bhi ) ho saktay hain [ Shaykh hanstay hain ], magar woh kuch aur hain. ya Allah ( Azzwajal ) farmata hai,' mein tumhe pressure cooker mein daal sakta hon, mein darja hararat ko barha sakta hon aur ab tum tandoor se banay hue heere ho' ab,' oh hum heere ko aag mein nahi daal saktay, array yeh ( aisa karna ) dukh ki baat hai, yeh heera hai' to phir Allah ( Azzwajal ) aap ki taqdeer badal deta hai, yahi masla hota hai ke agar hum charcoal rehna chahtay hain tou hamein maloom hai ke koyla kahan jata hai aur yeh bas khatam ho jata hai lekin jab hum kuch qeemti ho jatay hain to phir Allah ( Azzwajal ) farmata hai' nahi, is ka ab koi maqsad hai, hamein usay Covid ke sath kyun bahar dhakelna hai? yeh bohat qeemti ho chuka hai, bilkul, tou kyun hamein usay is bemari ke sath, is wabai marz ke sath, is waba ke sath paray dhakelna hai.' har koi khaufzadah kyun hai? kyunkay woh koylay ke zumray mein atay hain, jab aap charcoal ki category mein hain tou aap inhen dekh rahay hain, [ Shaykh muskuratay hue ], AstaghfirAllah , aap un bimarion ko dekhte hain, jo anay wali hain' Ya Lateef Ya Rabbi' aap. .. .. . kya yeh mera ( jane ka ) waqt hai ?' aur. .. tou woh kyun kehte hain – aap khud se jhoot nahi bol saktay. iss se koi farq nahi parta ke Shaykh tum se jhoot bolein, dost tum se jhoot bolay, koi bhi jhoot bolay, nahi! ( farq itna hai ke ) hum khud se jhoot nahi bol saktay. jab mein –apne aap se kehta hon' ya rabbi agar mein charcoal hon aur mera jane ka waqt hai to mein jata hon. agar mera koi maqsad hai aur aap ko lagta hai ke mera koi maqsad hai …' ' tou Allah ( azzwajal ) aap ko kyun bhejna chahay ga? un ka kehna hai ke yeh larka waqai achi, khobsorat naat ( sana e sarkar Sallallalahu Alayhi wa aalihi wassalam ) parhta hai kam az kam usay aas paas rakhen, wabai amraaz ke daur mein, haaji Shahid ko ( hamaray ) sath rakhen [ Shaykh hanstay hue ]. yahi woh cheez hai jo Rasool Allah Sallallalahu Alayhi wa aalihi wa sallam hum sab ke liye chahtay hain – kuch bano, kuch karo, sirf koyla na raho, kyunkay mushkilaat ki duniya mein aap –apne hi khauf mein zindagi guzaraian ge, ke aap sirf charcoal hain aur aap ( yeh baat ) jantay hain aur –apne aap ko bewaqoof nahi bana saktay. ya aap oopar utheen, aap pak ho gaye, aap apni poori koshish kar rahay hain, aap –apne aap ko pak kar rahay hain – ab aap Allah ( azzwajal ) ke liye kuch qeemti hain, aap ka aik maqsad hai, aap mein aik salahiyat hai, to phir kyun …? aap ko yeh dukh nahi hoga ke' oh yeh aaya, woh aaya, yeh agaya. ke Allah ( azzwajal ) ka un In Shaa Allah mere liye aik maqsad hai aur agar nahi tou yeh mera ( jane ka ) waqt hai, jaisa Allah ( azzwajal ) chahay…
Subhana rabbika rabbal 'izzati 'amma yasifoon, wa salaamun 'alal mursaleen, walhamdulillahi
rabbil 'aalameen. Bi hurmati Muhammad al-Mustafa wa bi siri Surat al-Fatiha.
Original Text:
As salaamu alaykum Sayyidi.
How do we differentiate between nothingness that the tariqah and our shaykhs would like from us, and nothingness as a philosophy?
Walaykum as salaam wa rahmatullah.
Follow the way and we can guarantee nothingness for you [shaykh laughs]. This is definitely not a philosophy class, you can ask the other people who are online. The ones whom are following, taking notes and active, immediately their lives are in testing and you'll get all sorts of testings from every type of direction and you have to be from those whom are training to be sabireen. Everyone going to agitate you, everyone going to aggravate you, everyone's going to fight with you, there's not going to be a moment of peace, right. That's the way Allah (AJ) wants it, so Mawlana (Q) used to describe that 'They're all like rocks for me, every student Allah (AJ) gives to me I say thank you, I open up my bag and put the student in my bag then I take my bag, I begin to shake it' [everyone laughs]. So we're all the stones of these shaykhs, and he said 'Only by this shaking Allah (AJ) makes the stone to be purified.' Right, because every stone has a potential of being beautiful, if you've seen the natural glass stones at the beach they're actually like particles of glass but because the ocean keeps scratching them, scratching them, scratching them, they look like beautiful crystals and by scratching each other, scratching our lives, our families, our communities, all of this scratching scratching all the rough edges are coming out and that's what Allah (AJ) want because now you're becoming polished. As you become more polished your value is growing in Allah's (AJ) Presence, if you're just charcoal then you know Allah (AJ) Say 'I've got a lot of charcoal, charcoal actually is good for fire so put it over there' [shaykh laughs]. But when you become through heat and pressure, what are they making artificially now on dunya? Diamonds. You can be a diamond made, right, you can be born diamond [shaykh laughs], those are something else. Or Allah (AJ) Say, 'I can put you in a pressure cooker, I can turn up the heat and now you're oven made diamond.' Now, 'Oh We can't put a diamond in the fire, hey this is sad this is a diamond,' so then all the changes your destiny, that becomes the issue. If we want to stay charcoal we know where charcoal goes and it just goes off but when we become semi-precious then Allah (AJ) Says 'No this one has a purpose now, why We have to take him out with Covid.' It become very precious, 'Absolutely why we have to come out with this disease, with this pandemic, with this sickness.' Why is everyone scared it's because they're in the charcoal category, when you're charcoal category you're looking at these, astaghfirullah, [shaykh laughs], you look at these sicknesses that are coming say 'Ya Latif (O' the Most Subtle one) Ya Rabbi are You… is this my time?' And the… so why they say – you can't lie to yourself, it doesn't matter shaykh lies to you, friend lies to you, somebody lies, no we can't lie to ourself. When I say to myself 'Ya Rabbi if I'm charcoal and it's my time to go, I go. If I have some purpose and You think I have a purpose…' then why Allah (AJ) want you to go. They say this guy making really nice beautiful na'at (prophetic praising) at least keep him around, couple cycles of pandemic, keep Haji Shahid around [shaykh laughs]. This is what Prophet ﷺ is inspiring for all of us – be something do something, don't just be charcoal, because you will live in your own fear in a world of difficulty, that you're just charcoal and you know it you can't fool yourself. Or you rise above, you purified, you're trying to do your best you're purifying yourself – now you're semi-precious to Allah (AJ), you have a purpose, you have a potential, so then why… You won't have that sadness of 'Oh this came, this came, this came,' is that Allah (AJ) inshaAllah has a purpose for me and if not then it's my time, whatever Allah (AJ) wants.
Subhana rabbika rabbal 'izzati 'amma yasifoon, wa salaamun 'alal mursaleen, walhamdulillahi
rabbil 'aalameen.Bi hurmati Muhammad al-Mustafa wa bi siri Surat al-Fatiha.
Link 👇🏻
https://youtu.be/Urodcyy0zDk