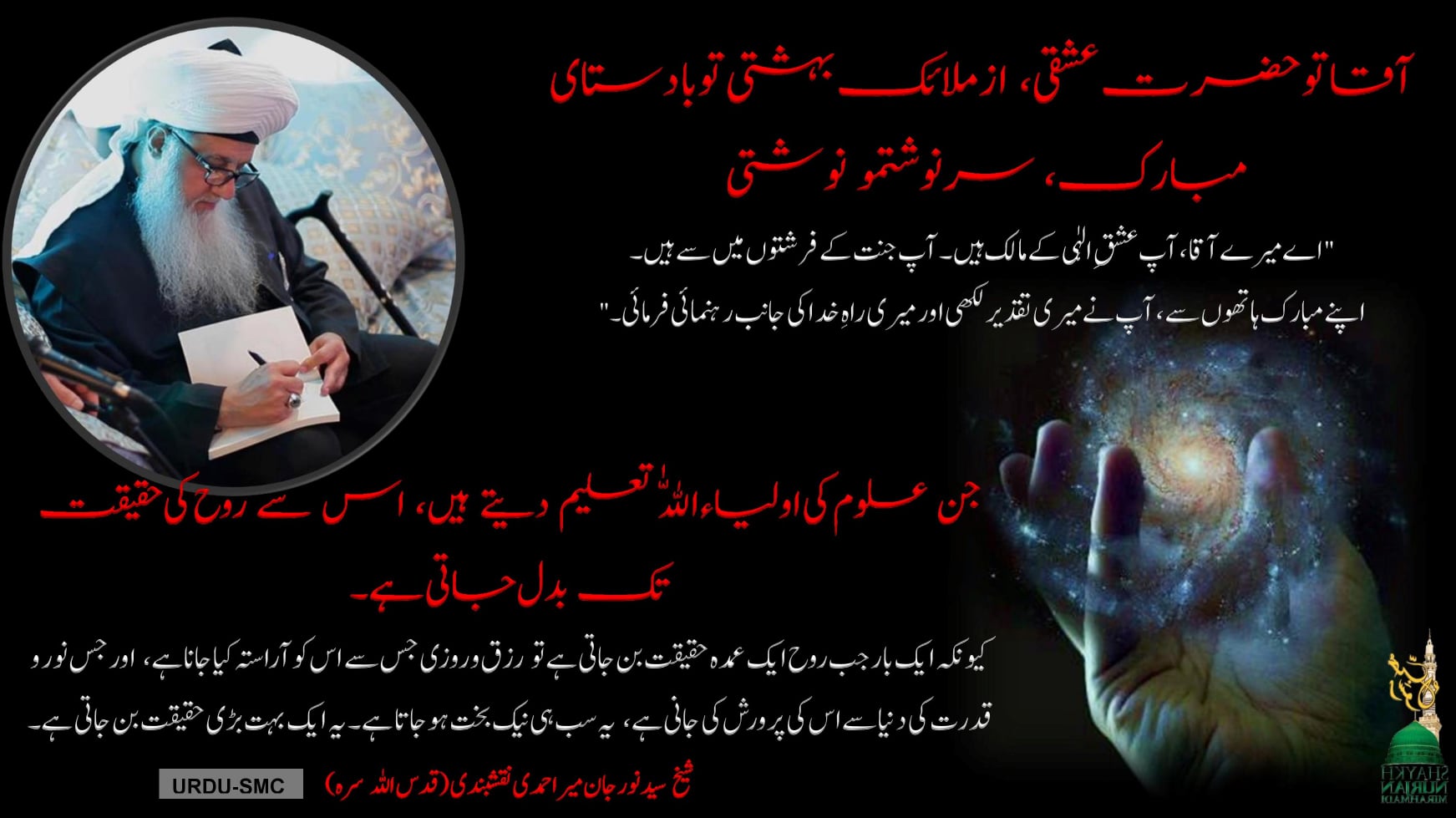 Urdu – سیدنا امام محمد مہدی علیہ السلام کی طاقتور ترین اینرجی کی ڈھال – سوالات و جوابات…
سیدنا امام محمد مہدی علیہ السلام کی طاقتور ترین اینرجی کی ڈھال – سوالات و جوابات (حصہ اوّل)
𝗦𝗮𝘆𝘆𝗶𝗱𝗻𝗮 𝗜𝗺𝗮𝗺 𝗠𝘂𝗵𝗮𝗺𝗺𝗮𝗱 𝗠𝗮𝗵𝗱𝗶 (𝗮𝘀) 𝗞𝗶 𝗧𝗮𝗾𝗮𝘁𝘄𝗮𝗿 𝗧𝗮𝗿𝗲𝗲𝗻 𝗘𝗻𝗲𝗿𝗴𝘆 𝗞𝗶 𝗗𝗵𝗮𝗮𝗹 – 𝗦𝗮𝘄𝗮𝗹𝗮𝘁-𝗼-𝗝𝗮𝘃𝗮𝗯𝗮𝘁 (𝗛𝗶𝘀𝘀𝗮 𝗔𝘄𝘄𝗮𝗹)
𝐈𝐦𝐚𝐦 𝐌𝐚𝐡𝐝𝐢'𝐬 𝐇𝐢𝐠𝐡-𝐏𝐨𝐰𝐞𝐫𝐞𝐝 𝐄𝐧𝐞𝐫𝐠𝐲 𝐒𝐡𝐢𝐞𝐥𝐝 𝐐&𝐀 [𝐏𝐚𝐫𝐭 – 𝟏]
——————————————–
——————————————–
شیخ سید نورجان میراحمدی نقشبندی (ق) کی سنہری تعلیمات سے اقتباس۔
بِسْمِ اللَّـهِ الرَّحْمَـٰنِ الرَّحِيمِ
اَلَّھُمَّ صَلِّ عَلَی سَیَّدِنَا محَمَّدٍ ﷺ وَعَلَی آلِ سَیَّدِنَا محَمَّدٍ ﷺ
اور اپنے لئے ہمیشہ کے لئے ایک یاد دہانی ہے کہ میں ایک عاجز و ضعیف و مسکین و ظالم و جاہل بندہ ہوں مگراللہ عزوجل کے فضل سے ہم ابھی بھی زندہ ہیں۔ اور یہ کہ، الحمدللہ ، اگر آپ کے سوالات ہیں تو آپ helpme@nurmuhammad.com پر ای میل کریں، انشاء اللہ اور صبر کریں۔ کوئی جلد بازی نہیں۔ اگر یہ کوئی ایمرجنسی ہے تو 911 پر ڈائل کریں۔ ایمرجنسی کے علاوہ الحمد اللہ، ہم ایک درخواست کرتے ہیں اور صبر کے ساتھ ، اللہ عزوجل ہمیں ایک جواب اور تجویز سے نوازے گا، انشاء اللہ۔
آج رات ہمارے پاس کیا (سوالات) ہیں؟ انشاء اللہ۔
سوال: السلام وعلیکم شیخ صاحب ، میں کشمیر سے ہوں۔ میرے والدین کا یکے بعد دیگرے دسمبر 2019 اور جنوری 2020 میں انتقال ہوگیا۔ 2018 میں ، انہوں نے حج کیا تھا۔ اب ہم صرف دو بہن بھائی رہ گئے ہیں۔ میرا سوال یہ ہے کہ میں کیا کروں کہ ان کے گناہ معاف ہوجائیں اور میں ان کا جنت میں داخلہ کیسے ممکن بنا سکتا ہوں؟ میں کیسے جان سکتا ہوں کہ وہ ٹھیک ہیں یا نہیں؟
شیخ سید نورجان میراحمدی نقشبندی (ق):
انشاء اللہ۔ اَعُوْذُ بِاللهِ مِنَ الشَّيْطَانِ الرَّجِيْمِ۔ بِسْمِ اللهِ الرَّحْمَنِ الرَّحِيمْ۔
انشاء اللہ ، ان سوالوں میں سے جو ان دنوں آتے ہیں ان میں سے کچھ ہیں جو آن لائن جواب دینے کے اہل ہیں، جس کا مطلب ہے کہ وہ بہت سے لوگوں پر لاگو ہوتے ہیں۔ یہ صرف ایک ذاتی سوال نہیں ہے۔ یہ انہی میں سے ایک تھا۔ ہماری زندگی خدمت کے بارے میں ہے۔ اوراللہ عزوجل کی رضا اور اطمینان کیسے حاصل کریں اور یہ کہ ہم اپنے ، اپنے کنبے ، اپنے بچوں اور اپنے پیاروں کا فائدہ چاہتے ہیں۔ اور یہ کہ ہر عمل، اگر یہ دنیا کے لئے کیا گیا ہے تو ، اس میں ایک محدود بھلائی ہے۔ اور آپ اس اچھائی سے فائدہ اٹھاتے ہیں اور ہم اپنی زندگی میں کوشش کرتے ہیں کہ وہ اعمال اور وہ کام انجام دیں جن کا ہم پر دائمی فیض رہے۔
اس کا مطلب یہ ہے کہ اللہ عزوجل کی راہ میں سب کچھ؛ ایک اینٹ ایک مسجد کے لئے، ایک مرکز کے لئے، صلوات النبی ﷺ کے لئے ، کتابوں کے لئے ، دعوة (مذہبی تشہیر)، علوم کیلئے – یہ سارے اعمال جو ہم کرتے ہیں، االلہ عزوجل کے راستے میں کی گئی ایک بھی خدمت، اس کے اندر ایک دائمی حقیقت موجود ہے۔ اور ہم اپنی زندگیوں میں کوشش کرتے ہیں کہ ہمیشہ اچھے اعمال کریں جو دائمی حقیقت کے حامل ہوں۔ کہ ہم جو کچھ بھی اس راستے میں کرتے ہیں ، وہ "جاریہ" کی طرح ہوجاتا ہے، یہ ہمارے پیاروں کی روحوں کے لئے ایک ابدی چشمہ بن جاتا ہے۔
اس کا مطلب ہے کہ جب ہمارے پاس دُنیا کی نئی چیز آتی ہے تو وہ خوش نہیں ہوتے۔ لیکن جیسے ہی ہم اپنے پیسوں سے، اپنے وقت کے ساتھ ، اپنی کوششوں سے ، اپنی صلاحیت کے ساتھ اللہ عزوجل کی راہ میں کچھ پیش کرتے ہیں ، تو یہ ابدی ہوجاتا ہے۔ اور یہی وجہ ہے کہ طریقت لوگوں کو خدمت گزاری کی جانب راغب کرتی ہے۔ اللہ پاک نے آپ کی صلاحیتوں ، آپ کے رزق و روزی ، آپ کے علم ، آپ کی افہام و تفہیم سے آپ کو جو کچھ بھی دیا ہے ، اس میں سے ، یا ربی ، ہم چاہتے ہیں کہ اس کی ابدی حقیقت کو حاصل کیا جاسکے۔ تو پھر اللہ عزوجل ہمارے دل میں الہام فرماتا ہے کہ ، 'پھر اسے آخرت کے لئے استعمال کریں ، دعوة کے لئے استعمال کریں ، اسے سیدنا محمد ﷺ کی محبت کے لئے استعمال کریں۔ اس محبت کی تشہیر کریں۔' لہذا ، ہم جو کچھ بھی اس ابدیت کی طرف کرتے ہیں وہ ان کی روح کو ملبوس کرنے لگتا ہیں۔ اس میں کوئی شک نہیں کہ اللہ عزوجل ، انشاء اللہ ، ہمارے ساتھ خوش رہے، نبی کریم ﷺ ہمارے ساتھ خوش رہیں۔ اگر وہ ہمارے ساتھ خوش رہیں گے تو اس میں کوئی شک نہیں کہ ہمارے والدین اور ہمارے پیاروں کی روحیں اس حقیقت سے ملبوس اور فیض یاب ہوں گی۔ اور نہ صرف اس کے ذریعہ ملبوس اور فیض یاب ہوں گی بلکہ اس کے ذریعہ اُن (کے درجات ) کو بلند بھی کیا جائے گا۔
اس کا مطلب یہ ہے کہ اولیا اللہ اور حقیقت المحمدیہ ﷺ کی کی خدمت میں کئے گئے کام حقیقت کے اعلی درجے کے کام ہیں۔ اور اسے دنیا کے لوگوں کی طرح سمجھا بھی نہیں جاسکتا۔ اس کا مطلب ہے اس علم کی تبلیغ ، اس علم کی تفہیم ، اس حقیقت کی صحبت میں زندگی گزارنا ، یہ سب ہمیں سیدنا محمد ﷺ کے دل کی طرف لے جا رہا ہوتا ہے۔ یہ کچھ ایسا نہیں ہے کہ کسی بھی بے مقصد چیز کی حمایت کی جائے، بہت دور سے اور یہ جانے بِنا کہ یہ اللہ عزوجل کی بارگاہ میں قبول بھی کیا گیا ہے یا نہیں۔ لیکن طروق اور حقیقت کا راستہ (یہ ہے کہ) وہ آتے ہیں اور وہ حقائق کی تشہیر کرتے ہیں، جسے وہ حقیقة المحمدیہ ﷺ کہتے ہیں، اعلیٰ حقائق وہ حقائق ہیں جن کا تعلق سیدنا محمد ﷺ کی حقیقت سے ہے۔
لہذا ، اس کا ناقابل تصور فائدہ اور برکات ہیں اور اس میں کوئی شک نہیں ، یہ روحوں پر ایک لباس کی مانند ہے ، ہماری ارواح کو آراستہ کرتا ہے ، ہر طرح کی دشواری ، ہر طرح کی برائی کو دور کرتا ہے ، ہر قسم کا تحفظ انہی اعمال کے ذریعہ آتا ہے۔ اور ہم بیان کر چکے ہیں کہ اس علم کے حصول سے حتٰی کہ آپ کی روح تک بدل جاتی ہے۔ لہذا ، جب صلوات جو وہ وہ تلاوت کرتے ہیں، "اپنے قلم سے ، آپ نے میرا مقدر بدل دیا ، اے میرے مرشد! اے میرے آقا!"
آقا تو حضرت عشقی، از ملائک بهشتی تو با دستای مبارک، سرنوشتمو نوشتی
اے میرے آقا ، آپ عشقِ الہٰی کے مالک ہیں۔ آپ جنت کے فرشتوں میں سے ہیں۔
اپنے مبارک ہاتھوں سے ، آپ نے میری تقدیر لکھی اور میری راہِ خدا کی جانب رہنمائی فرمائی۔
اس کا مطلب یہ ہے کہ جن علوم کی وہ تعلیم دیتے ہیں ، اس سے روح کی حقیقت بھی بدل جاتی ہے۔ اور اگر روح ان حقائق کے ذریعے ملبوس ہو ، ان حقائق کے ساتھ ملبوس ہوں ، اللہ عزوجل آخر کار اس روح سے متعلق ہر چیز کو بدل دے گا۔ کیونکہ ایک بار جب روح ایک عمدہ حقیقت بن جاتی ہے تو حتٰی کہ رزق و روزی بھی جس سے اس کو آراستہ کیا جانا ہے، ملبوس کیا جانا ہے اور جس نور و قدرت کی دنیا سے اس کی پرورش کی جانی ہے، یہ سب ہی نیک بخت ہوجاتا ہے۔ یہ سب ایک بہت بڑی حقیقت بن جاتی ہے۔ تو الحمد للہ ، کہ اللہ عزوجل نے ہمیں طروق (روحانی راستوں) کی طرف راغب کیا – یہ پہلی علامت تھی۔ اس کے بعد طروق کے علوم کی حمایت کرنا اور ان کا اطلاق کرنا۔ اور یہ ہمارے پیاروں کی، اور ہماری ابدی روحوں کو آراستہ کرتا ہے اور ہمارے پورے کنبے اور معاشرے کو فیض یاب کرتا ہے۔ انشاء اللہ۔
𝘈𝘶𝘳 𝘢𝘱𝘯𝘦 𝘭𝘪𝘺𝘦 𝘩𝘢𝘮𝘦𝘴𝘩𝘢 𝘬𝘦 𝘭𝘪𝘺𝘦 𝘢𝘪𝘬 𝘺𝘢𝘢𝘥 𝘥𝘦𝘩𝘢𝘯𝘪 𝘩𝘢𝘪 𝘬𝘦 𝘮𝘦𝘪𝘯 𝘢𝘪𝘬 𝘢𝘢𝘫𝘪𝘻 𝘰 𝘻𝘢𝘦𝘦𝘧 𝘰 𝘮𝘢𝘴𝘬𝘦𝘦𝘯 𝘰 𝘻𝘢𝘭𝘪𝘮 𝘰 𝘫𝘢𝘢𝘩𝘪𝘭 𝘣𝘢𝘯𝘥𝘢𝘩 𝘩𝘰𝘯 𝘮𝘢𝘨𝘢𝘳 𝘈𝘭𝘭𝘢𝘩 𝘢𝘻𝘻𝘸𝘢𝘫𝘢𝘭 𝘬𝘦 𝘧𝘢𝘻𝘭 𝘴𝘦 𝘩𝘶𝘮 𝘢𝘣𝘩𝘪 𝘣𝘩𝘪 𝘻𝘪𝘯𝘥𝘢𝘩 𝘩𝘢𝘪𝘯. 𝘈𝘶𝘳 𝘺𝘦𝘩 𝘬𝘦, 𝘈𝘭𝘩𝘢𝘮𝘥𝘶𝘭𝘪𝘭𝘭𝘢𝘩, 𝘢𝘨𝘢𝘳 𝘢𝘢𝘱 𝘬𝘦 𝘴𝘢𝘸𝘢𝘭𝘢𝘢𝘵 𝘩𝘢𝘪𝘯 𝘵𝘰 𝘢𝘢𝘱 𝘩𝘦𝘭𝘱𝘮𝘦@𝘯𝘶𝘳𝘮𝘶𝘩𝘢𝘮𝘮𝘢𝘥.𝘊𝘰𝘮 𝘱𝘢𝘳 𝘦-𝘮𝘢𝘪𝘭 𝘬𝘢𝘳𝘦𝘯, 𝘐𝘯𝘴𝘩𝘢 𝘈𝘭𝘭𝘢𝘩 𝘢𝘶𝘳 𝘴𝘢𝘣𝘳 𝘬𝘢𝘳𝘦𝘯. 𝘒𝘰𝘪 𝘫𝘢𝘭𝘥 𝘣𝘢𝘢𝘻𝘪 𝘯𝘢𝘩𝘪. 𝘈𝘨𝘢𝘳 𝘺𝘦𝘩 𝘬𝘰𝘪 𝘦𝘮𝘦𝘳𝘨𝘦𝘯𝘤𝘺 𝘩𝘢𝘪 𝘵𝘰 911 𝘱𝘢𝘳 𝘋𝘪𝘢𝘭 𝘬𝘢𝘳𝘦𝘯. 𝘌𝘮𝘦𝘳𝘨𝘦𝘯𝘤𝘺 𝘬𝘦 𝘪𝘭𝘢𝘸𝘢 𝘢𝘭𝘩𝘮𝘥 𝘈𝘭𝘭𝘢𝘩 , 𝘩𝘶𝘮 𝘢𝘪𝘬 𝘥𝘢𝘳𝘬𝘩𝘸𝘢𝘴𝘵 𝘬𝘢𝘳𝘵𝘦 𝘩𝘢𝘪𝘯 𝘢𝘶𝘳 𝘴𝘢𝘣𝘳 𝘬𝘦 𝘴𝘢𝘵𝘩, 𝘈𝘭𝘭𝘢𝘩 𝘢𝘻𝘻𝘸𝘢𝘫𝘢𝘭 𝘩𝘢𝘮𝘦𝘪𝘯 𝘢𝘪𝘬 𝘫𝘢𝘸𝘢𝘣 𝘢𝘶𝘳 𝘵𝘢𝘫𝘸𝘦𝘦𝘻 𝘴𝘦 𝘯𝘢𝘸𝘢𝘻𝘦 𝘨𝘢, 𝘐𝘯𝘴𝘩𝘢 𝘈𝘭𝘭𝘢𝘩.
𝘈𝘢𝘫 𝘳𝘢𝘢𝘵 𝘩𝘢𝘮𝘢𝘳𝘢𝘺 𝘱𝘢𝘢𝘴 𝘬𝘺𝘢 ( 𝘴𝘢𝘸𝘢𝘭𝘢𝘢𝘵 ) 𝘩𝘢𝘪𝘯? 𝘐𝘯𝘴𝘩𝘢 𝘈𝘭𝘭𝘢𝘩 .
𝘚𝘈𝘞𝘈𝘓 : 𝘈𝘴𝘚𝘢𝘭𝘢𝘮 𝘶 𝘈𝘭𝘢𝘪𝘬𝘶𝘮 𝘚𝘩𝘢𝘺𝘬𝘩 𝘴𝘢𝘩𝘪𝘣, 𝘮𝘦𝘪𝘯 𝘒𝘢𝘴𝘩𝘮𝘪𝘳 𝘴𝘦 𝘩𝘰𝘯. 𝘔𝘦𝘳𝘦 𝘸𝘢𝘭𝘪𝘥𝘢𝘪𝘯 𝘬𝘢 𝘺𝘢𝘬𝘬𝘦 𝘣𝘢𝘢𝘥 𝘥𝘦𝘦𝘨𝘳𝘢𝘺 𝘥𝘦𝘤𝘦𝘮𝘦𝘣𝘦𝘳 2019 𝘢𝘶𝘳 𝘑𝘢𝘯𝘶𝘢𝘳𝘺 2020 𝘮𝘦𝘪𝘯 𝘪𝘯𝘵𝘲𝘢𝘢𝘭 𝘩𝘰𝘨𝘢𝘺𝘢. 2018 𝘮𝘦𝘪𝘯, 𝘶𝘯𝘩𝘰𝘯 𝘯𝘦 𝘩𝘢𝘫𝘫 𝘬𝘺𝘢 𝘵𝘩𝘢. 𝘈𝘣 𝘩𝘶𝘮 𝘴𝘪𝘳𝘧 𝘥𝘰 𝘣𝘦𝘩𝘢𝘯 𝘣𝘩𝘢𝘪 𝘳𝘦𝘩 𝘨𝘢𝘺𝘦 𝘩𝘢𝘪𝘯. 𝘔𝘦𝘳𝘢 𝘴𝘢𝘸𝘢𝘭 𝘺𝘦𝘩 𝘩𝘢𝘪 𝘬𝘦 𝘮𝘦𝘪𝘯 𝘬𝘺𝘢 𝘬𝘢𝘳𝘰𝘰𝘯 𝘬𝘦 𝘶𝘯 𝘬𝘦 𝘨𝘶𝘯𝘢𝘩 𝘮𝘢𝘢𝘧 𝘩𝘰 𝘫𝘢𝘪𝘦𝘯 𝘢𝘶𝘳 𝘮𝘦𝘪𝘯 𝘶𝘯 𝘬𝘢 𝘫𝘢𝘯𝘯𝘢𝘵 𝘮𝘦𝘪𝘯 𝘥𝘢𝘬𝘩𝘭𝘢 𝘬𝘢𝘪𝘴𝘢𝘺 𝘮𝘶𝘮𝘬𝘪𝘯 𝘣𝘢𝘯𝘢 𝘴𝘢𝘬𝘵𝘢 𝘩𝘰𝘯? 𝘔𝘦𝘪𝘯 𝘬𝘢𝘪𝘴𝘢𝘺 𝘫𝘢𝘢𝘯 𝘴𝘢𝘬𝘵𝘢 𝘩𝘰𝘯 𝘬𝘦 𝘸𝘰𝘩 𝘵𝘩𝘦𝘦𝘬 𝘩𝘢𝘪𝘯 𝘺𝘢 𝘯𝘢𝘩𝘪 ?
𝘚𝘏𝘈𝘠𝘒𝘏 𝘚𝘠𝘌𝘋 𝘕𝘜𝘙𝘑𝘈𝘕 𝘔𝘐𝘙𝘈𝘏𝘔𝘈𝘋𝘐 𝘕𝘈𝘘𝘚𝘏𝘉𝘈𝘕𝘋𝘐 (𝘘):
𝘐𝘯𝘴𝘩𝘢 𝘈𝘭𝘭𝘢𝘩 , 𝘶𝘯 𝘴𝘢𝘭𝘢𝘸𝘰𝘯 𝘮𝘦𝘪𝘯 𝘴𝘦 𝘫𝘰 𝘪𝘯 𝘥𝘪𝘯𝘰𝘯 𝘢𝘵𝘢𝘺 𝘩𝘢𝘪𝘯 𝘶𝘯 𝘮𝘦𝘪𝘯 𝘴𝘦 𝘬𝘶𝘤𝘩 𝘩𝘢𝘪𝘯 𝘫𝘰 𝘰𝘯𝘭𝘪𝘯𝘦 𝘫𝘢𝘸𝘢𝘣 𝘥𝘢𝘪𝘯𝘢𝘺 𝘬𝘦 𝘢𝘩𝘢𝘭 𝘩𝘢𝘪𝘯, 𝘫𝘪𝘴 𝘬𝘢 𝘮𝘢𝘵𝘭𝘢𝘣 𝘩𝘢𝘪 𝘬𝘦 𝘸𝘰𝘩 𝘣𝘰𝘩𝘢𝘵 𝘴𝘦 𝘭𝘰𝘨𝘰𝘯 𝘱𝘢𝘳 𝘭𝘢𝘢𝘨𝘰 𝘩𝘰𝘵𝘢𝘺 𝘩𝘢𝘪𝘯. 𝘠𝘦𝘩 𝘴𝘪𝘳𝘧 𝘢𝘪𝘬 𝘻𝘢𝘢𝘵𝘪 𝘴𝘢𝘸𝘢𝘭 𝘯𝘢𝘩𝘪 𝘩𝘢𝘪. 𝘠𝘦𝘩 𝘶𝘯𝘩𝘪 𝘮𝘦𝘪𝘯 𝘴𝘦 𝘢𝘪𝘬 𝘵𝘩𝘢. 𝘏𝘢𝘮𝘢𝘳𝘪 𝘻𝘪𝘯𝘥𝘢𝘨𝘪 𝘬𝘩𝘪𝘥𝘮𝘢𝘵 𝘬𝘦 𝘣𝘢𝘳𝘢𝘺 𝘮𝘦𝘪𝘯 𝘩𝘢𝘪. 𝘈𝘷𝘳𝘢𝘭𝘭𝘩 𝘢𝘻𝘻𝘸𝘢𝘫𝘢𝘭 𝘬𝘪 𝘙𝘢𝘻𝘢 𝘢𝘶𝘳 𝘪𝘵𝘮𝘪𝘯𝘢𝘯 𝘬𝘢𝘪𝘴𝘢𝘺 𝘩𝘢𝘢𝘴𝘪𝘭 𝘬𝘢𝘳𝘦𝘯 𝘢𝘶𝘳 𝘺𝘦𝘩 𝘬𝘦 𝘩𝘶𝘮 𝘢𝘱𝘯𝘦, 𝘢𝘱𝘯𝘦 𝘬𝘯𝘣𝘦, 𝘢𝘱𝘯𝘦 𝘣𝘢𝘤𝘩𝘰𝘯 𝘢𝘶𝘳 𝘢𝘱𝘯𝘦 𝘱𝘺𝘢𝘳𝘰𝘯 𝘬𝘢 𝘧𝘢𝘪𝘥𝘢 𝘤𝘩𝘢𝘩𝘵𝘢𝘺 𝘩𝘢𝘪𝘯. 𝘈𝘶𝘳 𝘺𝘦𝘩 𝘬𝘦 𝘩𝘢𝘳 𝘢𝘮𝘢𝘭, 𝘢𝘨𝘢𝘳 𝘺𝘦𝘩 𝘥𝘶𝘯𝘪𝘺𝘢 𝘬𝘦 𝘭𝘪𝘺𝘦 𝘬𝘺𝘢 𝘨𝘢𝘺𝘢 𝘩𝘢𝘪 𝘵𝘰, 𝘪𝘴 𝘮𝘦𝘪𝘯 𝘢𝘪𝘬 𝘮𝘦𝘩𝘥𝘰𝘰𝘥 𝘣𝘩𝘢𝘭𝘢𝘪 𝘩𝘢𝘪. 𝘈𝘶𝘳 𝘢𝘢𝘱 𝘪𝘴 𝘢𝘤𝘩𝘩𝘢𝘪 𝘴𝘦 𝘧𝘢𝘪𝘥𝘢 𝘶𝘵𝘩𝘢𝘵𝘢𝘺 𝘩𝘢𝘪𝘯 𝘢𝘶𝘳 𝘩𝘶𝘮 𝘢𝘱𝘯𝘪 𝘻𝘪𝘯𝘥𝘢𝘨𝘪 𝘮𝘦𝘪𝘯 𝘬𝘰𝘴𝘩𝘪𝘴𝘩 𝘬𝘢𝘳𝘵𝘦 𝘩𝘢𝘪𝘯 𝘬𝘦 𝘸𝘰𝘩 𝘢𝘢𝘮𝘢𝘢𝘭 𝘢𝘶𝘳 𝘸𝘰𝘩 𝘬𝘢𝘢𝘮 𝘪𝘯𝘫𝘢𝘢𝘮 𝘥𝘦𝘯 𝘫𝘪𝘯 𝘬𝘢 𝘩𝘶𝘮 𝘱𝘢𝘳 𝘥𝘢𝘪𝘮𝘪 𝘍𝘢𝘪𝘻 𝘳𝘢𝘩𝘢𝘺 .
𝘐𝘴 𝘬𝘢 𝘮𝘢𝘵𝘭𝘢𝘣 𝘺𝘦𝘩 𝘩𝘢𝘪 𝘬𝘦 𝘈𝘭𝘭𝘢𝘩 𝘢𝘻𝘻𝘸𝘢𝘫𝘢𝘭 𝘬𝘪 𝘳𝘢𝘢𝘩 𝘮𝘦𝘪𝘯 𝘴𝘢𝘣 𝘬𝘶𝘤𝘩 𝘢𝘪𝘬 𝘦𝘦𝘯𝘵 𝘢𝘪𝘬 𝘮𝘢𝘴𝘫𝘪𝘥 𝘬𝘦 𝘭𝘪𝘺𝘦, 𝘢𝘪𝘬 𝘮𝘢𝘳𝘬𝘢𝘻 𝘬𝘦 𝘭𝘪𝘺𝘦, 𝘴𝘭𝘸𝘢𝘵 𝘢𝘭𝘯𝘣𝘪 (𝘚) 𝘬𝘦 𝘭𝘪𝘺𝘦, 𝘬𝘪𝘵𝘢𝘣𝘰𝘯 𝘬𝘦 𝘭𝘪𝘺𝘦, 𝘮𝘢𝘻𝘩𝘢𝘣𝘪 𝘵𝘢𝘴𝘩𝘩𝘦𝘦𝘳, 𝘢𝘭𝘰𝘰𝘮 𝘬𝘦 𝘭𝘪𝘺𝘦 – 𝘺𝘦𝘩 𝘴𝘢𝘢𝘳𝘢𝘺 𝘢𝘢𝘮𝘢𝘢𝘭 𝘫𝘰 𝘩𝘶𝘮 𝘬𝘢𝘳𝘵𝘦 𝘩𝘢𝘪𝘯, Allah 𝘢𝘻𝘻𝘸𝘢𝘫𝘢𝘭 𝘬𝘦 𝘳𝘢𝘴𝘵𝘢𝘺 𝘮𝘦𝘪𝘯 𝘬𝘪 𝘨𝘢𝘺𝘪 𝘢𝘪𝘬 𝘣𝘩𝘪 𝘬𝘩𝘪𝘥𝘮𝘢𝘵, 𝘪𝘴 𝘬𝘦 𝘢𝘯𝘥𝘢𝘳 𝘢𝘪𝘬 𝘥𝘢𝘪𝘮𝘪 𝘩𝘢𝘲𝘦𝘦𝘲𝘢𝘵 𝘮𝘰𝘫𝘰𝘰𝘥 𝘩𝘢𝘪. 𝘈𝘶𝘳 𝘩𝘶𝘮 𝘢𝘱𝘯𝘪 𝘻𝘪𝘯𝘥𝘢𝘨𝘪𝘰𝘯 𝘮𝘦𝘪𝘯 𝘬𝘰𝘴𝘩𝘪𝘴𝘩 𝘬𝘢𝘳𝘵𝘦 𝘩𝘢𝘪𝘯 𝘬𝘦 𝘩𝘢𝘮𝘦𝘴𝘩𝘢 𝘢𝘤𝘩𝘢𝘺 𝘢𝘢𝘮𝘢𝘢𝘭 𝘬𝘢𝘳𝘦𝘯 𝘫𝘰 𝘥𝘢𝘪𝘮𝘪 𝘩𝘢𝘲𝘦𝘦𝘲𝘢𝘵 𝘬𝘦 𝘩𝘢𝘢𝘮𝘪𝘭 𝘩𝘰𝘯. 𝘒𝘦 𝘩𝘶𝘮 𝘫𝘰 𝘬𝘶𝘤𝘩 𝘣𝘩𝘪 𝘪𝘴 𝘳𝘢𝘴𝘵𝘢𝘺 𝘮𝘦𝘪𝘯 𝘬𝘢𝘳𝘵𝘦 𝘩𝘢𝘪𝘯, 𝘸𝘰𝘩" 𝘑𝘢𝘳𝘪𝘢 " 𝘬𝘪 𝘵𝘦𝘳𝘩𝘢𝘯 𝘩𝘰𝘫𝘢𝘵𝘢 𝘩𝘢𝘪, 𝘺𝘦𝘩 𝘩𝘢𝘮𝘢𝘳𝘢𝘺 𝘱𝘺𝘢𝘳𝘰𝘯 𝘬𝘪 𝘳𝘰𝘰𝘩𝘰𝘯 𝘬𝘦 𝘭𝘪𝘺𝘦 𝘢𝘪𝘬 𝘢𝘣𝘥𝘪 𝘤𝘩𝘢𝘴𝘩𝘮𝘢 𝘣𝘢𝘯 𝘫𝘢𝘵𝘢 𝘩𝘢𝘪 .
𝘐𝘴 𝘬𝘢 𝘮𝘢𝘵𝘭𝘢𝘣 𝘩𝘢𝘪 𝘬𝘦 𝘫𝘢𝘣 𝘩𝘢𝘮𝘢𝘳𝘢𝘺 𝘱𝘢𝘢𝘴 𝘥𝘶𝘯𝘪𝘺𝘢 𝘬𝘪 𝘯𝘢𝘪 𝘤𝘩𝘦𝘦𝘻 𝘢𝘢𝘵𝘪 𝘩𝘢𝘪 𝘵𝘰 𝘸𝘰𝘩 𝘬𝘩𝘶𝘴𝘩 𝘯𝘢𝘩𝘪 𝘩𝘰𝘵𝘢𝘺. 𝘓𝘦𝘬𝘪𝘯 𝘫𝘢𝘪𝘴𝘢𝘺 𝘩𝘪 𝘩𝘶𝘮 𝘢𝘱𝘯𝘦 𝘱𝘢𝘪𝘴𝘰𝘯 𝘴𝘦, 𝘢𝘱𝘯𝘦 𝘸𝘢𝘲𝘵 𝘬𝘦 𝘴𝘢𝘵𝘩, 𝘢𝘱𝘯𝘪 𝘬𝘰𝘴𝘩𝘪𝘴𝘩𝘰 𝘴𝘦, 𝘢𝘱𝘯𝘪 𝘴𝘢𝘭𝘢𝘩𝘪𝘺𝘢𝘵 𝘬𝘦 𝘴𝘢𝘵𝘩 𝘈𝘭𝘭𝘢𝘩 𝘢𝘻𝘻𝘸𝘢𝘫𝘢𝘭 𝘬𝘪 𝘳𝘢𝘢𝘩 𝘮𝘦𝘪𝘯 𝘬𝘶𝘤𝘩 𝘱𝘢𝘪𝘴𝘩 𝘬𝘢𝘳𝘵𝘦 𝘩𝘢𝘪𝘯, 𝘵𝘰 𝘺𝘦𝘩 𝘢𝘣𝘥𝘪 𝘩𝘰𝘫𝘢𝘵𝘢 𝘩𝘢𝘪. 𝘈𝘶𝘳 𝘺𝘢𝘩𝘪 𝘸𝘢𝘫𝘢𝘩 𝘩𝘢𝘪 𝘬𝘦 𝘵𝘢𝘳𝘦𝘲𝘢𝘵 𝘭𝘰𝘨𝘰𝘯 𝘬𝘰 𝘬𝘩𝘪𝘥𝘮𝘢𝘵 𝘨𝘶𝘻𝘢𝘳𝘪 𝘬𝘪 𝘫𝘢𝘯𝘪𝘣 𝘙𝘢𝘨𝘩𝘪𝘣 𝘬𝘢𝘳𝘵𝘪 𝘩𝘢𝘪. 𝘈𝘭𝘭𝘢𝘩 𝘱𝘢𝘬 𝘯𝘦 𝘢𝘢𝘱 𝘬𝘪 𝘴𝘢𝘭𝘢𝘩𝘪𝘺𝘢𝘵𝘰𝘯, 𝘢𝘢𝘱 𝘬𝘦 𝘳𝘪𝘻𝘢𝘲 𝘰 𝘳𝘰𝘻𝘪, 𝘢𝘢𝘱 𝘬𝘦 𝘪𝘭𝘮, 𝘢𝘢𝘱 𝘬𝘪 𝘈𝘧𝘩𝘢𝘮 𝘰 𝘛𝘢𝘧𝘩𝘦𝘦𝘮 𝘴𝘦 𝘢𝘢𝘱 𝘬𝘰 𝘫𝘰 𝘬𝘶𝘤𝘩 𝘣𝘩𝘪 𝘥𝘪𝘺𝘢 𝘩𝘢𝘪, 𝘪𝘴 𝘮𝘦𝘪𝘯 𝘴𝘦, 𝘺𝘢 𝘳𝘢𝘣𝘣𝘪, 𝘩𝘶𝘮 𝘤𝘩𝘢𝘩𝘵𝘢𝘺 𝘩𝘢𝘪𝘯 𝘬𝘦 𝘪𝘴 𝘬𝘪 𝘢𝘣𝘥𝘪 𝘩𝘢𝘲𝘦𝘦𝘲𝘢𝘵 𝘬𝘰 𝘩𝘢𝘢𝘴𝘪𝘭 𝘬𝘺𝘢 𝘫𝘢𝘴𝘢𝘬𝘢𝘺. 𝘛𝘰 𝘱𝘩𝘪𝘳 𝘈𝘭𝘭𝘢𝘩 𝘢𝘻𝘻𝘸𝘢𝘫𝘢𝘭 𝘩𝘢𝘮𝘢𝘳𝘢𝘺 𝘥𝘪𝘭 𝘮𝘦𝘪𝘯 𝘪𝘭𝘩𝘢𝘮 𝘧𝘢𝘳𝘮𝘢𝘵𝘢 𝘩𝘢𝘪 𝘬𝘦,' 𝘱𝘩𝘪𝘳 𝘶𝘴𝘢𝘺 𝘢𝘬𝘩𝘪𝘳𝘢𝘵 𝘬𝘦 𝘭𝘪𝘺𝘦 𝘪𝘴𝘵𝘦𝘮𝘢𝘢𝘭 𝘬𝘢𝘳𝘦𝘯, 𝘥𝘢𝘷ة 𝘬𝘦 𝘭𝘪𝘺𝘦 𝘪𝘴𝘵𝘦𝘮𝘢𝘢𝘭 𝘬𝘢𝘳𝘦𝘯, 𝘶𝘴𝘢𝘺 𝘴𝘺𝘦𝘥𝘯𝘢 𝘔𝘰𝘩𝘢𝘮𝘮𝘢𝘥 (𝘚) 𝘬𝘪 𝘮𝘰𝘩𝘢𝘣𝘣𝘢𝘵 𝘬𝘦 𝘭𝘪𝘺𝘦 𝘪𝘴𝘵𝘦𝘮𝘢𝘢𝘭 𝘬𝘢𝘳𝘦𝘯. 𝘐𝘴 𝘮𝘰𝘩𝘢𝘣𝘣𝘢𝘵 𝘬𝘪 𝘵𝘢𝘴𝘩𝘩𝘦𝘦𝘳 𝘬𝘢𝘳𝘦𝘯.' 𝘭𝘦𝘩𝘢𝘻𝘢, 𝘩𝘶𝘮 𝘫𝘰 𝘬𝘶𝘤𝘩 𝘣𝘩𝘪 𝘪𝘴 𝘢𝘣𝘥𝘪𝘺𝘢𝘵 𝘬𝘪 𝘵𝘢𝘳𝘢𝘧 𝘬𝘢𝘳𝘵𝘦 𝘩𝘢𝘪𝘯 𝘸𝘰𝘩 𝘶𝘯 𝘬𝘪 𝘳𝘰𝘰𝘩 𝘬𝘰 𝘮𝘢𝘭𝘣𝘰𝘴 𝘬𝘢𝘳𝘯𝘦 𝘭𝘢𝘨𝘵𝘢 𝘩𝘢𝘪𝘯. 𝘐𝘴 𝘮𝘦𝘪𝘯 𝘬𝘰𝘪 𝘴𝘩𝘢𝘬 𝘯𝘢𝘩𝘪 𝘬𝘦 𝘈𝘭𝘭𝘢𝘩 𝘢𝘻𝘻𝘸𝘢𝘫𝘢𝘭, 𝘐𝘯𝘴𝘩𝘢 𝘈𝘭𝘭𝘢𝘩 , 𝘩𝘢𝘮𝘢𝘳𝘢𝘺 𝘴𝘢𝘵𝘩 𝘬𝘩𝘶𝘴𝘩 𝘳𝘢𝘩𝘢𝘺, 𝘯𝘢𝘣𝘪 𝘬𝘢𝘳𝘦𝘦𝘮 (𝘴) 𝘩𝘢𝘮𝘢𝘳𝘢𝘺 𝘴𝘢𝘵𝘩 𝘬𝘩𝘶𝘴𝘩 𝘳𝘢𝘩𝘦𝘯. 𝘈𝘨𝘢𝘳 𝘸𝘰𝘩 𝘩𝘢𝘮𝘢𝘳𝘢𝘺 𝘴𝘢𝘵𝘩 𝘬𝘩𝘶𝘴𝘩 𝘳𝘢𝘩𝘦𝘯 𝘨𝘦 𝘵𝘰 𝘪𝘴 𝘮𝘦𝘪𝘯 𝘬𝘰𝘪 𝘴𝘩𝘢𝘬 𝘯𝘢𝘩𝘪 𝘬𝘦 𝘩𝘢𝘮𝘢𝘳𝘢𝘺 𝘸𝘢𝘭𝘪𝘥𝘢𝘪𝘯 𝘢𝘶𝘳 𝘩𝘢𝘮𝘢𝘳𝘢𝘺 𝘱𝘺𝘢𝘳𝘰𝘯 𝘬𝘪 𝘳𝘰𝘰𝘩𝘦𝘪𝘯 𝘪𝘴 𝘩𝘢𝘲𝘦𝘦𝘲𝘢𝘵 𝘴𝘦 𝘮𝘢𝘭𝘣𝘰𝘴 𝘢𝘶𝘳 𝘍𝘢𝘪𝘻 𝘺𝘢𝘣 𝘩𝘰𝘯 𝘨𝘪. 𝘈𝘶𝘳 𝘯𝘢𝘩 𝘴𝘪𝘳𝘧 𝘪𝘴 𝘬𝘦 𝘻𝘢𝘳𝘦𝘺𝘢 𝘮𝘢𝘭𝘣𝘰𝘴 𝘢𝘶𝘳 𝘍𝘢𝘪𝘻 𝘺𝘢𝘣 𝘩𝘰𝘯 𝘨𝘪 𝘣𝘢𝘭𝘬𝘢𝘺 𝘪𝘴 𝘬𝘦 𝘻𝘢𝘳𝘦𝘺𝘢 𝘶𝘯𝘯 ( 𝘬𝘦 𝘥𝘢𝘳𝘫𝘢𝘢𝘵 ) 𝘬𝘰 𝘣𝘶𝘭𝘢𝘯𝘥 𝘣𝘩𝘪 𝘬𝘺𝘢 𝘫𝘢𝘺𝘦 𝘨𝘢 .
𝘐𝘴 𝘬𝘢 𝘮𝘢𝘵𝘭𝘢𝘣 𝘺𝘦𝘩 𝘩𝘢𝘪 𝘬𝘦 𝘈𝘰𝘭𝘪𝘢 𝘈𝘭𝘭𝘢𝘩 𝘢𝘶𝘳 𝘩𝘢𝘲𝘦𝘦𝘲𝘢𝘵 𝘢𝘭-𝘔𝘶𝘩𝘢𝘮𝘮𝘢𝘥𝘪𝘺𝘢𝘩 (𝘴) 𝘬𝘪 𝘬𝘩𝘪𝘥𝘮𝘢𝘵 𝘮𝘦𝘪𝘯 𝘬𝘪𝘺𝘦 𝘨𝘢𝘺𝘦 𝘬𝘢𝘢𝘮 𝘩𝘢𝘲𝘦𝘦𝘲𝘢𝘵 𝘬𝘦 𝘢𝘢𝘭𝘢 𝘥𝘢𝘳𝘫𝘢𝘺 𝘬𝘦 𝘬𝘢𝘢𝘮 𝘩𝘢𝘪𝘯. 𝘈𝘶𝘳 𝘶𝘴𝘢𝘺 𝘥𝘶𝘯𝘪𝘺𝘢 𝘬𝘦 𝘭𝘰𝘨𝘰𝘯 𝘬𝘪 𝘵𝘦𝘳𝘩𝘢𝘯 𝘴𝘢𝘮𝘫𝘩𝘢 𝘣𝘩𝘪 𝘯𝘢𝘩𝘪 𝘫𝘢 𝘴𝘢𝘬𝘵𝘢. 𝘐𝘴 𝘬𝘢 𝘮𝘢𝘵𝘭𝘢𝘣 𝘩𝘢𝘪 𝘪𝘴 𝘪𝘭𝘮 𝘬𝘪 𝘵𝘢𝘣𝘭𝘦𝘦𝘨𝘩, 𝘪𝘴 𝘪𝘭𝘮 𝘬𝘪 𝘛𝘢𝘧𝘩𝘦𝘦𝘮 , 𝘪𝘴 𝘩𝘢𝘲𝘦𝘦𝘲𝘢𝘵 𝘬𝘪 𝘴𝘰𝘩𝘣𝘢𝘵 𝘮𝘦𝘪𝘯 𝘻𝘪𝘯𝘥𝘢𝘨𝘪 𝘨𝘶𝘻𝘢𝘢𝘳𝘯𝘢, 𝘺𝘦𝘩 𝘴𝘢𝘣 𝘩𝘢𝘮𝘦𝘪𝘯 𝘴𝘺𝘦𝘥𝘯𝘢 𝘔𝘰𝘩𝘢𝘮𝘮𝘢𝘥 (𝘚) 𝘬𝘦 𝘥𝘪𝘭 𝘬𝘪 𝘵𝘢𝘳𝘢𝘧 𝘭𝘦 𝘫𝘢 𝘳𝘢𝘩𝘢 𝘩𝘰𝘵𝘢 𝘩𝘢𝘪. 𝘠𝘦𝘩 𝘬𝘶𝘤𝘩 𝘢𝘪𝘴𝘢 𝘯𝘢𝘩𝘪 𝘩𝘢𝘪 𝘬𝘦 𝘬𝘪𝘴𝘪 𝘣𝘩𝘪 𝘣𝘦 𝘮𝘢𝘲𝘴𝘢𝘥 𝘤𝘩𝘦𝘦𝘻 𝘬𝘪 𝘩𝘪𝘮𝘢𝘺𝘢𝘵 𝘬𝘪 𝘫𝘢𝘺𝘦, 𝘣𝘰𝘩𝘢𝘵 𝘥𝘢𝘶𝘳 𝘴𝘦 𝘢𝘶𝘳 𝘺𝘦𝘩 𝘫𝘢𝘯𝘦 bina 𝘬𝘦 𝘺𝘦𝘩 𝘈𝘭𝘭𝘢𝘩 𝘢𝘻𝘻𝘸𝘢𝘫𝘢𝘭 𝘬𝘪 𝘣𝘢𝘳𝘨𝘢𝘢𝘩 𝘮𝘦𝘪𝘯 𝘲𝘶𝘣𝘰𝘰𝘭 𝘣𝘩𝘪 𝘬𝘺𝘢 𝘨𝘢𝘺𝘢 𝘩𝘢𝘪 𝘺𝘢 𝘯𝘢𝘩𝘪. 𝘓𝘦𝘬𝘪𝘯 𝘵𝘶𝘳𝘰𝘰𝘲 𝘢𝘶𝘳 𝘩𝘢𝘲𝘦𝘦𝘲𝘢𝘵 𝘬𝘢 𝘳𝘢𝘴𝘵𝘢 ( 𝘺𝘦𝘩 𝘩𝘢𝘪 𝘬𝘦 ) 𝘸𝘰𝘩 𝘢𝘵𝘢𝘺 𝘩𝘢𝘪𝘯 𝘢𝘶𝘳 𝘸𝘰𝘩 𝘩𝘢𝘲𝘢𝘺𝘪𝘲 𝘬𝘪 𝘵𝘢𝘴𝘩𝘩𝘦𝘦𝘳 𝘬𝘢𝘳𝘵𝘦 𝘩𝘢𝘪𝘯, 𝘫𝘪𝘴𝘢𝘺 𝘸𝘰𝘩 𝘩𝘢𝘲𝘦𝘦𝘲𝘢𝘵 𝘢𝘭-𝘔𝘶𝘩𝘢𝘮𝘮𝘢𝘥𝘪𝘺𝘢𝘩 (𝘴) 𝘬𝘦𝘩𝘵𝘦 𝘩𝘢𝘪𝘯, 𝘢𝘢𝘭𝘢 𝘩𝘢𝘲𝘢𝘺𝘪𝘲 𝘸𝘰𝘩 𝘩𝘢𝘲𝘢𝘺𝘪𝘲 𝘩𝘢𝘪𝘯 𝘫𝘪𝘯 𝘬𝘢 𝘵𝘢𝘭𝘭𝘶𝘲 𝘴𝘺𝘦𝘥𝘯𝘢 𝘔𝘰𝘩𝘢𝘮𝘮𝘢𝘥 (𝘚) 𝘬𝘪 𝘩𝘢𝘲𝘦𝘦𝘲𝘢𝘵 𝘴𝘦 𝘩𝘢𝘪 .
𝘓𝘦𝘩𝘢𝘻𝘢, 𝘪𝘴 𝘬𝘢 𝘯𝘢 𝘲𝘢𝘣𝘪𝘭 𝘵𝘢𝘴𝘢𝘸𝘸𝘶𝘳 𝘧𝘢𝘪𝘥𝘢 𝘢𝘶𝘳 𝘉𝘢𝘳𝘬𝘢𝘢𝘵 𝘩𝘢𝘪𝘯 𝘢𝘶𝘳 𝘪𝘴 𝘮𝘦𝘪𝘯 𝘬𝘰𝘪 𝘴𝘩𝘢𝘬 𝘯𝘢𝘩𝘪, 𝘺𝘦𝘩 𝘳𝘰𝘰𝘩𝘰𝘯 𝘱𝘢𝘳 𝘢𝘪𝘬 𝘭𝘪𝘣𝘢𝘢𝘴 𝘬𝘪 𝘮𝘢𝘯𝘪𝘯𝘥 𝘩𝘢𝘪, 𝘩𝘢𝘮𝘢𝘳𝘪 𝘢𝘳𝘸𝘢𝘩 𝘬𝘰 𝘢𝘢𝘳𝘢𝘴𝘵𝘢 𝘬𝘢𝘳𝘵𝘢 𝘩𝘢𝘪, 𝘩𝘢𝘳 𝘵𝘦𝘳𝘩𝘢𝘯 𝘬𝘪 𝘥𝘶𝘴𝘩𝘸𝘢𝘳𝘪, 𝘩𝘢𝘳 𝘵𝘦𝘳𝘩𝘢𝘯 𝘬𝘪 𝘣𝘶𝘳𝘢𝘪𝘦𝘦 𝘬𝘰 𝘥𝘢𝘶𝘳 𝘬𝘢𝘳𝘵𝘢 𝘩𝘢𝘪, 𝘩𝘢𝘳 𝘲𝘪𝘴𝘢𝘮 𝘬𝘢 𝘵𝘢𝘩𝘢𝘧𝘧𝘶𝘻 𝘶𝘯𝘩𝘪 𝘢𝘢𝘮𝘢𝘢𝘭 𝘬𝘦 𝘻𝘢𝘳𝘦𝘺𝘢 𝘢𝘢𝘵𝘢 𝘩𝘢𝘪. 𝘈𝘶𝘳 𝘩𝘶𝘮 𝘣𝘢𝘺𝘢𝘯 𝘬𝘢𝘳 𝘤𝘩𝘶𝘬𝘦 𝘩𝘢𝘪𝘯 𝘬𝘦 𝘪𝘴 𝘪𝘭𝘮 𝘬𝘦 𝘩𝘶𝘴𝘰𝘰𝘭 𝘴𝘦 𝘩𝘢𝘵𝘵𝘢 𝘬𝘦 𝘢𝘢𝘱 𝘬𝘪 𝘳𝘰𝘰𝘩 𝘵𝘢𝘬 𝘣𝘢𝘥𝘢𝘭 𝘫𝘢𝘵𝘪 𝘩𝘢𝘪. 𝘓𝘦𝘩𝘢𝘻𝘢, 𝘫𝘢𝘣 𝘴𝘭𝘸𝘢𝘵 𝘫𝘰 𝘸𝘰𝘩 𝘸𝘰𝘩 𝘵𝘪𝘭𝘢𝘸𝘢𝘵 𝘬𝘢𝘳𝘵𝘦 𝘩𝘢𝘪𝘯, "𝘢𝘱𝘯𝘢𝘺 𝘲𝘢𝘭𝘢𝘮 𝘴𝘦, 𝘢𝘢𝘱 𝘯𝘦 𝘮𝘦𝘳𝘢 𝘮𝘶𝘲𝘢𝘥𝘥𝘢𝘳 𝘣𝘢𝘥𝘢𝘭 𝘥𝘪𝘺𝘢, 𝘢𝘦 𝘮𝘦𝘳𝘦 𝘮𝘶𝘳𝘴𝘩𝘪𝘥! 𝘈𝘦 𝘮𝘦𝘳𝘦 𝘢𝘢𝘲𝘢! "
𝘈𝘢q𝘢 𝘵𝘰 𝘩𝘢𝘻𝘳𝘢𝘵𝘦 𝘦𝘴𝘩𝘲𝘪 𝘈𝘻 𝘮𝘢𝘭𝘢𝘺𝘦𝘬𝘦 𝘣𝘦𝘩𝘦𝘴𝘩𝘵𝘪
𝘛𝘰 𝘣𝘢𝘢 𝘥𝘢𝘴𝘵𝘢𝘢𝘺𝘦 𝘮𝘶𝘣𝘢𝘳𝘢𝘬 𝘚𝘢𝘳𝘯𝘦𝘸𝘦𝘴𝘩𝘵𝘢𝘮𝘰 𝘯𝘦𝘸𝘦𝘴𝘩𝘵𝘪
𝘈𝘦 𝘮𝘦𝘳𝘦 𝘢𝘢𝘲𝘢, 𝘢𝘢𝘱 ishqe 𝘌𝘭𝘭𝘢𝘩𝘪 𝘬𝘦 𝘮𝘢𝘢𝘭𝘪𝘬 𝘩𝘢𝘪𝘯. 𝘈𝘢𝘱 𝘫𝘢𝘯𝘯𝘢𝘵 𝘬𝘦 𝘧𝘪𝘳𝘴𝘩𝘵𝘰𝘯 𝘮𝘦𝘪𝘯 𝘴𝘦 𝘩𝘢𝘪𝘯 .
𝘈𝘱𝘯𝘦 𝘮𝘶𝘣𝘢𝘳𝘢𝘬 𝘩𝘢𝘵𝘩𝘰𝘯 𝘴𝘦, 𝘢𝘢𝘱 𝘯𝘦 𝘮𝘦𝘳𝘪 𝘵𝘢𝘲𝘥𝘦𝘦𝘳 𝘭𝘪𝘬𝘩𝘪 𝘢𝘶𝘳 𝘮𝘦𝘳𝘪 𝘳𝘢𝘢𝘩 𝘦 𝘬𝘬𝘩𝘶𝘥𝘢 𝘬𝘪 𝘫𝘢𝘯𝘪𝘣 𝘳𝘢𝘩𝘯𝘶𝘮𝘢𝘪 𝘧𝘢𝘳𝘮𝘢𝘪 .
𝘐𝘴 𝘬𝘢 𝘮𝘢𝘵𝘭𝘢𝘣 𝘺𝘦𝘩 𝘩𝘢𝘪 𝘬𝘦 𝘫𝘪𝘯 𝘢𝘭𝘰𝘰𝘮 𝘬𝘪 𝘸𝘰𝘩 𝘵𝘢𝘭𝘦𝘦𝘮 𝘥𝘦𝘵𝘦 𝘩𝘢𝘪𝘯, 𝘪𝘴 𝘴𝘦 𝘳𝘰𝘰𝘩 𝘬𝘪 𝘩𝘢𝘲𝘦𝘦𝘲𝘢𝘵 𝘣𝘩𝘪 𝘣𝘢𝘥𝘢𝘭 𝘫𝘢𝘵𝘪 𝘩𝘢𝘪. 𝘈𝘶𝘳 𝘢𝘨𝘢𝘳 𝘳𝘰𝘰𝘩 𝘶𝘯 𝘩𝘢𝘲𝘢𝘺𝘪𝘲 𝘬𝘦 𝘻𝘢𝘳𝘪𝘺𝘦 𝘮𝘢𝘭𝘣𝘰𝘴 𝘩𝘰, 𝘶𝘯 𝘩𝘢𝘲𝘢𝘺𝘪𝘲 𝘬𝘦 𝘴𝘢𝘵𝘩 𝘮𝘢𝘭𝘣𝘰𝘴 𝘩𝘰𝘯, 𝘈𝘭𝘭𝘢𝘩 𝘢𝘻𝘻𝘸𝘢𝘫𝘢𝘭 𝘢𝘢𝘬𝘩𝘪𝘳-𝘬𝘢𝘢𝘳 𝘪𝘴 𝘳𝘰𝘰𝘩 𝘴𝘦 𝘮𝘶𝘵𝘢𝘭𝘪𝘲 𝘩𝘢𝘳 𝘤𝘩𝘦𝘦𝘻 𝘬𝘰 𝘣𝘢𝘥𝘢𝘭 𝘥𝘢𝘺 𝘨𝘢. 𝘒𝘺𝘶𝘯𝘬𝘢𝘺 𝘢𝘪𝘬 𝘣𝘢𝘢𝘳 𝘫𝘢𝘣 𝘳𝘰𝘰𝘩 𝘢𝘪𝘬 𝘶𝘮𝘥𝘢𝘩 𝘩𝘢𝘲𝘦𝘦𝘲𝘢𝘵 𝘣𝘢𝘯 𝘫𝘢𝘵𝘪 𝘩𝘢𝘪 𝘵𝘰 𝘩𝘢𝘵𝘵𝘢 𝘬𝘦 𝘳𝘪𝘻𝘢𝘲 𝘰 𝘳𝘰𝘻𝘪 𝘣𝘩𝘪 𝘫𝘪𝘴 𝘴𝘦 𝘪𝘴 𝘬𝘰 𝘢𝘢𝘳𝘢𝘴𝘵𝘢 𝘬𝘺𝘢 𝘫𝘢𝘯𝘢 𝘩𝘢𝘪, 𝘮𝘢𝘭𝘣𝘰𝘴 𝘬𝘺𝘢 𝘫𝘢𝘯𝘢 𝘩𝘢𝘪 𝘢𝘶𝘳 𝘫𝘪𝘴 𝘯𝘰𝘰𝘳 𝘰 𝘲𝘶𝘥𝘳𝘢𝘵 𝘬𝘪 𝘥𝘶𝘯𝘪𝘺𝘢 𝘴𝘦 𝘪𝘴 𝘬𝘪 𝘱𝘢𝘳𝘸𝘢𝘳𝘪𝘴𝘩 𝘬𝘪 𝘫𝘢𝘯𝘪 𝘩𝘢𝘪, 𝘺𝘦𝘩 𝘴𝘢𝘣 𝘩𝘪 𝘯𝘢𝘪𝘬 𝘣𝘪𝘬𝘩𝘢𝘵 𝘩𝘰𝘫𝘢𝘵𝘢 𝘩𝘢𝘪. 𝘠𝘦𝘩 𝘴𝘢𝘣 𝘢𝘪𝘬 𝘣𝘰𝘩𝘢𝘵 𝘣𝘢𝘳𝘳𝘪 𝘩𝘢𝘲𝘦𝘦𝘲𝘢𝘵 𝘣𝘢𝘯 𝘫𝘢𝘵𝘪 𝘩𝘢𝘪. 𝘛𝘰 𝘢𝘭𝘩𝘮𝘥 𝘭𝘪𝘭𝘭𝘢𝘩, 𝘬𝘦 𝘈𝘭𝘭𝘢𝘩 𝘢𝘻𝘻𝘸𝘢𝘫𝘢𝘭 𝘯𝘦 𝘩𝘢𝘮𝘦𝘪𝘯 𝘙𝘰𝘩𝘢𝘯𝘪 𝘳𝘢𝘢𝘴𝘵𝘰𝘰𝘯 𝘬𝘪 𝘵𝘢𝘳𝘢𝘧 𝘙𝘢𝘨𝘩𝘪𝘣 𝘬𝘺𝘢 – 𝘺𝘦𝘩 𝘱𝘦𝘩𝘭𝘪 𝘢𝘭𝘢𝘮𝘢𝘵 𝘵𝘩𝘪. 𝘐𝘴 𝘬𝘦 𝘣𝘢𝘢𝘥 𝘵𝘢𝘳𝘰𝘰𝘲 𝘬𝘦 𝘢𝘭𝘰𝘰𝘮 𝘬𝘪 𝘩𝘪𝘮𝘢𝘺𝘢𝘵 𝘬𝘢𝘳𝘯𝘢 𝘢𝘶𝘳 𝘶𝘯 𝘬𝘢 𝘪𝘵𝘭𝘢𝘲 𝘬𝘢𝘳𝘯𝘢. 𝘈𝘶𝘳 𝘺𝘦𝘩 𝘩𝘢𝘮𝘢𝘳𝘢𝘺 𝘱𝘺𝘢𝘳𝘰𝘯 𝘬𝘪, 𝘢𝘶𝘳 𝘩𝘢𝘮𝘢𝘳𝘪 𝘢𝘣𝘥𝘪 𝘳𝘰𝘰𝘩𝘰𝘯 𝘬𝘰 𝘢𝘢𝘳𝘢𝘴𝘵𝘢 𝘬𝘢𝘳𝘵𝘢 𝘩𝘢𝘪 𝘢𝘶𝘳 𝘩𝘢𝘮𝘢𝘳𝘢𝘺 𝘱𝘰𝘰𝘰𝘳𝘢𝘺 𝘬𝘯𝘣𝘦 𝘢𝘶𝘳 𝘮𝘶𝘢𝘴𝘩𝘳𝘢𝘺 𝘬𝘰 𝘍𝘢𝘪𝘻 𝘺𝘢𝘣 𝘬𝘢𝘳𝘵𝘢 𝘩𝘢𝘪. 𝘐𝘯𝘴𝘩𝘢 𝘈𝘭𝘭𝘢𝘩 .
And always a reminder for myself ana abdukal 'ajeez, wa dayeef, wa miskin, wa zhalim, wa jahl and but for the Grace of Allah (AJ) that we are still in existence. And that alhamdulillah, that if you have questions you email helpme@nurmuhammad.com, inshaallah and be patient. There is no rush. If this is an emergency, then dial 911. Other than an emergency then alhamdulillah, we make a request and with sabr and patience, Allah (AJ) inspire within us an answer and suggestions, inshaallah. What do we have for tonight, inshaallah?
𝐐𝐔𝐄𝐒𝐓𝐈𝐎𝐍 𝟏: 𝐀𝐬 𝐒𝐚𝐥𝐚𝐦𝐮 𝐚𝐥𝐚𝐢𝐤𝐮𝐦 𝐒𝐡𝐚𝐲𝐤𝐡 𝐒𝐚𝐡𝐢𝐛, 𝐈 𝐚𝐦 𝐟𝐫𝐨𝐦 𝐊𝐚𝐬𝐡𝐦𝐢𝐫. 𝐌𝐲 𝐩𝐚𝐫𝐞𝐧𝐭𝐬 𝐩𝐚𝐬𝐬𝐞𝐝 𝐚𝐰𝐚𝐲 𝐨𝐧𝐞 𝐚𝐟𝐭𝐞𝐫 𝐚𝐧𝐨𝐭𝐡𝐞𝐫 𝐢𝐧 𝐃𝐞𝐜𝐞𝐦𝐛𝐞𝐫 𝟐𝟎𝟏𝟗 𝐚𝐧𝐝 𝐉𝐚𝐧𝐮𝐚𝐫𝐲 𝟐𝟎𝟐𝟎, 𝐫𝐞𝐬𝐩𝐞𝐜𝐭𝐢𝐯𝐞𝐥𝐲. 𝐈𝐧 𝟐𝟎𝟏𝟖, 𝐭𝐡𝐞𝐲 𝐩𝐞𝐫𝐟𝐨𝐫𝐦𝐞𝐝 𝐇𝐚𝐣𝐣 (𝐩𝐢𝐥𝐠𝐫𝐢𝐦𝐚𝐠𝐞). 𝐍𝐨𝐰 𝐰𝐞'𝐫𝐞 𝐣𝐮𝐬𝐭 𝐭𝐰𝐨 𝐬𝐢𝐛𝐥𝐢𝐧𝐠𝐬 𝐥𝐞𝐟𝐭. 𝐌𝐲 𝐪𝐮𝐞𝐬𝐭𝐢𝐨𝐧 𝐢𝐬 𝐰𝐡𝐚𝐭 𝐬𝐡𝐨𝐮𝐥𝐝 𝐈 𝐝𝐨 𝐭𝐡𝐚𝐭 𝐭𝐡𝐞𝐢𝐫 𝐬𝐢𝐧𝐬 𝐛𝐞 𝐟𝐨𝐫𝐠𝐢𝐯𝐞𝐧 𝐚𝐧𝐝 𝐡𝐨𝐰 𝐜𝐚𝐧 𝐈 𝐦𝐚𝐤𝐞 𝐭𝐡𝐞𝐦 𝐞𝐧𝐭𝐞𝐫 𝐩𝐚𝐫𝐚𝐝𝐢𝐬𝐞? 𝐇𝐨𝐰 𝐜𝐚𝐧 𝐈 𝐜𝐨𝐦𝐞 𝐭𝐨 𝐤𝐧𝐨𝐰 𝐰𝐡𝐞𝐭𝐡𝐞𝐫 𝐭𝐡𝐞𝐲 𝐚𝐫𝐞 𝐟𝐢𝐧𝐞?
𝐒𝐡𝐚𝐲𝐤𝐡 𝐍𝐮𝐫𝐣𝐚𝐧 𝐌𝐢𝐫𝐚𝐡𝐦𝐚𝐝𝐢 (𝐐): inshaallah. A'udhu Billahi Minash Shaitanir Rajeem Bismillahir Rahmanir Raheem. Inshaallah, from the questions that come in then some of them that are worthy of being answered online which means that they're applicable to many people. It's not just a personal question. This one was one of those that our life is about service. And how to reach Allah's (AJ) rida and satisfaction and that we want benefit for ourselves, our family, our children, and our loved ones. And that every amal (good action), if it's done for dunya (material world), has a limited good. And you take the benefit of that good and we try in our lives to do the amal and the actions that have an eternal dress upon them.
This means that everything in the way of Allah (AJ); a brick for a masjid, for a center, for salawats (praises upon Prophet Muhammad ﷺ), for books, for dawah (religious propagation), for knowledges – all of these actions that we do a khidmat and a service in Allah's (AJ) way has an eternal reality within it. And we seek in our lives to do the amals best that have an eternal reality. That everything we do in that way, it become like a jariyah, it become an eternal fountain towards the souls of our loved ones.
It means they don't sit there happy when we have new dunya items. But as soon as we do something in the way of Allah (AJ) with our money, with our time, with our efforts, with our ability, it becomes eternal. And that's why the tariqah (spiritual path) comes to inspire people towards a khidmat and service. That of what Allah (AJ) gave to you of your abilities, of your rizq, your sustenance, your knowledges, your understanding, we want, Ya Rabbi, to achieve its eternal reality. So, then Allah (AJ) inspire within our heart, 'Then use it for akhirah (hereafter), use it for the dawah, use it for the love of Sayyidina Muhammad ﷺ. Propagate that love.' So, anything that we do towards that eternity dresses their souls. No doubt that Allah (AJ), inshaallah, be happy with us, Prophet ﷺ be happy with us. If they're happy be with us then no doubt that our parents and the souls of our loved ones to be dressed and blessed from that reality. And not only to be dressed and blessed by it, but to be raised by it.
This means the actions towards the realities of awliyaullah (saints) and Haqqiqatul Muhammadiyah (the Muhammadan Reality) is of the highest level of realities. And that can't even be understood in the way of the people of dunya. It means the propagation of that knowledge, the understanding of that knowledge, to live a life accompanying that reality, it's taking us to the heart of Sayyidina Muhammad ﷺ. It's not just like supporting something random, far away and don't know if it's accepted or not by Allah (AJ). But the turuqs (spiritual paths) and the way of reality that come and they propagate the haqqaiqs (realities) – what they call Haqqiqatul Muhammadiyah of the highest realities are the realities in relation to the reality of Sayyidina Muhammad ﷺ.
So, that has unimaginable benefit and blessings and no doubt, it's a dress upon the souls, dress upon our souls, take away every type of difficulty, every type of badness, every type of protection comes through these actions. And that we said even the acquisition of this knowledge changes your soul. So, when the salawat that they recite that, 'With your qalam (pen), you changed the destiny of me, O my teacher! O my master!'
آقا تو حضرت عشقی، از ملائک بهشتی تو با دستای مبارک، سرنوشتمو نوشتی
Aagha to hazrate eshqi Az malayeke beheshti
To baa dastaaye mubarak Sarneweshtamo neweshti
O my Master, you are a master of divinely love. You are from the angels of paradise.
With your blessed hands, you wrote my destiny and guided me to the Divine's path.
This means that with the knowledges they teach, it changes the reality of even the soul. And if the soul be dressed by those haqqaiqs, dressed by those haqqaiqs, Allah (AJ) eventually change everything related to that soul. Because once the soul becomes of a noble reality, even the rizq and the sustenance that has to dress it, bless it and feed it of the world of light and power, all of it becomes noble. All of it becomes an immense reality. So alhamdulillah, that Allah (AJ) inspire us to the turuqs (spiritual paths) – that was the first sign. Then to support and to apply the knowledges of the turuq. And that dresses the eternal soul of our loved ones, of ourselves and blesses our entire family and communities, inshaallah.
——————————————————–
یہ بیان یوٹیوب پر دیکھنے کیلئے
Watch this lecture on youtube:
Https://youtu.be/hvy2bug5j4a
اس آرٹیکل کو انگلش میں پڑھنے کیلئے
Read this Article in English: Imam Mahdi's High-Powered Energy Shield Q&A
Https://www.nurmuhammad.com/imam-mahdis-high-powered-energ…/
یو ٹیوب چینل ابھی سبسکرایب کیجئے
Subscribe Now: The Muhammadan Way Sufi Realities
Www.youtube.com/channel/UC4E8QX7OgwYDgyuuXTBMrcg
شیخ سید نور جان میر احمدی نقشبندی (ق) کا آفشیل فیس بک پیج لائک کیجئے
Official Page: Shaykh Nurjan Mirahmadi
Facebook.com/shaykhnurjanmirahmadi/
Please Subscribe and Share🙏