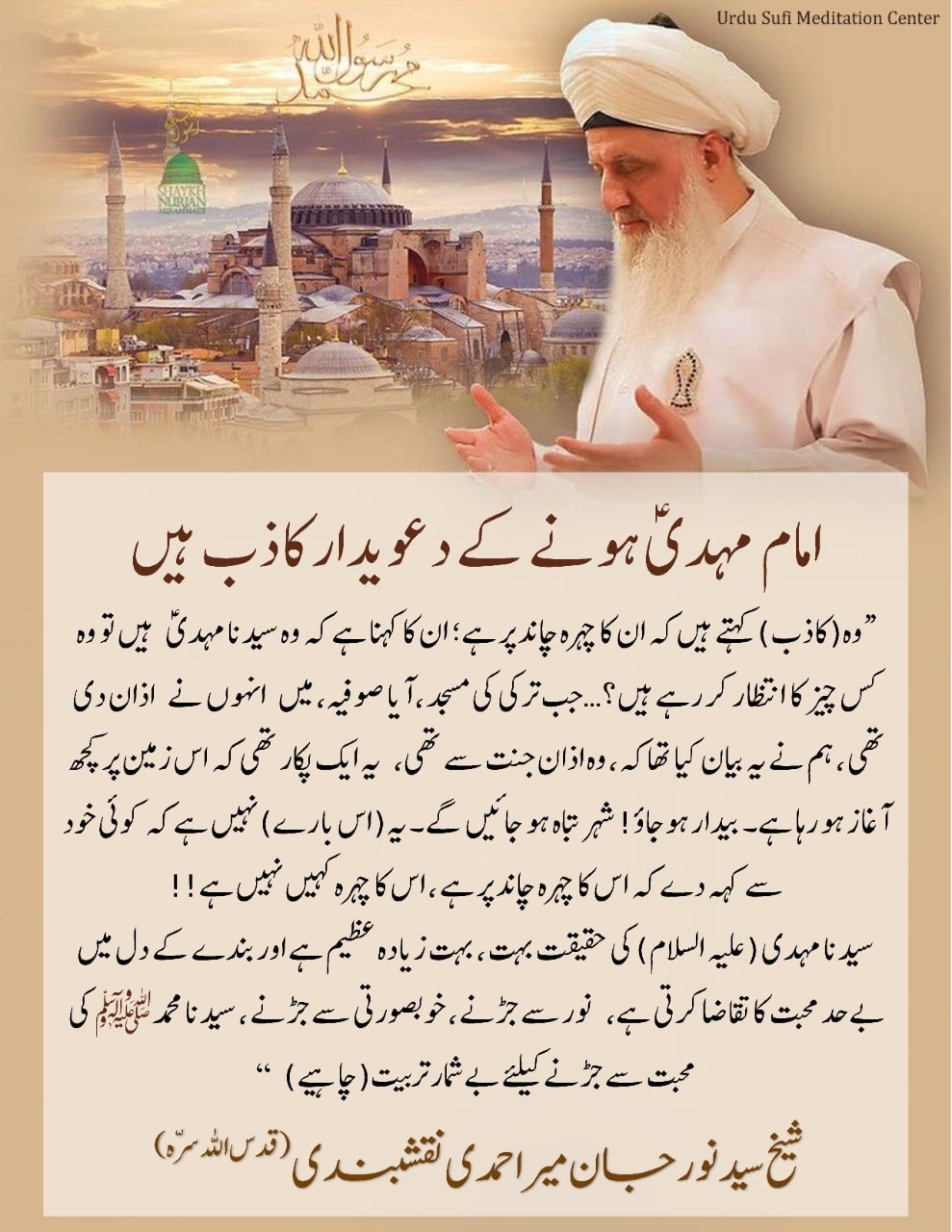 Urdu – سیدنا امام محمد مہدی علیہ السلام کی طاقتور ترین اینرجی کی ڈھال – سوالات و جوابات…
سیدنا امام محمد مہدی علیہ السلام کی طاقتور ترین اینرجی کی ڈھال – سوالات و جوابات (حصہ سوئم )
𝗦𝗮𝘆𝘆𝗶𝗱𝗻𝗮 𝗜𝗺𝗮𝗺 𝗠𝘂𝗵𝗮𝗺𝗺𝗮𝗱 𝗠𝗮𝗵𝗱𝗶 (𝗮𝘀) 𝗞𝗶 𝗧𝗮𝗾𝗮𝘁𝘄𝗮𝗿 𝗧𝗮𝗿𝗲𝗲𝗻 𝗘𝗻𝗲𝗿𝗴𝘆 𝗞𝗶 𝗗𝗵𝗮𝗮𝗹 – 𝗦𝗮𝘄𝗮𝗹𝗮𝘁-𝗼-𝗝𝗮𝘃𝗮𝗯𝗮𝘁 (Hissa Soyem)
𝐈𝐦𝐚𝐦 𝐌𝐚𝐡𝐝𝐢'𝐬 𝐇𝐢𝐠𝐡-𝐏𝐨𝐰𝐞𝐫𝐞𝐝 𝐄𝐧𝐞𝐫𝐠𝐲 𝐒𝐡𝐢𝐞𝐥𝐝 𝐐&𝐀 [𝐏𝐚𝐫𝐭 – 3]
——————————————–
——————————————–
سوال: سیدی کیا آپ براہِ کرم امام مہدی (علیہ السلام) کے بارے میں تھوڑی گفتگو فرما سکتے ہیں جیسا کہ کچھ لوگ امام مہدی ؑ ہونے کا دعوی کررہے ہیں؟
شیخ سید نورجان میراحمدی نقشبندی (ق):جی ، اُس گوہر کا سیدنا مہدی (علیہ السلام) سے کوئی تعلق نہیں ہے۔ یہ دھوکہ بازی ، دجالی قسم کی تعلیم ہے اور یہاں بہت سے دجال ہیں۔ دجال کا مطلب ہے' دھوکہ دہی'۔ جب بھی آپ بڑے کاذِّبْ(جھوٹے)کا انتظار کریں تو ، آپ ایک جھوٹ کی دنیا میں داخل ہوں گے کیونکہ بڑا کاذب ، آخرکاربہت بڑے (من گھڑت) جھوٹ بولنے آئے گا، اسے دجال کہتے ہیں۔ جب تک کہ ہم اُس وقت(ظہورِ اماِمِ الزماں) تک نہ پہنچ جائیں، تمام معمولی (چھوٹے) دجال، دھوکے باز اور جھوٹ بولنے والے لوگ ہیں۔ وہ(کاذب) کہتے ہیں کہ ان کا چہرہ چاند پر ہے۔ ان کا کہنا ہے کہ وہ سیدنا مہدی (علیہ السلام) ہیں تو وہ کس چیز کا انتظار کر رہے ہیں؟ وہ کہتے ہیں کہ کوئی کسی غار میں کہیں موجود ہے اور انتظار کر رہا ہے، وہ کباب نازل کرتے ہیں، وہ دعا کرتے ہیں جو لوگوں کو (حاجت ) ہوتی ہے—یہ سب بکواس ہے۔ سیدنا مہدی (علیہ السلام) کے ظہور کی بے انتہا طاقت ، حتی کہ ان کا روحانی وجود ، ایسی (حقیقت ) نہیں کہ لوگ سہہ سکیں ،نہ ہی ایسی ہے جسے لوگ برداشت کر سکیں۔
پاکیزگی (مصومیت)کا درجہ ایسا ہے اگر وہ (بنی اسرائیل) اُس لوح کی تاب نہ لا سکے جسے سیدنا موسیؑ نے طلب کیا تھا؛ جب اللہ (عزوجل) سے پیغام کا سوال کیا گیا تو وہ لوحیں —احکامات (شریعت موسویؑ )نیچے لائی گئیں ۔ جب وہؑ ناراض ہوئے اور احکام پھینک دیے ، تو انہوں نے اسے تابوتِ سکینہ میں ڈال دیا۔ وہ ان لوحوں کی موجودگی میں داخل نہیں ہوسکے کیونکہ موجودگی میں داخل ہونے کیلئے وہ اتنی پاک ( تقدیس) حالت میں نہ تھے۔ اور وہ(لوحیں) پتھر کے ٹکڑے تھے۔(تو پھر)آپ سب سے زیادہ ھدایت یافتہ، نمائندہ محمدی(سیدنا مہدی علیہ السلام) کے قلبِ مبارک کے بارے میں کیا تصور رکھتے ہیں؟ کہ ان(صاحب الزماں) کا ظہور پوری دنیا کو بدل دے گا۔ اللہ (عزوجل) کس درجے کی پاکیزگی طلب فرمائے گا؟ اور اسی وجہ سے ہم نے بیان کیا تھا کہ اگر ان کے پاس دیکھنے کو آنکھیں اور سننے کو کان ہوتے ، تو وہ دیکھتے کہ اللہ (عزوجل) اس ظہور کے لئے کیا تیاری فرما رہا ہے۔
وَلَقَدۡ ذَرَاۡنَا لِجَہَنَّمَ کَثِیۡرًا مِّنَ الۡجِنِّ وَ الۡاِنۡسِ ۫ۖ لَہُمۡ قُلُوۡبٌ لَّا یَفۡقَہُوۡنَ بِہَا ۫ وَ لَہُمۡ اَعۡیُنٌ لَّا یُبۡصِرُوۡنَ بِہَا ۫ وَ لَہُمۡ اٰذَانٌ لَّا یَسۡمَعُوۡنَ بِہَا ؕ اُولٰٓئِکَ کَالۡاَنۡعَامِ بَلۡ ہُمۡ اَضَلُّ ؕ اُولٰٓئِکَ ہُمُ الۡغٰفِلُوۡنَ ﴿۱۷۹﴾
(179 – الاعراف)
اور بیشک ہم نے جہنم کے لئے جِنّوں اور انسانوں میں سے بہت سے (افراد) کو پیدا فرمایا وہ دل (و دماغ) رکھتے ہیں (مگر) وہ ان سے (حق کو) سمجھ نہیں سکتے اور وہ آنکھیں رکھتے ہیں (مگر) وہ ان سے (حق کو) دیکھ نہیں سکتے اور وہ کان (بھی) رکھتے ہیں (مگر) وہ ان سے (حق کو) سن نہیں سکتے، وہ لوگ چوپایوں کی طرح ہیں بلکہ (ان سے بھی) زیادہ گمراہ، وہی لوگ ہی غافل ہیں،
(7:179)
سیدنا محمد ﷺ کے لئے اللہ (عزوجل) کتنا احترام اور تعظیم دکھا رہا ہے؟ کہ اس سے پہلے کہ یہ نور(سیدنا مھدی علیہ السلام) تشریف لائے اور اس دھرتی پہ قدم رکھنے کا آغاز کرے ، ذاتِ باری نے پوری دنیا کو خلوت میں بیجھ دیا ، 'اپنے گھروں میں چلے جاؤ۔' جن لوگوں کو نور سے ملبوس کیا جانا ہے ، 'اپنے گھروں میں چلے جاؤ ، آپ کو نور سے ملبوس کیا جائے گا'۔ وہ لوگ جن کے پاس نور نہیں ، 'اپنے گھر میں جاؤ اور (اس بات کو) سمجھو کہ آپ بالکل نور کے بغیر واپس آؤ گے۔' تاکہ ، یہ سیاہ و سفید (واضح) ہو جائے اور سرمئی( کوئی ابہام) نہ رہے۔
اور اللہ (عزوجل) کی عظمت سے ، وہ ایک غیبی دشمن بھیجتا ہے جس سے ساری دنیا کانپ رہی ہے۔بحری جہاز رک گئے ہیں۔ تیل رک گیا۔ معیشتیں رک گئیں۔ ان کے شہروں کی زیارتیں رک گئیں۔ ہر ایک کو (نہ دکھنے والے کرونا وائرس کا)خوف ہے اور کسی نے کچھ نہیں دیکھا۔ اور آپ اللہ(عزوجل) کی قدرت/عظمت دیکھنا چاہتے ہیں؟ آپ کو لگتا ہے کہ آپ کہہ سکتے ہیں کہ آپ اس(عظمت) کی نمائندگی کرتے ہیں؟ وہ عظیم ، عظیم طاقت اس زمین پر تشریف لارہی ہے اور اللہ (عزوجل) ابھی اس زمین پر بے پناہ معجزاتی حقائق دکھا رہا ہے۔ آپ صبح اٹھے – پورا شہر تباہ ہوگیا اور وہ کہتے ہیں ، 'یہ ایک حادثہ تھا۔' یہ حادثہ نہیں تھا جو آپ نے دیکھا۔(بلکہ)کچھ شروع ہوچکا ہے۔
جب انہوں نے ترکی کی مسجد ، آیا صوفیہ، میں اذان دی تھی ، ہم نے یہ بیان کیا تھا؛ کہ، وہ اذان جنت سے تھی۔ یہ ایک پکار تھی کہ اس زمین پر کچھ شروع ہو رہا ہے۔ بیدار ہوجاؤ ! شہر تباہ ہو جائیں گے۔ یہ(اس بارے) نہیں ہے کہ کوئی خود سے کہہ رہا ہے کہ اس کا چہرہ چاند پر ہے ، اس کا چہرہ کہیں نہیں ہے!! سیدنا مہدی (علیہ السلام) کی حقیقت بہت ، بہت زیادہ عظیم ہے اور بندے کے دل میں بےحد محبت کا تقاضا کرتی ہے، بےشمار تربیت(چاہیے) نور سے جڑنے ، خوبصورتی سے جڑنے ، سیدنا محمدﷺ کی محبت سے جڑنے کے لیے ، یہ کہ (پھر) نور اور فیض (برساتِ انوار و برکات) بندے کو ملنے لگیں گے۔ اور سیدنا مہدی (علیہ السلام) کی موجودگی سے لباس اور ان کے علوم اور حقائق اس دھرتی پر نمودار ہونے لگیں گے۔
اسی وجہ سے ہم نے کہا ہے کہ دعوۃ (نفس کے) اسیروں کی ارواح کے دلوں اور دماغوں کے لئے ابھی سب سے بڑی لڑائی ہے۔ وہ روحیں جن کے لیے اللہ (عزوجل) نے اس حقیقت کا سننا مقدر فرمایا ہے اور سیدنا مہدی (علیہ السلام) کی موجودگی کی حقیقت سے ہونا ان کا نصیب ٹھہرایا ہے۔ اگر وہ اس کا مقدر نہیں رکھتے تو ، وہ یہ نہیں سنتے اور اس نور کو ان کے ساتھ کچھ(معاملہ) کرنے کی ضرورت نہیں۔ تو ، اس کا مطلب یہ ہے کہ ابھی روحانی حملہ سب سے اہم ہے۔علوم جو ظاہر ہورہے ہیں وہ شیطانی سلطنت کو شکست دیتے ہیں، روح پر شیطانی گرفت کو نیچے لاتے ہیں اور اس شیطانی انرجی کو نیچے لاتے ہیں جو ان کے نفوس پر (غالب ) ہے جنہیں اللہ (عزوجل) چاہتا ہے کہ وہ نجات کے سمندروں میں رہیں۔
وہ لوگ جنہیں اس حقیقت سے نہیں لکھا گیا ، انہوں نے اس چینل کو ایسے گزار دیا جیسے انہوں نے اسے دیکھا تک نہیں۔ وہ سیدنا محمد ﷺ کے غار میں آئے اور انہوں نے مکڑی کا جال دیکھا۔اب ہم ماہ ذو الحجہ اور ہجرۃ کے مہینے میں داخل ہورہے ہیں۔ وہ نبی کریم ﷺ کی تلاش میں آئے۔ وہ سیدھے اِس غار کے دہانے/دروازے پر پہنچے جہاں رسول اللہ ﷺ اندر تھے اور وہ مکڑی کے جال سے بہک گئے تھے۔ یہ عنکبوت (مکڑی) ہے ، یہ سورت 29 ہے، اس میں ،اس 29 میں لام الف کی حقیقت ہے۔ اور وہ دیکھ نہیں سکے۔ تو ، اس کا مطلب ہے کہ وہ آئیں گے۔ وہ ان حقیقتوں کا سامنا کریں گے اور وہ اسے دیکھ نہیں پاتے اور وہ اگلے چینل پر کلک کر دیتے ہیں۔ وہ اگلی گفتگو پر کلک کرتے ہیں ، وہ اِن کتابوں پر سے نہیں گزرتے۔ یہ اُن کیلئے نہیں ہے۔ کہ جن کے لئے اللہ (عزوجل) کا ارادہ تھا پھر وہ نور ان کے دلوں میں داخل ہوجاتا ہے۔ وہ نور ان کی آنکھوں ، ان کی روح ، ان کے وجود میں داخل ہوتا ہے۔ اور ان انوارات کے نتیجے میں ، وہ لوگ وہ بن جاتے ہیں جن کو سیدنا مہدی (علیہ السلام) کی آمد کا انتظار تھا کیونکہ یہ(علوم) سیدنا مہدی (علیہ السلام) کے آسمانی مقامات سے ہیں۔
یہ علوم صرف ایسے ہی کسی جگہ سے نہیں نکل(پھوٹ) رہے ہیں۔ انہیں 'علیم القدیر' (جاننے والے،قدرت والے) سے نکلنا ہے ، کہ اللہ عزوجل کی صفتِ 'علیم —قدیم علوم۔وہ(اولیاء) العلیم کا جھنڈا اٹھائے ہوئے ہیں اور اسی پرچم کے ساتھ القدیر کا ایک اور جھنڈا ہے ، کہ اللہ کی (قدرت کا سمندر (بحر القدرۃ) اسے ضرور سجا رہا ہے۔ لہذا ، یہ علم اور وہ طاقت اس خادم پر جاری ہے اور آسمانی ڈریگنز پر جو اس حقیقت کی حفاظت کر رہے ہیں ، اس زمین تک پہنچنے اور اس کی تشہیر کرنے کے لیے۔، ان شاء اللہ۔ ہم دعا کرتے ہیں کہ اللہ (عزوجل) کی رضا و خوشنودی حاصل ہو ،سیدنا محمد ﷺ کی رضا و خوشنودی ہمارے ساتھ رہے، سیدنا مھدی علیہ السلام کی رضا و خوشنودی ہو ہم پر اور اولیاء اللہ فی السماء و فی الارض (زمین و آسمان کے تمام اولیاء کرام) ہم پر(راضی) رہیں۔ اہل بیت النبی ﷺ ہم سے راضی اور خوش رہیں۔اور اصحاب الکریم، نبی کریم ﷺ کے پیارے صحابہ ، ان کا نظرِ کرم اور ان کی نگاہِ عنایت ہو ہم پر ، ان کی مدد اور ان کی محبت (سایہ فگن )ہو ہم پر۔ اور یہ کہ اللہ عزوجل ہمیں سیدنا عثمان رضی اللہ عنہ(کے فیض) سے سرفراز فرمائے-جامع القرآن المجید کا راز ،جس میں ان کی محبوب اور بابرکت روح قرآن مجید کے حقائق کو لائی ، ایک ساتھ کتاب ، مصحف (کی شکل میں ) اور پھر اسکی تمام کوڈنگز کے ساتھ کوڈ کیا۔ ان میں سے ہر ایک کوڈنگ میں بے حد ، بے حد حقائق ہیں۔ ہم دعا کرتے ہیں کہ اللہ (عزوجل) ہمیں(ان اسرار سے)سجائے ، سیدنا عثمان رضی اللہ عنہ ہم سے خوش ہوں اور ہم سے راضی رہیں، اور ہمیں ان انوارت سے سے سجائیں اور ان انوارت سے برکت عطا فرمائیں ، ان شاء اللہ۔
سُبْحَانَ رَبِّکَ رَبِّ الْعِزَّۃِ اَمَّا یَصِفُونْ وَسَلَامٌ عَلیٰ الْمُرْسَلِیْنْ وَاَلْحَمْدُ لِلّٰهِ رَبِّ الْعَالَمِیْنِ وَ بِحُرْمَةِ مُحَمَّدٍ الْمُصْطَفیٰ وَ بِسِرِّ سُوْرَۃِ اْلْفَاتِحَہ.
Sawal : Sayyedi kya aap barahay karam Imam Mahdi ( alaihi salam ) ke baray mein thori guftagu farma satke hain jaisa ke kuch log Imam Mahdi (Alaihi Salam) honay ka daawa kar rahay hain ?
Shaykh Sayyid Nurrjan Mirahmadi Naqshbandi ( q ) : jee, uss gohar ka Sayyidna Mahdi( alaihi salam ) se koi talluq nahi hai. yeh dhoka baazi,dajjali qisam ki taleem hai aur yahan bohat se Dajjal hain. Dajjal ka matlab hai' dhoka dahi '. jab bhi aap barray kaazib ( jhootay ) ka intzaar karen tou, aap aik jhoot ki duniya mein daakhil hon ge kyunkay bara kaazib,bilaakhir bhut barray ( mann gharat ) jhoot bolnay aaye ga, usay Dajjal kehte hain. jab tak ke hum uss waqt ( zahur e Imam az zaman ) tak na pahonch jayen, tamam mamooli ( chootey ) Dajjal , dhokay baz aur jhoot bolnay walay log hain. woh ( kaazib ) kehte hain ke un ka chehra chaand par hai. un ka kehna hai ke woh Sayyidna Mahdi ( alaihi salam ) hain to woh kis cheez ka intzaar kar rahay hain? woh kehte hain ke koi kisi ghaar mein kahin mojood hai aur intzaar kar raha hai, woh kabaab nazil karte hain, woh dua karte hain jo logon ko ( haajat ) hoti hai.Ye sab bakwaas hai. Sayyidna Mahdi ( alaihi salam ) ke zahuur ki be intahaa taaqat, hatta ke un ka Rohani wujood, aisi ( haqeeqat ) nahi ke log seh saken, nah hi aisi hai jisay log bardasht kar saken .
pakizgee(Masoomiyat ) ka darja aisa hai agar woh ( bani Israel ) uss loh ki taab na laa sakay jisay Sayyidna Musa ne talabb kya tha؛ jab Allah ( azzwajal ) se pegham ka sawal kya gaya to woh Lohein —Ahkamaat ( Shariat Muswi ) neechay layi gayeen. jab woh naraaz hue aur ehkaam pheink diye, tou unhon ne usay taboot e sakeena mein daal diya. woh un Lohoon ki mojoodgi mein daakhil nahi ho sakay kyunkay mojoodgi mein daakhil honay ke liye woh itni pak ( taqdees ) haalat mein na thay. aur woh ( Lohein ) pathar ke tukray thay. ( tou phir ) aap sab se ziyada hadaiyat Yafta , numainda Muhammadi ( Sayyidna Mahdi alaihi salam ) ke qlb e mubarak ke baray mein kya tasawwur rakhtay hain? ke un ( sahib az zaman ) ka zahur poori duniya ko badal day ga. Allah ( azzwajal ) kis darjay ki pakizgee talabb farmaiye ga? aur isi wajah se hum ne bayan kya tha ke agar un ke paas dekhnay ko ankhein aur suneney ko kaan hotay, tou woh dekhte ke Allah ( azzwajal ) is zahur ke liye kya tayari farma raha hai.
7:179 – "Wa laqad zara'naa li jahannama kaseeram minal jinni wal insi lahum quloobul laa yafqahoona bihaa wa lahum a'yunul laa yubisiroona bihaa wa lahum aazaanul laa yasma'oona bihaa; ulaaa'ika kal an'aami bal hum adall; ulaaa'ika humul ghafiloon" (Surat Al-Ar'af)
"aur bay shak hum ne jahannum ke liye jinno aur insanon mein se bohat se ( afraad ) ko peda farmaya woh dil ( o dimagh ) rakhtay hain ( magar ) woh un se ( haq ko ) samajh nahi satke aur woh ankhen rakhtay hain ( magar ) woh un se ( haq ko ) dekh nahi satke aur woh kaan ( bhi ) rakhtay hain ( magar ) woh un se ( haq ko ) sun nahi satke, woh log chopaiyon ki terhan hain balkay ( un se bhi ) ziyada gumraah, wohi log hi ghaafil hain ,"
( 7 : 179 )
Sayyedina Muhammad ﷺ ke liye Allah ( azzwajal ) kitna ehtram aur tazeem dikha raha hai? ke is se pehlay ke yeh noor ( Sayyidna Mahdi alaihi salam ) tashreef laaye aur is dharti pay qadam rakhnay ka aaghaz kere, zaat-e baari ne poori duniya ko khalwat mein bejh diya,' –apne gharon mein chalay jao.' jin logon ko noor se malbos kya jana hai,' –apne gharon mein chalay jao, aap ko noor se malbos kya jaye ga '. woh log jin ke paas noor nahi,' –apne ghar mein jao aur ( is baat ko ) samjhoo ke aap bilkul noor ke baghair wapas aao ge.' taakay, yeh siyah o safaid ( wazeh ) ho jaye aur surmai ( koi ibham ) na rahay .
aur Allah ( azzwajal ) ki Azmat se, woh aik ghaibi dushman bhejta hai jis se saari duniya kanp rahi hai. behri jahaaz ruk gaye hain. tail ruk gaya. mayshtin ruk gayeen. un ke shehron ki zyartein ruk gayeen. har aik ko ( na dikhne walay Corona virus ka ) khauf hai aur kisi ne kuch nahi dekha. aur aap Allah ( azzwajal ) ki qudrat / Azmat dekhna chahtay hain? aap ko lagta hai ke aap keh satke hain ke aap is ( Azmat ) ki numaindagi karte hain? woh azeem, azeem taaqat is zameen par tashreef laa rhi hai aur Allah ( azzwajal ) abhi is zameen par be panah mujzati haqayiq dikha raha hai. aap subah utthay – poora shehar tabah hogaya aur woh kehte hain,' yeh aik haadsa tha.' yeh haadsa nahi tha jo aap ne dekha. ( balkay ) kuch shuru ho chuka hai .
jab unhon ne turkey ki masjid, Aya Sofia , mein azaan di thi, hum ne yeh bayan kya tha؛ ke, woh azaan jannat se thi. yeh aik pukaar thi ke is zameen par kuch shuru ho raha hai. bedaar hojao! shehar tabah ho jayen ge. yeh ( is baray ) nahi hai ke koi khud se keh raha hai ke is ka chehra chaand par hai, is ka chehra kahin nahi hai! ! Sayyidna Mahdi ( alaihi salam ) ki haqeeqat bohat, bohat ziyada azeem hai aur bande ke dil mein be had mohabbat ka taqaza karti hai, be shumaar tarbiyat ( chahiye ) noor se jurne, khoobsurti se jurne, Sayyedina Muhammad ﷺ ki mohabbat se jurne ke liye, yeh ke ( phir ) noor aur Faiz ( Barsaat Anwaar o Barkaat ) bande ko milnay lagen ge. aur Sayyidna Mahdi( alaihi salam ) ki mojoodgi se libaas aur un ke aloom aur haqayiq is dharti par namodaar honay lagen ge .
isi wajah se hum ne kaha hai ke dawah ( nafs ke ) aseeron ki arwah ke dilon aur dimaghon ke liye abhi sab se barri larai hai. woh roohein jin ke liye Allah ( azzwajal ) ne is haqeeqat ka sunna muqaddar farmaya hai aur Sayedna Mahdi ( alaihi salam ) ki mojoodgi ki haqeeqat se hona un ka naseeb thehraya hai. agar woh is ka muqaddar nahi rakhtay tou, woh yeh nahi suntay aur is noor ko un ke sath kuch ( maamla ) karne ki zaroorat nahi. tou, is ka matlab yeh hai ke abhi Rohani hamla sab se ehem hai. aloom jo zahir ho rahay hain woh shaytani saltanat ko shikast dete hain, rooh par shaytani girift ko neechay laatay hain aur is shaytani energy ko neechay laatay hain jo un ke nafoos par ( ghalib ) hai jinhein Allah ( azzwajal ) chahta hai ke woh nijaat ke samndron mein rahen .
woh log jinhein is haqeeqat se nahi likha gaya, unhon ne is channel ko aisay guzaar diya jaisay unhon ne usay dekha tak nahi. woh Sayyedina Muhammad ﷺ ke ghaar mein aaye aur unhon ne makri ka jaal dekha. ab hum mah e Dhul Hijjah aur hijrah ke mahinay mein daakhil ho rahay hain. woh Nabi kareem ﷺki talaash mein aaye. woh seedhay iss ghaar ke dhanay / darwazay par puhanche jahan rasool Allah ﷺ andar thay aur woh makri ke jaal se behak gaye thay. yeh ankboot ( makri ) hai, yeh soorat 29 hai, is mein, is 29 mein laam alif ki haqeeqat hai. aur woh dekh nahi sakay. tou, is ka matlab hai ke woh ayein ge. woh un haqeeqaton ka saamna karen ge aur woh usay dekh nahi paate aur woh aglay channel par click kar dete hain. woh agli guftagu par click karte hain, woh inn kitabon par se nahi guzarte. yeh unn ke liye nahi hai. ke jin ke liye Allah ( azzwajal ) ka iradah tha phir woh noor un ke dilon mein daakhil hojata hai. woh noor un ki aankhon, un ki rooh, un ke wujood mein daakhil hota hai. aur un anwaarat ke nateejay mein, woh log woh ban jatay hain jin ko Sayyidna Mahdi ( alaihi salam ) ki aamad ka intzaar tha kyunkay yeh ( aloom ) Sayyidna Mahdi ( alaihi salam ) ke aasmani maqamat se hain yeh aloom sirf aisay hi kisi jagah se nahi nikal ( phoot ) rahay hain. inhen' Aleem al qadir' ( jan-nay walay, qudrat walay ) se nikalna hai, ke Allah azzwajal ki sift' Aleem —qadeem aloom. woh ( Awlia ) Al Aleem ka jhanda uthaye hue hain aur isi parcham ke sath Al Qadir ka aik aur jhanda hai, ke Allah ki ( qudrat ka samandar ( behar ul Qudra) usay zaroor saja raha hai. lehaza, yeh ilm aur woh taaqat is khadim par jari hai aur aasmani dragons par jo is haqeeqat ki hifazat kar rahay hain, is zameen tak pounchanay aur is ki tashheer karne ke liye., in shaa Allah . hum dua karte hain ke Allah ( azzwajal ) ki Raza o khushnodi haasil ho, Sayyidna Muhammad ﷺki Raza o khushnodi hamaray sath rahay,Sayyidna Mahdi alaihi salam ki Raza o khushnodi ho hum par aur Awliya Allah fi samaa wa fil ardh ( zameen o aasman ke tamam Awlia karaam ) hum par ( raazi ) rahen.Ahl e Bait Al Nabi ﷺ hum se raazi aur khush rahen. aur Ashaab Al Kareem , Nabi kareemﷺ ke pyare sahaba, un ke nzr e karam aur un ki nigah e inayat ho hum par, un ki madad aur un ki mohabbat ( saya figan ) ho hum par. aur yeh ke Allah azzwajal hamein Sayyidna usman RA(ke Faiz ) se Sarfraz farmaiye -Jami al quran Al Majeed ka raaz, jis mein un ki mehboob aur ba barkat rooh quran Majeed ke haqayiq ko layi, aik sath kitaab, mushaf ( ki shakal mein ) aur phir uski tamam codings ke sath code kya. un mein se har aik coding mein be had, be had haqayiq hain. hum dua karte hain ke Allah ( azzwajal ) hamein ( un asaraar se ) sajaye, Sayyidina Usman RA hum se khush hon aur hum se raazi rahen, aur hamein un anwaarat se sajayein aur un anwarat se barket ataa farmaein, In shaa Allah.
Subhana rabbika rabbal 'izzati 'amma yasifoon, wa salaamun 'alal mursaleen, walhamdulillahi rabbil 'aalameen. Bi hurmati Muhammad al-Mustafa wa bi siri Surat al-Fatiha.
_____________________________________________________
QUESTION : Sayyidi can you please speak a little bit about Imam Mahdi (as) as some people are claiming to be Mahdi?
Shaykh Nurjan Mirahmadi (Q): Yeah, that Gohar is nothing to do with Sayyidina Mahdi (as). This is a deceitful dajjali type of teaching and there are many dajjal. Dajjal means 'deceit.' Anytime you wait for the big liar, you've entered into the world of lies cause the big liar's coming to tell the ultimately crazy big lies. That's called dajjal. All the minor dajjals – until we get to that time, are the people of deceit and lies. They say their face is on the moon. They say that they're Sayyidina Mahdi (as) and that what are they waiting for. They say they're somebody somewhere in a cave. He's waiting. They send down kebabs. They send out a du'a (supplication) of what they want. This is all rubbish. The immensity of the power of Sayyidina Mahdi (as) zuhoor (appearance) and just his spiritual presence is not something people can take, not something people can tolerate.
The level of purity is such that if they couldn't go into the presence when Sayyidina Musa (as) asked for the tablets. When asked for a message from Allah (AJ), they brought tablets down, the Commandments. When he got angry and threw the Commandment, they put it into a box of the Covenant. They couldn't enter in the presence of those tablets because they weren't in a position of holiness enough to enter into that presence. And that was pieces of stone. What do you imagine for the heart of the most guided Muhammadan representative? That his zuhoor will be changing the whole of dunya. What level of purity Allah (AJ) is going to require? And that's why we said if they had eyes to see and ears to hear, they would have seen what Allah (AJ) is preparing for that zuhoor.
﴾وَلَقَدْ ذَرَأْنَا لِجَهَنَّمَ كَثِيرًا مِّنَ الْجِنِّ وَالْإِنسِ ۖ لَهُمْ قُلُوبٌ لَّا يَفْقَهُونَ بِهَا وَلَهُمْ أَعْيُنٌ لَّا يُبْصِرُونَ بِهَا وَلَهُمْ آذَانٌ لَّا يَسْمَعُونَ بِهَا ۚ أُولَـٰئِكَ كَالْأَنْعَامِ بَلْ هُمْ أَضَلُّ ۚ أُولَـٰئِكَ هُمُ الْغَافِلُونَ ﴿١٧٩
7:179 – "Wa laqad zara'naa li jahannama kaseeram minal jinni wal insi lahum quloobul laa yafqahoona bihaa wa lahum a'yunul laa yubisiroona bihaa wa lahum aazaanul laa yasma'oona bihaa; ulaaa'ika kal an'aami bal hum adall; ulaaa'ika humul ghafiloon" (Surat Al-Ar'af)
"Many are the Jinn's and men we have made for Hell: They have hearts wherewith they understand not, eyes wherewith they see not, and ears wherewith they hear not. They are like cattle,- nay more misguided: for they are heedless (of warning)." (The Heights, 7:179)
How much Allah (AJ) is showing a ihtiram and respect for Sayyidina Muhammad ﷺ? That before that light starts to enter and walk upon this earth, He put the whole of dunya into seclusion, 'Get into your homes.' Those whom going to be dressed by lights, 'Go into your homes, you'll be dressed by lights.' Those whom have no light, 'Go into your home and realize you're going to come out with absolutely no light.' So, that it become black and white and no grey.
And from Azimat (Might) of Allah (AJ), He sends an unseen enemy that the whole world is trembling from. Ships have stopped. Oil have stopped. Economies have stopped. The pilgrimages of their cities have stopped. Everybody has a fear and nobody has seen anything. And you want to see the Might of Allah (AJ)? You think you can say you represent that Might? It's immense! Immense power is coming upon this earth and Allah (AJ) is showing immense miraculous realities upon this earth right now. You woke up in the morning – an entire city was gone and they say, 'That was an accident.' That was no accident what you saw. Something has already started.
We said that when they called the azaan (call to prayer) of the masjid in Turkey; Aya Sofia, that was an azaan from heaven. That was a calling that something is starting upon this earth. Wake up! Cities will be gone. It's not somebody calling himself that his face is on the moon, his face is nowhere. Sayyidina Mahdi's (as) reality is immense, immense and requires an immense amount of love within the servant's heart. Immense amounts of trainings to connect with the light, connect with the beauty, connect with the love of Sayyidina Muhammad ﷺ and that that light and faiz (downpouring blessings) begin to dress the servant. And dress from the presence of Sayyidina Mahdi (as) and that his knowledges and realities to be emanating upon this earth.
That's why we said that dawah is the biggest fight right now for the hearts and minds of the souls that are being held captive. The souls whom Allah (AJ) has destined for them to hear that reality and destined for them to be from the reality of the presence of Sayyidina Mahdi (as). If they're not destined for that, they don't hear this and this light is not having to do anything to do with them. So, it means that the spiritual attack is the most important right now. The knowledges that are coming out that defeat the satanic empire, bring down the satanic grip upon the soul and bring down that satanic energy that's upon the nafs (ego) of those whom Allah (AJ) want them to be in oceans of salvation.
Those whom not written from that reality, they passed that channel like they didn't even see it. They came to the cave of Sayyidina Muhammad ﷺ and they saw a spider web. We're now entering towards the month of Dhul Hajj and the hijrah (pilgrimage). They came looking for Prophet ﷺ. They came directly to the door of the cave of where Prophet ﷺ is inside and they were distracted by a spider web. That's ankabut (spider), that's Surat 29. That has a reality of lam alif, that 29. And they couldn't see. So, it means they'll come. They'll come across these realities and they don't see it and they click to the next channel. They click to the next talk, they don't pass by those books; it's not meant for them. That those whom Allah (AJ) it meant for, then that light enter into their hearts. That light enters into their eyes, to their soul, to their being. And as a result of those lights, they become the people whom are waiting for the arrival of Sayyidina Mahdi (as) because these are from the heavenly stations of Sayyidina Mahdi (as).
These knowledges are not coming out from just any location. They have to come 'Alim al-Qadir' (All Knowing and All Powerful), that Allah's (AJ) sifat of 'Alim, ancient knowledges. They carry a flag of Al-'Alim and with that flag is another flag of Al–Qadir, that Allah's (AJ) oceans of power must be dressing. So, that knowledge and that power is moving out upon the servant and heavenly dragons that are guarding that reality, to reach and to propagate upon this earth, inshaAllah. We pray that Allah's (AJ) rida and satisfaction to be upon us, Sayyidina Muhammad's ﷺ rida and satisfaction to be upon us, Sayyidina Mahdi's (as) rida and satisfaction to be upon us. And awliyaullah fis samawati wa fil ard (saints from heaven to earth) to be upon us. Ahlul Bayt un-Nabi's ﷺ (holy family of Prophet ﷺ) rida and satisfaction to be upon us.
And ashab al-Kareem, that Prophet's ﷺ beloved companions, their nazar and their gaze to be upon us, their support and their love to be upon us. And that Allah (AJ) dress us from Sayyidina Uthman (as) – Jam'iul Quran al-Majeed secret in which his beloved and blessed soul brought the realities of Holy Qur'an together into a kitab (book), mas'haf and then coded it with all its codings which is immense, immense realities in each of those codings. We pray that Allah (AJ) dress us, Sayyidina Uthman (as) be happy with us and rida upon us, and to dress us from those lights and bless us from those lights, inshaAllah.
Subhana rabbika rabbal 'izzati 'amma yasifoon, wa salaamun 'alal mursaleen, walhamdulillahi rabbil 'aalameen. Bi hurmati Muhammad al-Mustafa wa bi siri Surat al-Fatiha.
_____________________________________
اس بیان کا پہلا حصہ پڑھنے کے لیے:
To read Part-1 of this article :
https://www.facebook.com/103516737706142/posts/390741165650363/
یہ بیان یوٹیوب پر دیکھنے کیلئے
Watch this lecture on youtube:
Https://youtu.be/hvy2bug5j4a
اس آرٹیکل کو انگلش میں پڑھنے کیلئے
Read this Article in English: Imam Mahdi's High-Powered Energy Shield Q&A
Https://www.nurmuhammad.com/imam-mahdis-high-powered-energ…/
یو ٹیوب چینل ابھی سبسکرایب کیجئے
Subscribe Now: The Muhammadan Way Sufi Realities
Www.youtube.com/channel/UC4E8QX7OgwYDgyuuXTBMrcg
شیخ سید نور جان میر احمدی نقشبندی (ق) کا آفشیل فیس بک پیج لائک کیجئے
Official Page: Shaykh Nurjan Mirahmadi
Facebook.com/shaykhnurjanmirahmadi/
Please Subscribe and Share🙏