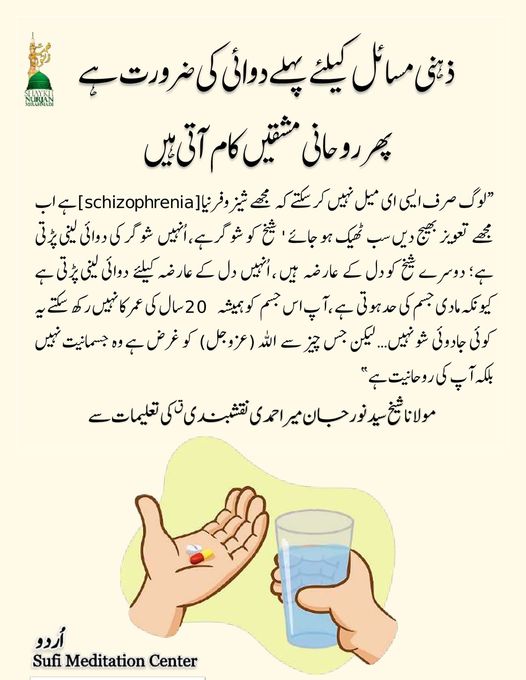 Urdu – سوال ۵ اگر کوئی ذہنی بیماری میں مبتلا ہے تو کیا بار بار واپس آنے اور اطاعت …

سوال ۵ اگر کوئی ذہنی بیماری میں مبتلا ہے تو کیا بار بار واپس آنے اور اطاعت کی کوشش کرنے کا کوئی فائدہ نہیں ؟ برائے مہربانی میرے سوال معاف کر دیجئے ۔
اَعُوْذُ بِاللہ مِنَ الشَّیْطٰنِ الرَّجِیْمِ ۞ بِسْمِ اللہ الرَّحْمٰنِ الرَّحِیْمِ ۞
اللَّهُمّ صَلِّ عَلَى سَیِّدِنَا مُحَمَّدٍ النَّبِّيِّ الأُمِّيِّ وَعَلَى آلِهِ وَصَحْبِهِ وَسَلِّمْ
مولانا شیخ سید نورجان میراحمدی نقشبندی (ق):
نہیں ، یہ بہت اچھا سوال ہے۔ ہم نے بیان کیا تھا، اسلئے، ہم نے پہلے بھی کئی بار بیان کیا تھا ، اس پر حدیث موجود ہے۔ کہ جس کو ذہنی بیماری ہے وہ اس درجے پر جوابدہ نہیں ، نہ ہی وہ ایسا شخص جس کی تربیت کی جاسکے۔ لہذا، آپ ذکر کر سکتے ہیں، آپ تعلیمات سیکھ سکتے ہیں اور حُسن اخلاق سیکھ سکتے ہیں، کیسے اپنی بھرپور کوشش کی جائے ، کیسے اپنی صلوات (درود وسلام) پیش کرتے رہیں ، لیکن سب سے اہم بات یہ ہے کہ آپ کو دوا لینا پڑتی ہے ، یہ ایک طبی حالت ہے جس سے نمٹنا پڑتا ہے۔ جن لوگوں کے … اعوذ باللہ ، جن لوگوں میں کمزوریاں ہے، اُن کا خیال ہے کہ طریقت (روحانی راہ) سب کچھ دور کر دے گی ، تو ایسی صورتحال نہیں ۔ کسی نے ای میل کی 'میرے رشتہ دار کو 30 سال سے اس قسم کی بیماری ہے ، برائے کرم دعا کریں اور ایک وظیفہ بھیجیں کہ یہ دور ہو جائے ۔' اللہ (عزوجل) انسان کو ہر حالت میں رکھتا ہے اور ان کا مقصد، اپنی حالت کو سمجھنا ، ادویات لینا اور وہ جس حالت میں ہیں، اُسکاعلاج کرنا ہے اور اس کے بعد مختلف قسم کی روحانیات اور مشقیں ہیں جو اُن کو کرنی ہوتی ہیں۔ لیکن وہ مشقیں، وہ حالات دور نہیں کرتی اور کسی چیز میں آنے کی وجہ یہ نہیں ہونی چاہئے۔ اس کا مقصد ، اللہ (عزوجل) نے ہمیں جس بھی حالت میں رکھا ہے ،اُس پر صبر کرنا ہے ، اللہ (عزوجل) اس حالت کو بہتر جاننے والاہے ، ہم اپنی مشقیں کرتے ہیں۔ اگر اللہ (عزوجل) کسی بھی وقت چاہے تو وہ اس حالت سے آزادی دے دیتا ہے اور لوگوں کی حالت بدل سکتا ہے جب تک کہ وہ اپنے اندر کی چیزوں کو تبدیل نہیں کرتے…
إِنَّ اللَّهَ لَا يُغَيِّرُ مَا بِقَوْمٍ حَتَّىٰ يُغَيِّرُوا مَا بِأَنفُسِهِمْ۞
بے شک اللہ کسی قوم کی حالت نہیں بدلتا جب تک وہ خود اپنی حالت کو نہ بدلے
سورۃ الرعد (۱۳) آیت۱۱
لیکن یہ ذہنی مشکل اور ذہنی بیماری ایسی چیز ہے جس میں دوائی درکار ہوتی ہے۔ یہی وجہ ہے کہ لوگ صرف ایسی ای میل نہیں کرسکتے کہ ، 'مجھے شیزوفرنیا ہے ، اب مجھے تعویز بھیج دیں ، سب ٹھیک ہو جائے گا۔' یہ اتنا آسان نہیں ہے۔ شیخ کو ذیابیطس ہے، اُنہیں ذیابیطس کی دوائی لینی پڑتی ہے؛ دوسرے شیخ دل کو دل کے عارضہ ہیں ، اُنہیں دل کے عارضہ کیلئے دوائی لینی پڑتی ہے ، کیونکہ مادی جسم کی حدہوتی ہے، آپ اس جسم کو ہمیشہ 20 سال کی عمر کا نہیں رکھ سکتے ، یہ کوئی جادوئی شو نہیں ۔ وہ جیسا بھی مادی جسم رکھتے ہیں اس کے ساتھ رہتے ہیں ، لیکن جس چیز سے اللہ (عزوجل) کو غرض ہے وہ جسمانیت نہیں بلکہ آپ کی روحانیت ہے۔ لہذا ، وہ اب بھی اپنے روحانی مشقیں جاری رکھتے ہیں ، وہ اپنی جسمانی مشکل کے ساتھ ، روحانیت کے تقاضوں میں توازن قائم کرنے کی کوشش کرتے ہیں۔ لیکن انھیں دوائی لینا پڑتی ہے ، بیمار لوگوں کو دوائی لینا پڑتی ہے اور پھر ذہنی مشکلات کی وجہ سے دوا، انھیں ایک حد تک محدود کردے گی کہ اُنہیں کتنی روحانی مشق کرنی چاہئے اور آپ اپنے ذکر میں زیادہ گہرائی میں نہیں جاسکتے ، یہ بہت زیادہ ، وہ بہت زیادہ (نہیں کرسکتے)، جب آپ کا دماغ کام نہیں کررہا تو مراقبہ کرنے کی کوشش کرنا اور پھر واہمہ( ہیلوسنیٹ / ہذیان )ہونے لگتے ہیں ۔ یہ مشکل ہے ، اسی وجہ سے جب آپ کی حالت ٹھیک نہ ہوتوبہت اعتدال پسند ی سے کریں، انشاء اللہ ۔
???????????????
||Sawal: Agar koi zehni bemari mein mubtala hai to kya baar baar wapas anay aur itaat ki koshish karne ka koi faida nahi? baraye meharbani mere sawal maaf kar dijiye .
Mawlana Shaykh Nurjan Mirahmadi Naqshbandi Qs : Nahi, yeh bohat achcha sawal hai. Hum nay bayan kya tha, isliye, hum nay pehlay bhi kayi baar bayan kya tha, is par Hadith mojood hai. Ke jis ko zehni bemari hai woh is darjay par jawabdeh nahi, nah hi woh aisa shakhs jis ki tarbiyat ki jasakay. Lehaza, aap zikar kar satke hain, aap talemaat seekh satke hain aur husn ikhlaq seekh satke hain, kaisay apni bharpoor koshish ki jaye, kaisay apni salawat (darud-o-salam) paish karte rahen, lekin sab se ahem baat yeh hai ke aap ko dawa lena partee hai, yeh aik tibbi haalat hai jis se nimatna parta hai. Jin logon ke. .. Audhbillah, jin logon mein kmzoryan hai, unn ka khayaal hai ke Tareqat ( Rohani raah ) sab kuch daur kar day gi, to aisi sorat e haal nahi. Kisi naay email ki' mere rishta daar ko 30 saal se is qisam ki bemari hai, baraye karam dua karen aur aik wazifa bhejen ke yeh daur ho jaye.' Allah (AJ) insaan ko har haalat mein rakhta hai aur un ka maqsad, apni haalat ko samjhna, adwiyaat lena aur woh jis haalat mein hain uska ilaj karna hai aur is ke baad mukhtalif qisam ki rohanyat aur mashqen hain jo unn ko karni hoti hain. Lekin woh mashqen, woh halaat daur nahi karti aur kisi cheez mein anay ki wajah yeh nahi honi chahiye. is ka maqsad, Allah (AJ) nay hamein jis bhi haalat mein rakha hai, uss par sabr karna hai, Allah (AJ) is haalat ko behtar jan-nay wala hai, hum apni mashqen karte hain. Agar Allah (AJ) kisi bhi waqt chahay to woh is haalat se azadi day deta hai aur logon ki haalat badal sakta hai jab tak ke woh apne andar ki cheezon ko tabdeel nahi karte … [Surat Ar-Ra'd 13:11 "Be shak Allah kisi qoum ki haalat nahi badalta jab taq woh khud apni haalat ko nah badlay"] Lekin yeh zehni mushkil aur zehni bemari aisi cheez hai jis mein dawai darkaar hoti hai. yahi wajah hai ke log sirf aisi email nahi kar saktay ke,' mujhe schizophrenia hai, ab mujhe taweez bhaij den, sab theek ho jaye ga.' Yeh itna aasan nahi hai. Shaykh ko diabetes hai, unhen diabetes ki dawai leni padtee hai ؛ dosray Shaykh ko dil ke arzay hain, unhen dil ke arzay ke liye dawai leni padtee hai, kyunkay maadi jism ki had hoti hai, aap is jism ko ko hamesha 20 saal ki umar ka nahi rakh satke, yeh koi jaadoyi show nahi. woh jaissa bhi maadi jism rakhtay hain is ke sath rehtay hain, lekin jis cheez se Allah (AJ) ko gharz hai woh jismaniat nahi balkay aap ki rohaniyat hai. Lehaza, woh ab bhi apne rohani mashqen jari rakhtay hain, woh apni jismani mushkil ke sath, rohaniyat ke taqazoon mein tawazun qaim karne ki koshish karte hain. lekin unhein dawai lena partee hai, Bemaar logon ko dawai lena partee hai aur phir zehni mushkilaat ki wajah se dawa, unhein aik had taq mehdood kardey gi ke unhay kitni Rohani mashq karni chahiye aur aap apne zikar mein ziyada geherai mein nahi jasakte, yeh bohat ziyada, woh bohat ziyada ( nahi kar saktay ), jab aap ka dimagh kaam nahi kar raha to muraqba karne ki koshish karna aur phir wahima (hallucinate / haziyan) honay lagtay hain. yeh mushkil hai, isi wajah se jab aap ki haalat theek nah ho toh boht aitdaal pasandy se karen, Insha'Allah ||
?? : So, if someone is suffering from mental illness is there no use to keep trying to come back and submit? Please forgive my asking.
??????? ?????? ?????? ?????????: No, it's a very good question. We said that's why we said many times before, there's hadith on that. That the one whom has a mental illness he's not at that level accountable, not somebody that can be trained. So, that you can do the zikr (Divine Remembrance), you can learn the teachings and how to be good character, how to do your best, how to keep making your salawats (praises upon Prophet Muhammad (saws)) but the most important is you have to take the medicine, it's a medical condition that has to be dealt with. People whom… A'uzu Billah (I seek refuge in Allah). People whom having deficiencies thinking that tariqah (spiritual path) will take everything away and that's not the situation. Somebody emailed that, 'My relative is 30 years in this type of sickness please make du'a (supplication) and send a wazifa (spiritual practice) to take it away.' Allah (AJ) puts insan (mankind) in every condition and their goal is to understand their condition, take the medicines and treat the condition that they're in and then apply the different spiritualities and the practices that they have to do. But those practices don't take away those conditions and that shouldn't be the reason for coming into something. It's to be patient with whatever condition Allah (AJ) put us in, Allah (AJ) knows best that condition, we do our practices. If Allah (AJ) Wants at any time He can relieve the condition and change the condition of people until they change what's within themselves.…
إِنَّ اللَّهَ لَا يُغَيِّرُ مَا بِقَوْمٍ حَتَّىٰ يُغَيِّرُوا مَا بِأَنفُسِهِمْ ﴿١١﴾13:11 –
"…Inna Allaha la yughayyiru ma bi qawmin hatta yughayyiro ma bi anfusihim…" (Surat Ar-Ra'd)
"Indeed Allah will not change the condition of a people until they change what is in themselves."
(The Thunder, 13:11)
But it's mental difficulty and mental illness is something that requires medicine. That's why people can't just email that, 'I'm having you know schizophrenia, now send me ta'weez (prayer for protection) everything will be okay.' That's not that easy. The shaykh has diabetes he has to take medicine for diabetes, another shaykh has heart problems he has to take medicine for the heart problems because that's just the limitation of the physicality. You're not going to make this physicality to be 20 years old forever, this is not a magic show. They live with whatever physicality they have, but what Allah (AJ) is concerned is not the physical but your spiritual. So, they still put their spiritual practices, they try to balance with the difficulty of their physicality and what the spirituality is in requiring. But they have to take medicine, the people who are sick have to take medicine and then because of mental difficulties the medicine then will limit them on how much they should be practicing and you don't go deep into your zikr, too much into this, too much into that, try to sit meditate when your mind is not working and then start to hallucinate. That's difficult, that's why it's just very moderate when your condition is not well inshaAllah.
یہ بیان اس لنک پر دیکھا جا سکتا ہے
Watch this Bayan on YouTube
@15:49

پہلا اوردوسرا سوال
Questions 1 and 2
تیسرا سوال
Question3
https://web.facebook.com/…/a.1306689683242…/606238254100652/
چہارم سوال
Question4
https://web.facebook.com/SMCURDU/photos/a.130668968324252/606956394028838/
مضامین کے اُردو ترجمہ پڑھنے کیلئے
Read Urdu Translations:
Nurmuhammad.com/category/urdu/
مولانا شیخ سید نور جان میر احمدی نقشبندی (ق) کا فیس بک پیج لائک کیجئے
Official Page: Shaykh Nurjan Mirahmadi
facebook.com/shaykhnurjanmirahmadi/
فاطمہ زہراء ہیلپنگ ہینڈ— یتیم بچوں کی کفالت ،صدقات وعطیات کیلئے
Fatima Zahra Helping Hand
fzhh.org