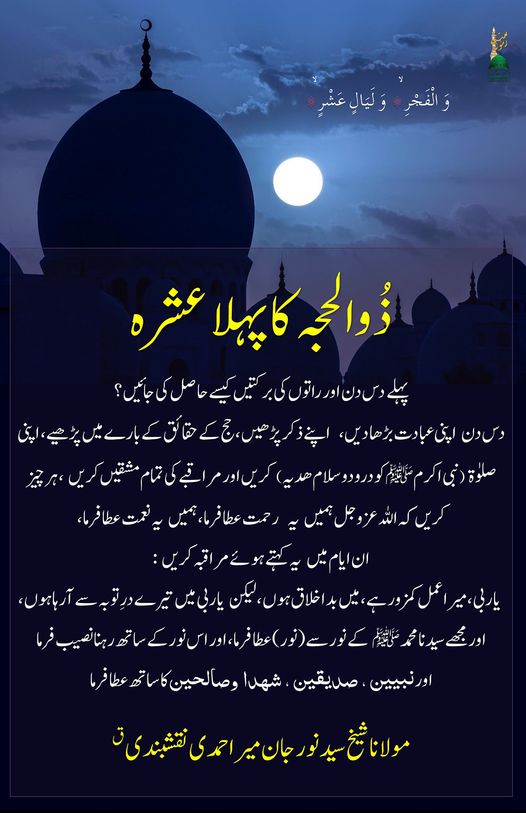 Urdu – سوال: ہم ذوالحجہ کے ان دس دنوں (پہلے عشرے) کی برکات کیسے حاصل کر سکتے ہیں ؟ …

سوال: ہم ذوالحجہ کے ان دس دنوں (پہلے عشرے) کی برکات کیسے حاصل کر سکتے ہیں ؟
مولانا شیخ نورجان میراحمدی نقشبندی (ق):
دس دن؛ اپنی عبادت کو بڑھا دیجئے۔ اپنے اذکار کیجیے، حج کے حقائق کے بارے میں پڑھیے۔ اپنے صلوات (نبی اکرم صلی اللہ علیہ وآلہ وسلم کو درودوسلام ھدیہ) کیجیے اور مراقبے کی تمام مشقیں(کریں)، ہر چیز کریں کہ اللہ (عزوجل) ہمیں اس رحمت سے ملبوس فرما ، ہمیں اس نعمت سے ملبوس فرما ، ان دنوں یہ کہتے ہوئے مراقبہ کریں کہ یا ربی ، میرا عمل کمزور ہے ، میرا کردار برا ہے لیکن اے میرے رب میں تیرے درِ توبہ سے آرہا ہوں ، اور کہ مجھے سیدنا محمد ﷺ کے نور سے (نور) عطا فرما ، اور اس نور کے ساتھ رہنا اور نبیین ، صدیقین ، شھدا اور صالحین کا ساتھ نصیب فرما۔ اور اللہ (عزوجل) ارشاد فرماتا ہے کہ، یہ بہترین کردار ہے ، یہ ہی بہترین ساتھی ہیں۔
وَمَن يُطِعِ اللّهَ وَالرَّسُولَ فَأُوْلَـئِكَ مَعَ الَّذِينَ أَنْعَمَ اللّهُ علىيْهِم مِّنَ النَّبِيِّينَ وَالصِّدِّيقينَ وَالشُّهَداءِ وَالصَّالِحِیْنَ وَحَسُنَ أُوْلَـئِكَ رَفِیقًا(69)
4:69 – اور جو کوئی اللہ اور رسول(صلی اللہ علیہ وآلہ وسلم) کی اطاعت کرے تو یہی لوگ (روزِ قیامت) ان (ہستیوں) کے ساتھ ہوں گے جن پر اللہ نے (خاص) انعام فرمایا ہے جو کہ انبیاء، صدیقین، شہداءاور صالحین ہیں، اور یہ بہت اچھے ساتھی ہیں۔
تو مجھے ان کی صحبت میں رہنے دیں کیونکہ ان سے محبت کرنے سے ، میں وہیں ہوں گا جہاں وہ ہیں۔ اور ان کی محبت ہمیں وہیں لے جائے گی جہاں وہ تشریف فرما ہیں ، اور ایک (شیخ) کی یہ محبت اُس جگہ لے جاتی ہے جہاں وہ سب محبت میں ہیں ، جب تک کہ ہم انبیاء، صدیقین، شہداء اور صالحین کے پاس نہ پہنچ جائیں۔" اور یہ ہماری زندگی بن جاتی ہے ، اور یہی خانہ کعبہ کی حقیقت بن جاتی ہے۔ اگر آپ نبیین کے ساتھ ہیں ، اگر آپ صدیقین کے ساتھ ہیں ، یا اگر آپ شھداء کے ساتھ ہیں ، یا اگر آپ کسی حقیقی صالحین کے ساتھ ہیں تو آپ کعبے کے ساتھ ہیں۔ اور ابھی اس زمین پر 124000 کعبے ہیں۔ کہ ان کے دل صالحین ہیں ، کیوں کہ وہ شھداء کے ساتھ ہیں ، اور ان میں سے بہت سے مقامِ شھود پر ہیں کہ وہ مشاہدہ کر رہے ہیں۔اور جو کچھ وہ دیکھتے ہیں وہ صدیق ہیں ، وہ سیدنا ابوبکر الصدیق (علیہ السلام) کا دیدار کرتے ہیں ، وہ امام علی (علیہ السلام ) کی زیارت کرتے ہیں ، اور اس کے نتیجے میں وہ سیدنا محمد ﷺ کی حضوری میں ہمیشہ موجود رہتے ہیں۔ تو مطلب یہ ہے کہ وہ دراصل کعبہ سے بلند تر ہیں۔ وہ کعبہ کی چلتی پھرتی ،زندہ و جاوید حقیقت ہیں۔ کعبہ پتھروں کا گھر ہے ، یہ کعبہ کے اندر(موجود) ارواحِ(مقدسہ) ہیں جو اس کی شرافت اور برکات لاتی ہیں۔ اور وہ روحیں اللہ (عزوجل) نے زمین پر منتشر فرما دی ہیں۔ ذرا تصور کریں جب وہ ظاہری مکان، حقائق کے قدیم گھر، کی ظاہری موجودگی ( کعبہ) بند کرنے کا حکم دیتا ہے ، لیکن اللہ (عزوجل) فرماتا ہے ، 'ان کے گھر بند نہیں ہیں ، یہ ارواح قید نہیں ہیں'۔ تو ، اس کا مطلب یہ ہے کہ کس قسم کی رحمت اور برکت سے ان اروح کو مزین کیا جا رہا ہے اور وہ ( سورج کی ) کِرنیں – ایک لاکھ چوبیس ہزار (اروحِ مقدسہ) زمین پر موجود ہیں ۔ ان شاء اللہ
______________________
sawal : hum Dhul Hijjah ke inn das dinon ( pehlay ashray ) ki Barkaat kaisay haasil kar satke hain ?
Mawlana Shaykh Nurjan Mirahmadi Naqshbandi ( q ) :
das din, apni ibadat ko barha dijiye. –apne azkar kijiye, hajj ke haqayiq ke baray mein parhiye. –apne salwaat ( Nabi akram salla Allah alaihi wa-alehe wasallam ko drodoslam hadiya ) kijiye aur mraqbe ki tamam mashqen ( karen ), har cheez karen ke Allah ( azzwajal ) hamein is rehmat se malbos farma, hamein is Nemat se malbos farma, inn dinon yeh kehte hue muraqba karen ke ya rabbi, mera amal kamzor hai, mera kirdaar bura hai lekin ae mere rab mein tairay dar-e tauba se araha hon, aur ke mujhe syedna Muhammad ﷺ ke noor se ( noor ) ataa farma, aur is noor ke sath rehna aur Nabiyyeen,Siddiqeen,, shuhada aur saliheen ka sath naseeb farma. aur Allah ( azzwajal ) irshad farmata hai ke, yeh behtareen kirdaar hai, yeh hi behtareen saathi hain .
4:69 – "Wa man yuti' Allaha war Rasula faolayeka ma'al ladheena an'ama Allahu 'alayhim minan Nabiyeena, was Siddiqeena, wash Shuhadai, was Saliheena wa hasuna olayeka rafeeqan." (Surat An-Nisa)
"aur jo koi Allah aur rasul ( sallal Allahu alaihi wa-alehe wasallam ) ki itaat kere to yahi log ( roz-e- qayamat ) un ( hastiyon ) ke sath hon ge jin par Allah ne ( khaas ) inaam farmaya hai jo ke anbia, Siddiqeen, shu-hada aur Saliheen hain, aur yeh bohat achay saathi hain"
tou mujhe un ki sohbat mein rehne den kyunkay un se mohabbat karne se, mein wahein hon ga jahan woh hain. aur un ki mohabbat hamein wahein le jaye gi jahan woh tashreef farma hain, aur aik ( Shaykh ) ki yeh mohabbat uss jagah le jati hai jahan woh sab mohabbat mein hain, jab tak ke hum anbia,Siddiqeen, shu-hada aur Saliheen ke paas na pahonch jayen." aur yeh hamari zindagi ban jati hai, aur yahi khana kaaba ki haqeeqat ban jati hai. agar ap Nabiyeen ke sath hain, agar aap Siddiqeen ke sath hain, ya agar ap Shuhada ke sath hain, ya agar aap kisi haqeeqi Saliheen ke sath hain to aap kaabay ke sath hain. aur abhi is zameen par 124000 kaabay hain. ke un ke dil Saliheen hain, kyun ke woh Shuhada ke sath hain, aur un mein se bohat se mqam e shahood par hain ke woh mushahida kar rahay hain. aur jo kuch woh dekhte hain woh Siddiq hain, woh syedna abu baker As Siddiq ( alaihi salam ) ka deedar karte hain, woh imam Ali ( alaihi salam ) ki ziyarat karte hain, aur is ke nateejay mein woh syedna Muhammad ﷺ ki huzoori mein hamesha mojood rehtay hain. tou matlab yeh hai ke woh darasal kaaba se buland tar hain. woh kaaba ki chalti phirti, zinda o Javed haqeeqat hain. kaaba patharon ka ghar hai, yeh kaaba ke andar ( mojood ) arwah ( e Muqaddisa ) hain jo is ki sharafat aur Barkaat latyien hain. aur woh roohein Allah ( azzwajal ) ne zameen par muntashir farma di hain. zara tasawwur karen jab woh zahiri makaan, haqayiq ke qadeem ghar, ki zahiri mojoodgi ( kaaba ) band karne ka hukum deta hai, lekin Allah ( azzwajal ) farmata hai,' un ke ghar band nahi hain, yeh arwah qaid nahi hain '. tou, is ka matlab yeh hai ke kis qisam ki rehmat aur barket se un Arwah ko muzayyan kya ja raha hai aur woh ( Sooraj ki ) kiranen – aik laakh chobees hazaar ( Arwah e Muqaddisa ) zameen par mojood hai .In shaa Allah
____________________
QUESTION: How do we get the blessings of Dhul Hajj in these ten days?
Shaykh Nurjan Mirahmadi: Ten days; increase your worshipness, do your zikr (remembrance), read about the Hajj (pilgrimage) realities. Make your salawats (praisings upon Prophet Muhammad ﷺ) and all the practices of the meditation, everything. That Allah (AJ) dress us from this rahmah (mercy), dress us from this blessing, meditating these days saying, 'Ya Rabbi, my 'amal (action) is weak, my character is bad but I'm coming through the door of Your forgiveness, Ya Rabbi. And that grant me from the light of Sayyidina Muhammad ﷺ, and to be with that light and to be with Nabiyeena, Siddiqeen, Shuhadai was Saliheen.' And Allah (AJ) say, 'This is the best of character, these are the best of association.'
وَمَن يُطِعِ اللّهَ وَالرَّسُولَ فَأُوْلَـئِكَ مَعَ الَّذِينَ أَنْعَمَ اللّهُ عَلَيْهِم مِّنَ النَّبِيِّينَ وَالصِّدِّيقِينَ وَالشُّهَدَاء وَالصَّالِحِينَ وَحَسُنَ أُولَـئِكَ رَفِيقًا ﴿٦٩﴾
4:69 – "Wa man yuti' Allaha war Rasula faolayeka ma'al ladheena an'ama Allahu 'alayhim minan Nabiyeena, was Siddiqeena, wash Shuhadai, was Saliheena wa hasuna olayeka rafeeqan." (Surat An-Nisa)
"And whoever obeys Allah and the Messenger (pbuh) are in the company of those on whom Allah has bestowed His Favours/Blessings – of the prophets, the sincere Truthful, the witnesses to the truth (who testify), and the Righteous, and excellent are those as companions." (The Women, 4:69)
So let me to be in their association because by loving them, I'll be where they are. And their love will take us where they are, and this one's love takes where the other one loves, until we are with, "Nabiyeen, Siddiqeena, Shuhadai was Saliheena." And that becomes our life, and that becomes the reality of the Ka'bah. If you're with Nabiyeen, if you're with Siddiqeen, or if you're with Shuhada, or if you're with a real Saliheen then you are with the Ka'bah. And there are 124,000 Ka'bahs on this earth right now. That their heart is saliheen, because they are with shuahada, and many of them they are maqam as-Shuhood (station of witnessing), that they see.
And what they see is the siddiqs (truthful), they see Sayyidina Abu Bakr as-Siddiq (as), they see Imam 'Ali (as), and as a result they're always in the presence of Sayyidina Muhammad ﷺ. So means they are actually higher than the Ka'bah. They are the walking, living reality of the Holy Ka'bah. The Ka'bah is the house of stones, it's the souls inside the Ka'bah that bring its nobility and bring its blessings. And those souls Allah (AJ) has dispersed onto the earth. Imagine when He close the physical presence of the physical house, the ancient house of realities, but Allah (AJ) says, 'Their houses are not closed, these souls are not closed.' So, means what type of rahmah and dressing coming upon their souls. And those emanations are upon the Earth, 124,000 of them. InshaAllah.
_______________________________
یہ بیان یو ٹیوب کے اس لنک پر دیکھا جا سکتا ہے
YouTube link to watch this Suhbah: How To Protect Yourself From Evil Eye Q&A
یہ بیان انگلش میں پڑھنے کیلئے
To read in English:
مضامین کے اُردو ترجمہ پڑھنے کیلئے
Translation of Other Articles:
https://nurmuhammad.com/category/urdu/
یو ٹیوب چینل ابھی سبسکرایب کیجئے۔
Subscribe Now: The Muhammadan Way Sufi Realities
https://www.youtube.com/channel/UC4E8QX7OgwYDgyuuXTBMrcg
شیخ سید نور جان میر احمدی نقشبندی (ق) کا آفشیل فیس بک پیج لائک کیجئے
Official Page: Shaykh Nurjan Mirahmadi
https://facebook.com/shaykhnurjanmirahmadi/
Please Like and Share