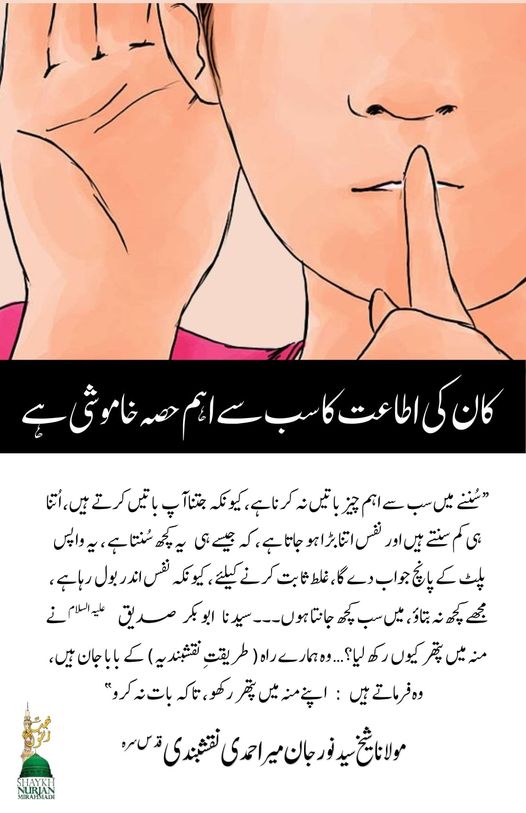 Urdu – سننے کا (کان کی اطاعت کا ) اہم حصہ خاموشی ہے 𝐓𝐡𝐞 𝐈𝐦𝐩𝐨𝐫𝐭𝐚𝐧𝐭 𝐏𝐚𝐫𝐭 𝐨𝐟 𝐋𝐢𝐬𝐭𝐞𝐧𝐢𝐧𝐠 𝐢𝐬…

سننے کا (کان کی اطاعت کا ) اہم حصہ خاموشی ہے
𝐓𝐡𝐞 𝐈𝐦𝐩𝐨𝐫𝐭𝐚𝐧𝐭 𝐏𝐚𝐫𝐭 𝐨𝐟 𝐋𝐢𝐬𝐭𝐞𝐧𝐢𝐧𝐠 𝐢𝐬 𝐍𝐨𝐭 𝐓𝐚𝐥𝐤𝐢𝐧𝐠
|Sunene ka ( kaan ki itaat ka ) ahem hissa Khamoshi hai|
سُننے میں سب سے اہم بات خاموشی اختیار کرنا ہے۔ کیونکہ جتنا آپ باتیں کرتے ہیں، اُتنا ہی کم سنتے ہیں۔ اور نفس اتنا بڑا ہو جاتا ہے ، کہ جیسے ہی یہ کچھ سُنتا ہے ، یہ واپس پلٹ کے پانچ جواب دے گا، غلط ثابت کرنے کیلئے۔ کیونکہ نفس اندر بول رہا ہے ، مجھے کچھ نہ بتاؤ ، میں سب کچھ جانتا ہوں۔تو پھر یہ اینرجی کا فارمولا تب کام کرے گا (جب) کان کھول کے سُنا جائے ، سُننا ، اور اطاعت کرنا۔ ایسا نہیں جب آپ زبردستی اطاعت کراتے ہیں ، بلکہ آپ اس تعلیم کو قبول کرتے ہیں اور پھر آپ اسے اپنے اوپر نافذ کرتے ہیں اور کہتے ہیں کہ میں پوری کوشش کروں گا کہ اس تعلیم کے آگے سر جھکاؤں ، یہ حکمت حاصل کروں ، جو کچھ میرے لئے فرمایا جاتا ہے ،اُسے قبول کروں، کیوں؟ کیونکہ مجھے ضرورت ہے کہ اپنے رب کے سامنے اپنی عاجزی دیکھاوں ، تاکہ میرا دل بیدار ہوسکے ، تاکہ میری روح اپنی لازوال اور ابدی حقیقت تک پہنچ سکے۔ پھر مرشد تعلیم دینے لگتے ہیں اور سکھاتے ہیں، اور سکھاتے ہیں اور ان (طلباء) سے بات چیت کرتے ہیں۔ لہذا جتنی اینرجی (قوت) کانوں کو مل رہی ہے ، تب وہ فرماتے ہیں : اپنے منہ میں ایک پتھر رکھ لو۔ کیونکہ جیسے تم (شیخ کو ) سُنو گے، تم بولنے کی کوشش کرو گے۔ کیوں؟ کیونکہ آپ کا بولنانفی کردے گا ، جو بات (شیخ) نے ابھی فرمائی، تو پھر تم آگے نہیں بڑھو گے اور تم پیچھے کی طرف جارہے ہو۔
𝐓𝐫𝐚𝐧𝐬𝐥𝐢𝐭𝐞𝐫𝐚𝐭𝐢𝐨𝐧: Sunene mein sab se ahem baat khamoshi ikhtiyar karna hai. Kyunkay jitna aap battay karte hain, utna hi kam suntay hain. Aur nafs itna bara ho jata hai, ke jaisay hi yeh kuch sunta hai, yeh wapas palat ke paanch jawab day ga, ghalat saabit karne ke liye. Kyunkay nafs andar bol raha hai, mujhe kuch nah batao, mein sab kuch jaanta hon. To phir yeh energy ka formula tab kaam kere ga ( jab ) kaan khol ke suna jaye, sunna, aur itaat karna. Aisa nahi jab aap zabardasti itaat karate hain, balkay aap is taleem ko qubool karte hain aur phir aap usay apne oopar nafiz karte hain aur kehte hain ke mein poori koshish karoon ga ke is taleem ke agay sir jhakaon, yeh hikmat haasil karoon, jo kuch mere liye farmaya jata hai, ussay qubool karoon, kyun? kyunkay mujhe zaroorat hai ke apne rab ke samnay apni aajzi dekhaon, taakay mera dil bedaar hosakay, taakay meri ruh apni la zawaal aur abdi haqeeqat tak pahonch sakay . Phir Murshid taleem dainay lagtay hain aur sikhate hain, aur sikhate hain aur un ( tulba ) se baat cheet karte hain. Lehaza jitni energy ( qowat ) kaanon ko mil rahi hai, tab woh farmatay hain : apne mu'n mein aik pathar rakh lau. Kyunkay jaisay tum ( Shaykh ko ) suno ge, tum bolnay ki koshish karo ge. Kyun? kyunkay aap ka bolna nafi kardey ga, jo baat ( Shaykh ) ne abhi farmai, to phir tum agay nahi barho ge aur tum peechay ki taraf jarahay ho .
𝐎𝐫𝐢𝐠𝐢𝐧𝐚𝐥 𝐀𝐫𝐭𝐢𝐜𝐥𝐞|The most important to listening is not talking. Because the more you talk, the less you listen. The ego becomes so big, that as soon as it hears something, it is going to say five things back as a rebuttal. Because the ego is saying inside, 'Don't tell me anything, I know everything.' So then in the formula for this energy to work, is to open the ears to listen, to listen, to submit. Not where you forcefully submit, but you take the teaching and then you put it upon yourself and say, 'I am going to try my best to submit to that teaching, to take that understanding, to take what is being said for me.' Why? Because I am in need to show my humility to my Lord so that my heart can open, so that my soul can reach its timeless and eternal reality.Then the guides begin to teach and teach, and interact with them. So as much as that energy is coming to the ears, they said then, 'Put a rock in your mouth,' because as you are hearing, you are going to try to speak. Why? Because your speech is going to negate what he (shaykh) just said. So then you didn't go forward and you are going backwards.
سیدنا ابوبکر الصدیق ( علیہ السلام) سے خاموشی کا طریقہ سیکھیں
|Sayedena Abu Bakr as Saddiq (as) se khamoshi ka tareeqa sekhen|
𝐋𝐞𝐚𝐫𝐧 𝐭𝐡𝐞 𝐖𝐚𝐲 𝐨𝐟 𝐒𝐢𝐥𝐞𝐧𝐜𝐞 𝐟𝐫𝐨𝐦 𝐒𝐚𝐲𝐞𝐝𝐞𝐧𝐚 𝐀𝐛𝐮 𝐁𝐚𝐤𝐫 𝐚𝐬 𝐒𝐢𝐝𝐝𝐢𝐪 (𝐚𝐬)
اسی وجہ سے ، اِس طریقہ میں اور اس راہ کی ہر بات میں عظیم راز (چھپے ) ہیں۔ سیدنا ابوبکر صدیق ( علیہ السلام) نے منہ میں پتھر کیوں رکھا؟ وہ ہمیں یہ تعلیم دے رہے ہیں کہ جیسے ہی پیغام آتاہے ، یہ حقائق آتے ہیں… وہ ہمارے راہ (طریقتِ نقشبندیہ) کے بابا جان ہیں، وہ فرماتے ہیں ، 'اپنے منہ میں پتھر رکھو ، تاکہ بات نہ کرو'۔ کیونکہ جو اینرجی آتی ہے ، (اُسکے سامنے ) کون چاہے گا کہ بات کرے؟ آپ کی روح نہیں ، بلکہ بُرا کردار ، نفس اور شیطان جو ہمارے اندر ہیں۔ شیطان چاہتا ہے کہ ہم درجات حاصل نہ کریں بلکہ مقامِ فضل سے گر جائیں، جیسے وہ گر پڑا تھا ، جیسے شیطان گر پڑا تھا۔ لہذا ، اسکا مطلب ہے کہ جتنا زیادہ ہم سن رہے ہیں ، جتنا زیادہ ہم سن رہے ہیں ، جتنا زیادہ ہم سن رہے ہیں ، وہ تجویز کرتے ہیں ، مت بولو،بات مت کرو ، بات نہ کرو ۔ اسے اپنے دل میں لے جائیں۔ اسے اندر لےجائیں اور ہضم کریں ، اسے ہضم کریں ، ہضم کریں ، اور اس حقیقت کو اپنے وجود میں لے جائیں۔
𝐓𝐫𝐚𝐧𝐬𝐥𝐢𝐭𝐞𝐫𝐚𝐭𝐢𝐨𝐧: Isi wajah se, iss tareeqa mein aur is raah ki har baat mein azeem raaz ( chupay ) hain. Sayedena Abu Bakr as saddiq (as) ny mu'n mein pathar kyun rakha? Woh hamein yeh taleem day rahay hain ke jaisay hi pegham aatahe, yeh haqayiq atay hain … woh hamaray raah ( Tareqa Naqshbandiya tul Aliya) ke Baba Jaan hain, woh farmate hain,' apne mu'n mein pathar rakho, taakay baat nah karo '. Kyunkay jo energy aati hai, ( uske samnay ) kon chahay ga ke baat kere? Aap ki ruh nahi, balkay bura kirdaar, nafs aur Shaytan jo hamaray andar hain. Shaytan chahta hai ke hum darjaat haasil nah karen balkay mqame fazl se gir jayen, jaisay woh gir para tha, jaisay Shaytan gir para tha. Lehaza, uska matlab hai ke jitna ziyada hum sun rahay hain, jitna ziyada hum sun rahay hain, jitna ziyada hum sun rahay hain, woh tajweez karte hain, mat bolo, baat mat karo, baat nah karo. Usay apne dil mein le jayen. Usay andar le jayen aur hazem karen, usay hazem karen, hazem karen, aur is haqeeqat ko apne wujood mein le jayen .
𝐎𝐫𝐢𝐠𝐢𝐧𝐚𝐥 𝐀𝐫𝐭𝐢𝐜𝐥𝐞|That is why everything in the way and on the path has tremendous secrets. Why did Sayyidina Abu Bakr as-Siddiq (as) put a rock in his mouth? He is teaching us that as the message is coming, these realities are coming… He is the father of our way, he says, 'Put a rock in your mouth so as to not speak.' Because the energy that comes, who is going to want to speak? Not your soul, but the bad characteristics, the ego, and Satan within us. The Satan wants for us not to achieve the rank but to fall from grace as he fell, as Satan fell. So it means as much as we are hearing, as much as we are hearing, as much as we are hearing, they recommend, don't speak, don't speak. Take it into your heart. Take it in and digest it, digest it, digest it, and bring that reality into your being.
جب ہم شیخ کی تعلیمات سُنتے ہیں ، تو ایک باطنی جنگ شروع ہوجاتی ہے
|Jab hum Shaykh ki talemaat suntay hain, to aik baatini jung shuru hojati hai|
𝐖𝐡𝐞𝐧 𝐖𝐞 𝐇𝐞𝐚𝐫 𝐒𝐡𝐚𝐲𝐤𝐡'𝐬 𝐓𝐞𝐚𝐜𝐡𝐢𝐧𝐠 𝐚𝐧 𝐈𝐧𝐭𝐞𝐫𝐧𝐚𝐥 𝐁𝐚𝐭𝐭𝐥𝐞 𝐁𝐞𝐠𝐢𝐧𝐬
تب آپ کو اپنی باطنی جنگ لڑنی ہوگی۔ اب یہ علم اور اور یہ معلومات آپ کے کانوں میں داخل ہوتی ہیں اور اب حرکت کرتی ہیں، اندر کون انتظار کر رہا ہے؟ نفس اور شیطان یہ کہتے ہیں ، "اُن (شیخ )نے ابھی کیا فرمایا؟ ہرگز نہیں" پھر اب یہ جنگ شروع ہو گئی ، واو، واو، واو — کارٹون کے جیسے، اب ( دماغ میں ) تمام مختلف لوگ باتیں کر رہے ہیں اور لڑ رہے ہیں۔ ہم دیکھتے ہیں کہ اوپر کون آئے گا ۔ معلومات آتی ہیں اور آپ یہ دیکھتے ہیں کہ کون فاتح ہوا۔ آپ اگلے دن انہیں دیکھیں گے ، کیا وہ (مُرشد ) فتح یاب ہوئے یا پھر دوسرا جیت گیا ، اور روح کو نیچے گر اکر چِت کردیا گیا؟ تو پھر وہ راستہ بالکل حقیقی ہے ، جنگ بالکل اصلی ہے اور ہم اسے روزانہ کی بنیاد پر تجربہ کرتے ہیں۔
𝐓𝐫𝐚𝐧𝐬𝐥𝐢𝐭𝐞𝐫𝐚𝐭𝐢𝐨𝐧: Tab aap ko apni baatini jung larhni hogi. Ab yeh ilm aur aur yeh maloomat aap ke kaanon mein daakhil hoti hain aur ab harkat karti hain, andar kon intzaar kar raha hai? Nafs aur Shaytan yeh kehte hain," unn ( Shaykh ) ney abhi kya farmaya? hargiz nahi" Phir ab yeh jung shuru ho gayi, waooo waooo waooo, cartoons ke jaisay, ab ( dimagh mein ) tamam mukhtalif log batian kar rahay hain aur lar rahay hain. Hum dekhte hain ke oopar kon aaye ga. Maloomat aati hain aur aap yeh dekhte hain ke kon faateh huwa. Aap aglay din inhen dekhen ge, kya woh ( Murshid ) fatah yab hue ya phir dosra jeet gaya, aur ruh ko neechay gira kr chit kardiya gaya? To phir woh rasta bilkul haqeeqi hai, jung bilkul asli hai aur hum usay rozana ki bunyaad par tajurbah karte hain .
𝐎𝐫𝐢𝐠𝐢𝐧𝐚𝐥 𝐀𝐫𝐭𝐢𝐜𝐥𝐞|Then you have to have your internal fight. Now this knowledge and shaitan is in the head, inner demon, inner battle with nafs, e this information comes into your ears and now moves. Who is waiting inside there? The ego and satan saying, "What did he just say? No way." Here we go, waooo waooo waooo, like the cartoons, all the different beings are now talking and fighting. We are going to see who comes above. Information comes and you are going to see who came out victorious. You see them the next day, did they come out victorious or the other one won, and the soul was put down and crashed? So then that path is very real, the battle is very real and we experience it on a daily basis.
مُرشد آپ کی رائے میں دلچسپی نہیں رکھتے ، وہ ایک نصاب سے تعلیم دیتے ہیں
|Murshid aap ki raye mein dilchaspi nahi rakhtay, woh ek nisaab se taleem dete hain|
𝐆𝐮𝐢𝐝𝐞𝐬 𝐚𝐫𝐞 𝐍𝐨𝐭 𝐈𝐧𝐭𝐞𝐫𝐞𝐬𝐭𝐞𝐝 𝐢𝐧 𝐲𝐨𝐮𝐫 𝐎𝐩𝐢𝐧𝐢𝐨𝐧, 𝐓𝐡𝐞𝐲 𝐓𝐞𝐚𝐜𝐡 𝐟𝐫𝐨𝐦 𝐚 𝐂𝐮𝐫𝐫𝐢𝐜𝐮𝐥𝐮𝐦
پھر یہاں (مُرشد کی موجودگی میں) مت بولیں۔ مُرشد آپ کے پاس موجود کسی علم یا معلومات میں دلچسپی نہیں رکھتے ۔ اسے اپنے پاس ہی رکھیں۔ یہ اجتماعی وسائل کی اکیڈمی نہیں، جہاں آپ دو باتیں لائیں، جو آ پکو معلوم ہیں، فلاںدو باتیں لائے جو وہ جانتا ہے ، فلاں دو باتیں لائےجو وہ جانتے ہیں ، اور ہم ( سب کچھ ملا کر) اسکا 'کله پاچه' بنا ئیں— ایک شوربہ جس میں (بھیڑ کا) سر، آنکھیں اور کان ایک ہی سوپ میں پکتے ہیں اور کہیں:ٹھیک ہے ، یہ ہماری حقیقت ہے۔ نہیں، وہ اسکی پرواہ نہیں کرتے ۔ مُرشد کے پاس ایک نصاب ہے ، ایک سبق ہے اور ہر اس شخص کو پڑھانے کیلئے ایک درس ہے، جو سیکھنے کی صلاحیت رکھتا ہو۔ انہیں کسی دوسرے نصاب کی پرواہ نہیں ؛ انہیں کسی بھی دوسری کتاب کی پرواہ نہیں ؛ اور انہیں کسی دوسری ویب سائٹ کی پرواہ نہیں ۔ ان کو کسی اور چیز کی پرواہ نہیں ، سوائے جو اُن کے شیخ (سکھاتے ہیں )، اپنے سمعنا و اطعنا کے زریعے ( سُنتے اور اطاعت کرتے ہیں) ۔ یعنی وہ حاصل کرتے ہیں ، جو ( مُرشد نے)حاصل کیا تھا ، اُس تعلیم کے زریعے جو وہ (مُرشد) دے رہے ہیں؛ انہوں نے سننے اور اطاعت کے ایک مقام تک پہنچ کر یہ کامیابی حاصل کی تھی ۔ جب مُرشد سنتے ہیں تو وہ صرف اپنے مشائخ کو سنتے ہیں؛ وہ کسی اور کی بات نہیں سنتے ۔ اگر وہ کسی دوسرےکی بات سنتے تو وہ مُرشد نہ ہوتے— یہ ایک سیاسی نظام کی مثل ہوتا، ہر شخص ووٹ دیتا اور اپنی رائے دیتا اور زیادہ تر رائے پر مبنی ، ہر شخص کچھ نہ کچھ کرتا۔ نہیں ، ان کے پاس روحانیت کا نصاب ہے جو حاصل کرنا ہوگا۔
𝐓𝐫𝐚𝐧𝐬𝐥𝐢𝐭𝐞𝐫𝐚𝐭𝐢𝐨𝐧: Phir yahan ( Murshid ki mojodgi mein ) mat bolein. Murshid aap ke paas mojod kisi ilm ya malomat mein dilchaspi nahi rakhtay. Usay apne paas hi rakhen. Yeh ijtimai wasail ki academy nahi, jahan aap do baten layein, jo aap ko maloom hain, aur falan do baten laaye jo woh jaanta hai, falan do baten laaye jo woh jantay hain, aur hum ( sab kuch mila kar ) uska' kalle pache' banaye— aik shorba jis mein ( bheer ka ) sir, ankhen aur kaan aik hi soup mein pkte hain aur kahin : 'theek hai, yeh hamari haqeeqat hai'. Nahi! woh uski parwah nahi karte Murshid ke paas aik nisaab hai, aik sabaq hai aur har is shakhs ko parhanay ke liye aik dars hai, jo seekhnay ki salahiyat rakhta ho. Inhen kisi dosray nisaab ki parwah nahi; inhen kisi bhi doosri kitaab ki parwah nahi; aur inhen kisi doosri Website ki parwah nahi. Un ko kisi aur cheez ki parwah nahi, siwaye jo unn ke Shaykh ( sikhate hain ), apne Sami'na Wa Atanaa ke zariye ( suntay aur itaat karte hain). Yani woh haasil karte hain, jo ( Murshid ny ) haasil kya tha, uss taleem ke zariye jo woh ( Murshid ) day rahay hain unhon ny suneney aur itaat ke aik maqam taq poanch kar yeh kamyabi haasil ki thi. Jab Murshid suntay hain to woh sirf apne mashaiykh ko suntay hain woh kisi aur ki baat nahi suntay. Agar woh kisi dosray ki baat suntay to woh Murshid nah hotay — yeh aik siyasi nizaam ki misl hota, har shakhs vote deta aur apni raye deta aur ziyada tar raye par mabni, har shakhs kuch nah kuch karta. nahi, un ke paas rohaniyat ka nisaab hai jo haasil karna hoga. .
𝐎𝐫𝐢𝐠𝐢𝐧𝐚𝐥 𝐀𝐫𝐭𝐢𝐜𝐥𝐞|Then here (in the presence of guide) don't speak. The guides are not interested in any knowledge or information that you have. Keep it for yourself. This is not a collective resource academy where you bring two things that you know, you bring two things that you know, you bring two things you know, and we put it together like a kalle pache, a soup with the head; the eyes and ears (of sheep) in one soup and say, 'Ok this is now our reality.' No! They don't care for it. The guides have a curriculum, a lesson and teaching to be taught for anyone who has the ability to learn. They don't care about any other curriculum; they don't care about any other book and they don't care about any other website. They don't care about anything other than what their Shaykh (teaches them), through their sami'na wa atanaa (listening and obeying). It means they achieve what they achieved by what exactly they are teaching; they achieved it by reaching a station of listening and obeying. So as the guides listen, they listen only to their shaykhs; they don't listen to anybody else. If they listen to anybody else that would not be a guide. That would be sort of a political system, everybody votes and puts their opinion and based on the greater opinion then everybody will do something. No, they have a curriculum of spirituality that has to be achieved.
بیان سُننے کیلئے
Listen: https://youtu.be/M7aLywd0q30
مکمل مضمون پڑھنے کیلئے
Read: https://nurmuhammad.com/stay-silent-and-control-all…
First Part: حصہ اول
خاموش رہیں اور اپنے تمام حواس پر قابو رکھیں
|Khamosh Rahai Aur Apne Tamam Hawas Per Qabu Rakhen|
𝐒𝐭𝐚𝐲 𝐒𝐢𝐥𝐞𝐧𝐭 𝐚𝐧𝐝 𝐂𝐨𝐧𝐭𝐫𝐨𝐥 𝐀𝐥𝐥 𝐘𝐨𝐮𝐫 𝐒𝐞𝐧𝐬𝐞𝐬
2/4