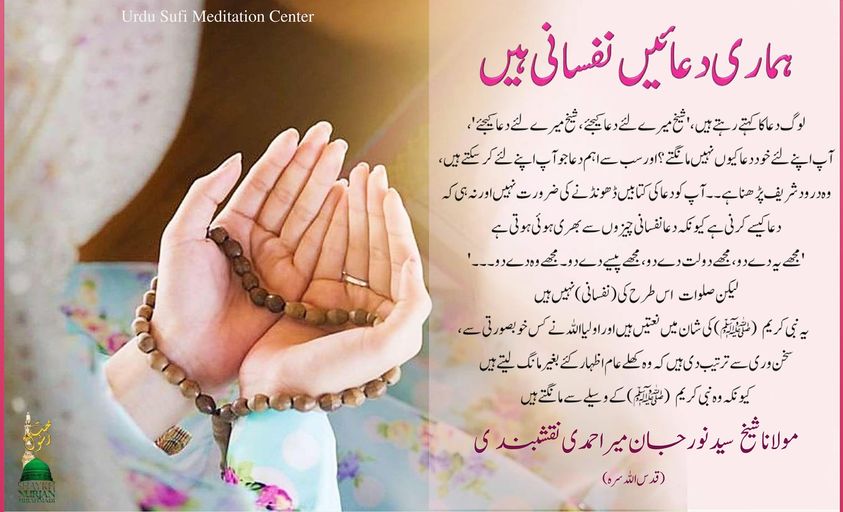 Urdu – روح کو آزاد کرنے کیلئے خفیہ الفاظ کا کوڈ(حصہ اول) |Ruh Ko Azaad Karne Ke Liye K…

روح کو آزاد کرنے کیلئے خفیہ الفاظ کا کوڈ(حصہ اول)
|Ruh Ko Azaad Karne Ke Liye Khufiya Alfaaz Ka Code|
𝐒𝐞𝐜𝐫𝐞𝐭 𝐂𝐨𝐦𝐛𝐢𝐧𝐚𝐭𝐢𝐨𝐧 𝐨𝐟 𝐖𝐨𝐫𝐝𝐬 𝐭𝐨 𝐔𝐧𝐥𝐨𝐜𝐤 𝐘𝐨𝐮𝐫 𝐒𝐨𝐮𝐥 (𝐏𝐚𝐫𝐭-𝐈)
مولانا شیخ سید نور جان میر احمدی نقشبندی (ق) کی تعلیمات مولانا (ق) کے حقائق سے
اَعُوْذُ بِاللہ مِنَ الشَّیْطٰنِ الرَّجِیْمِ ۞
بِسْمِ اللہ الرَّحْمٰنِ الرَّحِیْمِ ۞
اللہ کی پناہ مانگتا ہوں شیطان مردود سے۔
اللہ کے نام سے شروع کرتا ہوں جو نہایت مہربان رحم کرنے والا ہے ۔
انسان سیدنا محمد (ﷺ) سے محبت کی اہمیت بھول جاتے ہیں
|Insaan Sayedena Muhammad (sws) se mohabbat ki ahmiyat bhool jate hain|
𝐇𝐮𝐦𝐚𝐧𝐢𝐭𝐲 𝐅𝐨𝐫𝐠𝐞𝐭𝐬 𝐭𝐡𝐞 𝐈𝐦𝐩𝐨𝐫𝐭𝐚𝐧𝐜𝐞 𝐨𝐟 𝐒𝐚𝐲𝐲𝐢𝐝𝐢𝐧𝐚 𝐌𝐮𝐡𝐚𝐦𝐦𝐚𝐝'𝐬 (𝐬𝐰𝐬) 𝐋𝐨𝐯𝐞
ہم اس وقت تک محبت کی اہمیت کی قدر نہیں کرتے جب تک کہ آپ کو کوئی مسئلہ نہ پڑے۔ ہم اپنے تعلقات سے فائدہ اٹھاتے ہیں اور ہم ان کی قدر نہیں کرتے۔ آپ نے جوان ہوتے ہوئے شاید ایک دن بھی اپنے ماں باپ کی پرواہ نہیں کی جب تک کچھ پیسوں کی ضرورت نہ پیش آئی ۔ پھر اچانک والد صاحب بہت اہم ہوگئے۔ زندگی… کا ایک مختلف معانی تھا۔ اور یہی انسانیت کی فطرت اور ہمارے وجود کی فطرت ہے۔ ہم بھلکڑ ہیں اور بدقسمتی سے ہم سیدنا محمد (ﷺ) سے محبت کی اہمیت اور نبی کریم (ﷺ) کے دل میں اھل البیت ؑ کا مقام کیا ہے— ہم بھول گئے ۔۔۔ اور اُن سے محبت کے زریعے ، ہم سیدنا محمد (ﷺ) کی بارگاہ سے ایک خاص تعلق اور قرب حاصل کر سکتے ہیں۔
|| Allah ki panah mangta hon Shaytan mardood se. Allah ke naam se shuru karta hon jo nihayat Meharban Reham karne wala hai. Hum is waqt tak mohabbat ki ahmiyat ki qader nahi karte jab tak ke aap ko koi masla nah parre. Hum apne taluqaat se faida uthatay hain aur hum un ki qader nahi karte. Aap ne jawan hotay hoye shayad aik din bhi apne maa baap ki parwah nahi ki jab tak kuch paison ki zaroorat nah paish aayi. Phir achanak waalid sahib bohat ahem hogaye. zindagi … ka aik mukhtalif ma-ani tha. aur yahi insaaniyat ki fitrat aur hamaray wujood ki fitrat hai . Hum bhulakar hain aur bad qismati se hum Sayedena Muhammad (sws) se mohabbat ki ahmiyat aur Nabi Kareem (sws) ke dil mein Ahel al-bayt(as) ka maqam kya hai — hum bhool gaye… aur unn se mohabbat ke zariye, hum Sayedena Muhammad (sws) ki bargaah se aik khaas talluq aur qurb haasil kar satke hain.||
From the Realities of Mawlana (Q) as taught by Shaykh Nurjan Mirahmadi
A'udhu Billahi Minash Shaitanir Rajeem
Bismillahir Rahmanir Raheem
I seek refuge in Allah from Satan, the rejected one
In the Name of Allah, the Most Beneficent, the Most Merciful
We don't appreciate the importance of love until you have a problem. We take advantage of our relationships and we don't place a value on them. Growing up you probably didn't care for your mom and dad until a day that you needed some money. Then all of a sudden, dad was very important. Life was…had a different meaning. And that's the nature of humanity and nature of our existence. We're forgetful and unfortunately, we forget the need of the importance of the love of Sayyidina Muhammad (sws) and the special relationship that the Ahlul Bayt (Holy family of Prophet (sws) occupy within the heart of Prophet (sws) . And that's just the given of the humanity and the reality of family. And by loving them, we build a special relationship and nearness to the presence of Sayyidina Muhammad (sws) .
.
صلوات، اولیااللہ کی تحریر کردہ مقبول دعائیں ہیں
|Salawat, Awliya-Allah ki tehreer kardah maqbool duayen hain|
𝐒𝐚𝐥𝐚𝐰𝐚𝐭𝐬 𝐀𝐫𝐞 𝐀𝐜𝐜𝐞𝐩𝐭𝐞𝐝 𝐃𝐮'𝐚𝐬 𝐖𝐫𝐢𝐭𝐭𝐞𝐧 𝐁𝐲 𝐀𝐰𝐥𝐢𝐲𝐚
اور اب ہم سمجھ رہے ہیں ، جب وہ ( ڈاکٹر)آپ کو بتانا شروع کردیں ، 'اپنے گھر واپس چلے جاؤ، تم مرنے والے ہو' حیرت ہے کہ وہ موسم کی پیش گوئی نہیں کرسکتے ، لیکن وہ جانتے ہیں کہ تم کب مرنے والے ہو۔ تو یہ بے انتہا یقین رکھنے کا وقت ہے۔ کہ جب تم واپس اپنے غار میں چلے جاؤ اور آپ حمدو ثناء کرنا شروع کردو— اور جن دنوں آپ کے پاس ذکر (لائیو) نہ ہو ، یہ ایپ پر ہے، (محمدن وے) ایپ کھولیں، صلوات ( کا سیکشن ) کھولیں؛ آپ جانتے ہیں لوگ دعا کا کہتے رہتے ہیں ،'شیخ میرے لئے دعا کیجئے، شیخ میرے لئے دعا کیجئے۔' آپ اپنے لئے خود دعا کیوں نہیں مانگتے؟ اور سب سے اہم دعا جو آپ اپنے لئے کر سکتے ہیں، وہ درود شریف پڑھنا ہے ۔۔آپ کو دعاکی کتابیں ڈھونڈنے کی ضرورت نہیں اور نہ ہی کہ دعا کیسے کرنی ہے کیونکہ دعا نفسانی چیزوں سے بھری ہوئی ہوتی ہے— 'مجھے یہ دے دو، مجھے دولت دے دو، مجھے پیسے دے دو۔ مجھے وہ دے دو ۔۔۔ ' لیکن صلوات ، اس طرح کی (نفسانی )نہیں ہیں ۔ جب آپ گھر میں صلوات پڑھیں اور آپ صلوات ( کا سیکشن ) کھولیں اور یہ نبی کریم (ﷺ) کی شان میں نعتیں ہیں اور اولیااللہ نے کس خوبصورتی سے ، سخن وری سے ترتیب دی ہیں کہ وہ کھلے عام اظہار کئے بغیر مانگ لیتے ہیں کیونکہ وہ نبی کریم (ﷺ) کے وسیلے سے مانگتے ہیں ، 'یا ربی، بہت زیادہ مقامات عطا فرما دیجئے، آفات اور مشکلات دور کر دیجئے۔ '
|| Aur ab hum samajh rahay hain, jab woh aap ko batana shuru kar dein,' apne ghar wapas chalay jao, tum marnay walay ho.' Herat hai ke woh mausam ki paish goi nahi kar saktay, lekin woh jantay hain ke tum kab marnay walay ho. Toh yeh be inteha yaqeen rakhne ka waqt hai. Yeh ke jab tum wapas apne ghaar mein chalay jaoge aur aap hamd-o-sana karna shuru kar dein ge — aur jin dinon aap ke paas zikar nah ho, yeh app par hai, ( Muhammadan Way ) app kholeen, Salawat ( ka section ) kholain ؛ aap jantay hain log dua ka kehte rehtay hain,' Shaykh mere liye dua kijiyej, Shaykh mere liye dua kijiyej.' aap apne liye khud dua kyun nahi mangte ? Aur sab se ahem dua jo aap apne liye kar satke hain, woh durood shareef parhna hai. . Aap ko dua kitaaben dhoandne ki zaroorat nahi aur nah ke dua kaisay karni hai kyunkay dua nafsaani cheezon se bhari hui hoti hai —' mujhe yeh day do, mujhe doulat day do, mujhe paisay day do. mujhe woh day do. ..' lekin slwat, is terhan ki ( nafsaani ) nahi hain. jab aap ghar mein salawat parheen aur aap salawat ( ka section ) kholeen aur yeh Nabi Kareem (sws) ki shaan mein naatain hain aur Awliya-Allah ne kis khoubsurti se, sukhan wari se tarteeb di hain ke woh khulay aam izhaar kiye baghair maang letay hain kyunkay woh Nabi Kareem (sws) ke waselay se mangte hain,' ya Rabbi, bohat ziyada maqamat ataa farma dijiye, afaat aur mushkilaat daur kar dijiye||
And now we're understanding, when they start telling you, 'Go back into your home. You're going to die.' Amazing how they can't predict the weather, but they know when you're going to die. This is the time of immense belief. That when you go back into your cave and you start to praise and on the days that you don't have zikr (Divine remembrance), it's on the app. Open the app, open the salawats (praises upon Prophet Muhammad (sws) ); people asking that, you know, 'Pray for me, Shaykh. Pray for me, Shaykh.' Why you don't pray for yourself? And the most important prayer you have for yourself is make the durood sharif (praising on Prophet Muhammad (sws). Literally, don't have to look for du'a books and how to make a du'a (supplication) because the du'a is all filled with nafsani (egocentric) things, 'Give me this. Give me this money. Give me this money. Give me this. Give me this. Oh, gimme, gimme, gimme, my name is Jimmy.' But the salawats, it's not about that. When you read the salawats at home and you open up the salawats, it's praisings upon Sayyidina Muhammad (sws) and so beatifically and poetically composed by awliya (saints) so that they are asking without the open appearance of asking. Because they ask on the behalf of Prophet (sws) that, 'Ya Rabbi, grant immense stations. Take away calamities and difficulties.'. '
جو اپنےلئے چا ہئے وہی اپنے بھائی کیلئے چاہو
|Jo Apne Liye Chahye Wohi Apne Bhai Ke Liye Chaho|
𝐖𝐚𝐧𝐭 𝐅𝐨𝐫 𝐘𝐨𝐮𝐫 𝐁𝐫𝐨𝐭𝐡𝐞𝐫 𝐖𝐡𝐚𝐭 𝐘𝐨𝐮 𝐖𝐚𝐧𝐭 𝐅𝐨𝐫 𝐘𝐨𝐮𝐫𝐬𝐞𝐥𝐟
یعنی ، ایسا لگتا ہے جیسے ہر قسم کے حقائق جن کے وہ طلبگار ہیں، وہ نبی کریم(ﷺ) سے جو مانگ رہے ہوں
کہ اپنےلئے جو چاہئے وہی اپنے بھائی کیلئے چاہئے، ہمارے لئے مانگ رہے ہیں
أُنْسِ بْن مَالِكُ رَضِيَ اللهُ عَنْهُ قال: أَنَّ النَّبِيَّ صَلَّى اللهُ عَلَيْهِ وَسَلَّمَ قَالَ :
لَا يُؤمِنُ أحدُكُمْ حتَّى يُحِبَّ لِأَخِيهِ مَا يُحِبُّ لِنَفْسِهِ
حدیث مبارکہ : " تم میں سے کوئی شخص اس وقت تک کامل مومن نہیں ہو سکتا
جب تک کہ میں اس کے نزدیک اس کے باپ، اس کی اولاد اور تمام لوگوں سے بڑھ کر محبوب اور عزیز نہ ہو جاؤں۔
کہ ، 'اگر تم میرے لئے اور میری آل کیلئے ، میرے اصحابہ کیلئے اور وہ سب جو مجھے محبوب ہیں — اُن کیلئے یہ مانگ رہے ہو ، تو میں اللہ ( عزوجل) سے تمہارےلئے بھی یہی مانگ رہا ہوں۔ اور یہ ایک بہت عظیم حقیقت ہے۔ لہذا، جب ہم بیٹھے ہوں ، ا ور نہیں جانتے کہ ہمیں کیا کرنا چاہئے تو ایپ سے صلوات کی کتاب نکالیں اور پڑھتے جائیں ، اپنے سُر میں، آپ کا سُریلا ہونا ضروری نہیں اگر آپکی آواز اچھی نہیں ،( اور نہ ہی )آپ کو گھر میں چیخ کر صلوات پڑھنے کی ضرورت ہے بلکہ صرف اپنے آپ میں(مدھم انداز میں پڑھیں )۔ آپ نے پڑھا اور اور اسے پڑھتے جائیں، اور اسے پڑھتے جائیں اور اور اسے پڑھتے جائیں اور یہ ہماری نجات ہیں۔
|| Yani, aisa lagta hai jaisay har qisam ke haqayiq jin ke woh tallab-gaar hain, woh Nabi Kareem (sws) se jo maang rahay hon ke apne liye jo chahiye wohi apne bhai ke liye chahiye, hamaray liye maang rahay hain [ Hadith Mubarikah :" Tum Mein Se Koi Shakhs Is Waqt Tak Kaamil Momin Nahi Ho Sakta Jab Tak Ke Mein Is Ke Nazdeek Is Ke Baap, Is Ki Aulaad Aur Tamam Logon Se Barh Kar Mehbub Aur Aziz Nah Ho Jaoon ] Ke,' agar tum mere liye aur meri aa'll ke liye, mere Sahaba Karam ke liye aur woh sab jo mujhe mehbub hain, unn ke liye yeh maang rahay ho, to mein Allah (AJ) se tumahray liye bhi yahi maang raha hon. Aur yeh aik bohat azeem haqeeqat hai. Lehaza, jab hum baithy hon, aur nahi jantay ke hamein kya karna chahiye to app se salawat ki kitaab nikalen aur parhte jayen, apne sur mein, aap ka Sureela hona zaroori nahi agar apkee aawaz achi nahi, ( aur nah hi ) aap ko ghar mein cheekh kar salawat parhany ki zaroorat hai balkay sirf apne aap mein ( madham andaaz mein parheen ). Aap ne parha aur aur usay parhte jayen, aur usay parhte jayen aur aur usay parhte jayen aur yeh hamari nijaat hain||
It means every type of reality that they're asking for, as they are asking Prophet (sws) , 'What you want for your brother want for you,' is asking for us.
أُنْسِ بْن مَالِكُ رَضِيَ اللهُ عَنْهُ قال:
أَنَّ النَّبِيَّ صَلَّى اللهُ عَلَيْهِ وَسَلَّمَ قَالَ : لَا يُؤمِنُ أحدُكُمْ حتَّى يُحِبَّ لِأَخِيهِ مَا يُحِبُّ لِنَفْسِهِ
لْبُخَارِيُّ وَمُسْلِمٌ
Anas bin Malik (ra) qala: An Nabi ﷺ Qala:
"La yuminu Ahadukum hatta yuhibbu li akhihi ma yuhibbu li Nafsihi."
Anas bin Malik (ra) narrated that the Prophet (pbuh) said:
"None of you (truly) have faith till he loves for his brother that which he loves for himself." [Sahih Al Bukhari and Sahih Muslim]
That, 'If you're asking for this for me and my family, my companions and all whom I love, then I am asking Allah (AJ) same for you.' And this is an immense reality. So, when we're sitting, have nothing that we know what we're going to do, take out the salawat book on the app and keep reciting the salawats, even to a tone to yourself. You don't have to be melodious if you don't have a nice voice. You don't have to scream in the house the salawat but just to yourself. You recited and keep reading it and reading it and reading it and these are a najat (salvation) for us.
سیدنا محمد (ﷺ) کی نظر کے طالب رہیں
|Sayedena Muhammad (sws) ki nazar ke taalib rahen|
𝐒𝐞𝐞𝐤 𝐭𝐡𝐞 𝐍𝐚𝐳𝐚𝐫 𝐨𝐟 𝐒𝐚𝐲𝐲𝐢𝐝𝐢𝐧𝐚 𝐌𝐮𝐡𝐚𝐦𝐦𝐚𝐝 (𝐬𝐰𝐬)
اس زمین کا وقت ختم ہورہا ہے۔ اس زمین پر بھاری مشکلات آنے والی ہیں اور جو تمہارے پاس ہے، تم اُس کیلئے جوابدہ ہو۔ اور جو کچھ بھی ہم (صدقہ ) دے رہے ہیں اور جو کچھ ہم اپنے وقت سے دیتے ہیں، ہماری کوشش ، ہماری صلاحیت، ہمارا رزق، جو کچھ ہمیں ملتا ہے ، اور ہم سیدنا محمد (ﷺ) کی راہ میں دے دیتے ہیں ، اسکی جانچ نہ کریں، فکر مت کریں ، 'اوہ ، یہ اس طرح ہے ، اُس طرح ہے ' یہ آپ کے اکاؤٹنٹ بننے کیلئے نہیں ہے ، بلکہ یہ آپ کے اکاؤنٹ کیلئے ہے۔ اور تم سیدنا محمد (ﷺ) کی نظر کے طلبگار ہو، بس اتنا ہی اہم ہے۔ اس شخص نے یہ کھالیا یا انہوں نے اسے کی ٹوپی لیکر اپنے سر پر رکھ لی – یہ آپ کا مسئلہ نہیں ہے۔ آپ کا واحد مسئلہ یہ ہے کہ آپ سیدنا محمد (ﷺ) کی توجہ کے طالب ہیں ، بس یہی ۔ اور آپ اسے جعلی ایمان سے حاصل نہیں کر سکتے ، 'ارے نہیں ، مجھے محبت ہے' آ پکو کیسی محبت ہے، آپ نے اس محبت کیلئے کیا کیا؟ تو یہ راستہ ، طریقۃ کا مطلب ہے راستہ — یہ راستہ اصل کوششوں اور اقدامات پر مبنی ہے جو عمل دکھائی دیں کہ دوسرے لوگ آپ کو پاگل شخص سمجھیں ۔ اب آپ محمدیون بنتے جا رہے ہیں
|| Is zameen ka waqt khatam ho raha hai. Is zameen par bhaari mushkilaat anay wali hain aur jo tumahray paas hai, tum uss ke liye jawabdeh ho. aur jo kuch bhi hum ( sadqa ) day rahay hain aur jo kuch hum apne waqt se dete hain, hamari koshish, hamari salahiyat, hamara rizaq, jo kuch hamein milta hai, aur hum Sayedena Muhammad (sws) ki raah mein day dete hain, uski jaanch nah karen, fikar mat karen,' oh, yeh is terhan hai. uss terhan hai' yeh aap ke accountant ban'nay ke liye nahi hai, balkay yeh aap ke account ke liye hai .Aur tum Sayedena Muhammad (sws) ki nazar ke tallab-gaar ho, bas itna hi ahem hai. is shakhs ne yeh khalya ya unhon ne usay ki topi leker apne sir par rakh li – yeh aap ka masla nahi hai. Aap ka wahid masla yeh hai ke aap Sayedena Muhammad (sws) ki tawajah ke taalib hain, bas yahi. Aur aap usay jaali imaan se haasil nahi kar satke,' arrey nahi, mujhe mohabbat hai' aap ko kaisi mohabbat hai, aap ne is mohabbat ke liye kya kya? to yeh rasta, tareeqa ka matlab hai rasta, yeh rasta asal koshisho aur iqdamaat par mabni hai jo amal dikhayi den ke dosray log aap ko pagal shakhs samjhain. Ab aap Muhammadiyun bantay ja rahay hain||
Time is finishing on this Earth. Immense difficulty is coming upon this Earth and what you have, you're accountable for. And whatever we give and what we do of our time, our effort, our ability, our rizq (sustenance), whatever is coming and we put in the way of Sayyidina Muhammad (sws) . Don't follow up with it. Don't worry, 'Oh, this like this. This like this.' It's not for you to be the accountant, but this is for your account.
And you want the nazar (gaze) of Sayyidina Muhammad (sws) . That's all that matters. The person ate it, they put it on their head as a hat, is not your problem. Your only problem is that you need the attention of Sayyidina Muhammad (sws) , that's it. And you're not going to get it by the fake faith, 'Oh no, I love.' What you love? What you did for the love? So this way, tariqah means path. This path is based on actual effort and steps that are visible actions that are visible that other people see you as a crazy person. You're now becoming Muhammadiyoon.
جب آپ اپنی کوششوں میں اضافہ کرتے ہیں تو ، اللہ ( عزوجل) آپ کے ایمان میں اضافہ فرماتا ہے
|Jab aap apni koshisho mein izafah karte hain toh Allah (AJ) aap ke imaan mein izafah farmata hai|
𝐖𝐡𝐞𝐧 𝐘𝐨𝐮 𝐈𝐧𝐜𝐫𝐞𝐚𝐬𝐞 𝐘𝐨𝐮𝐫 𝐄𝐟𝐟𝐨𝐫𝐭𝐬, 𝐀𝐥𝐥𝐚𝐡 (𝐀𝐉) 𝐈𝐧𝐜𝐫𝐞𝐚𝐬𝐞𝐬 𝐘𝐨𝐮𝐫 𝐅𝐚𝐢𝐭𝐡
وہ کہتے ہیں ، 'آپ لوگ ایسے کیوں نظر آتے ہیں؟ آپ کو یہ عمامہ ، یہ ٹوپی ، یہ داڑھی ، یہ کپڑے ، یہ مسواک رکھنے کی کیا ضرورت ہے ؟ تمہیں ایسے کیوں کرنا ہے؟ ' یہ انتہانہیں ہے، یہ بس مختلف ہے کیونکہ ایسا لگتا ہے کہ آپ چاند سے اس زمین پر آئےہیں۔ آپ کسی دوسرے سیارے کے مخلوق لگتے ہو! (کہیے) ' جی ہاں ، میں حقیقتِ محمدیہ (ﷺ) سے ہوں، میں بس یہاں دورہ کر رہا ہوں دیکھنے کیلئے کہ یہ زمین کتنی بری ہے۔ ہم یہاں کے باشندے نہیں ہیں'۔ یہ ایمان ، جس کیلئے آپ اپنا خون ، اپنا پسینہ اور اپنے آنسو ادا کرتے ہیں ایسا ہے کہ جب آپ ہر بار کچھ کرتے ہیں ، اللہ ( عزوجل) کچھ بدلہ عطا فرماتا ہے۔ آپ اس طرح کرتے ہیں [ مولانا شیخ ہاتھ سے دیتے ہیں] ، اللہ ( عزوجل) واپس دے دیتا ہے۔ وہ کیا عطا فرما رہا ہے؟ وہ ایمان ، یقین ، ایمان ، یقین عطا فرماتا ہے۔ اور پھر آپ پڑھنا شروع کردیتے ہیں ، آپ تلاوت کرتے ہیں ، آپ تلاوت کرتے ہیں۔ اور تمہارے اعمال بہت مضبوط ہو جاتے ہیں اور تمہارے اندر ایمان کا نور مضبوط بن جاتا ہے: يَا أَيُّهَا الَّذِينَ آمَنُوا آمِنُو۔
يَا أَيُّهَا الَّذِينَ آمَنُوا آمِنُو۞
اے ایمان والو، ایمان لاؤ
سورۃ النساء (4) آیت 136
|| Woh kehte hain,' aap log aisay kyun nazar atay hain? Aap ko yeh amaamh, yeh topi, yeh daarhi, yeh kapray, yeh maswaak rakhnay ki kya zaroorat hai? Tumhe aisay kyun karna hai ?' yeh inteha nahi hai, yeh bas mukhtalif hai kyunkay aisa lagta hai ke aap chaand se is zameen par aaye hain. Aap kisi dosray sayaray ke makhlooq lagtay ho! ( kahiye )' jee haan, mein Haqeeqat Muhammadiya (sws) se hon, mein bas yahan dora kar raha hon dekhnay ke liye ke yeh zameen kitni buri hai. hum yahan ke bashinday nahi hain' . Yeh imaan, jis ke liye aap apna khoon, apna paseena aur apne ansoo ada karte hain aisa hai ke jab aap har baar kuch karte hain, Allah (AJ) kuch badla ataa farmata hai. Aap is terhan karte hain [ Mawlana Shaykh haath se dete hain ], Allah (AJ) wapas day deta hai. woh kya ataa farma raha hai? Woh imaan, yaqeen, imaan, yaqeen ata farmata hai. Aur phir aap parhna shuru kardete hain, aap tilawat karte hain, aap tilawat karte hain. Aur tumahray aamaal bohat mazboot ho jatay hain aur tumahray andar imaan ka noor mazboot ban jata hai : 'Yaaa aiyuhal lazeena aamanoo aaminoo' (Ayat Ka Tarjuma: Ae imaan walo, imaan lao 4:136)
They say, 'Why you guys look like this? Why you have to have this turban, this hat, this beard, these clothes, this siwak (teeth cleaning twig)? Why you have to do this?' It's not extreme. It's just different because it looks like you're from the moon on this Earth. You're like from a different planet, 'Yes, I'm from the Muhammadan Reality. I'm merely visiting this Earth to see how bad it is.' We're not inhabitants of here.
This faith that you pay into with your blood, your sweat and your tears is something that every time you do something, Allah's (AJ) exchanging something. You go like this [Shaykh demonstrates giving], Allah (AJ) gives back. What is He giving back? He's giving back faith, faith, faith, faith. And then you begin to recite, you recite, you recite. And your actions become so strong and the light within your belief becomes so strong, "Yaaa aiyuhal lazeena aamanooo aaminoo."
يَا أَيُّهَا الَّذِينَ آمَنُوا آمِنُو ﴿١٣٦
4:136 – Yaaa aiyuhal lazeena aamanooo aaminoo." (Surat An-Nisa)
"O ye who believe! Believe." (The Women, 4:136)
آپ کا ایمان آپکو بچا لےگا
|Aap ka imaan aap ko bacha le ga|
𝐘𝐨𝐮𝐫 𝐅𝐚𝐢𝐭𝐡 𝐖𝐢𝐥𝐥 𝐒𝐚𝐯𝐞 𝐘𝐨𝐮!
ہر لمحے ، آپ کا ایمان بڑھتا رہنا چاہئے، اسے کسی قمیض کی طرح پرانا بوسیدہ ہونے کیلئے نہ چھوڑ دیں۔ رسول اللہ ( ﷺ) نے ارشاد فرمایا : ایمان قمیض کی مانند ہے، یہ بوسیدہ ہو سکتا ہے جب آپ کو لگتا ہے کہ آپ کے پاس ایمان آگیا، بس ( پرانا) ہو گیا ۔
عَنْ عَبْدِ اللَّهِ بْنِ عَمْرِو بْنِ الْعَاصِ قَالَ
قَالَ رَسُولُ اللَّهِ صَلَّى اللَّهُ عَلَيْهِ وَآلِهِ وَسَلَّمَ
إِنَّ الْإِيمَانَ لَيَخْلَقُ فِي جَوْفِ أَحَدِكُمْ كَمَا يَخْلَقُ الثَّوْبُ الْخَلِقُ فَاسْأَلُوا اللَّهَ أَنْ يُجَدِّدَ الْإِيمَانَ فِي قُلُوبِكُمْ
حضرت عبداللہ بن عمرو بن العاص (رضی اللہ تعالیٰ عنه) سے مروی ہےکہ رسول اللہ (ﷺ )نے فرمایا: "بے شک تم میں سے کسی شخص کے سینے میں ایمان اسی طرح پرانا بوسیدہ ہوجاتا ہے جیسے لباس یا کپڑا پرانا ہو جاتا ہے پس تم الله سے سوال کیا کرو کہ وہ تمہارے دلوں میں ایمان کی تجدید فرما دے"
(المستدرک ۵،السلسلة الصحيحة)
ہر لمحے خود کو چیلنج کریں کہ زیادہ سے زیادہ عمل کریں ، زیادہ سے زیادہ کام کریں ،، زیادہ سے زیادہ دیں، زیادہ سے زیادہ حصہ لیں ، تاکہ میں ایسا محسوس کروں کہ میں ڈوب رہا ہوں کہ میں اتنا کر رہا ہوں کہ مجھے نبی کریم (ﷺ) سے بے حد محبت کا احساس ہو۔ کہ میں لگاتار کر ہاہوں ، مسلسل یہ محبت بڑھتی جارہی ہے۔ اب یہ ایمان ہے جو آپ کی نجات بننا شروع ہو جائے گا ۔ کیونکہ جیسا کہ وہ کہتے ہیں: 'آپ مرجائیں گے، آپ کو سردی لگنے والی ہے۔ تم اپنی ناک صاف کر رہے ہو اور اب تم یقینا مرنے جا رہے ہو اور اب سانس نہیں آئے گا۔ '
|Har lamhay, aap ka imaan barhta rehna chahiye, usay kisi kameez ki terhan terhan purana boseedah honay ke liye nah chore den. Rasul Allah (sws) ne irshad farmaya : imaan kameez ki manind hai, yeh purani boseedah ho sakta hai jab aap ko lagta hai ke aap ke paas imaan agaya, bas ( purana ) ho gaya .[ Hadith Mubaraka: Hazrat Abdullah ibn Amr (r) se marwi hai ke Rasul-Allah(sws) ne farmaya :"Be Shak Tum Mein Se Kisi Shakhs Ke Seenay Mein Imaan Isi Terhan Purana Boseedah Hojata Hai Jaisay Libaas Ya Kapra Purana Ho Jata Hai Pas Tum Allah Se Sawal Kya Karo Ke Woh Tumahray Dilon Mein Imaan Ki Tajdeed Kardey Al-Mustadrak 'alal Sahihin 5] Har lamhay khud ko challenge karen ke ziyada se ziyada amli karen, ziyada se ziyada kaam karen, , ziyada se ziyada den, ziyada se ziyada hissa len, taakay mein aisa mehsoos karen ke mein doob raha hon ke itna kar raha hon ke mujhe Nabi Kareem (sws) se be-had mohabbat ka ehsas ho. ke mein lagataar kar raha hon, musalsal yeh mohabbat barhti jarahi hai. Ab yeh imaan hai jo aap ko nijaat ban-na shuru ho jaye ga. kyunkay jaisa ke woh kehte hain :' aap marjayen ge, aap ko sardi lagnay wali hai,Tum apni naak saaf kar rahay ho ab toh yaqeenan tum marnay ja rahay ho aur ab saans nahi aaye ga||
At every moment, your faith has to be increasing. Don't leave it like a shirt to become worn out. Prophet (sws) describes, 'Iman (faith) is like a shirt. It can become worn out.' When you think you have it and that's it.
عَنْ عَبْدِ اللَّهِ بْنِ عَمْرِو بْنِ الْعَاصِ قَالَ قَالَ رَسُولُ اللَّهِ صَلَّى اللَّهُ عَلَيْهِ وَآلِهِ وَسَلَّمَ
إِنَّ الْإِيمَانَ لَيَخْلَقُ فِي جَوْفِ أَحَدِكُمْ كَمَا يَخْلَقُ الثَّوْبُ الْخَلِقُ فَاسْأَلُوا اللَّهَ أَنْ يُجَدِّدَ الْإِيمَانَ فِي قُلُوبِكُمْ
(5 المستدرك على الصحيحين)
'An Abdullah ibn Amr qala: Qala Rasulullahi (sws): "Innal Imana layakhlaqu fi jawfi ahadekum kama yakhlaquth thawbul khalequ fasaloo Allaha an yujaddedal Imana fi qulubukom." [Al-Mustadrak 'alal Sahihin 5]
Abdullah ibn Amr reported: The Messenger of Allah, peace and blessings be upon him, said, "Verily, the faith of one of you will wear out within him, just as a shirt becomes worn out, so ask Allah to renew faith in your hearts." [Al-Mustadrak 'alal Sahihin 5]
Challenge ourselves at every moment to do more, to operate more, to give more, to participate more, so that I feel I'm just overwhelmed with so much that I'm doing that I feel this immense love for Prophet (sws). That I'm continuously doing, continuously this love is growing. Now this faith is what begins to save you. Because as they say, 'You're going to die. You're going to catch a cold. You're going to blow your nose and then you're going to die and can't breathe anymore.'
اللہ (عزوجل) اُن کی حفاظت کرتا ہے جو احباب ہیں
|Allah (AJ) unn ki hifazat karta hai jo Ahbaab hain|
𝐀𝐥𝐥𝐚𝐡 (𝐀𝐉) 𝐏𝐫𝐨𝐭𝐞𝐜𝐭𝐬 𝐓𝐡𝐨𝐬𝐞 𝐖𝐡𝐨 𝐀𝐫𝐞 𝐀𝐡𝐛𝐚𝐛
اور آپ کا ایمان آپ کو بتاتا ہے کہ اگر وہ تمہارے سر پر ایٹم بم بھی پھینک دیں ، اگر اللہ (عزوجل) آپ کو زندہ رکھنا چاہتا ہے تو کوئی مسئلہ نہیں ، آپ زندہ رہیں گے۔ شیخ عبداللہ الفائز الدغستانی (ق) ، سلطان الاولیا نے فرمایا: ایک دن ایسا آئے گا – وہ اس دنیا پر بم برسائیں گے، ایٹمی بم– سات میں سے چھ لوگ ہلاک ہوجائیں گے لیکن جسے اللہ (عزوجل) محفوظ اور حفاظت سے رکھنا چاہے گا تاکہ سیدنا مھدی (علیہ السلام) کا ساتھ پائیں ، ان کے لئے یہ (بمباری) زکام جیسی ہوگی کیونکہ آلودگی آئے گی اور زکام ہوجائے گا، ایٹمی تابکاری مواد سے موت نہیں، اللہ (عزوجل) اسے گھٹا کے زکام میں بدل دے گا ، اُن کیلئے جواحباب اور عاشق ہیں۔
|| Aur aap ka imaan aap ko batata hai ke agar woh tumahray sir par atom bomb bhi pheink dain, agar Allah (AJ) aap ko zindah rakhna chahta hai to koi masla nahi, aap zindah rahen ge. Shaykh Abdullah Al-Faiz Ad-Dagestani (Q), Sultan al-Awliya ne farmaya : aik din aisa aaye ga – woh is duniya par bomb barsaaen ge, atomi bomb, saat mein se chay log halaak ho jaien ge lekin jisay Allah (AJ) mehfooz aur hifazat se rakhna chahay ga taakay Sayyidina Mahdi (as) ka sath payen, un ke liye yeh zukam jaisa hoga kyunkay aloodgi aaye gi aur zukam hojaye ga, atomi taabkari mawaad se mout nahi. Allah (AJ) is ko ghata kar zukam mein badal day ga, unn ke liye jo Ahbab aur aashiq hain .||
And your faith tells you even they throw an atomic bomb on your head, if Allah (AJ) wants you alive, no problem, you will be alive. Shaykh Abdullah Al-Faiz Ad-Dagestani (Q), Sultan al-Awliya said, 'A day is coming – they're going to throw bombs on this world, nuclear bombs. Six out of seven will perish but whom Allah (AJ) makes mahfuz (safeguarded) and guarded to be with Sayyidina Mahdi (as), it'll be like a cold for them because the contaminants will come and cold. Not by death of nuclear waste. Allah (AJ) will reduce it to be a cold for that one who's ahbab and lover.
1/3
یہ بیان اس لنک پر دیکھا جا سکتا ہے:
🟢Watch this Bayan on YouTube
شیخ سید نور جان میر احمدی نقشبندی (ق) کا آفشیل فیس بک پیج لائک کیجئے
🟢Official Page: Shaykh Nurjan Mirahmadi
Shaykh Nurjan Mirahmadi
اپنے سوالات اور دعا کی درخواست ای میل کیجئے:
🆘 Ask Your Questions or Need Prayers. Email: [email protected]