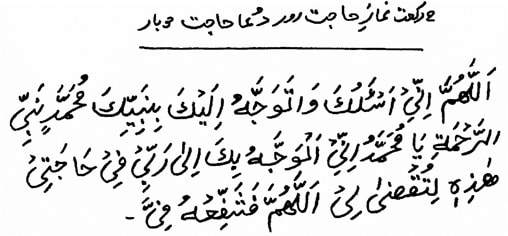 Urdu – روحانی اندھاپن (بے بصری) "جو شخص اس دنیا میں اندھا رہا وہ آخرت میں بھی اند…
روحانی اندھاپن (بے بصری)
"جو شخص اس دنیا میں اندھا رہا وہ آخرت میں بھی اندھا رہے گا"
ایک نابینا شخص نبی کریم سیدنا محمد ﷺ کے پاس آیا اور عرض کی:
" (یا سیدی ، یا رسولِ کریم) اللہ سے دعا کیجئے کہ وہ میری مدد فرمائیں۔"
آپ ﷺ نے جواب فرمایا: "اگر تم چاہو تو میں اس میں تاخیر کروں ، اور یہ تمہارے لئے بہتر ہوگا اور اگر تم چاہو تو میں اللہ (عزوجل) سے (تمہارے لئے) دعا کروں گا۔"
"اس نے کہا:" پھر اللہ سے دعا کر دیجئے۔
نبی کریم ﷺ نے اُس نابینا سے فرمایا:
جا کر وضو کرو اور دو رکعت نماز پڑھو ، پھر کہو:
"اے اللہ ، میں آپ سے ما نگتا ہوں( اَسْئَلُکَ )
اور آپ کی طرف رجوع کرتا ہوں( اتَوَجَّہُ اِلَیْکَ )
آپ کے نبی حضرت محمدﷺ کے ساتھ( بِنَبِیِّکَ مُحَمَّدٍ )
جو پیغمبرِ رحمت ہیں (نَبِیِّ الرَّحْمَۃِ )
اے ( سیدنا ) محمدﷺ ( یَامُحَمَّدُ )
میں اپنی موجودہ ضرورت کے بارے میں اپنے رب کی طرف آپ کے ساتھ جا رہا ہوں /
میں اپنے رب سے میری نظر کی واپسی کے بارے میں آپ کی شفاعت کے ساتھ سوال کررہا ہوں
:ایک اور ورژن یہ ہے
اے اللہ انھیں میرے لئے (آپ کے ساتھ) شفاعت کی اجازت عطا فرما!
دعا:
اَللّٰھُمَّ اِنِّیْ اَسْئَلُکَ وَ اتَوَجَّہُ اِلَیْکَ بِنَبِیِّکَ مُحَمَّدٍ نَبِیِّ الرَّحْمَۃِ یَامُحَمَّدُ اِنِّیْ اتَوَجَّہُ بِکَ اِلٰی رَبِّیْ فِیْ حَاجَتِیْ ھٰذِہٖ لِتُقْضٰی لِیْ اَللّٰھُمَّ فَشَفِّعْہُ فِیَّ۔
2 رکعت نفل نمازحاجت، پھر 3 مرتبہ یہ دعا پڑھ کر اپنی حاجت پورے ہونے کی دعا مانگیں:
از مولانا شیخ محمد ہشام قبانی ( قدس اللہ سرہ)
Spiritual Blindness
Blind in This World will Be Blind in the Next
A blind man came to the Prophet and said:
"Invoke Allah for me that he help me.
" He replied: "If you wish I will delay this, and it would be better for you,
and if you wish I will invoke Allah the Exalted (for you).
" He said: "Then invoke him."
The Prophet said to him:
idhhab fa tawadda', wa salli rak`atayn thumma qul—
"Go and make an ablution, pray two rak`at,
then say: "O Allah, I am asking you (as'aluka) and
turning to you (atawajjahu ilayka) with your Prophet Muhammad
(bi nabiyyika Muhammad), the Prophet of mercy;
O Muhammad (ya Muhammad), I am turning with you to my Lord regarding my present need /
I am asking my Lord with your intercession concerning the return of my sight
(inni atawajjahu bika ila rabbi fi hajati hadhih –
– another version has: inni astashfi`u bika `ala rabbi fi raddi basari) so that He will fulfill my need;
O Allah, allow him to intercede (with you) for me (allahumma shaffi`hu fiyya)."
Dua:
as'aluka atawajjahu ilayka bi nabiyyika Muhammad, ya Muhammad
inni atawajjahu bika ila rabbi fi hajati hadhih –
-inni astashfi`u bika `ala rabbi fi raddi basari allahumma shaffi`hu fiyya)
2 RAKAT SALAT NAFL HAJAT THEN READ THE ABOVE 3 TIMES AND MENTION YOUR DESIRE
#JummahMubarak #ShaykhNurjanMirahmadiNaqshbandi #UrduSMC #NurMuhammad #SallallahuAlayhiwasallam #Duaa