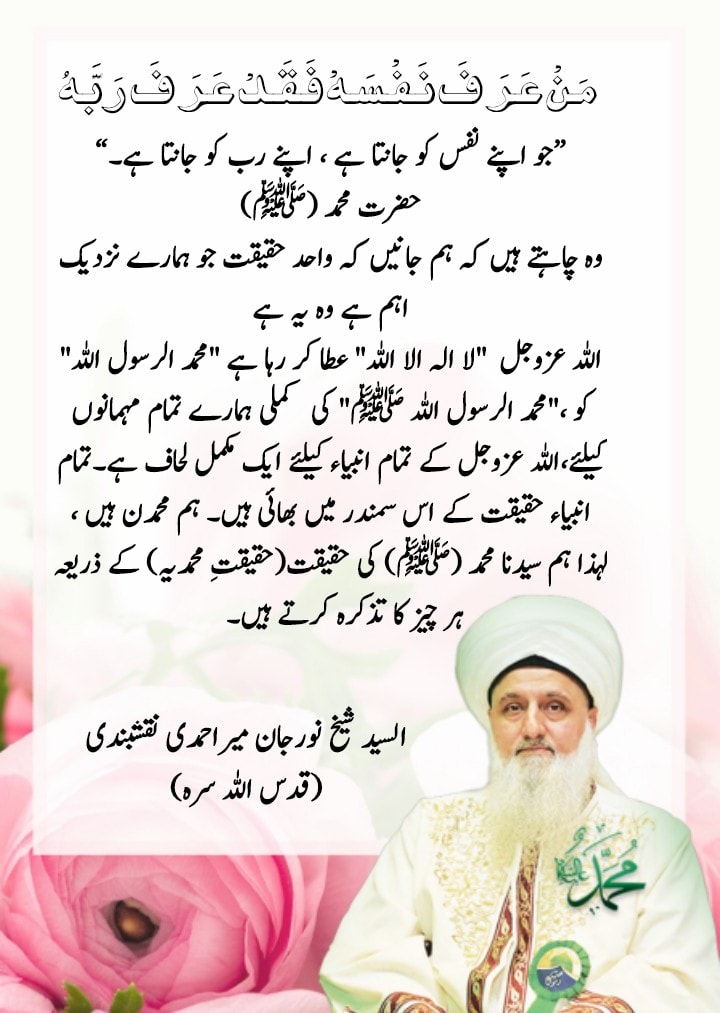 Urdu – رسول الله (ﷺ) کی روح حق(الہی حقائق کی حامل) ہے قرآن پاک کہاں سے آیا؟یہ نبی اکرم…
رسول الله (ﷺ) کی روح حق(الہی حقائق کی حامل) ہے
قرآن پاک کہاں سے آیا؟یہ نبی اکرم (ﷺ) کے قلب سے ،ظاہر ہو رہا ہے۔یہ قدرہ کا منبع ہے ، طاقت کا ذریعہ ہے۔ جب ہم خود کو فنا کردیتے ہیں اور خود کو اپنی نوری حقیقت پر واپس لے جاتے ہیں تو وہ چاہتے ہیں کہ جب آپ معرفت کے راستے کو سمجھنا شروع کریں گے تو جانیں گے کہ یہ نبی کریمﷺ کی روح ہے جو حق اور حقیقت ہے۔ پھر آپ کے خیال میں اُس نور کے قلب میں کیا ہو رہا ہے؟ پھر ہم اپنے آپ کو سمجھنے لگتے ہیں: "جو خود کو جانتا ہے وہ اپنے رب کو جانتا ہے۔" ضروری نہیں کہ اللہ عزوجل کو، بلکہ وہ اپنے رب کو جان لے گا۔ وہ جان لے گا کہ اُس کی(اپنی) حقیقت پر کس کی حکمرانی ہے۔
مَنْ عَرَفَ نَفْسَهْ فَقَدْ عَرَفَ رَبَّهُ
"جو اپنے نفس کو جانتا ہے ، اپنے رب کو جانتا ہے۔"حضرت محمد (ﷺ)
وہ چاہتے ہیں کہ ہم جانیں کہ واحد حقیقت جو ہمارے نزدیک اہم ہے وہ یہ ہے
اللہ عزوجل "لا الہ الا اللہ" عطا کر رہا ہے "محمد الرسول اللہ" کو ،"محمد الرسول اللہ ﷺ" کی کملی ھمارے تمام مہمانوں کیلئے،اللہ عزوجل کے تمام انبیاء کیلئے ایک مکمل لحاف ہے۔تمام انبیاء حقیقت کے اس سمندر میں بھائی ہیں۔ ہم محمدن ہیں ، لہذا ہم سیدنا محمد (ﷺ) کی حقیقت(حقیقتِ محمدیہ) کے ذریعہ ہر چیز کا تذکرہ کرتے ہیں۔
السید شیخ نورجان میراحمدی نقشبندی ق
Urdu Transliteration:
|RASULALLAH SALALLAHU ALAIHI WA ALAYHI WASSALAM KI RUH HAQ HA|
Quran Pak kahan se aya? Ye Nabi Akram ﷺ ke qalb se,zaahir ho raha ha.ye Qudra ka man'ba ha,Taqat ka zariya ha.jab hum khudko fana kar dete hain aur khudko apni noori haqeeqat par wapis le jaatay hain tu wo chahtay hain ke jab app Mar'fat ke raaste ko samjhna shuru kreinge tu jaanein ge ke ye Nabi kareem ﷺ ki ruh ha jo Haq aur Haqeeqat ha.phir ap ke khayal mein ous Noor ke qalb mein kia ho raha ha? Phir hum apnay aap ko samjhne lagte hain: "Jo khud ko jaanta ha wo apnay rab ko janta ha".zaroori nahi ke Allah azzawwajjal ko, blkay wo apnay Rub ko jaan Le ga.wo jaan le ga ke ouski(apni) haqeeqat Par kis ki Hukmarani ha.
Man'Arafa Nafsahu, Fa'qad Ara'fa Rabba'hu
"Jo Apnay Nafs ko janta ha, wo apnay Rubb ko jaanta ha"
(Hazrat Muhammad Salallahu Alayhi wa Alayhi wassalam)
Wo Chahte hain ke hum jaanein ke waahid Haqeeqat jo hmaray nazdeek aham ha wo ye ha:Allah Azzawwajjal "La Ilaaha Ilallah" ata kar raha ha,"Muhammad'ur'Rasool'ullah" ko, Muhammad'ur'Rasool'ullah Salallahu Alayhi wa alayhi wassalam ki kamli hmaray tmam mehmaano ke liye, Allah azzawwajjal ke tamam anbiya ke liye aik mukammal lehaaf ha.Tmam Anbiya Haqeeqat ke iss Samundar mein Bhai hain.Hum Muhammadan hain, lehaaza hum Sayyidina Muhammad Salallahu Alayhi wa Alayhi wassalam ki Haqeeqat(Haqeeqat e Muhammadiyah) ke zariye har cheez ka tazkira karte hain.
TRANSCRIBED LECTURE:
The Soul of Prophet (s) Is the Divinely Haqaiq (Realities)
Where did the holy Quran come from? From the heart of Prophet (s), it is emanating out – it is the source of qudra, it is the source of power. When we annihilate ourselves and take ourselves back to our light reality; they want us to know, that when you begin to understand in the way of ma'rifa that it's the soul of Prophet (s) is the haqa'iq and the reality. Then what you think is happening in the heart of that light? Then we begin to understand ourselves: "Who knows himself will know his Lord." Not necessarily Allah, but he'll know his Lordship. He'll know what governs his reality.
مَنْ عَرَفَ نَفْسَهْ فَقَدْ عَرَفَ رَبَّهُ
"Man 'arafa nafsahu faqad 'arafa Rabbahu"
"Who knows himself, knows his Lord." Prophet Muhammad (ﷺ)
They want us to know that the only reality that is important for us is that Allah (AJ) "La illaha illAllah" is dressing "Muhammadun RasulAllah (s)". Muhammadun RasulAllah (Prophet Muhammad is the Messenger of Allah), for all of our guests, is an entire blanket for all the Prophets of the Divine. All the Prophets are brothers within that ocean of reality. We are Muhammadan, so we mention everything through the reality of Sayyidina Muhammad (s).
As Sayyed Shaykh Nurjan Mirahmadi Naqshbandi Q
read More :
https://nurmuhammad.com/souls-of-lovers-of-prophet-saw…/