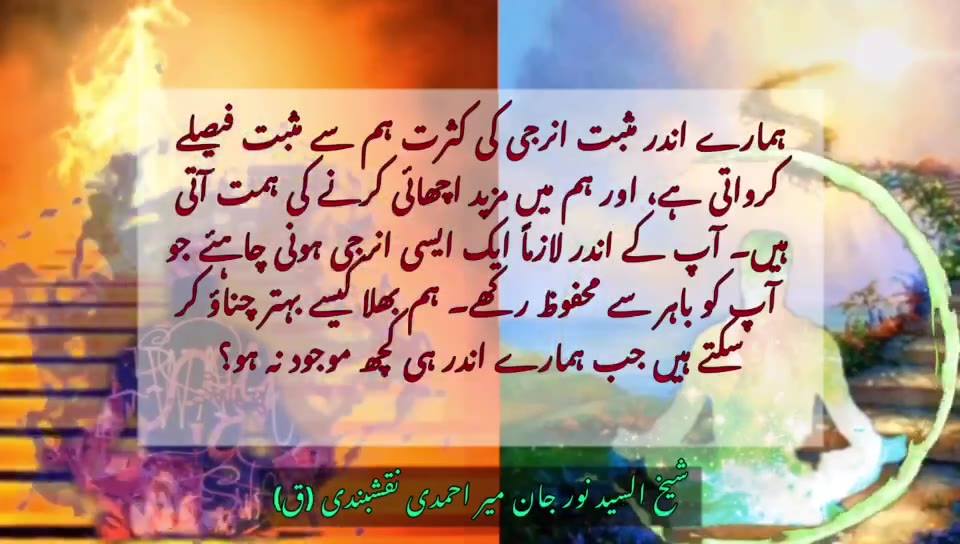 Urdu – بِسْمِ اللَّـهِ الرَّحْمَـٰنِ الرَّحِيمِ- الّھمَّ صَلِّ عَلَی سیدِنَا محَمَّدٍ …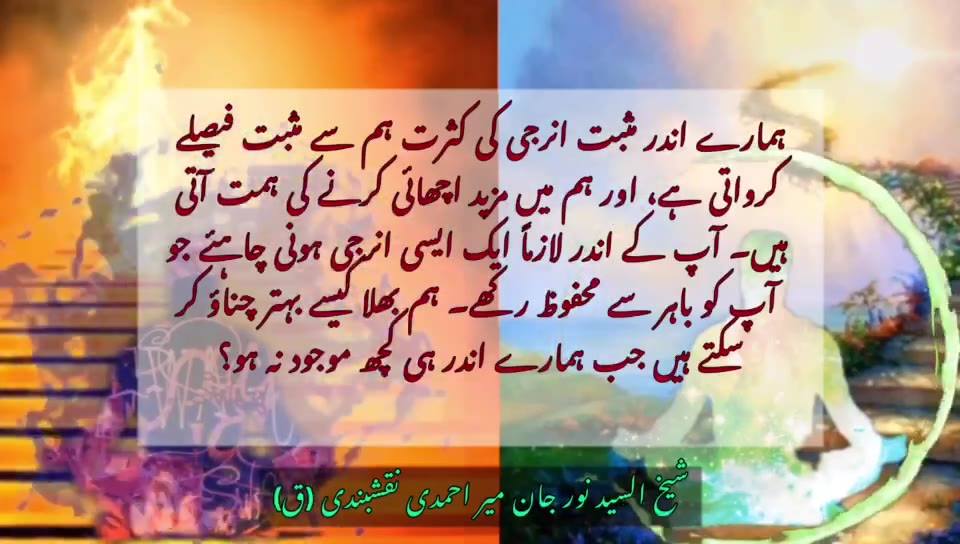 بِسْمِ اللَّـهِ الرَّحْمَـٰنِ الرَّحِيمِ-
الّھمَّ صَلِّ عَلَی سیدِنَا محَمَّدٍ ﷺ وَعَلَی آلِ سیَّدِنا محَمَّد ﷺ
مثبت انرجی آپ سے مثبت فیصلے کرواتی ہے:
[..] ہم انرجی رکھنے والے جاندار ہیں۔ آپ کو اپنی طاقت کا اندازہ نہیں ہے کہ جب آپ دیکھتے ہیں، اور جب کوئی آپ کو دیکھتا ہے تو وہ اپنے تمام تر بوجھ آپ پر لاد دیتا ہے۔ اور اگر آپ کے پاس ڈھال نہیں ہے اور آپ محفوظ نہیں ہیں تو جو بھی انرجی آپ کے پاس تھی وہ اب آپ سے لے لی گئی ہے اور آپ اپنی بیٹری (battery ) کو اب خالی محسوس کرتے ہیں۔ اور جب آپ کی بیٹری خالی ہو تو یہ آپ کو ایسی حالت میں لے جاتی ہے کہ جس میں آپ غلط چناؤ نیگیٹیو چناؤ کر بیٹھتے ہیں۔
ہمارے اندر مثبت انرجی کی کثرت ہم سے مثبت فیصلے کرواتی ہے، ایک بہت ہی آسان سا کلیہ (formula ) ہے کچھ الجھا ہوا نہیں کہ جب آپ اچھا کرتے ہیں توآپ اچھے رہتے ہیں (اور) آپ (مزید) اچھا کرتے ہیں۔ ہم اپنے اندر اچھائی کی تعمیر کرتے ہیں، اپنے اندر مثبت انرجی کی تعمیر کرتے ہیں، اُس انرجی کو بناتے ہیں اُس انرجی کی تعمیر کرتے ہیں؛ (چنانچہ) آپ خُود کو اچھائی، نیکی، بھلائی، بہتری (اور) درست (کام) کرتے ہوئے پاتے ہیں، کیونکہ آپ کے اندر لازماً ایک انرجی ہونی چاہئے جو آپ کو باہر سے محفوظ رکھے۔ ہم بھلا کیسے اچھے چناؤ کر سکتے ہیں جب (ہمارے) اندر ہی کچھ موجود نہ ہو؟ […]
———————————————
URDU TRANSLITERATION:
MASBAT ENERGY AP SAY MASBAT FAISLAY KRVATI HAI:
[…] hum energy rakhnay walay jandaar hain. aap ko apni taaqat ka andaza nahi hai ke jab aap dekhte hain, aur jab koi aap ko daikhta hai to woh –apne tamam tar boojh aap par deta hai. aur agar aap ke paas dhaal nahi hai aur aap mehfooz nahi hain to jo bhi energy aap ke paas thi woh ab aap se le li gayi hai aur aap apni battery ko ab khaali mehsoos karte hain. aur jab aap ki battery khaali ho to yeh aap ko aisi haalat mein le jati hai ke jis mein aap ghalat chunao negative chunao kar baithtay hain .
hamaray andar masbat energy ki kasrat hum se masbat faislay karwati hai, aik bohat hi aassan sa kulia ( formula ) hai kuch uljha hwa nahi ke jab aap Acha karte hain to aap achay rehtay hain ( aur ) aap ( mazeed ) Acha karte hain. hum –apne andar achhai ki taamer karte hain, –apne andar masbat energy ki taamer karte hain, uss energy ko banatay hain uss energy ki taamer karte hain ( chunancha ) aap khud ko achhai, neki, bhalai, behtari ( aur ) durust ( kaam ) karte hue paate hain, kyunkay aap ke andar laziman aik energy honi chahiye jo aap ko bahar se mehfooz rakhay. hum bhala kaisay achay chunao kar satke hain jab ( hamaray ) andar hi kuch mojood nah ho ?. […]
TRANSCRIBED LECTURE:
POSITIVE ENERGY LEADS TO POSITIVE CHOICES:
[…] We're energy beings. You don't understand the extent of our power, that when you look, and somebody looks at you, they have thrown all their burdens upon you. And if you are not shielded and protected, whatever you had of energy was now taken and you feel your battery to be empty. And when your battery is empty, it leaves you to make bad choices, negative choices.
The abundance of positive energy within us leads us to make positive choices, a very simple formula, nothing complicated, that when you do good, you are good, you do good. We build the goodness within ourselves, build the positive energy within ourselves, build that energy, build that energy; you find yourself doing good, good, good, good, good, because you must have an energy inside to protect you outside. How can we have good choices when there's nothing inside?. […]
Watch here FULL LECTURE: https://youtu.be/J55jRNeMFQE
Source