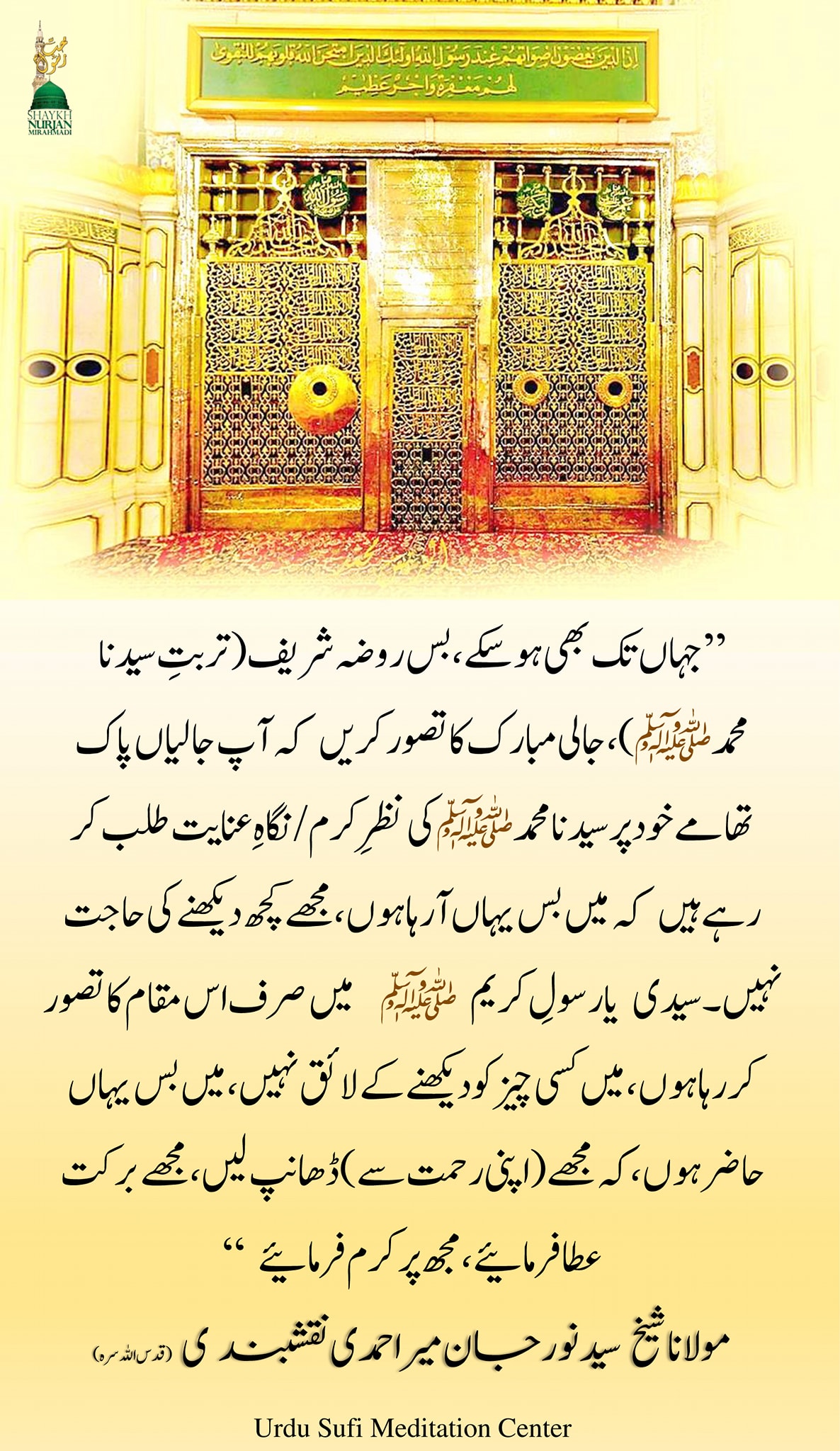 Urdu – آخرالزماں میں شریکِ حیات کی تلاش – سوالات و جوابات (حصہ دوم) 𝐀𝐤𝐡𝐢𝐫-𝐮𝐳-𝐙𝐚𝐦𝐚𝐚 𝐌𝐞𝐢…
آخرالزماں میں شریکِ حیات کی تلاش – سوالات و جوابات (حصہ دوم)
𝐀𝐤𝐡𝐢𝐫-𝐮𝐳-𝐙𝐚𝐦𝐚𝐚 𝐌𝐞𝐢𝐧 𝐒𝐡𝐚𝐫𝐞𝐞𝐤-𝐞-𝐇𝐚𝐲𝐚𝐚𝐭 𝐊𝐢 𝐓𝐚𝐥𝐚𝐚𝐬𝐡, 𝐒𝐚𝐰𝐚𝐥𝐚𝐚𝐭-𝐨-𝐉𝐚𝐯𝐚𝐛𝐚𝐚𝐭 [𝐏𝐀𝐑𝐓-3]
𝐅𝐢𝐧𝐝𝐢𝐧𝐠 𝐚 𝐒𝐩𝐨𝐮𝐬𝐞 𝐢𝐧 𝐭𝐡𝐞 𝐄𝐧𝐝 𝐓𝐢𝐦𝐞𝐬 𝐐&𝐀 [𝐏𝐀𝐑𝐓-3]
——————————————–
——————————————–
شیخ سید نورجان میراحمدی نقشبندی (ق) کی سنہری تعلیمات سے اقتباس۔
بِسْمِ اللَّـهِ الرَّحْمَـٰنِ الرَّحِيمِ
اَلَّھُمَّ صَلِّ عَلَی سَیَّدِنَا محَمَّدٍ ﷺ وَعَلَی آلِ سَیَّدِنَا محَمَّدٍ ﷺ
سوال: السلام علیکم سیدی ، ہم نے روضہ شریف کے مقدس مقام اور مقدس مواجہ شریف کی تصاویر دیکھ رکھی ہیں۔خود کو ان (مقدس مقامات) کے سامنے تصور کرنے کا بہترین ادب کیا ہے؟
مولانا شیخ نورجان میراحمدی نقشبندی قدس اللہ سرہ: جہاں تک بھی ہو سکے، بس روضہ شریف (تربتِ سیدنا محمدﷺ) ،جالی مبارک کا تصور کریں۔کہ آپ جالیاں پاک تھامے خود پر سیدنا محمد ﷺکی نظرِ کرم/نگاہِ عنایت طلب کر رہے ہیں۔کہ (سیدی یا رسولِ کریم ﷺ) میں بس یہاں آرہا ہوں۔مجھے کچھ دیکھنے کی حاجت نہیں۔ سیدی یا رسولِ کریم ﷺ میں صرف اس مقام کا تصور کر رہا ہوں۔ میں کسی چیز کو دیکھنے کے لائق نہیں۔میں بس یہاں حاضر ہوں،کہ مجھے (اپنی رحمت سے) ڈھانپ دیجئے ، مجھے برکت عطا فرمائیے ، مجھ پر کرم فرمائیے۔اور سیدنا محمد ﷺ کے روضہ شریف کے ساتھ تعلق میں اس محبت کو قائم کریں ، کبھی بھی کسی چیز کی توقع نہ لگائیں۔ یہ مت کہتے رہیں کہ ، 'میں دیکھنا چاہتا ہوں۔ میں دیکھنا چاہتی ہوں. میں دیدار چاہتا ہوں۔کوئی بھی طلب مت لگائیں اور اس در پر عاجزی کے ساتھ آئیں، ان شاء اللہ۔کہ، 'میں دیدار کے لائق نہیں ہوں۔میں کچھ بھی نہیں ہوں، میں عاجز و مسکین ہوں۔ مجھے اپنے نور سے ملبوس فرمائیے اور مجھے نکھار دیجئیے'۔وہ(عاشقین) عاجزی کو پسند کرتے ہیں اور نبی کریم ﷺ سب سماعت فرما رہے ہیں۔
Sawaal :Salamu alaikum sayyidi, hum ne roza shareef ke muqaddas maqam aur muqaddas Muwaja shareef ki tasaveer dekh rakhi hain. khud ko un ( muqaddas maqamat ) ke samnay tasawwur karne ka behtareen adab kya hai ?
Mawlana Shaykh Nurjan Mirahmadi Naqshbandi Qadas Allahu sirrah : jahan tak bhi ho sakay, bas Roza Shareef ( Turbat e Sayyidina Muhammad ﷺ), Jaali Mubarak ka tasawwur karen. ke aap Jaaliyan pak thaamay khud par Sayyidina Muhammad ﷺ ki nazer e karam / nigah e inayat talabb kar rahay hain. ke ( sayyidi ya Rasool e kareemﷺ ) mein bas yahan aa raha hon.Mujhe kuch dekhnay ki haajat nahi.Sayyidi ya Rasool e kareemﷺ mein sirf is maqam ka tasawwur kar raha hon. mein kisi cheez ko dekhnay ke Laiq nahi. mein bas yahan haazir hon, ke mujhe ( apni rehmat se ) dhaanp dijiye, mujhe barket ataa frmayie, mujh par karam frmayie. aur Sayyidina Muhammad ﷺ ke roza shareef ke sath talluq mein is mohabbat ko qaim karen, kabhi bhi kisi cheez ki tawaqqa na lagayen. yeh mat kehte rahen ke,'mein dekhna chahta hon. mein dekhna chahti hon. mein deedar chahta hon'. koi bhi talabb mat lagayen aur is dar par aajzi ke sath ayen, In Shaa Allah . ke,' mein deedar ke Laiq nahi hon. mein kuch bhi nahi hon, mein aajiz o maskeen hon. mujhe –apne noor se malbos frmayie aur mujhe nikhaar dijay'. woh ( Ashiqeen ) aajzi ko pasand karte hain aur Nabi Kareem ﷺ sab samaat farma rahay hain.
Question: As salaam alaykum Sayyidi, we have seen pictures of holy maqam (station) of Rauza Sharif and the holy grill. What is the better adab (manners) to visualize ourselves in front of?
Mawlana Shaykh Nurjan Mirahmadi: Wherever you can. Just visualize the Rauza Sharif (Holy burial chamber), the grill – just you're holding on to the grill and asking Sayyidina Muhammad's ﷺ holy nazar to be upon us. That I'm just coming here. I don't need to see anything. I'm just visualizing this maqam (station) Sayyidi Ya Rasulul Karim (The Most Generous Prophet). I'm not worthy of looking at anything. I'm just here. That dress me, bless me, have pity upon me. And build that love in that relationship with the Rauza e Sharif of Sayyidina Muhammad ﷺ, never expecting anything. Don't keep saying, 'I want to see. I want to see. I want to see.' Don't put an expectation and come through the door with humility, inshaAllah. That, 'I'm not anyone worthy of seeing. I'm nothing, I'm nothing. Dress me and bless me from your lights.' They like the approach of humility and Prophet ﷺ is hearing everything.
————————————————————————–
اس بیان کا پہلا حصہ پڑھنے کے لیے
To Read Part-1 :
https://www.facebook.com/103516737706142/posts/435011931223286/
اس بیان کا دوسرا حصہ پڑھنے کے لیے
TO Read Part-2 :
https://www.facebook.com/103516737706142/posts/435568611167618/
یہ بیان یوٹیوب پر دیکھنے کیلئے
Watch this Bayan on youtube:
Https://youtu.be/huzflrvuyeo
اس آرٹیکل کو انگلش میں پڑھنے کیلئے
Read this Article in English: Finding a Spouse in the End Times Q&A
Https://www.nurmuhammad.com/finding-a-spouse-in-end-times-…/
ابھی یوٹیوب چینل سبسکرائب کیجئے
Subscribe Now: The Muhammadan Way Sufi Realities
Www.youtube.com/channel/UC4E8QX7OgwYDgyuuXTBMrcg
شیخ سید نور جان میر احمدی نقشبندی (ق) کا آفشیل فیس بک پیج لائک کیجئے
Official Page: Shaykh Nurjan Mirahmadi
Https://www.facebook.com/shaykhnurjanmirahmadi/
► 𝐀𝐧𝐝𝐫𝐨𝐢𝐝 𝐀𝐩𝐩: https://play.google.com/store/apps/details…
► 𝐢𝐏𝐡𝐨𝐧𝐞 𝐀𝐩𝐩: https://apps.apple.com/us/app/muhammadan-way/id1244297852
► 𝐒𝐨𝐮𝐧𝐝𝐂𝐥𝐨𝐮𝐝: https://soundcloud.com/muhammadanway
► 𝐃𝐨𝐧𝐚𝐭𝐞 (𝐏𝐀𝐊𝐈𝐒𝐓𝐀𝐍 𝐚𝐧𝐝 𝐖𝐎𝐋𝐑𝐃𝐖𝐈𝐃𝐄) : https://nurmuhammad.com/donate
Please Subscribe and Share