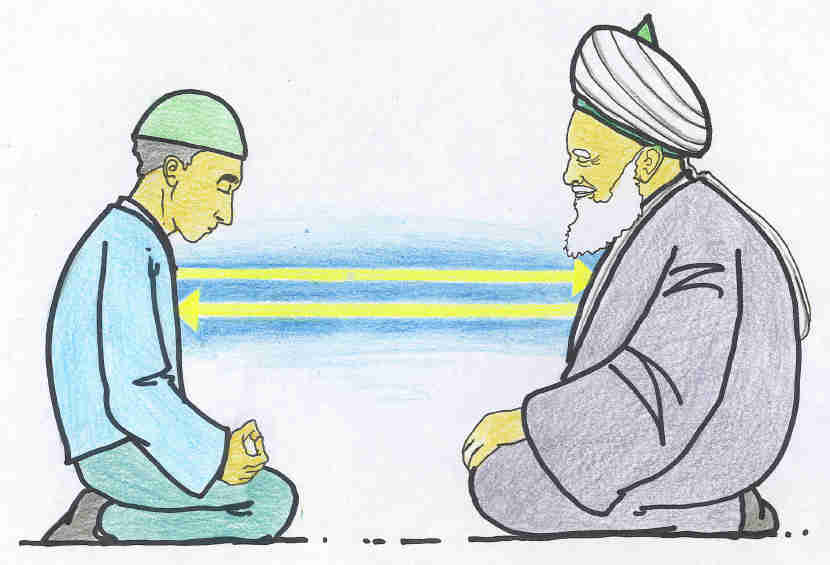 Schritt für Schritt Muraqabah/Tafakkur Prophetische Meditation
Original Article

Schritt für Schritt Muraqabah / Tafakkur Prophetische Meditation
Mit einem Murshid / Shaykh (Spiritueller Führer)
Step By Step Muraqabah/Tafakkur
Prophetic Meditation
with one's Murshid/Shaykh (Spiritual Guide)
Aus den Realitäten von Mawlana (Q), wie es von Shaykh Nurjan Mirahmadi gelehrt wurde
From the Realities of Mawlana (Q) as Taught by Shaykh As Sayed Nurjan Mirahmadi    
Wesentlich für den Fortschritt der muriden in Richtung Enthüllung und Sieg über die Schleier der dunya ist die konsequente und tägliche Praxis der Muraqabah-Meditation. Denn ohne Zweifel ist man standardmäßig in die Illusion der dunya versunken und nur durch die Abgeschiedenheit von ihrem ständigen Angriff auf die Sinne kann man hoffen, seiner Tyrannei zu entkommen. Muraqabah ist dann das Eintauchen in die Realität und damit das Gegenteil der Existenz in der dunya, das Eintauchen in die Illusion.
Essential to the progress of the murid towards unveiling and victory over the veils of dunya is the consistent and daily practice of muraqabah – meditation. For without doubt one is by default immersed in the illusion of dunya and only through seclusion from its perpetual onslaught upon the senses may one hope to escape from its tyranny. Muraqabah then is the immersion in reality and thus the opposite of existence in dunya, which is the immersion in illusion.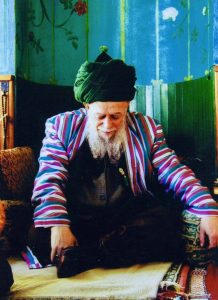 Das Ziel und der Zweck von muraqabah ist es, die ständige Präsenz in der Realität des Shaykh zu manifestieren. Je mehr man sich an diese lebenswichtige Praxis hält, desto mehr wird sich ihr Nutzen in seinem täglichen Leben bis zu dem Punkt manifestieren, an dem er in Gegenwart des Shaykh den Zustand der Vernichtung erreicht. Man muss gut wissen, dass der Shaykh die Brücke zwischen Illusion und Realität ist und nur zu diesem Zweck in dieser Welt bleibt. Der Shaykh ist somit ein einzigartiges Seil für jeden, der Freiheit sucht, denn nur er kann als Bindeglied zwischen einem noch in dieser Welt versunkenen und der göttlichen Gegenwart dienen. In der Gegenwart und Realität des Shaykh vernichtet zu werden, bedeutet in der Gegenwart, der Realität der Göttlichen Gegenwart vernichtet zu werden, denn genau wo er ist.

Anfänglich kann der murid in kurzen Intervallen von 5 bis 15 Minuten mit dem Üben von muraqabah beginnen und schrittweise auf längere Sitzungen hinarbeiten, die sich sogar über Stunden erstrecken. Der wichtige Punkt ist, dass man eine konsistente Praxis beibehält, um Nutzen zu erzielen. Es ist viel besser und klüger, sich täglich an eine kleine Menge zu halten, als in der eigenen Disziplin und Praxis sporadisch zu sein. Ein geringer Aufwand, der konsequent unternommen wird, führt bereits in kurzer Zeit zu enormen Fortschritten.
The goal and purpose of muraqabah is to manifest perpetual presence in the reality of the shaykh. The more one keeps to this vital practice, the more its benefit will manifest in his daily life to the point that he reaches the state of annihilation in the presence of the shaykh. One must know well that the shaykh is the bridge between illusion and reality and he remains in this world only for this purpose. The shaykh is thus a unique rope extended to any who seek freedom for only he may serve as the link between one still mired in this world and the Divine Presence. To be annihilated in the presence and reality of the shaykh is to be annihilated in reality, in the Presence of the Divine, for this is precisely where he is.
Initially the murid may begin the practice of muraqabah for short intervals of 5 to 15 minutes, and gradually work towards longer sessions extending even for hours at a time. The important point is that one maintain a consistent practice to obtain benefit. It is manifold better and wiser to keep to a small amount daily than to be sporadic in one's discipline and practice. A small amount of effort done consistently will result in tremendous progress in even a short amount of time.
Die folgenden Schritte sind eine Richtlinie, um Muraqabah (spirituelle Verbindung) mit Mawlana Shaykh herzustellen:
Machen Sie frisches wudu und beten Sie 2 raka.
3x shahada [

Kalimatu shahada:

Ashhadu an la ilaha illallah, wa ashhadu anna Muhammadan RasulAllah

]
100-200x Istighfar [

Astaghfirul lahal `Atheem wa atubu ilayh

]
3x Sure Ikhlas [

Qul hu Allah hu Ahad Allah hu Samad Lam yalid wal lam ulad wa lam lakon la hul kofuone ahad

]
Ihda, du'a für Shuyukh [Ihda 'Allahumma balligh thawaba ma qara'nahu wa nura ma talawnahu hadiyatan wa asilatan minna ila ruhi Nabiyina Muhammad Shaykhina `abdullah ed-Daghistani, wa Sultan Awliya Mawlana Shaykh Nazim Haqqani wal Murshidina Mawlana Shaykh Hisham Kabbani war siddiqeenal Fatiha (lesen Sie fatiha)]
Sure Fatiha – Mindestens 200x um Unterstützung und Anwesenheit von Mawlana Shaykh (Q) bitten: "Madad ya Sayyidi, Madadul-Haq Ya Mawlana Shaykh Nazim Haqaani" Wiederholung von zikr 
Als nächstes muss man sich vorstellen, in die Gegenwart des Shaykh einzutreten, denn in Wirklichkeit ist er immer in der Gegenwart des Shaykh, aber aufgrund  der Unachtsamkeit sind wir uns dieser grundlegenden Tatsache nicht bewusst. An diesem Punkt ist es eine gute Praxis, Mawlana Shaykh (Q) salaams zu geben und ihtiram (Respekt) zu machen und danach vollständig in einer Adab-Position zu bleiben, vorzugsweise auf den Knien, bewusst und wach und verbunden. Man kann dann seiner Seele erlauben, sich mit dem Shaykh zu unterhalten, um so seine Beziehung zur Realität des Shaykh zu definieren, zu stärken und aufzubauen und dem zu folgen, was Mawlana Shaykh (Q) seinem Herzen offenbart.
Eine solche persönliche Praxis ist einzigartig und privat, und das Vorstehende ist als allgemeine Richtlinie gedacht. Es ist wichtig, dass jeder Einzelne seine persönliche Beziehung zum Shaykh entwickelt, wie es für ihn oder sie bestimmt ist.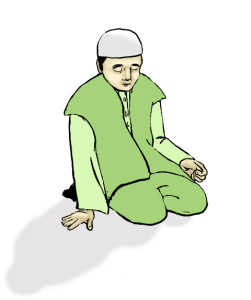 The following steps are a guideline towards making Muraqabah (spiritual connection) with Mawlana Shaykh :
Make fresh wudu and pray 2 raka'.
3x shahada [Kalimatu shahada:

Ashhadu an la ilaha illallah, wa ashhadu anna Muhammadan RasulAllah

]

100-200x Istighfar [Astaghfirul lahal `Atheem wa atubu ilayh ]
3x Surah Ikhlas [Qul hu Allah hu Ahad Allah hu Samad Lam yalid wal lam ulad wa lam lakon la hul kofuone ahad]
Ihda, du'a for Shuyukh [Ihda' Allahumma balligh thawaba ma qara'nahu wa nura ma talawnahu hadiyatan wa asilatan minna ila ruhi Nabiyina Muhammad (sallam) wa ila arwahil anbiya'i wal awliya'i, khassatan ila ruhi Shah Naqshband wa Shaykhina `abdullah ed-Daghistani, wa Sultan Awliya Mawlana Shaykh Nazim Haqqani wal Murshidina Mawlana Shaykh Hisham Kabbani was siddiqeenal Fatiha (read fatiha)]

Surah Fatiha

Minimum 200x seeking support and presence of Mawlana Shaykh (Q):

"Madad ya Sayyidi, Madadul-Haq Ya Mawlana Shaykh Nazim Haqaani"

Repeating Zikr
Next one must imagine himself entering into the presence of the Shaykh for in reality he is always in the presence of the Shaykh, yet due to heedlessness we are unaware of this basic fact. At this point it is a good practice to give salaams to Mawlana Shaykh (Q) and to make ihtiram (respect), and afterwards to remain still in a position of adab preferably on the knees, fully conscious and awake and connected. One may then allow his soul to converse with the Shaykh, thus defining, strengthening and building his relationship with the reality of the Shaykh, and to follow what Mawlana Shaykh (Q) reveals to his heart.
Such a personal practice is unique and private and the preceding is intended as a general guideline. It is important for each individual to develop his own personal relationship with the Shaykh as is meant for him or her.
Mureeds Lebenserhaltung
Stellen Sie sich vor, Ihr Shaykh wird auf Sie gekleidet. Sein Gesicht über Ihrem Gesicht Sein Bart über Ihrem Kinn, Sein Herz über Ihren Herzen.
Rezitieren Sie Madad Al Haqq 200 Mal.
Mureed's Life Support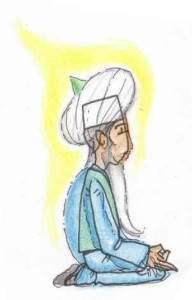 Envision Your Shaykh Being Dressed upon you. His face over your face His Beard Over your Chin, His Heart over Your Heart.
Recite Madad Al Haqq 200 times.
Naqshbandi Daily Awrad (Spirituelle Praktiken)
Awrad des Volkes der Entschlossenheit
3x shahada dreimal;
70x Astaghfirullah

1x Fatiha einmal mit der Absicht, an den Segnungen teilzunehmen, die mit ihm herabgesandt wurden, als es in Makka offenbart wurde.

Bismillahir Rahmanir Rahim, Amana ar-Rasul (Sure 2, Verse 285-286), einmal. – Wer diesen ayat rezitiert, wird einen hohen Rang und eine großartige Position erreichen. Er wird die Sicherheit von al-Aman in dieser und der nächsten Welt erhalten.

7x Inshirah (Sure 94)

11x Ikhlas (Sure 112). Wer diese Sure rezitiert, muss die tajalli der beiden Namen der Herrlichkeit erhalten, al-Ahad (der Eine) und As-Samad (der Ewige). Wer es liest, muss einen Teil dieses tajalli bekommen.

1x Falaq (Sure 113) 

1x Nas (Sure 114)

Die Realität des Geheimnisses und der vollkommenen Vollständigkeit/Ganzheit (Kamal) von Allahs größtem Namen hängt mit diesen beiden Suren (Falaq & Nas) zusammen.

10x La ilaha illallah, das letzte Mal mit Muhammadun RasulAllah;
10x Salawat Ash-Sharifa
Ihda, die dem Propheten (s) und den Shaykhs des Naqshbandi Tariqat die Belohnung der obigen Rezitation überreicht.

Abschluss mit Sure Al Fatiha mit der Absicht, an den göttlichen Gnaden und Tajalli teilzuhaben, die herabgesandt wurden, als sie zum zweiten Mal in Medina offenbart wurden.

Setzen Sie sich nun auf die Knie und meditieren Sie über die Verbindung (Rabitah) zu Ihrem Shaykh, von Ihrem Shaykh zu den Propheten und vom Propheten zur göttlichen Gegenwart und rezitieren Sie;

3x "Allahu Allahu Allahu Haqq";

1500x min. Zikr des herrlichen Namens "Allah, Allah" 5000 Mal mit der Zunge, 5000 Mal mit dem Herzen.

300x – 1000-maliges Lob des Propheten durch Salawat und 2000-mal montags, donnerstags und freitags (2000-mal).

100x Sure Ikhlas oder 1/30 Juz-ein-dreißigstel des Korans (juz) oder stattdessen Ikhlas 100 Mal;

100x salawat Nabi oder ein Kapitel von Dala'il al-Khairat oder stattdessen 100-mal salawat.
Naqshbandi Daily Awrad  (Spiritual Practices)
Awrad of the People of Determination
3x shahada 
70x Astaghfirullah

1x Fatiha one time with the intention of participating in the blessings sent down with it when it was revealed in Makkah.

Bismillahir Rahmanir Rahim, Amana ar-Rasul (2:285-286), one time. Whoever recites this ayat will attain a high rank and a great position. He will get the safety of al-Aman, in this world and the next

7x Inshirah (Surah 94)

11x Ikhlas (Surah 112). Whoever recites this surah, must obtain the tajalli of the two Names of Glory, al-Ahad (the One), and as-Samad (the Eternal). Anyone who reads it, must get a portion of this tajalli

1x Falaq (Surah 113)

1x Nas (Surah 114)

The reality of the Secret and the Perfect Wholeness (Kamal) of Allah's (AJ) Greatest Name is connected with these two surahs (Falaq & Nas).

10x La ilaha illallah, the last time completing it with Muhammadun RasulAllah;
10x Salawat ash-sharifa;
Ihda, presenting the reward of the above recitation to the Prophet (s) and to the Shaykhs of the Naqshbandi Tariqat;
concluding with Fatiha, with the intention of sharing in the Divine Graces and tajalli which were sent down when it was revealed in Madinah the second time;
Sit on the knees, meditating on the connection (rabitah) to your Shaykh, from your Shaykh to the Prophet (s) and from the Prophet (s) to the Divine Presence, reciting

3x "Allahu Allahu Allahu Haqq";
1500x Min. Zikr of the Glorious Name 'Allah, Allah' 5000 times by tongue, 5000 times by heart;
300x Praising the Prophet (s) through salawat 1000 times, and on Mondays, Thursdays and Fridays 2000 times.

100x Surah Iklas or 1 Juz or instead Ikhlas 100 times;

100x Salawat Nabi or one chapter of Dala'il al-Khairat or instead salawat 100 times;
Wer Surat al-Fatiha mit der Absicht Rezitiert Wird eine Hohe Position und einen Hohen Rang Erreichen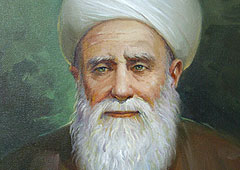 GrandShaykh sagte: "Wenn jemand Fatiha liest, wird er diese Welt nicht verlassen, ohne die göttlichen Gunst zu erlangen, die hinter der Bedeutung des Fatiha verborgen sind und es ihm ermöglichen, sich Allah (AJ), dem Allmächtigen und Erhabenen zu unterwerfen. Der Segen, den Allah (AJ) mit der Fatiha herabgesandt hat, als er dem Propheten (s) offenbart wurde, wird niemals aufhören und für immer andauern, mit demjenigen, der die Fatiha rezitiert. Niemand kann wissen, wie viel Segen es gibt, außer Allah (AJ) und Seinen Gesandten (s). Wer surat al-Fatiha rezitiert, um an diesen tajallis teilzuhaben, wird eine hohe Position und einen hohen Rang erreichen. Und wer ohne diese Absicht rezitiert, bekommt nur allgemeine göttliche Gefälligkeiten. Diese Sure besitzt unzählige und grenzenlose Stationen (Maqamat) in den Augen Allahs, der mächtig und erhaben ist.
Er wird in Gegenwart Allahs, des Allmächtigen und Erhabenen, in den Sicherheitskreis eintreten und alle Stationen des angesehensten Naqshbandi-Ordens erreichen. Er wird ein Erbe des Geheimnisses des Propheten und der Heiligen sein und das Stadium von Bayazid al-Bistami (Q), dem Imam des Ordens, erreichen, der sagte: "Ich bin die Wahrheit (al-Haqq)." Dies ist das großartige tajalli (Manifestation), das zu diesem ayat und auch zu anderen ayats gehört.
GrandShaykh Khalid al-Baghdadi (Q), einer der Imame dieses Ordens, erhielt die vision und das geheimnis dieses ayat, durch die Allah (AJ) ihn für seine Zeit zu etwas Besonderem machte.
Whoever Recites Surat al-Fatiha Will Attain a High Position and a Great Rank
GrandShaykh said, "If someone reads Fatiha, he will not leave this world without attaining those Divine Favors that are hidden behind the meaning of the Fatiha which enable him to reach a state of submission to Allah (AJ), Almighty and Exalted. The blessings that Allah (AJ) has sent down with the Fatiha when it was revealed to the Prophet (s) will never cease, and will last forever, with the one who recites the Fatiha. No one is able to know how much blessings there are except Allah (AJ) and His Messenger (s). Whoever recites surat al-Fatiha, with the intention of sharing in these tajallis, will attain a high position and a great rank. And whoever recites without this intention, gets general Divine Favors only. This surah possesses innumerable and limitless stations (maqamat) in the Sight of Allah (AJ), Who is Powerful and Sublime.
He will enter the Circle of Security in the Presence of Allah (AJ) Almighty and Exalted, and he will reach all the stations of the Most Distinguished Naqshbandi Order. He will be an inheritor of the Secret of the Prophet (s) and of saints, and will arrive at the stage of Bayazid al-Bistami (Q), the Imam of the Order, who said, "I am the Truth (al-Haqq)." This is the magnificent tajalli (manifestation) which belongs to this ayat, and to other ayats also.
GrandShaykh Khalid al-Baghdadi (Q), one of the imams of this Order, received the Vision and the secret of this ayat, through which Allah (AJ) made him special for his time.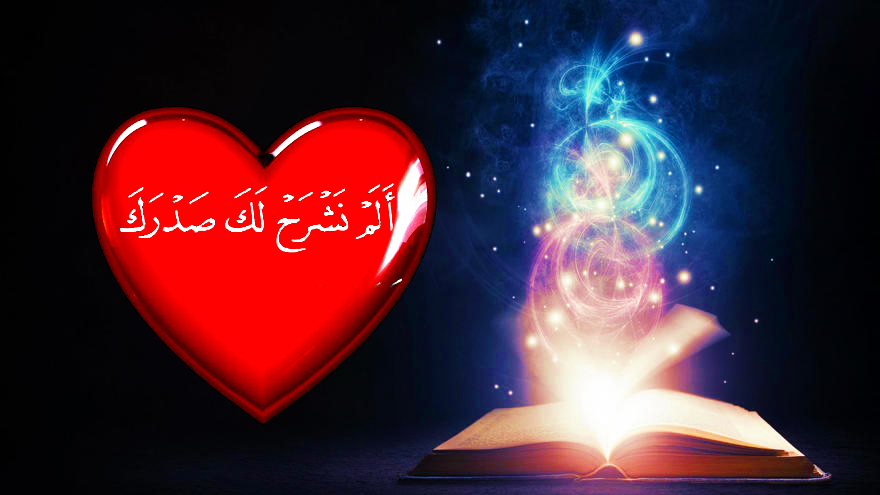 Sure Inshirah: Auf jedem Buchstaben und auf jedem ayat gibt es ein tajalli, das sich von dem auf jedem anderen unterscheidet. Wer ein ayat oder einen Brief des Korans rezitiert, wird die göttliche Gnade erlangen, die für dieses ayat oder diesen Brief besonders ist.
Wenn jemand diese Sure des Korans rezitiert, wird er diese göttlichen Gnaden, tajallis und Tugenden empfangen. Wer diese Tugenden erlangen will, muss diese täglich zusammen mit seinen Verpflichtungen bewahren. Dann wird er wahres Leben und ewiges Leben gewinnen.
Surah Inshirah: On each letter and on each ayat there is a tajalli which is different from that on any other. Whoever recites an ayat or letter of the Qur'an, will attain the Divine grace that is particular to that ayat or letter
If anyone recites this surat of Qur'an, he will receive those Divine Graces, tajallis and virtues. Whoever wishes to obtain these virtues, must keep these awrad daily along with his obligations. Then he will gain True Life and Eternal Life.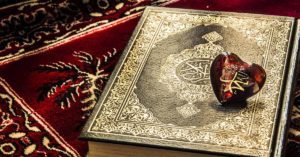 Sure Nas & Falaq: Da sie das Ende des Korans markieren, sind sie mit der Vollendung der göttlichen Gnaden und tajallis verbunden und verknüpft/vereinigt. Durch diese awrad wurden die Meister des angesehensten Naqshbandi-Ordens zu Ozeanen des Wissens und der Gnosis. (Kenntniss Spiritueller Geheimnisse). GrandShaykh Abdullah al-Fa'iz ad-Dagestani (Q) sagte: Sie haben jetzt den Anfang erreicht, an dem jeder Vers, Buchstabe und jede Sure des Korans seine eigenen speziellen tajalli hat, die keinem anderen ähneln. Aus diesem Grund sagte der Gesandte Allahs (s): "Ich habe drei Dinge bei meiner Ummah gelassen, den Tod, der ihnen Angst macht, wahre Träume, die ihnen gute Nachrichten geben, und den Koran, der sie anspricht." Durch den Koran wird Allah (AJ) in der letzten Zeit die Tore der göttlichen Gnade öffnen, wie es in der Zeit des Heiligen Propheten (s) und der Gefährten, in der Zeit der khalifas und in der Zeit der Heiligen.
Surah Nas & Falaq: Since they mark the end of the Qur'an, they are linked and associated with the completion of the Divine Graces and tajallis. By means of these awrad, the Masters of the Most Distinguished Naqshbandi Order became Oceans of Knowledge and Gnosis. GrandShaykh Abdullah ad-Daghestani (Q) said, "You have now reached the beginning, where each verse, letter and surah of the Qur'an has its own special tajalli, which do not resemble any others. For that reason the Messenger of Allah said, "I have left three things with my Ummah, death which makes them afraid, true dreams which give them good tidings, and the Qur'an which addresses them." By means of the Qur'an Allah (AJ) will open up the gates of Divine Grace in the Last Times, as it came down in the time of the Holy Prophet and the Companions, and in the times of the khalifas, and in the time of the saints.
Wir dürfen keinen Mangel in unseren Zikr eindringen lassen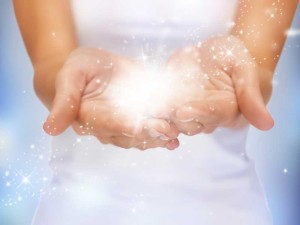 Diese Stationen und fortlaufenden göttlichen Gnaden sind eng miteinander verbunden und können nicht getrennt werden. Daher führt jeder Mangel an Awrad automatisch zu einem Mangel an den herabgesandten göttlichen Gnaden. Wenn wir beispielsweise unsere Hände waschen möchten, können wir vor dem Wasserhahn warten, bis Wasser austritt. Wenn die Rohre nicht richtig angeschlossen sind, so dass das Wasser vor Erreichen des Wasserhahns entweicht, fließt das Wasser nicht aus, egal wie lange wir warten. Wir dürfen also keinen Mangel in unseren zikr eindringen lassen, bis wir alle Tajallis und göttlichen Gnaden erhalten haben.
We Must Not Let Any Deficiency Enter Our Zikr
These stations and continuous Divine Graces are closely bound together and they cannot be separated, so any deficiency in the awrad will automatically create a deficiency in the Divine Graces being sent down. As an example, if we want to wash our hands, we may wait in front of the tap for water to come out. If the pipes do not connect properly so that the water escapes before reaching the tap, then, no matter how long we wait, the water will not flow out. So we must not let any deficiency enter our zikr until we obtain all the tajallis and Divine Graces.
Diese Awrad müssen einmal alle 24 Stunden durchgeführt werden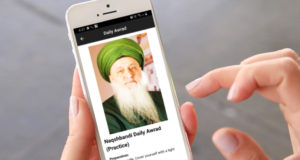 Diese awrad für die Anhänger müssen zusammen mit allen anderen Verpflichtungen gemäß der Scharia des Propheten (s) einmal alle 24 Stunden durchgeführt werden. Alles, was der Prophet (s) brachte, wurde in diesen awrad gegründet. Auf diese Weise erreicht der Sklave den Schlüssel der Nähe zu Allah (AJ), der mächtig und erhaben ist. Auf diese Weise erreichten die Propheten, Boten und Heiligen ihren Schöpfer, und auf diese Weise erreichen wir alle diese Stationen des angesehensten Tariqat.
Die Meister des angesehensten Naqshbandi-Ordens sagen, dass jeder, der behauptet, er sei einem der 40 Orden oder dem angesehensten Naqshbandi-Orden angeschlossen, aber dennoch nicht einmal in seinem Leben in die Abgeschiedenheit (khalwat) eingetreten ist, dann eine solche Person sollte sich schämen, sich mit dem Volk des Pfades zu verbinden.
These Awrad Must Be Performed Once Every 24 Hours
These awrad for the of followers, must be performed once every 24 hours, together with all other obligations, according to the shari'ah of the Prophet (s). Everything which the Prophet (s) brought, was founded in these awrad. It is the way that the slave reaches the key of nearness to Allah (AJ), Who is Powerful and Sublime. It was by means of it that the prophets, messengers and saints reached their Creator, and it is by means of these awrad that we reach all these stations of the Most Distinguished Tariqat.
The Masters of the Most Distinguished Naqshbandi Order say that whoever claims that he is affiliated to one of the 40 Orders, or to the most Distinguished Naqshbandi Order, but nevertheless has not entered seclusion (khalwat) even once in his life, then such a person should be ashamed of connecting himself with the People of the Path.
Mit diesem Awrad haben wir den Grundstein für die höheren Stationen gelegt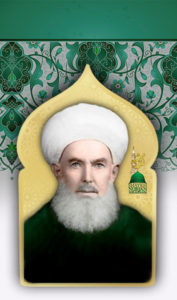 In unserer Zeit sagte Grand Shaykh Abdullah ad-Dagestani (Q): "Welches Volk der letzten Zeit (akhir az-zaman) möchte einen hohen Rang und einen erhabenen Zustand erreichen und das bekommen, was ein Murid normalerweise durch Abgeschiedenheit bekommt (Khalwat) und spirituelle Übungen, dann muss er diese awrad (zikr) kontinuierlich durchführen. Mit diesem awrad haben wir den Grundstein für die höheren Stationen gelegt, die auf diesem Fundament errichtet werden. Der murid sollte wissen, dass er nicht von dieser Welt getrennt werden soll, wenn er aufgrund seiner mangelnden Anstrengung keine erhabene Station und keinen hohen Grad in dieser Welt erreicht, sondern dass die Shaykhs ihn dazu bringen, sie zu erreichen und für ihn zu offenbaren seine Station, entweder zu Lebzeiten oder zum Zeitpunkt der sieben letzten Atemzüge während der Todesqualen."

With This Awrad, We Have Set the Foundations for the Higher Stations
In our time, Grand Shaykh Abdullah ad-Dagestani said, "Whichever of the People of the Last Time (akhir az-zaman), wishes to attain a high rank and an exalted state, and get what a murid normally gets by means of seclusion (khalwat), and spiritual exercises, then he must continuously perform these awrad (zikr). With this awrad we have set the foundations for the higher stations, which are built on this foundation. The murid ought to know that if he fails to attain an exalted station and high grade in this world because of his lack of effort, then he shall not be separated from this world, but that the Shaykhs make him reach it, and reveal for him his station, either during his lifetime, or at the time of the seven last breaths during the agonies of death."
Wir müssen über jede Aktion nachdenken, die wir durchführen werden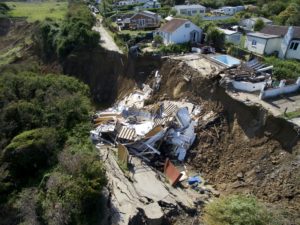 Wenn jemand diese awrad (zikr) ausführt und dann eine Handlung ausführt, die verboten ist, wird er wie derjenige sein, der sein Haus auf einem Klippenrand/seite vom Felsen baut und dann stürzt sein Haus vom rand des Felsen/der Klippe hinunter. Deshalb sollen wir uns unserer Handlungen immer bewusst sein und sie messen, um festzustellen, ob sie halal oder haram sind, ob Allah (AJ) auf unsere Handlungen wütend sein wird oder nicht. Und wir müssen über jede Aktion nachdenken, die wir im Begriff sind, so viel zu tun, dass wir letztendlich nichts tun, was unser Fundament schwächen könnte. Deshalb müssen wir vor jeder Handlung nachdenken. Wie der / die Prophet (s) in seinem Hadith sagte: "Eine Stunde Kontemplation ist besser als siebzig Jahre Anbetung. "Wir sollten unsere Handlungen auf die vollkommen korrekte Weise ausführen, das heißt, ohne dass irgendwelche Haram-Taten eingreifen." ohne dass irgendwelche haram-Taten eingreifen.

We Need To Think About Every Action That We Are About To Do
"If anyone performs these awrad (zikr) and then performs an action which is forbidden he will be like the one who builds his house on the side of a cliff, and then his house collapses down the side of the cliff." So we should always be aware of our actions, gauging them to see if they are halal or haram, if Allah (AJ) is going to be angry with our actions or not. And we need to think about every action that we are about to do so much that ultimately we do not do any haram thing which might weaken our foundation. And that is why we have to think before every action. As the Prophet (s) said in his hadith 'One hour's contemplation is better than seventy years of worship.' We should perform our actions in the perfectly correct way, that is to say without any haram deeds intervening."
Allah (AJ) hat den Tag in drei Teile geteilt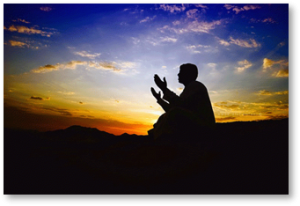 "Auf dieser Grundlage hat Allah den Tag in drei Teile unterteilt: acht Stunden für den Gottesdienst, acht Stunden für den Lebensunterhalt und acht Stunden für den Schlaf. Jeder, der diese Aufteilung der Energien nicht akzeptiert und nicht befolgt, wird den Hadith veranschaulichen: "Wer unberechenbar ist, wird im Höllenfeuer unberechenbar sein." Wer nach seinem eigenen Willen und seiner Argumentation geht, macht keine Fortschritte und wer erhabene Stationen erhalten möchte Ebenen und Stufen, die frühere Generationen durch Exerzitien verdeint haben und andere spirituelle Übungen erreicht haben, müssen sich im Laufe des Tages an Allah erinnern. 
GrandShaykh fuhr fort: "Wer das awrad (zikr) regelmäßig praktiziert, wird das Wasser des Wahren Lebens erreichen und damit die Waschung durchführen. Er wird darin baden und es trinken und damit sein Ziel erreichen. Es gibt eine solche Person, die behauptet, seit dreißig Jahren im Orden zu sein und noch nichts gesehen und nichts erreicht zu haben. Die Antwort auf diese Person besteht darin, ihre Handlungen in den letzten Jahren zu suchen und zu betrachten. Wie viele mangelhafte Aktionen hat er durchgeführt? Wenn Sie den Mangel kennen, sollten Sie ihn schnell vermeiden, dann werden Sie Allah erreichen, der mächtig und erhaben ist. Wenn der Murid das aufgibt, was die Shaykhs ihm von der täglichen Pflicht (wazifa) gesagt haben, wird er absolut nicht in der Lage sein, weitere Fortschritte zu erzielen, und er wird keinen Zustand erreichen können, den er zuvor erreicht hatte. Kein prophet hat jemals das prophetentum erlangt, noch hat kein Heiliger jemals die Heiligkeit erlangt, und kein Gläubiger hat jemals die Stufe des Glaubens erreicht, ohne seine Zeit für seinen täglichen zikr zu nutzen."

Allah (AJ) Has Divided the Day Into Three Parts
"On this basis Allah (AJ) has divided the day into three parts: eight hours for worship, eight hours for earning a living, and eight hours for sleeping. Anyone who does not accept and follow this division of energies will exemplify the hadith, 'He who is erratic will be erratic in the Hellfire.' He who goes according to his own will and reasoning does not progress and he who wishes to obtain exalted stations, levels and stages which previous generations earned by means of retreats and other spiritual exercises, must remember Allah (AJ) throughout the course of the day."
GrandShaykh continued, "He who makes a regular practice of the awrad (zikr) shall attain the Water of True Life, and with it he will perform ablution. He will bathe in it and drink it and by means of it shall he reach his goal. There is such a person who claims that he has been in the Order for thirty years, and as yet has not seen anything and not attained anything. The answer to that person is to search and look at his actions over the past years. How many deficient actions has he performed? When you know the deficiency you should quickly avoid it, then you will reach Allah (AJ) Who is Powerful and Sublime. When the murid forsakes that which the Shaykhs have told him to do of the daily duty (wazifa), then he will be absolutely incapable of making further progress and he will be unable to reach any state he had previously attained. No prophet ever attained prophethood, nor did any saint ever attain sainthood, and no believer ever attained the stage of faith without utilizing his time for his daily zikr."
Updated: January 5, 2020

Zum Thema passende Artikel:
Please Donate and support us to spread these heavenly knowledges.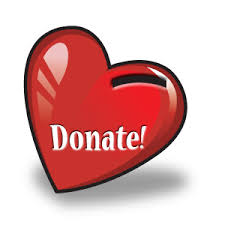 Copyright © 2020 Naqshbandi Islamic Center of Vancouver, All Rights Reserved.