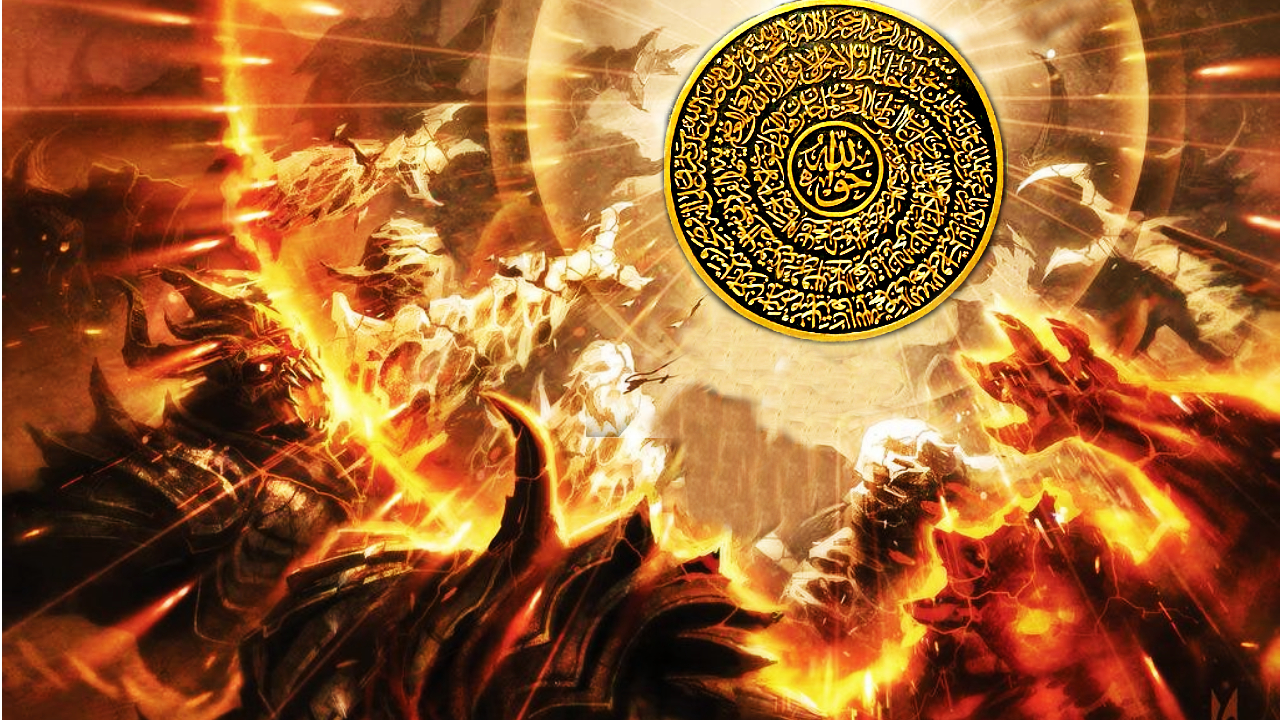 The Power of Taweez and its Protection in the Unseen world
This Article Has Been Translated



Spanish
From the Realities of Mawlana (Q) as taught by Shaykh Nurjan Mirahmadi.
A'udhu Billahi Minash Shaitanir Rajeem
Bismillahir Rahmanir Raheem
I seek refuge in Allah from Satan, the rejected one
In the Name of Allah, the Most Beneficent, the Most Merciful
"Atiullaha wa atiur Rasula wa Ulil amre minkum."
﴾أَطِيعُواللَّه وَأَطِيعُوٱلرَّسُولَ وَأُوْلِي الْأَمْرِ مِنْكُمْ… ﴿٥٩…
4:59 – "…Atiullaha wa atiur Rasula wa Ulil amre minkum…" (Surat An-Nisa)
"… Obey Allah, Obey the Messenger, and those in authority among you…" (The Women, 4:59)
The Relief Comes for All of Humanity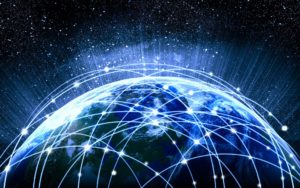 Always a reminder to myself ana abdukal 'ajeezu dayeefu miskin wa zhalim wa jahl, and we know nothing but what Allah (AJ) wants us to know. That by the grace of Allah (AJ) that we are still in existence we took a path in which to be nothing. Always a reminder for myself in last days our duty is to continuously remind, remind, remind. And whatever is being put together is a ni'mat (blessing) and a safety for us. And this ni'mat and safety to reach as many people as Allah (AJ) wants it to reach. Not like times of old where you dealt just with your village and that was it. Whatever is coming is coming upon the whole of this earth and whatever relief has to go, goes to the whole of this earth. So then the dawah (religious propagation) that is being instructed is trying to reach as many people possible and as many of Allah's (AJ) servants doing what Allah (AJ) wants them to do. A reminder for myself is the immense blessings of its reality that we forget.
The Ta'weez is a Reality from Heaven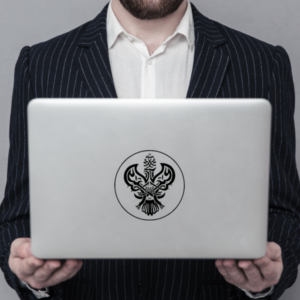 In this holy month of Suratul Kahf (the Cave) before we enter into the immensely blessed month of Rabi'ul Awwal, the month of the birth of Sayyidina Muhammad ﷺ the birth of Islam the birth of Qur'an the birth of everything that Allah (AJ) wanted to manifest with the arrival of Sayyidina Muhammad ﷺ. That these ta'weezes (prayer for protection) and these items that are inspired from the heavens for us is not from the physical world.
That in dealing with someone, just and that came back as a reminder for myself; they asked for ta'weez and the placement of that ta'weez. When they got the ta'weez they were placing it and they were trying to reach me as far as where to place it, they couldn't reach me and they put it somewhere. But then inspiration came in the dream with the shaykhs.
Placement of the Ta'weez and It's Protection from the Unseen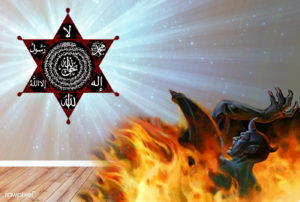 The shaykhs inspired that person that the location is not important for you to see it because it's not from your world. It's not that you have to see the ta'weez and its effect will then have an effect on bad and negative energies. They were confirming to that person this is from malakut (heavens). These realities are being given by permission of Allah (AJ) through the heart of Sayyidina Muhammad ﷺ to awliyaullah (saints) that these are the qudras and the powers of the heavenly realm and that's a world of light to deal with these forces that are not human. It's not meant for you and other human beings but humans that are under the influence of extremely negative creations. And they instructed this person just put it in the house don't worry about 'It has to be visible, does it have to be in front of something behind of something?'
The Naqshbandi Taweez Given to Shaykh Abdullah Dagestani (Q)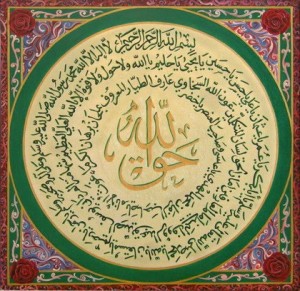 And that was a reminder for myself that maybe we're not talking about it enough and people have really no idea what's happening. That how these words have a benefit for you. Means what was given to Sultan ul Awliya (King of Saints) Mawlana Shaykh Abdullah al-Faiz Ad-Dagestani (Q) is the Naqshbandi taweez that says, "Allahu Haq Bismillahir Rahmanir Raheem," and then the shajarah of the tariqah (spiritual lineage of the path), and "La halwa wala quwwata illa billahil aliyyul azeem," and then some other words and names. But this is a flag, a reality given from the heart of Sayyidina Muhammad ﷺ that signifies a reality from the heavenly Kingdom.
وَلاَ حَوْلَ وَلاَ قُوَّةَ اِلاَّ بِاللهِ الْعَلِيِّ الْعَظِيْمِ
"Wa laa hawla wa la quwwata illa billahil 'Aliyyil 'Azheem."
"And there is no Support/strength, nor power except by Allah, The Sublimely Exalted, The Magnificent."
The Taweez is a Banner Given by Prophet ﷺ to Each Tariqa

And those from the heavenly Kingdom know it's reality and they proudly display themselves with it and each of the tariqahs and the shaykhs they have flags as they align into the presence of Sayyidina Muhammad ﷺ. We were asked before I think like a banner like armies, right? When they're in the presence of Prophet ﷺ they are in battalions and armies under banners. And the banner that given to them by Sayyidina Muhammad ﷺ it's of the heavenly realm. It's not something from the physical world that you show somebody or somebody in the physical realm has to see it to understand it or be scared of it.
What Does Ta'weez Has To Do with Worship?
These are lights because the heavenly realm, "kulli shaye."
﴾فَسُبْحَانَ الَّذِي بِيَدِهِ مَلَكُوتُ كُلِّ شَيْءٍ وَإِلَيْهِ تُرْجَعُونَ ﴿٨٣
36:83 – "Fasubhanal ladhee biyadihi Malakotu kulli shay in wa ilayhi turja'oon." (Surat YaSeen)  
"Therefore Glory be to Him in Whose hand is the dominion/ kingdom over everything in heavens, and to Him you will be returned." (YaSeen, 36:83)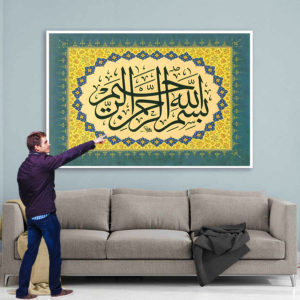 The malakut and the world of light is the power and authority for the physical realm. If they don't know that's something different. 99.9% of people don't know so they say, 'What is this, this is shirk (polytheism),' what does it have to do with worshipness? But even that word how can come into existence? Even when you put ayatul kareem (generous verse of Holy Qur'an) they say, 'This is shirk,'. You put salawats (praises upon Prophet Muhammad ﷺ) and a calligraphy, they say, 'This is shirk.' Say what you talking about this is shirk? This is the insane mazhab (school of thought) from insane asylum people.
Even the Kiswah of the Ka'bah has Calligraphy on it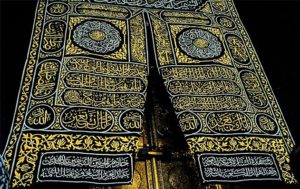 The Ka'bah has written everything on it. The only part of shirk on that ka'bah is that he put his name on it; the King of that Kingdom he put his name on the kiswah (the cloth draped upon Ka'bah) of the holy ka'bah which he had no right to do and Allah (AJ) would punish him for that. Other than that ayatul kareem, phrases and praises upon Sayyidina Muhammad ﷺ, Ismullah (Name of Allah (AJ), this is Islam, there's a light that emits from that. See at the very bottom how he put his name on there [shaykh points to ka'bah picture]. Custodian? Who said he's custodian just because…and Allah (AJ) describes him in the eighth surah (chapter) of Qur'an (8:35).

Who are the Real Custodian of Ka'bah?

Allah (AJ) describes that, 'They give water and they clapped and they thought they became the custodians of the ka'bah?'
﴾وَمَا كَانَ صَلَاتُهُمْ عِندَ الْبَيْتِ إِلَّا مُكَاءً وَتَصْدِيَةً ۚ فَذُوقُوا الْعَذَابَ بِمَا كُنتُمْ تَكْفُرُونَ ﴿٣٥
8:35– "Wa maa kaana Salaatuhum 'indal Baiti illa mukaaa anw-wa tasdiyah; fazooqul 'azaaba bimaa kuntum takfuroon." (Surah al-Anfal)
Their prayer at the House (of Allah) is nothing but whistling and clapping of hands: (Its only answer can be), "Taste ye the penalty because ye blasphemed." (The spoils of war, 8:35)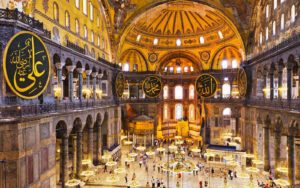 It's not a title you give to yourself, it's a title given by Allah (AJ). And we described those custodians now are based in Turkey. The Islamic nation its base is in Turkey. And now the whole world will rise up against, guess who? Turkey. These are the signs of the wars that are coming with Sayyidina Mahdi (as). These realities of malakut are realities of light, light and power.

The Secret of Ta'weez Is that The Truth Destroys Falsehood (17:81)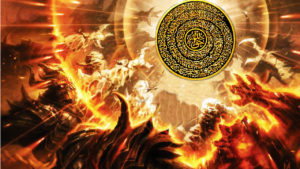 When these , these holy letters are assembled the way Allah (AJ) wants them to be assembled they display an immense light from heavens. When that light is shining that realm of light they see it. As soon as they see these lights it like a vortex pulls them in, they can't escape it. So negative energy when it sees the truth when Allah (AJ) says, "Qul jaa alhaqq." 'Tell them that when you come into the presence of truth, truth and falsehood they don't match and that falsehood is ever perishing.'
﴾وَ قُلْ جَآءَالْحَقُّ وَزَهَقَ الْبَطِلُ، إِنَّ الْبَطِلَ كَانَ زَهُوقًا ﴿٨١
17:81 – "Wa qul jaa alhaqqu wa zahaqal baatil, innal batila kana zahoqa." (Surat Al-Isra)
"And say, Truth has come, and falsehood has perished. Indeed falsehood, [by its nature], is ever perishing/bound to perish." (The Night Journey, 17:81)
That ayatul kareem is the secret of all of these kalima, all of these letters all of these taweezes. That when Allah (AJ) sends a haq (truth) its job is to destroy falsehood. He's not sending it, what is He (AJ) sending as a haq? So when you write the names of truthful servants, "Tanzilur Rahma,'
عِنْدَ ذِكْرِ الصَّالِحِينَ تَنْزِلُ الرَّحْمَةُ
"Inda dhikres Saliheena Tanzilur Rahma."
"In mentioning the names of the pious people, Allah's Mercy descends." Prophet Muhammad (saws)
Negativity Sees Special Light Around Your Home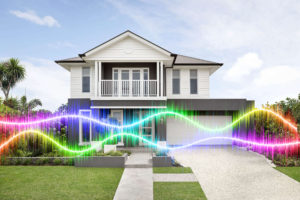 But not only that these letters their names what Allah (AJ) has given to them of secrets immediately begins to dispense a light. That light the shayateen (devils) can't escape from it that's why they don't approach it. And when they see it from a distance they see light, they're not looking for your sticker that's not their realm. So you got to make like those sci-fi movies where they see everything is lights everything has a different color coming out. They see the color of this light in the vicinity of someone's home because in their realm they don't see from our sight. They see in a different way; their lights and energies, they see an energy realm. In that energy realm they see a certain color, when they see these lights they know this is not from here this is from the heavens.
The Devils are Scared of the Power of the Ta'weez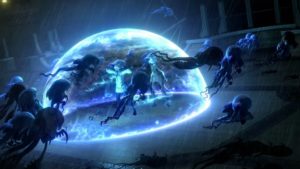 And if they approach that light what Allah (AJ) gave from ayatul Qur'an that from thesehaq it will destroy and make the falsehood to perish. It actually will begin to absorb them and pull them into that reality and pull them into that light to destroy it. That's why they run from it and they want nothing to do with these taweezes. They want nothing to do with the energy that's emitted from the taweez.

﴾وَ قُلْ جَآءَالْحَقُّ وَزَهَقَ الْبَطِلُ، إِنَّ الْبَطِلَ كَانَ زَهُوقًا ﴿٨١
17:81 – "Wa qul jaa alhaqqu wa zahaqal baatil, innal batila kana zahoqa." (Surat Al-Isra)
"And say, Truth has come, and falsehood has perished. Indeed falsehood, [by its nature], is ever perishing/bound to perish." (The Night Journey, 17:81)
There is Immense Light Emanating from the Ta'weez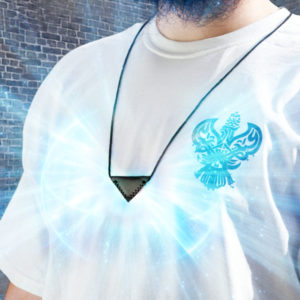 So when you put it up on your chest they don't need to see the ta'weez. They don't need to take it out to read it to be scared of it, it's a light they see. So then there are spiritual people of different faiths because they practice and they tame their bad character. And you go out and all of sudden somebody came up to table and said, 'There's an immense light emitting from the chest what is there?' And the person identified and said, 'Oh I have something from my shaykh' [shows his ta'weez]. He said 'Oh that emits a tremendous light, that thing that you're wearing.' Why? Why Allah (AJ) wanted that person to be confirmed so that their faith would grow and understand.
You Only Have to Worry About Your Shaitan, Your Ego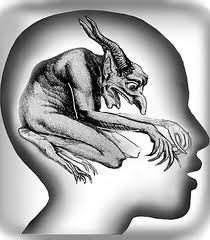 These are not material things these are these are ni'mat (blessing) Allah (AJ) gives as a rahmah as a mercy for His creation that, 'Did you think I'm going to leave you to the hands of shaitan (satan)?' The only shaitan you have to worry about is your nafs (ego) that says, 'I don't need to do it anymore.' That's the only shaitan that you have to worry about.
Because the other one he's scared to death of it, he doesn't fight the taweezes. When you display them on your window of your home, that's why we have the sticker, you put it on all the windows of the house, you put it on your car, you put it on yourself, you put the taweezes upon the children. Everybody they're marked with the Muhammadan kingdom's badge. The shaitans know who they are so they stay away. They'd rather not deal with that person they'd rather not deal with the energy emitting from that person. So the only thing we have to worry about is my nafs telling me, 'I don't need it I don't understand it,' and my waswas (whisperings) telling me, 'It's not important for you to have it.'

Waswas Comes When you Intend to Do Good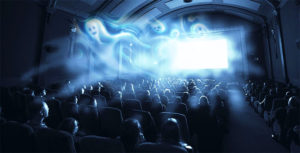 Anyone hearing from themselves they don't need to do these things is the exact reason you should be doing these things. If you didn't hear it, it wouldn't have a power, right? When you want to go to a movie theatre in the old days now pandemic there is no movie theatre, in old days when you wanted to do something, the shaykhs don't like at all movie theatres, you never heard waswas telling you not to go. 'Just go, go you're gonna have any nice popcorn you'll get some maybe some candy go, go.'
When do you hear waswas? When you say I'm going to zikr (circle of remembrance).' Nafs: 'Oh you have to go? Oh rest a little bit, it's still early it's still early.' Anything possible, 'Don't go.' Break your tires, break your thing break something; 'Don't go.' Anything possible shaitan can do to stop it. That's we are in the law of opposites; anything that's tough to you there must be a secret there anything that came easy to you; forget it. So that's the exact power of the ta'weez.
What Makes People Agitated when They See Ta'weez?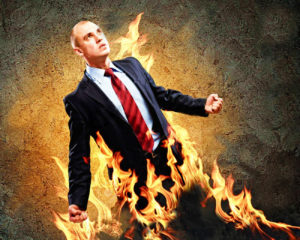 When you're being whispered not to do it when somebody comes into your house and says, 'What's this picture here? What's this calligraphy here, what's this writing here? It did exactly the job it was supposed to because their energies cannot take it. Whatever is riding upon insan (mankind) he's like a bus or she's a bus filled with occupants, unwanted occupants mostly homeless occupants, nefarious occupants, right? They're all on the person they see this ta'weez it's being burned on them it's literally burning their being. They're agitated by it, they say, 'Take it down!' And that's the power of that reality, that's the power of the light being emitted from these ta'weezes.  
If You are Analyzing the Instruction, You've Already Lost
It's not your brain it's called faith. That's why when you follow the shaykh, you try to listen to them. If what they tell you entered your head, you already lost. If it went to your heart you said 'Sami'na wa ata'na, this is something I'm going to do.'
﴾سَمِعْنَا وَأَطَعْنَا ﴿٢٨٥
2:285 – "Sam'ina wa ata'na…" (Surat Al-Baqarah)
"…We hear, and we obey.." (The Cow, 2:285)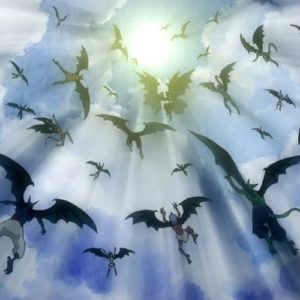 If it entered to your head, and what you called logic, you've already lost the game. Because shaitan is now training you, 'Tell what he says, bring it to me and let me come and teach you, you don't need it.' The teachings comes to your heart, 'I need ta'weezes is I don't understand it and I don't see what he sees, I'll put my ta'weezes. I mark myself, I mark my property, I mark my homes.' You can't understand what's in the air and what's flying and what's coming and what's going and what's moving through the atmosphere. And because of these relics that been given to us because of all of these realities that have been given to us they disperse and push them away so that they don't stay on insan.
Awliya Blesses Everything & Pushes Away Unwanted Beings

Means then these are the immense realities. That's why when in these associations when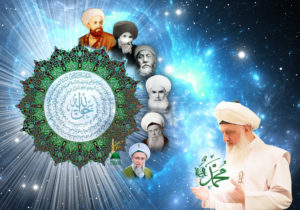 they begin to pray, the water the food and everything around them is a dressing and a blessing of light. If you're ever around them, eat around them drink around them play the associations loud so they can be heard so that everything is coming out from the association and entering into the homes. All the beings that accompany them from the heavens enter into the homes, bless the home bless the food bless the drink bless everything. And clear out all unwanted guests because of its lights and because of its realities. These are from the stations of faith as a reminder for myself that what's given to us by the heavens has a heavenly reality. And it's meant to combat those creatures that you can't see. But they can see that realm, they understand the realm. You'll see it even in sci-fi movies, where they see it, the devils they see certain things and they don't go into those places because of those lights.
Understand the Law of Opposites and Fight Your Inner Demons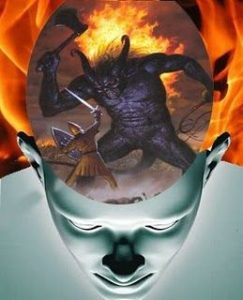 We pray that Allah (AJ) give us more and more understanding of that realm and that people not to listen to their brain and their logic and learn this way of opposites. That's when they talk about how the shaykh would sit and make tafakkur (contemplation), when he understood something is coming easily there is no benefit in it. As soon as he made a tafakkur that he's contemplating, 'Why should I do, why should I do it, why should I do it,' you got to trick there. Shaitain is now playing with you and that's your danger. When he tells you and advises you, 'Do something!' Don't think, 'Oh I do so much why I have to listen to what he's saying about this?' No! Because there's a different secret and what he's asking you. And he wants you to fight your devils not sit and have logic with them. So anything in this law of opposites that you have to sit and contemplate, ' I don't want to do that shaykh, I don't want to do it.' That means something is there, there's a reality there that shaitan is trying to block you from; from eating from that reality, drinking from that reality, displaying and wearing that reality.
Protect Yourself Now, Don't Wait until Everything Falls Apart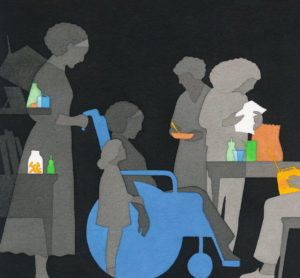 That reality is a protection and a blessing to survive what's coming. And each day becomes 10 times more negative 10 times more difficult is not getting easier, it's getting worse. And their reason for propagating, their reason for propagating is for protection. And if they don't propagate that reality it's the opposite that happens, when people start bringing their sick family and saying now, 'All these people are sick, all my children are sick all of these things have fallen apart. Shaykh, what do we do now?' What do you mean what do you do now? Who wants to wait for that to happen?
So did you listen to their guidance? Did you do these practices? Did you display what they've been asked to display, did you put upon yourself all of these realities? You've decked yourself out with your reality, you learned it you survive by it? Or you're waiting for a catastrophe to test the shaykh if he knows what he's talking about. 'Oh I'm not gonna do anything let me see.'
Everything Can Change in a Single Day
And what did Suratul Kahf say, "mashallah la quwwata illa billah."

﴾مَا شَاءَ اللَّـهُ لَا قُوَّةَ إِلَّا بِاللَّـهِ ۚ إِ… ﴿٣٩
18:39 – "…MashAllahu la quwwata illa billah…" (Surah Al-Kahf)
"…What Allah willed [has occurred]; there is no power except in Allah …" (The Cave, 18:39)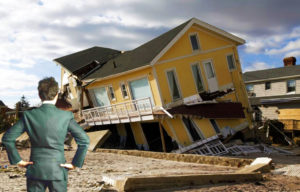 Why, because the guy came out, they're two people, one pious, and the other one thinking the earth has given him his own strength. 'I have a good job I don't know what you're talking about these things are going to go.' Doesn't have to be super rich, it could be anyone. Say, 'I have a good job, I don't know what you're talking about things are gonna go. We have good health that we're all young, what are you talking about things are gonna go?' And Allah's (AJ) warning Suratul Kahf, 'It can be but just one day, you wake up the next day and everything is completely different for your life,' [Q'n]
You Can Only Blame Yourself for Not Taking the Blessings
And all you have is yourself to blame. That why Allah (AJ) sent this ni'mat (blessing) and I don't eat it anymore, and I don't drink from it anymore, and I don't take from it anymore? I choose to go somewhere else and take from something else.' Why? You became clever? Your faith is increased? Or it looks like it decreased? Because you think you're clever now. And then when everything falls apart, you come back crying everything fell apart everybody's sick everybody is in a disaster now. So the real shaitan that we have to worry about is ourselves. And listening to ourselves and sitting and having a conversation with devils. And sitting in the logic of devils which is extremely dangerous. We pray that Allah (AJ) protect us from that.
Subhana rabbika rabbal 'izzati 'amma yasifoon, wa salaamun 'alal mursaleen, walhamdulillahi rabbil 'aalameen. Bi hurmati Muhammad al-Mustafa wa bi siri Surat al-Fatiha.
Special thanks to our transcribers for their help with transcribing this suhbah.
Original Date of Suhbah: October 15, 2020
Related Articles:
Related Videos:

Please Donate and support us to spread these heavenly knowledges.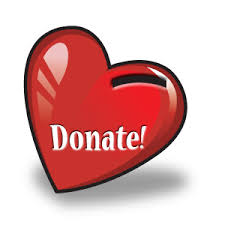 Copyright © 2021 Naqshbandi Islamic Center of Vancouver, All Rights Reserved.