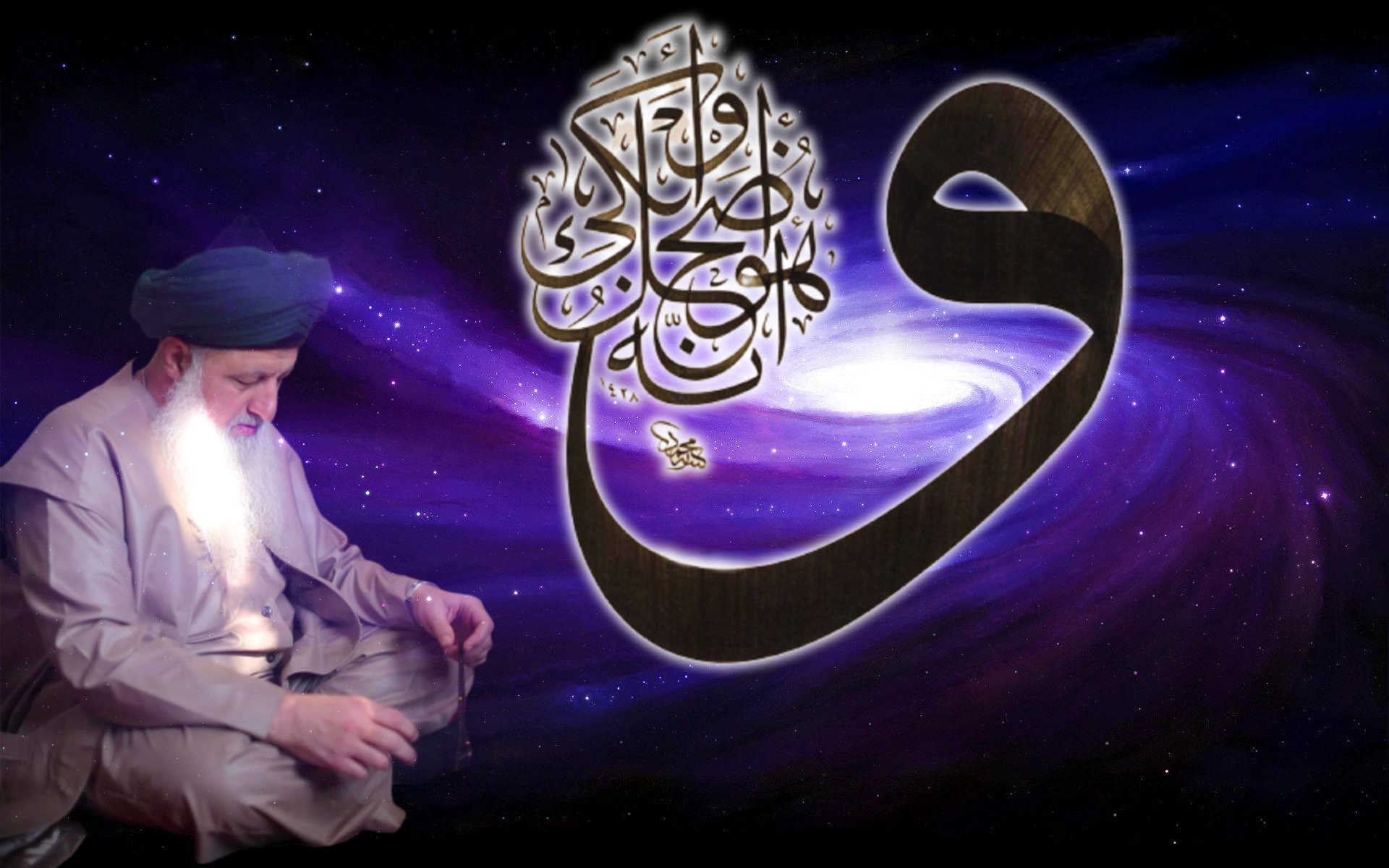 Only Very Righteous and Very Evil People Will Survive End Times
From the Realities of Mawlana (Q) as taught by Shaykh Nurjan Mirahmadi.
A'udhu Billahi Minash Shaitanir Rajeem
Bismillahir Rahmanir Raheem
I seek refuge in Allah from Satan, the rejected one
In the Name of Allah, the Most Beneficent, the Most Merciful
Our Way is to Be Nothing, Beware of Those Who Claim to Be Something
Again in times we were talking earlier with some people that, "A'udhu Billahi Minash Shaitanir Rajeem Bismillahir Rahmanir Raheem, Atiullaha wa atiur Rasula wa Ulil amre minkum."
﴾أَطِيعُواللَّه وَأَطِيعُوٱلرَّسُولَ وَأُوْلِي الْأَمْرِ مِنْكُمْ… ﴿٥٩
4:59 – "…Atiullaha wa atiur Rasula wa Ulil amre minkum…" (Surat An-Nisa)
"… Obey Allah, Obey the Messenger, and those in authority among you…" (The Women, 4:59)
Ana abdukal 'ajeez, wa dayeef, wa miskin, wa zhalim, wa jahl, and that to take a way in which to efface ourselves to be nothing. It's important to tell people that you are nothing and if they still stay then that's up to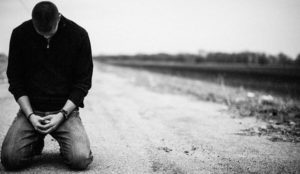 them. That's their reliance on Allah (AJ) and the attraction in their heart for Allah (AJ).
That not to attract people to yourself by certain characteristics and these are the dangers of the characters that now move upon the earth. So we took a path in which to be nothing and we pray that Allah (AJ) dress us and bless us in this ocean of realities as we grow closer to the end.
The Common Denominator of All Teachings is the Perfection of Energy
The sound and hamd and praise is every reality and if we take all of the usool (principles) and all our practices and reduce to the common denominator. We said it many times, a reminder always for myself is we should be thinking in light and in energy.
And this is the most scientific and perfected of belief that we are not a zahari and a people of form but we are from, and hope to be, from the people of malakut (heavenly realm), the world of light. The world of light comes to teach these people on earth to think from light and light by its nature of manifestation is energy. And everything that Allah (AJ) prescribed for us through the Holy Prophets, Holy Books, the angels – everything was to perfect our energy.
Science is But a Drop of What Sayyidina Muhammad ﷺ Brought For Us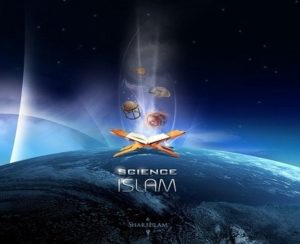 Very simple in a nutshell and then people think, 'Oh, what you people talking about, you religious people?' And they say, 'Oh, our scientists, they know and we are people who follow science.' They said no, when you minimalize something and you try to insult it as if nothing, you've lost a great mercy from God.
The Prophets were the most advanced of realities. Science is not but a drop in anything and understands nothing. The Prophets of Allah (AJ), Sayyidina Muhammad ﷺ came to bring the most advanced understandings from the heavens.
In the Last Days Only the Extremely Evil and Extremely Pious Will Survive
And in these days of difficulty, they are the most essential understandings. That when everything that is coming to us is by a frequency and the level in which we emanate our frequency. If you are emanating at 100 for example, for us just to understand the analogy, your zikr (remembrance), your practices, your salah (prayer), your zakat (charity), all of these raise your frequency. If you are trying to be from saliheen (righteous), imagine then that frequency is like a 100, like a heavenly frequency. And then we'll understand why so many hadiths (traditions of Prophet ﷺ) said in the last days, 'None will be left upon the earth except the saliheen, righteous or extremely evil and wicked, hizbul-shaitan (party of satan), there is no middle.' Because either the frequency is super high and they survived or the frequency is super low and they're demonic. Everything in the middle will be crushed and put to dust.
Raise Your Frequency With Spiritual Practices to Combat Negative Energy
So it means that this frequency if you think by example, you raised it, you cleaned it, you did your zikr (remembrance), you gave your zakat (charity), you did your practices, your being, your soul and the heat of your energy is emanating let's say at a 100. Every type of difficulty comes to the insan (human being) to attack it.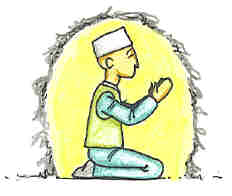 If it comes at a 30, if their energy of something bad comes to you at  30, your 100 is stronger than the 30 and it hits it and brings it down. If it comes to you at a 50, let's say a satanic attack and jinn (unseen beings) attack or whatever people want to think of a negative energy, whatever their culture for understanding a negative energy, a disease, whatever it is; if it comes to you at a 50 or 60, you're emanating at 100, it may cause you to become sickened but your energy hits it back down because your frequency is higher and Allah (AJ) "Qul ja al haqq," Tell them, O' Janab al Haqq ﷺ, when the truth comes it destroys the falsehood. And the truth and false, they are not in the same vicinity.'
﴾وَ قُلْ جَآءَالْحَقُّ وَزَهَقَ الْبَطِلُ، إِنَّ الْبَطِلَ كَانَ زَهُوقًا. ﴿٨١
17:81 – "Wa qul jaa alhaqqu wa zahaqal baatil, innal batila kana zahoqa." (Surat Al-Isra)
"And say, Truth has come, and falsehood has perished. Indeed falsehood, [by its nature], is ever perishing/bound to perish." (The Night Journey, 17:81)
Love Sayyidina Muhammad ﷺ, His Frequency Will Begin to Dress You
Allah (AJ) was giving an ayat ul kareem (verse of the Holy Qur'an), advanced realities of energy. 'Tell them, O' Janab al Haqq ﷺ, that you are the highest of My frequencies. From your frequency, Salalah alayhi wa salam, everything's created. If they love you, you will perfect their frequency. If they love you, your frequency will dress them.' "Feekum."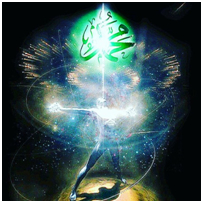 ﴾كَمَا أَرْ‌سَلْنَا فِيكُمْ رَ‌سُولًا مِّنكُمْ يَتْلُو عَلَيْكُمْ آيَاتِنَا …﴿١٥١
2:151 – "Kama arsalna feekum Rasulam minkum yatlo 'Alaykum ayatina…" (Surat Al-Baqarah) 
"Just as We have sent among (within) you a messenger of your own, reciting to you Our Signs, …" (The Cow, 2:151)
All these Qur'anic ayahs (verses), why you don't think in English? "Feekum!" That Allah's (AJ) guarantee is if you love Prophet ﷺ, His frequency will come to you.
If the Prophetic frequency is emanating within insan (human being), "Qul ja al haqq wa zahaqal batil" (Holy Qur'an, 17:81). That, 'Your haq (truth) will definitely hit every type of falsehood.' And every falsehood by its nature is trying to come towards you. And that is why low frequency and shaitan's (satan) goal is what? To bring your frequency down.
Are Your Practices Creating Positive Energy or Negative Energy?
So you don't have to talk in religious dogma that everybody wants to argue about, 'No, my akhi (brother) does this, my kitab (book) is this, my understanding is this.' The equal denominator in school, they taught us for math, find the equal denominator; because the two sides of the formula have to be equal; you can't multiply them if it's not equal. So your equal denominator is energy.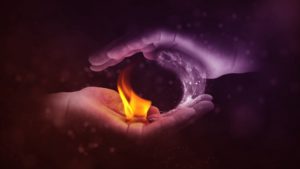 It equalizes all religions. If what you think you're doing is producing positive energy, to counter yourself against every negative attack, more power to you. But if what you're doing is false, it produces no energy. So you busy yourself! And Allah (AJ) describes, many ayat ul kareem, 'They busy themselves playing and they got nowhere.' Their practices are not giving them energy. They think they are doing something, their energy not going above 20, 30. And that's where every shaitan is coming to attack.
Shaitan's Goal is to Attack You By Bringing Your Frequency Down With Bad Actions 
So then shaitan's goal, that energy's goal is what? Hit the person – bring their energy field down. So their sayyiat, their sins, their bad actions, bring their frequency down. And it goes notch by notch. You're doing good, you're doing good, all of the sudden – BOOM! Something comes, somebody comes, some sort of attack comes and you find your frequency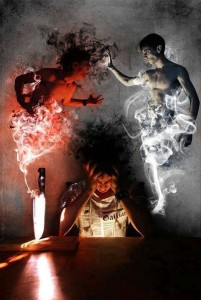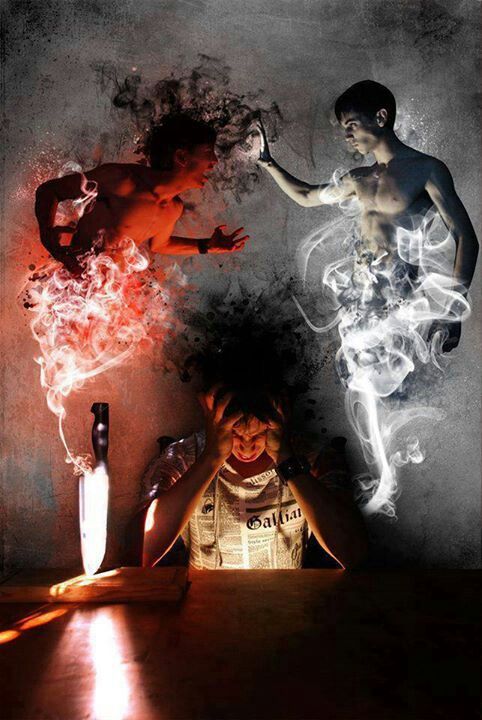 going down; 10 going down, 10 going down and that's what shaitan wants, is 'Bring this person down so that we can attack them.'
So on earth now, you have everybody who was doing nothing correctly and they emanate at a 10 and 15 but they say but they were good, 'I am a good person.' This is not about only you saying you're a good person. But what are your practices that bring your energy up? Being good should be a result of actions. If you're good, did you have good actions? Did you take care of people, did you give, did you support? Were you someone of service? Did you live a life of chanting for the Divine, praising and thanking the Divine, helping the Divine's creation and creatures? Then you should've had a high energy. But just saying, 'I did good and I'm at 20,' every type of demonic force hits the person and knocks them to be dead and down.
Zikrullah Will Be the Food of the Believers in the Days of Deceit
So then our life is about how to raise our frequency so when someone asks the Shaykh, 'Should I keep reciting this, should I eat like this, should I keep doing this, should I keep doing that?' You answer yourself; this is very common sense. If you're not understanding yet the concept of energy then you answered yourself. Do you think your energy is so high that you don't have to recite anymore? Don't recite! You don't need to send an email for that. If your energy is not high and the one whom their energy is high, they never stop reciting.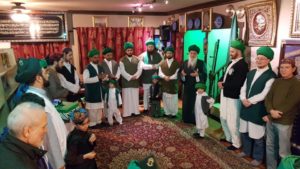 All day long they have wazifas (recitations) and salawats and zikrs and istighfars (seek forgiveness), they live their life in circles of zikr, why? To get more energy. And then when they realize when they're doing their zikr, they're doing their practices, they're doing their salat. Now even the wahabis are reading about dajjal (man of deceit) and they realize that dajjal will take away food from everyone except his people.
And Prophet ﷺ was asked then what will be the people's food, the believer's food? And Prophet's ﷺ response – Zikrullah (remembrance of Allah). Now they believe 'Uh oh, my God, if dajjal is coming, our food is zikrullah and we told everybody not to make zikr, that it was bid'ah (innovation).' So they are going to be really hungry people. It's even causing them to go back and read. Read your knowledge and understand! "Zikrullah tatma'innu Qulob," that the zikr raises your frequency, gives you energy.
الَّذِينَ آمَنُوا وَتَطْمَئِنُّ قُلُوبُهُم بِذِكْرِ اللَّـهِ ۗ أَلَا بِذِكْرِ اللَّـهِ تَطْمَئِنُّ الْقُلُوبُ ﴿٢٨﴾
13:28 – "Alladheena amano wa tatma'innu Qulobu hum bidhikrillahi, ala bi dhikrillahi tatma'innul Qulob." (Surat Ar-Ra'd)
"Those who believe, and whose hearts find satisfaction in the remembrance of Allah. For without doubt in the remembrance of Allah do hearts find satisfaction." (The Thunder, 13:28)
You Can't Produce Enough Energy to Protect Yourself, You Need a Catalyst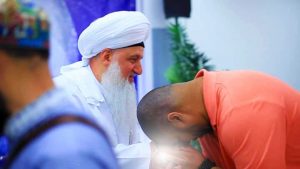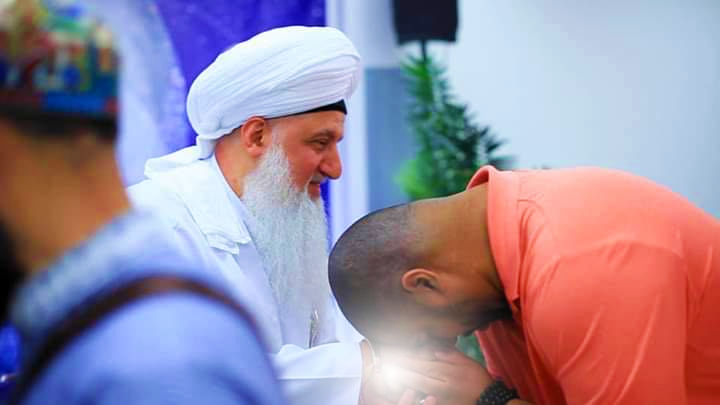 Then the people of energy understood that their du'as (supplications), their practices, all their recitation never stop, never stops, so that they can keep emanating at a frequency. Then they realize that also their frequency is never enough. So they multiplied, so in science you're multiplying factor or catalyst.
When you need a reaction to take place in your exam room, you must introduce a catalyst that speeds up the process. That is madad (seeking support). Your energy, 'Ya Rabbi, my energy is not going to get anywhere, these shaitans are coming at a high very high frequency trying to attack.' Then Allah inspired long ago in our system and in our way, 'Make madad.'
The Madad Brings Excess Energy to Protect You 
My saliheen is in every salah you are making, "As-salamu alayka ayyuha an-nabiyu wa as-salamu alayka wa ala ibadi Allahi as-saliheen." 
 اَلسَّلَامُ عَلَيْكَ أَيُّهَا النَّبِيُّ وَرَحْمَةُ اللهِ وَبَرَكَاتُهُ، اَلسَّلَامُ عَلَيْنَا وَ عَلٰى عِبَادِ اللهِ الصَّالِحِيْنَ
As-salamu 'alayka, ayyuhan-nabiyyu wa rahmatullahi wa barakatuh, as-salamu 'alayna wa 'ala 'ibadil-lahis-saliheen.
Peace be upon you, O Prophet, and the mercy of God and his blessings. Peace be on us and on the righteous servants of God.
Those who worried about shirk (polytheism), they don't understand the words they say when they are praying, praying is only for Allah (AJ). But Allah (AJ) is asking you in your salah, 'Make salaams.' "Ibadi Allahi as-saliheen." "Ittaqullah wa koonu ma as-sadiqeen", Allah (AJ) continuously throughout Qur'an is giving us hints, 'Keep their company.'
﴾يَا أَيُّهَا الَّذِينَ آمَنُوا اتَّقُوا اللّهَ وَكُونُوا مَعَ الصَّادِقِينَ ﴿١١٩
9:119 – "Ya ayyuhal ladheena amanoo ittaqollaha wa kono ma'as sadiqeen." (Surat At-Tawba)
"O you who have believed, have consciousness of Allah and be with those who are truthful/ Pious /sincere (in words and deed)."  (The Repentance, 9:119)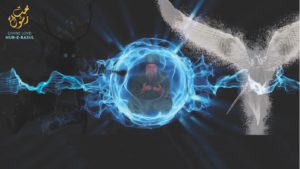 So as soon as they make madad, this is not worshipness, they're asking for them to be with them, 'Be with me Ya RijalAllah (men of God).' From budala, nujaba, nuqaba, awtad, akhyar, jinn wa malaika. That, 'From Your creation who are mumin and believers, Ya Rabbi, surround me with their energy.' They're not coming with chelow kabab for you and sumac. Although I'm hungry so that sounds pretty good [Shaykh laughs]. They're coming with energy.
Can you imagine from budala, which of the budala servants when they come what type of energy they come in the room with? You don't have to see them because they're not interested in you trying to, you know, communicate with them. They're not here to compete, "la sharik."
The Servants of Allah (AJ) Are Not Only Humans
They don't want to be seen, they don't want you to focus on them. They just wanted you to ask Allah (AJ), 'Let me go.' As soon as you ask for madad (support), they'll ask Allah (AJ), 'Give us permission to enter into their precincts, into their room.'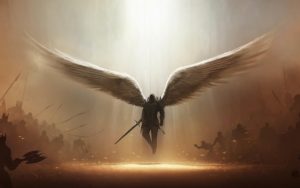 As soon as these Holy souls from the jinn and from ins, the budala, nujaba, nuqaba, awtad, these categories of Rijalullah (men of God), not only human. So people say, 'Oh when you talk about jinn you spook me out'. Uh excuse me, all the categories of Rijalullah are fixed and mixed with ins (human being) and jinns (unseen beings). And you don't need to call upon a particular jinn and try to see him.
All you are asking from Allah's (AJ) Rijal and you've been given the names of the Rijal, 'Ya Rabbi, I'm calling on them asking for them to be present with me and send their support.'
Scare Satanic Energies Away By Calling Upon Heavenly Souls
So imagine now 10,000 volts of energy enter into the room because you keep calling all the silsila (spiritual lineage) of the tariqah (spiritual path). 10,000 volts in the room and as soon as you meditate they start to send to you to your capacity. But those 10,000 volts,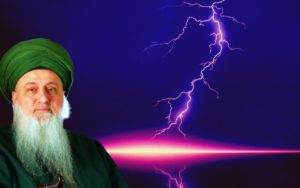 they scare away every type of satanic energy. Because those little 100 volts that are coming in, 20 volts coming in is like those commercials for Raid.
They're coming and saying, 'What the heck is this?' And all voltage from heavens are coming into that room. They take away by Allah's (AJ) Might and Majesty every type of difficulty, every type of sickness.
The Shaykhs Are Watching Your Sincerity, Keep the Adab to Receive Their Blessings
If they feel that your request is sincere and you live the life of that understanding, you recite all the time, you make madad all the time, you try to improve yourself all the time; their energy is all around you. You eat right, you act right,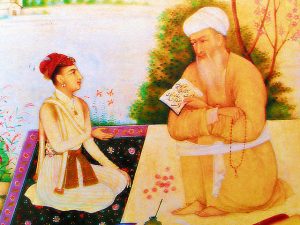 you keep your care for your practices. That's why they said then 'Don't be weird and insulting on the internet and social platforms.' If the shaykhs are watching, imagine what they're seeing.
All of that has to do with the ocean of sincerity. When the servant keeps themselves in a sincere condition, every practice, every madad has a power. If they be dressed by 1,000 volts and they don't lose but 10, 20 or 100 volts for the week, imagine then the next week how much energy they have?
Learn to Preserve the Energy You Build
Because what are the problems with solar energy when they first made it is that the sun comes, makes the energy, they didn't know how to store it. Because they say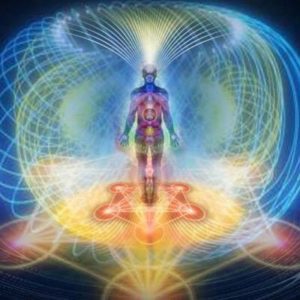 , 'What are we going to do? If we send this energy into the home and they don't use it, it'll just be wasted.'
So, the energy system was only as good as their collection ability. One thing to gather the energy but do you have the ability to collect the energy like a battery?
If what you bring in goes out by the bad actions then you're having a very difficult life. So they taught us, 'No, no, put all your insulation on.'
Keep the Sunnah of Sayyidina Muhammad ﷺ  to Insulate Your Energy 
So the sunnah (way of Prophet ﷺ) is an insulation. It keeps the barakah (blessing) and the energy. Washing, wudu, everything that Sayyidina Muhammad ﷺ brought was for the creation of your battery. That, 'Insulate yourself in the dress that Allah (AJ) prefers. Cover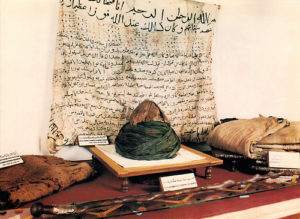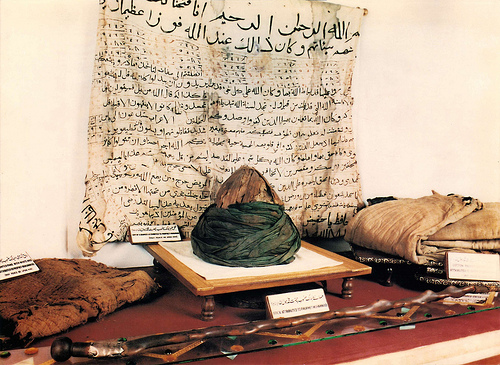 yourself.' For the men, grow your beard. It's okay for some women too but it's mainly for the men. [Shaykh laughs] Because people say, 'Why you always talk about the men?' So okay, if you want to have a beard, you can have a beard.
But men were also responsible for covering their head, right? So you see all the men with no head cover and they let their beautiful hair out and make their women cover, 'Walk behind me!' That's not the way it goes. Keep your head covered. Keep all your clothes in sunnah. Keep your ring, it keeps nazar (gaze) and it shows your allegiance to Sayyidina Muhammad ﷺ. Keep your way, keep your practices, everything that Prophet ﷺ brought for us, make it a battery!
Awliyaullah Who Can Power Entire Cities With Their Energy 
So as soon as you do your practices, you get a charge, you get another charge, you get another charge, you get another charge. Some of them are batteries that can power an entire city, entire continent, entire earth, these awliyaullah (saints).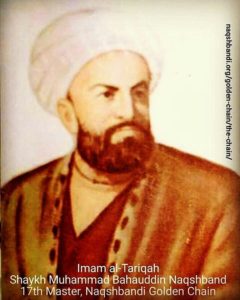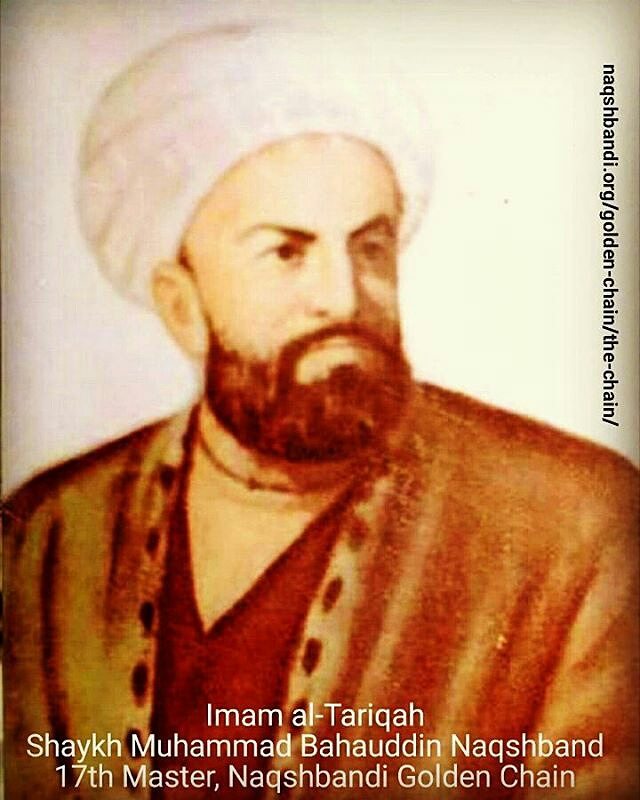 Because of the amount of power that generating through their heart of what they saved and what they're able to give out.
Mawlana Shah Naqshband's (Q) power was so great he didn't want to use it on earth and they say he trained his eyes to move so that nobody could look into his eyes to pull his energy out. And that he continuously was rotating his eyes to not use that energy on earth and "Ya nur wa ya rahman bi haqq Mawlana Shah Naqshband (Q)", that from his right eye will fill four levels of paradise, he'll intercede for them. He'll take out from jahanam (hellfire) and difficulties four levels that will fill four paradises. From where? From the energy that was deposited upon his soul of what he built and built and built. Means these are the powerhouses of reality that Allah (AJ) gives, "Izzatullah, izzatul Rasul wa izzatul mumineen."
﴾وَلِلَّهِ الْعِزَّةُ وَلِرَسُولِهِ وَلِلْمُؤْمِنِينَ… ﴿٨
63:8 – "…Wa Lillahil 'izzatu wa li Rasuli hi wa lil Mumineen…" (Surat Al-Munafiqoon)
"…And to Allah belongs [all] honor, and to His messenger, and to the believers…" (The Hypocrites, 63:8)
Raising Your Frequency Will Shatter and Destroy Diseases
So it means this is all in Qur'an, this is all the understanding. Our life is about this understanding of energy. Now they found out that these viruses can be fought with energy, UVC lights. All of these understandings, they can cast something at it which is a frequency that will shatter this disease, shatter many diseases. That's why the believer when he begins to pray he's raising his frequency or her frequency. That raising of the frequency is what shatters and pushes away sickness.
The Du'a of Awliya Releases an Energy by the Permission of Allah (AJ)
That's why when they (awliyaullah) pray for you, you are wondering, 'Oh how did their prayer work?' One by Izzatullah (Allah's (AJ) Might and Magnificence) and permission of Allah (AJ) and by Allah (AJ) allowing, 'Release your frequency.'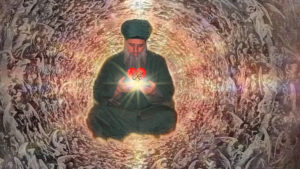 Soon as they begin to make that du'a (supplication) the frequency that comes from them onto the person, it shatters everything that's incorrect and makes everything to go back to its correct signal, if Allah (AJ) permits. "Izzatullah wa izzatul Rasul, izzatul mumineen," (Holy Qur'an, 63:8) has to come by a permission, but how? It's by an energy. The person is deficient in his energy, something has attached itself to bring a deficiency on insan. Their du'a is merely an energy. They begin to cast their energy onto the person and begin to shatter everything that's not correct. To bring it back to they way Allah (AJ) wants it.
And they can do that from a distance and they can do that in person. It's not anything that's difficult. It requires Allah's (AJ) permission and if there is no permission it's that Allah (AJ) wants that insan to build your own energy. 
Don't Rely on Others – Build Your Practices to Strengthen Your Energy Shield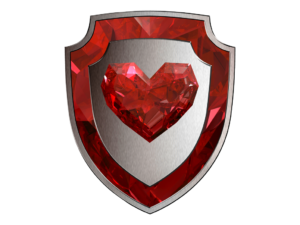 Don't be relying upon always asking somebody else to take a problem away, correct yourself in every action that you do and every practice that you do. And don't look for a way to say, 'Should I stop it now?' No, you don't stop it until you enter into the grave. Keep increasing your practices, keep increasing your understanding and your deen and your religion. This is not a time now that this is going to become lessen and go away. These are now going to be coming in waves. Those who survived the first wave, another wave is coming. And Allah (AJ) testing, "Ya ayyuhallazina amanu, aminu."
﴾يَا أَيُّهَا الَّذِينَ آمَنُوا آمِنُو ﴿١٣٦
4:136 – "Yaaa aiyuhal lazeena aamanooo aaminoo." (Surat An-Nisa)
"O ye who believe! Believe". (The Women, 4:136)
Oh you who believe, let's go higher now, believe even stronger. So that their strength and their practices become stronger.
Subhana rabbika rabbal 'izzati 'amma yasifoon, wa salaamun 'alal mursaleen, walhamdulillahi rabbil 'aalameen. Bi hurmati Muhammad al-Mustafa wa bi siri Surat al-Fatiha.
Special thanks to our transcribers for their help with transcribing this suhbah.
Original Date of Suhbah: March 30, 2020
Related Articles: 
Please Donate and support us to spread these heavenly knowledges.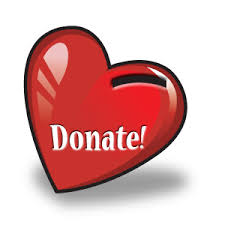 Copyright © 2020 Naqshbandi Islamic Center of Vancouver, All Rights Reserved.