Jinn Nation & Parallel Universes Q&A
From the Realities of Mawlana (Q) as taught by Shaykh Nurjan Mirahmadi.
A'udhu Billahi Minash Shaitanir Rajeem
Bismillahir Rahmanir Raheem
I seek refuge in Allah from Satan, the rejected one
In the Name of Allah, the Most Beneficent, the Most Merciful
QUESTION: Sayyidi, can you please speak on the concept of amends and asking for forgiveness from the person you hurt versus asking Allah directly?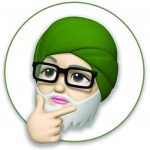 Shaykh Nurjan Mirahmadi (Q): InshaAllah. A'udhu Billahi Minash Shaitanir Rajeem Bismillahir Rahmanir Raheem. Alhamdulillah, many times people do whatever they want to do in life and then they believe that they've come to the understanding of Allah (AJ). Say, 'I ask Allah (AJ) forgiveness and it's over with.' That is a very untrue statement. Allah (AJ), the Magnificent and Munificent is just and created every justice and every court on Earth and in the Heavens. The concept of what Allah (AJ) forgives is, what Allah (AJ), what you have done wrong in the laws and the rules of Allah (AJ).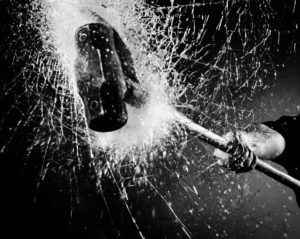 So, whatever you've done wrong of your sins and your actions, whatever you came against the rules of Allah (AJ) and His beloved Rasul Sayyidina Muhammad ﷺ;  Allah's (AJ) Ghafoor ur-Raheem (All-Forgiving and Merciful). If He wants, He say, 'Okay, I forgive you for your trespassings against My rules,' but Allah (AJ) doesn't forgive you for the damage you did to other people. That wouldn't be just. You bulldoze over ten people's lives, destroy all their lives, destroy all their property, destroy everything and say, 'Allah (AJ) forgive me.' Uh, excuse me, there's a whole line of damage that you have caused. And that become the source of insan's (human being) difficulty.
When he doesn't understand that reality and think that Allah (AJ) has forgiven him, 'Sayyiat-e-Amalina,' the sins of their action are locked onto that person and they're moving forward with the weight of ten thousand lives.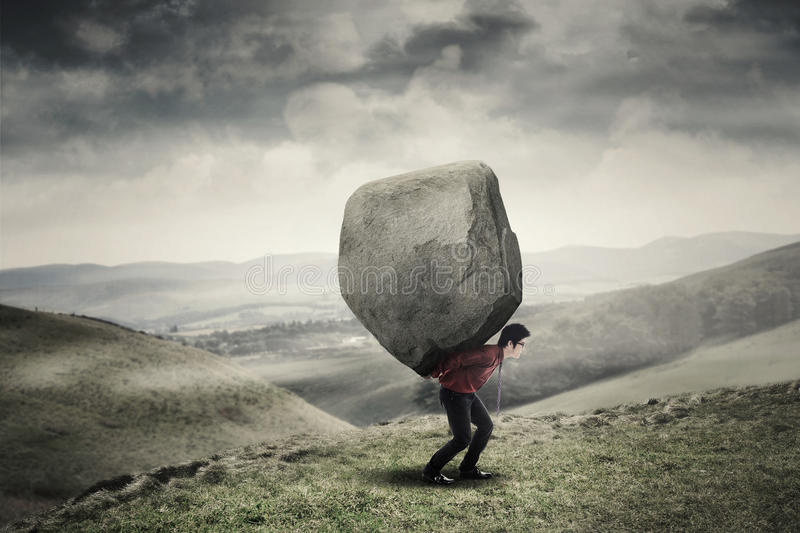 It means they have such a heavy movement in life and they don't understand why. Say, 'Allah (AJ) forgave, I asked Allah (AJ) forgiveness.' Allah (AJ) forgave where you came wrong with Allah (AJ). But Allah (AJ) loves His creation and said that, 'You've done something wrong; go back and ask My creation their forgiveness.' Because that person that you wronged, if their heart is holding on that you've done something wrong.
And if God forbid you have a case with Allah (AJ) where Allah (AJ) agrees that, 'What you've done is wrong to that person,' that person holds you spiritually. And if you think you're going in the grave and you're just gonna go off on your journey, Allah (AJ) will hold you because this person has not passed away yet and they have a hold on you.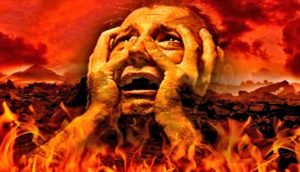 They have a right to whatever's going to be distributed to you, whatever station you think you're going to be achieving, that one will have right to it. So, then you can't achieve anything until that soul enters in for the court of law. You think, 'Oh! I'm going through, everything going to be great,' and you find yourself locked. Say, 'Hold on, there are few people who when they pass away, they have to come and resolve their issue with you and it has to be resolved now in Allah's (AJ) trial, in Allah's (AJ) Court of Judgement,' which is significantly much more difficult if anyone could imagine.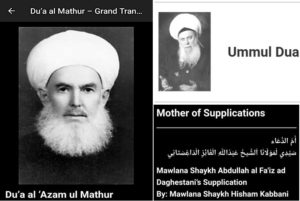 So, it's not a concept that you just ask forgiveness and it's all gone and the wreckage of your past is just sort of you desolated and destroyed everything of people's lives. So, then the understanding for making an amends is that I have to go to the people and seek their forgiveness of what I've done wrong, make my best effort possible that I have done things wrong; I have done something wrong to your person and to your property. If you read our du'a (supplication), Du'a al-Mathur and the Ummul Du'a, all the du'as from the app it'll say exactly these words. The 'highway robbery' du'a was I'm asking Allah's (AJ) forgiveness for all those people whom I've harmed of their money, of their property, of their being, their rights and their dignity.
اَلَّلهُمَ اِنِّيْ أَسْتَغْفِرُكَ مِنْ كُلِّ ظُلْمٍ ظَلَمْتُ بِهِ عِبَادِكَ، فَأَيَّمَا عَبْدٍ مِنْ عِبَادِكَ أَوْ أَمَةٍ مِنْ إِمَائِكَ، ظَلَمْتُ فِيْ بَدَنِهِ أَوْ عِرْضِهِ أَوْ مَالِهِ، فَأعْطِهِ مِنْ خَزَائِنِكَ الَّتِيْ لَا تَنْقُصْ. وَأَسْأَلُكَ اَنْ تُكْرِمَنِيْ بِرَحْمَتِكَ الَّتِيْ وَسِعَتْ كُلَّ شَيِءٍ. وَلَا تُهِيْنَنِيْ بِعَذَابِكَ وَتُعْطِيَّنِيْ مَا أَسْأَلُكَ فَاِنِيْ حَقِيْقٌ  بِرَحْمَتِكَ يَا أَرْحَمَ الرَّاحِمِينْ. وَصَلَّى اللهُ عَلَى سَيِّدِنَا مُحَمَّدٍ و عَلَى َآلِهِ وَصَحْبِهِ أَجْمَعِينْ. وَلَا حَوْلَه وَلَا قُوَّةَ إِلَا بِاللهِ الْعَلِيِ الْعَظِيْم.
Allahuma inni astaghfiruka min kulli zhulmin zhalamtu bihi 'ibadaka. Fa ayyama 'abdin min 'ibaadika aw 'amatin min 'imaa'ika zhalamtu fee badanihi aw 'irdihi aw maalihi fa 'atihi min khazaa'inikal latee laa tanqus. Wa as'aluka an tukrimanee bi rahmatikal latee wasi'at kulla shay in. Wa laa tuheenanee bi 'azaabika wa ta'teeyanee maa asaluka fa inni haqeequn bi rahmatika ya Arham ar Raahimeen. wa sallAllahu 'ala Sayiddina Muhammadin wa 'ala alihi wa sahbihi ajma'een.  "Wa laa hawla wa laa quwwatta illa billahil 'Aliul 'Azheem.
O Allah, I ask forgiveness of You for the injustice I committed against Your servants. Whatever of Your male or female servants whom I have hurt, physically or in their dignity or in their property give them of Your bounty which lacks nothing. And I ask You to honor me with Your mercy which encompasses all things. Do not humble me with Your punishment but give me what I ask of You, for I am in great need of Your mercy, O Most Merciful of the merciful. May Allah send blessings upon Muhammad and upon all his companions. There is no power and no might except in Allah the High, the Exalted. (Excerpt from Saint of Rajab's Du'a)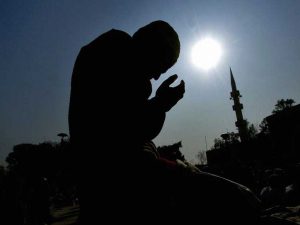 And when the person is sincerely making that du'a, Allah (AJ) is inspiring in their heart, 'Go ask them forgiveness!' So that they're not trying to hold onto you for something. That you don't know what type of thoughts are coming in their heart that, 'Oh! I'm not gonna let it go, I'm not gonna let go, I'm gonna get my right from this person.' You make your best effort to ask for forgiveness. Now the person forgive you or not is not your problem. But I come to you and say that, 'What I did was incorrect, was wrong. If I can rectify it to the best of my ability, let me try to seek your forgiveness. Let me to try to resolve.' If the person is overly stubborn then you did your effort, you did the effort. 'Ya Rabbi, I tried my best to resolve the issues in my life of the people and the places that I've harmed.' And that's what's important, is I made an effort to seek the forgiveness of somebody.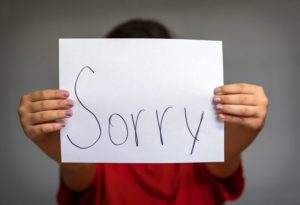 And the secret of that when we live a life in which I was wrong and say, 'I'm sorry', even my children, 'I'm sorry if I talked incorrectly to you. I'm sorry if I raised my voice with you. I'm sorry if the understanding was incorrect. Maybe I got a little bit heated, maybe I got a little bit upset.' Whatever, we live a life of continuously asking people's forgiveness so that we have a taqwa and a consciousness. 'I may have hurt you; I may have talked incorrectly, I may have done something wrong.' They have a song, 'Sorry seems to be the hardest word.' Nobody wants to say sorry. Everyone just goes forward as if it didn't happen. But the people who were damaged by it; no, they don't forget it. Although you're enjoying yourself and so many people do every type of sin, they go to Madina say, 'Oh Allah (AJ) forgave me.' Allah (AJ) forgave you for what you did wrong to Allah (AJ) but other people they didn't forgive you for what you've done.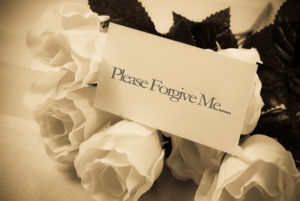 So, it means then for us to live a life of asking forgiveness from the people that we harmed with our tongue, with our actions. We took from their property, from their dignity, whatever it is that we have offended people. And the secret of that life in which we live a life like that your nafs (ego) begins to dislike this very much. Their nafs begins to dislike this process of keep asking forgiveness, 'This is humiliating. That, why don't you just not do this thing so we don't have to keep asking forgiveness.' So, the nafs actually will increasingly help you to stop doing that.
So, as soon as you're about to be rude it'll stop you, 'Don't! Because now in five minutes you're gonna have to say sorry; that's more embarrassing,' versus the nafs that says, 'No, no, bulldoze right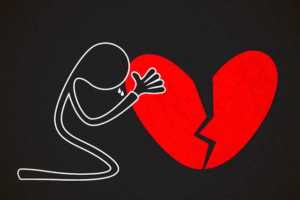 over them; then at night pray to Allah (AJ) that You forgive me.' He likes that, that's very nice. That's like drive-by shooting. You just keep hitting everybody and at night just say, 'Thank you Ya Rabbi, thank you for forgiving me.' What about all the people that you're damaging? So, there's always an amends and an ability to try to make the amends and that it comes hard against insan so that they stop this process of hurting people with their property, with their tongue, with their hands, whatever they're doing, InshaAllah, wrong.
QUESTION: When I'm sleeping something comes near me. I don't know what it is but when it's near me it feels it's trying to take my energy and my limbs become unresponsive. What is it and what should I do to stop?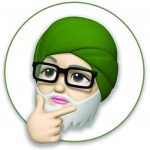 Shaykh Nurjan Mirahmadi (Q): InshaAllah, the concept of the night terrors. That when you watch all of these western alien invasion and UFO shows, it's very entertaining for Muslims and Muslims who are trained in spirituality. That their level of ignorance is so high and how much Prophet ﷺ brought for his nation of realities. When you don't have any understanding of the jinn (unseen beings) nations and this creation of Allah (AJ) everything is something foreign and which you call an 'alien.' And you watch their shows and the alien ship is coming, the alien ship is going. And 99% of all alien encounters was severe sexual abuse. They have done horrific things to these people under experiments and labs so when they talk about in these videos, 'Oh, I was taken to a ship and they did things to my organ, to my body.'
Then come the Muslim understanding and Islamic training and spirituality; those are jinn, they're not aliens. They're not illegal aliens either. It's a jinn race. An unseen element, an unseen creation that has from the human form, animal form, jinn form – every type of form within their being. They're not coming from planets back and forth only but they live amongst insan (mankind). When they live, and they're spiritual being, are living amongst insan, they fill the home and space of our entire Earth and the skies.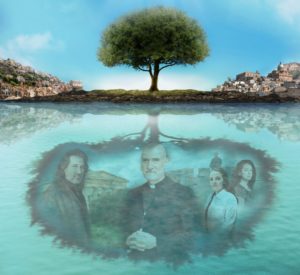 And that's how Allah (AJ), anybody who has an understanding of illustration now, you illustrate in layers. You draw a tree and then another sheet over it. You draw a stream, another sheet over it. You draw some people, another sheet over it. So, that when you look at the sheet it looks like one image. There's a mountain, there's streams, there's people but each has it's, called layering. So, Photoshop – what do we do in design? It's layering. We put a layer over a layer. Oh! Who's teaching us this? Is Allah (AJ); 'Your creation is layered.' There's one creation on this layer, you fill the level up there's another creation on this layer, you fill this up another layer. If you look at it, they all look like they're in the same place but they're not.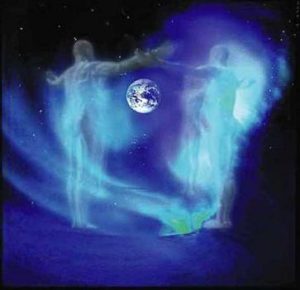 So, they're inter-dimensional, these beings, and they can enter into this realm and move back into their own realm. They fill all the space around us. Allah (AJ) doesn't like to waste anything. There's not a space that's just void and empty, they fill all the space. So, when the nation of people are ignorant and they don't have that understanding they keep thinking somebody coming from somewhere else and coming in the middle of the night and violating them. And then, when they really want to be violated these spiritual beings come and hold people.
Their purpose is to take the breath of that person away and try to kill that person. And they have many different beings, many different creatures and their whole purpose is to be malignant. Bad, malignant; not something good. They don't like the space that they're occupying with that person, they don't like that place, they don't like that location, they don't like that person living in that location, maybe many different reasons.
So, then Islam comes again with the greatness of Sayyidina Muhammad ﷺ and taught us all about that. That no, no, they're many layers of this creation and that you have to understand them and a part of belief is to believe. Believe in the unseen, believe in the angels, so that the positive light and powerful lights. That level of belief and understanding that knowledge is a power.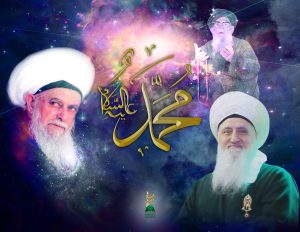 Why? Because they understood, there are ulama (scholars) who understood and they're real and especially the Ahlus Sunnah (People of Prophetic Tradition and of the Majority) ulama and the other ahbab an Nabi ﷺ and lovers of Sayyidina Muhammad ﷺ who their ulama are real, they were trained in energy. And they understood, 'No, these are jinn beings.' And there are things to recite within your home that the ones whom have no good intention, they are not pleasant and pleased with that energy of your recitation because your vibration is very high.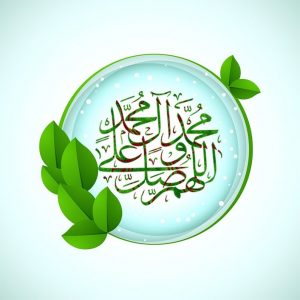 Qur'an's vibration and energy is very high, most high. Salawat (praises) on Sayyidina Muhammad ﷺ, vibration of energy is most high. These vibrations and sounds cause a difficulty in their field of energy. That's why you don't have to talk complicated Islamic terms – just energy. They're vibrating at whatever understanding we have; a higher vibration that's why haq (truth) and falsehood they don't come together and Allah (AJ) describe, 'Falsehood is perishing.'
﴾وَ قُلْ جَآءَالْحَقُّ وَزَهَقَ الْبَطِلُ، إِنَّ الْبَطِلَ كَانَ زَهُوقًا ﴿٨١
 17:81 – "Wa qul jaa alhaqqu wa zahaqal baatil, innal batila kana zahoqa." (Surat Al-Isra)
"And say, Truth has come, and falsehood has perished. Indeed falsehood, [by its nature], is ever perishing/bound to perish." (The Night Journey, 17:81)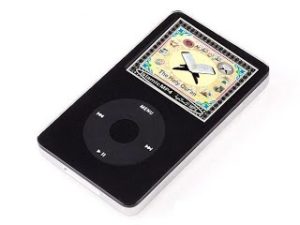 So, it means that when a haq comes, a higher vibration comes, it actually can begin to hit that which is false. Begin to burn it and aggravate it and agitate it until it has to flee that area. Because as it's trying to approach that person reciting the energy, coming from that person is far more powerful than them. And as a result, they feel a burning and have to flee. And that's why we play the salawats in the house, Qur'an into the house and then the fragrance. If they're of a subtle nature, their procreation, their sustenance, is all based on the air. Their movement, their food is how they eat, is through the smell and the fragrance is how they absorb their sustenance.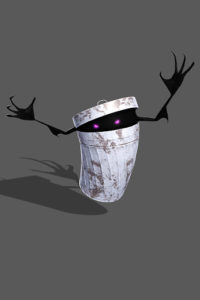 Allah (AJ) gave every creation a way in which to be sustained. They don't eat like us because they don't have a physicality. They are sustained by the fragrance and the smells. So, then no doubt bad ones; their food is bad smell. That's why Prophet ﷺ gave to us is that perfume and make everything to be of a good smell because the good fragrance, its frequency, again, causes harm to the bad ones. And the bad ones they love the rotten smell so they occupy the toilets, the trash cans and the waste. Areas where there is sewage and bad smells they feed off of the rotting. And that's what makes things to rot.
When you see something that it was good and it begin to get all capac and all get fungus over it. What happened? A negative energy is coming and pulling the positive energy away. And that fungus that you see is the negative energy entering into that.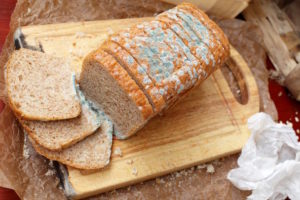 And that's why they're coming to take its smell, its fragrance, whatever blessings of it. So, then they occupy all the areas of sewage and bad fragrances and bad smells. So again, combating that reality is to fill our homes with pleasant smells. All of the Islamic fragrances, all of the attars and perfumes that Prophet ﷺ had brought to us. Fragrancing the house, playing salawats into the house; all of these energies that make the energy vibration of the home so much excess positive that negative forces don't come in.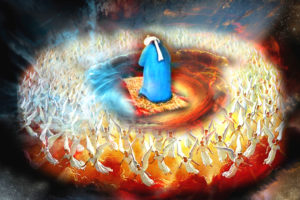 And if you join a tariqah (spiritual path), the tariqah is for jinn and ins, Budala, Nujab, Nuqab, Awtad, Akhyar, Ghawth and jinn and malaika (angels). All of these seven levels of creatures and creations of Allah (AJ), servants of Allah (AJ) they're all in that tariqah. And the responsibility from above is to pair the believing servants from unseen with the believing servants of the seen. You know the buddy system; you take this buddy and go. Why? Because Allah (AJ) doesn't want you alone and Allah's (AJ) not expecting you to fight the unseen. But He expects you to put your environment in a way that the unseen mu'min (believer) will appreciate.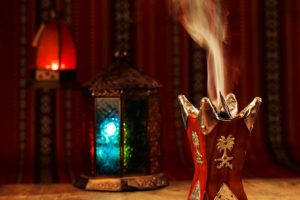 If an unseen mu'min is going to be occupying your home then they want it to smell nice because they are continuously in a very powerful worshipness. They want the fragrances to be nice. They want your character to be Islamic. If you walk around naked, they're not happy with that. They have wives and children too. So, remember we went to the zawiyah of the Shaykhs and one man decided he would go sleep in the mosque in the women's section of the mosque. And said the whole night he felt like he was being beat up. And then he came back down, asked the Shaykh, 'Oh, it was just horrible.' 'Who told you to sleep up there? That was the ladies section and it is a ladies section during the day or night because there's families of unseen that are occupying and they didn't appreciate you being in that section. Go down to the men's section.'
So, it means in our homes it's the same, that there are creations of Allah (AJ) that as a rahmah (mercy) have been sent to combat every type of negativity because they're mu'min and they'll deal with their world and with their people. Just make the environment to be pleasing for their energy. Beautiful fragrances, beautiful Dalail ul Khayrat (book of praisings on Prophet ﷺ), beautiful salawats, Qur'an al-Majeed, all of these beatific characteristics. Keep yourself according to your rules that Prophet ﷺ had given to us. And that becomes a secret of our lives on how to combat all these negativities. And then later you'll understand energy and that's why people are being referred to these channels and to these teachings. Learn how to meditate, learn how to build your energy, "Wa kono ma'as sadiqeen."
﴾يَا أَيُّهَا الَّذِينَ آمَنُوا اتَّقُوا اللّهَ وَكُونُوا مَعَ الصَّادِقِينَ ﴿١١٩
9:119 – "Ya ayyuhal ladheena amanoo ittaqollaha wa kono ma'as sadiqeen." (Surat At-Tawba)
"O you who have believed, have consciousness of Allah and be with those who are truthful/ Pious /sincere (in words and deed)." (The Repentance, 9:119)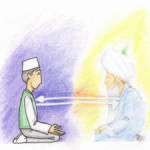 We said before just so that the Shaykhs can pull you out of sins and teach you the noble connection; how to connect with this energy, how to connect with this positive flow of energy. As a result of connecting with that energy, you find that many different things begin to improve in the life. As soon as you begin to connect with that energy and learn about how to cleanse your home, cleanse your being, cleanse everything about you, you see many of the negative energies have left the house. Then they begin to teach you all of the intricacies of the details.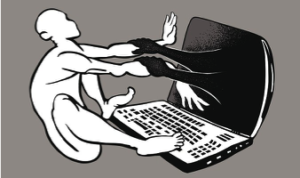 And for today is very important that women don't put their face on Facebook. Don't put your face and your children's face on any internet. Those whom do then they run the risk of every negativity coming to them. You're a billboard for shaitan (satan). Soon as you put your face out onto this internet, then every type of negative energy is looking at you and whatever desire they have is coming towards you. Whatever envy they have for you coming towards you.
So, the hijab (veil) was not for dunya (material world). It wasn't just, 'Oh, no it's only…' Though, this concept of hijab means to be veiled; veil yourself from this technology! Put an emoji that doesn't have you on it and definitely never put your children on it because again there are worse, Haq, there are worse creations out there that they are predators to this reality. So, it means this energy becomes very real, our understanding becomes real, we build ourselves, we protect ourselves, protect our loved ones and that there's no way of this shield and attack coming.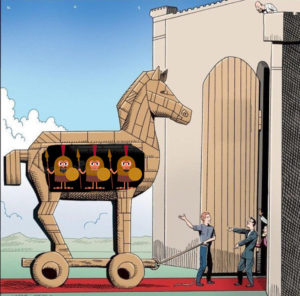 Then later you go more and more advanced to find where is this energy coming from. If with all this zikr (remembrance), with all these taweez, with all these practices something is still penetrating into your fortress of your home, there's something wrong. There's something wrong and that you're not correctly doing what they've asked you to do. Your house has to be fortified with all the teachings, with the salawats, with all the praisings. How like a palace, how did an enemy get into this palace? You know how they come in, is through a Trojan horse. When they wanted to invade a big palace, they give a gift to this entering palace that they wanted to enter and they were all loaded inside the gift. And they said, 'Oh what a nice gift.' They brought it into the palace, they all went to sleep. In the middle of the night everyone came out of the horse's rear end and they invaded the palace and killed everyone.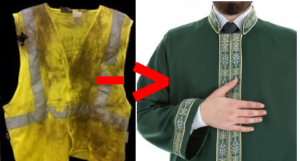 So, in our lives there's a Trojan horse. What came to you? Where did it come from and whose du'a was on that or what was the energy of that? And then we understand when certain people go out and interact with people, as soon as they come back into the home, there's a fierce negative energy. Maybe the environment that they work in is very competitive and very bad. So, then that person comes home should understand they should be showering. That don't come into this castle like that. First you know, come clean yourself, go shower, take those clothes out and leave them and keep, you know a sanctified clothing, for your home. You begin to understand where is this energy coming, how is it entering into this field and that's what's important, InshaAllah.
And then we sanctify and try to protect ourselves from every difficulty. And this is only one step, Allah (AJ) then comes 99 steps towards us to give a support because Allah's (AJ) ultimate goal is, 'Build your level of faith.' All of these things that are coming to you is for you to believe. "Ya ayyuhal ladheena amano, amano," it's a rahmah (mercy) from Allah (AJ).
﴾يَا أَيُّهَا الَّذِينَ آمَنُوا آمِنُو ﴿١٣٦ 
 4:136 – Yaaa aiyuhal lazeena aamanoo aaminoo." (Surat An-Nisa) 
 "O ye who believe! Believe." (The Women, 4:136)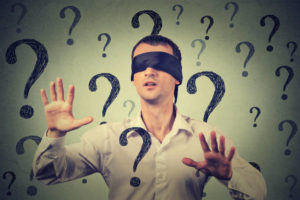 People whom are having experiences Allah (AJ) wants them to experience that, 'Put yourself together, develop your understanding, build your ability to defend yourself for I'm about to open something for you.' Nobody wants to live their entire life jahl (ignorant), Allah (AJ) say, 'If you're blind in dunya, you'll be blind in akhirah (hereafter).'
﴾وَمَن كَانَ فِي هَـٰذِهِ أَعْمَىٰ فَهُوَ فِي الْآخِرَةِ أَعْمَىٰ وَأَضَلُّ سَبِيلًا ﴿٧٢ 
17:72 – "Wa man kana fee hadhihi a'ma fahuwa fee al akhirati a'ma wa adallu sabeela." (Surat Al-Isra)
"But those who were blind in this world, will be blind in the hereafter, and most astray from the Path." (The Night Journey, 17:72)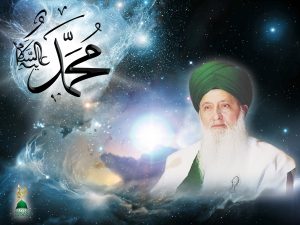 It means if you didn't achieve any station in this world, what are you hoping to achieve in the hereafter? So, then these experiences are an element for us to get up and begin to practice. Many of them come to these channels because of that. They go to the imam and say, 'Oh, I'm you know having like this.' The imam, 'You're crazy, I don't know what you're talking about.' When it's in Islam, it's in the belief, it's in the practices. And then they seek out where Allah (AJ) wants them to seek out. Seek out these masters of this reality, they understand it, not that guy down the street. InshaAllah.
Subhana rabbika rabbal 'izzati 'amma yasifoon, wa salaamun 'alal mursaleen, walhamdulillahi rabbil 'aalameen. Bi hurmati Muhammad al-Mustafa wa bi siri Surat al-Fatiha.
Special thanks to our transcribers for their help with transcribing this suhbah.
Original Date of Suhbah: July 31, 2020
Related Articles: 
Please Donate and support us to spread these heavenly knowledges.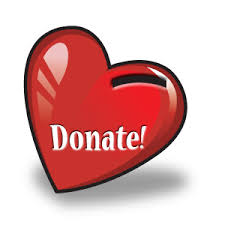 Copyright © 2020 Naqshbandi Islamic Center of Vancouver, All Rights Reserved.