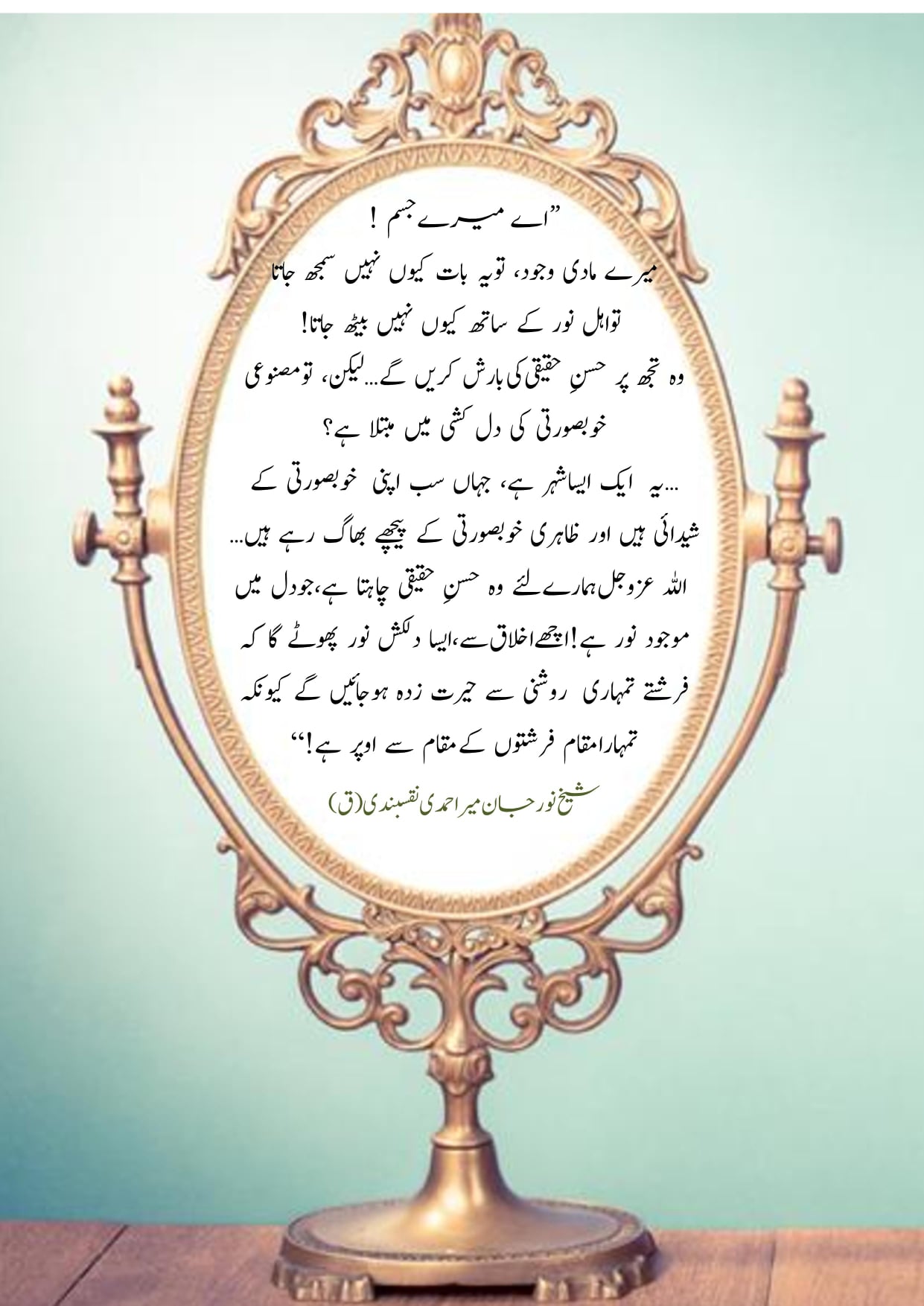 Urdu – You're like a lamp – It's the light inside you that determines your beauty! می…
You're like a lamp
– It's the light inside you that determines your beauty!
میں ہمیشہ خود کو ایک نصیحت کرتا ہوں کہ ان(اولیااکرام ) کی مجالس کے حقائق صرف کچھ افراد ہی سمجھتے ہیں۔ لہذا ، ان محافل میں جو ہورہا ہے اُس کا تعلق عالمِ نور سے ہے اور جس موضوع پر ہم جو کچھ دنوں سے بات کر رہے ہیں، یہ اس ذریعہ (چینل) سے ظاہر ہو رہا ہے ،کہ باطن ظاہر کو کنٹرول کرتا ہے۔ آپ کی اندرونی حقیقت آپ کی بیرونی شکل پر اختیار رکھتی ہے ، آپ کی اندرونی حقیقت (باطن) آپ کی بیرونی شکل( ظاہر) کا معیار طے کرے گی۔ تمہاری ایٹمی حقیقت کی طاقت جو بیرونی شکل پر ظاہر ہوتی ہے، وہ تمہارے الیکٹرانوں سے مختلف ہے۔ کوئی عقل رکھنے والا، یہ کبھی نہیں سوچے گا کہ اُس کے مادی جسم کا کوئی عمل، اُس کی ایٹمی حقیقت بدل سکتا ہے ۔ اگر تمہیں لگتا ہے کہ تمہارے غسل کرنے سے ، تمہاری باطنی حقیقت میں کچھ بدل جائے گا تو یہ غلط فہمی ہو گی۔ تمہارا کوئی کام اور کوئی عمل جو تم اپنی ظاہری شکل کے ذریعے کرتے ہو، وہ تمہاری باطنی حقیقت اور تمہاری نوری حقیقت تبدیل نہیں کرتا ۔ جسے یہ سائنس دان ایٹمی حقیقت کا نام دیتے ہیں ، جسے اللہ (عزوجل) نور اور ملکوت فرماتا ہے – نور کی دنیا! اور ہم ایک ایسے شہر میں ہیں جہاں ہر ایک خود کو خوبصورت بنانا چاہتا ہے اور وہ اپنی جسمانی خوبصورتی پر فکرمند ہیں– خواہ مرد ہوں یا خواتین– آپ فرق نہیں کر سکتے ۔
ہر مرد اور خاتون خود کو خوبصورت بنانا چاہتا ہے اور خود کو پھر سے جوان دیکھنا چاہتا ہے اور وہ جسم میں تبدیلی کی کوشش میں بہت زیادہ پیسے خرچ کرتے ہیں۔ اور پھر جیسا نور وہ چاہتے ہیں، جیسا عکس وہ چاہتے ہیں جب وہ خوبصورتی خود میں نہیں دکھائی دیتی ، تب وہ ہر طرح کی مصنوعی خوبصورتی کے پیچھے چھُپ جاتے ہیں، کیونکہ جب آپ ایک خاص عمر کے ہو جاتے ہیں –اور پھول تو آخر پھول ہوتا ہے جیسے زندگی زیادہ سے زیادہ مشکل تر ہوتی چلی جاتی ہے، تو نور (پھول سے) فرار ہوتا چلا جاتا ہے اور جو بچتا ہے وہ ایک مردہ (مرجھایا ہوا پھول) ہے ، اور مردہ (مرجھائے پھول) کو کتنا ہی خوبصورت بنانے کی کوشش کر لیں، فرق نہیں پڑتا، خواہ آپ (جسم) کو دوڑ لگوائیں ، اُوپر نیچے جوگنگ کروائیں، (ڈایٹنگ، ایکسرسایز، باڈی بلڈنگ) کچھ بھی کریں–ڈھلتی عمر قائم رہتی ہے۔
آپ عمر گھٹا کر جوان نہیں ہو سکتے ، اور آپ یقینی طور پر اسے مزید خوبصورت نہیں بنا سکتے ۔ لہذا ، اولیاءاللہ تشریف لا کر متقی لوگوں کی تعلیمات سے درس دیتے ہیں: نہیں ، یہ تمہارے اندر کا نور (روح) ہے جو تمہاری خوبصورتی کا تعین کرتا ہے، نہ کہ تمہارے جسم نکھارنے کی تگ ودو ۔ باطنی نور کو اہمیت حاصل ہے کیونکہ، تم ایک چراغ کی مانند ہو، اگر روشنی نہیں ہے تو، یہ محض ایک بجھا ہوا خالی وجود ہے اور جتنآ ہم خود پر مشکلات کا بوجھ ڈالتے ہیں، وہ(چراغ) اصل میں بجھ جاتاہے ، یہ بے نور ہوجاتا ہے اور بلیک ہول Blackhole کی طرح بن جاتا ہے جو ہر ایک کا نور چوری کرتا ہے! ایسے لوگ ہیں، جن کی تاریکی –ہم جلد کی رنگت کے بات نہیں کر رہے–ہم اُس تاریکی کی بات کر رہے ہیں جو انکے دل اور کردار پر چھائی ہے گویا وہ سب کچھ جذب کر رہے ہیں اور کھینچ رہے ہیں۔
یہ ایک ایسا شہر ہے، جہاں سب اپنی خوبصورتی کے شیدائی ہیں اور ظاہری خوبصورتی کے پیچھے بھاگ رہے ہیں ، وہ خیال رکھتے ہیں کہ کچھ جسمانی ، کوئی جسمانی تبدیل کر کے ( وہ خوبصورت ہو جائیں گے ) اور وہ ( اولیااکرام) ہمیں درس دینے آئے ہیں اور مذہبی لوگ بھی اسی قسم کی سوچ رکھتے ہیں، اگر میں یہ ساری بدنی عبادات کرتا رہوں گا تو ، میری روح پر نور بدل (بڑھ) جائے گا اور وہ یہ اسلیے کہتے ہیں کیونکہ وہ بہت انتہا پسند ،جنونی ہیں جو تم سے کئی گنا زیادہ نمازیں پڑھتے ہیں، تم سے کئی گنا زیادہ تلاوت کرتے ہیں ، تم سے کئی گنا زیادہ غسل کرتے ہیں اوروہ (باطن )نہیں بدل پاتے ۔
یہ جسمانی عمل نہیں تھا جو تبدیلی لائے گا ۔ اللہ عزوجل نے (یہ اختیار ) ہمارے ہاتھ میں نہیں دیا کہ تم یہ کام کرو اور اس بات کی ضمانت ہے کہ تم بدل جاؤ گے ۔ دراصل ، تم نیک کام کرتے ہو ، اچھے اعمال رکھتے ہو اور "ہو سکتا ہے" کہ میں تمہارے دل میں نور سے اُجالا کردوں۔ لہذا ، نبی کریم ﷺ نے سکھایا ہے ، اچھے اخلاق کے ساتھ ، رحمدل اور شائستہ مزاج بنو۔ اس اچھے کردار کے ساتھ ہی اللہ کی نعمت تشریف لاتی ہے، اللہ عزوجل کا تحفہ ملتا ہے اللہ عزوجل کا تحفہ اور سب سے عظیم تحفہ نورِ ایمان ہے! وہ حقیقت کے اندر نور عطا کرتا ہے ، وہ حقیقت کے اندر نوری طاقت کا دیا جلاتا ہے اور اسی وجہ سے روحانی لوگ اپنے آداب اور سب عمل جو وہ کرتے ہیں، اُس وجہ سے اُن کے دل منور ہیں۔ ، ان کے دل میں زبردست نوری خزانے ہیں ۔ ان کے دل کی شمع جل اُٹھنے کی وجہ سے ، ان کے آس پاس ہر چیز چمک اُٹھتی ہے ، لوگ ان کے چہرے کی طرف راغب ہوتے ہیں ، اُنکی بےحد خوبصورتی کی بناء پر نہیں بلکہ، ان کے چہرے پر نور جھلکتا ہے!
ایک مقناطیسی کشش کھنچتی ہے ، ان کے رُوں رُوں سے نور کا چشمہ پھوٹ رہا ہے۔ ان انوار کا ایک جُزبہ ہے ، ایک کشش ہے کیونکہ ہم سب کا ماخذ ایک ہی ہے ، ایک ہی جائے نشاط، جنت سے ہیں۔ روح اس نور کی گواہی دیتی ہے ، روح یہ جانتی ہے کہ ، ان لوگوں کے اندر جو نور ہے ، یہ وہ نور ہے جس کی ہم تلاش کر رہے ہیں ، اے میرےجسم ( میرے مادی وجود) تو یہ بات کیوں نہیں سمجھ جاتا، تو اہل نور کے ساتھ کیوں نہیں بیٹھ جاتا!وہ تجھ پر ایسی نورانی بارش کریں گے لیکن جسم مصنوعی خوبصورتی کی دلکشی میں مبتلا ہے اور جسم کو کبھی یہ(بارش)نہیں ملتی اور وہ لوگ جو صرف ظاہری شکل پر ہی توجہ دیتے ہیں ، وہ ظاہری خوبصورتی پر مر مٹتے ہیں ، وہ حقیقی خوبصورتی کا موقع گنوا رہے ہیں۔ ان کا اصل حسن ، تو خدا کی عطا کردہ خوبصورتی نورِ ایمان ہے۔ اور جب اللہ عزوجل مخلوق کو تحفہ دینا چاہتا ہے ، تو یہ بنیادی بات ہے–میرے اسمِ مبارک کا ذکر کرو ، مجھے یاد کرو اور میں تمہیں یاد رکھوں گا…………
يَا اَيُّهَا الْمُشْتَاقُونَ بِنُوْرِ جَمَالِهِ وَالْمُحْتَاجُوْنَ شَفَاعَتُهُ، صَلُوْ عَلَيْهِ وَ سَلِّمُوْ تَسْلِيْمَا
اے مشتاق (وہ لوگ) جو اُس کی خوبصورتی / مقدس چہرے کے نُور کے لئے ترستے ہیں ، اور اُس کی شفاعت کے محتاج ہیں ، انﷺ پر سلام بھیجیں اور تسلیم بجا لائیں ۔
یہ صلوات النجم ، سیدنا محمد ﷺ کی (ذاتِ اقدس) پر خوبصورت اور حسین ستائشی کلمات ہیں جو تمہاری روشنی کو ستارے– نجم میں بدل دیں گے۔ نبی کریم ﷺ کا نور ِشفاعت کے تحت صورت اِلہٰیہ اور اس صورت اِلہٰیہ کی حقیقت، یہ درود پڑھنے والے کے چہرے پر نوری نقش بناتا چلا جاتا ہے اور جو اللہ عزوجل چاہتا ہے وہ حسنِ حقیقی اُسکے چہرے پر چمکتا ہے اور حقیقی خوبصورتی جو اللہ عزوجل ہمارے لئے چاہتا ہے وہ دل میں موجود نور ہے! کردار کی اچھائی سے تم سے ایسا دلکش نور پھوٹے گا کہ فرشتے تمہارے نور سے حیرت زدہ ہوجائیں گے کیونکہ آپ کا مقام فرشتوں کے مقام سے بھی اوپر ہے۔ فرشتے روحانی ترقی میں جمود کا شکار ہیں ، وہ بالکل وہی کرتے ہیں جو اللہ (عزوجل)نے اُن سے کروانا چاہا تھا لیکن انسان کے پاس انتخاب کا اختیار ہے جہاں وہ برائی چھوڑ کر نیکی کی طرف بڑھ جاتا ہے اس کی لامحدود صلاحیت ہے جو اللہ (عزوجل) بندے کو نوازنا چاہتا ہے ۔
میں ہمیشہ خود کو ایک نصیحت کرتا ہوں کہ طاقت اندر ہے ! خوبصورتی اندر ہے! ، ذکر اندر ہے ! اگر وہ ذکر کیا جاتا ہے ، وہ طاقت مل چکی ہے ، روشنی کی گئی ہے تو سب کچھ خوبصورت ہوجائے گا ، ہر چیز صحت مند ہوجائےگی ، ہر چیز اُس راستے پر چل پڑے گی جو اللہ (عزوجل) چلانا چاہتا ہے کہ ہم خوشی اور اطمینان سے زندگی بسر کریں! اگر ہم اندر سے طاقت نہیں رکھتے تو ہم ایسا کچھ بھی نہیں کر سکتے جو ہمیں خوشی دے ۔ ہر قسم کی افسردگی اور اضطراب ہمارے پاس آئے گا کیوں کہ تم نے غلط نقطہ پر توجہ مرکوز کی ہے۔ تم نے جسم پر توجہ دی لیکن روح تمہیں بلا رہی ہے ،
ارے نادان ، ہمارے پاس ایٹمی حقیقت ہے اور تم نے مجھے اس طاقت سے محروم رکھا؟ ، تم نے میرا ایندھن نہیں دیا جو میری حقیقت کے لئے ضروری تھا!
A reminder always for myself that these realities of these association are only understood by a few. So, what's happening in these associations that these are from the world of light and this topic that we've been talking for a few days now this is the emanation on that channel that's coming is that the inside controls the outside. Your inner reality controls your outer form, your inner reality will determine the quality of your outer form. Your atomic reality has its power that manifesting on the outside is something different from your electrons. Nobody in their sound mind would think that they could do something to their body and that it would change their atomic reality. If you think that you're going to wash and something inside your reality will change, it's misunderstood. Anything you do and any action you make through your form, it is not going to change your inner reality and the reality of your light.
What these scientists call atomic reality, what Allah (AJ) calls Noor and malakut; the world of light. And we are in a city where everyone wants to beautify themselves and they're concerned for their physicality; men and women now, you can't differentiate.Every men and women want to make themselves beautiful and rejuvenate themselves and they spend so much money trying to alter the physicality. And when they don't see the light that they want, the image the they want; the begin to put all sorts of artificial beautifications on themselves cause when you're a certain age, the flower is the flower, as life becomes more and more difficult that light is escaping and what's left is a carcass, and the carcass no matter how much you try to beautify it, run it and jog up and down and do everything with it, it stays the age it is.
You're not going to make it younger and you're definitely not going to make it more beautiful. So, Awliyyah come and teach from the teachings of pious people, no it's the light inside you that determines your beauty, not what you're trying to do to the physicality. It's the light inside that you're like a lamp, if there's no light, it's just a hallow being and the more we put difficulty upon ourself, it actually becomes darkened, it becomes devoid of all light and becomes like a black hole that sucks in everyone's light. There are people, their darkness; we're not talking about complexion, we're talking about the darkness of what's in their heart and their character as if they're absorbing everything and pulling it away.
This is the city of everybody infatuating with their beauty and they're running after, thinking that something physical, something physical I can change it and they come to teach us, and religious people also thinking, if I do all these physical actions, the light of my soul will change and they say because they are many crazy extremists that pray much more than you, read much more than you, wash much more than you and they didn't change. It was not the physical actions that change. God didn't give us in our hands that you do these things and it's guaranteed you're going to change. It's that you do good deeds, good actions and I may grant you a light within your heart.
So, Prophet ﷺ taught, have good character, be gracious and humble, with that good character Allah's nehmat comes, God's gift comes. God's gift and the greatest gift is the lights of faith, he grants the light inside the reality, he powers the light inside the reality and that's why spiritual people because of their practices and all that they're doing they have a light within their heart, a tremendous light within their heart. As a result of their heart being lit, everything around them shines out, people are attracted to their face, not because of its immense beauty but there's a light coming.
There's a magnetism coming, from every pore of their being there's light that are emanating out. These lights have a juzbah, have a attraction because we're all from the same source, the same paradises. The soul witnesses that light, the soul understands that, that light inside of those people, that's the light we've been searching for, oh my body why don't you just understand that, why don't you just sit with them and they'll reflect a light onto your being. But the body is too preoccupied with the artificial inducement of beauty and the body never going to receive that and the people who focus on only activities of the form, they're beautifying the from, they're losing the opportunity for the real beauty. Their real beauty, God given beauty is the light of faith. That when God wants to give a gift to creation, it's basic, mention my name, remember me and I remember you……
They said that the salawat for beauty Allahumma Sali ala Sayyidina Muhammad wa ala alai Sayyidina Muhammad………… Allahumma Sali ala Muhammad Yaa ayyuhal mushtaqona bi Noori Jamalee, wal Muhtajona shafa'atuhu, Sallu `alayhi wa sallimu taslima.
27 times Daily
يَا اَيُّهَا الْمُشْتَاقُونَ بِنُوْرِ جَمَالِهِ وَالْمُحْتَاجُوْنَ شَفَاعَتُهُ، صَلُوْ عَلَيْهِ وَ سَلِّمُوْ تَسْلِيْمَا
Yaa ayyuhal mushtaqona bi Noori Jamalee, wal Muhtajona shafa'atuhu, Sallu `alayhi wa sallimu taslima.
O those who are longing for the light of His Beauty / Holy Face, and are in need of His Intercession, send salutation upon Him and submit.
That salawat of the Najm is the beautiful and beatific praisings upon Sayyidina Muhammad ﷺ that turn your light into a star…. Najm. Beatific under the intercession of the light of Prophet ﷺ that the divinely face and the reality of that divinely face begin dress that person's face and the true beauty of what God wanted begin to shine through and the real beauty that God wanted for us is a light within your heart. The goodness within the character and you shine through the beatific lights that angels will be astonished at the light that you show because your station is above the station of angels. Angels are stagnant in their growth, they do exactly what Allah (AJ) wanted them to do but Insan has a choice where he leaves badness and goes towards goodness is infinite capacity of what Allah (AJ) want to dress upon the servant. Reminder always for myself that the power is inside, the beauty is inside, the zikr is inside, if that zikr is done, that power is done, that light is done everything will be beatific, everything will be healthy, everything will be the way Allah (AJ) want it to be and that we have a life of happiness and contentment. If we don't power the inside there is nothing that we can do to be happy. Every type of depression and anxiety will come to us because you focused on the wrong one. You focused on the body but the soul is telling you hey, we have an atomic reality and you haven't given me any power, you haven't given my the fuel that is necessary for my reality."
🧙‍♂️Sh. Nurjan Mirahmadi Naqshbandi (Q)🧙‍♂️
Watch here: https://m.facebook.com/story.php?story_fbid=2898055603546554&id=273797535979854