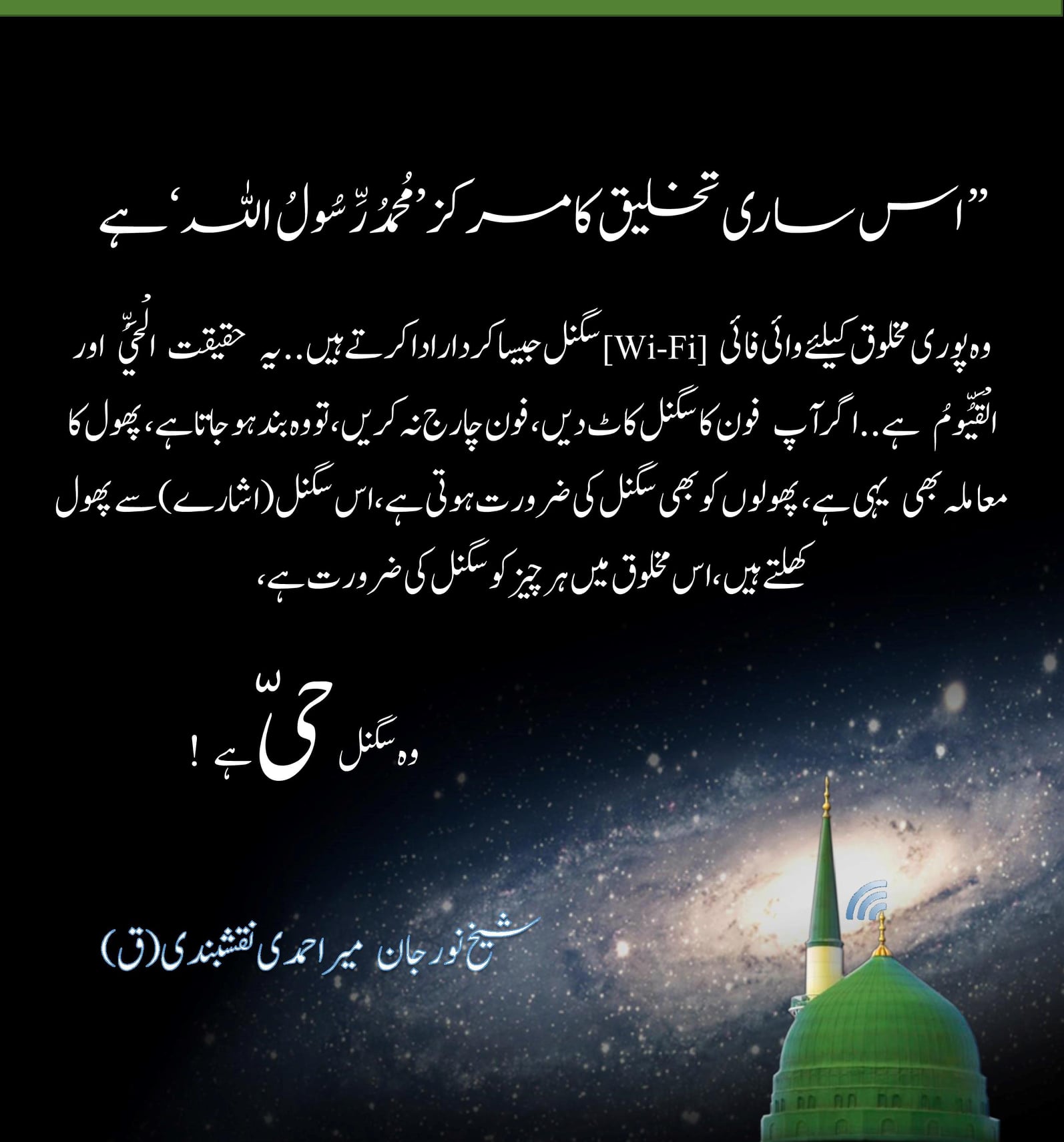 Urdu – WiFi Signal from GOD: لَا تَأْخُذُهُۥ سِنَةٌ وَلَا نَوْمٌ "جسے نہ اونگھ آئے نہ…
WiFi Signal from GOD:
لَا تَأْخُذُهُۥ سِنَةٌ وَلَا نَوْمٌ
"جسے نہ اونگھ آئے نہ نیند"
[آیت الکرسی 2:225]
جب آپ نور کے اختیارکے بارے بات کرتے ہیں، تو اللہ عزوجل فرماتا ہےکہ ، یہ خیال نہ کریں کہ کوئی جسم موجود ہے۔ یہ نور جو پوری کائنات کا احاطہ کیے ہوئے ہے، وہ نیند کا محتاج نہیں! روح کی طاقت ، 'نورالانوار و سیرت الاسرار' – اس نور کا رازہے ، اُسے نہ نیند آتی ہے ،نہ اونگھ، ہر چیزسے ہمیشہ باخبر، چوکنّا رہتا ہے۔ یہ نور ہرچیزسے چوکس(باخبر) ہے۔ وہ آیت القرآن کی گہرائی میں جائے بغیر صرف علوم بیان کرتے ہیں پھر وہ الجھ جاتے ہیں۔
جب اللہ عزوجل نے ہمیں اس دنیا میں یہ وائی فائی کی سمجھ دی، تو جیسے ہی میں نے فون ہاتھ میں لیا، انرجی کا مطلب سمجھ آگیا، کہ انرجی وہ ہے، جس کے زر یعے اس فون کو طاقت مل رہی ہے– اور اب تو تار کے بغیر ہی بجلی سے سید ھا چارج کرنے کا طریقہ آگیا ہے کیونکہ تار تو پُرانی بات ہو گئی ( تارکے زر یعے انرجی کی ترسیل سائنس کی نچلے درجے کی سمجھ تھی ) اب وہ بغیر کسی تار کے چارج کریں گے ، وہ بغیر تار کے معلومات دیں گے۔ یہ وائی فائی ہے، لہذا، وائی فائی ہمارے سمجھنے کے لئے ہے، اللہ عزوجل فرماتا ہے تمہیں یہ سمجھنا اتنا مشکل کیوں لگتا ہے کہ تخلیق کا مرکز 'مُحمدُ رَّسُولُ اللہ ' ﷺ اور وہ پوری مخلوق کے لئے وائی فائی سگنل خارج کرنے جیسا کردار ادا کرتے ہیں اور یہ حقیقت الْحَيُّ ہے اور یہ الْقَيُّومُ ہے۔
یہ قدرہ اور طاقت جو آرہی ہے، دراصل روح ہے، ہم جسم کے بارے میں بات نہیں کررہے ۔ ہم ستارے کی روشنی جیسے نور کی بات کر رہے ہیں ، ہم تصوربھی نہیں کر سکتے کہ یہ کس قسم کا نور ہےاور اس روشنی کا ہر نوری ذرّہ (فوٹون) وائی فائی کی طرح سیدھا آپکےپاس آرہا ہے۔ یہ آپکی روح کوٹکراتا ہے اور آپکو طاقت ملتی ہے۔ اگر وہ وائی فائی اور سگنل کٹ جائے تو آپکاوجود ختم ہوجائے گا۔ اور اسلئے اللہ عزوجل نے 'فیکم' فرمایاہے۔ اُس کا سگنل پوری طرح تمہارے آس پاس اور تمہارے اندر موجودہے۔اُس نور کا ہر زرہ تمہیں زندگی دے رہا ہے۔
ایک شخص کو ہی دیکھ لو– اور دیکھو تمہارےجسم کے اندرچار کھرب خلیات? ہیں۔ ہر خلیے کو سگنل آتا ہے۔ ہر خلیہ ایک موبائل فون کی طرح ہوتا ہے۔ جسم کے ہر خلیے کو یہ جاننے کی ضرورت ہوتی ہے کہ اس کا نظام کیسے چلے گا۔
اللہ عزوجل کی تخلیق میں کچھ بھی بے ترتیب نہیں– ہرخلیے کو حرکت کی ضرورت ہوتی ہے(نظام درکار ہوتا ہے ) کہ کیاہم سیدھا مڑ رہے ہیں ، کیا ہم اُلٹا مڑ رہے ہیں ، کیا ہم زندہ ہیں یا مرنے والے ہیں؟ کیا ہم صحتمند ہیں یا ہم بیمار ہیں؟
تَنَزَّلُ الْمَلَائِكَةُ وَالرُّوحُ فِيهَا بِإِذْنِ رَبِّهِمْ مِنْ كُلِّ أَمْرٍ
"ہر کام کوسر انجام دینے کےلیے، فرشتے اور روح اترتے ہیں اپنے رب کے حکم سے۔ "97:4
كُلِّ أَمْرٍ – ہر سگنل اپنے رب کے اشارے سے ایک حکم کی طرح آرہا ہے ، نبیؐ کے حوالے ہوتاہے اور نبی ؐ اللہ عزوجل سے اجازت لیتےہیں ،کیونکہ:
ياأَيُّهَا الَّذِينَ آمَنُوا أَطِيعُواللَّه وَأَطِيعُوٱلرَّسُولَ وَأُوْلِي الْأَمْرِ مِنْكُمْ…
"اے ایمان والو! فرمانبرداری کرو اللہ تعالیٰ کی اور فرمانبرداری کرو رسولؐ کی اور تم میں سے ]اولي الامر[ اختیار والوں کی۔" 4:59
لہذا ، اس کامطلب ہے کہ یہ وائی فائی سگنل ہر چیز کو طاقت دے رہا ہے ، جسم کے ہر خلیے کو یہ جاننے کی ضرورت ہوتی ہے کہ اسکانظام کیسےچلے گا۔ ، جسم کے ہر خلیے کو یہ جاننے کی ضرورت ہے کہ وہ زندہ ہے ، مرچکا ہے ، بیمارہے یا صحت مند ہے۔ جسم کے ہر اعضاء کو جاننا ہوتا ہے کہ وہ دھڑکتا ہے یا نہیں دھڑکتا اور ہر لمحہ، اس کواحکامات ملتے ہیں۔ ہر چیونٹی ، ہر رزق ، ہر پھول–اگر تم اِنکے سگنل کاٹ دو ، تو ابھی کچھ بھی نہیں (بچے گا) ، جیسے اگر تم فون چارج نہیں کرتے تو وہ بند ہو جاتا ہے (شیخ نورجان اپنا موبائل فون اُٹھاکر فرماتے ہیں) کہ اس سے فرق نہیں پڑتا ہے کہ یہ ڈبہ( ?فون) کتنا نمائشی /شاندار ہے اور اگر اسےسگنل نہ ملے تو اس پر کوئی ویڈیو نہیں چلتی ، انٹرنیٹ نہیں چلتا ، فون کال نہیں آتی ، یہ کسی کام کا نہیں رہتا۔پھول کا معاملہ بھی یہی ہے ، پھولوں کو بھی اُس سگنل کی ضرورت ہے ، جب سگنل آتا ہے پھول اُگتے ہیں ??، پھول کھلتے ہیں۔ یعنی اس تخلیق میں ہر چیز کے لئے اس سگنل ، اشارے کی ضرورت ہوتی ہے۔ وہ سگنل حّی ہے، یہ زندگی(حیات) ہے۔
اللہ عزوجل حّی کے سمندر میں شریک نہیں ہے۔ اللہ عزوجل کا فرمان ہے، میں نے تمہاری آزمائش کے لئے حّی(زندگی) کو پیدا کیا۔ میں تمہاری سمجھ میں نہیں آسکتا (زندگی کے ادراک میں نہیں سما سکتا)۔ اور جب اللہ عزوجل اپنےبندے سے پیار کرتا ہے۔ وہ انھیں اپنے 'معرفت' حقائق کی طرف لانا چاہتا ہے– اپنی ذات کی طرف نہیں، 'میں تمہیں اپنے محبوب کی طرف لانا چاہتا ہوں! میں ' مُحمدُرَّسُولُ اللہ'سے محبت کرتا ہوں اور میں تمہیں دکھانا چاہتا ہوں کہ میں نے اس حقیقتِ محمدیہؐ اور اس روح کو کیا تحفے دیے ہیں۔
لہذایہ سگنل ? نشر ہورہا ہے، تمہارے سارے وجود میں ، ساری کائناتوں میں نشر ہورہا ہے ، اور جو اللہ عزوجل بیان کرتا ہے کہ کوئی بھی اس علم کا احاطہ نہیں کرسکتا جب تک نبی ؐ کی اجازت نہ ہو۔
وَلاَ يُحِيطُونَ بِشَيْءٍ مِنْ عِلْمِهِ إِلاَّ بِمَا شَاءَ
"اور وه اس کے علم میں سے کسی چیز کا احاطہ نہیں کرسکتے مگر جتنا وه چاہے۔"
آیت الکرسی2:225
?شیخ نورجان میر احمدی نقشبندی (ق)?
Watch here: https://www.youtube.com/watch?v=4U1k2dwOEyU
[Our Translation WiFi Signal from GOD]
لَا تَأْخُذُهُۥ سِنَةٌ وَلَا نَوْمٌ ۚ
No slumber can seize Him nor sleep
"…When we're talking about an authority of light that Allah (AJ) (says) don't think there's a body. This light that' covering entire universes, it doesn't sleep. The power of the soul, Noor wal-anwar wa serat al-asrar–the secret of that light it never sleeps, it never slumbers. It is ever vigilant over everything. This light is vigilant over everything. They stay just in the understanding of knowledges without going into Ayat al Quran cause then they get confused.
Where Allah (AJ) gave us then this understanding in the world is Wi-Fi. So as soon as I hold up a phone this concept of an energy, a source of power that's powering this device and now they're becoming with actual power to charge it without a wire cause that's very low and archaic understanding. They'll power this without a wire, they'll give information to it without a wire; it's Wi-Fi.
So, the Wi-Fi for us is to understand that Allah (AJ) is saying why is this so difficult for you to understand then in the center of all of this creation there's something called MUHAMMADUN RASUL ALLAH ﷺ and he's emitting a Wi-Fi signal for the entire of creation and that reality is HAYY الْحَيُّ and it's QAYUM القيوم .
This Qudra and power that coming out is a soul, we're not talking about a body, we're talking about a light, like a star that even we can't imagine what type of light that is and every photon of that light like aWi-Fi, it's coming to you right. It's hitting you and powering you. If that Wi-Fi and the signal of that drops from you–you cease to exist! And that's why Allah (AJ) describes that FEEKUM. His signal is entirely around you and in you. Everything about that light is powering you. Look to one person and see that four trillion cells within your body, every cell has a signal coming. Every cell is like a mobile phone, every cell in the body needs to know what are its coordinance. There is nothing random in Allah (AJ)'s creation. Every cell needs to turn, are we turning right, are we turning left, are we alive or are we dying. Are we healthy or are we sick…in surat al-Qadr :
تَنَزَّلُ الْمَلَائِكَةُ وَالرُّوحُ فِيهَا بِإِذْنِ رَبِّهِمْ مِنْ كُلِّ أَمْرٍ
Therein descend the angels and the Ruh by Permission of Their Lord with all Decrees [97:4]
Kulli amr–every single order is coming as a signal with the permission of their Lord, it refers to Prophet ﷺ and Prophet ﷺ gets permission from Allah (AJ) cause it's Atiullaha wa atiur Rasula wa Ulil amre minkum. So, means this WI-FI signal is coming out, powering everything, every cell in the body needs to know its coordinance, every cell in the body needs to know it's alive, it's dead, it's sick or it's healthy.
Every organ in the body has to know, is it beating or it's not going to beat and every moment it gets its coordinates. Every ant, every sustenance, every flower nothing just like if you cut this signal now, if you don't charge it it's dead (shaykh says this while holding his mobile up). Doesn't matter how fancy the box is and if it doesn't get a signal there is no video, there is no internet, there is no phone call, it's nothing. Same with the flower, the flower is need of that signal, with the signal comes the flower is growing, the flower is blossoming. Means everything in this creation requires that signal.
That signal, it's Hayyi, it's life!
Allah (AJ) is not within the ocean of Hayyi, Allah (AJ) said I created Hayy o ? to test you, I'm not in your understanding of living. When Allah loves his servant, he wants to bring them towards his Marifah, realities, not of himself, I want to bring you towards what I love! I love Muhammadun Rasool Allah ﷺ. I want to show you what gifts I've given to that reality and that soul. So, that signal is broadcasting out, sending throughout your entire being throughout the entire universes and what Allah (AJ) describes that no one encompasses anything from that knowledge unless it has permission of Prophet ﷺ…"
وَلاَ يُحِيطُونَ بِشَيْءٍ مِنْ عِلْمِهِ إِلاَّ بِمَا شَاءَ
Nor shall they compass Aught of His knowledge Except as He willeth [Ayat al kursi]
? Sh. Nurjan Mirahmadi Naqshbandi (Q) ?