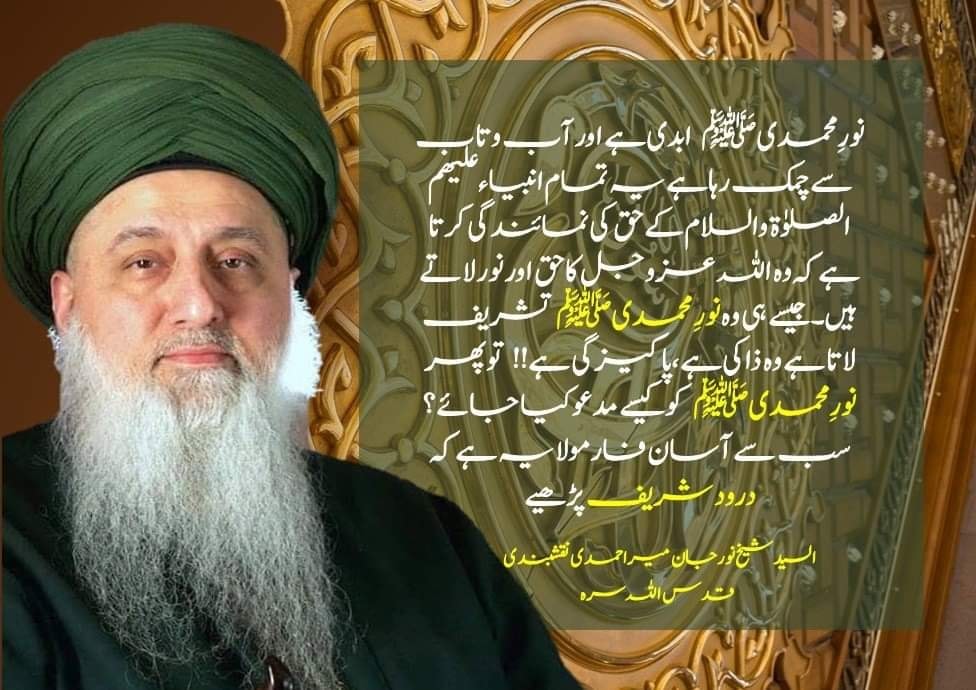 Urdu – Title:Prophet ﷺ is the Light of Truth|نبی کریمﷺ نورِ حق ھیں جب نور(محمدیﷺ) تشر…
Title:Prophet ﷺ is the Light of Truth|نبی کریمﷺ نورِ حق ھیں
جب نور(محمدیﷺ) تشریف لاتا ہے تو یہ پاک کردیتا ہے۔اللہ عزوجل کا حَقْ جو سیدنا محمدﷺ کا نور ہے، جب یہ(نور) ظاہر ہوتا ہے تو تمام تاریکیاں دور کردیتا ہے۔جب ہم روشنی بجھا دیتے ہیں۔تو یہ (ایسے ہے جیسے) ہماری زندگی ظلم کے اندھیرے میں ہو۔آپ اپنے کمرے میں چلے جائیے،اپنے (کمرے کی بتیاں ) لائٹس بند کردیں(اور تصور کریں ) کہ یہ میں ہوں!یہ میری زندگی ہے۔ میں اپنی ذات پر ظلم کرنے والا ہوں۔اللہ عزوجل فرماتا ہے، بے شک تم ظالم ہو!!اُس تکبر کے باعث جو تمہاری انا (نفس) میں ہے ہر انا(نفس)سوچتی ہے کہ نہیں، میں بھی حق ہوں! میں بھی سچ ہوں!نہیں، تم حق نہیں ہو !تم ظالم ہو!نوری حقیقت، رحمت اور نور کے فضل سے،جیسے ہی آپ نے (حق کی) شمع جلائی یہ فوراً ہی اندھیرے کو دور کردیتی ہے اور اندھیرا جتنا بھی پھیل جائے ،یہ کبھی بھی نور پر حاوی نہیں ہو سکتا!!یعنی جب نورِ محمدیﷺ آتا ہے،تو یہ فطرتاً (چارسُو) پھیل جاتا ہے اور ہر باطل اور ظلمت مٹ جاتی ہے۔فطرتًا باطل ہے ہی مِٹ جانے والا!!!یعنی جو کچھ باطل(غلط) دکھائی دے،تم سمجھتے ہو یہ (ہمیشہ) قائم رہے گا اور اللہ عزوجل انتباہ فرماتا ہے، فکر نہ کریں اس کا ایک وقت مقرر ہے جس میں یہ مٹ جائے گا۔لیکن نورِ محمدیﷺ ابدی ہے اور آب و تاب سے چمک رہا ہے یہ تمام انبیاء علیھم الصلوٰۃ والسلام کے حق کی نمائندگی کرتا ہے کہ وہ اللہ عزوجل کا حق اور نور لاتے ہیں۔جیسے ہی وہ نورِ محمدیﷺ تشریف لاتا ہے وہ ذاکی ہے، پاکیزگی ہے!! تو پھر نورِ محمدیﷺ کو کیسے مدعو کیا جائے؟سب سے آسان فارمولا یہ ہے کہ درود شریف پڑھیے۔کیونکہ وہ(اولیااکرام )چاہتے ہیں کہ ہم اِن حقائق کو اپنی روح کے اندر کھوج لیں۔
السید شیخ نورجان میراحمدی نقشبندی ق
Original Lecture:
When Light comes it purifies.when the Haq of Allah (AJ) which is the light of sayyidina Muhammad ﷺ it comes and dispels all darkness.when we turn off the light that is our life in Zulam.you go to your room, turn your lights off this is me that is my life I am an oppressor to myself Allah AJ say Verily! you are an oppressor to yourself. because the arrogance of the ego, every ego thinks No I am also Haq I am Truth.No! You aren't a truth you are Zaalim.By the reality of the light and the rahmat and mercy of light is as soon as you turn the light ON. Immediately it pushes away darkness.And you can bring as much darkness as you want and it never overtakes the light.Means when the light of prophet comes, by it's nature it moves and every falsehood and zulmat will be obliterated. Faslehood by it's nature is always perishing. Means whatever looks to be false you think it to be standing and Allah AJ warning don't worry it has a time in which it will fall. But Nur e Muhammad ﷺ is eternal and is standing straight and bright.it is represented by the right of All the prophets Alay hi salatu salam.that they bring the light and the haq of Allah AJ.As soon as that light comes that is the zaaki that is the purification. So then how to bring the light of prophet.very easy formula is make Darood Shareef.Because they want for us to open these realities within our soul.
Urdu Transliteration:
Jab nur (Nur e Muhammadi ﷺ)tashreef lata ha tu ye paak kar deta ha.Allah AJ ka Haq jo Sayyidina Muhammad ﷺ ka noor ha jab ye (Nur) zaahir hota ha tu tamam Taarikiyaan door kr deta ha.jab hum roshni bhuja detay hain tu ye(aisay ha jesay) hmari zindagi Zulm ke andhairay mein hu,Ap apnay kamray mein chalay jaein ,apni (kamray ki) lights band kr dein(aur tasawurr krein) ke ye mein hun!ye meri zindagi ha,mein apni zaat par zulm karnay wala hun.Allah AJ fermata ha.Beshak tum zaalim hu!ous Takkabur ke bais jo tumhari anaa(nafs) mein ha,har anaa(nafs) sochti ha ke nahi,mein bhi haq hun!main bhi sach hun!Nahiiiiii ,tum haqq nahi hu tum zaaaalim hu,Noori Haqeeqat ,Rahmat aur Nur ke fazal se jesay hi Ap nay (Haq ki) shamma jalai ye foran hi andhairay ko door kar deti ha aur andheera jitna bhi phail jae ye kabhi bhi noor par haawi nahi ho sakta yani jab Nur e Muhammadi ﷺ ataa ha, tu ye fitratan (chaar-su)phail jata ha aur har baaatil aur zulmat Mitt jati ha fitratan baatil ha hi Mitt janay wala!!! Yani jo kuch baatil dikhai De tum samajhtay Hu ye (hamesha)qaim rahay ga aur Allah AJ intibah farmata ha fikar na karein iss ka aik waqtt muqarrar ha jis mein ye Mitt jae ga lekin Noor e Muhammadi ﷺ Abdii ha aur Aab o Taab se chamak raha ha ye tmam Anbiya Alayhi salat o salam ke haqq ki numaindagi karta ha ke wo Allah AJ ka haqq aur noor latay hain jesay hi wo Nur e Muhammadiyah ﷺ tashreef lata ha wo zaaki ha,Pakeezgi ha!!tu phir Nur e Muhammadi ﷺ ko kesay mad'oo karein??
Sab se asaan formula ye ha ke Darood Shareef parhiye. Kyun ke wo (Awliya e karam) chahtay hain ke hum inn haqaiq ko apni ruh ke andar khoj lein.
Watch here:
https://youtu.be/nBJeN5MpghE