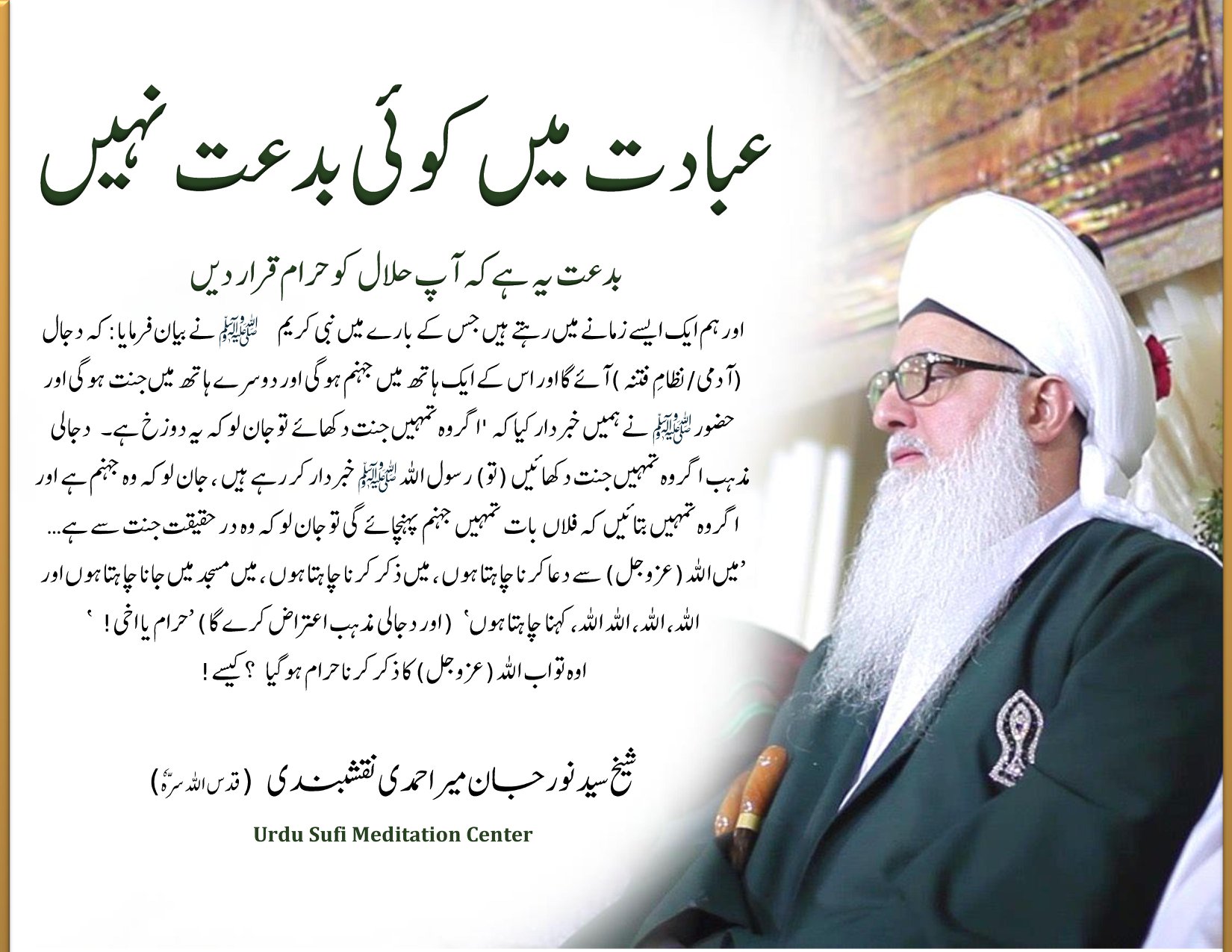 Urdu – There is No Bidah in Ibadah| عبادت میں بدعت نہیں ہے Ibadat Mein Bidaat Nahi Ha…
There is No Bidah in Ibadah|
عبادت میں بدعت نہیں ہے
Ibadat Mein Bidaat Nahi Hai|
انشاءاللہ، ایک سمجھنے کا نقطہ کہ لوگ یہ لفظ بدعت استعمال کرتے ہیں کہ فلاں بدعت ہے۔ اور ہم ایک ایسے زمانے میں ہیں جس کے بارے میں نبی کریم (ﷺ) نے بیان فرمایا—لہذا اس (بیان) کی سرخی یہ ہے کہ عبادت میں بدعت نہیں ہے—عبادت میں کوئی بدعت نہیں اور ہم ایک ایسے زمانے میں رہتے ہیں جس کے بارے میں نبی کریم (ﷺ) نے بیان فرمایا: کہ دجال (آدمی / نظامِ فتنہ ) آئے گا اور اس کے ایک ہاتھ میں جہنم ہوگی اور دوسرے ہاتھ میں جنت ہوگی اور حضور (ﷺ) نے ہمیں خبردار کیا کہ 'اگر وہ تمہیں جنت دکھائے تو جان لو کہ یہ دوزخ ہے۔'
حضرت ابو ہریرہ (رضی اللہ عنہ) سے روایت ہے کہ رسول اللہ (ﷺ) نے فرمایا : "کیوں نہ میں تمھیں دجال کے متعلق ایک ایسی بات بتا دوں جو آج تک کسی نبی نے اپنی امت کو نہ بتائی ہو ۔اُس کی ایک آنکھ ہوگی اور اور اس کے ساتھ جنت او ردوزخ کے نام سے دو (شعبدے) بھی ہوں گے ۔پس جسے وہ جنت کہے گا درحقیقت وہی دوزخ ہوگی اور جسے وہ دوزخ کہے گا وہ جنت ہوگی۔" (حوالہ: امام نووى (ق) رياض الصالحين اور بخاری و مسلم میں ابو ہریرہ سے روایت ہے )
|| Insha Allah , aik samajhney ka nuqta ke log yeh lafz bidat istemaal karte hain ke falan bidat hai. aur hum aik aisay zamane mein hain jis ke baaray mein Nabi Kareem (saws) nay bayan farmaya, is ( bayan ) ki surkhi yeh hai ke ibadat mein bidat nahi hai —Ibadat mein koi bidat nahi aur hum aik aisay zamane mein rehtay hain jis ke baaray mein Nabi Kareem (saws) nay bayan farmaya : ke Dajjal ( aadmi / nizam-e- fitnah ) aeye ga aur is ke aik haath mein jahannum hogi aur dosray haath mein jannat hogi aur Hazur (saws) nay hamein khabardaar kya ke agar woh tumhe jannat dikhain to jaan lau ke yeh dozakh hai. '
Hazrat Abbu Abu Hurayrah Se Rivayet Hai Ke Rasul Allah (saws) Ne Farmaya :" Kyun Nah Mein Tumhen Dajjal Ke Mutaliq Aik Aisi Baat Bta Dun Jo Aaj Taq Kisi Nabi Ne Apni Ummat Ko Nah Btai Ho. Uss Ki Aik Aankh Hogi Aur Aur Is Ke Sath Jannat Aur Dozakh Ke Naam Se Do ( Shobday ) Bhi Hon Ge. Jisay Woh Jannat Kahey Ga Dar Haqeeqat Wohi Dozakh Hogi Aur Jisay Woh Dozakh Kahey Ga Woh Jannat Hogi. "( Hawala : Imam Nawawi ( Q ) Riyadhus Shalihin Aur Bukhari O Muslim Mein Abbu Huraira Se Rivayet Hai) ||
InshaAllah that an understanding, people use this word of bid'ah that an innovation, and we're in a time in which Prophet (sws) described –so the heading for this is, 'There's no bid'ah in ibadah.'– There's no bid'ah (innovation) in ibadah (worshipness), and we live in a time in which Prophet (sws) described that dajjal (man/system of deceit) would come and he'll have hell in one hand and paradise in another and he (sws) warned us, 'If he offers your paradise, know that is hell!'
"I shall tell you something about the anti-Christ that no Prophet has told his people — he is one-eyed and will have with him what appears to be Paradise and Hell. That which he calls Paradise will be Hell, and that which he calls Hell is Paradise." (Reported in the reference of Nawawi, "Gardens of Righteousness" and Bukhari and Muslim by Abu Hurayrah)
دجالی مذہب اگر وہ تمہیں جنت دکھائیں (تو) رسول اللہ (ﷺ) خبردار کر رہے ہیں ، جان لو کہ وہ جہنم ہے اور اگر وہ تمہیں بتائیں کہ فلاں بات تمہیں جہنم پہنچائے گی تو جان لو کہ وہ در حقیقت جنت سے ہے۔ تو جب ہم یہ سمجھ گئے کہ پھر کون یہ کہنے کی جرت کرسکتا ہے کہ عبادہ اور عبادت، بدعت ہے؟ تو ، آئیں، نصف شعبان (میں) صلاۃ الخیر (پڑھیں) اور"میں 100 رکعات پڑھنا چاہتا ہوں۔" 50 پاگل لوگ انٹرنیٹ پر بیٹھے اور کہتے ہیں کہ نبی کریم (ﷺ) نے ایسا نہیں فرمایا اور ہمارے پاس اس کی کوئی حدیث نہیں ہے۔ 'یا ھو! تمہیں یہ نماز پڑھنے کیلئے کسی حدیث کی ضرورت نہیں یہ شریعت ہے ، اللہ (عزوجل) کا فرمان ہے کہ حلال کو حرام نہ بناؤ۔ '
وَلَا تَقُولُوا۟ لِمَا تَصِفُ أَلْسِنَتُكُمُ ٱلْكَذِبَ هَٰذَا حَلَٰلٌ وَهَٰذَا حَرَامٌ لِّتَفْتَرُوا۟ عَلَى ٱللَّهِ ٱلْكَذِبَ ۚ إِنَّ ٱلَّذِينَ يَفْتَرُونَ عَلَى ٱللَّهِ ٱلْكَذِبَ لَا يُفْلِحُونَ۝
اور وہ جھوٹ مت کہا کرو جو تمہاری زبانیں بیان کرتی رہتی ہیں کہ یہ حلال ہے اور یہ حرام ہے اس طرح کہ تم اللہ پر جھوٹا بہتان باندھو، بیشک جو لوگ اللہ پر جھوٹا بہتان باندھتے ہیں وہ (کبھی) فلاح نہیں پائیں گے
سورۃ النحل (16) آیت 116
|| Dajjali mazhab agar woh tumhe jannat deikhein ( to ) Rasul Allah (saws) khabardaar kar rahay hain, jaan lau ke woh jahannum hai aur agar woh tumhe bataain ke falan baat tumhe jahannum p_hnchaye gi to jaan lau ke woh dur-haqeeqat jannat se hai. To jab hum yeh samajh gaye ke phir kon yeh kehnay ki jurrt karsaktha hai ke aur ibadat, bidat hai? To, ayen, nisf shabaan ( mein Salatul Khayr ( parhen ) "aur mein 100 rakaat parhna chahta hon." 50 pagal log internet par baithy aur kehte hain ke Nabi Kareem (saws) naay aisa nahi farmaya aur hamaray paas is ki koi Hadith nahi hai.' ya ho! Tumhe yeh namaz parhnay ke liye kisi Hadithki zaroorat nahi yeh Shariat hai, Allah (AJ) ka farmaan hai ke halal ko haraam nah banaao. '
"Aur Woh Jhoot Mat Kaha Karo Jo Tumhari Zubanain Bayan Karti Rehti Hain Ke Yeh Halal Hai Aur Yeh Haraam Hai Is Terhan Ke Tum Allah Par Jhoota Bohtan Bandho, Bay Shak Jo Log Allah Par Jhoota Bohtan Bandhtay Hain Woh ( Kabhi ) Falah Nahi Payen Ge" 16:116 ||
The dajjali madhab if they promote to you paradise Prophet's ﷺ warning, know it's Jahannam (hellfire) and if they tell you something is going to take you to jahannam know that it actually is from paradise. So when we understood that then who could dare say that ibadah and worshipness is bid'ah? So, come, Salatul Khayr, the Nisf e shaban and, 'I want to pray 100 rakahs (cycles of prayer).' 50 crazy people are on the Internet and saying that, 'Prophet ﷺ didn't do this and we don't have a hadith for this.' Ya hu, you don't need a hadith to pray it's the sharia (Divine law), Allah (AJ) described that, 'Don't make halal (permissible), Haram (forbidden).'
وَلَا تَقُولُوا۟ لِمَا تَصِفُ أَلْسِنَتُكُمُ ٱلْكَذِبَ هَٰذَا حَلَٰلٌ وَهَٰذَا حَرَامٌ لِّتَفْتَرُوا۟ عَلَى ٱللَّهِ ٱلْكَذِبَ ۚ إِنَّ ٱلَّذِينَ يَفْتَرُونَ عَلَى ٱللَّهِ ٱلْكَذِبَ لَا يُفْلِحُونَ
16:116- Wala taqooloo lima tasifu alsinatukumu alkathiba hatha halalun wahatha haramun litaftaroo AAala Allahi alkathiba inna allatheena yaftaroona AAala Allahi alkathiba la yuflihoona
And do not say about what your tongues assert of untruth, "This is lawful and this is unlawful," to invent falsehood about Allah. Indeed, those who invent falsehood about Allah will not succeed.(Surah Al-Nahl 16:116)
اس کا کیا مطلب ہے؟ حلال یہ ہے کہ نماز پڑھیں، سارا دن دعا کریں ، سارا دن روزہ رکھیں ، روزانہ حج کریں ، یہ عبادت ہے عبادت کی کوئی حد نہیں ہے۔ امام ابو حنیفہ (علیہ السلام) ، ہر روز 1000 رکعت پڑھتے تھے ، ایک ہزار جب تک انہیں شدید جوڑوں کا درد نہ ہو گیا ، تم انہیں یہ نہیں کہہ سکتے کہ یہ بدعت تھی! ۔ یہ ایک دجالی نظام ہے، اللہ (عزوجل نے جسے حلال قرار دیا ہے اور اسے حرام ٹھہرا دیتے ہیں اور پھر لوگ بھی اس کی تشہیر کرتے ہیں ، 'اوہ فلاں حرام ہے ، فلاں بدعت ہے ، یہ وہ ہے ..' 100 رکعات ، 5000 رکعت نماز پڑھنے میں کوئی بدعت نہیں۔ میں اس مہینے میں ہر دن روزہ رکھنا چاہتا ہوں ،(دجالی مذہب اعتراض کرے گا ) 'یہ بدعت ہے ' ۔ وہ اس لفظ کو سمجھتے تک نہیں ، بدعت یہ ہے آپ حلال لیں اور اسے حرام قرار دیں ، یہ دجال ہے۔
|| Is ka kya matlab hai? Halal yeh hai ke namaz parheen, sara din dua karen, sara din roza rakhen, rozana hajj karen, yeh ibadat hai ibadat ki koi hadd nahi hai. Imam Abu Hanifa (as), har roz 1000 rak-at parhte they, aik hazaar jab tak inhen shadeed joron ka dard nah ho gaya, tum inhen yeh nahi keh satke ke yeh bidat thi ! Yeh aik dajjali nizaam hai, Allah (AJ) ny jisay halal qarar diya hai aur usay haraam thehra dete hain aur phir log bhi is ki tashheer karte hain,' oh falan haraam hai, falan bidat hai, yeh woh hai. .' 100, rakaat 5000rakaat namaz parhnay mein koi bidat nahi. Mein is mahinay mein har din roza rakhna chahta hon, (dajjali mazhab aitraaz kere ga )' yeh bidat hai '. Woh is lafz ko samajte taq nahi, bidat yeh hai aap halal len aur usay haraam qarar den, yeh dajjal hai . ||
What does that mean? Halal is to pray, pray all day, fast all day, make Hajj (pilgrimage) every day, it's ibadah there's no limit to ibadah. Imam Abu Hanifa (as), 1000 rakahs every day, a thousand until he had severe arthritis, you can't tell him that, that was bid'ah. This is a dajjali system that take that which is halal by Allah (AJ) and then promote it as haram, and then people promoting that too, 'Oh this is haram, this is a bid'ah, this is..' There is no bid'ah in praying 100 rakahs, 5000 rakahs. I want to fast everyday this month, 'This is an innovation' [shaykh refers to dajjali madhab]. They don't even understand that word, the innovation is you taking halal and making it haram, this is dajjal.
اور اس بات سے نبی کریم (ﷺ) نے ہمیں خبردار کیا تھا ، وہ آئیں گے ہماری جنت سے سب کچھ تمہیں بتائیں گے ، 'میں اللہ (عزوجل) سے دعا کرنا چاہتا ہوں ، میں ذکر کرنا چاہتا ہوں ، میں مسجد میں جانا چاہتا ہوں اور اللہ، اللہ، اللہ اللہ، کہنا چاہتا ہوں ،( اور دجالی مذہب اعتراض کرے گا ) ' حرام یا اخی (بھائی)! ' ۔ اوہ تو اب اللہ (عزوجل) کا ذکر کرنا حرام ہوگیا ، کیسے؟ اللہ (عزوجل) کے نام کا ذکر کرنا جو حلال ہے ، کوئی کیسے اس کو بد ل کر حرام بنائے گا۔
|| Aur is baat se Nabi Kareem (saws) ne hamein khabardaar kya tha, woh ayen ge hamari jannat se sab kuch tumhe bitayen ge,' mein Allah (AJ) se dua karna chahta hon, mein zikr karna chahta hon, mein masjid mein jana chahta hon aur Allah , Allah , Allah Allah , kehna chahta hon, ( aur dajjali mazhab aitraaz kere ga )' haraam ya akhi (bhai)! '. Oh to ab Allah (AJ) ka zikr karna haraam hogaya, kaisay? Allah (AJ) ke naam ka zikr karna jo halal hai, koi kaisay is ko bad l- kar haraam banaye ga . Parhna chahta hon." 50 pagal log internet par baithy aur kehte hain ke Nabi Kareem (saws) naay aisa nahi farmaya aur hamaray paas is ki koi Hadith nahi hai.' ya ho! Tumhe yeh namaz parhnay ke liye kisi Hadith ki zaroorat nahi yeh Shariat hai, Allah (AJ) ka farmaan hai ke halal ko haraam nah banaao. ' ||
And this is what Prophet ﷺ had warned us, they're going to come and tell you everything from our paradise, 'I want to pray to Allah (AJ) I want to make zikr (remembrance, chanting), I wanna go into a mosque and say Allah, Allah, Allah, Allah.' Say, 'Haram Ya Akhi (brother)!' [Shaykh refers to dajjali madhab]. Oh so now the mentioning of Allah (AJ) it became haram, how? When could mentioning Allah's (AJ) name which is halal be modified by somebody to become haram.
لیکن کیا آپ جانتے ہیں کہ اصل بدعت کیا ہے ، کہ تمہیں مکہ اور مدینہ میں رقص کرنے والی خواتین نہیں بلانی چاہئے لیکن یہ حرام انہوں نے حلال کردیا۔ وہ وہاں نائٹ کلب لے آئے ہیں ، انہوں نے کہا: 'ہمارے پاس حلال نائٹ کلب ہے اور تمام برہنہ خواتین ، کپڑے نہیں پہنے ہوئے ، لیکن شراب نہیں ہے'۔ اوہ ، اب تم نے حرام لیا اور تم نے اسے حلال کردیا۔ کیا یہ وہ بات نہیں ، جو نبیﷺ نے ہمارے لئے بیان فرمائی تھی؟ ہماری ساری عبادت بدعت ہوگئی اور حرام ہوگئی ۔ ان کا کہنا ہے، نماز پڑھنا حرام ہے ؛ ان کا کہنا ہے، روزہ رکھنا حرام ہے ؛ ان کا کہنا ہے، بہت زیادہ عمرہ … ہر قسم کی عبادت حرام ہے ، یہی تو دجال نے کرنا تھا۔ اور انہوں نے ہر حرام لے کر اسے حلال کردیا۔ وہ ( امریکی گلوکارہ) بیونسے کو زیارت کیلئے لے گئے۔ پیرس ہلٹن مکہ کے ہوٹلوں میں ہے اور کسی ذکر کی اجازت نہیں ، وہاں اُس کا سٹور ہے ۔ کیا وہ حرام نہیں ہے؟ لیکن وہ حلال ہوگیا۔ اور ذکر ایک بدعت اور اختراع ہے ، اگر آپ اس خطے میں میلاد منانے کی کوشش کریں تو وہ آپ کا سر کاٹ دیں گے، کس لئے۔
|| Lekin kya aap jantay hain ke asal bidat kya hai, ke tumhe mecca aur medina mein raqs karne wali khawateen nahi blani chahiye lekin yeh haraam unhon neh halal kardiya. Woh wahan night club le aaye hain, unhon neh kaha :' hamaray paas halal night club hai aur tamam burhenapa khawateen, kapray nahi pehnay hue, lekin sharaab nahi hai '. Oh, ab tum neh haraam liya aur tum neh usay halal kardiya. Kya yeh woh baat nahi, jo Nabi kareem (saws) neh hamaray liye bayan farmai thi? Hamari saari ibadat bidat hogayi aur haraam hogayi. Un ka kehna hai, namaz parhna haraam haraam hai ؛ un ka kehna hai, roza rakhna haraam hai ؛ un ka kehna hai, bohat ziyada Umrah … har qisam ki ibadat haraam hai, yahi to Dajjal naay karna tha. Aur unhon naay har haraam le kar usay halal kardiya. Woh (American gulukarah ) Beyoncé ko ziyarat ke liye le gay. Paris Hilton Mecca ke hotlon mein hai aur kisi zikr ki ijazat nahi, wahan uss ka store hai. Kya woh haraam nahi hai? Lekin woh halal hogaya. Aur zikr aik bidat aur ikhtira hai, agar aap is khittay mein milaad mananay ki koshish karen to woh aap ka sir kaat den ge, kis liye .||
But you know what the real bid'ah is, that you're not supposed to have dancing women in Mecca and Medina but that haram they made halal. They bring there nightclubs they said, 'We have a halal nightclub and all naked women no dressing but there's no alcohol.' Oh so now you took haram and you made it halal. Isn't that what Prophet ﷺ described for us? All our worshipness became a bid'ah and became haram, praying is haram for what they say, fasting became haram for what they say, umrah they say too much is… Every type of worshipness they say is haram, that's what dajjal would do. And they took every haram and made it halal. They took now Beyoncé to go and make ziyarat (vists of holy places). Paris Hilton is in the hotels of Mecca and no zikr is allowed, she has a store. Isn't that haram? But it became halal. And zikr is a bid'ah and innovation, if you try to do mawlid In that region they come after your head for what.
لہذا نہیں ، کبھی ہمیں ای میل مت کریں کہ بدعت کیا ہے ، آپ مکمل طور پر غلطی پر ہیں۔ کسی بھی قسم کی عبادت میں بدعت نہیں ہے۔ اگر آپ نماز پڑھنا چاہتے ہیں تو ، آپ جتنی چاہیں نماز پڑھیں۔ آپ حمد وثنا بیان کرنا چاہتے ہیں ، جتنی چاہیں حمد وثنا کریں۔ آپ روزہ رکھنا چاہتے ہیں ، جتنے چاہیں روزے رکھیں۔ اللہ (عزوجل) کی حمد وثنا کریں، جتنی چاہیں مسجد میں اللہ (عزوجل) کی تکبیر ( اللہ اکبر ) پڑھیں ، یہ اللہ (عزوجل) کا نام ہے اور یہ کبھی حرام نہیں ہوسکتا ۔ اور پھر اللہ (عزوجل) کی حمد وثنا کرنا کبھی حرام نہیں ہو سکتا۔ لہذا یہ ان لوگوں کو واضح کرنا تھا جو بدعت کے بارے میں بات کررہے ہیں اور تبصرہ کررہے ہیں ، 'کیا یہ بدعت ہے؟' حتی کہ اس لفظ کا بھی غلط استعمال نہ کریں، آپکی سمجھ میں خرابی ہے ۔ عبادت میں کسی بھی چیز کی درجہ بندی نہیں کی جاسکتی ، جب اللہ (عزوجل) نے کچھ حلال فرمادیا تو ، اس زمین پر کوئی اسے حرام نہیں ٹھہرا سکتا۔
سُبْحَانَ رَبِّکَ رَبِّ الْعِزَّۃِ اَمَّا یَصِفُونْ وَسَلَامٌ عَلیٰ الْمُرْسَلِیْنْ وَاَلْحَمْدُ لِلّٰهِ رَبِّ الْعَالَمِیْنِ وَ بِحُرْمَةِ مُحَمَّدٍ الْمُصْطَفیٰ وَ بِسِرِّ سُوْرَۃِ اْلْفَاتِحَہ
|| Lehaza nahi, kabhi hamein email mat karen ke bidat kya hai, aap mukammal tor par ghalti par hain. Kisi bhi qisam ki ibadat mein bidat nahi hai. Agar aap namaz parhna chahtay hain to, aap jitni chahain namaz parheen. Aap hamd-o-sana bayan karna chahtay hain, jitni chahain hamd-o-sana karen. Aap roza rakhna chahtay hain, jitne chahain rozay rakhain. Allah (AJ) ki hamd-o-sana karen, jitni chahain masjid mein Allah (AJ) ki takbir ( Allah Akbar ) parheen, yeh Allah (AJ) ka naam hai aur yeh kabhi haraam nahi ho sakta. Aur phir Allah (AJ) ki hamd-o-sana karna kabhi haraam nahi ho sakta. Lehaza yeh un logon ko wazeh karna tha jo bidat ke baray mein baat kar rahay hain aur tabsarah kar rahay hain,' kya yeh bidat hai ?' hatta ke is lafz ka bhi ghalat istemaal nah karen, apkee samajh mein kharabi hai. Ibadat mein kisi bhi cheez ki darja bandi nahi ki ja sakti, Allah (AJ) naay kuch halal frmadya to, is zameen par koi usay haraam nahi thehra sakta . ||
So no, don't ever email us of what is bid'ah, you're completely on the wrong page. There is no bid'ah in any type of ibadah. If you want to pray, you pray as much as you. You want to praise, you praise as much as you want. You want to fast, fast as much as you want. That glorify Allah (AJ) as much as you want you make takbir (Allahu Akbar) of Allah (AJ) in any masjid, this is Allah's (AJ) name this can never become haram. And then praising upon Allah (AJ) can never become something forbidden so this was to clarify these people who are talking about bid'ah and commenting, 'Is this a bid'ah?' Don't even use that word you're misunderstanding. That nothing from worshipness can be categorised, when Allah (AJ) said something is halal, there's nobody on this earth can make it to be haram.
Subhana rabbika rabbal 'izzati 'amma yasifoon, wa salaamun 'alal mursaleen, walhamdulillahi rabbil 'aalameen. Bi hurmati Muhammad al-Mustafa wa bi siri Surat al-Fatiha.
یہ بیان اس لنک پر دیکھا جا سکتا ہے
Link to Watch This Suhbah:
https://www.facebook.com/watch/?v=298682011206361
یو ٹیوب چینل ابھی سبسکرایب کیجئے
Subscribe Now: The Muhammadan Way Sufi Realities
www.youtube.com/channel/UC4E8QX7OgwYDgyuuXTBMrcg
شیخ سید نور جان میر احمدی نقشبندی (ق) کا آفشیل فیس بک پیج لائک کیجئے
Official Page: Shaykh Nurjan Mirahmadi
facebook.com/shaykhnurjanmirahmadi/