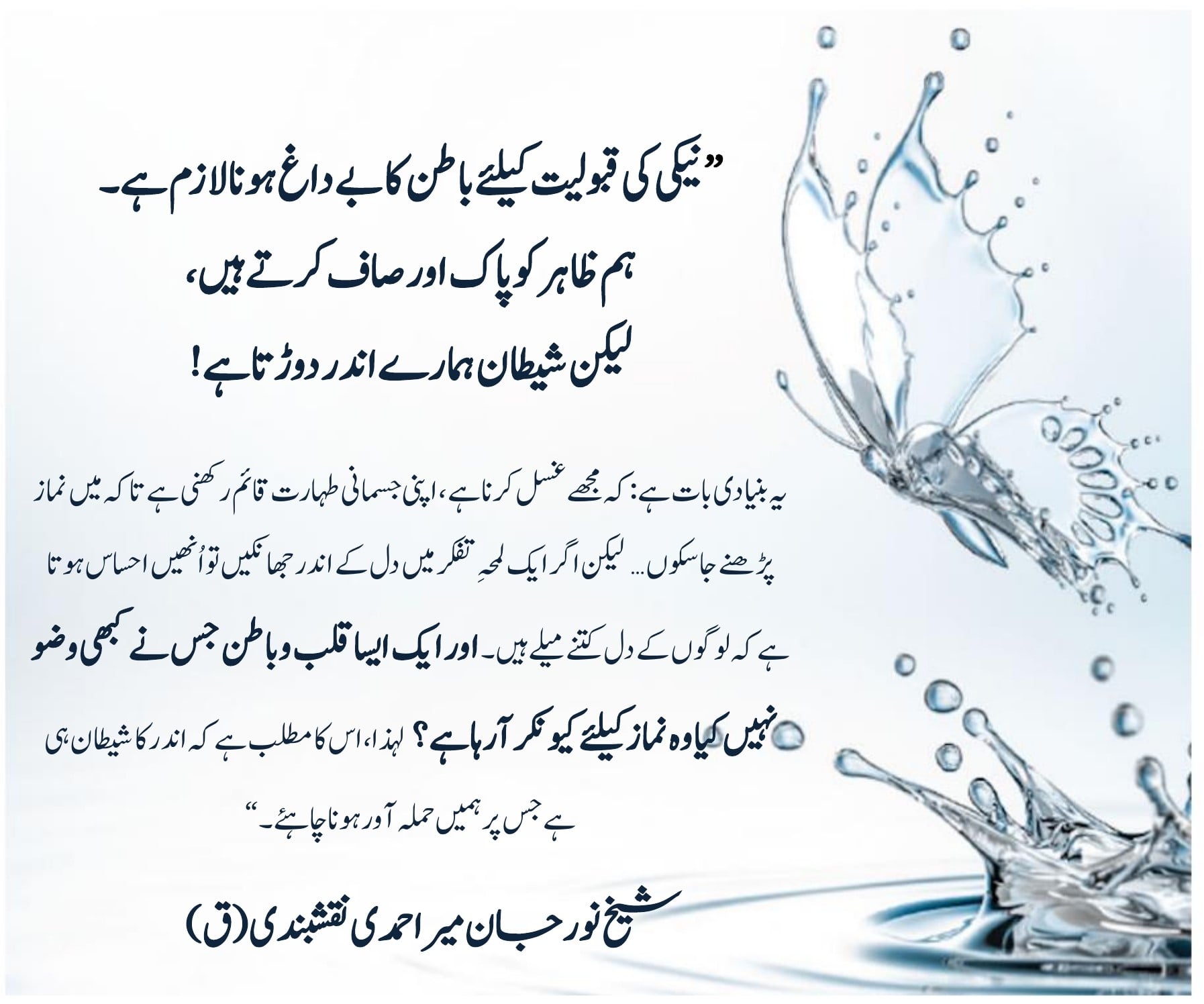 Urdu – The Inner Dimension Must Be Perfected for the Outer Deed to Be Accepted; We Wash…
The Inner Dimension Must Be Perfected for the Outer Deed to Be Accepted; We Wash the Outside, But Shaytan Flows Within
نیکی کی قبولیت کیلئے باطن کا بے داغ ہونا لازم ہے
ہم ظاہر کو پاک اور صاف کرتے ہیں، لیکن شیطان ہمارے اندر دوڑتاہے:
وضو: وہ (اولیاءاکرام) ہمیں تعلیم دیتے ہیں کہ ماشاء اللہ معاشرے میں سب نے لوگوں کو وضو کرنے کے آداب سکھا دئےہیں، اور بہت سارے یوٹیوب چینلز یہاں موجود ہیں کہ غسل کیسے کریں ، طہارت کے مختلف اصول کیا ہیں، اور لوگ سمجھتے ہیں کہ غسل کے طریقے کو سمجھ کر انہوں نے اپنی نمازمیں کچھ حاصل کر لیا ہے ۔ یہ ہمارے لئے ایک مثال دی گئی ہے، کہ ہر اصول کا ایک باطنی رُخ ضرور ہوتا ہے۔ اور یہ کہ باطن کوبےداغ (کمال) ہونا چاہئے تاکہ ظاہری اعمال اللہ عزوجل قبول فرمائے ۔ ۔ کیونکہ اللہ عزوجل کا فرمان ہے ، ' ہم ان کے اعمال کی طرف بڑھ کر آتے ہیں، اور ہم اسے پھینک دیتے ہیں'۔
وَقَدِمْنَا إِلَىٰ مَا عَمِلُوا مِنْ عَمَلٍ فَجَعَلْنَاهُ هَبَاءً مَّنثُورًا ﴿٢٣﴾
اور انہوں نے جو جو اعمال کیے تھے ہم نےان کی طرف بڑھ کر انہیں بکھرے ہوئے دُھول کی طرح کردیا
قران مجید (25:23)
پھر وہ (اولیاءاکرام ) وضاحت کرتے ہیں کہ' اللہ عزوجل میرے اعمال کی طرف بڑھ کر کیسے پھینک دے گا؟ ' اس سے مراد ہے ، وہ معاشرہ جو بیرونی طہارت پر زیادہ توجہ دیتا ہے؛ وہ وضوکرتے ہیں ، وہ غسل کرتے ہیں ، وہ صاف کرتے ہیں۔ انہوں نے سب کو جسم دھونے کا طریقہ سکھایا ، اور پھر وہ نماز پڑھنا شروع کرتے ہیں۔
نماز- کیا آپ وضو کے بغیر نماز ادا کر سکتے ہیں؟
۔۔۔کہ غسل کیے بغیر ، پاک وصاف ہوئےبغیر نماز قائم نہیں ہوتی۔ لہذا ، یہ بنیادی بات ہے: کہ مجھے غسل کرنا ہے ، اپنی جسمانی طہارت قائم رکھنی ہے تاکہ میں نماز پڑھنے جاسکوں۔ تمام لوگ ماسواے اہل ِبصیرت ، اور باطنی حقائق کے لوگ ، اور وہ جن کے دل منوّر ہیں، جب وہ کسی اجتماع میں جاتے ہیں اور وہ دیکھتے ہیں کہ، ماشاء اللہ،سب لوگ دعا مانگ رہے ہیں۔ اور ان سب لوگوں کو جسمانی طہارت کے آداب بھی سکھائے گئے ہیں۔ لیکن اگر ایک لمحہ ِتفکر میں اُن کےدل میں جھانکیں تو اُنھیں احساس ہوتا ہے کہ لوگوں کے دل کتنے میلے ہیں۔ اور ایک ایسا قلب و باطن جس نے کبھی وضو نہیں کیا وہ نماز کیلئے کیونکر آرہا ہے؟یہ اسی طرح ہےکہ گویا کوئی آپ کو یہ کہے کہ ، '' شیخ ، مجھے کبھی غسل کی ضرورت نہیں پڑی ، اور میں اپنی پانچوں نمازیں پڑھتا ہوں" ۔ کہو ماشاء اللہ ! یہ تو بڑی دلچسپ سعادت ہے ، کہ کیسے تم کبھی وضو نہیں کرتے اور اپنی تمام نمازیں پڑھ لیتے ہو؟ یہ (کارنامہ) تو دیکھنا پڑے گا۔
ہم ظاہر کو پاک اور صاف کرتے ہیں، لیکن شیطان ہمارے اندر دوڑتاہے:
لیکن باطن سے جُڑے اہل ِحقائق ، وہ اُسی اجتماع میں جاتے ہیں اور وہ دیکھتے ہیں کہ یہ سارے لوگ دعا مانگ رہے ہیں۔ لیکن ان کے اندر ایک ایسا دل ہے، جو غلاظت ، گندگی، بُری عادآت ، بُری گپ شپ ، بُری انرجی سے بھرا ہے اور پہلے ہی ان کے اندر شیطان موجود ہے۔ تو آپ کی بیرونی صفائی ستھرائی کس کام کی؟ ' شیخ ، میں تو تمام شیطانوں ، اور تمام بری خصائل کو دھو رہا ہوں۔'
یہ بہت اچھی بات ہے۔ لیکن اسلام ، ایمان و الااحسان (تسلیم ، ایمان ، اور اخلاقی فضیلت) ایک مکمل کورس تھا۔ اگر آپ صرف بیرونی شیطانوں اور ظاہری کردار کو دھوتے رہے ، تو شیطان پہلے ہی مومن کے اندر سویا ہوا ہے۔ کیونکہ وہ ایمان والوں کے دل میں ہے۔ اور نبی ﷺ بیان کرتے ہیں کہ وہ [شیطان] بزریعہ خون رواں ہے۔
اللہ کے نبی (صلی اللہ علیہ وآلہ وسلم) نے ارشاد فرمایاہے : "شیطان خون کے ذریعہ آدم علیہ السلام کے بیٹوں میں دوڑتا/گردش کرتا ہے۔ [صحیح بخاری ، صحیح مسلم اور تمام ائمہ کے اتفاق سے]
لہذا ، اس کا مطلب یہ ہے کہ اندر کا شیطان ہی ہے جس پر بھی ہمیں حملہ آور ہونا چاہئےتھا۔ اور اس شیطان پرجو اندر گردش کررہا ہے، حملہ کرنے کا واحد راستہ ، اور برے خصائل ، اور برے وسوسات، اور بری خواہشات جو وہ حقیقت اور نفس (انا) کو سرگوشیاں کر کہ ورغلا رہا ہےکہ: ایسا کرو، ویسا کرو ، مشتعل ، پریشان اور تنگ کرو۔ یہ تمام خصائل شیطان کی طرف سے جسم کے اندر موجود ہیں۔
پھر ، ظاہری شکل (کی طہارت) سے کیا فائدہ ہے؟
اور ظاہری شکل کی دعاؤں کاکیا فائدہ؟
The Inner Dimension Must Be Perfected for the Outer Deed to Be Accepted
1. Wudu (Ablution)
They (guides) teach us that the communities, mashAllah, have all taught people how to make wudu (ablution). And there are so many YouTube channels on how to wash, and how to do the different usool. And people think that by understanding how to wash, that they have achieved something in their salat (prayer). This is an example for us, and from every point of usool, there must be an inner dimension. And that inner dimension must be perfected so that the outer exercises will be accepted by Allah (AJ) because Allah (AJ) says, 'We come to their actions, and we throw it'.
﴾وَقَدِمْنَا إِلَىٰ مَا عَمِلُوا مِنْ عَمَلٍ فَجَعَلْنَاهُ هَبَاءً مَّنثُورًا ﴿٢٣
"Wa qadimnaaa ilaa maa 'amiloo min 'amalin faja'alnaahu habaaa'am mansooraa" (Surat Al-Furqan)
"And We shall turn to whatever deeds they did (in this life), and We shall make such deeds as floating dust scattered about." (The Criterian, 25:23)
Then they explain, well, how Allah (AJ) going to come to my actions and throw it? This means the community that focus so much on external washing. They wash, they wash, they wash. They taught everybody how to wash the body, and then they begin their namaz (prayer).2. Salah (Prayer) – Can you Pray without Wudu (Ablution)?
That without the washing, without the cleansing, the namaz and prayer is not valid. So, this is the basic understanding: that I have to wash my body, clean my physicality, so that I can go to pray. All but the people of Basirah (spiritual vision), and the people of inner realities, and the hearts that are open, when they come into an association and they see, mashAllah, all these people praying. And all these people taught how to wash. But if with just a moment of reflection within their heart, they realize their (peoples') hearts are very dirty. And a heart and an inner being that never made wudu (ablution), how is it coming to its namaz (prayer)?It's same understanding. As if somebody tells you that, 'Shaykh, I don't have to ever wash, and I make all my five prayers.' Say mashAllah, that's a interesting accomplishment. That how you never wash and you make all your namaz (prayers)? That has to be to be something to be seen.
We Wash the Outside, But Shaytan Flows Within:
But the people of inner realities, they come to the same association. And they see that all these people are praying. But within them is a heart filled with filthiness, with dirtiness, with bad characteristics, bad gossips, bad energies. And already shaytan within them. Your outer washing is for what then? So, Shaykh, I'm washing away all the shayateen, and all the bad characteristics, it's very nice. But Islam, Iman wal Ihsan (submission, faith, and moral excellence) was a complete package. If you only wash the outer devils, and the outer character, well Shaytan (satan) already lying dormant within that believer. Because he is in the heart of the believer. And Prophet ﷺ describe that he's [satan] flowing through the blood.
قَالَ رَسُولُ اللَّهِ صَلَّى اللَّهُ عَلَيْهِ وَسَلَّمَ: "إنَّ الشَّيْطَانَ يَجْرِي مِنْ ابْنِ آدَمَ مَجْرَى الدَّمِ" ] صَحِيحْ اَلْبُخَارِيْ، صَحِيحْ مُسْلِمْ وَ مُتَّفَقُ عَلَيْهِ ]
Qala Rasulullahi (saws): "Innash shaitana yajri min ibni Adama (as) majra addami." The prophet of Allah (pbuh) said: " Satan moves/flows in sons of Adam (pbuh) through the blood". [Sahih Bukhari, Sahih Muslim & agreed upon by all Imams]So, means that shayateen (demons) inside is the one that we're supposed to be attacking also. And the only way to attack that shaytan that is moving inside, and the bad characteristics, and bad inspirations, and bad desires, that it is whispering to the reality and to the nafs (ego), that do like this, do like that, agitate, aggravate, bother. All of those characteristics is from the shaytan within the body.
Then, the outer form is to what benefit?
And the prayers of the outer form are to what benefit?
Read More:https://nurmuhammad.com/darkness-on-face-nothing-in-he…/