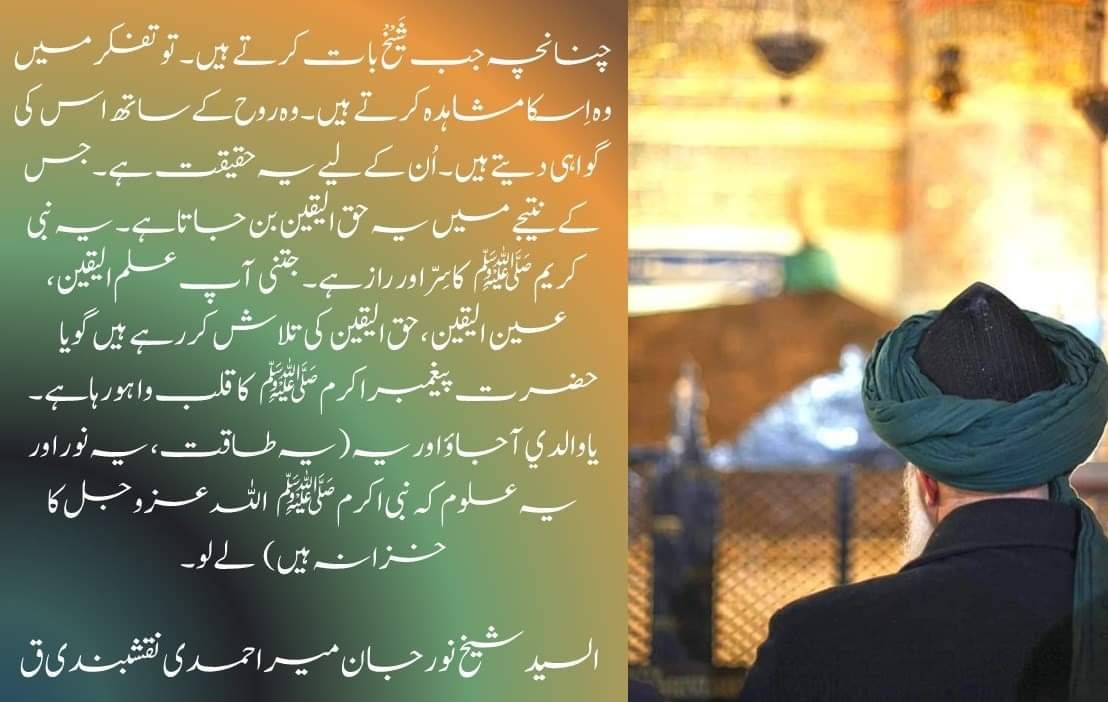 Urdu – The 3 Levels of Certainty|یقین کے٣ درجات Translation: یہ تعلیمات جَنَّتِیْ خور…
The 3 Levels of Certainty|یقین کے٣ درجات
Translation:
یہ تعلیمات جَنَّتِیْ خوراک کی مانند ہیں لیکن اگر آپ بہت زیادہ مادی ہوں تو آپ ایسے(کہتے) ہیں جیسے میں بھرا ہوا ہوں اور میں نہیں جانتا کہ آپ کس بارے میں بات کر رہے ہیں۔میں تلاش کر رہا ہوں کہ رئیل اسٹیٹ کی رقوم بڑے پیمانے پر کس طرح حاصل کی جائیں۔آپ بھرے ہوئے ہیں اور آپ اپنی دُنیاوی خواہش سے پُر ہیں آپ کو اپنی جَنَّتِی حقیقت سے کوئی دلچسپی نہیں ہے سو علم الیقین وہ علوم ہیں جو آنکے دل سے آرہے ہیں عین الیقین آپ کا دل بیدار کرنے کا عمل ہے آپ کے دل کی آنکھ(کھولنے) کا عمل ہے جب دل کی آنکھ بیدار ہوجاتی ہے اور روحانی علوم ظاہر ہوتے ہیں تو اللہ عزوجل آپ کے لئے اِس کو حق الیقین بناتے ہیں کیونکہ آپ اپنے دل کے ذریعے سمجھ رہے ہیں۔آپ کو علم کا مشاہدہ کرنا چاہیئے۔اسکا مطلب ہے کہ آپ اسے چکھ رہے ہیں۔آپ اسے سمجھ رہے ہیں اور آپ کی شہادت ، آپ کی گواہی حقیقی ہے۔اگر آپ اِسکا مشاہدہ نہیں کرتے تو آپ اِس کے بارے میں بات نہیں کرسکتےکیونکہ یہ آپ کے لئے حق نہیں ہے۔آپ نے محض اسے سنا ہے۔ چنانچہ جب شَیْخْ بات کرتے ہیں۔تو تفکر میں وہ اِسکا مشاہدہ کرتے ہیں۔وہ روح کے ساتھ اس کی گواہی دیتے ہیں۔اُن کے لیے یہ حقیقت ہے۔جس کے نتیجے میں یہ حق الیقین بن جاتا ہے۔یہ نبی کریمﷺ کا سِرّ اور راز ہے۔جتنی آپ علم الیقین ، عین الیقین ، حق الیقین کی تلاش کر رہے ہیں گویا حضرت پیغمبر اکرمﷺ کا قلب وا ہورہا(کھل رہا) ہے۔ یاوالدي آجاؤ اور یہ (طاقت،نور اور یہ علوم کہ نبی اکرمﷺ اللہ عزوجل کا خزانہ ہیں) لے لو۔
السید شیخ نورجان میراحمدی نقشبندی ق
Original Lecture :
These Teachings are like food from paradise but if you are too material you are like I am full and I don't know what you are talking about.I am looking about how to acquire mass amount of real estate. You are full and you are filled with your dunya desire you have no interest in your paradise reality so then the Elmal Yaqeen are the knowledges coming from your heart.Ain ul Yaqeen is your process of opening the heart, the eye of your heart. When the eye of the heart opens and the spiritual knowledges open Allah Azzawwajjal make it to be a Haq al Yaqeen for you.Because through your heart you are understanding.You should be witnessing the knowledge.it means you are tasting it you are understanding it and your shahada, your witnessing is real. If you don't witness it you can't talk about it because it's not a truth for you. It was merely just you heard it.So when the shaykh talks, in the contemplation they see it.they witness it with their soul it's a truth for them as a result it becomes haq al yaqeen. That is the sir and the secret of Prophet PBUH. That power, that light and those knowledges that Prophet PBUH is the treasure of Allah azzawwajjal as much as you are seeking elm al yaqeen, ain al yaqeen,haq al yaqeen as if the heart of Prophet PBUH Opening. Ya waladit Come and take !!
As Sayyed Shaykh Nurjan Mirahmadi Naqshbandi QS
Urdu Transliteration :
Ye Taalimaat Jannati Khuraak ki maanind hain.lekin agar App Bhtt zyada Maadi hun tu Ap aisay kehte hain jesay mein Bhara hua houn aur mein nahi janta ke App kis baray mein baat kar rahe hain mein talash kar raha hun ke real estate ki raqoom baray paimaanay Par kis trah haasil ki jaein App bharay huay hain aur app apni dunyavi khwahish se purr hain Appko Apni jannati haqeeqat se koi dil chasbi nahi ha su Ilam al yaqeen wo Aloom hain jo onkay dil se aa rahay hain Ain ul yaqeen Apka dil baidaar karnay ka Amal ha Apkay Dil ki Ankh kholnay ka Amal ha jab dil ki Ankh Baidar hojati ha aur roohani aloom zaahir hotay hain tu Allah AJ Apkay liye iss ko Haq ul Yaqeen bnatay hain kyun ke App Apnay Dil ke zariyye samajh rahe hain Apko Ilm ka Mushaahida karna chahiye iska matlab ha ke App is say chakh rahe hain App is say samjh rahe hain Aur Ap ki shahadat Apki gawahi haqeeqi ha Agr Ap iska mushahida nahi kartay tu App iss ke baray mein baat nahi kar sakte kyun ke ye Apke liye haq nahi ha Apnay issay mehz sunaa ha.Chunanchay jab Shaykh baat karte hain tu Taffakur mein wo isska mushaahida kartay hain wo Ruh ke sath iss ki gawahi detay hain onn k liye ye haqeeqat ha.jiskay nateejay mein ye Haq ul Yaqeen ban jata ha ye Nabi Kareem ﷺ ka sirrrr aur raaz ha jitni App Ilm al Yaqeen, Ain ul Yaqeen, Haq ul Yaqeen ki talash kar rahe hain goyaa Hazrat Paighambar e Akram ﷺ ka Qalb waa ho raha ha,Ya Walaadiii Ajao aur ye(ye Taqat,ye Nur,Ye Aloom ke Nabi Kareem ﷺ Allah AJ ka khazana hain) le lu!!
Watch here :
https://m.youtube.com/watch?v=nBJeN5MpghE