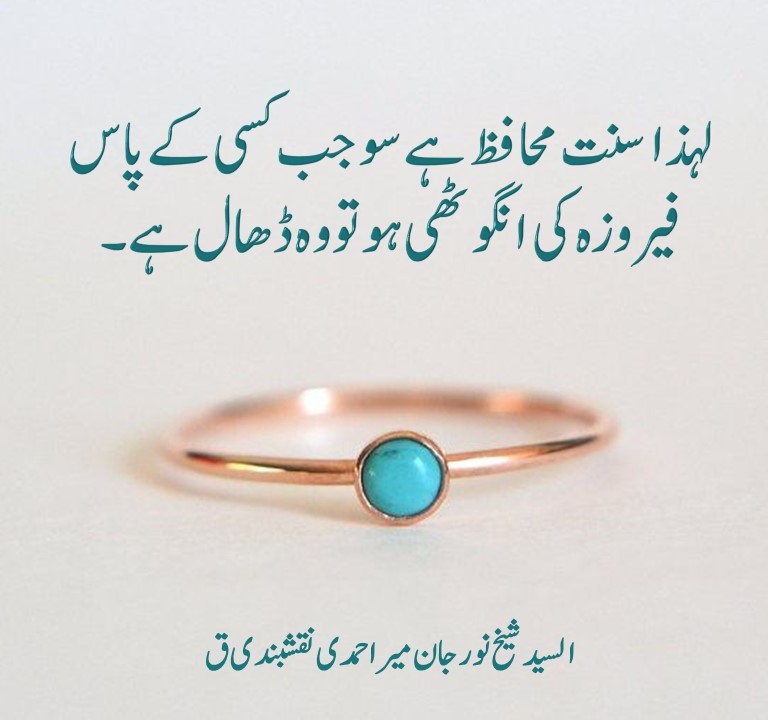 Urdu – 'SUNNAH OF THE RING' Our Translation: انگوٹھی اور دائیں ہاتھ میں انگ…
'SUNNAH OF THE RING'
Our Translation:
انگوٹھی اور دائیں ہاتھ میں انگوٹھی کی سنت اور یہ نبی کریمﷺ کی بیعت ہے۔
یہ انگوٹھی عقیق کی ہو تاکہ دل کی طاقت کو کھولے۔دل میں نرمی پیدا کرے۔
یا فیروزہ کی ہو۔ہم نے اس سے پہلے بھی بتایا کہ فیروزہ منفی اینرجی دور کرنے کے لئے ہے۔حسد کے خاتمے کیلئے ہے۔خواتین کے لئے بھی یہی چیز،انگوٹھی سنت کی حیثیت سے موجود ہے۔اور آپ ہار بھی پہن سکتی ہیں۔آپ خواتین مختلف زیورات پہن سکتی ہیں جن میں فیروزہ ہو۔کیونکہ فیروزہ لوگوں کی نگاہ کی منفی اینرجی کو دور کرنے کا ذریعہ ہے۔جب وہ(حاسد) اپنی آنکھوں سے(حسرت سے) دیکھتے ہیں۔جب وہ(حاسد) اپنی آنکھوں سے(حسرت سے) دیکھتے ہیں تو حسد بھیجنے کے قابل ہوجاتے ہیں۔اگر وہ(حسد) فیروزہ کو ٹکرائے تو ، فیروہ اسے لے لیتا ہے اور کئی بار ٹوٹ جاتا ہے.کیونکہ ہم اینرجی سے بنی مخلوق ہیں مگر لوگ اپنی اینرجی کی وسعت کو نہیں سمجھتے۔اسی لیے نبی کریم ﷺ بیان فرماتے ہیں کہ عاجزی اختیار کریں اور ایسے کام نہ کریں جس سے لوگ آپ سے حسد کریں۔لوگوں کے سامنے بہت کچھ ساتھ لے کر نہ گھومیں۔کیونکہ ان کی آنکھوں میں حسرت ہے۔جیسے ہی وہ اس چیز کو دیکھتے ہیں جو آپکے پاس ہے اور انکے پاس نہیں۔تو فوری طور پر ایک (منفی)اینرجی پیدا ہوتی ہے اور باہر نکلتی ہے اور اگر آپ اُس کے وصول کنندہ ہیں تو یہ بہت سی بیماریوں اور مشکلات کی طرف لے جاتی ہے۔لہذا سنت محافظ ہے۔سو جب کسی کے پاس فیروزہ کی انگوٹھی ہو تو وہ ڈھال ہے۔
السید شیخ نورجان میراحمدی نقشبندی ق
Original Lecture Transcription:
The ring and the sunnah of the ring on the right hand and this is allegiance to Prophet ﷺ.that ring is from Aqeeq so that it opens the power of the heart, brings softness to the heart or from feroze or turquoise. We said before that turquoise is for taking away negative energy, the taking away Hasad, for the ladies same thing that the ring is ,is still there as a sunnah and you can wear a necklace, you can wear a different jewelry for women that have the turquoise. That Turquoise is meant to deflect Negative energy that people are looking through their eyes. When they look with their eyes they are able to send the hassad a jealously to people if that hits the turquoise ,the turquoise takes it and many times may crack because we are an energy being but people don't understand the extent of their energy that's why prophet ﷺ describe be humble! And don't do things that gain people's hasad don't go around with so much infront of people because their eyes are hungry as soon as they look at what you have and they don't have immediately an energy is produced and sent out and if you are the recipient of that then this leads to sickness and difficulties and lots of Mushkalat so again the sunnah is the shield of protection so as soon as that one has turquoise ring is the deflection!!
Urdu Transliteration:
Angoothii aur Daein hath mein Angoothi ki sunnat aur ye Nabi Kareem Sallalahu Alayhi wa Alayhi wassalam ki Baiyat ha.ye angoothi Aqeeq ki Hu takay Dil ki Taqat ko kholay.Dil mein Narmi paida karay ya feroza ki Hu Hum ne iss se pehlay bhi btaya ke feroza Manfi energy door karnay k liye ha. Hasad ke khaatmay ke liye ha. Khawateen ke liye bhi yhi cheez, Angoothi sunnat ki haisiyat se mojood ha aur App haar bhi pehn sakti hain.App khawateen Mukhtalif zaiwraat pehn sakti hain jin mein feroza Hu kyun ke feroza logon ki nigah ki manfi energy ko door karnay ka zariya ha.jab wo(haasid) apni ankhoon se(hasrat se) dekhte hain.jab wo Apni Ankhon se dekhte hain tu hasad bhejnay ke qaabil hojatay hain Agar wo(hasad) feroza ko takraaye tu, feroza ousay Le leta ha aur kai baar toot jata ha kyun ke hum energy se bani Makhlooq hain magar log Apni energy ki wus'at ko nahi samajhte issi liye Nabi Kareem Sallalahu Alayhi wassalam bayan farmatay hain ke Ajizi ikhtiyar krein aur Aisay kam na karein jis se log Appsay Hasad karein.Logon ke samnay kuch sath Le kar na ghoomein. Kyun ke onki Ankhoon mein hasrat ha jesay hi wo ouss cheez ko dekhte hain jo Apkay pass ha aur onkay pass nahi tu fori tor per aik(manfi) energy paida hoti ha aur baahar nikalti ha aur agar App ouskay wasool kunanda hain tu ye bht si beemariyon aur mushkilaat ki traf Le jaati ha lehaza sunnat muhaafiz ha su jab kisi ke pass feroza ki angoothi Hu tu wo Dhaaal ha.
Watch here
https://m.youtube.com/watch?v=QxUkEaQUMxo