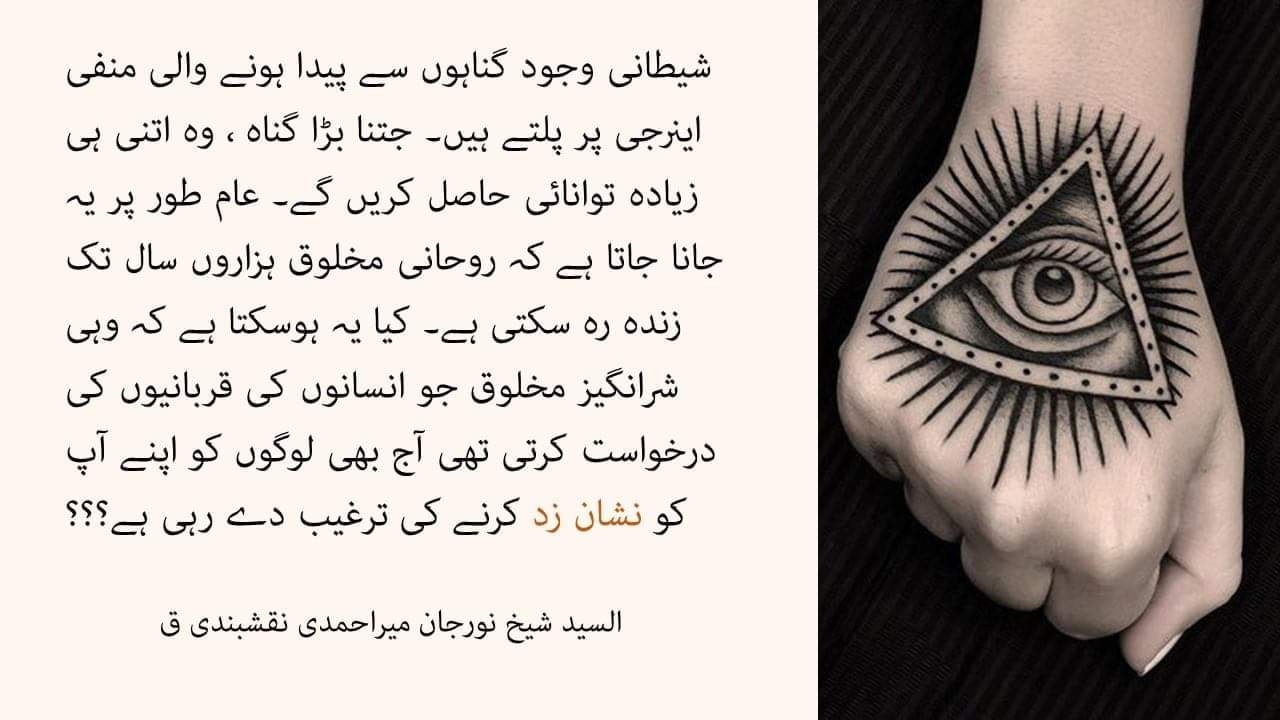 Urdu – Shaykhtalk#18 Title:Jins and Shayateen Realities of Piercing and Tattoos بہ…
Shaykhtalk#18
Title:Jins and Shayateen
Realities of Piercing and Tattoos
بہت سی مختلف حقیقتیں ہیں جو اس دنیا کے اندر حرکت پذیر ہیں اور سالک ہمیشہ اپنے اندر نشانی کی تلاش میں رہتے ہیں لیکن افق پر واضح نشانیاں ہیں۔ہم دیکھتے ہیں کہ لوگوں نے اپنے آپ کو پوری طرح سے نشان زدہ کر رکھا ہے۔انہوں نے کس کیلیئے خود کو نشان زد کیا ہے؟؟یہ شیطانی لشکر ہیں! شیطان اپنی قوم کو یکجہ کرنا اور نشان زد کرنا چاہتا ہے اور وہ پہلے ہی اسکے علاقے کی نشاندہی کررہے ہیں جیسے مومنین تعویز پہنتے ہیں اور ایمان کے ساتھ اللہ کی علامتیں رکھتے ہیں۔
اور یہ نورانی لوگ ہیں۔ شیطان بھی اپنے لوگوں کو نشان زد کررہا ہے اور وہ اپنی ہر شے کو نشان زد کرتے ہیں تاکہ یہ ظاہر کریں کہ وہ اس عقیدے سے بندھے ہیں اور وہ شیاطین کے ماتحت ہیں۔
(آج کے دور میں جسمانی ترمیم عام ہوگئی ہے لیکن زیادہ تر لوگ اس عمل کے روحانی حقائق سے لاعلم ہیں)
(پوری دنیا میں متعدد قبائلی ثقافتیں مختلف قسم کے 'روح دیوتاؤں' کی پوجا کرتی ہیں)
(ان میں بہت سے روحانی وجود حقیقت میں شیطان تھے ، جن میں سے کچھ دنیاوی انعامات کے بدلے میں انسان کی قربانی کا مطالبہ کرتے تھے)
سانٹا میوریٹ موت کا دیوتا – میکسیکو میں پوجا جاتا تھا۔
(اَزٹیکس ، اِنکاس ، مایان ، اور بہت سی دیگر ثقافتیں اپنے خداؤں کے لئے رسمی طور پر انسانی قربانیاں دینے کیلئے جانی جاتی ہیں)
کیا یہ محض اتفاق ہے کہ یہ ثقافتیں بھی جسمانی ترمیم میں مشغول رہیں؟
شیطانی وجود گناہوں سے پیدا ہونے والی منفی اینرجی پر پلتے ہیں۔ جتنا بڑا گناہ ، وہ اتنی ہی زیادہ توانائی حاصل کریں گے۔
عام طور پر یہ جانا جاتا ہے کہ روحانی مخلوق ہزاروں سال تک زندہ رہ سکتی ہے۔
کیا یہ ہوسکتا ہے کہ وہی شرانگیز مخلوق جو انسانوں کی قربانیوں کی درخواست کرتی تھی آج بھی لوگوں کو اپنے آپ کو نشان زد کرنے کی ترغیب دے رہی ہے؟؟؟
السید شیخ نورجان میراحمدی نقشبندی ق
Original lecture Transcript:
These are many different realities that are moving within this duniya and for the seeker is always seeking, looking for the sign within themselves but most apparent are the signs upon the horizons.we see that people have fully marked themselves.who have they Marked themselves for?? These are shaitanic armies!Shaitan wants to yok and to mark his people and those are already marking to his territory As the believers put taweez and put symbols of Allah azzawwajjal
With their believe.And they are people of light.Shaitan is also marking his people and they mark everything upon themselves to show that they are locked with that believe and they are under the control of Shayateen.
(In todays society body modification has become commonplace but most people are unaware of the spiritual realities behind this practice)
(Many Tribal Cultures throughout the world worshipped a variety of 'Spirit Gods') (Many of these spiritual entities were actually demons, some of which demanded human sacrifice in exchange for worldly rewards)
SANTA MUERETE THE SAINT OF DEATH–WORSHIPPED IN MEXICO
(The Aztecs, the Incas, the Mayans, and many other cultures are known to have performed ritual human sacrifices to their gods)
Is it a coincidence that these cultures also practiced body modification?
Demonic entities feed off of the negative energy produced by sins. The Greater the sin, the more energy they recieve.
It is widely known that spiritual beings can live for thousand of years.
Could it be that the same evil beings which were requesting human sacrifices are also inspiring people today to mark themselves?
Urdu Transliteration :
Bhut si mukhtalif haqeeqatein hain jo iss duniya ke andar harkat pazeer hain aur saaalik hamesha apnay andar nishani ki talash mein rehte hain lekin ufaq par wazeh nishaaniyan hain hum dekhte hain ke logon ne apnay appko poori trah se nishan zadah kr rakha ha inhu ne kis ke liye khud ko nishan zad kia?? Ye shaitani lashkar hain shaitan apni qom ko yakja karna aur nishan zad karna chahta ha aur wo pehlay hi iskay ilaqay ki nishandahi kar rahe hain jesay mo'mineeen ta'weez pehn'tay hain aur imaan ke sath Allah ki Alamatein rakhte hain.aur ye noorani log hain. Shaitan bhi apnay logon ko nishan zad kar raha ha aur wo apni har shay ko zishan zad kartay hain takay ye zaahir karein ke wo iss aqeeday se bandhay hain aur wo shayateen ke ma'tehat hain.
(Aj ke dour mein jismani tarmeem aam hogai ha lekin zayada tar log iss amal ke roohani haqaiq se la ilm hain) (poori duniya mein muta'addid qabaili saqaftein mukhtalif qisam ke 'ruh dewtaon' ke pooja karti hain)
(In mein bhtt se roohani wajood haqeeqat mein shaitan thay, jin mein se kuch dunyawi inaamat ke badlay mein insan ki qurbani ka mutalba karte the)
Santa Muerete Moatt ka Dewta -Mexico mein pooja jata tha.
(Aztecs, incas, Mayans aur bhtt si degar saqaftein apnay khudaon k liye rasmi torr Par insaani qurbaniyan denay k liye jani jaati hain)
Kiya ye mehaz ittefaaq ha ke ye saqaftein bhi jismani tarmeem mein mashgool rahein??
Shaitaani wajood gunahoon se paida honay wali manfi energy Par paltay hain jitna bara gunah, wo utni gi zayada tawanai hasil kareinge aam torr Par ye jana jata ha ke roohani makhlooq hazaroon saal tak zinda reh sakti ha. Kia ye ho sakta ha ke wohi shar-angaiz makhlooq jo insaano ki qurbaniyoo ki darkhwast karti thi AJ bhu logon ko apnay app ko nishan karnay ki targheeb De rahi ha?????
For Full Video
https://www.youtube.com/watch?v=se70gruD2rA