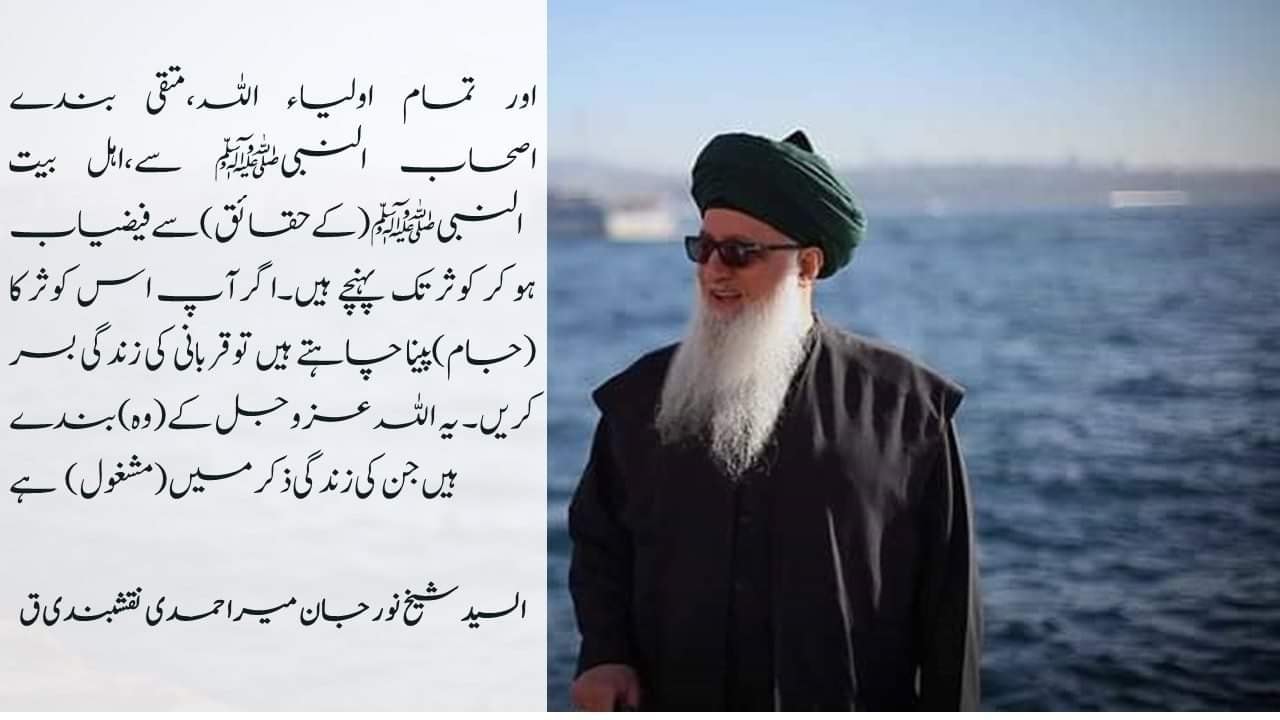 Urdu – Shaykhtalk # 47 Be from the people of kawthar بِسْمِ اللَّـهِ الرَّحْمَـٰنِ الر…
Shaykhtalk # 47 Be from the people of kawthar
بِسْمِ اللَّـهِ الرَّحْمَـٰنِ الرَّحِيمِ
اللّھمَّ صَلِّ عَلَی سیدِنَا محَمَّدٍ ﷺ وَعَلَی آلِ سیَّدِنا محَمَّد ﷺ
شیخ سَیَّد نورجان مِیراَحمَدِی نَقشبَندِی (ق) کی سنہری تعلیمات سے اقتباس
اہلِ کوثر میں(شامل) ہوجائیں!
اللہ عزوجل بیان فرماتا ہے:
اِنَّاۤ اَعۡطَیۡنٰکَ الۡکَوۡثَرَ ؕ
"بیشک ہم نے آپ کو(ہر خیر و فضیلت میں) بےانتہا کثرت بخشی ہے"
بے انتہا کثرت!
کوثر بے تحاشا کثرت ہے !! اِس کا مطلب ہے کہ میں نے آپ کو قرآنِ پاک عطا کیا ہے۔ وہ(قرآنِ پاک) نور ہے جو آپ کی حقیقت کو اجاگر کرتا ہے ، آپ کی حقیقت کو نکھارتا ہے ،وہ(قرآنِ پاک)آپ کی ساری حقیقت کی طاقت ہے ،نتیجتاً آپ اللہ عزوجل کے کوثر ہیں۔ اور تمام اولیاء اللہ،متقی بندے اصحاب النبیﷺ سے،اہل بیت النبیﷺ (کے حقائق)سے فیضیاب ہو کر کوثر تک پہنچے ہیں۔اگر آپ اس کوثر کا (جام)پینا چاہتے ہیں تو قربانی کی زندگی بسر کریں۔ یہ اللہ عزوجل کے(وہ)بندے ہیں جن کی زندگی ذکر میں(مشغول)ہے۔ذاکر ہونے کے نتیجے میں اللہ عزوجل اِن کے قلوب بیدار فرماتا جاتا ہے۔
URDU TRANSLITERATION :
Ahl e kawthar mein(shaamil) hojaein!
Allah AJ bayan farmata ha:
Inna A'taina kal'kawthar
"Beshak hum ne Apko (har khair o fazeelat mein) be inteha kasrat bakhshi ha"
Be-in-teha kasrat!
Kawthar be-ta-hasha kasrat ha! Iska matlab ha ke mein ne Apko Quran e Pak ata kia ha wo(Quran e Pak) noor ha jo Apki haqeeqat ko ujaagar karta ha, apki haqeeqat ko nikhaarta ha, wo(Quran e Pak) apki saari haqeeqat ki taaqat ha, nateejattan Ap Allah AJ ke kawthar hain aur tmam Awliya Allah, muttaqi banday Ashaban Nabi Sallallahu Alayhi wasallam se, Ahl e baitun Nabi Sallallahu Alayhi wasallam (ke haqaiq) se faizyaab Hu kar kawthar tak phunchay hain Agr App iss kawthar ka (jam) peena chahtay hain tu qurbani ki zindagi basar karein ye Allah AJ ke wo banday hain jinki zindagi zikar mein (mashgool)ha. Zakir honay ke nateejay mein Allah AJ inkay qaloob baidar farmata jata ha.
ORIGINAL LECTURE TRANSCRIPT:
Be from the people of kawthar!
Allah AJ describes:"we gave you the kawthar,Beyond kathir"
kawthar is beyond immense!! means I have given you the Holy Quran is the light that dresses your reality,blesses your reality, is the power of all your reality ,as a result you are the kawthar of Allah AJ.And All Awliya Allah, pious people taking from Ashaban Nabi Sallallahu Alayhi wa sallam, taking from Ahlul bait un Nabi Sallallahu Alayhi wa sallam, reach to the kawthar.if you want to drink from this kawthar? Live a life of sacrifice. These are the servants of Allah AJ who their life is in zikar.As a result of being the people of ziker Allah AJ begins to open their hearts.
As Sayed Shaykh Nurjan Mirahmadi Naqshbandi qs ?
Watch here
https://www.youtube.com/watch?v=-Eyf2f0W1m0