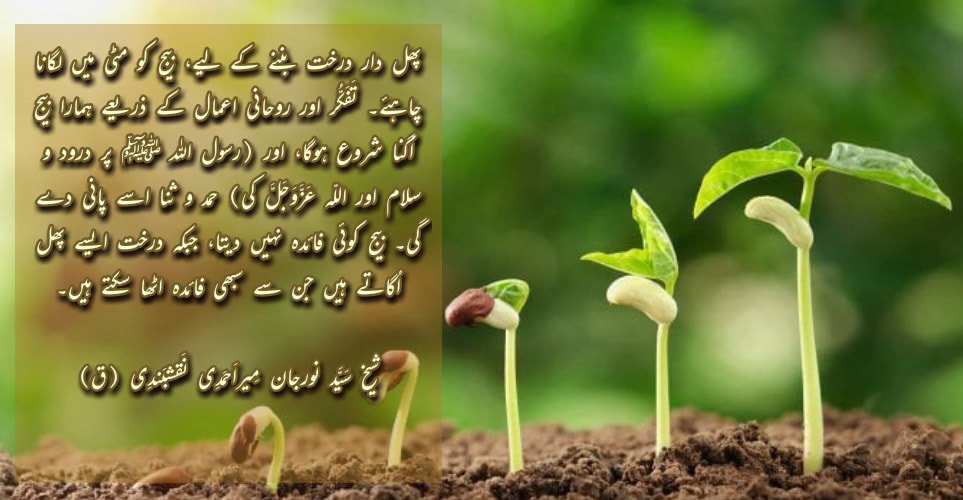 Urdu – ShaykhTalk # 4- Don't Be A Seed, Plant Yourself And Grow! بِسْمِ اللَّـهِ الرَّ…
ShaykhTalk # 4- Don't Be A Seed, Plant Yourself And Grow!
بِسْمِ اللَّـهِ الرَّحْمَـٰنِ الرَّحِيمِ
اَلَّھُمَّ صَلِّ عَلَی سَیَّدِنَا محَمَّدٍ ﷺ وَعَلَی آلِ سَیَّدِنَا محَمَّدٍ ﷺ
شیخ سَیَّد نورجان مِیراَحمَدِی نَقشبَندِی (ق) کی سنہری تعلیمات سے اقتباس
بیج نہ بنیں، خود کو بوئیں اور اُگائیں!
اپنے اندر جائیں۔ اپنے دل میں جائیں۔ اپنے وجود کی حقیقتوں میں جائیں۔ بصورت دیگر آپ کا بیج ہمیشہ بیج ہی رہے گا۔ اس بیج کے لیے خاک میں داخل ہونا ضروری ہے۔ اللہ عَزَّوَجَلَّ نے کیا خاک دی؟ طین (مٹی)؟ "میں نے آپ کا جسم طین (مٹی) سے پیدا کیا ہے۔"
﷽ وَلَقَدْ خَلَقْنَا الْإِنْسَانَ مِنْ سُلَالَةٍ مِنْ طِينٍ
(سورۃالمُؤمِنُون آیت مبارکہ 12)
اردو ترجمہ:
"اور ہم نے انسان کو مٹی کے خلاصے سے پیدا کِیا ہے"۔
اپنے آپ میں واپس چلے جائیں۔ اپنے آپ کو اپنے دل کے اندر اُگائیں (بوئیں)، اپنے دل کے اندر جائیں۔ یہی ہمارے بیج کی شجر کاری ہے۔ جیسے ہی ہم (اپنے بیج کو) اپنے اندر بو دیتے ہیں، تو ذکر کا پانی، رسول اللہ ﷺ پر درودوسلام کا پانی، پھل کو اُگانے لگتا ہے۔ اگر وہ پھل اُگے، تو وہ درخت بن جاتا ہے۔ اگر وہ درخت اُگتا (بڑھتا اور پروان چڑھتا) ہے تو، اس کا پھل، ہر ایک اس سے کھا سکتا ہے اور اس سے برکت پا سکتا ہے اور اس سے فائدہ اٹھا سکتا ہے۔
URDU TRANSLITERATION:
Beej Na Banain, Khud Ko Boyain Aur Ugaayen!
Apny Andar Jaayn. Apny dil may jaayn. Apny wajood ki Haqeeqaton may jaayn. Basoorat e deegar aap ka Beej hamesha Beej he rahay ga. Is Beej k liye khaak may daakhil hona zaruri Hai. Allah Azzawajal ny kya Khaak di? Teen (Mitti)? "Mene Aap Ka Jism Teen (Mitti) Say Paida Kiya Hai."
﷽
"Walaqad khalaqna'l insaana min sulalatin min teenin."
(Surat al Mu'minoon Ayat-e-Mubaraka 12)
Urdu Tarjuma:
"Aur Hm Ny Insan Ko Mitti K Khulaasay Say Paida Kiya Hai."
Apny aap may waapis chalay jaayn. Apny aap ko apny dil k andr ugaayain (Boyain), apny dil k andr jaayn. Yehi hamaray Beej ki shajar kaari Hai. Jesy he hm (apny Beej ko) apny andr bo daitay hain, tou zikar ka paani, Rasool Allah ﷺ pr durood o Salaam ka paani, Phal ko ugaanay lagta Hai. Agar wo Phal ugay, tou wo darakht bn Jata Hai. Agar wo darakht ugta (barhta aur parwaan charhta) Hai tou, us ka Phal, Har aik us say kha skta hai aur us say barkat paa skta hai aur us say faida utha skta hai.
TRANSCRIBED LECTURE:
Don't Be A Seed, Plant Yourself And Grow!
Go into yourself. Go into your heart. Go into your realities. Otherwise your seed will always be a seed. That seed has to enter into the dirt. Allah gave what dirt? The Teen (soil)? "I created your body from dirt."
﷽ وَلَقَدْ خَلَقْنَا الْإِنْسَانَ مِنْ سُلَالَةٍ مِنْ طِينٍ
(Surah Al Mu'minoon Verse 12)
English Translation:
"And Verily, We Created Man From An Extract Of Clay."
Go back into yourself. Plant yourself inside your heart, go into your heart. That is the planting of our seed. As soon as we plant within ourself, then the water of zikr, the water of Salawats on Prophet ﷺ allows the fruit to begin to grow. If that fruit grows, it becomes a tree. If that tree grows, it's fruit, that everybody can eat from it and be blessed from and take it's benefit from.
? ? ? Shaykh Syed Nurjan Mirahmadi Naqshbandi (q) ? ? ?
Watch Lecture Here:
https://youtu.be/X5f8eIDvr-Y