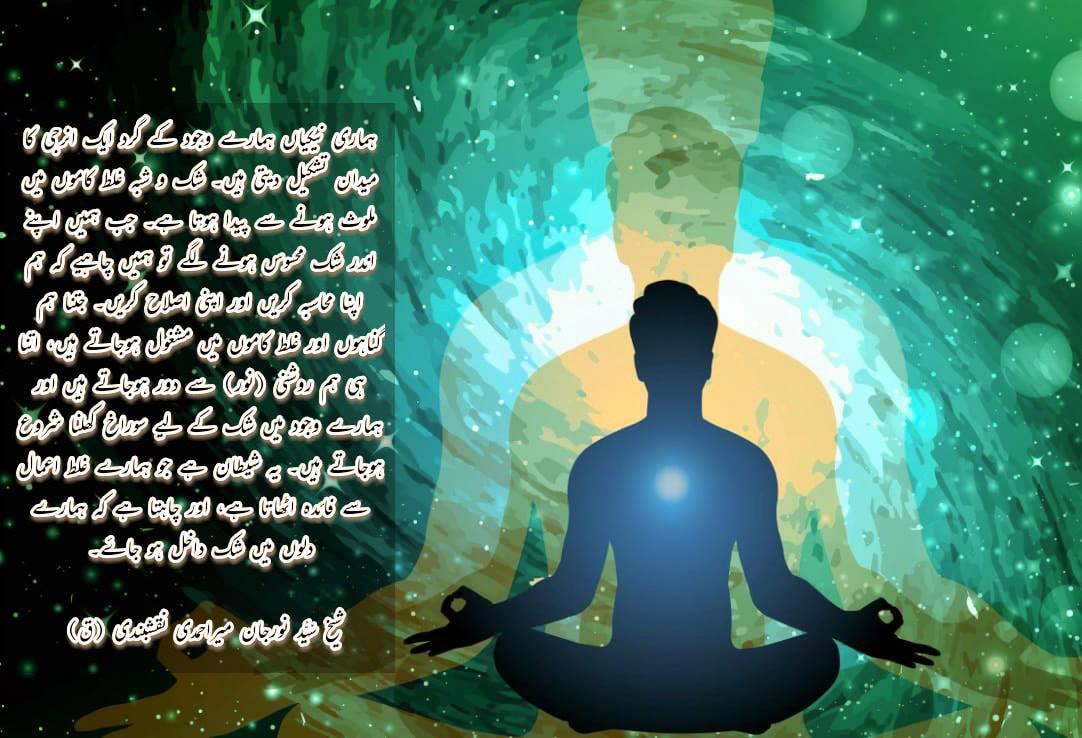 Urdu – Shaykhtalk # 3 Sins Open The Door To Doubt بِسْمِ اللَّـهِ الرَّحْمَـٰنِ الرَّح…
Shaykhtalk # 3 Sins Open The Door To Doubt
بِسْمِ اللَّـهِ الرَّحْمَـٰنِ الرَّحِيمِ
الّھمَّ صَلِّ عَلَی سیدِنَا محَمَّدٍ ﷺ وَعَلَی آلِ سیَّدِنا محَمَّد ﷺ
شیخ سَیَّد نورجان مِیراَحمَدِی نَقشبَندِی (ق) کی سنہری تعلیمات سے اقتباس
گناہ شکوک و شبہات کا دروازہ کھول دیتے ہیں۔
آپ اپنے نیک اعمال اور اچھے کاموں کے سبب انرجی کا ایک میدان رکھتے ہیں اور (اس کے ذریعے سے) آپ اپنے آپ کو محفوظ رکھ رہے ہیں اور اِس قوّت کو بہت زیادہ مضبوط کر رہے ہیں۔ اگر وہ قوت مضبوط ہے اور برائی کو دور رکھ رہی ہے، کیونکہ حق (سچ) جھوٹ کو دور دھکیل دیتا ہے-
﷽ وَقُلْ جَاءَ الْحَقُّ وَزَهَقَ الْبَاطِلُ ۚ إِنَّ الْبَاطِلَ كَانَ زَهُوقًا (سورۃالإسراء آیت مبارکہ 81)
اردو ترجمہ:
"اور کہہ دو کہ حق آگیا اور باطل نابود ہوگیا۔ بےشک باطل نابود ہونے والا ہے."
تو آپ وہ فیض محسوس کرنے لگتے ہیں، آپ تجلیات ظہور پذیر ہوتے ہوئے محسوس کرتے ہیں۔ آپ ہمت (جوش) محسوس کرتے ہیں، آپ ایسا محسوس کرتے ہیں کہ جیسے آپ مزید کام کرنا چاہ رہے ہوں اور آپ کا ایمان دن بدِن بڑھ رہا ہوتا ہے۔ مگر اہلِ محاسبہ اور ایسے لوگ جو (خود) اپنا حساب (اپنی جانچ پڑتال) کرتے ہیں (وہ فرماتے ہیں) کہ جیسے ہی آپ کوئی شک محسوس کریں (فوراً) واپس جائیں اور اپنا حساب اور محاسبہ کریں؛ کہ آپ کہیں کچھ غلط کر رہے ہیں۔ شک ایسے ہی نہیں آجاتا یہ ایک سوراخ کے ذریعے سے آتا ہے۔ ایسا کیا ہے جو آپ اپنے اعمال میں سے ٹھیک نہیں کر رہے، اور ایک حساب کرنا شروع کریں کہ آج میں نے کیا کِیا ہے، میں نے کل کیا کِیا تھا، میں نے کیا کھایا، میں نے کیا کہا، میرے اعمال کیا تھے۔ ہرعمل پر نظر دوڑائیں جو ہم نے اُس دن کئے تھے اور جائزہ لینا شروع کریں۔ "کیا اَللّٰه (عَزَّوَجَلَّ) اُس سے خوش تھا میں نے جو بھی کھایا، جو بھی پِیا، میں نے جو بھی کِیا، میں نے جو بھی کہا؟ کیا میں نے نماز پڑھی؟" کچھ لوگ نماز تک نہیں پڑھتے۔ لہٰذا (اُس کے سبب) آپ اُس روشنی سے واقعی الگ ہو چکے ہیں۔ اگر آپ اُس روشنی سے الگ ہوجائیں (تو) یہی (وہ چیز ہے جو) شیطان چاہتا ہے، "(یعنی) اپنی مغرب کی نماز نہ پڑھیں سو جائیں، سو جائیں۔" ٹھیک ہے اگر آپ نماز نہیں پڑھتے تو آپ نے اس میدان میں ایک سوراخ کھول دیا ہے کیونکہ آپ کا معاملہ اَللّٰه (عَزَّوَجَلَّ) کے ساتھ ٹھیک نہیں رہا، آپ فرشتوں کے ساتھ ٹھیک نہیں ہیں، اور یقیناً نبی پاک ﷺ (آپ کی وجہ سے) شرمندہ ہوئے ہیں۔ آپ کو سیدنا محمد ﷺ کا راستہ اپنانا ہوگا، جو راستہ اَللّٰه (عَزَّوَجَلَّ) نے سیدنا محمد ﷺ کو عطا کِیا ہے اس کواختیار کیجئے۔ یہ اس وجہ سے نہیں ہے کہ اَللّٰه (عَزَّوَجَلَّ) کو اس سے کچھ غرض ہے، آپ نمازیں پڑھ کر اَللّٰه (عَزَّوَجَلَّ) کو امیر نہیں بنا رہے۔ مگر اَللّٰه (عَزَّوَجَلَّ) یہ تمام عِزَّت ہمارے لئے چاہتا ہے۔ (وہ فرماتا ہے) کہ، "میں اِن تمام عطاؤں سے آپکو نوازنا چاہتا ہوں۔ میں ان تمام انوار سے (آپ کو) نوازنا چاہتا ہوں، تاکہ آپ کا اسلام حقیقی بن سکے، آپ کا نبی پاک ﷺ کے لئے عشق حقیقی ہو سکے۔" اَللّٰه (عَزَّوَجَلَّ) یہ تمام (آپ کو) بخشنا چاہتا ہے، اگر ہم اِس کو وصول کرنے نہیں آتے اور ہم نماز نہیں ادا کرتے تو وہ جس کو اس سے سب سے زیادہ فائدہ ہوتا ہے وہ ہے شیطان۔ جب ہم وہ نہیں کھاتے جو ہمارے لئے ٹھیک ہے تو وہ جس کو فائدہ ہوتا ہے وہ شیطان ہے، (اور شیطان آپ کے) نظام (system) میں داخل ہو جاتا ہے۔ وہ شِدَّت سے جسم کی طرف دیکھ رہا ہوتا ہے۔ وہ کہتا ہے، "مجھے ایک بُرا عمل دیں مجھے ایک غصّہ دیں اور میں اندر داخل ہو جاؤں گاـ" جیسے ہی وہ سوراخ بنتا ہے اور آپ کچھ ایسا کھاتے ہیں جو غلط ہے، کچھ ایسا کھاتے ہیں جو ٹھیک نہیں ہے اور آپ کےلئے حلال نہیں بنایا گیا تو شیطان اُس خوراک اور طعام کے ذریعے سے (جسم کے) اندر آجاتا ہے۔ (اگر آپ) ایک ایسا عمل کرتے ہیں جو ٹھیک نہیں ہے اور عبادت (کے لحاظ) سے نامکمل ہے تو شیطان اُس کے ذریعے سے (آپ کے فورس فیلڈ میں) داخل ہوجاتا ہے۔ جیسے ہی شیطان آتا ہے تو ہم خود کو شک میں مبتلا پاتے ہیں-
URDU TRANSLITERATION:
Gunah Shakook o Shubhaat Ka Darwaza Khol Daitay Hain!
Aap apne naik aamaal aur achay kamon ke sabab energy ka aik maidan rakhtay hain aur (is ke zariye se) aap apne aap ko mhfoz rakh rahay hain aur iss quwwat ko bohat ziyada mazboot kar rahay hain. Agar woh qouvat mazboot hai aur buraiee ko door rakh rahi hai, kyunkay haq (sach) jhoot ko door dhakel deta Hai.
﷽
"Waqul jaa alhaqqu wazahaqa albatilu inna albatila kana zahooqan."
(Surat al Isra'a Ayat-e-Mubaraka 81)
Urdu Tarjuma:
"Aur Keh Dou Kay Haq Aa Gaya Aur Baatil Nabood Hogaya. Bayshak Baatil Nabood Honay Wala Hai."
Tou aap woh Faiz mehsoos karne lagtay hain, aap tajalliyaat zahuur Pazeer hotay hue mehsoos karte hain. Aap himmat (josh) mehsoos karte hain, aap aisa mehsoos karte hain ke jaisay aap mazeed kaam karna chaah rahay hon aur aap ka imaan din badin barh raha hota hai. Magar ehley muhasba aur aisay log jo (khud) apna hisaab (apni jaanch partaal) karte hain (woh farmatay hain) ke jaisay hi aap koi shak mehsoos karen (foran) wapas jayen aur apna hisaab aur muhasba karain ke aap kahin kuch ghalat kar rahay hain. Shak aisay hi nahi ajata yeh aik sorakh ke zariye se aata hai. Aisa kya hai jo aap apne aamaal mein se theek nahi kar rahay, aur aik hisaab karna shuru karen ke aaj mein ney kya kiya hai, mein ney kal kya kiya tha, mein ney kya khaya, mein ney kya kaha, mere aamaal kya thay. Her amal par nazar dorayin jo hum ney uss din kiye thay aur jaiza lena shuru karen. "Kya Allah (AJ) uss se khush tha mein ney jo bhi khaya, jo bhi piya, mein ney jo bhi kiya, mein ney jo bhi kaha? Kya mein ney namaz parhi?". Kuch log namaz tak nahi parhte. Lehaza (uss ke sabab) aap uss roshni se waqai allag ho chuke hain. Agar aap uss roshni se allag ho jaien (to) yahi (woh cheez hai jo) shetan chahta hai, "(yani) apni maghrib ki namaz nah parhain so jayen, so jayen." Theek hai agar aap namaz nahi parhte to aap ney is maidan mein aik sorakh khol diya hai kyunkay aap ka maamla Allah (AJ) ke sath theek nahi raha aap firshton ke sath theek nahi hain aur yaqeenan Nabi pak ﷺ (aap ki wajah se) sharminda hue hain. Aap ko Syedna Mohammed ﷺ ka rasta apnaanaa hoga, jo rasta Allah (AJ) ney Syedna Mohammad ﷺ ko ataa kiya hai is ko ikhtiyar kijiye. Yeh is wajah se nahi hai ke Allah (AJ) ko is se kuch gharz hai, aap namazain parh kar Allah (AJ) ko Ameer nahi bana rahay. Magar Allah (AJ) yeh tamam izzat hamaray liye chahta hai. (Woh farmata hai) ke, "Main inn tamam ataon se aapko nawazna chahta hoon. Mein un tamam Anwaar se (aap ko) nawazna chahta hoon taakay aap ka Islam haqeeqi ban sakay, aap ka Nabi pak ﷺ ke liye ishhq haqeeqi ho sakay." Allah (AJ) yeh tamam (aap ko) bakhshna chahta Hai, agar hum iss ko wusool karne nahi atay aur hum namaz nahi ada karte to woh jis ko is se sab se ziyada faida hota hai woh hai shetan. Jab hum woh nahi khatay jo hamaray liye theek hai to woh jis ko faida hota hai woh shetan hai, (aur shetan aap ke) nizaam (system) mein daakhil ho jata hai. Woh shiddat se jism ki taraf dekh raha hota hai. Woh kehta hai, "mujhe aik bura amal den mujhe aik gussa den aur mein andar daakhil ho jaoon ga." Jaisay hi woh sorakh bantaa hai aur aap kuch aisa khatay hain jo ghalat hai, kuch aisa khatay hain jo theek nahi hai aur aap ke liye halal nahi banaya gaya to shetan uss khoraak aur ta'am ke zariye se (jism ke) andar ajata hai. (Agar aap) aik aisa amal karte hain jo theek nahi hai aur ibadat (ke lehaaz) se namukammal hai to shetan uss ke zariye se (aap ke force field mein) daakhil hojata hai. Jaisay hi shetan aata hai to hum khud ko shak mein mubtala paate hain.
TRANSCRIBED LECTURE:
Sins Open the Door to Doubt!
You have an energy field. With your good actions and good amal you're protecting yourself and making this force to be very strong. If that force is strong and keeping away negativity because Haq pushes away falsehood.
﷽ وَقُلْ جَاءَ الْحَقُّ وَزَهَقَ الْبَاطِلُ ۚ إِنَّ الْبَاطِلَ كَانَ زَهُوقًا.
(Surah Al Isra'a Verse 81)
English Translation:
"And say: Truth has come and falsehood has vanished. Indeed is falsehood bound to vanish."
Then you feel the faiz, you feel the emanations, you feel the Himmah, you feel like you want to do more, and your faith is growing day by day but the Ahl al muhassaba and the people of accounting, is as soon as you feel a doubt, go back into your accounting, you're doing something wrong. The doubt doesn't just come. It comes through a hole. What is it that you're doing incorrect in your actions, and begin to take an accounting, that what did I do today, what did I do yesterday, what did I eat, what did I say, what were my actions, go through every action that we did for that day and begin to analyze. Was Allah happy with what I ate, with what I drank, with what I said, with what I did? Did I pray? Some people don't even pray. Then you're definitely disattached from that light. If you're disattached from that light, that's all that Shaytan wants. "Don't pray your maghrib prayer, just go to sleep go to sleep," oh yeah then don't pray, then what happens now is that you just opened a hole in this field. Because you're not good with Allah (AJ), you're not good with the angels, then definitely Prophet ﷺ is ashamed. You have to keep the way of Sayyidina Mohammed ﷺ. Keep the way of what Allah (AJ) gave to Prophet ﷺ, it's not because Allah (AJ) wants anything from it, you're not making Allah (AJ) richer by praying, but Allah (AJ) wants for us all this izza. "I want to dress you with all these blessings. I want to give you from these emanations, so your Islam becomes real, you taste it in your heart, you feel the energy that is emanating, your Islam becomes real, your love for Sayyidina Mohammed ﷺ becomes real." Allah (AJ) wants to give all of that. If we don't come to receive it and we don't pray, who benefits from that is Shaytan. If you don't eat what's correct for us, who benefits, is the Shaytan enters within the system. He's fiercely looking at the body, saying "give me a bad action give me an anger, I'm going to enter in". As soon as that opening happens, eat something incorrect, eat something that's not right and not been halaal for you, shaytan coming in through that food and through that ta'aam. Do an action that's not correct and incomplete in worshipness, shaytan comes through that. As soon as shaytan comes, we find ourselves having doubt.
🌹💝🌹 Shaykh Syed Nurjan Mirahmadi Naqshbandi (q) 🌹💝🌹
Watch Lecture Here:
https://youtu.be/gCrep-ZbJW0