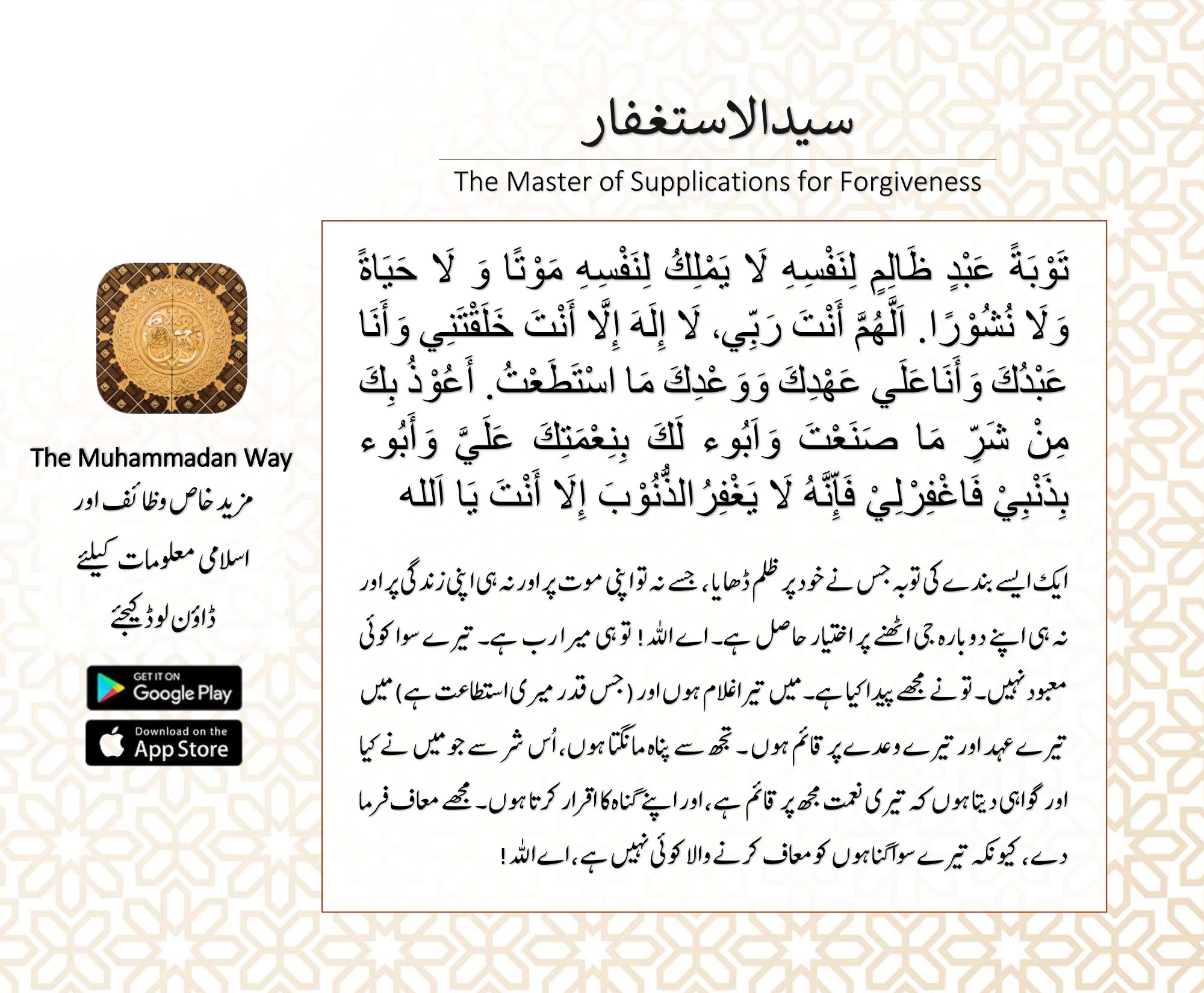 Urdu – Sayyidul Isteghfar| The Master of Supplications | ترجمعہ سیدالاستغفار| ایک ایس…
Sayyidul Isteghfar| The Master of Supplications
| ترجمعہ سیدالاستغفار|
ایک ایسے بندے کی توبہ جس نے خود پر ظلم ڈھایا ، جسے نہ تو اپنی موت پر اور نہ ہی اپنی زندگی پر اور نہ ہی اپنے دوبارہ جی اٹھنے پر اختیار حاصل ہے۔ اے اللہ! تو ہی میرا رب ہے۔ تیرے سوا کوئی معبود نہیں۔ تو نے مجھے پیدا کیا ہے۔ میں تیرا غلام ہوں اور (جس قدر میری استطاعت ہے) میں تیرے عہد اور تیرے وعدے پر قائم ہوں ۔ تجھ سے پناہ مانگتا ہوں، اُس شر سے جو میں نے کیا اور گواہی دیتا ہوں کہ تیری نعمت مجھ پر قائم ہے ، اور اپنے گناہ کا اقرار کرتا ہوں۔ مجھے معاف فرما دے ، کیونکہ تیرے سوا گناہوں کومعاف کرنے والا کوئی نہیں ہے ، اے اللہ!
تَوْبَةً عَبْدٍ ظَالِمٍ لِنَفْسِهِ لَا يَمْلِكُ لِنَفْسِهِ مَوْتًا وَ لَا حَيَاةً وَلَا نُشُوْرًا. اَلَّهُمَّ أَنْتَ رَبِّي، لَا إِلَهَ إِلَّا أَنْتَ خَلَقْتَنِي وَأَنَا عَبْدُكَ وَأَنَاعَلَي عَهْدِكَ وَوَعْدِكَ مَا اسْتَطَعْتُ. أَعُوْذُ بِكَ مِنْ شَرِّ مَا صَنَعْتَ وَاَبُوء لَكَ بِنِعْمَتِكَ عَلَيَّ وَأَبُوء بِذَنْبِيْ فَاغْفِرْلِيْ فَإِّنَّهُ لَا يَغْفِرُالذُّنُوْبَ إِلَا أَنْتَ يَا اَلله
Tawbatan 'abdin zalimin li nafsihi, la yamliku li nafsihi mawta0n wa la hayatan wa la nushura. Allahumma anta Rabbi, la ilaha illa Anta khalaqtani wa ana 'abduka wa ana 'ala 'ahdika wa wa'dika mastata'tu. A'udhu bika min sharri ma sana'tu, wa abo laka bi ni'matika 'alayya, wa abo bi dhanbi faghfir li, fa innahu la yaghfirudh dhunuba illa Anta Ya Allah.
The repentance of a slave who has oppressed himself, who neither has power over his death, nor his life, nor his resurrection. O God! You are my Lord. There is no god but You. You have created me. I am Your slave and I hold fast to Your covenant and Your promise (as much as I am able). I take refuge in You from the evil I have done, and testify that Your Grace is upon me, and profess my sin. Forgive me, for there is no one who forgives sins except You, O Allah!
مزید خاص وظائف اور اسلامی معلومات کیلئے ڈاؤن لوڈ کیجئے
Download: The Muhammadan Way App
Google Play:
https://play.google.com/store/apps/details…
App Store:
https://apps.apple.com/us/app/muhammadan-way/id1244297852
یو ٹیوب چینل ابھی سبسکرایب کیجئے۔
Subscribe Now: The Muhammadan Way Sufi Realities
https://www.youtube.com/channel/UC4E8QX7OgwYDgyuuXTBMrcg
شیخ سید نور جان میر احمدی نقشبندی (ق) کا آفشیل فیس بک پیج لائک کیجئے
Official Page: Shaykh Nurjan Mirahmadi
Please Like and Share
https://facebook.com/shaykhnurjanmirahmadi/
مضامین کے اُردو ترجمہ پڑھنے کیلئے
Read His Articles Translated in Urdu
https://nurmuhammad.com/category/urdu/