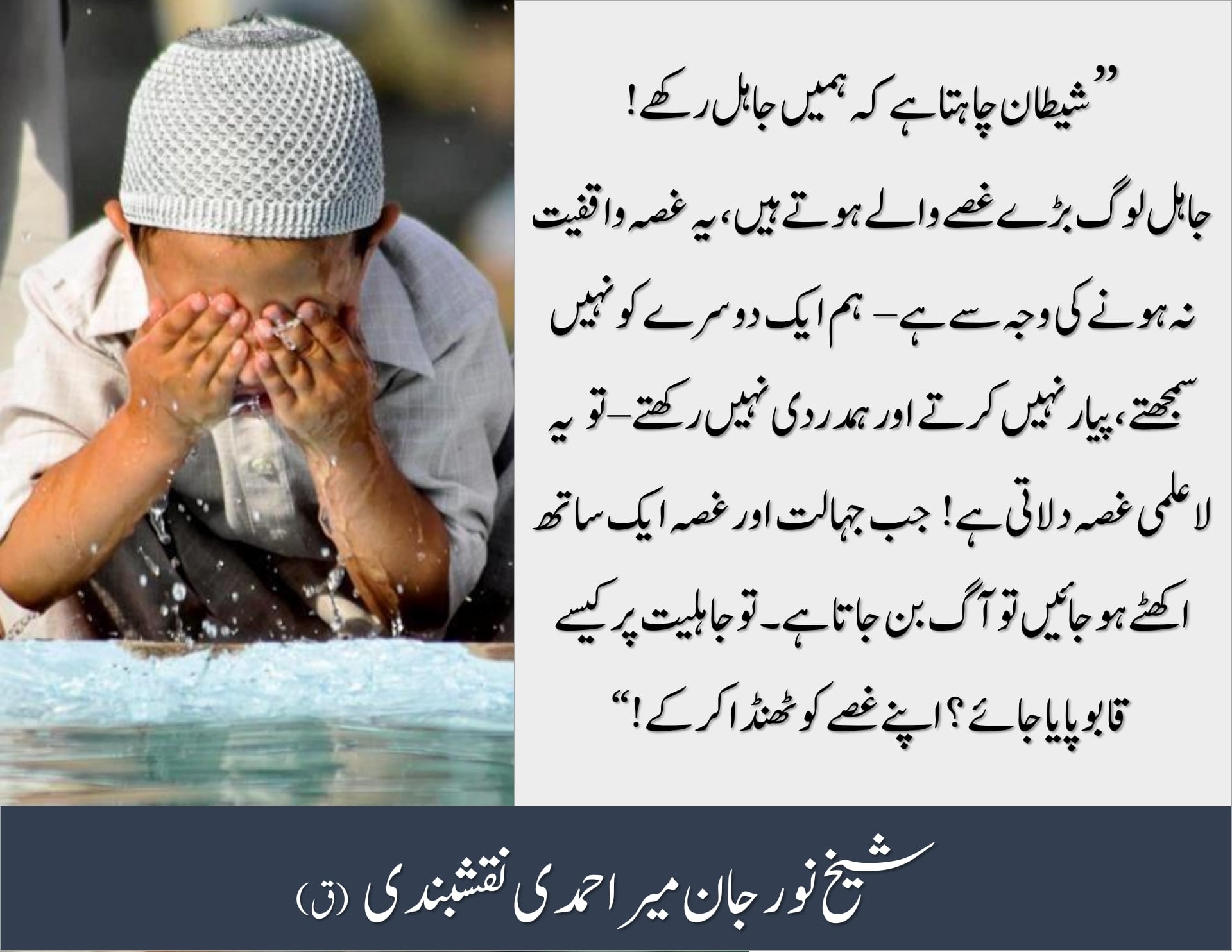 Urdu – Satan Wants to Keep Us Ignorant: Religion is to Seek Knowledge and Defeat Ignor…
Satan Wants to Keep Us Ignorant:
Religion is to Seek Knowledge and Defeat Ignorance
شیطان چاہتا ہے کہ ہمیں جاہل رکھے، دین کا مقصد علم حاصل کرنا اور جہالت کو شکست دینا ہے۔
( موضوع: مرشد کامل ہمیں اپنے نفس کے بارے میں تعلیم دینےکیلئے تشریف لاتے ہیں ، ہماری ذات دو اہم مثلث کی حامل ہے: ایک روح سے وابستہ ہے اور دوسری مادی جسم سے متعلق۔ مادی دنیا نچلی مثلث کے تحت کام کررہی ہے۔نچلی مثلث کا تعلق دُنیا یا مادی خواہشات سے ہے ۔)
نچلی مثلث کیا ہے؟
جہالت.
یعنی جب ہم ابلیس ، شیطان ، بدی اور برائی کےتصورات کے بارے میں بات کرتے ہیں یا اپنی ذات کو اس شرکےحوالے کرتے ہیں، تو(سوال یہ بنتا ہے کہ شیطانی) حکومت کس طرح راج کرتی ہے؟ شیطان، لوگوں کو جہالت میں رکھ کر ، لوگوں کو لاعلم رکھ کر اُن پرحکمرانی کرتا ہے۔ جہالت خود کو غصے کے حوالے کر دیتی ہے ۔ جاہل لوگ بڑے غصے والے ہوتے ہیں ۔ کیوں؟ کیونکہ انہیں کچھ علم نہیں ہوتا، کہ کیا ہو رہا ہے۔
اگر تم کسی کمرے میں ہو اور وہاں اندھیرا ہے ۔ اور تم فرنیچر پر گرتے ٹکراتے ہو، تو تمھیں غصہ آے گا۔ تم پوچھو گے، ' یہ صوفہ کس نے یہاں رکھا؟ کس نے یہاں رکھا ہے؟ کیونکہ تمھیں کمرے میں (اندھیرے کے باعث) کچھ دکھائی نہیں دیتا– کیونکہ تم لاعلم ، جاہل ہو.
تو جاہلیت پر کیسے قابو پایا جائے ؟
اپنے غصے کو ٹھنڈا کر کے.
جہالت ایک ایسا شیطان ہے جو ہمیں لاعلم رکھنا چاہتا ہے –کبھی علم کی تلاش نہ کرنا، کبھی حقائق کی کھوج نہ لگانا۔ وہ ہمیں جاہل رکھ کر ،غصے کو بڑھاوا دے رہا ہے۔ یعنی غصہ کی آگ بڑھکنے لگتی ہے ،' یہ لوگ کون ہیں؟ وہ لوگ کون ہیں؟ میں تویہ نہیں جانتا، میں نے تو یہ کبھی نہیں سنا '۔ یہ غصہ واقفیت نہ ہونے کی وجہ سے ہے کیونکہ ہم ایک دوسرے سے لاعلم ہیں۔ ہم ایک دوسرے کو نہیں سمجھتے ، پیار نہیں کرتے اور ہمدردی نہیں رکھتے– تو ، یہ لاعلمی غصہ دلاتی ہے.
جب جہالت اور غصہ ایک ساتھ اکھٹے ہوجائیں تو ، کیمیائی ردعمل آگ ہے! یہی وجہ ہے کہ شیطان کی فطرت آگ کی لپیٹ میں ہے۔ یعنی جب ہم اپنی زندگی لاعلمی و جہالت میں گزاریں گے اور اسی غم و غصے میں اپنی زندگی بسر کریں گے ۔ یہ لاعلمی اور غصہ نچلے حصوں میں –نچلے لطائف (لطیف انرجی کے نکات) میں آگ بھڑکا تا ہے ۔ اسی لئے مادی خواہش نچلی درجے کی خواہشات پر مبنی ہوتی ہے۔ یعنی وہ (شرانگیز لوگ )اپنی زندگی کمر سے نچلے حصے کے زیرِاثر گزارتے ہیں۔ کمر سے نیچے تک جو بھی مناسب ہے ، وہیں انکی زندگی گزرتی ہے۔
دین کا مقصد علم حاصل کرنا اور جہالت کو شکست دینا ہے: لہذا اس نفس کو لگام ڈالنے اور ادراکِ نفس کیلئے آپ اس ستارے ( دو نوں مثلث) کے علوم کا اطلاق کرتے ہیں۔ یعنی آپ کا ایک مذہب ہے، آپ ایمان کے تمام علوم کو سنوارتے ہو ۔ تو یہ دونوں (مثلث) مقام احسان کو فراز دیتے ہیں۔جب وہ طاقت ستارے کی اوپری درجے ( کی مثلث) سے آتی ہے تو ، یہ نچلے درجے (کی مثلث) پر قابو پانا شروع کردیتی ہے۔ کیوں؟ کیونکہ یہ دین جہالت کو دور کرتا ہے۔ یعنی اگر آپ کا مذہب برداشت (رواداری) کو فروغ دیتا ہے ؛ آپ کا مذہب علم حاصل کرنا ہے خواہ چین جانا پڑے–یعنی مستقل(پیاس ) تلاش جاری رکھنا اور اس خدائے برتر کو مسلسل ڈھونڈھتے رہنا–تو ایسا مذہب جہالت کی آگ بجھا دیتا ہے۔ یعنی (پھر یہ دین) آگ پر پانی ڈالنے کی طرح ہے۔
أُطْلُبُوا الْعِلْمَ وَلَوْ فِي الصِّيْنِ
"علم تلاش (حاصل) کرو، خواہ تمہیں چین جانا پڑے۔"
حضرت محمد ﷺ
شیخ نور جان میر احمدی نقشبندی (ق)
Our Translation
[Context: 'The guides come to teach us about our self, and we have two important triangles upon our self: one related to the soul and one related to the physicality. The Material World is Operating on the Lower Triangle. The lower triangle has to do with dunya or material desires']
Satan Wants to Keep Us Ignorant:
The lower triangle has to do with dunya or material desires. It means once we can unlock this understanding, then what is the lower triangle? Ignorance. It means when we talk about the concepts of Iblis (Devil's name), satan and the devil, evilness or lending ourselves to its wickedness. How is that govt governed? It's governed by ignorance, by keeping people in ignorance. Ignorance lends itself towards anger. Ignorant people are very angry. Why? Because they have no idea what's going on.
If you're in a room and it's dark and you keep falling over the furniture, you get angry. You say, 'Who put this couch here? Who put this here?' Because you can't see anything in the room because you're ignorant, jahal.
So how to come against ignorance?
You come against anger.
Ignorance is the devil who keeps us to be ignorant – never seeking knowledge, never seeking realities. By keeping us ignorant, he's breeding anger. It means anger starts to develop, 'Who are these people? Who are those people? I don't know this. I don't know that'. That's because of unfamiliarity because we're ignorant of each other. We don't understand and love and have compassion for each other. So, this ignorance brings anger. When ignorance and anger come together, the chemical reaction is fire. That's why the devil is of a fiery nature. It means when we live our life in ignorance and live our life with that anger, that ignorance and anger builds a fire in the lower chakras, the lower lata'if (subtle energy points). That's why material desire is so based on lower desires. It means they govern their life from the waist down. Whatever from the waist down is appropriate, is where their life has to go.
Religion is to Seek Knowledge and Defeat Ignorance:
So commanding that self and understanding that self is that when you apply these disciplines of the star, it means you have a religion. You develop all the sciences of faith. These two develop the station of perfection. When that power comes from the upper level of the star, it starts to take control of the lower level. Why? Because that religion dispels ignorance.
It means if your religion is tolerant, your religion is to seek knowledge even if you have to go to China, it means constantly seeking, constantly looking for that Divine. This religion burns out ignorance. It means it's like water onto the fire.
أُطْلُبُوا الْعِلْمَ وَلَوْ فِي الصِّيْنِ
"Uthlubul 'ilma walaw fis Seen."
"Seek knowledge even (if it is) in China." Prophet Muhammad (saws)
?Sh. Nurjan Mirahmadi Naqshbandi (Q) ?
Read More: https://nurmuhammad.com/secrets-of-the-star/