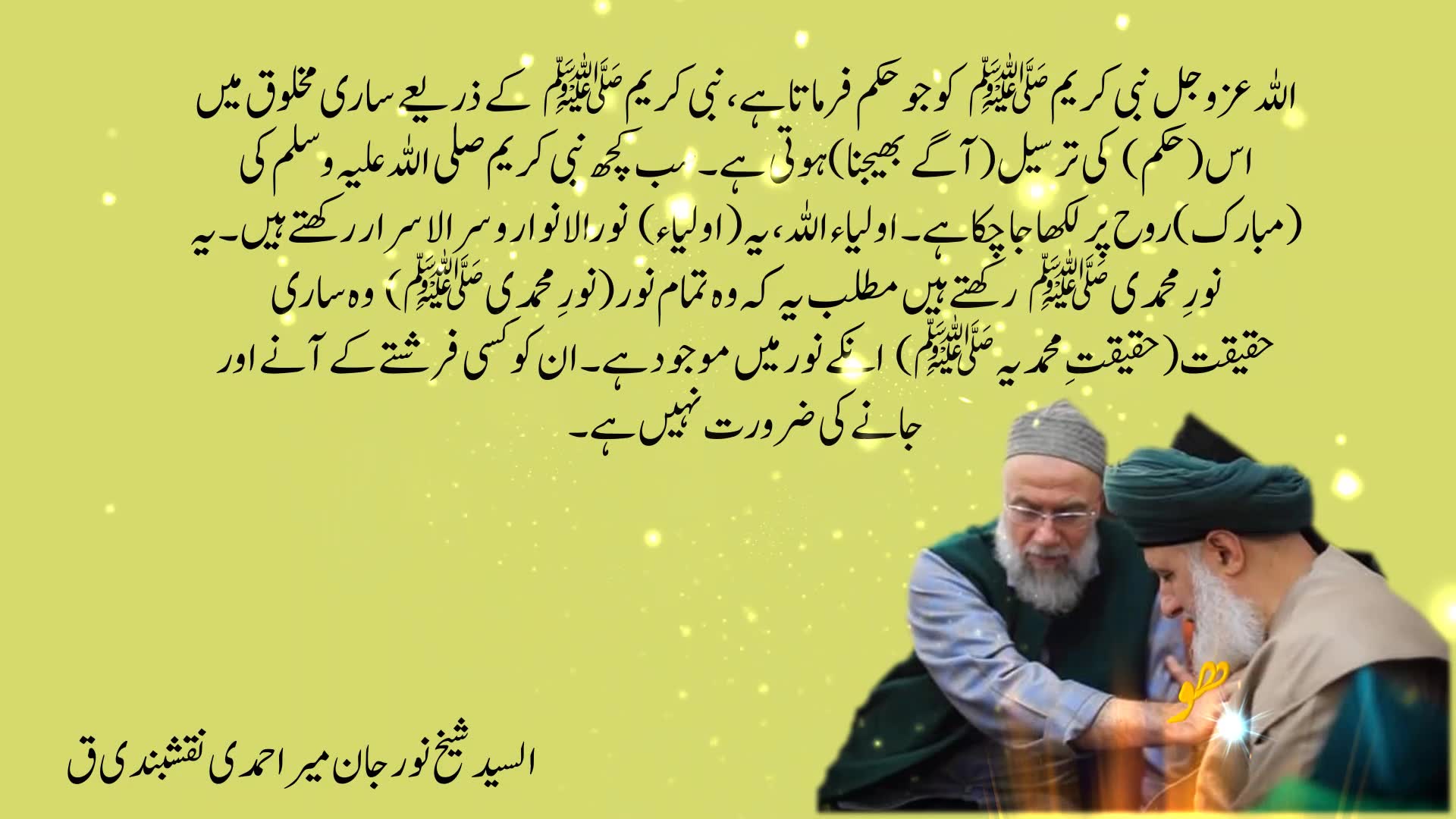 Urdu – Realities of Alif Lam Meem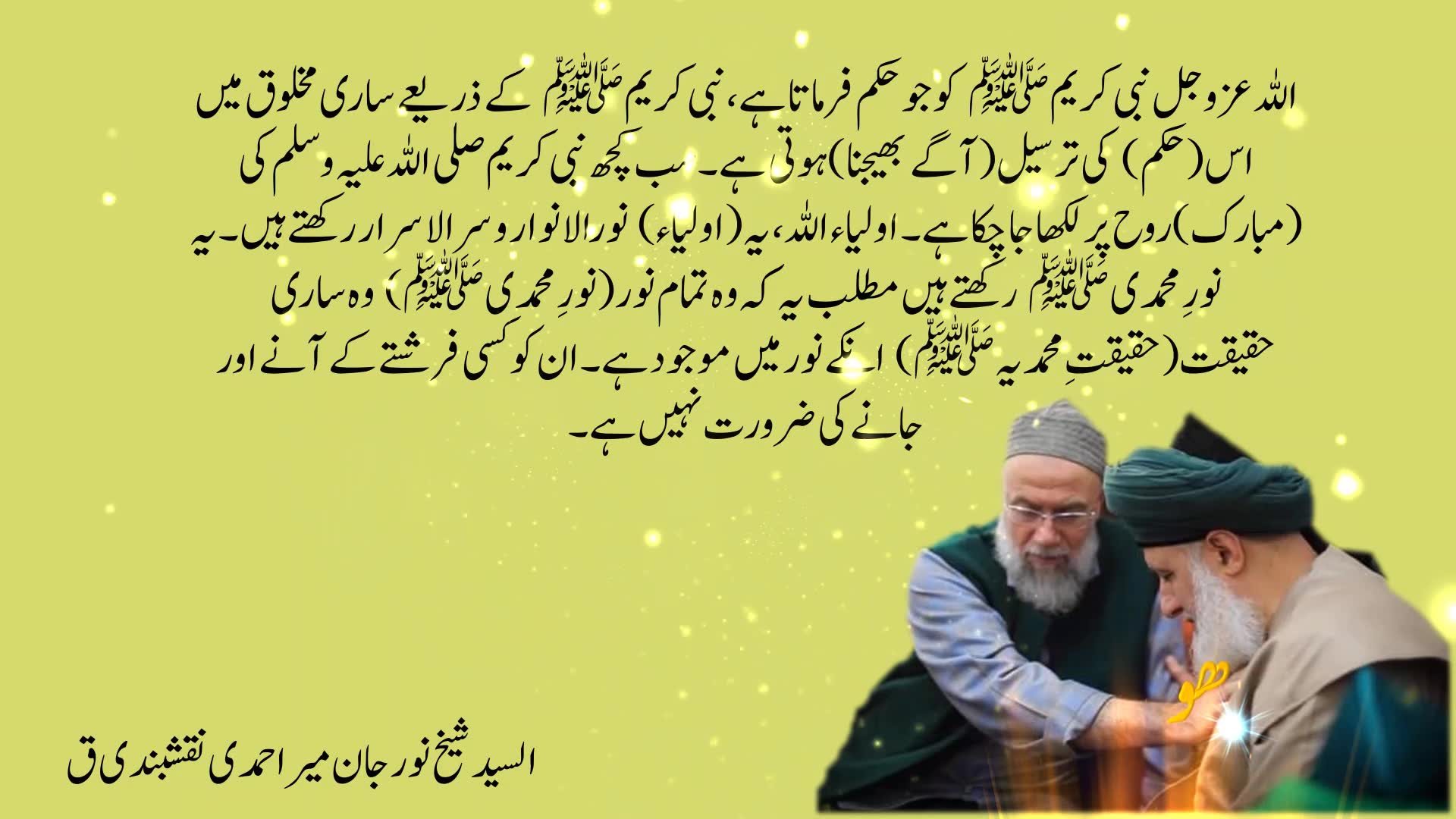 Realities of Alif Laam Meem
الف لام میم کے حقائق
Our Translation:
بِسْمِ اللّٰهِ الرَّحْمٰنِ الرَّحِیْمِ
الم۔(البقرۃ:1)
ذَٰلِکَ لْكِتَابُ۔(البقرہ:2)
الف ،عزت الله ہے۔اللہ عزوجل ہمارے لئے ایک کوڈنگ دے رہا ہے کہ اب یہ کتاب آپ کی روح پر کھلنے والی ہے۔
لام۔ یا ربی میں آپ کی قدیم لسان الحق سے ان کیلئے لام چاہتا ہوں۔ جن(ﷺ) کو آپ نے اپنی تمام حقیقتوں کے لیے زبان بنایا ہے۔اللہ عزوجل اس لام پر جو بھی حکم نازل فرماتا ہے یہ لام(لسان الحقﷺ) اللہ عزوجل کے کن فیکون سے ارشاد فرماتا ہے اور ہر فرشتہ نبی کریم ﷺ کے قلب مبارک کے ذریعے اللہ عزوجل کے حکم کو منکشف کرنا شروع کردیتا ہے اس کے بعد میم اس کی وضاحت کرنے اور اسے ثابت کرنے آتا ہے۔
اَطِيْعُوا اللّٰهَ: الف
وَاَطِيْعُوا الرَّسُوْلَ:لام ہے
وَاُولِي الْاَمْرِ مِنْكُمْ:انہوں نے سیدنا محمدﷺ کے میم کی اطاعت کی۔
اسکا مطلب ہے کہ یہ سب سیدنا محمدﷺ کی حضوری میں ہمہ تن گوش اُن(ﷺ) کے احکامات کے منتظر ہیں۔
اللہ عزوجل نبی کریمﷺ کو جو حکم فرماتا ہے، نبی کریمﷺ کے ذریعے ساری مخلوق میں اس (حکم) کی ترسیل(آگے بھیجنا)ہوتی ہے۔سب کچھ نبی کریم صلی اللہ علیہ وسلم کی(مبارک) روح پر لکھا جا چکا ہے۔
اولیاء اللہ، یہ(اولیاء) نورالانوار و سرالاسرار رکھتے ہیں۔یہ نورِ محمدیﷺ رکھتے ہیں مطلب یہ کہ وہ تمام نور(نورِ محمدیﷺ) وہ ساری حقیقت(حقیقتِ محمدیہﷺ) انکے نور میں موجود ہے۔ان کو کسی فرشتے کے آنے اور جانے کی ضرورت نہیں ہے۔وہ فرشتہ نورِ محمدﷺ کے نور سے ہے کہ فرشتہ وہاں محض ایک دفتر قائم کرتا ہے ،وہ موبائل فون کی طرح ایک ایکسٹینشن رکھتا ہے۔ اگر سیدنا جبرئیل (ع)تشریف لاتے ہیں تو وہ صرف اپنے نور کا ایک حصہ داخل فرماتے ہیں ان کے لیے وہاں(بذات خود) موجود رہنا ضروری نہیں ہوتا۔
وہ صرف ایک مالیکیول، اپنے نور کا ایک ایٹم، داخل فرماتے ہیں اس سے ان کے تمام ایٹم فوری طور پر ان سے رابطہ کرتے ہیں کیونکہ ہم کوانٹم کو نہیں سمجھتے۔ انہوں نے تحقیق کی کہ آپ کا ایٹم بہت سی جگہوں پر موجود ہوسکتا ہے اور یہ کہ ہر جگہ یہ ایٹم مواصلات کررہا ہے لہذا سیدنا جبرئیل(ع) اپنے ایٹم کے ایک قطرے،زرد نور، کو آپ کی روح میں داخل فرماتے ہیں جہاں سے وہ سن سکتے ہیں وہ وہاں سے بات کر سکتے ہیں وہ وہاں سے مدد بھیج سکتے ہیں۔ جب پیغمبر اکرمﷺ مدد بھیجتے ہیں تو وہ روح پر یہ غیبی انوارات بھیجتے ہیں۔ انہیں آنے اور جانے کی ضرورت نہیں ہے۔ انہیں یہ ڈھونڈنے کی ضرورت نہیں ہے کہ ذکر کہاں ہورہا ہے وہ یہ جانتے ہیں کہ یہ اہل ذکر ہے۔ ہم اپنے آپ کو اس پر جمع کرتے ہیں۔یہ جہاں بھی جاتا ہے حلقہ ذکر کی مانند ہوتا ہے یہ سیدنا محمد ﷺ کی ​​محبت کو لیے ہوئے ہے۔
السید شیخ نورجان میراحمدی نقشبندی ق
Original Lecture Transcription :
بسم الله الرحمن الرحیم
ا ل م
ذٰلک الکتاب
Alif, is Izza tullah.
Allah azzawwajjal giving a coding for us that now this kitab going to begin to open upon your soul
Laam Ya Rabbi I want them the Laam from your ancient Tongue. The one whom you created to be your tongue for all your realities
Whatever Allah Azzawwajal orders upon that Laam it speaks For Allah azzawwajjal's kun fayakoon and every Angel begins to manifest what the order of Allah Azzawwajal was through the Heart of Prophet SAW Then the Meem comes to explain and prove that
اطیعواللہ الف
اطیعو الرسول is the ل
واولی الامر منکم
They obeyed the Meem of Sayyidina Muhammad
SAW.means they are all at attention in the presence of Sayyidina Muhammad SAW Waiting for His orders.
What Allah AJ orders comes to Prophet SAW From Prophet SAW goes out throughout all creation.
Everything written upon the soul of prophet Muhammad SAW.Awliya Allah they carry Nooral Anwar wa sirral asrar. They carry Noor ul Muhammad SAW means all that light all that reality is upon their light.They don't need any Angel to come and go That Angel is light from light of Prophet Muhammad SAW That Angel merely sets up an office in there, like a mobile phone they put an extension. If Sayyidina Jibrail AS comes he merely puts a portion of his light he doesn't have to be all there he just puts one molecule one atom of his light all his atoms communicate to him in an instant because we don't understand Quantum.They found that your atom can be in many places and everywhere that atom is communicating so sayyidina jibrail As puts one drop of his atom a yellow light in your soul he can hear through there he can speak through there he can send support through there. When Prophet SAW sends support he SAW sends these angelic lights upon the soul. They don't have to come and go. They don't have to keep looking for where the ziker is they know this one he is Ahl e ziker we deposit ourselves upon him wherever he goes he is like circle of ziker he is carrying the love of Sayyidina Muhammad ﷺ!!
Urdu Transliteration:
Bismillahirrah-maa-nirra-him
Alif Laam Meem(Al-Baqarah1)
Zaalikal-kitaaabu(Al-Baqarah2)
Alif Izzatullah ha.Allah AJ hmaray liye aik coding De raha ha ke ab ye kitab Apki Ruh per khulnay wali ha.
Laam, Ya Rabbi mein Apki Qadeem lisaan ul Haq se inn ke liye Laam chahta hun Jin(PBUH) ko Apnay apni tmam haqeeqaton ke liye zuban bnaya ha Allah AJ iss laam per jo bhi hukam naazil fermata ha ye Laam(Lisan ul Haq Sallalahu Alayhi wassallam) Allah AJ ke kun fayakoon se irshad farmata ha aur har farishta Nabi Kareem SAW kw Qalb Mubarik ke zariye Allah AJ ke Hukam ko Munkashif karna shuru deta ha.
Ouskay bad Meem ouski wazahat karne aur ousay saabit karnay ataaa ha.
Ati'ullah :Alif
Wa Ati'ur'rasul:laam ha
Wa Ulil'Amri'Minkum: onhu ne Sayyidina Muhammad ﷺ ke meem ki Ata'at kii.
Iska Matlab ha ke ye sab Sayyidina Muhammad ﷺ ki huzoori mein hama-tan-gosh onn ke Ehkamat ke muntazir hain.Allah AJ Nabi kareem ﷺ ko jo hukam farmata ha Nabi Kareem ﷺ ke zariye saafi Makhlooq mein oud hukam ki tarseel hoti ha sab kuch Nabi kareem ﷺ ki ruh per likha ja chuka ha.
Awliya Allah, ye(Awliya) noorul anwar wa Sirrul Asrar rakhte hain ye Nur e Muhammadi ﷺ rakhte hain Mtlab ye ke wo tamam Nur (Nur e Muhammadi ﷺ) wo saari Haqeeqat(Haqeeqat e Muhammadiyyaﷺ) onkay nur mein Mojood ha Onko. Ksi farishtay ke anay aur janat ki zaroorat nahi ha.wo farishta Nur e Muhammad ﷺ ke Nur se ha ke farishta wahan mehaz aik daftar qaim karta ha wo Mobile phone ki trah aik extension rakhta ha Agr sayyidina Jibrail AS tashreef latay hain tu wo sirf apnay nur ka aik hissa daakhil fermatay hain onkay liye wahan(bazat e khud) mojood rehna zaroori nahi hota!
Wo sirf aik Molecule Apnay Nur ka sirf aik atom daakhil farmatay hain ous se onkay tamam atom fori torr pee onsay rabta kartay hain kyun ke hum quantum ko nahi samajhtay onhu ne tahqeeq ki ke App ka atom bhtt si jaghoo per mojood ho sakta ha aur ye je har jagah ye atom mowaaslat kar raha ha lehaza Jibrail AS Apnay atom ke aik qatray,zard noor ko apni roog mein daakhil farmatay hain jahan se wo sun saktay hain wo wahan se nadad bhej saktay hain.jab Paighambar e Akram ﷺ madad bhejtay hain tu wo ruh per ye gaibi anwaarat bhejte hain Onhein anay aur janay ki zaroorat nahi ha Onhein ye dhoondhay ki zaroorat nahi
Ha ke zikar kaha ho raha ha wo jante hain ke ye Ahl e zikar ha Hum Apnay app ko iss per jama kartay hain ye jahan bhi jata ha Halqa e zikar ki maanid hota ha ye Sayyidina Muhammad ﷺ ki Muhabbat ko liye huay ha.
Watch here:
https://www.youtube.com/watch?v=V6FkLDAG3VI
Source