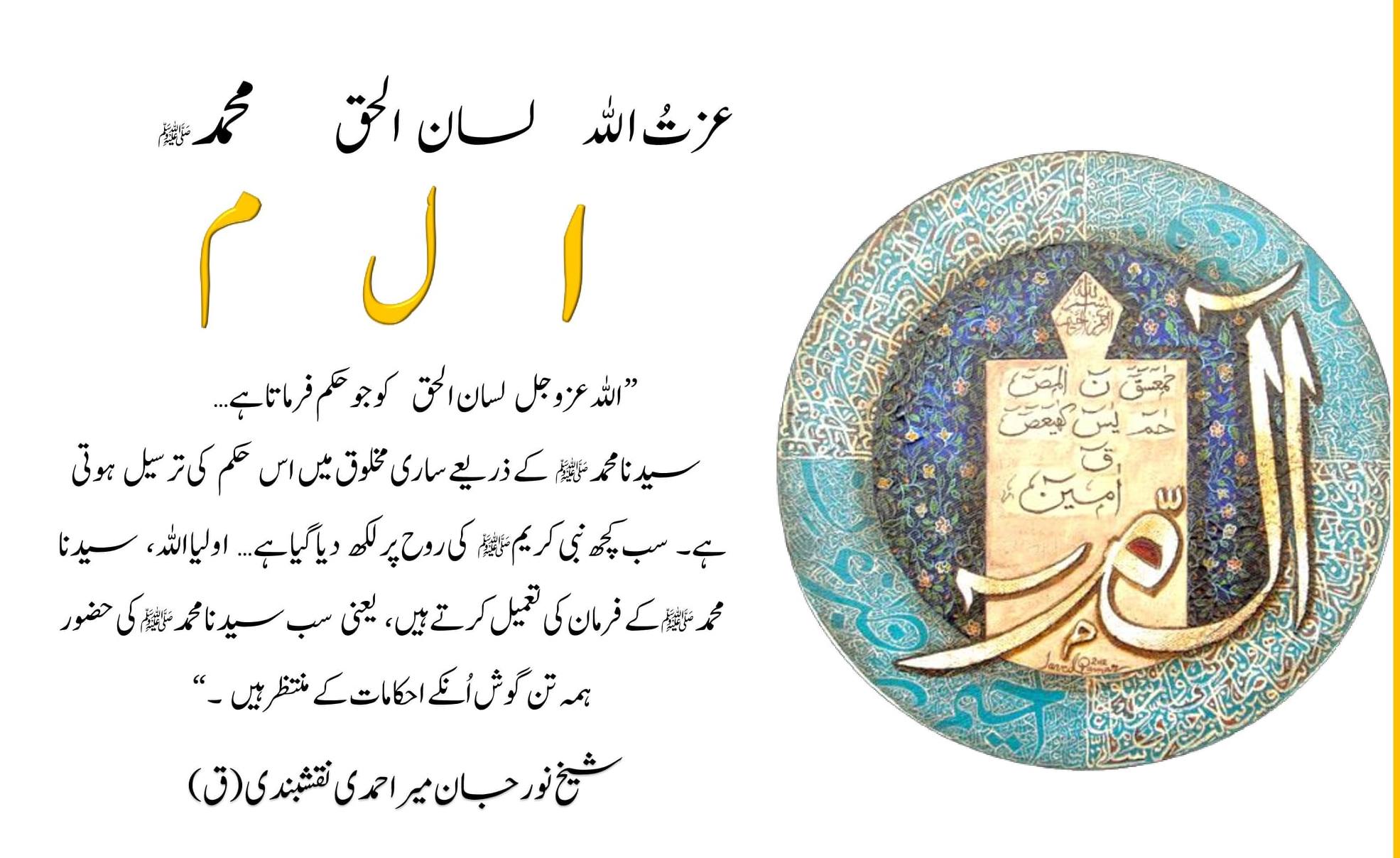 Urdu – Realities of Alif Lam Meem: بِسْمِ اللّٰهِ الرَّحْمٰنِ الرَّحِیْمِ الٓــمٓ (1)…
Realities of Alif Lam Meem:
بِسْمِ اللّٰهِ الرَّحْمٰنِ الرَّحِیْمِ
الٓــمٓ (1) ذٰلِكَ الْكِتَابُ لَا رَيْبَ ۖ فِيْهِ ۚ هُدًى لِّلْمُتَّقِيْنَ (2)
(سورۃ البقرہ)
"الف –عزت الله ہے۔اللہ (عزوجل) ہمارے لئے کوڈنگ )غیبی اشارہ (دے رہا ہے کہ اب یہ کتاب (قرآن مجید) آپکی روح پر آشکار ہونے والی ہے۔ ل (لسان الحق ) ہے۔' اے میرے رب، میں آپکی قدیم لسان الحق سے لام (کی حقیقت ) چاہتا ہوں ، جنھیں ؐآپ نے تمام تر حقیقتوں کے لئےاپنی زبان قرار دیا ہے۔ اللہ عزوجل اس لام پر جو بھی حکم نازل فرماتاہے ، یہ لام(لسان الحق) اللہ عزوجل کے کن فیکون سے ارشاد فرما دیتے ہیں اور ہر فرشتہ اللہ عزوجل کے حکم کو نبی کریم ﷺ کے قلب مبارک کے ذریعے منکشف کرنا شروع کردیتا ہے۔ اس کے بعد میم اس کی وضاحت کرنے اور اسے ثابت کرنے آتا ہے۔
اَطِيْعُوا اللّٰهَ: الف
وَاَطِيْعُوا الرَّسُوْلَ:لام ہے
وَاُولِي الْاَمْرِ مِنْكُمْ:انہوں نے سیدنا محمدﷺ کے میم کی اطاعت کی۔
یعنی یہ سب (اولیا اللہ )سیدنا محمدﷺ کی حضور ہمہ تن گوش اُنکے احکامات کے منتظر ہیں۔ اللہ عزوجل نبی کریمﷺ کو جو حکم فرماتا ہے، نبی کریمﷺ کے ذریعے ساری مخلوق میں اس (حکم) کی ترسیلہوتی ہے۔سب کچھ نبی کریم ﷺ کی روح پر لکھا گیا ہے۔ اولیاء اللہ، 'نورالانوار و سرالاسرار' رکھتے ہیں۔
یہ(اولیاء اکرام اپنے دل میں) نورِ محمدیﷺ رکھتے ہیں یعنی وہ تمام نورِ محمدیﷺ ، وہ ساری حقیقت ان (اولیااللہ) کے نور پر چھائی ہوئی ہے۔ ان کو آنے جانے (رابطہ شریف )کیلئے کسی فرشتہ کی ضرورت نہیں ، وہ فرشتہ (بھی) نبی محمدﷺ کے نور سے ہیں۔ وہ فرشتہ وہاں(اولیااللہ کے قلب میں) محض ایک دفتر قائم کرتا ہے ،وہ موبائل فون کی طرح ایک ایکسٹینشن لگا دیتے ہے۔ اگر سیدنا جبرئیل (ع)تشریف لائیں تو وہ صرف اپنے نور کا ایک حصہ شامل فرماتے ہیں انکے لیے وہاں(بذات خود) موجود رہنا ضروری نہیں ہوتا۔ وہ اپنے نور کا صرف ایک مالیکیول، ایک ایٹم (زرہ ) رکھ جاتے ہیں (جسکے زریعے )اُنکے تمام زرات فوری طور میں ان سے رابطہ رکھتے ہیں
کیونکہ ہم کوانٹم (میکانیات) کو نہیں سمجھتے – انہوں نے (فزکس کے ماہرین نے) دریافت کیا ہے کہ آپ کا ایٹم(زرہ) بہت سی جگہوں پر ایک ہی وقت میں موجود ہو سکتا ہےاور ہر جگہ یہ زرات آپس میں رابطہ رکھتے ہے– چنانچہ سیدنا جبرائیل علیہ السلام اپنے ایٹم کا ایک زرہ ، زرد نور کا ایک قطرہ، آپکی روح میں شامل کر دیتے ہیں ۔ جس کے زریعےوہ سن سکتے ہیں ، وہ وہاں سے بات کرسکتے ہے ، وہ وہاں سے مدد بھیج سکتےہے۔ جب پیغمبر اکرمﷺ مدد بھیجتے ہیں تو وہ روح پر یہ غیبی انوارات بھیجتے ہیں۔
انہیں آنے اور جانے کی ضرورت نہیں ہوتی ۔ انہیں یہ ڈھونڈنے کی ضرورت نہیں ہے کہ ذکر کہاں ہورہا ہے وہ جانتے ہیں کہ یہ والا (بندہ ) اہل ذکر میں سے ہے۔ ہم خود کو اُن کے حوالے کردیتے ہیں ، جہاں بھی وہ ( عاشقِ رسول ) جاتا ہے ، وہ حلقہ ذکر کی مانند ہوتا ہے، وہ سیدنا محمد ﷺکی محبت میں ڈوبا ہو ا ہے۔"
شیخ نورجان میراحمدی نقشبندی (ق)
[Our Translation]
Watch here: https://www.youtube.com/watch?v=0pZmW7prXFU
Alif, is Izza tullah. Allah Azwajal giving a coding for us that now this kitab going to begin to open upon your soul
Laam Ya Rabbi I want them the Laam from your ancient Tongue. The one whom you created to be your tongue for all your realities. Whatever Allah Azwajal orders upon that Laam it speaks For Allah Azwajal's Kun Fayakoon and every Angel begins to manifest what the order of Allah Azwajal was through the Heart of Prophet (s) Then the Meem comes to explain and prove that :
اَطِيْعُوا اللّٰهَ: الف
وَاَطِيْعُوا الرَّسُوْلَ:لام is
وَاُولِي الْاَمْرِ مِنْكُمْ
They obeyed the Meem of Sayyidina Muhammad (s), means they are all at attention in the presence of Sayyidina Muhammad (s) Waiting for His orders. What Allah AJ orders comes to Prophet (s); from Prophet (s) goes out throughout all creation. Everything (is) written upon the soul of prophet Muhammad SAW .
Awliya Allah, they carry Nooral Anwar wa Sirrat al Asrar. They carry Nur al Muhammad (s), means all that light all that reality is upon their light. They don't need any Angel to come and go That Angel is light from light of Prophet Muhammad (s). That Angel merely sets up an office in there, like a mobile phone they put an extension. If Sayyidina Jibrail [AS] comes, he merely puts a portion of his light, he doesn't have to be all there he just puts one molecule one atom of his light, all his atoms communicate to him in an instant because we don't understand Quantum.
They found that your atom can be in many places and everywhere that atom is communicating so Sayyidina Jibrail [As] puts one drop of his atom, a yellow light in your soul he can hear through there, he can speak through there, he can send support through there. When Prophet (s) sends support he (s) sends these angelic lights upon the soul. They don't have to come and go. They don't have to keep looking for where the Zikar is, they know this one he is Ahl-e Zikar, we deposit ourselves upon him wherever he goes he is like circle of Zikar, he is carrying the love of Sayyidina Muhammad (s).
🌷 Sh. Nurjan Mirahmadi Naqshbandi (Q) 🌷