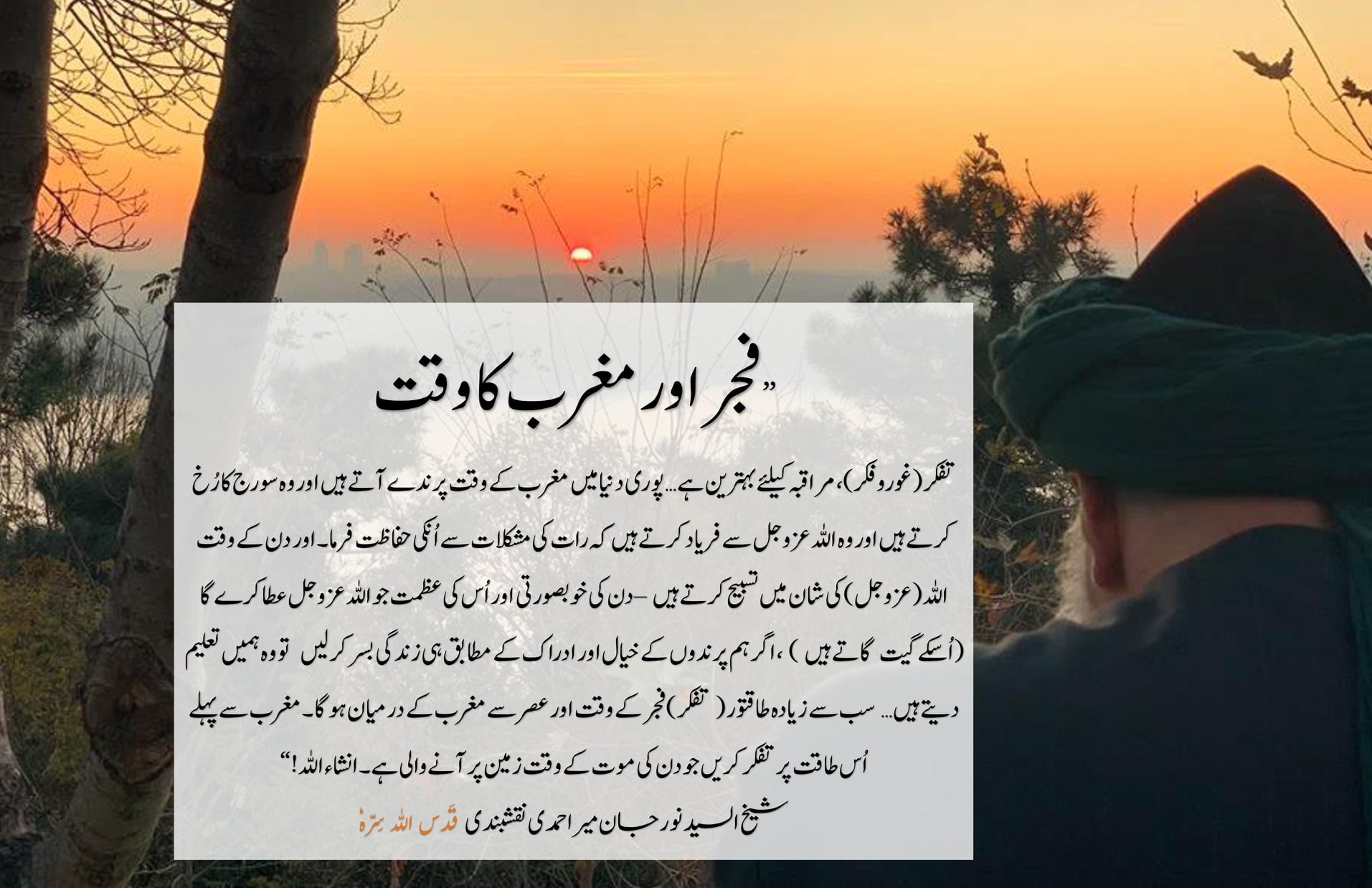 Urdu – Q&A Session with Shaykh Sayed Nurjan qs Q6: Sayidee, if I cannot make taffaku…
?‍♂️ Q&A Session with Shaykh Sayed Nurjan qs
Q6: Sayidee, if I cannot make taffakur after every salah then which salah is best?
سوال6:پیارے سیدی، اگر میں ہرنماز کے بعد تفکر کیلئے وقت نہ نکال
سکوں تو پھر کون سی نماز سب سے بہتر ہے؟
شیخ السید نورجان ق: تمام نمازیں بابرکت ہیں۔ مراقبہ کے لیے سب سے زیادہ طاقتور فجر کا وقت اور مغرب کا وقت ہوگا۔ یعنی فراج اور تہجد کے لمحہ– اور فجر پیدائش ہے، یہ ایک دن کی پیدائش ہے۔ جس میں تاریکی کے تین پردے اٹھائے جاتے ہیں اور نجات اور تخلیق کے لئے برأت ہے۔ جب بندہ تہجد سے فجر تک تفکر میں ہوتا ہے اور سورج کے طلوع ہونے تک (اسی کیفیت میں رہتا ہےتو) ایک زبردست انرجی رواں
ہوتی ہے۔
سَلَامٌ هِيَ حَتَّى مَطْلَعِ الْفَجْرِ
سلام!ساری رات (اللہ کی طرف سے اُس کے مومن بندوں کیلئے سراسر سلامتی اور بھلائی ہے) طلوع فجر تک
سورۃالقدر۔آیت ۵
یعنی اللہ (عزوجل) کی جانب سے سلام ہے جو ارواح کو ڈھانپ رہا ہے اور ہم پہلے بیان کر چکے ہیں کہ اسی وجہ سے اللہ عزوجل (چاہتا ہے ) اور حدیث نبوی ﷺ میں ہے کہ پرندے کی طرح بنو ، اپنے دل میں پرندوں کی طرح محبت رکھو ! اور پرندوں کی صفت یہ ہے کہ وہ ہمیشہ حمدو ذکر کی تسبیح کرتے ہیں۔ اور پرندے کا حمدو ذکر اتنا طاقتور ہے کہ فرشتے پرندوں کو آسمان میں لے جاتے ہیں اور اُڑاتے ہیں۔ کیونکہ کوئی بھی یقین نہیں کرسکتا کہ ان کی اُڑان ہوا کے دوش (ایروڈینامکس) پر ہے جو اصل میں اُنہیں اڑنے کے قابل بناتی ہے کیونکہ بنی نوع انسان نے اس اُڑان کی نقل کرنے کی کوشش کی تھی اور وہ سب ناکام ہوئے۔ آپ اپنے بازوؤں کو حرکت دیں اور دیکھیں آیا کہ اللہ عزوجل آپ کو اُڑنے دے گا؟…نہیں ، لیکن تمہیں پتہ ہے کہ تمہیں بازوؤں کو حرکت دینا ہوگی ، اگر تم نیک ہوئے اور اللہ (عزوجل ) تم میں اخلاص پائیں تو تمہاری روح ہر طرف اڑ جاتی(پرواز کرتی) ہے۔
لہذا ، پرندوں کی طرح بن جاؤ اور اللہ (عزوجل) کا ذکر کرو۔ یہاں تک کہ فاختہ کا ذکر– کووو– کوووو–وہ کیا تھا؟ آیت القرآن جہاں اللہ (عزوجل) فرماتا ہے: فَاذْكُرُونِي أَذْكُرْكُمْ سو تم میرا ذکر کرو، میں بھی تمہیں یاد کروں گا۔
فَاذْكُرُونِي أَذْكُرْكُمْ وَاشْكُرُوا لِي وَلَا تَكْفُرُونِ
سو تم میرا ذکر کرو، میں بھی تمہیں یاد کروں گا، میری شکر گزاری کرو اور ناشکری سے بچو۔
سورۃالبقرۃ۔آیت ۱۵۲
مولانا شیخ فرماتے ہیں ، مولانا شیخ ناظم(قدس الله سره) فرماتے ہیں ، ایک فاختہ کا ذکر (آیت الکریم) ہے اور اس زمین پر فاختہ کیوں امن کی علامت سمجھی جاتی ہے کیونکہ یہ درحقیقت آیت الکریم کی تلاوت کررہی ہے، انسان کو اللہ عزوجل کا حکم یاد دلانے کیلئے– میرا ذکر کرو اور میں تمہیں ایک اعلی مقام پر یاد کرتا ہوں– اور یہ آیت فاختہ کا ذکر ہے۔ لہذا ، ان تمام پرندوں کے ذکر میں مختلف راز ہیں لیکن ان کی خصوصیات، نبی کریم ﷺ نے فرمایا کہ اس(پرندوں کی) طرح بن جاؤ، سارا دن وہ ذکر کرتے رہتے ہیں اور اس کے نتیجے میں وہ اُڑ رہے ہیں اور بندہ بھی اپنی روح کے زریعے اڑ سکتا ہے۔ اسے اُڑنے کیلئے ، جسم کی ضرورت نہیں، ورنہ پھر وہ جادوگر دکھائی دیں گے کیونکہ ایسے جعلی لوگ ہیں جو یہ دکھاوا کرتے ہیں کہ وہ ہوا میں اڑ رہے ہیں لیکن دھات کے ٹکڑے کے زریعے ، جسے وہ اپنی بازوکے سہارے رکھتے ہیں۔ ہاں ، کیونکہ وہ اللہ عزوجل کا ذکر نہیں کرتے ، لہذا ذکر کے ذریعہ(دریافت) کریں۔ ذکر کیجئے ، اللہ عزوجل کی حمدوثناء پڑھتے رہیں۔ اُنکا دل ہے جو اتنا طاقتور ہے اور ذہن ہے۔ تم نے ذہن سے جنگ کر کے اسے ہرایا ہے۔ کیونکہ پرندہ کبھی نہیں سوچتا اوہ میرے خدا ، میں فضا میں پانچ ہزار فٹ اوپر ہوں اور میں ابھی مر جاؤں گا۔ خدا مجھے بھول گیا ہے۔ وہ اللہ (عزوجل) پر مکمل توکل رکھتا ہے۔ خود کو ذکر میں مصروف رکھتا ہے اور اس کے نتیجے میں وہ اڑ رہا ہے۔
تو، پھر پرندے سب سے زیادہ کس وقت گاتے ہیں ؟ اگر فجر میں (اُن کی آواز) آئے تو اُنہوں نے ( تم سے پہلے اُٹھ کر ) تمہیں چِت کردیا ۔ سیدنا ابوبکرصدیق علیہ السلام نےفرمایا: اگر میں پرندوں کی آواز سُنوں تو جان لیتا ہوں کہ فجر گزر چکی۔ وہ پرندوں سے پہلے جاگنے کی کوشش کرتے ہیں۔ پرندے فجر کے وقت انہیں یاد دلاتے اور تلاوت کرتے ہیں۔ اور جب پرندے دوبارہ تلاوت کریں تو وقتِ مغرب ہوا چاہتا ہے۔ یہاں برنابی( کینیڈا) میں دس ہزار کوے ہیں– وہ خوفناک جگہ ہے جسکا آپ تصور کرسکتے ہیں–شاید دس ہزار سے زیادہ ہیں۔ لیکن یہ ایک علامت ہے اور پوری دنیا میں مغرب کے وقت پرندے آتے ہیں اور وہ سورج کا رُخ کرتے ہیں اور وہ اللہ عزوجل سے فریاد کرتے ہیں کہ رات کی مشکلات سے اُنکی حفاظت فرما ۔ اور دن کے وقت اللہ (عزوجل) کی شان میں تسبیح کرتے ہیں دن کی خوبصورتی اور اُس کی عظمت جو اللہ عزوجل عطا کرے گا (اُس کے گیت گاتے ہیں ) ۔اگر ہم پرندوں کے خیال اور ادراک کے مطابق ہی زندگی بسر کرلیں ۔ وہ ہمیں تعلیم دیتے ہیں۔ لہذا سب سے زیادہ طاقتور(غوروفکر) فجر کے وقت اور عصر سے مغرب کے درمیان ہوگا۔ مغرب سے پہلے اُس طاقت پر تفکر کریں جو دن کی موت کے وقت زمین پر آنے والی ہے۔ ان شاء اللہ۔
کے وقت زمین پر آنے والی ہے۔ انشاء اللہ۔
Q6: Sayidee, if I cannot make taffakur after every salah then which salah is best?
Shaykh Sayed Nurjan (qs): All the salahs are blessed, so the meditation will be most powerful at Fajr time and Maghrib time. Means that this moment of Faraj and tahajjud and Fajr is a birth, is a birth of a day. In which three veils of darkness are being lifted and there is a Najat and a salvation for creation. When the servant is in taffakur from tahajjud to Fajr, all the way o the rising of the sun, there is a tremendous energy that being released. Salaamun hiya hattaa mat la'il fajr.
سَلَامٌ هِيَ حَتَّى مَطْلَعِ الْفَجْرِ
Peace! (All that night, there is Peace and Goodness from Allah to His believing slaves) until the appearance of dawn. [97:5]
Means that there's a Salam form Allah (AJ) that dressing the souls and that's why Allah (AJ), we said in the talk before, be like a bird, have love in your heart like a bird, the hadith of Prophet ﷺ and the attribute of a bird is he's always in praising and zikr. And the praising and the zikr of the bird is so powerful that the angels carry the bird into the sky and fly. Cause nobody could believe that it's the aerodynamics of their movement that actually making them to fly cause mankind tried to copy that and they all crashed. You move your arms too see if Allah will let you fly….no, but you know you have to move your arms, if your pious and Allah (AJ) finds sincerity within, your soul flies everywhere. So, be like the birds and make the zikr of Allah (AJ). So, even the dove's zikr coo-OO-ooo, coo-OO-oo, what was that when the Ayat al-Quran where Allah (AJ) said remember me and I remember you. (a voice from the audience says Wushkurro), Washkurro yeah.
فَٱذْكُرُونِىٓ أَذْكُرْكُمْ وَٱشْكُرُوا۟ لِى وَلَا تَكْفُرُونِ
Fazkurooneee azkurkum washkuroo lee wa laa takfuroon.
Then do ye remember Me; I will remember you. Be grateful to Me, and reject not Faith. [2:152]
Mawlana Shaykh said Shaykh Nazim said, the zikr of a dove and why this earth thinks the dove is a symbol of peace because it's actually reciting Ayat al-Kareem, to remind Insan what Allah asked, remember me and I remember you in a higher place and that is the zikr of the dove. So, the zikr of all these birds are all of different secrets but their characteristics Prophet ﷺ said be like that, that all day long they are making zikr and as a result they are flying and the servant also can fly with his soul. He doesn't need his body to fly and then be look like a magician cause they have the fake ones that pretend like they're flying in the air but there's a piece of metal they're controlling around into their sleeve. yeah, cause they can't do the zikr of Allah (AJ), so do it through zikr, that you make your zikr, praising upon Allah (AJ) they have a heart which is so powerful and the mind that is, you've battled your mind to shut it off cause the bird never thinks Oh my God, I'm five thousand feet in the air and I'm gonna die right now, cause God forgot me, it has complete reliance on Allah (AJ) and busy itself with the zikr and he's flying as a result.
So, then when did the bird sing the most, if they came a Fajr, they beat you. So, Sayyidina Abu Bakr Siddique said that if I hear the birds, I know that Fajr is already taken place. they try to get up before birds, the birds are reminding them and reciting at Fajr time and when did they birds recite again, is Maghrib time. Here's ten thousand crows in the Burnaby, is the scariest site you can imagine, maybe more than ten thousand but it's a sign and all over the world that Maghrib time, the birds all come and they face the sun and they start praising crying unto Allah (AJ) to protect and through the difficulty of nighttime and the daytime they praise Allah (AJ) for this beatific day and the glory of what Allah (AJ) is about to bestow upon them. So, if we live a life just following the idea and the understanding of even the birds, they're teaching us. So, most powerful will be the Fajr and the Asr to Maghrib. So right before Maghrib they meditating on the power that's coming unto this earth at the death of the day. Insha'Allah.