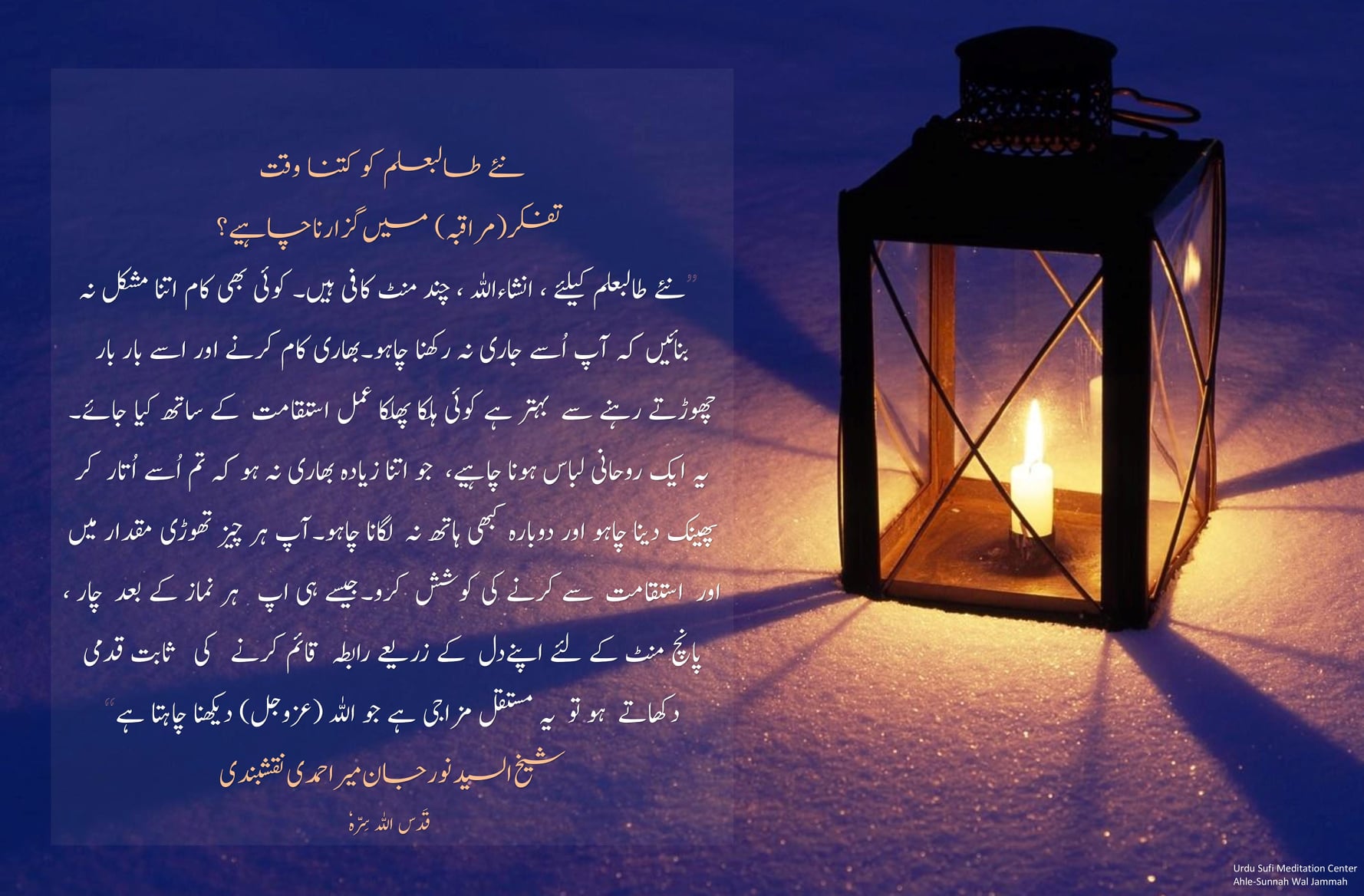 Urdu – Q&A Session with Shaykh Sayed Nurjan qs Q5: For a beginner what is the good a…
?‍♂️ Q&A Session with Shaykh Sayed Nurjan qs
Q5: For a beginner what is the good amount of time to make taffakur, how long should we…..?
سوال5: ایک نئے طالبعلم کو کتنا وقت تفکر میں گزرانا چاہیے ؟
شیخ السید نورجان ق: نئے طالبعلم کیلئے ، ان شاءاللہ ، چند منٹ کافی ہیں۔کوئی بھی کام اتنا مشکل نہ بنائیں کہ آپ اُسے جاری نہ رکھنا چاہو۔ بھاری کام کرنے اور اسے بار بار چھوڑتے رہنے سے بہتر ہے کوئی ہلکا پھلکا عمل استقامت کے ساتھ کیا جائے ۔ یہ ایک روحانی لباس ہونا چاہیے، جو اتنا زیادہ بھاری نہ ہو کہ تم اُسے اُتار کر پھینک دینا چاہو اور دوبارہ کبھی ہاتھ نہ لگانا چاہو۔آپ ہر چیز تھوڑی مقدار میں اور استقامت سے کرنے کی کوشش کرو ۔ جیسے ہی اپ ہر نماز کے بعد چار ، پانچ منٹ کے لئے اپنےدل کے زریعے رابطہ قائم کرنے کی ثابت قدمی دکھاتے ہو تو یہ مستقل مزاجی ہے جو اللہ (عزوجل) دیکھنا چاہتا ہے ۔
ساری نماز دراصل تفکر کے حقائق ہیں۔ کیونکہ نماز وہ واحد ذریعہ ہے جو مقدس قبلہ(کعبہ)تک پہنچاتا ہے، نماز میں آپ وہ سب عمل کر رہے ہو جس کا اسلام حکم دیتاہے۔آپ کو شہادت دینی ہوتی ہے ، آپ کو اپنی طہارت قائم کرنا ہوتی ہے ، آپ کو اپنی زکوٰۃ دینی ہے –کیونکہ آپ(نماز میں ) سب کچھ روک دیتے ہیں ، مولانا شیخ (ق) کی تعلیم ہے کہ آپ کام روک کر نماز ادا کرتے ہو تو یہ زکوٰۃ ہے، آپ صدقہ دے رہے ہو ، جیسے ہی تم رکتے ہو اور نماز کیلئے آدھا گھنٹہ صرف کرتے ہو ، آپ(بجائے نماز کے ) کام بھی کر سکتے ہیں اور رقم کما سکتے ہیں (چونکہ تم کمانے سے رُک گئے تو ) یہ وقت زکوۃ تصور کیا جائے گا۔ اور( نماز میں ) آپ روزے کی حالت میں ہوتے ہیں کیونکہ آپ نماز کے دوران کھا نہیں سکتے اور یہ اللہ (عزوجل) کے کعبہ کی زیارت ہے اسلیے کہ آپکو کعبہ کی طرف رُخ کر کے نماز پڑھنی ہے ۔ تو ، آپ کی اس ایک نماز میں اسلام کے سارے رُکن آگئے۔ لہذا، ساری نماز تفکر اور اسکی حقیقت ہے۔یعنی پھر یہ ہمارے عقیدے کا ایک اصول ہے ، سارے عقیدے کی بنیاد ہے اور اپنے دل کا رابطہ کیسے قائم کریں ، کیسے ناچیز بنیں ، کیسے اپنی نماز پڑھیں اور اپنا دل جوڑیں–میں کچھ نہیں ہوں ، میں ناچیز ہوں ، اے میرے رب ، مجھے مقدس کعبے کی (روحانی) زیارت نصیب فرمائیں۔ مجھے اس کعبے میں دعائیں مانگنے دیں کہ میں کچھ نہیں ہوں اور مجھے نبیین ، صدیقیین ، شہدا و صالحین کی صحبت عنایت کیجئے۔ اور آپ نےفرمایا ہے کہ یہ بہترین صحبت ہے۔ آپ نماز میں جو کلمات ادا کر رہے ہیں ، ان الفاظ پربھی تفکر کیجئے– السَّلَامُ عَلَیْکَ اَیُّھَا النَّبِیُّ– کیا آپ نے نبی ﷺکو دیکھا؟ آپ اپنی التحیات میں سلام پیش کر رہے ہیں، السَّلَامُ عَلَیْکَ اَیُّھَا النَّبِیُّ ۔ لہذا ، اسکا مطلب ہےکہ نبی کریم ﷺ کا چہرہ انور( آپکے سامنے ہے) ، نہ کہ اُنکے سر کی پشت کیونکہ اللہ (عزوجل) تمہیں نماز میں تلاوت کے لئے ایسے الفاظ نہ دیتا ، جو بےادبی میں شمار ہوں۔ بہترین ادب ہونا لازم ہے۔ تو ، پھر اللہ (عزوجل)فرما رہا ہے کہ کیسےتم تلاوت کرتے ہو لیکن یہ بھی نہیں سمجھتے کہ آپ کیا بول رہے ہو؟ لہذا ، آپ التحیات میں جب السَّلَامُ عَلَیْکَ اَیُّھَا النَّبِیُّ کہہ رہے ہوتے ہو تو نبی کریم ﷺ ہمیشہ اپنی امت کی طرف اُنکی نماز دیکھ رہے ہیں–ہمیشہ! اب اگر تم پیغمبرﷺ کو نہیں دیکھ سکتے تو یہ تمہارا مسئلہ ہے۔ لیکن جان لو کہ رسول اللہ ﷺ تمہیں دیکھتے ہیں ۔اور اللہ (عزوجل) آپ کو فعل حال میں سلام پیش کرنے کی تلقین کرتا ہے ، نہ کہ ماضی میں ۔ اسلام علیکم نہیں، بلکہ السَّلَامُ عَلَیْکَ اَیُّھَا النَّبِیُّ یا سیدی ، یا رسول اللہﷺ ۔ اور اَلسَّلَامُ عَلَیْنَا وَعَلٰی عِبَادِ اللّٰہِ الصَّالِحِیْنَ کیونکہ شاید کچھ لوگ حاضر ہوں اور شاید اُس سطح پر بہت سارے (ارواح) موجود نہ ہوں۔ لیکن اللہ (عزو جل) یہ چاہتا کہ تم جان لو عباد اللہ الصالحین بھی تمہارے سامنےہیں۔ وہ کب تمہارےسامنے سے ہٹیں گے؟ اگر اللہ عزوجل وقت کے دائرے سے باہر ہے اور تمہیں حکم دیا گیا ہے کہ تم دن میں پانچ بار نماز ادا کرو تاکہ سارا یوم ( میں عبادت ) ہو جائے، تو تو ایسا کون سا وقت ہے جس میں رسول اللہﷺ سامنے نہیں ؟؟ آپکی روح ہمیشہ سیدنا محمدﷺ کے حضور موجود ہے۔ وہ ہمیشہ نبی کریم ﷺ کے سامنے رہتی ہے اور عباد اللہ الصالحین ہمیشہ آپکے سامنے ہوتے ہیں۔ آپ ابھی نہیں دیکھ پارہے ۔ لہذا ، یہ ایسی چیز نہیں ہے جو لوگ اپنے سے گھڑ لیتے ہیں ، یہ ہمارے سب سے بنیادی اصول ، نماز، کے الفاظ ہیں۔ نبی ﷺ کا فرمان ہے کہ اگر تم نماز نہیں پڑھتےتو تم اپنے عقیدے سے باہر ہو جاتے ہو۔ تو یہ ہمارے پورے وجود کی بنیاد ہے۔ لیکن جب ہم نماز پڑھتے ہیں تو ہم سچ میں اس کے بارے میں نہیں سوچتے کہ ہم کیا بول رہے ہیں۔
تو ، ایک(بات ) یہ ہے کہ اوہ میرے خدایا!،اے میرے رب میں نبی کریم ﷺکے سامنے ہوں اور یہ میں نہیں دیکھ پا رہا اور نہ ہی مجھے یہ محسوس ہورہا ہے۔ اور عباد اللہ الصالحین یہ ساری نیک ارواح مجھے تَک رہی ہیں۔ اللہ عزوجل کیوں چاہتا ہے کہ رسول ﷺ نماز میں آپکی روح پر نظر رکھیں ؟ اور کیوں عباد اللہ الصالحین اور تمام نیک ارواح (تمہاری روح پر نظر رکھیں) تاکہ رسول کریم ﷺ کی نظر اپنی اُمت پر ہو اور یہ کہ اُنکی نمازیں آپ ﷺ کی نظرِکرم کے بغیر کچھ وقعت نہیں رکھتیں۔ کیونکہ وہ عظیم شفاعت کرنے والے ہیں۔ جب ہماری روحیں نماز قائم کریں تو نبی کریم ﷺ ضرور اُس نماز پر نگاہ رکھتے ہیں۔ اور اسی وجہ سے نبی کریم ﷺ کا فرمان ہے کہ اگر میری امت کا عمل مجھے پیش کیا جاتا ہے تو اگر یہ عمل اچھا ہے تو میں الحمد للہ کہتا ہوں ، اگر یہ عمل برا ہے تو میں دعا مانگتا ہوں ، اے میرے رب، استغفراللہ۔ وہ ﷺ معافی مانگتے ہیں ۔ لہذا ، نبیﷺ ضامن ہیں ۔ آنحضور ﷺ کی نظرِ مبارک انکی(اُمت کی ) نماز پاک و صاف کرتی ہے اور پاک اور طاہر کی ہوئی (نماز) اللہ عزوجل کی بارگاہ میں پیش کرتی ہے ۔ یہ مخلوق اور بارگاہ الہی میں داخلے کے درمیان ایک پردہ ہے۔ ہم یہ سمجھ نہیں سکتے ، جب تک ہم ٹھہر کر اور غور و فکر نہ کریں –اسے مراقبہ ،تفکر ، غور و فکر یا کوئی بھی نام دو– (غور و فکر کرنا )کہ یہ الفاظ کیا ہیں جو میں(نماز میں )بول رہا ہوں؟ یہ کیا ہے جو میں حاصل کرنے کی کوشش کر رہا ہوں ؟ میرے وجود کی حقیقت میں کیا ہو رہا ہے ؟ ان شاء اللہ۔
Q5: For a beginner what is the good amount of time to make taffakur, how long should we…..?
Shaykh Nurjan (qs): For a beginner, Insha'Allah, it's a few minutes, that don't make something so heavy that you just don't want to continue it. To do something light and consistent is better than to do something heavy and keep dropping it. That it has to be a spiritual dress in which not so heavy, you want to dump it and never do it again, you try to do everything light and consistent. So that consistency is what Allah (AJ) is looking for and as soon as you're consistent in that amount of four, five minutes after every salah connecting your heart. The whole of salah is the realities of taffakur cause the salah is the means in which to reach to the holy Ka'ba that you're doing all of what Islam had prescribed to you in the salah. You have to do your Shahadah, you have to do your washing, you have to do your zakat because you stoping everything, Mawlana Shaykh's teaching you stopping from working so that's a zakat. You're giving charity, as soon as you stop and take a half hour of salah, you could be working and making money, that's considered a zakat at that time. And you are fasting cause you can't eat during your salah and it's a pilgrimage to Allah (AJ)'s Ka'ba cause you have to face the direction of the Ka'ba. So, you have all of Islam in that one salah. So, the taffakur and its reality is all the salah. So, means then this is a principle of our belief the entire foundation of the belief and how to connect your heart, how to be nothing, how to make your salah and connecting your heart, I'm nothing, I'm nothing, Ya Rabbi let me to be at the holy Ka'ba. Let me to be praying at that Ka'ba that I'm nothing and let me be with the Nabiyeen, Sidiqeen, Shuhadah hi wa Saliheen and you said these are the best of company. You make taffakur on the words of what you're saying in your salah. Assalamu Alaika ayyuhan Nabi, did you see Prophet ﷺ. You're making a salam in your tahiyaat, Assalamu Alaika ayyuhan Nabi. So, means Prophet ﷺ's head, his back of his head is not facing you because Allah (AJ) wouldn't give you words to recite that would be be-adab. It has to be the best of adab. So, then Allah (AJ) saying how come you recite but you don't even understand what you're saying. So, you're saying in tahiyaat Assalamu Alaika ayyuhan Nabi, so, Prophet ﷺ must be always looking at his nation in their salah, always. Now if you don't see Prophet ﷺ this is your problem but to know Prophet ﷺ sees you and that Allah (AJ) is making you to give your greetings in present tense, not past tense, not Salamu Alaikum, السَّلَامُ عَلَیْکَ اَیُّھَا النَّبِیُّ Ya Sayidee, Ya Rasool Allah and اَلسَّلَامُ عَلَیْنَا وَعَلٰی عِبَادِ اللّٰہِ الصَّالِحِیْنَ, cause some maybe present and many may not be present at that level. But even Allah (AJ) wants you to know that IbadAllah his Saliheen are also facing you. When do they stop facing you? If Allah has not time and has asked you to pray five times a day to cover your whole youm, your whole day. When is it a time in which Prophet ﷺ is not facing you? Your soul is always in the presence of Sayyidina Muhammad ﷺ. It's always facing Prophet ﷺ and IbadAllah his Saliheen are always facing you. Now you don't see it. so, this is not something people make up, it's in the words of our most basic asool, is a salah. Prophet ﷺ say if you don't make salah you're outside of your belief. So, it's the foundation of our entire being. o, one is that Oh my gosh, Ya Rabbi I'm facing Prophet ﷺ and I don't see it and I don't feel it and IbadAllah his Saliheen that all of these pious souls they're staring at me. Why Allah wants Prophet ﷺ to be staring at your soul in your namaz and why IbadAllah his Saliheen and all the pious souls. So, that the nazar of Prophet ﷺ to be on his nation. That they're going to pray and their prayer counts as nothing without you watching them because he is a great intercessor that when our souls are praying, the nazar of Prophet ﷺ must be watching that salah and that's why Prophet ﷺ said if my nations amal is presented to me, if it's good I say Alhamdulillah, if it's bad I ask, Ya Rabbi Astagfirullah. He asks for forgiveness. So, the Prophet ﷺ responsible, the nazar is responsible upon their salah to clean and to wash it and to present it to Allah (AJ) pure and purified. It's like a pardeh between creation and entering into the divinely presence. We don't understand that until we understood meditation, taffakur, contemplation, whatever it is that we want to call it in which you stop and contemplate. What are these words that I'm saying, what is it that I'm trying to achieve, what's happening in the reality of my being, Insha'Allah.