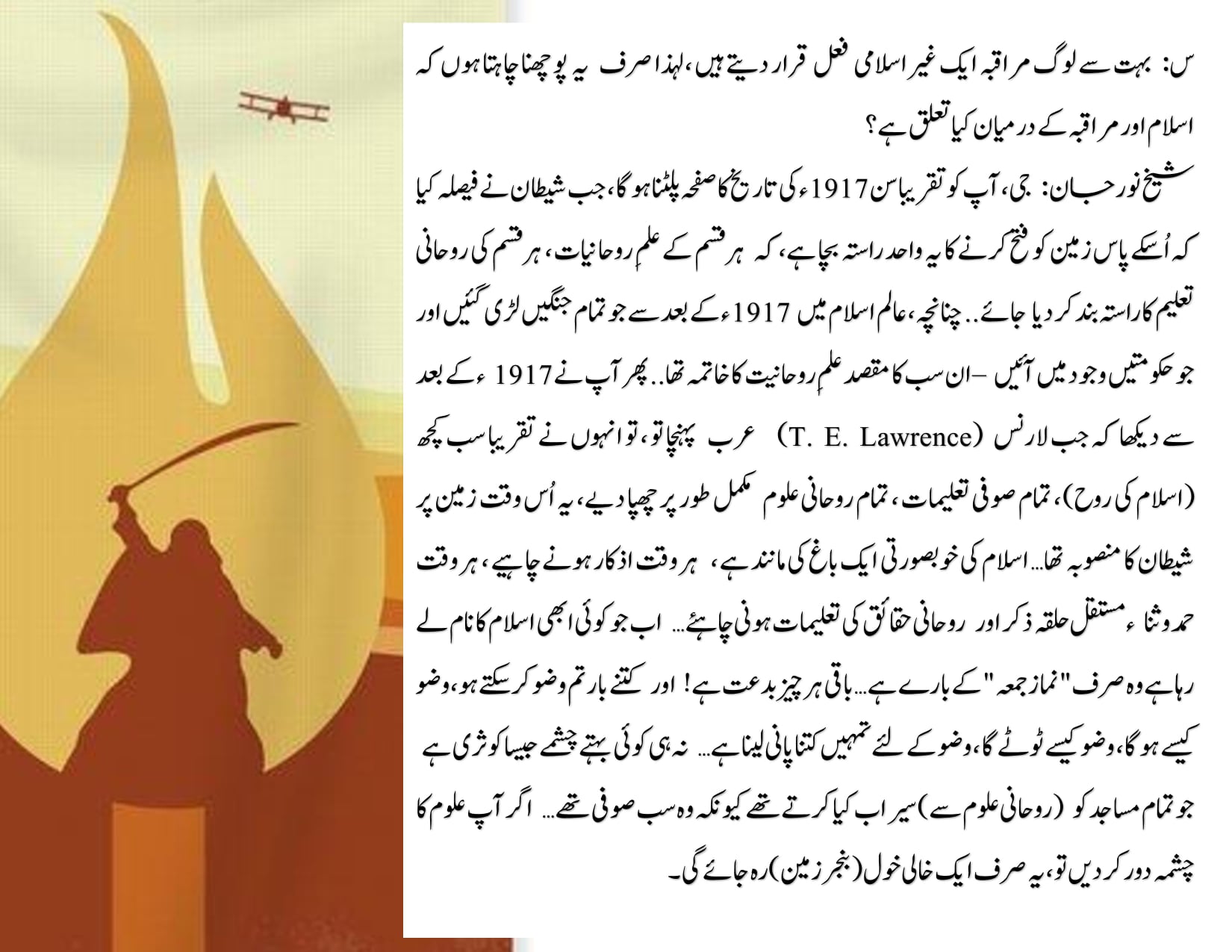 Urdu – Q&A Session with Sh. Nurjan Mirahmadi Naqshbandi Q Q4:…a lot of people relat…
🧙‍♂️ Q&A Session with Sh. Nurjan Mirahmadi Naqshbandi Q
Q4:…a lot of people relate meditation to non-Islamic practices, so just wanted to know what is the connection between Islam and meditation?
س نمبر4 :"بہت سے لوگ مراقبہ ایک غیراسلامی فعل قرار دیتے ہیں ،
لہذا صرف یہ پو چھنا چاہتا ہوں کہ اسلام اور مراقبہ کے درمیان کیا تعلق ہے؟
شیخ نورجان ق : جی، آپ کو تقریبا سن 1917 ء کی تاریخ کا صفحہ پلٹنا ہوگا ، جب شیطان نے فیصلہ کیا کہ اُسکے پاس زمین کو فتح کرنے کا واحد راستہ بچا ہے، جس سے واقعی وہ زمین کو فتح کر سکتا ہے کہ کسی بھی قسم کے علمِ روحانیات ، کسی بھی قسم کی روحانی تعلیم کا راستہ بند کر دیا جائے، ہر جانب سے (اِسے)ختم کردیا جائے۔ چنانچہ ، عالم اسلام میں 1917 ء کے بعد سے جو تمام جنگیں لڑی گئیں اور جو حکومتیں وجود میں آئیں – ان سب کا مقصد علمِ روحانیت کا خاتمہ تھا، یہاں تک کہ مارشل آرٹس کے اندر تمام روحانیت ، جو سب حقیقی روحانیت سے لیا گیا، اُس پر پردہ ڈال دیا گیا۔شیطان کسی بھی طرح کے روحانی عمل کو چھپا دینا چاہتا تھا۔ لہذا ، پھر آپ نے 1917 ء کے بعد سے دیکھا کہ جب لارنس عرب پہنچا تو ، تو انہوں نے تقریبا سب کچھ ، تمام صوفی تعلیمات ، تمام روحانی تعلیمات کو مکمل طور پر چھپا دیا۔ تو آسان الفاط میں ، یہ اُس وقت زمین پر شیطان کا منصوبہ تھا۔ اس نے تمام روحانی تعلیمات کو چھپا دیا ، تاکہ تم روح کو نکال دو اور ایک خول چھوڑ دو تاکہ وہ مذہبی علوم صرف خالی روایات بن جائیں۔ خالی مشقوں کے نتیجے میں لوگ اب جو کچھ بھی کرتے ہیں اس میں کوئی روحانی حقیقت نہیں بچتی۔ لہذا ، جب وہ (عالم) بات کرتے ہیں تو ان میں روح نہیں ہوتی ، محبت نہیں ہوتی ، اس میں کوئی لطف نہیں ہوتا ، وہ اسلام کے بارے میں نہایت ہی خشک مزاجی سے، گھما پھرا کر (الجھا کر) مذہبی اعمال پر گفتگو کرتے ہیں گویا وہ عمل اندر سے خالی ہے اور جو کوئی ابھی اسلام کا نام لے رہا ہے وہ صرف "نماز جمعہ" کے بارے ہے۔ ہم مسلمانوں سے پوچھتے ہیں کہ آپ اپنے اسلام کے لئے کیا کرتے ہیں ؟ وہ کہتے ہیں کہ ہم نماز جمعہ پڑھنے جاتے ہیں اور اور کیا کریں؟… تمہارا کیا مطلب ہے کہ اور کیا؟ ہر چیز بدعت ہے!!! آپ کس بارے بات کر رہے ہیں ، ہماری تو ساری زندگی اسلام ہے ۔ اسلام کی خوبصورتی ایک باغ کی مانند ہے ، ہر وقت اذکار ہونے چاہیے ، ہر وقت حمدوثنا٫، مستقل حلقہ ذکر اور حلقہ درود اور حقائق کی تعلیمات ہونی چاہئے –لیکن اگر ان طریقوں پر عمل کرنے والا کوئی نہیں ہے تو یقینا کوئی حقیقت نہیں ہے اسی وجہ سے وہ فقہ کی بات کرتے رہتے ہیں ، کتنے بار تم وضو کر سکتے ہو،وضو کیسے ہوگا، وضو کیسے ٹوٹے گا ، وضو کے لئے تمہیں کتنا پانی لینا ہے ، پانی کو…. (شیخ نورجان ہنس پڑے 🙂 اب بھی پاکستان میں کچھ چینلز ایسے ہیں ، وہ سارا دن اسی پر بات کرتے رہتے ہیں ، دن میں 24 گھنٹے بات کرتے ہیں لیکن کوئی حقائق نہیں ہوتے۔ تو ، وہ کس بارے بات کرتے ہیں؟، سنت کے مطابق کیلا کیسے چھیلنا ہے میرے خیال میں عرب میں اس وقت کیلے موجود نہیں تھے! لہذا ، اس کا مطلب ہے کہ (بدعت ) وہ بنا رہے ہیں… لہذا ، ہم حقیقت پر بات نہیں کرسکتے اور نہ ہی کوئی حقائق ہیں اور نہ ہی کوئی بہتے چشمے جیسا کوثر ہے جو تمام مساجد کو بہہ کر ڈھانپا کرتا تھا کیونکہ وہ سب صوفی تھے۔ یہ وہ چشمے تھے جن میں اللہ (عزوجل) کے علوم بہہ رہےترھے ، وہ اپنے ذکر کرتے ، ان کے حلقہ ، ان کی تعلیمات اور ان کے سبھی طریقوں پر عمل پیرا ہوتے۔ اگر آپ علوم کا چشمہ دور کردیں تو ، یہ صرف ایک خالی خول (بنجر زمین) رہ جائے گی۔
Shaykh Nurjan (Q): Yeah, you have you go back into about 1917 shaytan decided that his only way he is going to conquer this earth, truly conquer this earth was to take away any type of ruhani teaching, any type of spiritual teaching, through all dimensions. So, the Islamic world from 1917 all the wars and all the governments that were put into place took away all spirituality, even within martial arts, all spirituality, everything was taken of real spirituality was hidden. Shaytan wanted to hide everything of any type of spiritual practice. So, then you look from 1917 pretty much everything, by the time Lawrence arrived in Arabia, they completely hid all the Sufi teachings, all of the spiritual teachings. So, very simple at the time on earth that's what shaytan's plan was. He hid all spiritual teachings, so that you take the soul out of it and leave a shell so they just became empty practices. As a result of empty practices there is no spirit in anything people do now. So, when they talk there is no spirit in them, there is no love, there is no enjoyment in it. They talk about Islam in a very dry sort of manipulated or understood practice as if it's empty and all that is reaming of Islam right now is Jummah. We ask Muslim what do you do for Islam, says we go for Jummah and what else…what do you mean what else, everything is bidah (everyone laughs) what are you talking about, our life was supposed to be Islam. The beauty of Islam is like a garden, there should be continuous dhikr, continuous praising, continuous halaqas and circles and teachings of reality but if there is nobody practicing these practices, there is definitely no reality that's why they keep talking about fiqh, how many times you can make wudhu, how is wudhu going to be good, how wudhu is going to be bad, how much water you are to have for the wudhu, what negates the water of….(the shaykh laughs). Even now there are now some channels in Pakistan, they talk all day long ,24 hours a day but no haqaiq. So, now what do they talk about, how to peel a banana according to the sunnah which I don't think there were any bananas at that time In Arabia. So, means they're making…so, we can't talk reality and there is no haqaiq and there is no abundant fountain like a flowing fountain of the kawthar that used to dress all of the masjids because they were all sufi. Those were fountains in which Allah (AJ) was flowing of knowledges, they would their dhikrs, their halaqas, their teachings and all of their practices. If you take the fountain away, it's just an empty shell.