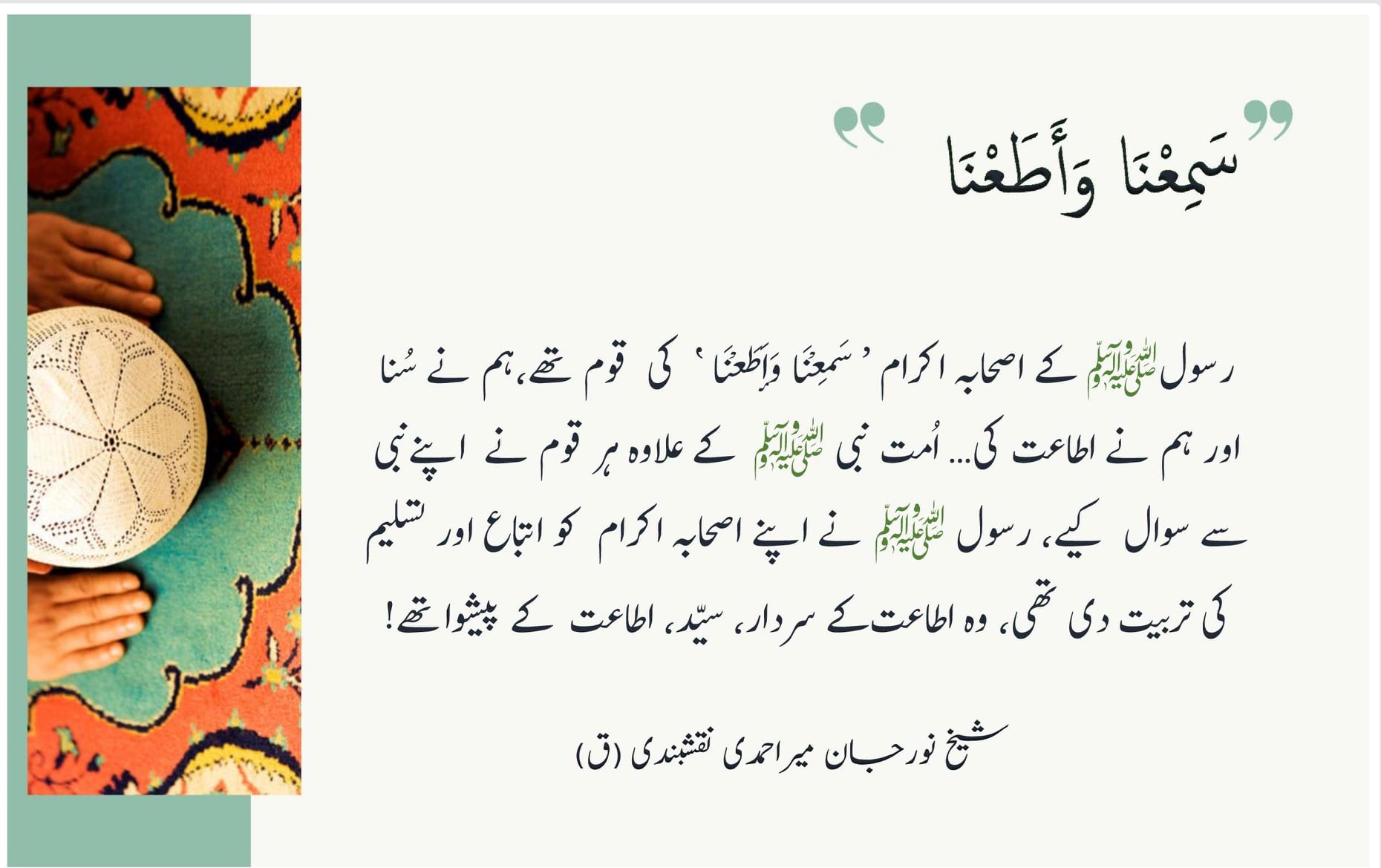 Urdu – Prophet's ﷺ Companions Were the Nation of 'Samina wa Atana', Every Other Nation …
Prophet's ﷺ Companions Were the Nation of 'Samina wa Atana', Every Other Nation Questioned Their Prophet, Obey Allah (AJ), the Messenger (saws), and Those in Authority
رسولﷺ کے اصحابہ اکرام 'سمعنا واطعنا 'کی قوم تھے:
اس سے مراد ہے کہ آپ سیدنا محمد ﷺ کی محبت کے ساتھ (رسولﷺ کےحفاطتی غارمیں) داخل ہورہے ہیں۔ نبی ﷺ کی ایک شرط ہوگی۔ آپ اندر ٓانے کی اجازت چاہتے ہیں اورتسلیم کی کیفیت میں سرشار ہونا چاہتے ہیں ،تو پھرگردن جُھکا دیں! 'سب سے پہلے میرے اصحابہ اکرام کی مانند ٓاپ کو سر تسلیم ِ خم کرنا ہو گا' ، وہ سب قوموں کیلئے مثالی رہنمائی پیش کرتے ہیں۔ وہ اصحابہ اکرام 'سمعنا واطعنا' کی قوم تھے–ہم نے سُنا اور ہم نے اطاعت کی
إِنَّمَا كَانَ قَوْلَ الْمُؤْمِنِينَ إِذَا دُعُوا إِلَى اللَّـهِ وَرَسُولِهِ لِيَحْكُمَ بَيْنَهُمْ أَن يَقُولُوا سَمِعْنَا وَأَطَعْنَا ۚ وَأُولَـٰئِكَ هُمُ الْمُفْلِحُونَ (24:51)
ایمان والوں کا قول تو یہ ہے کہ جب انہیں اس لئے بلایا جاتا ہے کہ اللہ اور اس کا رسول ان میں فیصلہ کردے تو وه کہتے ہیں کہ ہم نے سنا اور حکم مان لیا۔ یہی لوگ کامیاب ہونے والے ہیں۔
قرآن مجید (24:51)
اُمت نبی ﷺ کے علاوہ ہر قوم نے اپنےنبی سے سوال کیے:
ہر دیگرقوم نے اپنے نبی سے ہر چیز پر سوال کیا۔ ایسا کیوں، ویسا کیوں؟ یہ کیوں؟ وہ کیوں؟ یہ گائے کیوں؟ وہ گائے کیوں؟ یہ لال کیوں؟ یہ سفید کیوں؟ رسول ﷺ نے اپنے اصحابہ اکرام کو اِتّباع اور اطاعت کی تربیت دی تھی۔ وہ اطاعت کے سردار تھے، سیّدتھے ، اطاعت کے پیشوا تھے، اللہ عزوجل کا فرمان ہے ، 'ہم نے اُن کی سماعت پر مہر لگا دی'۔ اصحابہ اکرام، اصحاب الکھف کی حقیقت کو تھامے ہوئے ہیں ، وہ ہمیں سکھانےآتے ہیں کہ، ایسی کیفیت طاری کر لو ، جس طرح نیند میں ہو جس میں تم تسلیم میں ہو اور اطاعت گزاری کرو۔
اللہ عزوجل کی اطاعت ، رسول ﷺ کی اطاعت اور اختیار والوں(اولیاءاکرام) کی اطاعت کرو:
اور اطاعت گزاری کا سب سے مشکل مرحلہ سُننا اور تسلیم کرناہے۔ وہ جو چاہیں ، وہی سُننا ، اِتّباع اور اطاعت کرنا ۔ یہی وجہ ہے کہ " اطيعوالله واطيعوٱلرسول واولي الامر منكم " ، تاکہ شیطان آپ کے ساتھ کھیل نہ سکے ۔
ياأَيُّهَا الَّذِينَ آمَنُوا أَطِيعُواللَّه وَأَطِيعُوٱلرَّسُولَ وَأُوْلِي الْأَمْرِ مِنْكُمْ (4:59)
اے ایمان والو! فرمانبرداری کرو اللہ تعالیٰ کی اور فرمانبرداری کرو رسول (صلی اللہ علیہ وسلم) کی اور تم میں سے اختیار والوں (اولیاءاکرام) کی۔
قرآن مجید (4:59)
Prophet's ﷺ Companions Were the Nation of 'Samina wa Atana'
Now it means that you entering in with the love of Sayyidina Muhammad ﷺ. Prophet ﷺ is going to have a condition. You want to enter in, and enter into this state of taslim, then submit. The first thing you're going to submit, like my Holy Companions, they lead the example for all nations. They were the nation of 'samina wa atana', we heard and we obeyed.
إِنَّمَا كَانَ قَوْلَ الْمُؤْمِنِينَ إِذَا دُعُوا إِلَى اللَّـهِ وَرَسُولِهِ لِيَحْكُمَ بَيْنَهُمْ أَن يَقُولُوا سَمِعْنَا وَأَطَعْنَا ۚ وَأُولَـٰئِكَ هُمُ الْمُفْلِحُونَ ﴿٥١﴾
24:51 – "Innama kana qawlal mumineena idha du'ao ilAllahi wa Rasulihi liyahkuma baynahum an yaqolo samina wa atana, wa olaika humul muflihoon." (Surat An-Nur)
"The only statement of the [true] believers when they are called to Allah and His Messenger to judge between them is that they say, "We hear and we obey." And those are the successful." (The Light, 24:51)
Every Other Nation Questioned Their Prophet
Every other nation questioned everything from their prophet. Why, why? Why this? Why that? Why this cow? Why that cow? Why this red? Why this white? Prophet ﷺ had trained his Companions in itiba and obedience. They were the Masters, the Sayyids, the Masters of obedience that Allah (AJ) say, 'We sealed their hearing'. Companions are holding the reality of Ashab ul-Kahf, that they come and teach us, that enter into this state of, of like sleeping in which you are in taslim and submit.
Obey Allah (AJ), the Messenger (saws), and Those in Authority
And the most difficult part of submission is to hear and to obey. To hear what they want, ihtiba and obey. That's why "Atiullah Wa Atiurrasool Wal Ulil Amre Minkum", so that shaytan can't play with you.
ياأَيُّهَا الَّذِينَ آمَنُوا أَطِيعُواللَّه وَأَطِيعُوٱلرَّسُولَ وَأُوْلِي الْأَمْرِ مِنْكُمْ…﴿٥٩﴾
4:59 – "Ya ayyu hal latheena amanoo Atiullaha wa atiur Rasola wa Ulil amre minkum…" (Surat An-Nisa)
"O You who have believed, Obey Allah, Obey the Messenger, and those in authority among you…" (The Women, 4:59)
Our Translation of a passage from 'Enter the Cave, 7 Sleeps, 7 Holy Attributes of Divine Face Require Good Manners'
Read More: https://nurmuhammad.com/enter-cave-7-sleeps-7-holy-att…/
Watch here: https://www.youtube.com/watch?v=prSNczKrF68