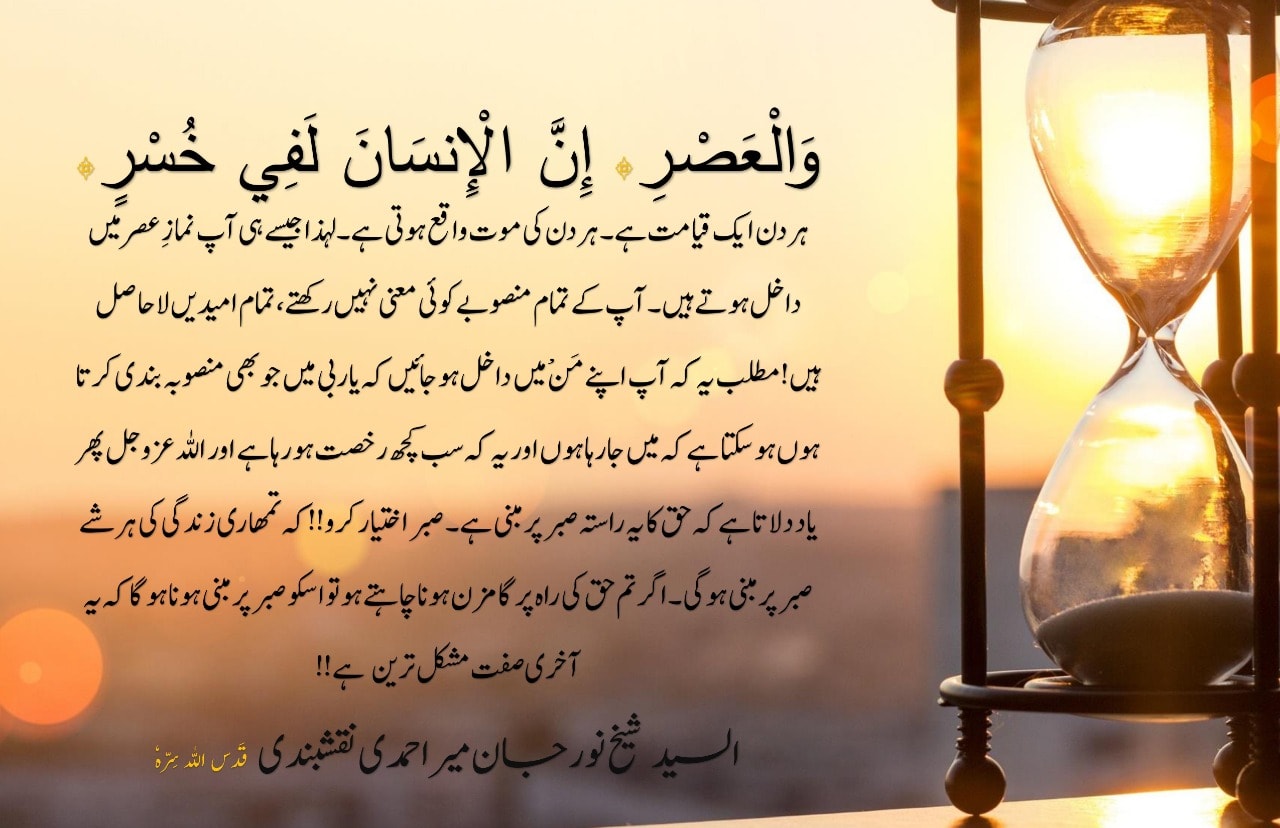 Urdu – Our Manifestation is from Zuhr to Asr Translation: میرے تمام رِجَالْ اللّٰه (ا…
Our Manifestation is from Zuhr to Asr
Translation:
میرے تمام رِجَالْ اللّٰه (اللہ کے بندوں) کو نہ کاروبار،نہ تجارت یادِ الہیٰ سے باز رکھتی ہے۔یعنی انھوں نے نمازِ ظہر اس یقین دہانی کیلئے ادا کی کہ وہ اللہ عزوجل کے ساتھ اچھے(تعلق میں)ہیں۔کہ اے ہمارے رب ہم(عالمِ)ملکوت سے ہیں اور ہم مُلک(دنیا) میں بھی آپ کے خادم ہیں۔اُنہوں نے یہ سمجھ لیا ہے کہ اِس مُلک میں مجھے اللہ عزوجل کی بندگی کرنی ہے لہذا میری زندگی ظہر سے عصر کے بیچ ہے وہ کہتے ہیں:اے ہمارے رب ہم ہر روز(پھر سے) جیئے گے,میرا ظہور،میرا موجود ہونا اور میری تمام تر اہمیت جو میں خود کو دیتا ہوں یہ صرف ظہر سے عصر تک ہے!آپ صرف نمازِ ظہر سے نمازِ عصر تک آشکار ہو رہے ہیں سورۃ العصر میں یہ بیان ہورہا ہے کہ آپ خسارے (زوال)کی حالت میں ہیں۔ آپ ایک درخت کی طرح نہیں بڑھ رہے کہ میں آپ کو یہاں لایا ہوں تو آپ ہزاروں سال زندہ رہیں گے۔جس وقت سے آپ آئے ہیں اور میں نے آپ کو زندگی بخشی ہے اُسوقت سے آپکا انتقال ہورہا ہے! ایک ہی دن میں ، پچاس دن میں ،پانچ سو دن میں یا پچاس ہزار دن میں آپکا انتقال ہونے جارہا ہے آپ جا رہے ہیں۔اور آپ کے اندر جو کچھ بڑھتا جارہا ہے وہ ختم بھی ہورہا ہے آپ کے تمام سیلز!! چار کھرب سیلز میں سے ہر روز آپ کے جسم کے اندر ہی تین ملین سیلز مر جاتے ہیں اور اللہ عزوجل اُن رجال(بندوں) کے لئے جو حقیقت پر پہنچنے کی کوشش کر رہے ہیں کہ اے ہمارے رب ہم دنیا کے اس مُلک کو چھوڑ رہے ہیں اور ہم عصر میں داخل ہوئے اور یہ دن پھر اپنی قیامت میں داخل ہورہا ہے۔لیکن آپکو قیامت کی تیاری کسطرح کرنی چاہیے؟اب سے 50 سال بعد؟ نہیں !!ہر دن ایک قیامت ہے۔ ہر دن کی موت واقع ہوتی ہے۔لہذا جیسے ہی آپ نمازِ عصر میں داخل ہوتے ہیں۔آپ کے تمام منصوبے کوئی معنی نہیں رکھتے،تمام امیدیں لاحاصل ہیں!مطلب یہ کہ آپ اپنے مَنْ میں داخل ہوجائیں کہ یا ربی میں جو بھی منصوبہ بندی کرتا ہوں ہوسکتا ہے کہ میں جارہا ہوں اور یہ کہ سب کچھ رخصت ہورہا ہے اور اللہ عزوجل پھر یاد دلاتا ہے کہ حق کا یہ راستہ صبر پر مبنی ہے۔صبر اختیار کرو!! کہ تمھاری زندگی کی ہر شے صبر پر مبنی ہوگی۔اگر تم حق کی راہ پر گامزن ہونا چاہتے ہو تو اسکو صبر پر مبنی ہونا ہوگا کہ یہ آخری صفت مشکل ترین ہے!!
السید شیخ نورجان میراحمدی نقشبندی ق
Original Lecture:
To All of my RijalAllah not business no trade divert them from remembrance of Allah means they prayed salatul zuhar to make sure that they are good with Allah AJ that Ya Rabbi we are from Malakoot and we are your servants also in the Mulk.They understood that in Mulk I have to submit to Allah AJ so my life is Bainal Zuhr wal Asr.they say Ya Rabbi we will live day by day My manifestation My existence and I put all my importance upon myself it's only from zuhar to Asr you are only manifesting from salatul zuhr to salatul Asr. It's describing in surahtul Asr that you are in state of descent you are not like a tree growing to live for thousand years.from the moment you came and I gave you life you are dying now you are going to die in one day,Fifty days,five hundred days, fifty thousand days, you are going .and everything within you as it's growing it's also dying. All your cells three million cells a day Die within the body out of your 4 trillion cells and Allah AJ for the servant who are trying to reach the reality that ya rabbi we are leaving this Mulk of Dunya and we entered into the Asr and again this day is entering into it's qiyamah but how are you supposed to prepare for Qiyamah ? 50 years from now? NO ,every day has a qiyamah. Everyday has a death.so as soon as you enter into the salatul asr all your plans mean nothing .all your hopes nothing! Means that you entered into yourself that ya rabbi whatever I plan I could be going and that Everything is leaving and Allah AJ is then reminding that this path of Haq is based on sabr. Have patience .that everything in your life is based on sabr if you want to be on a path of haq it has to he based on patience that the last attribute is the most difficult.
Urdu Transliteration :
Meray tmam RijalAllah(Allah ke bandon) ko na karoobar na tijaarat yaad e ilaahi se baaz rakhti ha yani onhu ne namaz e Zuhr iss yaqeen dehani k liye adaa ki ke wo Allah AJ ke sath Achay(Taluq m) hain ke Ay hmaray Rabb hum(Alam e) Malaqoot sy hain aur hum Mulkkk(duniya) mein bhi Apkay Khaadim hain Onhu ne samajh lia ha ke iss mulk mein mjhay Allah AJ ki bandagi karni ha lehaza meri zindagii zuhar se Asr ke Beech ha wo kehte hain Ay Hmaray Rubb hum har roz (phir se) jiyyein gy,mera zahoor, mera mojood hona aur meri tmam tar ehmiyat jo mein khud ko deta hun ye srf zuhar se asr tak ha App sirf Namaz e zuhar se namaz e Asr tk ashkaar ho rahe hain Surah Al Asr mein ye bayan ho raha ha ke Ap khassaray(zawal) ki halat mein hain Ap aik darakht ki trah nahi bhar rahe ke mein Apko yahan laaya hun tu Ap hazaaron sal (zinda) raheinge. Jis waqt se Ap aae hain aur m ne apko zindagi bakhshi ha ous waqt se apka inteqaal ho raha ha Aik hi din mein, pachaas din mein (50),paanch suu din mein(500) ya paanch hazar din mein(5000) apka inteqal honay ja raha ha Ap ja rahe hain aur app ke andar jo kuch bharta ja raha ha wo khatam bhi ho raha ha Apkay tmam cells!!! Chaar kharab cells mein se har roz apkay jism ke andar hi teen million cells Mar jatay hain aur Allah AJ onn Rijal ke liye jo Haqeeqat per phunchnay ki koshish kr rahe hain ke Ay hamaray Rubb hum duniya ke iss mulk ko chor rahe hain aur hum Asr mein Daakhil hoye aur ye din phir apni qayamat mein daakhil ho raha ha lekin Apko qayamat ki tyari kis trah karni chahiye? Ab se 50 saal bad? Nahiii!!!! Har din mein aik qayamat ha har din ki moatt waqay hotii ha lehaza jesay hi app namaz e asr mein daakhil hotay hain Apkay tamam mansoobay koi mani nahi rakhtay tmam umeedain laa haasil hain matlab ye ke App apnay mann mein daakhil hojaeinn ke Ya Rabbii mein jo bhi mansoba bandi karta hun ho sakta ha ke mein ja raha hun aur ye ke sab kuch rukhsat ho raha ha aur Allah AJ phir yaad dilaata ha ke Haqq ka ye rasta sabr per mabni ha.Sabr ikhtiyaar kru! ke tumhaari zindagii ki har shay sabr per mabni hogi Agar tum Haqq ki rah per gaamazan hona chahtay Hu tu isko sabr per mabni hona hoga ke ye Akhri sifat mushkil tareen ha!!
Watch here:
https://youtu.be/irfeRd5kdpE